With a reputation for being one of the most expensive cities in the world, it's a given that most things in Singapore don't come terribly cheap. Even though there are numerous free things that one can do such as wandering through the beautiful National Gallery, having a photoshoot at Haji Lane or gazing at the magnificent supertrees in Gardens by the Bay, perhaps you've already done it all – numerous times even.
Tired of having to rack your brains for fun and free things that you and your friends can do? Before you dismiss this beautiful island city-state as boring and lacking fun activities… here are 18 exciting, untouristy and most importantly FREE things that you should definitely try, if you haven't! Who says that having a great time involves breaking your bank?
1. Catch a free movie under the stars with MovieMob
Thinking of date night ideas that won't break your bank? Why spend a ridiculous $10-14 on a movie ticket when you can just catch one for FREE with MovieMob during the weekends! MovieMob is an initiative that screens free outdoor movies fortnightly at specially selected locations, with the occasionally drive-in screenings. Simply grab your picnic mat and your loved ones for a fun-filled night. Some locations might even have beanbags available! Do check their Facebook page for more details regarding upcoming screenings.
Address: Various locations
Opening Hours: Weekends, usually 7pm onwards.
2. Catch free concerts and performances at The Esplanade
An iconic landmark resembling a durian, The Esplanade (or Esplanade – Theatres On The Bay)  is Singapore's premier arts centre located in bustling Marina Bay near the Singapore River. Despite holding mostly ticketed events, plenty of free shows and performances ranging from dance shows and acoustic sets to theatre performances and even live bands are held at the central concourse area every evening of the week. It's the perfect place to unwind and enjoy Singapore's vibrant arts scene after a long day!  
Address: 1 Esplanade Drive, Singapore 038981
Opening Hours: 8am-2am Daily
3. Experience a blast into the past at Katong Antique House
A two-storied shophouse decorated with exquisite green tiles and painted a cheery yellow, the Katong Antique House is a restored family home and antique museum preserving the remnants of the fading Peranakan culture in Singapore. Located in the east where many old Peranakan families live, it is run by Mr Peter Wee, a fourth generation Peranakan. Besides getting a glimpse of the remaining Baba-Nyonya artefacts, Peranakan prints and portraits which fill the walls and Peranakan crockery, costumes and furniture on the ground floor; do stop to have a chat with Mr Wee, who will show you around with a friendly smile. The top floor also houses a small gallery, where visitors can admire the intricately sewed 'kasut manek' (beaded slippers) and wedding costumes.
Address: 208 East Coast Rd, Singapore 428907
Opening Hours: 11am-4.30pm Daily
4. Check out Singapore's very own Tsukiji Fish Market in the wee hours of the morning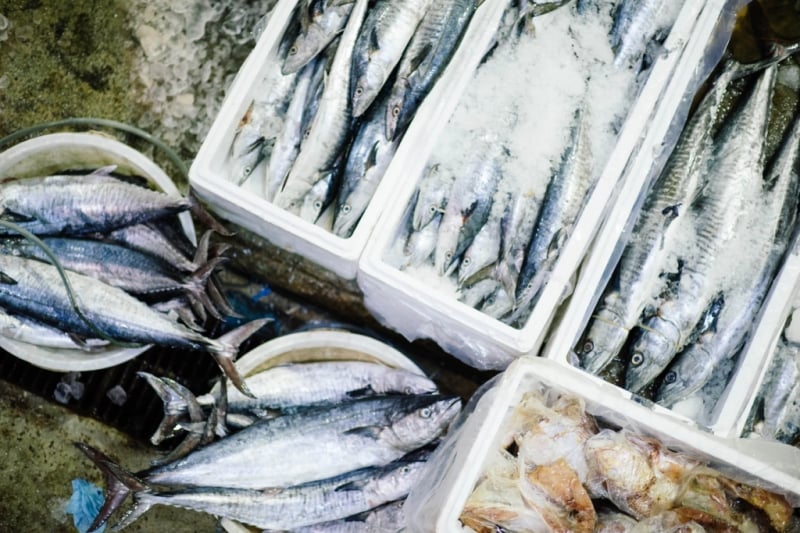 Still awake in the wee hours of the morning after your late night meal, not wanting to head home yet? Why not embark on a night adventure to AVA Senoko Fishery Port in Admiralty to catch a glimpse of Singapore's very own fish market! A wet market where buyers and seafood merchants stock up on the freshest seafood before the crack of dawn, Senoko Fishery boasts of a large variety of fresh seafood at low prices. Whether you're keen on shopping for groceries the old-school way or simply just taking pictures and observing the busy fishmongers, you're bound to be intrigued by the buzz of activity during such ungodly hours. As the old saying goes, the early bird catches the worm so remember to head there before 6am!
Address: 31 Attap Valley Rd, Singapore 759908
Opening Hours: 2-6am Daily
5. Go farm-hopping
You're probably thinking, "wait what? Isn't Singapore a concrete jungle? What farm-hopping?" Unbeknownst to most, despite being a fast-paced financial hub, Singapore has quite a range of farms waiting for you to explore! With most located in the Kranji Countryside, you can easily spend a whole day exploring places like the Qian Hu Fish Farm, Bollywood Veggies, Max Koi Farm and more! For pet lovers, we suggest heading to Hay Dairies to watch the adorable goats being milked and to buy freshly-produced goat milk. Ericsson Pet Farm located at Pasir Ris Farmway is full of furry friends; from dogs and cats to rabbits and more whilst Farmart Centre provides you with the chance to get up close and personal with chicken, quails, bull frogs, hamsters and more! For a good break from urban city life, why not head to the countryside for your dose of agriculture, horticulture and pawfully cute animals?    
Address: Various locations
Opening Hours: Click the links for more info!
6. Shop till you drop – for free
Yup, you read that right. One of our beloved city's best (open) secrets, the Singapore Really Really Free Market (SRRFM) is a flea market whereby all things displayed are completely free. Here, anyone with goods and services to share are allowed to set up a stall so simply step in and who knows what you may find? From vintage items and old vinyls or clothing to having your fortune read, nothing here costs a single cent. If you're up for clearing some things at home or even sharing your skills, feel more than welcome to peddle them here! Do keep a lookout on their Facebook page for the next SRRFM!
Address: Post-Museum's premises on Rowell Rd.
Opening Hours: TBC (check FB)
7. Stargaze at the Science Centre's Observatory
Always dreamed of heading to the deserts or suburbs of Australia or New Zealand to gaze at a sky full of stars? You're a step closer to fulfilling your wish here at the Singapore Science Centre's Observatory, which houses a brilliant collection of sophisticated telescopes that will allow you to see the dazzling constellations over the lion city. Singapore being located next to the Equator, you'll get to view constellations in both the Northern and Southern hemispheres. Isn't that cool?
P.S. There's even a Solar Observation happening this December! Don't miss out!
Address: The Observatory (Omni-Theatre Building), 15 Science Centre Road, Singapore 609081
Opening Hours: Every Friday night 7.50-10pm.
8. Go museum-hopping at THESE museums and galleries
Already been to the National Gallery, Singapore Art Museum, Art-Science Museum, Asian Civilisations Museum and so on? Don't assume that you've checked off all the museums in Singapore until you've gone to the Changi Chapel and Museum which provides an emotional exploration of Singapore's wartime history during the Japanese Occupation, as well as the Arts House and the Air Force Museum! Not just filled with bits of history and interesting exhibitions, these museums will give you a better picture of the various aspects that make up Singapore. Other museums you have to check out include the Singapore City Gallery by Urban Redevelopment Authority, Singapore Philatelic Museum, the Mint Museum of Toys, Reflections of Bukit Chandu and more!  
9. Have a photoshoot in 'Japan' or 'China'
Itching to travel abroad during the holidays but lacking the funds? Simply head down to Jurong Lake Gardens Central to feel like you're in Japan or China! You'll find the lush, green and beautiful Japanese and Chinese Gardens here which adopt a Japanese and Chinese imperial style respectively. With stunning pagodas, a Suzhou-style courtyard and landscape originating from the Muromachi and Momoyama periods of Japanese history, you'll get immersed in its beauty and historical charm as soon as you step in. For an even more convincing photoshoot, do dress up in traditional Japanese and Chinese costumes to fool your friends that you're abroad. Bukit Batok Town Park (or Little Guilin) is also another gorgeous park which is similar to Guilin in China. It sports a granite rock within a lake, two dome-shaped shelters and towering rock cliffs; no matter which spot you choose to take your pictures at, they'll turn out mesmerising and Insta-worthy!
Address: 1 Chinese Garden Rd, Singapore 619795 (Jurong Lake Gardens),  Bukit Batok East Avenue 5, 659081 (Bukit Batok Nature Park)
Opening Hours: 5.30am-11pm (Chinese Gardens), 5.30am-7pm (Japanese Gardens), 24/7 (Bukit Batok Nature Park)
10. Explore Singapore's very last kampong – Lorong Buangkok
Unlike the modern and cosmopolitan city it is today, Singapore used to be a sleepy old fishing village where life was slow and peaceful. Established in 1956, Kampong Lorong Buangkok is the very LAST surviving kampong (Malay term for village) in Singapore with a four-digit postcode and houses made of wood with zinc roofs. As you walk through, do stop to marvel at the beautiful rustic architecture, potted plants surrounding the houses as well as their open gates, which is unusual in modern society. In this quiet and homely village where Chinese and Malay families co-exist harmoniously together, you might even sense the 'kampong-spirit'. If you see any residents, do stop to say hi and chat with them! Definitely a must-visit for those who've never stepped foot into a kampong or those wanting an eye-opening experience.
Address:  7 Lor Buangkok, Singapore 547557
Opening Hours: 9am-5pm (Weekdays), Weekends closed.
11. Immerse in Buddhist culture by having a free Vegetarian meal and getting your fortunes told
Who says that there isn't such a thing as free lunch (and dinner) in the world? Every day, the Buddhist Lodge offers free vegetarian meals to anyone, rich or poor. While many other Buddhist temples such as Kong Meng San Phor Kark See Temple do so as well, the Buddhist Lodge is the most generous, offering a buffet of six to eight dishes. After getting your bellies filled, continue to explore Buddhist culture by heading to the famous Kwan Im Thong Hood Cho (Chinese Goddess of Mercy) Temple at Waterloo Street to get your fortunes told through divination sticks. Don't worry, English translations are also included for those who can't read Mandarin!
Address:  17-19 Kim Yam Rd, 239329 (Buddhist Lodge), 178 Waterloo St, Singapore 187964 (Kwan Im Thong Hood Cho Temple)
Opening Hours: 8.30am-5.30pm (Buddhist Lodge), 6am-6pm (Kwan Im Thong Hood Cho Temple)
12. Catch some fiddler-crabs at Pasir Ris Park or bird-watch at Sungei Buloh
Nestled in the far East of Singapore is Pasir Ris Park, which is home to a large fiddler crab population. Simply head down to the beach area near Sungei Tampines armed with insect repellent and sharp eyes and you'll be able to spot those cute fiddler crabs if you're lucky! They only appear at low tide so do check the tide timings before heading down. Sungei Buloh Wetland Reserve is also the perfect place for passionate bird-watchers, thanks to its rich eco-diversity that's home to numerous species of rare migratory birds during colder seasons.
Address:  Pasir Ris Central, 510534 (Pasir Ris Park), 301 Neo Tiew Cres, Singapore 718925 (Sungei Buloh Wetland Reserve)
Opening Hours: 24/7
13.  Participate in a free walking tour of Bukit Brown Cemetery
For the brave-hearted and thrill seekers out there, what better way to get to know our ancestors than to sign up for a free walking tour of the Bukit Brown Cemetery? Despite having long been abandoned, Bukit Brown Cemetery still houses around 100,000 tombs of Singapore's pioneers – with graves dating back to as early as 1831! Free guided walks (and even night walks) are conducted here on weekends whilst the Battlefield Guided Walk conducted by Jon Cooper is available every last Sunday of the month. Simply head to their website for more information and to book!
Address:  36C Lor Halwa, Singapore 298637
Opening Hours: 24/7; Guided tours usually 9am-12pm, 4pm-6.30pm or at night.
14. Explore Chek Jawa
Looking to go for a daytrip without burning a hole in your pocket? Why not head to Chek Jawa, a nature preserve located at the far Eastern edge of Pulau Ubin? While walking around and taking photographs of its undeniable beauty, do keep a lookout for wild animals such as wild boars or monkeys which may be roaming around. Remember to pack lots of sunscreen, some food and water as well as a cap to avoid getting burnt or hungry. Also, leave nothing but footprints and take nothing but memories while exploring!
Address:  Chek Jawa Trail
Opening Hours: 8.30am-6pm Daily
15. Browse through second-hand bookstores at Bras Basah Complex
Itching to visit some beautiful old book stores in Europe in search of hidden treasures? Well, good news! Our very own Bras Basah Complex in Singapore houses plenty of old bookstores selling second-hand books, ranging from an old issue of Archie's Comics or Bookworm Gang's adventures to literature texts and textbooks. For book lovers, trust me, nothing beats spending an afternoon in Bras Basah Complex, revelling in book heaven and being transported into a whole new world.
Address:  Bras Basah Complex, 231 Bain Street, Singapore 180231
Opening Hours: 10am-7pm Daily
16. Find out how NEWater is produced
As most of us would know, NEWater is high-grade reclaimed water that Singapore has produced as part of their water-sustainability strategy. To get a thorough understanding of the entire process of manufacturing NEWater, head down to the NEWater Visitor Centre to find out how unclean water is made safe for our consumption! Not only is it an interesting gallery, it's certainly an educational and family-friendly experience that both adults and children alike will find interesting.
Address:  20 Koh Sek Lim Rd, Singapore 486593
Opening Hours: 9am-5.30pm, Daily except Mondays
17. Check out the first-ever HDB Town at Toa Payoh Heritage Trail
Does this dragon playground look familiar to you? Perhaps you've seen it online, thanks to it being the last 'old-school' playground in Singapore. Located in the history-rich town of Toa Payoh, it's definitely a must-visit if you've never been to one before! Not just a centrally located sleepy old town, Toa Payoh is the archetypical grandaddy of public housing towns in Singapore as it was the first town to be developed by the Housing Development Board! Did you know that the 1973 South East Asian Peninsular Games was held in Toa Payoh Sports Complex? Here, you should definitely check out Toa Payoh Heritage Trail, which consists of many 'firsts' in Singapore such as the first Residents' Association and MRT station!
Address:  Block 28, Toa Payoh Lorong 6 (Dragon Playground)
Opening Hours: –
With all these exciting and eye-opening activities for you to try, you can't say that Singapore is boring until you've tried them all! Have fun exploring all that our sunny island has to offer and don't forget to snap some photographs!