Perhaps you haven't thought through this line of scheduling before, and you are now wondering how early check-in can make a difference. Well. Say you've checked out from hotel hours before your flight (ahh, midnight flight) and you might want to enjoy a hassle-free shopping session in the airport without dragging along your bulky luggage. Good news for you as now you can check-in and drop off your luggage as early as 24 hours before your scheduled departure at Changi Airport! Oh yes, you're in for a treat – feel free to make your way to Orchard to extend your shopping session! Shop till you drop, or chill somewhere while waiting for your flight without the hassle of your luggage and worrying about the long-lines while checking in.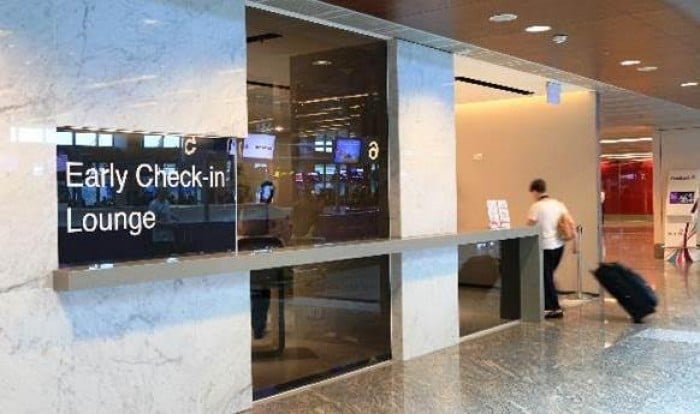 Image credit: Changi Airport Group
Since the start of the year, common early check-in counters have been set up at Terminal 2 (Row 7) and 3 (Row 10), and an early check-in lounge (yes, a lounge dedicated to you early birds!) at Terminal 1 (near Row 5), to facilitate early check-in. The common counters and the lounge serve passengers travelling with 23 participating airlines daily from 6.00am to midnight. While another 25 airlines separately offer an early check-in service at their own counters.
You can check the list of participating airlines and the latest information on early check-in hours  on Changi Airport's website: www.changiairport.com/checkinearly.html. This page is definitely bookmark-worthy for it will come in handy when you plan for your next trip.
Early check-in not only grants you more time to enjoy Changi's award-winning facilities, but also  allows for a more relaxing departure experience as there will be no need for you to rush.
Last but not least, do you know that it is estimated that each year, for various reasons, more than 10,000 passengers fail to check in for their flights at Changi? I am sure you don't want to be one of them, so by all means, let Changi's early check-in service saves you the drama!