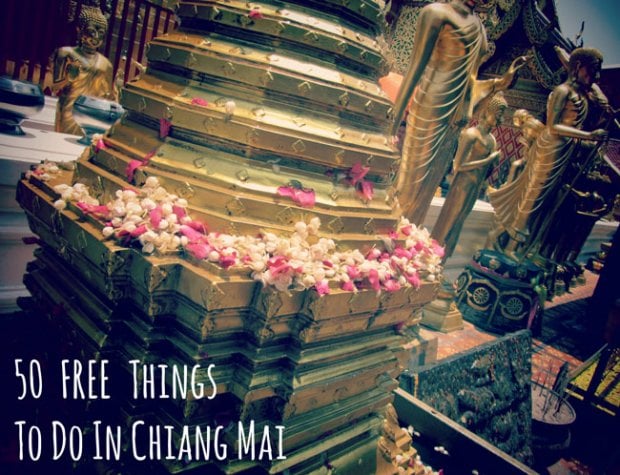 Okay, I admit a few of these places and activities may end up costing you a few baht – but 50 Practically Free Things to Do in Chiang Mai just doesn't have quite the same ring to it, now does it? That said, between chatting with monks and getting a tattoo, to learning to dance and even scoring free meals, there's something for everyone on this list.
Also read: 5 Things to Do in Chiang Mai
1. See the monks in the morning
The only cost for this is getting your bum out of bed. Each morning beginning around 6:30 monks will walk the streets collecting their morning alms and food for the day.
2. Listen to jazz
On the north side of the Old City Northgate Jazz Co-Op. The bar opens up on to the street and on busy nights people will be standing in the road and sitting on the lawn across the street to listen to the tunes. No cover and no need to buy a drink.
3. Catch a documentary
Documentary Arts Asia screens free documentaries every Thursday evening at 6:30 at their gallery location off of Wualai Road. You can see their screening schedule here.
4. Huay Tung Tao
Spend an afternoon lounging by the lake just outside of town, only THB 20 (approx. SGD 0.78) to get in.
5. Eat at the Vegetarian Society
Though not 100% free, the Vegetarian Society lets you serve yourself up some veggie dishes and pay using the honour system with suggested donations. Heading away from Central Airport Plaza on Bunrueang Road look for a green sign on your left.
6. Walk up to Doi Suthep
Every year in May thousands of people make a pilgrimage starting at the front gate of Chiang Mai University on Huay Kaew Road and going all the way up the mountain to Wat Phra That Doi Suthep temple (with free food and drinks along the way!).
Also read: 7 Distinctively Chiang Mai Places You Must Go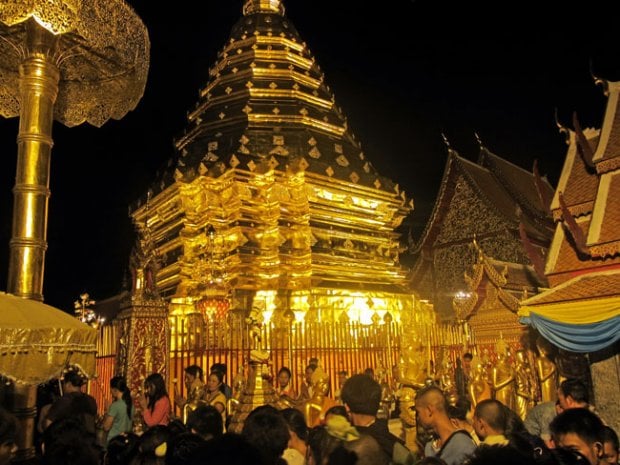 Reaching the end of the pilgrimage at Wat Phra That Doi Suthep
7. Visit some waterfalls
There are a lot of them. While some have minor entrance fees others, like the 'sticky' waterfall heading toward Phrao, are free.
8. Work out with the Thai ladies
It doesn't get much more local than this. In the evenings at certain points around town (the park, Tha Pae Gate, often Tesco parking lots for some reason…) there will be group aerobics complete with obnoxious music and sweatbands.
9. Go on a meditation retreat
Yes, sitting silently by yourself for hours on end is free! One of the closest meditation centres is at Wat Umong near the mountain on the west side of town. It's free to stay as long as you like (including a room and food), but you should make a donation.
10. Get a mini-meditation crash course
Don't have time for a full retreat? Wat Sri Gerd on Rachadamoen Road near Wat Phra Singh holds introductory meditation lessons every Monday at 3:00 for a couple hours. Again, you should leave a small donation.
11. Eat dinner at the Hindu temple
A special Hindu ceremony and dinner is held every Tuesday starting at 6:00 p.m. at Devi Mandir Chiang Mai just north of the moat on Thanon Ratanakosin. If you're interested in going, please stay for the whole ceremony – don't just go for the free food.
12. Wander through the Flower Festival
Every year, the inner moat road wrapping around the southwest corner turns into an impressive display of elaborate floats decorated only with flowers and plants for sale the first weekend in February.
13. Lady boy cabaret
Take in a nightly cabaret show at the Night Bazaar's Ansuarn Market filled with lady boys and lots of sequins. Free to get in, but you will be asked to buy a drink which is priced a little higher than other places. $5 for a drink and a show ain't bad though!
Also read: No More Curfew! 8 Things to Do at Night in Thailand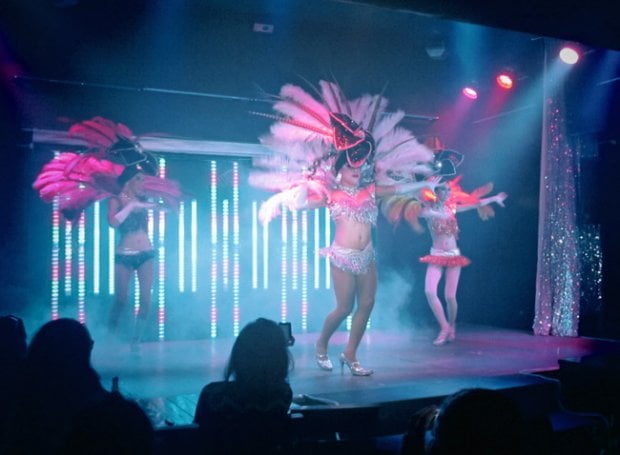 Dancing lady boys
14. Trivia night
The U.N. Irish Bar on Rathvithi Road holds a Trivia Night every Thursday starting at 8:30 p.m. While there's a small fee to play, split between your group members it's really nothing.
15. Go on a temple tour
There are more than 80 temples within Chiang Mai's city limits and all, except Wat Phra That Doi Suthep and (sometimes) Wat Phra Singh and Wat Chedi Luang, are free of charge.
16. Go back to college
Chiang Mai is home to several universities, colleges and vocational schools. By far the largest, Chiang Mai University on the west side of town has a leafy campus complete with a reservoir and view of the mountain – perfect for strolling and getting in some greenery. After wandering through campus, check out the nearby trendy Nimmanhaemin neighborhood.
17. Sing at open mic night
Sangdee Gallery on Srimankalgarn Soi 5 holds an open mic night every Thursday beginning at 8:00 p.m. It's a great place to mix with expats and those staying town for a while.
18. Visit the park
Relax in the park located within the moat on the south side of the southwest corner… that is, until the aerobics group starts up.
19. Do the Samoeng Loop
Rent a bike and take a leisurely drive along the Samoeng Loop. For directions check out this post.
Also read: Northern Thailand Bike Tour (Video)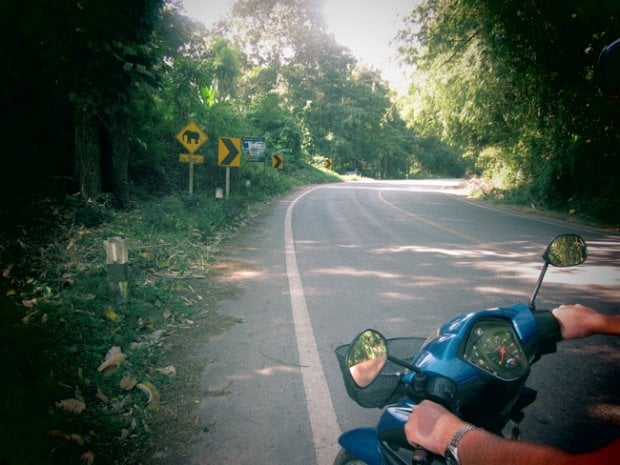 Driving to Samoeng… and keeping an eye out for elephants
20. Get bitten by mosquitoes
This one is guaranteed to happen absolutely free! Enjoy!
21. Experience a Buddhist holiday
There are several important Buddhist holidays throughout the year where temples will organize festivals and ceremonies. In Chiang Mai, larger events are usually held at Wat Chedi Luang and Wat Phra Singh, both close to the centre of the Old City. Many of the holidays are based on the lunar calendar and don't fall on the same day each year.
Also read: Witness the Sakon Nakhon Wax Castle Festival this October
22. Go antiquing
JJ Market is filled with old fashioned goodies – from furniture and spirit houses, to photos and jewelry. Follow the road leading out from the northwest corner of the moat, you'll soon see signs for the marketplace on your left.
23. Visit Mon Cham
On your way to Samoeng make a quick detour stopping at Mon Cham, a garden/viewpoint/resort/restaurant that's part of the Royal Project agricultural program, with nearly 360 degree views overlooking the surrounding valleys. There's no fee to enter or wander the grounds.
24. Monk chat
Several temples around town, including Wat Chedi Luang and Wat Srisuphan, offer daily and weekly 'monk chats' where you can go talk to a monk about pretty much anything.
25. Umbrella festival
Each January the village of Bo Sang just 15 kilometres southeast of Chiang Mai's Old City holds a festival celebrating the area's umbrella making tradition and trade. Go for food, parades, markets and peruse the handmade goods.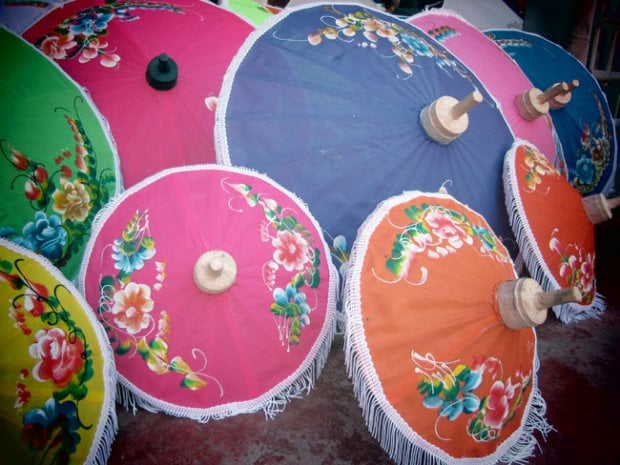 Handmade umbrellas in Bo Sang
26. Get lost
Easy to do in the narrow, winding sois (small streets) of Chiang Mai's Old City. Wander around the maze, but don't worry, you'll never get too turned around. The relatively small Old City is shaped like a square and as soon as you hit a major road you'll be able to find out where you are.
27. Get a tattoo
Yes, you can get a free tattoo – not at a tattoo studio – but at a temple just outside of town. This isn't just an ordinary tattoo, but a special blessing performed by a monk known as sak yant. There are a few places to get them, like at Wat San Makieng in Doi Saket. Talk to your guesthouse owners or check in at some tattoo shops to see if someone can help you with where to go and when. It's difficult to figure out on your own and a local's insight about the process will be immensely useful.
28. Chase the cherry blossoms
Cherry trees around the province are in full bloom late-December to mid-January. The closest spot to town is Doi Khun Chang Kien on the top of Doi Pui (go up Doi Suthep, pass the temple, and keep going up). You can also catch them on Doi Inthanon and Doi Khun Mae Ya in Pai, Mae Hong Son province.
Also read: Sakura Season: Japan Taken Over by Pink and White
29. Go dancing
For salsa, head to Zoe in Yellow on Tuesday and Thursday nights. Free beginner classes run from 8:30 – 9:00 p.m. with open dancing afterward. Salsa not your thing? Starting at 6:00 p.m. every Sunday there are beginner Zouk classes at The Roadside Pub & Restaurant in Ansuarn Market with social dancing afterward until 9:00.
30. Visit the Chiang Mai University Art Museum
Near the corner of Thanon Suthep and Thanon Klorng Chonpratha, the Chiang Mai University Art Museum features rotating temporary exhibitions free of admission.
31. Go hiking in the hills
Check out Chiang Mai Hiking for information on nearby hikes as well as weekly group hikes lead by volunteers.
32. Make it to the markets
You don't have to be shopping for anything to make the markets an amusing experience, especially when there's a market to suit everyone's interests. Don't believe me? Check out my Chiang Mai Market Guides one, two and three covering eleven different markets in town.
33. Visit the 'farang' cemetery
East of the river there's a small, older cemetery on the Chiang Mai-Lamphun Road slightly north of the Holiday Inn, where some of Chiang Mai's first expats (mainly missionaries) are buried with interesting tombstone markings, including one with a statue of Queen Victoria.
34. Get to know your guesthouse owner
Most of the guesthouse owners speak English well and are happy to help you with anything you may need. Take some time to chat and get to know them a little bit better.
35. Walk around the moat
Pick a direction along the inner road of the moat and start moving. To walk all the way around at a decent speed will probably take you just over an hour. Take your time to check out some of the temples and street stalls along the way though!
36. Marvel at Loi Krathong
All of the events associated with November's Loi Krathong, such as parades, dances, shows and the massive lantern release in Mae Jo, are free of charge.
37. Watch silver craftsmen at Wat Srisuphan
Aside from being absolutely stunning by itself, Wat Sri Suphan is worth a visit to see the artisans hammering away at the onsite workshop making the silver coverings for the temple.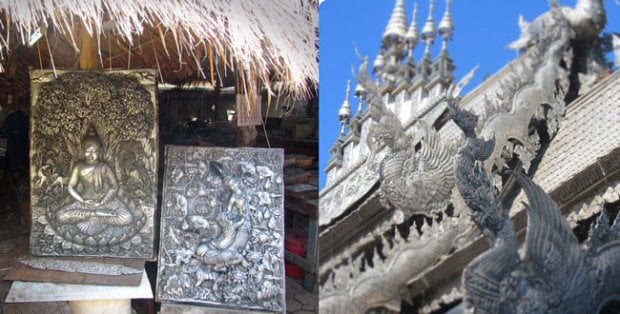 Panels in progress for the temple
38. See artisans at work in Baan Tawai
If you make your way out of town to the wood carving village of Baan Tawai, you'll be sure to spot some craftsmen at work and shopkeepers putting the finishing, decorative touches onto handmade home decor and furniture.
39. Volunteer
Chiang Mai has a number of volunteer opportunities to get involved in both short and long term. Check here and here to get matched up with an organization right for you.
40. Photography walk
From the sparkly, detailed temples, to bright green, leafy banana trees and sizzling street stalls, Thailand is a very photogenic country. Pick a part of town and grab your camera looking for the little details of life here.
41. Get soaked at Songkran
The Thai New Year held in the middle of April is unlike anything anywhere else. Over the three days the streets surrounding the Old City will be completely filled with people celebrating and there are always free parades, shows, concerts and parties held at different spots throughout town.
Also read: 5 Happiest Festivals in the World
42. Seek out the city's ruins
Founded more than 700 years ago Chiang Mai is an old city with a lot of history. Unfortunately, most of what you see today was built fairly recently, but there are still a couple spots where you can catch a glimpse of the past like the city's secret moat and the ancient ruins of Wiang Kum Kam about 5 kilometers from the center of the Old City.
43. Hang out at Tha Pae Gate
A major traffic and meeting spot, grab a seat and people watch for a while. In the evenings there are often people playing music, selling handmade goods or showing off tricks on their bikes.
44. Head to the Hill Tribe Museum
Learn more about northern Thailand's hill tribes, like the Akha, Karen and Hmong, at the free Hill Tribe Museum located at the Ratchamangkla Park on Chotana Road (Hwy 197).
45. Find the free water
At most street stalls there will be bottles of water you can purchase or free water for customers. If there isn't a pitcher on the table look for a large round drink cooler near the tables or cooking area with stacked cups and serve yourself. This water is purchased drinking water and doesn't come from a tap – don't worry!
46. Hike to Wat Palat
Starting at the top of Suthep Road you can follow a trail leading up to a hidden temple on Doi Suthep called Wat Palat. You'll know you're heading the right way if you keeping following the scrap of monks' robes tied around the trees. Find directions here and watch 8 Miles from Home's gorgeous video including a look at Wat Palat here.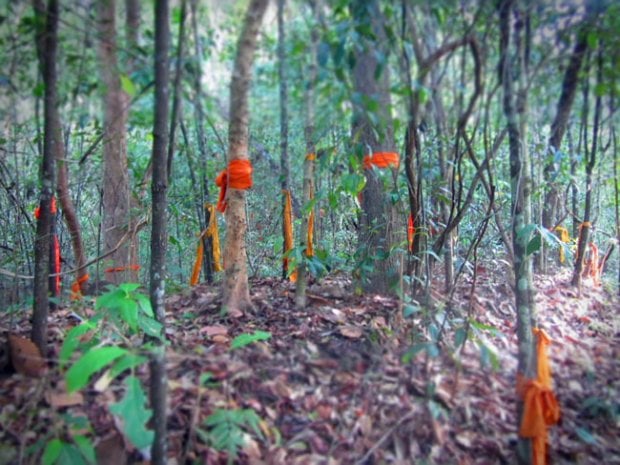 The trail to Wat Palat
47. Live like a local
Check out this community events calendar for up to date local events and activities happening when you're in town. There's usually some sort of show, festival, fair or exhibition opening going on.
48. See the sun set from Doi Pui
Drive up to Wat Phra That Doi Suthep and keep going to reach Doi Pui. As you come down the other side you'll be able to get a sunset view.
49. Chill by the river
Along the Mae Ping River near Narawat Bridge there are several open areas to take a break. You can also go in the evening and the see the changing lights on the three bridges crossing the water – the older iron bridge coming out from Loi Kroh is particularly pretty and a popular hangout and fishing spot once the sun goes down.
50. Relax
Have you noticed there's a laid-back vibe here? Enjoy it. Relax and take some time to slow down.
Also read: Thailand Fast Facts – Where To Go and Handy Travel Information
Did I miss any free things to do in Chiang Mai? Let me know in the comments below!
Contributed by Paper Planes.