143578
Anytime is a good time to travel to Bangkok. This unique and stunning city in Thailand is one of the best places in Southeast Asia to go to for delicious food, magnificent scenery, and attractive shopping deals! Speaking of Bangkok, we couldn't think of a better person than Mariz Castañeda — a Filipino expat who has been living there for three years now — for the most genuine and useful recommendations. Read on and find out the best places to visit in Bangkok, as recommended by her.
"I've never been to Thailand prior to making the move, but I can definitely say moving here has been one of the best decisions of my life so far. Before living in Bangkok, I would never eat spicy food. Now, I need my regular tom yum fix!" she happily shared. 
Mariz also loves trying out all kinds of food and drinks (especially tea), visiting art galleries, and finding local brands when she shops. This makes us really curious about her recommendations on the top Bangkok sightseeing spots, shopping destinations, as well as her personal favourite cafes and restaurants!
Also read: 10 Gorgeous Yet Budget-Friendly Bangkok Airbnbs & Vacation Rentals
Sign up for AIG 
Travel Guard® Direct,
AIG's comprehensive travel insurance plan, and be rewarded up to:
6 x Global Lounge Pass (with the purchase of an Annual Multi-Trip Plan)*

S$100 in eCapitaVouchers (with the purchase of a Single Trip Plan)*
when you use the promo code AIGTGD.
*Promotion is valid till 30 Sept 2023. T&Cs apply.
Protected up to specified limits by SDIC.
Best places to visit in Bangkok for first-time visitors
1. Wat Arun, Wat Pho, and Chao Phraya River
For visitors who are new to Bangkok, Mariz highly suggests visiting the temples Wat Arun and Wat Pho, and the Chao Phraya River that's close to both. "These are some of the top things recommended when you search for things to see in Bangkok," she said. 
Wat Arun is also known as Wat Arun Ratchawararam Ratchawaramahawihan or the Temple of Dawn. A landmark of Bangkok, many visitors love visiting this Buddhist temple to take a glimpse at the extraordinary architecture. Wat Pho, or Wat Phra Chetuphon Wimon Mangkhalaram Rajwaramahawihan, on the other hand, is one of the oldest and biggest temple complexes in the city, also popular for the ornate buildings and the golden Reclining Buddha.
As both of them are very close to each other, you can consider going on a relaxing boat ride on the Chao Phraya River for the most incredible sightseeing experience. Additionally, sunset watching by the river is another must-do in Bangkok!
2. Chinatown
What's more, Mariz also suggests going to Bangkok's Chinatown: "Go there at night to get your street food fix!" This area is as lively at night as it is in the morning; not to mention, the picturesque scenery of the colourful lanterns and street lights that adorn the area!
"Massage places are everywhere in Bangkok, so a Thai massage is definitely a must-try, too!" Mariz added. Rates for massages in Chinatown generally range between ฿300 (~US$8 or S$11) and ฿1,000 (~US$28 or S$38), depending on the type of massage and package you choose.
Address: PGR5+4W6 ถ. เยาวราช Khwaeng Samphanthawong, Khet Samphanthawong, Bangkok 10100, Thailand
3. Jodd Fairs
Jodd Fairs is one of the places to visit in Bangkok that Mariz recommends for new travellers. It's a night market famous for a plethora of street food and local delicacies. "It is my favourite night market in the city. Aside from the wide food and drink selection (they have all kinds, from skewers and fruit smoothies to pork spine for the more adventurous ones out there) the shopping stalls there sell really cute and unique clothes, bags, and accessories at affordable prices."
"The items I've gotten there, I haven't seen in other night markets around the city," she added. It's undoubtedly an ideal place to go for some rare and exclusive finds, too. 
Address: Rama IX Rd, Huai Khwang, Bangkok 10310, Thailand
Opening hours: 4pm to 12am daily

What makes AIG Travel Guard® Direct unique?
AIG's comprehensive travel protection benefits go above and beyond: Their wholly owned travel assistance centres are equipped to assist you 24 hours a day, 7 days a week.
AIG's Travel Guard® Direct has been recognised as the Best Travel Insurance for Single Trip by TripZilla in 2022. Plus, AIG is awarded Singapore's Best Customer Service in 2022/2023 by The Straits Times.
Safeguard your travels with AIG now!
Protected up to specified limits by SDIC.
4. The Museum of Contemporary Art (MOCA)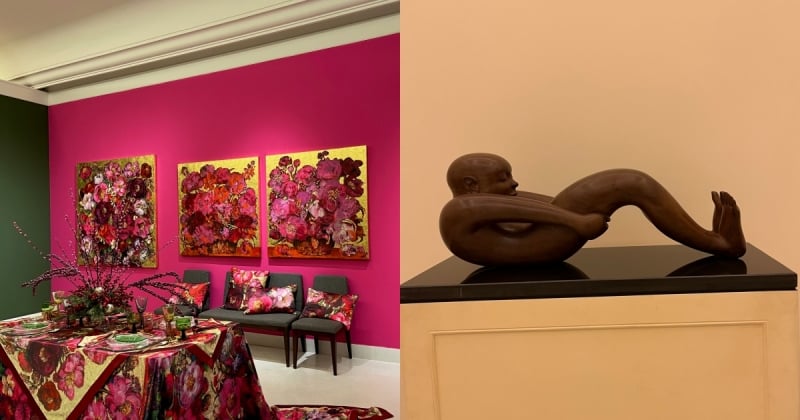 Another must-do in Bangkok is to visit The Museum of Contemporary Art (MOCA). Mariz considers this one of the best museums she has been to thus far. "It features beautiful artwork by Thai artists that are very vibrant, fun and unique. It showcases aspects of Thai culture related to themes such as religion, beauty, and family," said Mariz. 
The admission fee for the general public is only ฿280 (~US$8 or S$11).
Address: VH27+Q2X, 499 Kamphaeng Phet 6 Rd, Lat Yao, Chatuchak, Bangkok 10900, Thailand
Opening hours: 10am to 6pm, closed on Mondays
5. The Grand Palace
Mariz also suggests that first-time travellers visit The Grand Palace: a complex of buildings at the heart of Bangkok, and is also used to hold royal ceremonies. Get ready to be dazzled by the majestic Thai architecture, learn about the country's history, and revel in the art and performances here. It's definitely one of the best things to see in Bangkok that you wouldn't want to overlook.
For foreigners, the price is ฿500 (~US$14 or S$19). The ticket is divided into three parts: Part One grants access to the main attractions like the actual Grand Palace and the Temple of the Emerald Buddha within the Grand Palace compound; Part Two allows visitors to enter places like the Arts of the Kingdom Museum; and Part Three provides entry to the "Khon" Thai classical masked dance performances at Sala Chalermkrung Royal Theatre. Part One is only valid for one visit on the day you've selected, while the other parts remain valid for seven days upon your selected day. 
Address: Phra Borom Maha Ratchawang, Phra Nakhon, Bangkok 10200, Thailand
Opening hours: 8.30am to 3.30pm daily
Places to visit in Bangkok for leisure and outdoor activities
6. Benjakitti Park
When asked what are some of the best leisure places to visit in Bangkok, Mariz shared: "There are lots of green spaces or parks around the city such as Lumphini Park, Benjakitti Park, and Benchasiri Park. My personal favourite is Benjakitti Park because I think it's the most peaceful and quiet one." 
A public city park with free entry, Benjakitti Park is a go-to place to enjoy tranquillity or indulge in outdoor activities like jogging, cycling, or simply watching the sunsets for locals and tourists alike. 
Address: Ratchadaphisek Rd, Khlong Toei, Bangkok 10110, Thailand
Opening hours: 5am to 8pm daily
7. Sansiri Backyard
An unexpected green space inside a residential community, Sansiri Backyard is another leisure attraction in Bangkok that Mariz recommends. "It's a small farm where you can see greenhouses and the fruits they grow. You can also feed sheep, goats, chickens and ducks," she explained. 
For those who want to spend a peaceful day without leaving the city, this place is the perfect destination. What's better, admission to the farm is free!
Address: 91 ซ.ริมคลองพระโขนง Phra Khanong Nuea, Watthana, Bangkok 10110, Thailand
Opening hours: 8am to 8pm daily
Mariz's favourite shopping spots in Bangkok
8. Terminal 21
"Aside from Jodd Fairs, I like the Terminal 21 mall in Asok because it has a lot of local brands selling trendy and high-quality products," Mariz said. As the name goes, each level of the mall is designed to feature different travel destinations worldwide, such as Tokyo, London, San Francisco, and Istanbul. Apparently, this shopping mall is also home to an over 36-metre-long escalator — making it the longest one in the country! 
Address: 88 Soi Sukhumvit 19, Khlong Toei Nuea, Thawi Watthana, Bangkok 10110, Thailand
Opening hours: 10am to 10pm daily
Also read: 15 Malls and Outlet Stores to Go Shopping in Bangkok
9. Emquartier
Mariz also likes shopping in Emquartier, as it boasts a good mix of mid-range to high-end brands. Located in Phrom Phong, this mall is well-known for its lavish architecture and tasty international cuisines, including Japanese, Korean, Italian, and Chinese food. While you're here, don't forget to take a picture of (or with) the massive man-made waterfall!
Address: 695 Sukhumvit Road, Khlong Tan Nuea, Watthana, Bangkok 10110, Thailand
Opening hours: 10am to 10pm daily
If you're catching up on your travel wishlist, consider an AIG Travel Guard® Direct Annual Multi-Trip Plan! This plan offers greater value and convenience every time you travel. 
Travel worry-free with AIG's comprehensive coverage: from COVID-19 coverage (including medical expenses, trip cancellation, and more) to reimbursements for baggage loss or delay.
Choose AIG as your travel partner
Protected up to specified limits by SDIC.
Cool places to visit in Bangkok for IG-worthy photos
10. Mahanakhon Sky Tower (King Power Mahanakhon)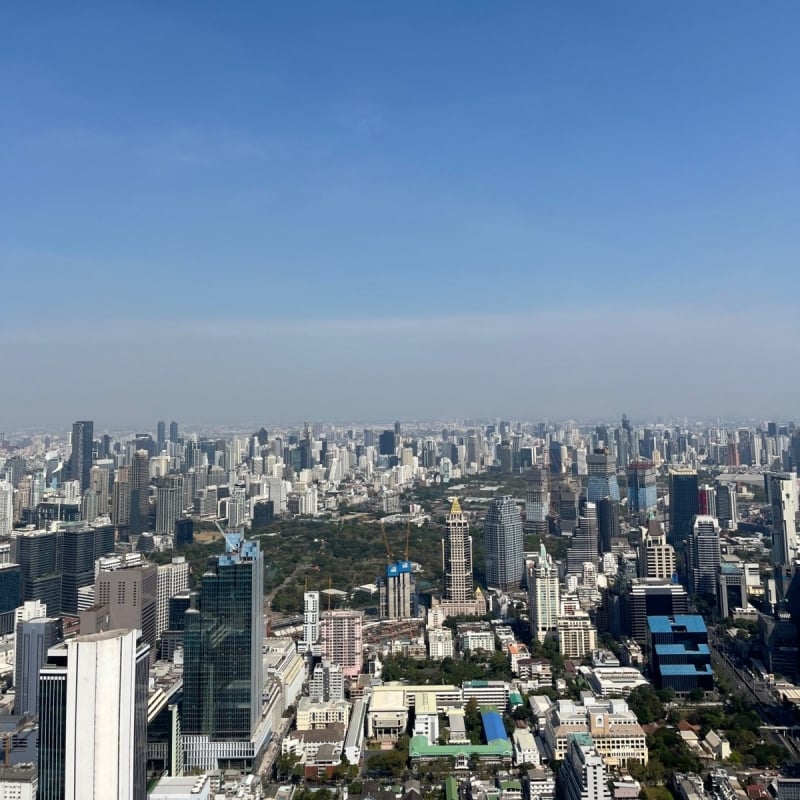 "Bangkok is a very Instagrammable city; from the temples and cafes, to the rooftop bars and the streets of Chinatown. Everywhere you go, someone is taking a picture! I personally think the rooftop bars are very cool," she said. Of course, aside from rooftop bars, there's another place in the city where you can cherish the majestic vista of the skyline. 
Mariz continued to recommend the Mahanakhon Sky Tower, aka King Power Mahanakhon, as one of the IG-worthy Bangkok sightseeing spots. Located in the heart of the city, the attractions here include indoor and outdoor 360° observation decks and a hydraulic glass lift, all located more than 70 floors above. 
There's also the Glass Tray Experience, where visitors can take pictures of the city through the transparent glass floor; and Skyrides, where you get to experience flying via virtual reality. The ticket per adult is ฿880 (~US$25 or S$34).
Address: 114 Naradhiwas Rajanagarindra Rd, Silom, Bang Rak, Bangkok 10500, Thailand
Opening hours: 9am to 6pm daily 
11. The Ari neighbourhood
The Ari neighbourhood is among of the photo-worthy places to visit in Bangkok that Mariz wishes more people would know about. "It's a very Instagrammable area with lots of uniquely designed cafes and street views," she stated. Here, you'll be greeted by a blend of newly renovated and traditional local buildings which house cafes, restaurants, and art spaces. There are so many things to see and sights to capture! Besides, who wouldn't enjoy walking along these vibrant streets, and then sipping coffee in one of the cute cafes?
Also read: 15 Best Cafes in Bangkok for Coffee, Brunch, and Dessert
Mariz's personal hidden gem in Bangkok
12. Neilson Hays Library
"I'm a huge bookworm, so I personally love visiting the Neilson Hays Library in Silom," said Mariz. This is a private library on the quiet side of town with an extensive English book collection, particularly when it comes to fiction. Non-members just have to pay ฿100 (~US$3 or S$4) to spend all day just sitting and reading in the library. It also hosts book sales from time to time, so you might be lucky to score some deals!
Address: 195 Thanon Surawong, Suriya Wong, Bang Rak, Bangkok 10500, Thailand
Opening hours: 9.30am to 5pm, closed on Mondays and Saturdays
Her favourite cafes in Bangkok
13. Rawr Cafe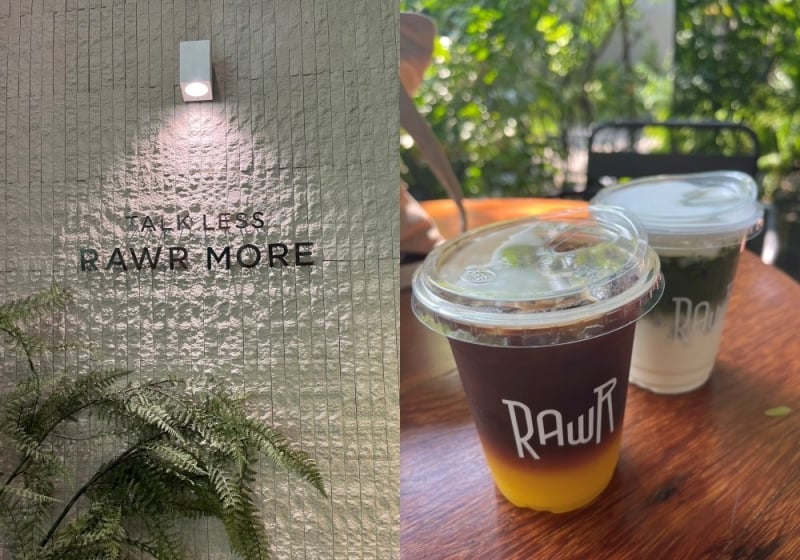 Situated near the main road in Phra Khanong, Rawr Cafe provides easy access to those who want to pay a visit. It's a small and quiet cafe which features a minimalist aesthetic and is encircled by green plants. Mariz especially loves their 100% Arabica coffee, and the homemade waffles and croffles!
Address: Naiipa Private Office Space, 46/2 Sukhumvit 46 Khwaeng Phra Khanong, Khet Khlong Toei, Krung Thep Maha Nakhon 10110, Thailand
Opening hours: 10am to 6pm daily
14. Gu Roti & Tea Cafe
Gu Roti & Tea Cafe has multiple branches around the city. It's popular for serving all kinds of roti (aka the Thai pancake) — from cheese-flavoured savoury roti, to sweet roti drizzled with chocolate sauce and condensed milk. You can also enjoy authentic Thai milk tea here, all at a very affordable price. No wonder it's one of Mariz's favourite cafes.
Address: RH22+XFW, Khwaeng Chatuchak, Chatuchak, Bangkok 10900, Thailand
Opening hours: Monday to Friday, 10 am to 7.30pm; Saturday and Sunday 10am to 8.30pm
15. Yellow Lane
If you're in Bangkok and looking for a cosy place for brunch, then Yellow Lane is the place for you. Located in the aforementioned Ari neighbourhood, its great ambience is what captures Mariz's heart. Big trees surround the cafe, allowing customers to embrace the serene greenery. Apart from the scrumptious food selection, which includes pancakes, big breakfast, and hamburgers, many also enjoy coming for the delicious cocktails while jamming to the live jazz music at night. 
P.S. — The live jazz session happens only on select periods. Make sure to check ahead before visiting if you wish to catch this!
Address: 2, 92 Phahon Yothin 5, แขวงพญาไท Phaya Thai, Bangkok 10400, Thailand
Opening hours: 9am to 10pm daily
16. Goja
"Goja in Phra Khanong is this hip Japanese cafe and bar that has awesome music," Mariz recommended. More than the food, patrons actually enjoy the alcoholic drinks at Goja the most. From cocktails to sake, it boasts an extensive selection to choose from. At night, it turns into a dance floor. So, now you know where to go for a fun night out!
Address: Thailand, Bangkok, Sukhumvit 71 Rd, Prideebanoonyong3
Opening hours: 12pm to 2am daily
Also read: 10 Most Popular Bars & Nightclubs in Bangkok to Experience the Local Nightlife
17. After You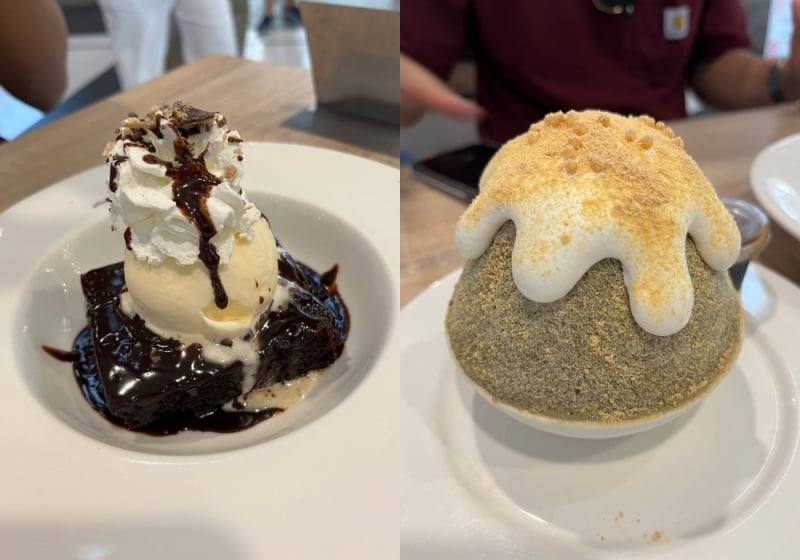 "After You — the ultimate dessert cafe. A must try for real!" Mariz exclaimed. Well, if you're wondering where to get the best desserts in Bangkok, here it is. It has multiple branches around the city, and all of them feature an inviting ambience. Don't miss out on Shibuya Honey Toast, Chocolate Lava Cake, Panookie, and Figgy Pudding, they are all signature desserts of After You!
Address: 323 3 Thong Lo Rd, Khlong Tan Nuea, Watthana, Bangkok 10110, Thailand
Opening hours: 11am to 11pm daily
Local restaurants that Mariz recommends
When it comes to eating, Mariz said that there are a lot of delicious noodle places or places serving crispy pork on rice for cheap. "There is something delicious everywhere you go in Bangkok, and I definitely recommend eating at the local open-air spots."
18. Kam Phun (Kumpoon)
For authentic and mouth-watering Thai food, visit Kumpoon (or Kam Phun), a Thai restaurant with several branches in the city. The one that Mariz has been to is on the seventh floor of Centralworld, which incorporates elements like hanging plants, artificial trees, and wooden furniture.
Address: 999/9 Rama I Rd, Pathum Wan, Bangkok 10330, Thailand
Opening hours: 10am to 10pm daily
19. Al Hussain
"Al Hussain serves the best South Asian food I've ever tasted," Mariz shared. This restaurant is halal, and it operates until 3am, making it convenient for travellers who crave delicious food late at night. From Middle Eastern delicacies like beef shawarma to traditional Indian food like paratha with curry, it has almost everything! 
Overwhelmed by many food choices? Simply ask the friendly staff here for recommendations.
Address: Khlong Toei Nuea, Watthana, Bangkok 10110, Thailand
Opening hours: 10am to 3am daily
20. Mama Dolores
Mariz also adores the amazing food from Mama Dolores, a large Mediterranean restaurant in Bangkok. She loves the hummus, falafel, tabbouleh, and kebabs here. Other menu items like Greek Moussaka, Balkan Parmesan, Antipasti Bruschetta, and Tabbouleh Salad are also well-loved by customers. 
The space is also huge enough to hold corporate dinners, celebrations, and other private events. So, if you're travelling in a big group, or seeking a place to gather, this is another place to consider! 
Address: 20 Yen Akat Rd, Chong Nonsi, Yan Nawa, Bangkok 10120, Thailand
Opening hours: Monday to Thursday, 11am to 2pm, 5pm to 10pm; Friday to Sunday, 11am to 10pm
Also read: Bangkok Public Transport Guide: How to Get Around as a Tourist
So, there you have it — a list of the best shopping destinations, cafes and restaurants, and places to visit in Bangkok, as recommended by Mariz. Which one of these sparked your interest? For your next trip, bookmark the list and explore Bangkok off the beaten path!
Got an interesting travel story or local tips to share? Click here to find out how you can be our next Featured Traveller!
---
All images credited to Mariz Castañeda, unless otherwise stated.