Cherry blossoms are certainly a mesmerizing sight for all — there's just something about these delicate, pink petals that put people's minds at ease. Although the flowers alone are enough to evoke an idyllic feeling, the surrounding atmosphere plays a huge role too. With that said, the year is also coming to an end, so it's time for us to forecast the best places to go cherry blossom viewing in 2018.
To make things easier for you, we've narrowed an endless list of cherry blossom viewing spots to just the top 3 in Japan, Korea, and Taiwan. We're no experts, but the cherry blossom season for Japan and Korea typically falls during the months of March and April, while Taiwan experiences it earlier in February. So if you're wondering whether it's too early to start trip planning, that's not at all the case! But don't panic, find the best travel deals today all from one portal – and yes, we're talking about flight deals on Wego and affordable accommodation options on Wego.
BOOK YOUR FLIGHTS AND HOTELS ON WEGO TODAY!
Now that we've got that out of the way, let's move on! Here are the top 3 cherry blossom viewing spots in Japan, Korea, and Taiwan for 2018.
🌸 Japan 🌸
1. Chidorigafuchi Park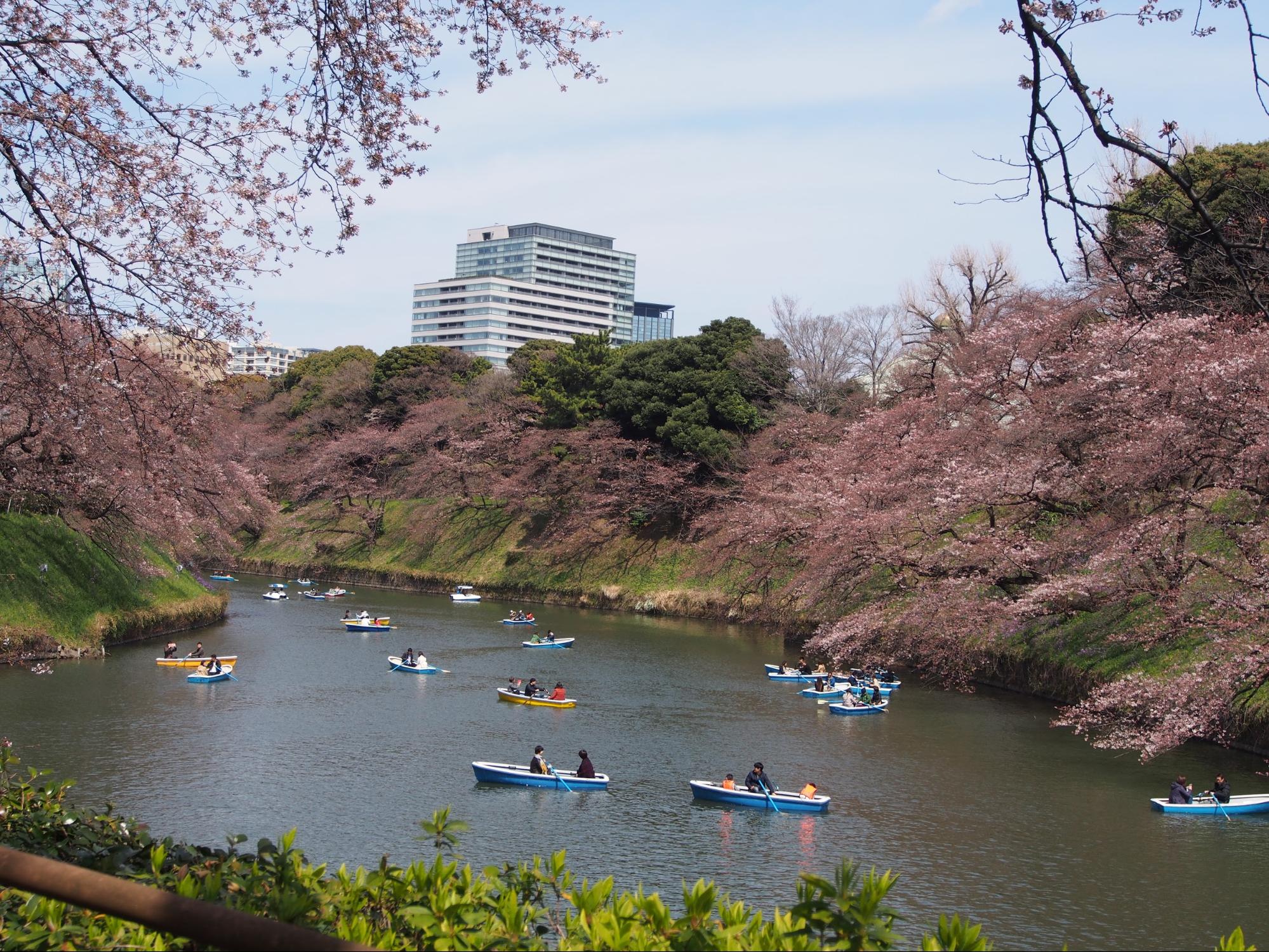 Image credit: nakashi
Tokyo is abundant with huge parks and historical sites that offer picturesque views of cherry blossoms, but the tranquil atmosphere and beauty of Chidorigafuchi Park is almost unrivaled. Located just a five minute walk away from Kudanshita Station, this park is known for its hanami-filled walkways and 17th-century old moat which encircles the Imperial Palace, where visitors can admire the pale pink flora on a boat ride. This viewing experience is simply too magical to be missed, especially when the trees start to light up at night, illuminating the blossoms and reflecting against the hanami-covered lake surface.
Chidorigafuchi Park can get crowded during hanami season, so plan ahead and make sure you don't miss the full bloom season. Find affordable flights to Narita Airport and book them on Wego now.
2. Osaka Castle
Despite having over a whopping 4,300 cherry trees in its surroundings, the Osaka Castle grounds are spacious, and a fantastic spot for a picnic. Typically, visitors make their way to Nishinomaru Park for its vast lawns and the stunning backdrop of hanami against the castle. If you want, you could even enter the castle to catch a breathtaking view of how the blossoms blanket the park from above. Now onto that must-have picnic experience: fret not if you didn't bring any snacks with you — there are food vendors scattered around the park so you'll definitely find some street food to eat.
Thinking of experiencing the beauty of Osaka's cherry blossom season in person? We say go for it. It's never too early when it comes to trip planning, so start looking for places to stay now — and get the best hotel and flight deals on Wego.
3. Arashiyama

Image credit: Tetsuji Sakakibara
There are no words to describe the charm of Kyoto on a daily basis, let alone during its sakura season. You'll easily find a nice park anywhere in the city, but if you're one to enjoy a zen afternoon, then the ancient district of Arashiyama is where to go. Take note: You may want to spend a day trip at this park — it's huge and there are many must-visit attractions. If you're looking solely for hanami though, head straight to Nakanoshima Park. Surrounded by rows of cherry blossom trees, the park is offers a spectacular view of the iconic Togetsukyo Bridge stretched over the Hozu River, which sits at the foot of the Arashiyama mountains. Make sure to bring a good camera — this is a picture opportunity you don't want to miss!
Arashiyama is located in the outskirts of Kyoto. If you're going to travel out of the city centre, why not spend the rest of your vacation in the countryside? And there's no need to fret over where to stay, because we've got you covered: you'll find the best flight prices to Kyoto on Wego, and accommodation options for your trip.
BOOK YOUR FLIGHTS AND HOTELS ON WEGO TODAY!
🌸
Korea
🌸
1. Yeouido Hangang Park (Seoul)
Image credit: Republic of Korea
The annual mid-April Yeouido Spring Flower Festival draws heaps of visitors — locals and tourists alike — to Yunjunro Street, a 6km-long road where over 1,000 Korean Cherry trees are planted. The rows are bordered with splendid flora and fauna such as azaleas, forsythia, royal azaleas, and other spring flowers, making it a perfect setting for a romantic stroll and taking pictures. At night, the place comes to life: cherry blossoms are colourfully lit, street performances are held throughout the area, and art exhibitions are open. If it gets too crowded, make your way to the nearby Yeouido Hangang Park instead. There, you'll find a quieter atmosphere with the same scenic landscape, but with the Han River in it this time.
Eager to make Seoul the next getaway destination for you and your special someone? Start looking for flights to Incheon and score the best deals on Wego.
2. Gyeonghwa Station (Busan)
Image credit: Korea Tourism Organisation
Feel as if you're on the set of a timeless romance film at Gyeonghwa Station, a famous cherry blossom-themed train station located in Jinhae, a city situated north of Busan. A roughly 800m long train track sits on the station grounds surrounded by never-ending rows of cherry blossom trees, forming a unique cherry blossom tunnel. What's more: the annual Jinhae Gunhang Festival lets visitors board a slow-speed shuttle train to enjoy the magnificent sight.
Even though the city of Jinhae is only an hour's bus ride away from Busan, it's totally worth spending a few days at, as many well-known cherry blossom-related attractions can be found here!
3. Jeju Island
Image credit: (top) mr.kototo; (bottom)  Republic of Korea
There's more to Jeju Island apart from its gorgeous seasides and lush greenery, especially during cherry blossom season. Dusty pink and bright yellow petals blanket the tropical island, turning it into a spring wonderland with magical sights wherever you go. If you're planning a trip there, make sure to check out the annual Jeju Cherry Blossom Festival held in the Jeonnong-ro district — during peak season, you'll find flea markets and traditional Korean art performances filling the streets. Alternatively, you could take a break from cherry blossoms and head for the canola blossom fields at the foot of Mount Sanbangsan instead. Sanbangsan Mountain is an underrated attraction not popular amongst tourists, so go ahead and prance around the fields as the ocean breeze kisses your face — nobody's watching!
Jeju Island's where the cherry blossoms first appear in Korea, and the season only lasts a week from late March to early April — so don't miss it! Secure your flights and snatch the greatest deals now with Wego.
BOOK YOUR FLIGHTS AND HOTELS ON WEGO TODAY!
🌸
Taiwan
🌸
1. Yangmingshan National Park (Taipei)
Image credit: (top and bottom left) Kinden Kuo; (bottom right) Ashley Thay
Taiwan's cherry blossom season arrives a little earlier than Japan and Korea's, with flowers in full bloom by early February. Yangmingshan National Park is a great place to view not only cherry blossoms but other lovely flora such as peonies and lilies — it also features a hot springs and is conveniently located within the capital of Taipei! Besides checking out the activities and events that are part of the park's annual festival, take some time to explore the numerous hiking and biking trails — if you're adventurous enough, you can even enjoy a panoramic view of Taipei from above!
Flights to Taipei for next February are as low as $120 — so what are you waiting for? Book them now on Wego and thank us later.
2. Wuling Farm (Taichung)
Image credit: Jerry Lai
For those of you who love glamping, don't miss out on an extraordinary glamping experience at Wuling Farm, where you'll get to wake up to the sight of magenta blossoms, the surrounding fruit farms, and the glorious golden glow of the sun at dawn. The camping grounds face the Syueshan Mountain and nearby lakes, providing a calm and secluded retreat perfect for those wanting a break from the city. There are tons of things to discover on Wuling Farm — make sure to check out the fruit farms for organic peaches and apples, the area's rich wildlife endemic to Taiwan, and most importantly the dark pink cherry blossoms blooming at every corner.
3. Alishan
Image credit: (top) Ralph.torello; (bottom left) unnicus; (bottom right) 張 婉君
Alishan is one of Taiwan's most famous mountains, boasting spectacular views of dawn and dusk, vast mountainside plantations for high-quality Alishan tea, historic hiking trails, and wait for it — its springtime medley of flowers. You'll want to dedicate a day trip to Alishan as there are simply too many cool things to do! Take the Zhaoping route on the Forest Railway and marvel at the cherry blossoms and mountainous views on a scenic train ride. Hike to the mountain peak and watch the sun set beneath the sea of clouds amongst the surrounding hills. Whichever attraction you choose to visit, you're bound to have an unforgettable time on this terrain, 2,000m above the sea.
BOOK YOUR FLIGHTS AND HOTELS ON WEGO TODAY!
And there you have it! These are the top three cherry blossom viewing spots in Japan, Korea, and Taiwan. If you're pondering over the idea of a getaway to witness the beauty of the cherry blossom season abroad, don't do it for too long — secure your flights with Wego while they're still cheap and available. And don't forget: use Wego for the best accommodation options too!
---
Brought to you in partnership with Wego.