Tokyo's Haneda Airport is undoubtedly Japan's busiest airport, and one of the busiest in the world with over 60 million passengers passing through each year. Naturally, it's chock-full of engaging activities and corners to explore!
If you're waiting for your next flight, or just want to chill in the airport for a while after landing, here are some places we recommend you check out:
1. Dine at the Planetarium Starry Cafe
Haneda Airport boasts a one-of-a-kind planetarium dome covered in approximately 40 million 'stars', which run in projections of between 3 and 15 minutes. The attached cafe is open from 7.30am to 2pm and has an extensive menu of pastas, coffee and tea. Grab a bit and settle down to marvel at the brilliant constellations from 2pm to 5.30pm.
After that, the cafe area becomes a bar, serving up original cocktails and desserts inspired by the stars! It's the perfect place to unwind, and well worth the JPY520 (~S$6.50) entrance fee.
2. Buy quirky items from vending machines
You can probably find vending machines in most airports, but none quite like those in Haneda!
You will find Japan's first Latte Art vending machine outside YOJIYA gift shop that dispenses dainty, well-decorated hot coffee for just JPY200(~S$2.50). Dashi (Japanese soup base) by food manufacturer Yamaya and goodies from Toyama Prefecture like smoked squid and ochazuke (rice and tea) can be purchased from vending machines too!
For a familiar taste, there's a Coke vending machine offering a variety of flavours in Coca-Cola's signature glass bottles. You can even get prepaid SIM cards instantly from a vending machine!
3. Indulge in some retail therapy
Japan is famous for its high-quality, often slightly quirky lifestyle goods. You'll find an impressive selection of them in Haneda Airport!
Of course, you can't leave Japan without boxes and boxes of Tokyo Banana (banana-shaped cake with banana custard), Jaga Pokkuru (potato sticks), and KitKats of every flavour!
Besides that, you can also find more unconventional snacks like gomatamago (sponge cake balls stuffed with black sesame paste). Some snacks like the Honihhi apfelbaum baumkuchen (layer cake filled with apple compote) and Ika Senbei karaage (baked and deep fried squid) come in special editions, only available in Haneda Airport!
For unique Japanese cosmetics, go for Makanai Cosme, where the all-natural products are tried and tested by the staff, or YOJIYA, a renowned cosmetics shop from Kyoto. Be sure to get the limited edition Haneda Airport aburatorigami (facial oil blotting paper)!
There's something for more playful tastes too – Hello Kitty Japan's outlet in Haneda is stocked full of super kawaii trinkets and snacks like Hello Kitty Langue de Chat (butter cookies), daifuku (mochi cake stuffed with custard cream) and even limited edition dorayaki (pancakes)!
4. Cross Haneda's Nihonbashi Bridge

As you walk further down, you will see the Haneda Nihonbashi Bridge. Nihonbashi Bridge is culturally symbolic in Japan, having connected the two banks of the Nihonbashi River since 1603. The one in Haneda is a faithful reconstruction of the Nihonbashi Bridge of Edo as it looked like in the 19th century!
Across the bridge is the eye-catching Festival Plaza where you can purchase ema (wooden tags) from a vending machine, write well-wishes on them and add them to the well-adorned walls for luck! It's also a great place for photos.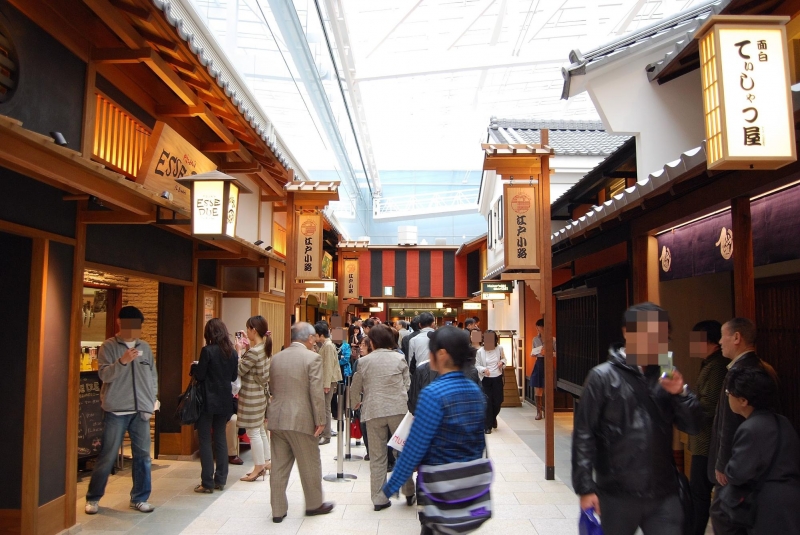 Do not miss the chance to wander around Edo-koji! In direct contrast with the ultra-modern design of the rest of Haneda Airport, Edo-koji is a section that boasts traditional architecture and aesthetics, taking you back in time to the flourishing Japan of the Edo period.
Dozens of paper lanterns light up the entrance, welcoming you to charming lanes along which you'll find restaurants as well as small boutiques full of retro-modern souvenirs. The restaurants and food stores in Edo-koji offer quintessential Japanese fare like ramen (noodles), oden (ingredients stewed in dashi broth) and thin, crispy Japanese pizza!

Don't forget to check out Yakiniku Champion and try its signature Edomae Yakiniku Roll, a famous sushi roll that has been featured multiple times in Japanese media!
5. Marvel at toys galore in Hakuhinkan Toy Park
Hakuhinkan Toy Park is one of Japan's most well-known toy shops and fortunately has an outlet in Haneda Airport, selling an array of novelty toys, characters and anime goods and all sorts of games to buy as souvenirs or simply to entertain you while you're in transit. In addition, there's a slot-car racing circuit that's sure to excite the whole family! Do take note that there's a JPY200 (~S$2.50) fee.
6. Rejuvenate and unwind at Raffine Relaxation Space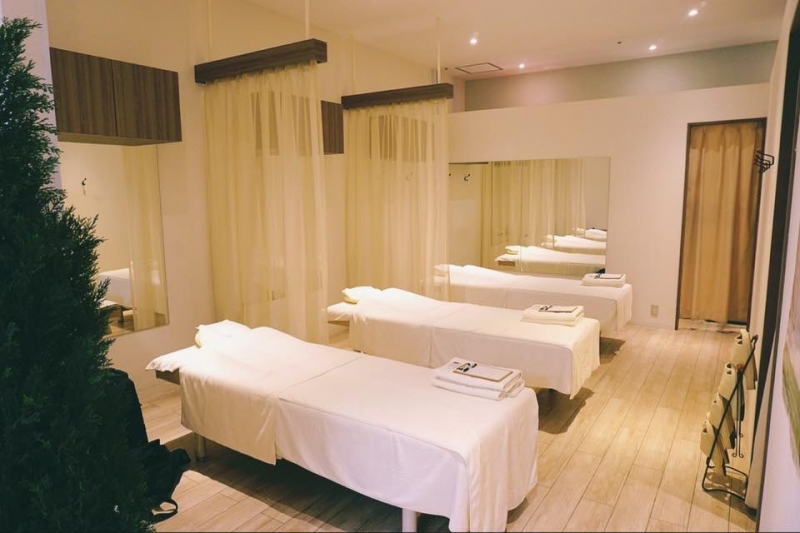 Image credit: Raffine Relaxation Space

This popular Japanese spa chain offers a variety of massages and treatments, blending both traditional and newly developed Japanese spa techniques that will soothe all your aches! Opt for a 15-minute face and head therapy treatment JPY1620 (~S$20.20), or if you aren't pressed for time, go for a 100-minute full-body massage JPY9720 (~S$121.40) that is sure to rejuvenate you after hours of sitting on a plane!
7. Saunter along the TIAT Sky Road
Image credit: brownpau

From the Festival Plaza, it's easy to pop over to TIAT Sky Road, a corridor featuring intricate model planes and informative panels from different airlines that outline the future possibilities for air travel. You can even check out the four available flight simulators and find out what it's like to be a pilot!
Nope, you don't have to sit around and twiddle your thumbs, or scroll aimlessly through Instagram while waiting for your boarding gate to open. There's so much to do at Haneda Airport, it's almost a tourist attraction in itself!