Long layovers and delayed flights are usually a drag. But if you're in Tokyo, you're bound to find entertainment in its two international airports. Haneda Airport, also known as Tokyo International Airport, isn't just any regular airstrip. It's practically a tourist spot in its own right, with shops, dining spots, and other engaging activities that will help make your time at the airport more fun. Whether you're waiting for your next flight out or just chilling in the airport for a while after landing, here are some things to do at Tokyo Haneda Airport that are worth checking out.
Also read: 11 Underrated Destinations in Japan That Are Worth Discovering
Best things to do at Tokyo Haneda Airport
1. Sip delicious cocktails at Bar Rage
Pre-flight drinks at the bar — always on top of our things to do in any world-class airport, but especially at Tokyo Haneda Airport. That's because it has Bar Rage, a popular watering hole that's the brainchild of leading Japanese mixologist Tomoyuki Kitazoe. Bar Rage is best known for serving creative cocktails made from fresh fruits, but there is a wide range of drinks available, including local craft beer. 
Besides Bar Rage, other great drinking spots at Haneda Airport include Beer Café, North Café & Beer, and Tailwind.
Also read: Tokyo Nightlife Guide: 12 Best Bars & Clubs to Enjoy the Local Scene
2. Buy quirky items from vending machines
You can probably find vending machines in most airports, but the ones in Japan are hands down the most interesting.
Outside the Yojiya gift shop, you'll find Japan's first latte art vending machine dispensing dainty, well-decorated cappuccino. Dashi (Japanese soup base) by food manufacturer Yamaya and goodies from Toyama Prefecture, like smoked squid and ochazuke, can be purchased from vending machines, too. Haneda even has new Yo-Kai Express ramen vending machines guaranteeing passengers always have access to hot ramen!
For a familiar taste, there's a Coke vending machine offering a variety of flavours in Coca-Cola's signature glass bottles. You can even get prepaid SIM cards instantly from a vending machine.
Also read: 18 Cool & Unique Japanese Vending Machines That Will Blow Your Mind
3. Indulge in some retail therapy
Japan is famous for its high-quality, often slightly quirky snacks, souvenirs, and other lifestyle goods. And even on your way out of the country, you'll find an impressive selection of shopping opportunities at Haneda Airport!
Of course, you can't leave Japan without boxes and boxes of Tokyo Banana (banana-shaped cake with banana custard), Jaga Pokkuru (potato sticks), and Kit Kats of every flavour! Most of these beloved treats are available at the Tiat Duty Free Shop Central.
Besides that, you can also find more unconventional snacks like gomatamago (sponge cake balls stuffed with black sesame paste). Some snacks like Karl Juchheim's honihhi apfelbaum baumkuchen (honey apple German layered cake) and Toraya's Sora no Tabi yokan (jelly treat made of red bean paste, agar, and sugar) come in special editions, only available at Haneda Airport!
For unique Japanese cosmetics, go for Makanai Cosme, where the all-natural products are tried and tested by the staff, or Yojiya, a renowned cosmetics shop from Kyoto. Be sure to get Yojiya's limited edition Haneda Airport aburatorigami (facial oil blotting paper)!
There's something for every shopper's taste, making retail therapy among the most entertaining things to do at Tokyo Haneda Airport. Bookstores, toy stores, stationery shops — it never ends! Only your upcoming boarding time can save you from blowing all your cash on quirky Japanese souvenirs.
Also read: Top 30 Tokyo Souvenirs & Where to Get Them on Your Next Trip
4. Cross Haneda's Nihonbashi Bridge and make a wish at Festival Plaza

As you walk from the fourth floor to the fifth, you will see Haneda's version of the Nihonbashi Bridge. Nihonbashi Bridge is culturally symbolic in Japan, having connected the two banks of the Nihonbashi River since the Edo period. It's the starting point of five different roads connecting Edo with other provinces. The one in Haneda is a faithful reconstruction of the Nihonbashi Bridge of Edo as it looked in the 19th century!
Across the bridge is the eye-catching Festival Plaza, where you can purchase ema (wooden tags) from a vending machine, write well-wishes on them and add them to the well-adorned walls for luck! It's also a great spot to snap a photo for your Instagram feed.
Also read: 10 Must-See Temples and Shrines in Japan
5. Take a walk back in time along Edo-koji
In direct contrast with the ultra-modern design of the rest of Haneda Airport, Edo-koji boasts old-world architecture and aesthetics, taking you back in time to the flourishing Japan of the Edo period.
Dozens of paper lanterns light up the entrance, welcoming you to charming lanes lined with traditional restaurants and small boutiques full of retro-modern souvenirs. Edo-koji is home to some of the best restaurants in Haneda Airport, so don't miss grabbing a bite along the alley. Most restaurants and food stores in Edo-koji offer quintessential Japanese fare like ramen, oden (ingredients stewed in dashi broth) and thin, crispy Japanese pizza!
Don't forget to check out Yakiniku Champion and try its signature Edomae Yakiniku Roll: a famous sushi roll that has been featured multiple times in Japanese media! If it's tonkatsu you're in the mood for, the renowned Katsusen is your best bet.
6. Marvel at toys galore at Hakuhinkan Toy Park
For toy lovers and aviation enthusiasts, visiting the famous Hakuhinkan Toy Park should be at the top of their list of things to do in Tokyo. Haneda Airport features a well-stocked branch of this toy park, with a dizzying array of novelty toys, characters figures, anime goods, and all sorts of fun games. Additionally, the Haneda branch is particularly known for aviation-inspired toys and trinkets.
Whether you're here to stock up on souvenirs or simply to pass time while you're in transit, Hakuhinkan will keep you entertained. In addition, there's a slot-car racing circuit that's sure to excite the whole family!
7. Rejuvenate and unwind at Grand Raffine

This popular Japanese spa chain offers a variety of massages and treatments, blending both traditional and newly developed Japanese spa techniques that will soothe all your travel aches. Try a 15-minute face and head therapy treatment for some quick pampering. But if you aren't pressed for time, we recommend splurging on a 100-minute full-body massage!
8. Learn to fly at TIAT Sky Road
Love aviation? This is one of the truly unique things to do at Tokyo Haneda Airport. Pop over to TIAT Sky Road, a corridor featuring intricate model planes and informative panels from different airlines that outline the future possibilities for air travel. 
Learning about planes, but experiencing how it is to fly them is definitely a Haneda Airport highlight. Flight simulators on the TIAT Sky Road allow frequent fliers to be on the other side of the plane. Take control of a simulated aircraft and find out what it's like to be a pilot!
9. Go hunting for eye-catching art throughout Haneda Airport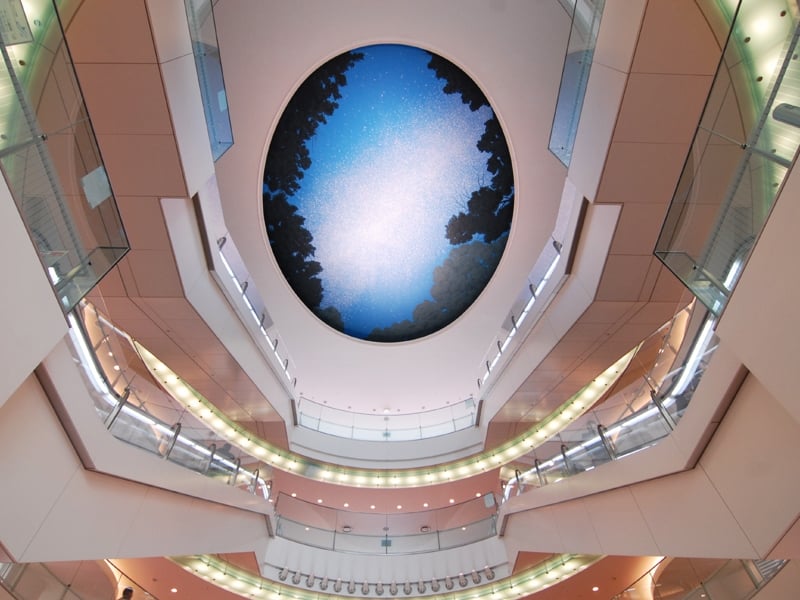 Image credit: Haneda Airport Official Website
Tokyo is a hub for art and culture, so it's not surprising to find that even the city's airport is dotted with unique paintings and sculptures. Hunt down Hiroshi Senju's colourful works for your Instagram feed, from the star-dotted cow lying down in Terminal 2 to the water shrine in Terminal 3. TIAT Sky Hall on the fourth floor of the International Terminal also regularly hosts exhibits for local and international artists and museums.
10. Soak in the scenery from the observation decks
Let yourself bask in your last glimpses of Japan by spending time at the observation decks in Terminals 1, 2, and 3. From here, travellers get to see the different aircraft flying in and out of the city — and these areas tend to be quieter than other bustling areas of the Haneda Airport. Plus, there's something uniquely meditative about watching planes take off and land one after the other from up close.
Also read: Off the Beaten Path in Tokyo: 16 Best Things to Do That Are Under the Tourist Radar
Nope, you don't have to sit around and twiddle your thumbs, or scroll aimlessly through Instagram while waiting for your boarding gate to open. With so many things to do at Tokyo Haneda Airport, we won't be surprised if you don't want to leave this tourist attraction even when it's boarding time!
---
Featured image credit: Haneda Airport | Official Facebook Page