When most people think about Japan, they picture lively, neon-lit streets, flashy anime and manga stores, upbeat techno music and dizzyingly tall skyscrapers. While some parts of Kyoto certainly reflect that metropolitan vibe, for the most part, it is a unique destination with its own charms and attractions.
If you're planning to visit in the near future but aren't quite sure what there is to see and do there, chillax. Here's a list of 23 things to do in Kyoto to help you enjoy the best the city has to offer!
Also read: 10 Best Airbnb Homes & Vacation Rentals in Japan for the Trip of a Lifetime
1. Explore Kyoto Main Station
The Kyoto Main Station is an architectural masterpiece (just look up at the ceiling!) but it's more than just for show among  Kyoto attractions. The station is filled with countless eateries, souvenir shops, grocery stores, and malls, so you hit several birds with one stone right here; this also makes exploring the station an eventful activity to pass the time on your Kyoto sightseeing tour. And if you're the type to grab last-minute souvenirs, the Kyoto Main Station has a lot of staple tokens to purchase. 
2. Enjoy a panoramic view of the city from the observation deck of the Kyoto Tower
You can't call it a trip to Kyoto without seeing what the Kyoto Tower has to offer. Standing at 100 metres, the tower's observation deck gives you panoramic views of the city and provides telescope stands you can use free-of-charge. On clear days, you can even see Osaka from afar, but constant visible establishments include UNESCO World Heritage Sites such as Toji, Kiyumizu-dera Temple, and Hingwanji.
Hungry? Kyoto Tower features the Restaurant Tower Terrace, a sky lounge called Kuu, and the Beer Garden & BBQ, all of which will feed you to your heart's content. How could you not include dining with a view on your list of things to do in Kyoto?
3. Taste the freshest street food and shop for bargains at Nishiki Market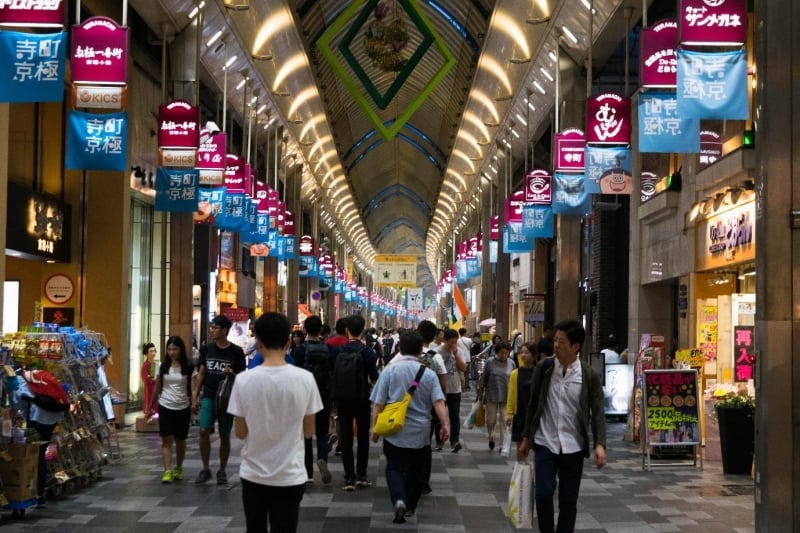 Not usually included among the famous places in Kyoto, the Nishiki Market is a wonderful alternative for pricey food sources. This market is a five block-long shopping mecca that features 100 shops and restaurants that sell quality ingredients and cuisines. Buy affordable seafood, produce, and even kitchen utensils for your culinary ventures.
Bargain hunters and budget travellers will really appreciate the stalls that give free food samples of the dishes and skewers that are meant to be eaten on the spot. If you'd like to cook your own food back in your Kyoto accommodation, the Nishiki Market is the best place to buy your goods.
4. Unleash your inner otaku at the International Manga Museum
Otaku fans, aka anime and video game lovers, adding the International Manga Museum on your "things to do in Kyoto" list is a must. Not only will you find the original stories of your favourite anime and Japanese video games in this museum, but you'll also have access to a research reading room where you can browse around 250,000 materials that can not be accessed anywhere else. It's almost impossible not to find the mangas you're looking for too as there are more than 300,000 materials in the museum's collection. Out of all the Kyoto tourist spots, this museum will expand the worlds you know even farther.
5. Journey to the top of the iconic Fushimi Inari Shrine
Who doesn't want a photo against the striking torii gates found all around Japan? In Fushimi Inari Shrine, there are 10,000 torii gates leading up to Mount Inari. This is quite apt, considering that torii shrines were originally built to distinguish the human world from the sacred space where the gates lead. The whole stretch of this precinct is about 870,000 square metres. Trust us, that's where you'll find the best photo spots without competing too much with tourist crowds. 
6. Be dazzled by the surreal Arashiyama Bamboo Forest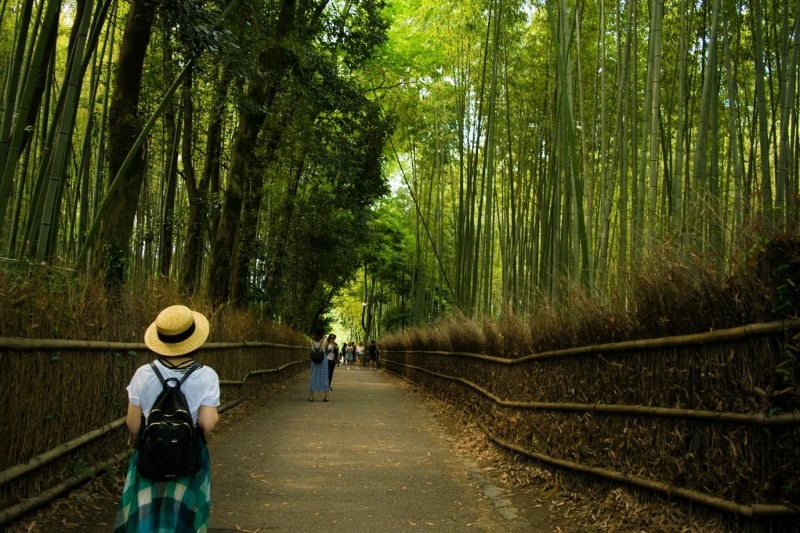 One of the best Kyoto attractions is of course the city's bamboo forest. Arashiyama Bamboo Grove is so quiet and serene that you'll feel as if you were in another world just walking amidst the towering bamboo trees. It's amazing how different the sense of calm and rejuvenation is when you're in the presence of clean and verdant nature. You should check this place out for yourself to see what we mean, and don't forget to take pictures since it's also one of the most photographed famous places in Kyoto.
Also read: 25 Photos That Showcase The Picturesque Charms of Kyoto
7. Stay in a quaint boathouse in the fishing village of Ine
The quaint Ine Fishing Village will win your heart with its charm and simplicity. Tucked between the mountains and Ine Bay, this village offers a look into the local fishing industry and how people are content to live in boathouses (funaya) by the bay. These boathouses are divided into two floors: the first is naturally where the fishing boats are docked, while the second floor is the living spaces. While you're here, hop on a boat tour to familiarise yourself with the village and the native birds, which you are allowed to feed by hand. The boat tour will provide the bird food too!
8. Journey along the scenic Hozugawa River by boat
Yet another lovely boat journey to experience is the Hozugawa River cruise. This sightseeing boat ride takes you from Kameoka to Arashiyama on traditional boats. Expect flat-bottomed boats that are piloted using oars and bamboo poles; in this way, you're given the opportunity to slow down and appreciate a calmer pace while taking in the ravine's natural scenery. The best time for these boat rides is from November to December when the boats are heated and the leaves change colour. Although not as popular as other Kyoto tourist spots, the Hozugawa River surely offers a unique activity to add on your "things to do in Kyoto" bucket list.
9. Snap away at the scenic Gion Tatsumi Bridge
The bright, red-coloured fence and stone pavements running along the clear-flowing river make this one of the most scenic places in the Gion District, perfect for Insta-worthy photos. It's even more beautiful in spring when the cherry blossoms are in full bloom!
10. Have a picnic among the 680 cherry blossom trees in Maruyama Park
Continue your floral escapades in Maruyama Park, one of the famous places in Kyoto to witness the glory of cherry blossoms starting April. The most popular place in the park is the centre where you'll find the iconic shidarezakura (weeping cherry tree). This huge tree is illuminated at night to make the view all the more magical.
Also read: Kyoto Sakura Season Guide: Everything You Need to Know for Your Trip
11. Enjoy a leisurely walk along the seasonal Tetsugaku no Michi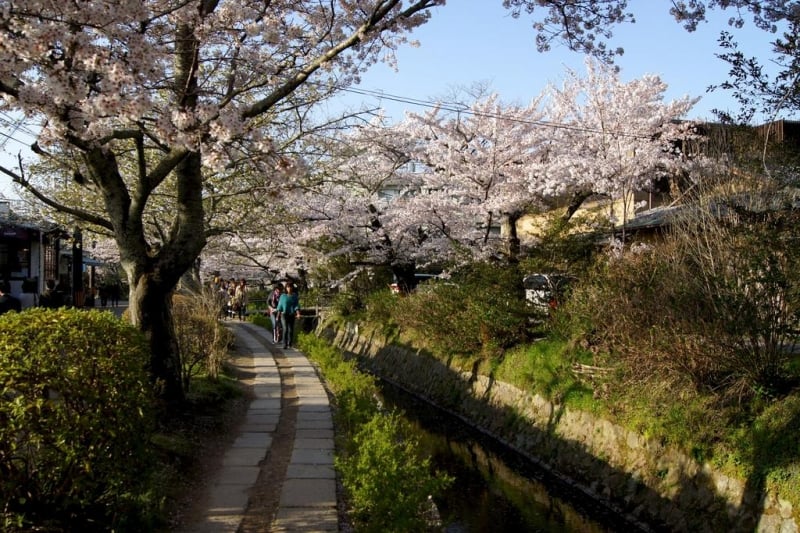 Located along a canal south of Ginkaku-ji, this two-kilometre-long walking path is known as the Philosopher's Walk due to its historical connection to the Japanese philosopher Kitarō Nishida. In spring, it is a cherry blossom tunnel while in the summer, fireflies adorn the bank. Basically, it's a stunning attraction at any time of the year!
12. Go temple-hopping at some of Kyoto's most serene ancient temples and shrines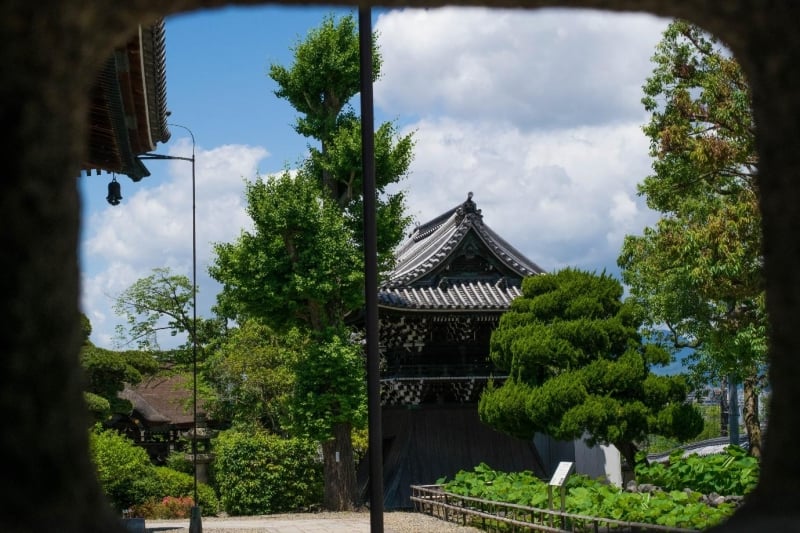 Kyoto sightseeing isn't complete without temple-hopping. Take your pick from beautiful temples such as the Nanzen Temple, Shouren-in, Shimogamo Shrine, and many more. In fact, while walking aimlessly about, you might even accidentally come across one, like the quaint but beautiful Otani Honbyo. The stone bridge matched with the bonsai trees decorating the temple surroundings definitely put you in a zen type of mood. 
13. (Maybe) Meet the love of your life at Jishu Shrine
The shrine is located inside Kiyomizudera, Kyoto's most famous spot for successful relationships. The ritual will ask you to close your eyes as you cross the two stones known as 'fortune-tellers,' and it is believed you will find your true love. If you don't believe in that, you could also buy some conventional charms and souvenirs for good luck in romance. Tag all your single friends. Better yet, take them along with you as you tick this off your list of things to do in Kyoto!
14. Take a day trip to nearby Himeji and visit the famous Himeji Castle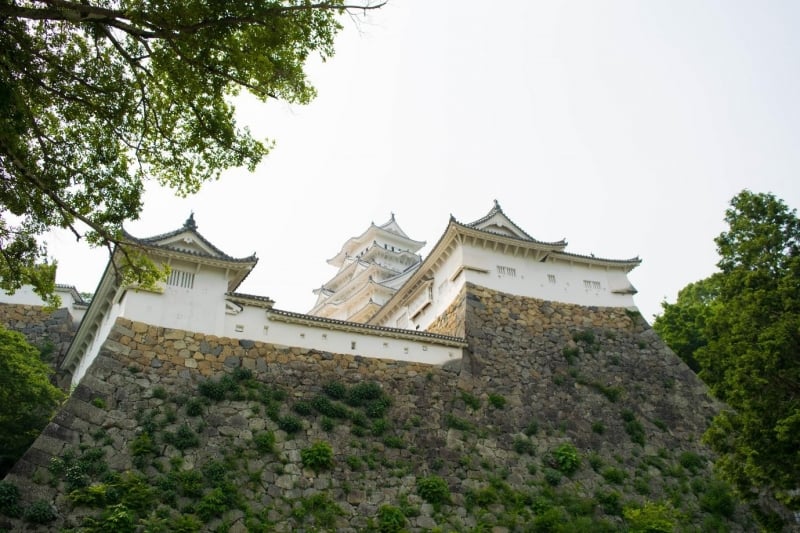 This historic hilltop castle is a UNESCO World Heritage Site known for its status as an important monument of Japanese history and culture. The castle grounds turn into a field of purple during spring and a majestic sea of red in the fall. It is only an hour's train ride from Kyoto Main Station and well worth the trip!
15. Pay a visit to Gion, the Geisha District of Kyoto
Gion is where you will find authentic geisha and geiko that entertain visitors. The town contains many traditional wooden houses and shops. To underscore the cultural vibe of Gion even better, there are kimono rentals in the area where you can finally be dressed in the kimono of your dreams. Imagine wearing a kimono while exploring traditional Kyoto attractions such as this. Now that would be one for the books.
16. Take it up a notch in the Kimono Forest
Still not content with your kimono rental experience? Then head to the Kimono Forest in Arashiyama. It's not a very popular activity on a typical "things to do in Kyoto" list, but it's one of the most interesting in the prefecture. This place is composed of stunning cylinder-shaped pillars all wrapped in kimono. The kimono-clad pillars frame the path leading to the Randen tram station and there are approximately 600 of these poles installed in the area. The kimonos specifically feature the traditional Kyo-yuzen style; according to artist Yasumichi Morita, the overall concept of the kimono forest was to "give a fresh air to the station while still keeping the old tradition." With the vibrant and rooted way that the artist went about it, looks like the mission was accomplished, no?
17. Take a samurai class
We kid you not. You can actually take a samurai class in Kyoto. Here, you will learn how to bow, draw a sword, and learn basic fighting techniques all from none other than a samurai master. The classes last for one hour but you will still be gifted with a completion certificate, along with a photo session with your samurai costume. How's that for a memorable Kyoto experience?
Also read: 10 Best Samurai Movies of All Time & Their Notable Filming Locations
18. Rent a bike and cycle along Kamo River
For many tourists, cycling is the best way to experience a city in the most convenient and fun way. A pretty place to cycle in Kyoto is along the Kamo River, where you can admire cherry blossoms in the spring, and listen to bands playing at the Sanjo bridge in the summer. Cycling along this river, you can basically get anywhere, such as the Imperial Palace, the 2,000-year-old shrine of Shimogamo-Jinja, and the Kyoto Botanical Gardens among other locations. Feel the wind in your hair and breathe in the fresh breeze as you discover all the Kyoto attractions on your bike. You can rent one near the Gion-Shijo station. One bike costs ¥1,000 per day.
19. Admire traditional Japanese architecture as you stroll along Ishibe Alley
Speaking of places that give you a glimpse of old Japan, Ishibe Alley is a location that literally looks like a movie set depicting traditional Japanese motifs. Think Rorouni Kenshin and more. As you walk through the alleyways, however, you'll notice that the tea houses, salons, restaurants, and homes are fully functional and not just for show. There are families living in the area, and you can enter in any of the restaurants to have your lunch and dinner. The preservation of old Japan in Ishibe Alley is very intentional as the government itself sees to it that the history of this place remains preserved.
20. Hike to the summit of Mount Yoshida and enjoy a traditional Japanese tea ceremony
Don't worry about the hike. The path is gentle, the air is light and the scenery is pleasing to the eyes. Not to mention, you'll get the chance to indulge in the aromatic tea prepared in the unique Mo-an Café through a traditional Japanese Tea Ceremony!
21. Sample authentic Japanese Matcha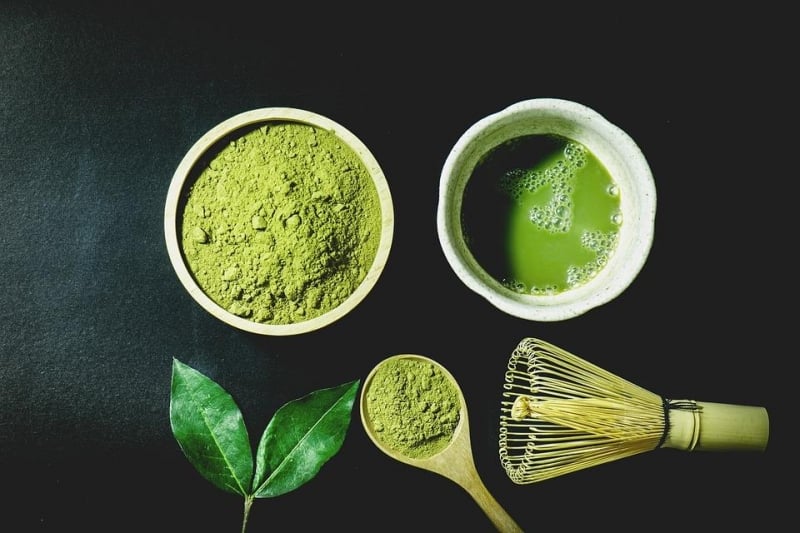 Kyoto is famous for its fine, top-quality matcha. It is the place to sample some authentic matcha, regardless of whichever form you prefer: traditional Japanese tea, ice cream, mochi, latte — you name it, they got it.
P.S. — It's healthy for you too!
22. Sample different types of sake at the Fushimi Sake Distillery
Time to unwind to some good ol' sake, and there's no place better to do that than in the traditional sake brewing district of Fushimi Sake Distillery. This haven is home to about 40 sake breweries and boasts of clean, soft water that flows from underground springs. As sake has a deeply rooted history in Japan, many of the buildings in this district reflect the traditional motifs of wood and white-plaster walls. Some of these establishments, whether a brewery or shop, welcome customers for free tasting and sell sakes of their own. And just between us, there are certain products you'll find in Fushimi Sake Distillery that aren't available anywhere else, so get them here while you can.
23. Enjoy a fiery bowl of ramen at Menbakaichidai Restaurant
What's that? You like hot food, you say? Well, try fiery! Yes, ramen in Menbakaichidai in Kyoto is served literally flaming hot, making dinner a true spectacle and an unforgettable occasion. Just don't get too close, you don't want to burn yourself before actually chowing down on drool-inducing ramen. 
Also read: Ramen 101: How to Order and Eat Japanese Ramen Like a Pro
And there you have it, all the most amazing things to do in Kyoto. It's such a beautiful city with rustic charms and rich activities to broaden your horizons. Start planning your trip there now, but once you're there, take your time. Kyoto sightseeing is meant to be taken slow.