While a photo tells a thousand words of your experiences overseas, nothing beats a souvenir to prove that you've been to a foreign country (and to appease co-workers and loved ones!). In Tokyo, there's certainly no lack of souvenirs to choose from, with the omiyage (or souvenir) giving well-embedded in Japanese culture. So here are 30 Tokyo souvenirs you should get on your future trip and where you can get them!

The best Tokyo souvenirs
1.  Tokyo bananas
Let's get the obvious out of the way first. If you're looking for something that screams Tokyo and is easily found, it has got to be Tokyo Banana. Yellow and shaped like a small banana, this curious confectionary is a sponge cake with banana puree cream in the middle. The brand has also spawned several different flavours and variations, with special seasonal flavours coming up every now and then. What's its connection with Tokyo you ask? I don't know, and probably never will, but that doesn't stop anyone from enjoying this snack!
2. Tokyo hiyoko
If Tokyo Banana isn't enough for you, why not get some Tokyo hiyoko? These adorable chick-shaped pastries are filled with sweet bean paste as well as other flavours, and have over a hundred years of history. Due to its popularity, you can even find this treat in airport shops, making them as easy to find as Tokyo Banana.
3. Uchiwa/Sensu
An icon of the Japanese summer, these fans can be used both for fighting the heat and as a display piece – a beautiful and sensu-ble souvenir (sorry). You should be able to get these fans at most traditional gift shops with a variety of designs and materials. In the thick of summer, paper-plastic uchiwas (non-folding fans) are also given out for free by shops and at events – a great commemorative gift for any festival and occasion.
4. Chopsticks
While Hashi or chopsticks aren't indigenous to Japan, the shape of these vary between the countries that use them, with those in Japan narrowing at the tip, making them effective for picking the bones off fish. Made of lacquered bamboo or plastic, you should be able to get them in a variety of designs at various gift and budget shops at different price points. 
5. Bento boxes
Since we're talking about chopsticks, bentos boxes shouldn't be overlooked. As a country obsessed with the presentation of food, special attention is given to what you store them in as well. As with hashi, you can get these in bamboo (both lacquered and unlacquered) and plastic.
The former is great for retaining moisture in your food, while the latter offering a variety of attractive designs. Of course, kid bento boxes make great gifts for children, and you should be able to get different cute designs or popular characters on them in Japan.
6. Furoshiki
If you're considering getting Bento boxes, why not consider getting what they are carried in? Furoshiki are sizeable pieces of sturdy cloth that come in beautiful designs – a great addition to any home décor, if not used to carry bento boxes around. Due to their rather malleable shape, furoshikis can also be used to carry a variety of other things in style.
7. Tenugui
Not to be confused with Furoshiki, these smaller pieces of cloth are hand towels, and like their bigger cousins are just as beautifully designed. Use them as handkerchiefs, scarfs, hand towels – their great utility and beautiful designs make them a great gift and souvenir.
8. Ceramics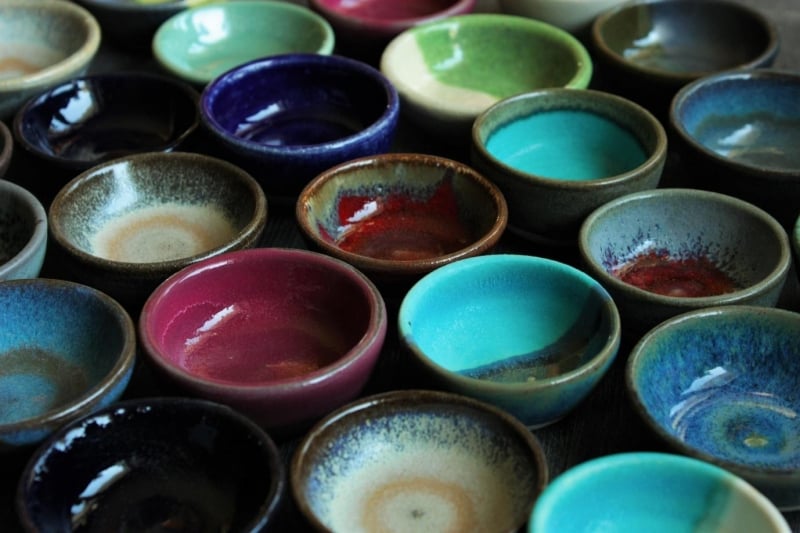 If you're more of a eat-in person, you can consider getting some Japanese ceramics instead. Japan has a long and rich history of the art, and the quality, beauty and variety of it shows. Different regions of Japan feature unique distinct styles of ceramics, and with several artists having made their home in the capital city, there won't be any lack of pieces you can bring back with you. Expensive pieces by renowned potters, cheap cutlery at flea markets and value shops – it won't be hard to find that a piece that's perfect for you.
9. Kintsugi
If your beloved ceramic pieces inevitably get damaged, kintsugi is a great way to extend their shelf-life. Ever the proponents of mottainai (or frugality), the Japanese believe that there is value and beauty even in an object's flaws. This simple yet elegant art has evolved from its roots in the royalty to an art enjoyed by all, with some even intentionally breaking pieces to have them fixed up! While you can employ the services of an expert or join a kintsugi workshop, shops like Tokyu Hands also have kintsugi kits where you can try the art out for yourself.
10. Edo Kiriko glass
A delicate art native to Edo, present-day Tokyo, these glassworks feature intricate patterns etched against a background of colour, such as red or blue. With products ranging from vases to teacups, these glass pieces can be used both as everyday household items or eye-catching display pieces.
11. Tea leaves and tea products
Japan is a nation of tea drinkers, so it's definitely not far-fetched to imagine some even substituting green tea for water! Drank by young and old alike, Japan has taken serious pride in producing tea leaves and products of quality that can be enjoyed any time of the day and in a variety of ways. Also, due to the varying environments that green tea plants are grown in throughout the country, the resulting green tea leaves also vary in taste – something to look into if you're interested. Japanese teas include sencha (green tea), matcha, genmaicha (tea with roasted brown rice), hojicha (roasted tea), mujicha (barley tea), and Japanese Oolong Tea, each with their own taste, texture and health benefits.
12. Book covers
As a nation still engrossed with paperbacks and literature, the Japanese like to employ book covers to help keep their books in pristine condition – it after all helps with the resale value. As a person who like print books, this item comes recommended from me. Most book covers in Japan come in fixed sizes, although there are free-sized ones that can fold into a variety of book sizes up to a medium-sized hardcover, such as those from Beahouse. If you too are a fellow book-worm or know someone who is, this is a great souvenir to get.
13. Nail clippers
I've actually heard of this as a hearsay, but tourists really love to get their nail clippers from Japan. Besides once again coming in a variety of colours, designs and functions, these Japan-made nail clippers are of exceptional quality, and can cost from anywhere between two dollars to a hundred dollars (!). The quality can only be truly appreciated upon usage, so why not get yourself a pair to try out?
14. Gachapon
You'll be surprised what you can get from capsule toys machines from Japan. Cute figurines, charms and a variety of other items that belong in the realm of the weird and absurd can be gotten from these machines, and they are often of good quality too. (For the sake of keeping this article family-friendly, I will leave it to you to discover what exotic gachapons there are in Japan, if you're interested). These capsule toys are so compact, you won't have any trouble stuffing a few into any small spaces left in your luggage – a great gift to get more than one of!
15. Fake food samples and food kits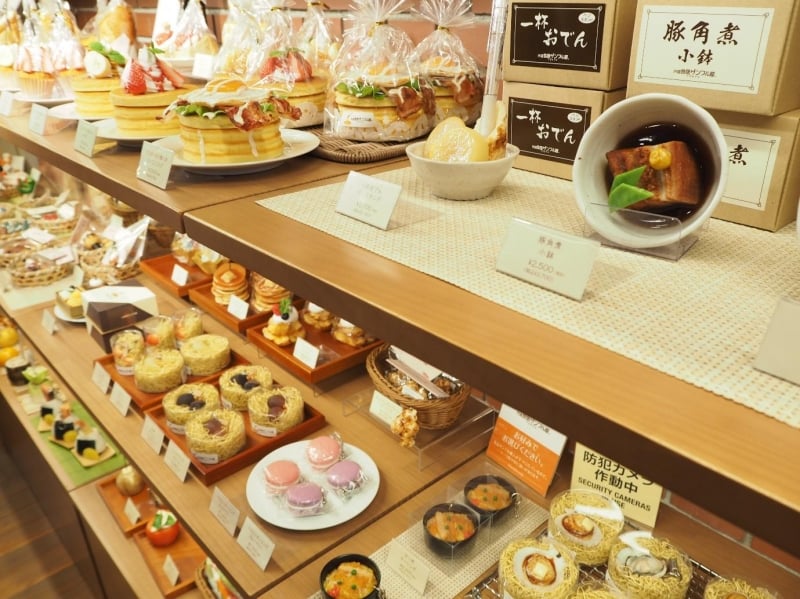 Did you know that fake food samples actually originated from Japan? The making of these detailed wax models was once an arduous process, and till today samples are meticulously handcrafted. Now enjoyed both in restaurants, and as wonderful memorabilia of the food you've eaten (or fallen in love with) in Japan, these fake food samples carry a quaint charm to themselves. If you're up for it, why not try out a Sample'n Cooking DIY Kit, where you can make one of these fake food samples yourself?
16. Planters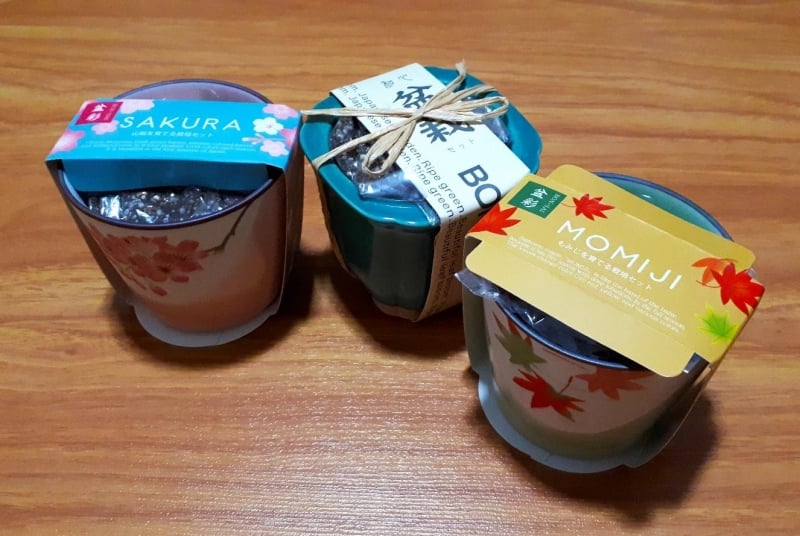 If you're someone with a green thumb, why not consider getting a planter kit or two from Japan? Each kit comes together with a pretty ceramic pot, in which you can cultivate a variety of plants ranging from Japanese Bonsai to Momiji (Maple). Do check if there are any requirements for bringing these into your country however; getting a phytosanitary certificate from the airport might take a few days. Another note: as these plants thrive in a temperate climate, instructions have been provided in these kits to leave the plants in refrigerators to simulate colder temperatures.
17. Stationery
Besides their renowned quality, Japanese stationery are well-known to feature anything from minimalistic designs to that which are just too adorable to pass on by. The spirit of Japanese creativity shines through in their products, and you just might chance upon things you never even know you needed in a Japanese stationery shop.
18. Fuurin (wind chimes)
Another icon of the Japanese summer, these small (and sometimes very noisy) items ring brightly through the humid heat, making summer days a bit more bearable with their telling of the wind. While you can find these in gift shops, a great place to get fuurin is at wind chime festival or markets, where amidst the bright cacophony you can pick a wind chime that's just right for you. The different materials used (glass, ceramics, metal) and the shape of the wind chime create different sounds, so be sure to try out all of them!
19. Wagashi (traditional Japanese sweets)
Made mostly from plant-based ingredients, wagashi make great complements to a pot of green tea due to their mostly sweet nature. The quality of wagashi is a serious business right down to their presentation, and it's not rare to find them elaborately packaged – a bonus if you're planning to get them for someone important (i.e your boss). Of course, wagashi can also be found cheaply at various markets, convenience stores and street stores, making them not too difficult to get.
20. Dagashi
The modern-day (and cheaper) cousin of wagashi, dagashi are cheap packaged sweets and snacks reminiscent of a by-gone era. These sweets often feature brightly coloured and attractive packaging, making them great to get for kids, or for anyone who wants to have a taste of childhood again. These sweets can be found at dagashiya, or dagashi bars if you decide to try a few on the spot.
21. Ramune
A drink typical of the summer, the iconic shape of ramune bottles are hard to miss. The glass bottles are fitted with a single marble in their neck from an age-old way of preserving carbonation, which makes it both fun and challenging to drink from. To up the ante, why not try out some of the more adventurous flavours like curry and kimchi?
22. Licensed goods
While licensed goods may not be synonymous with Tokyo, some franchises have theme cafes and attractions only in Tokyo with location-limited items, so it would be the perfect opportunity to purchase them. Some examples of such locations include Gundam Base Tokyo, Puroland (for Sanrio Characters), Tokyo Disneyland and Disneysea, and the Ghibli Museum (look out for the Ghibli Theme Park that's coming soon!) There are many more, so hit up the search engines to see if you can find any of your favourite franchises in Tokyo!
23. Kimono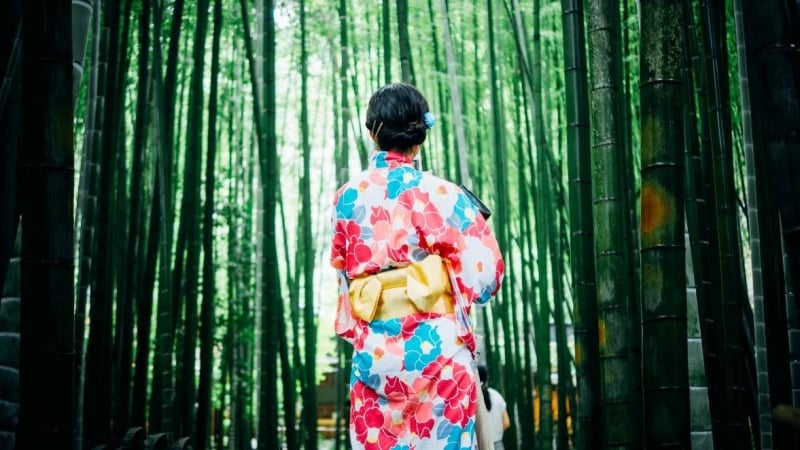 A unique part of any culture is its traditional clothing, and the beauty of traditional Japanese clothing make them a hard choice to pass by. You might find souvenir shops selling kimono sets and even second-hand kimono for lower prices. Many parts make up a complete kimono however (and the wearing of it isn't easy too), so if you're looking for less elaborate clothing, a yukata might be suitable. If you're looking for footwear, getta, or traditional wooden clogs, make interesting (and noisy) gifts, while tabi shoes and socks are certainly unique with their split-toe design. 
24. Ukiyo-e
If you're a great appreciator of the arts, you would be interested in the traditional woodblock ukiyo-e paintings that can be found in Japan. These paintings can feature anything from famous historical figures (such as kabuki actors), landscapes and scenes from folklore, making them a great talking point in any home party. Ukiyo-e can also be found on various other memorabilia, such as sensu and cups, if you lack the space to have a woodblock print on display.
25. Noren
A long piece of cloth that's traditionally hung outside of an entrance for protection against sun, wind and dust, noren can not only be found outside homes but shop entrances as well. With their traditional designs, It's a great way to bring back some ambience of Japan back with you.
26. Washi products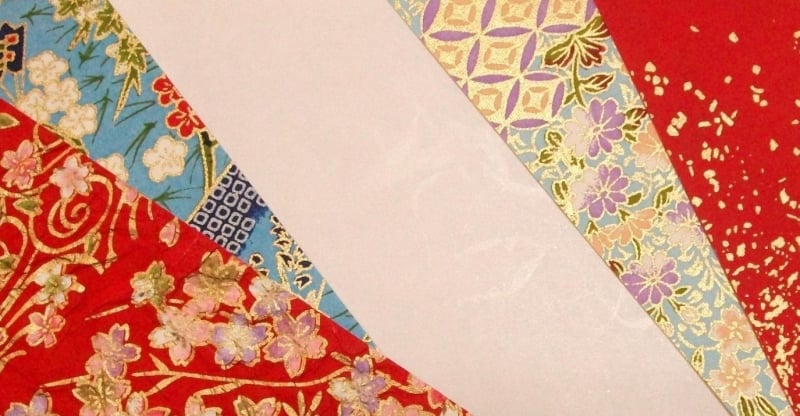 A traditional Japanese craft registered as a UNESCO Intangible cultural heritage, washi or Japanese paper, can be found in different products such as notebooks, origami paper, tape and oil blotting papers. Due to the traditional method of making them, such paper is tear-resistant, and do not yellow under exposure to light, turning whiter instead. Differences with the paper we have today are definitely in the details, so why not buy some to experience the difference?
27. Hanko stamps
While western practice look to signatures for authentication, the Japanese traditionally use hanko, which are lipstick-sized stamps with their family names carved onto it. These portable stamps can be either self-inking, or kept in a case with an inkpad in it, and make for a unique memento from Japan. Don't worry if you don't have a Japanese or Chinese name, as western-name name hankos (with names translated into Japanese kanji) can be custom-made and even sold in vending machines. Modern hanko now aren't limited to names, but have various pictorial designs as well.
28.  Japanese lacquerware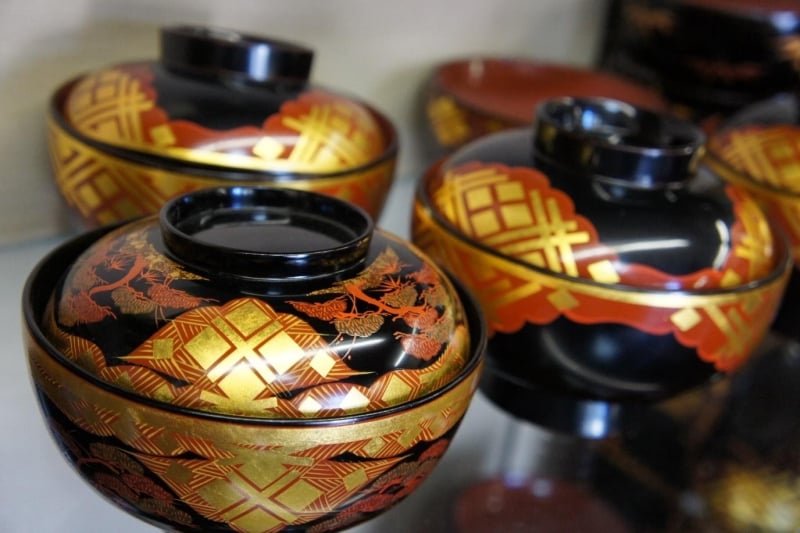 Another traditional Japanese craft that's understated yet beautiful at the same time, Japanese lacquerware are sturdy, light and become more beautiful with prolonged use. With their design however, lacquerware can even be used as shelf pieces.
29. Traditional Japanese toys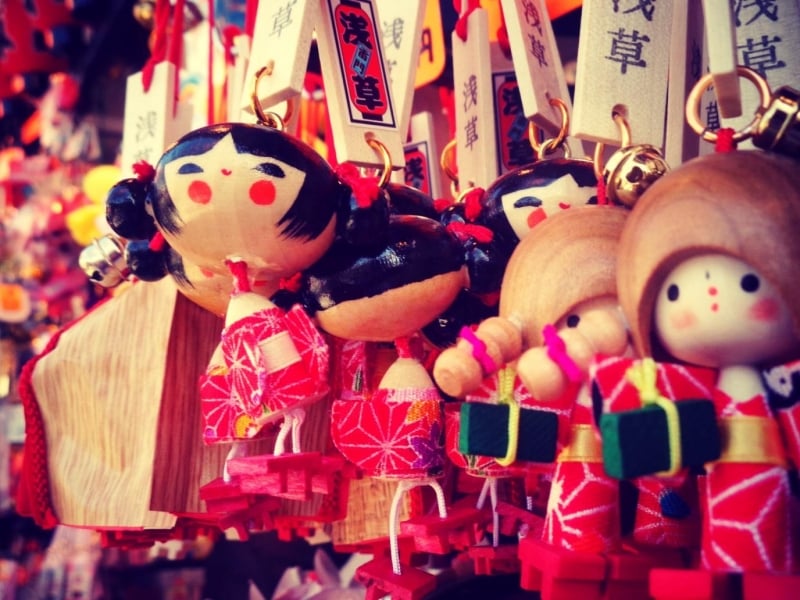 If you're looking for something for the kids, traditional Japanese toys are something you can consider. Some of such toys include kendama, beigoma (traditional spinning tops), hanetsuki (traditional badminton), and daruma otoshi. Japanese toys also make great display pieces. Certain dolls, such as daruma dolls and inu-hariko dolls make for striking and adorable showpieces in any home.
30. Japanese fabric products
Besides being great accessories to traditional Japanese clothing, several products made with Japanese printed fabrics are great standalone pieces themselves. You can find anything from clasp pouches, spectacle cases and drawstring bags in gift shops, with a variety of designs, both flashy and muted, that's suitable for different occasions and tastes.
Where to buy Tokyo souvenirs
With Tokyo being the ever-popular tourist destination it is, there certainly is no lack of places for one to shop for souvenirs. Here's some that you can consider heading to!
1. Oriental Bazaar
A one-stop shop with two-levels of Japanese souvenirs in Harajuku, you can get anything from kimono sets, traditional fabric products, planters and ceramics here. The third floor is filled with antiques as well, which is good for a walk through even if you don't intend to buy any.
2. Tokyu Hands
A famous franchise boasting several creative lifestyle products, this is a great place to get things you never know you needed. Kintsugi kits, quality stationery and craft materials, and beauty products can be bought here, among the long list of things. You can find Tokyu Hands at major locations such as Shibuya, Shinjuku and beside Tokyo Station.
3. LOFT
Probably the closest competitor to Tokyu Hands is Loft, which also sells innovative lifestyle products. The branch in Shibuya also sells character goods at its top floor, so who knows what you might find there!
4. Mamegui
If you're looking for the perfect tenugui, this is the place to go. Adorable and beautiful hand towels are used as packaging for little boxed gifts, and there is a wide variety of tenugui to choose from.
5. 100-yen stores (Daiso/Can Do/Seria)
If you are on a budget, consider heading to a 100-yen store. Some of these may sell souvenirs on the cheap, which allows you to get more for your buck. Some things you can get here include ceramics, tenugui and dagashi. With such stores in almost every neighbourhood in Japan, it's not hard to get to one.
6. Don Quixote (Donki Hou-teh)
Another place selling souvenirs at great prices, Don Quixote offers much more than that, with some of them being a little weird (you can find them in the clothing section). Beware though, this place is very popular with tourists due to their crazy prices, so it might get a little squeezy despite their big stores. You can get anything from snacks, cosmetics, and other Japanese souvenirs from here.
7. Tokyo Kitsch Merchandise
This is a great place to find modern souvenirs with a traditional design. Even if you're just intending to window shop this place in Yanaka is a great place to walk around due to its innovative products that bear a strong influence from Japanese culture.
8. G.Itoya (Ginza Store)
The ultimate destination for your Japanese stationery needs, with 12 floors full of stationery and lifestyle accessories to look through and marvel at. The gigantic paper clip it has as a shop sign is hard to miss, and walking in you can get anything from paper products to quality stationery. If you're hard-pressed to make your way to Ginza for this store, you can find branches in other parts of Tokyo and in both Narita and Haneda airports.
9. Bingoya (traditional crafts)
A great place to find quality traditional Japanese crafts, you can find ceramics, traditional toys, lacquerware and fabric products here. The dated design of the interior almost seems to take you back to a past time, enhancing the shopping experience even more.
10. Tokyo City Flea Market / Ohi Racecourse Flea Market
If bargain hunting is your thing, this is a flea market to check out. Located in a parking space near the racecourse, this weekend market sees around 300 to 600 vendors selling their wares. While there technically aren't any souvenirs around here, collectors might just find something valuable among the things being sold.
11. Mercari
Less of an actual store and more of a digital shopping space, Mercari is a phone app where users sell their pre-loved items. If you have a particular item that you're looking for that can't be easily found and have a few days to spare in Japan, you can try finding them on Mercari. As items can come from anywhere in Japan, delivery will depend on where the item is being delivered from.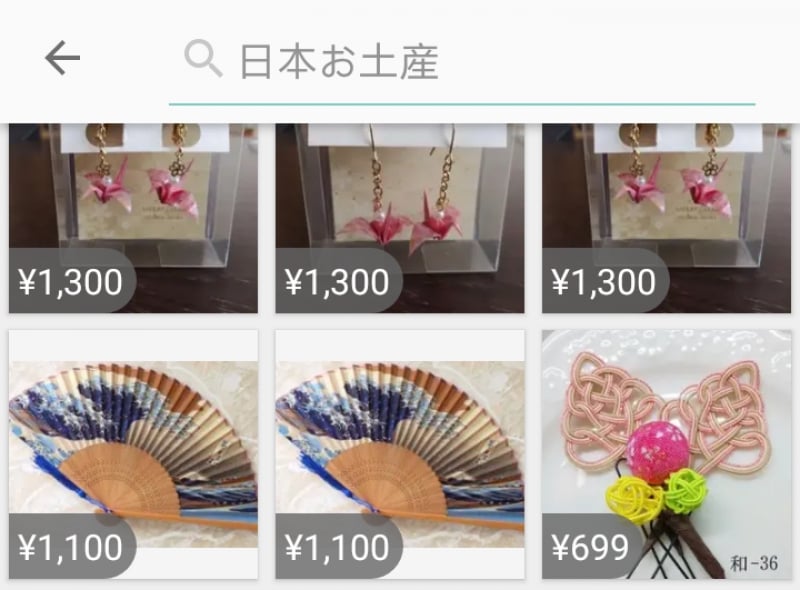 Do note though, that you might need to be proficient in Japanese to use this app – polite Japanese is used between buyers and sellers, so you would need at least that level of Japanese to communicate. You probably can only download this app when you're in Japan as well.
12. 2k540
An interesting place hidden at the bottom of elevated train tracks, this area gathers several craft shops that sell trendy Japanese handicrafts under one roof (or track). You can find accessories, ceramics, leather goods and even fancy randoseru (Japanese elementary schoolbags) for sale here.
Also read: Third Wave Coffee in Tokyo: Where to Get The Best Brew, According to Baristas
Did we miss out any other interesting Tokyo souvenirs? Go on and let us know in the comments!