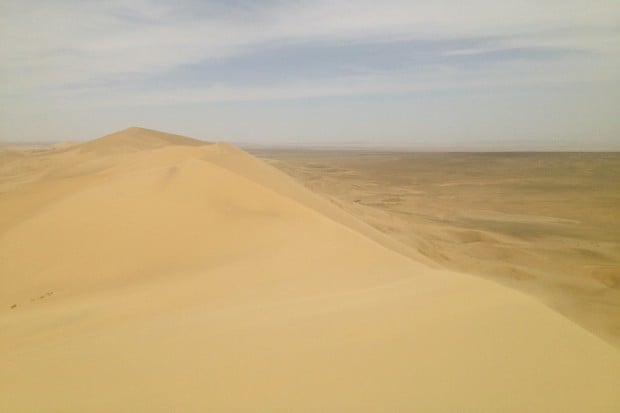 Mongolia is not the first destination on most people's bucket list, but thanks to the Trans-Mongolian railway, many find themselves stopping in for a few days – and some even end up staying for weeks to explore the least densely populated country in the world. The Gobi Desert is one of Mongolia's most famous region and is the most popular place for travellers to visit. This guide will help you with planning your Gobi Desert tour.
When to go?
You can tour through the Gobi year-round but the peak travel season months are the summer months June, July and August. The nomads consider February and March the worst months for the cold and snow, so you may want to avoid these months. The summer shoulder seasons offers cheaper tours and you will not come across many tourists in the Gobi Desert, though rapid weather changes should be expected.
How much will it cost?
Until you hand over the cash, there is no fixed rule on the amount your tour will cost. The factors that influence your expenses will be the season, number of people on the tour, number of tour days, and whether you book online or in person.
My friends and I arrived in Ulaanbaatar in May, and we booked a tour that departs the next day. The five of us paid USD 50 per person per day for seven days. During our initial research, we were quoted a minimum of USD 70 per day for a tour of the same duration, so depending on your risk aversion, you can choose to just show up and book in person.
For solo travellers, simply mention in e-mails that you would like to join a group tour or you can find a group once you reach Ulaanbaatar. Most groups won't mind the extra person as it will reduce their cost.
Where to book it?
You can go through a specialised travel agency such as STA Travel, private operators online or e-mail the tour operators themselves. Going through agencies will increase the price but you will be able to rest in peace knowing that you have your tour secured. The popular tour operators – Sunpath Tours and Golden Gobi – are great at responding to e-mails and if you are cheeky you can could play them off against each other.
What to expect on the trip
Bumpy Roads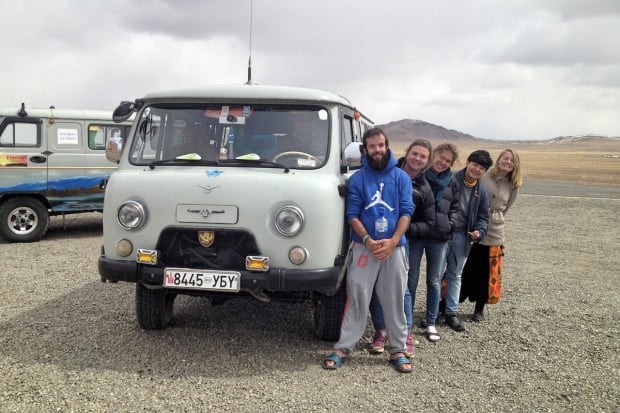 Once you set off from Ulaanbaatar you will likely encounter some heavy traffic before hitting the open road – which means goodbye tar and hello gravel that vaguely resembles a road. While you may think that the road is going in circles, your driver will be able to somehow magically know how to navigate his way through the maze.
Toilets
Some of the nomadic families we stayed with had outhouses (privies), while some didn't. If they didn't, the rule was simply: do your business anywhere, just not near the fence lines. While this may make some uncomfortable, embracing the nomadic way of life essential unless you want to potentially have to wait 72 hours or more before seeing a western-style toilet in a village – and that is if you are lucky. And no, the outhouses do not have the famous Southeast Asian "bum guns" so bring along spare toilet papers.
Food
The staple meal will vary based on the season,  but expect to eat a lot of dry mutton and noodles at the Gers. The flavour can be pretty bland so don't be afraid to pack some pickles. Your guide will stop to pick up food supplies every couple of days, and this will be your chance to request more or less meat or vegetables if you desire. Most tours can accommodate vegans and vegetarians as long as you inform the organisers before the trip begins.
Nomadic Alcohol
During my research prior to my trip through the Gobi Desert, many blogs had mentioned the alcohol you will receive from the nomads called kumis, made from fermented horse milk. As with all travel blogs, they forgot to mention the horse milking season runs from June to October so don't go in with the expectation of getting some, but appreciate the experience if you get the chance.
You can bring and drink as much as or as little alcohol as you like. The villages have beer and spirits in the convenience stores, so bring along what you desire. Don't forget to share with your drink supplies with the guide, driver and the nomadic families!
Highlights of the tour
Sites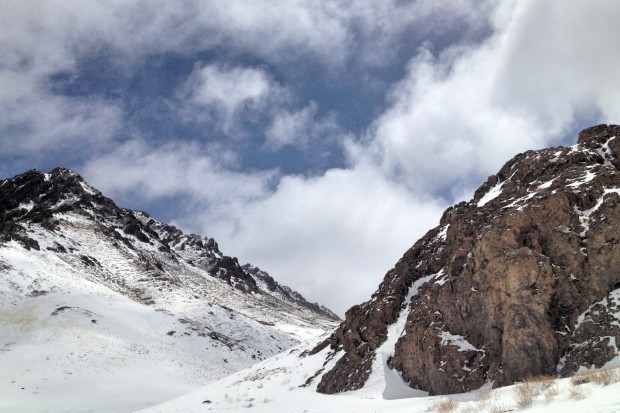 The majority of the time you will be seeing one, maybe two sites a day as the Gobi desert is so large – it will take hours just to get from point A to point B. The top sites in the Gobi desert are the flaming cliffs, white stupa, sand dunes, granite rocks, vulture valley and of course getting the opportunity to ride a camel through the desert. If you are a keen photographer you will get some great photos as the scenery changes dramatically from site to site.
Guides
Whether you get a good guide is usually a luck of draw unless you have a personal recommendation, and I highly recommend Bilguun from Sunpath Tours. The guides will be able to speak English (you can request for guides that can speak other languages too) and should be able to provide detailed information on the history of Mongolia, the nomadic lifestyle and will of course help to act as a translator for you and the Mongolian families. The connection you form early with your guide (and driver) will contribute a huge part to the enjoyment level of the trip, so do take the initiative to build a friendship with them.
Learning About Gers
The humble Ger (also known as yurts) looks simple from the outside but once you step inside, you will suddenly be full of questions. If you happen to arrive on an extra windy day, the questions may be even more burning. You will be staying in Gers most nights of the tour, and learning about your shelter is completely fascinating.  Did you know that the nomads use dried animal poo to keep the stoves burning?
Mongolian Families
The nomadic families are fairly transient with kids coming to and from the villages for school and the older members going to Ulaanbaatar from time to time. This means you can never be sure how many people will be at each Ger until you arrive. While these families often get tourists visiting, the majority of them know no English at all so the interaction is minimal, aided with some charades and translation thanks to your guide. The families are all pleasant but personally, I was surprised by the lack of interaction we had, though they did take great pleasure if you ask for more food or milk tea.
Animals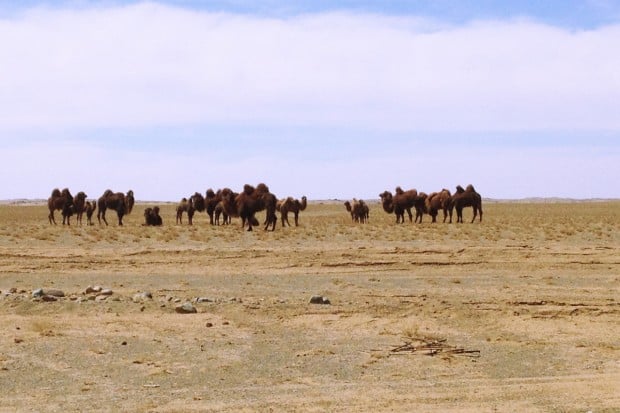 Throughout your time in the Gobi you will see the common domesticated animals, camels, horses, goats, sheep and cows. You can also come across yaks, murines, foxes, antelope, gazelle, vultures, hawks and eagles all of which survive in the Gobi year-round.
Also Read: The Sand Dunes in Vietnam is a Surreal Place You Have to Visit
What to bring along
Clothing
The Gobi's seasonal temperatures fluctuate from as low as -40 degrees in the winter to 50 degrees in the summer. The day before you set off for the tour, the organiser will be able to give you a good idea on what temperatures to expect and provide recommendations on what to bring. If you have bought too little, you can head to the black market and pick up some great finds without breaking the bank. If you have too many things, you can leave the excess in Ulaanbaatar.
Toiletries
If your tour is less than nine days, it is unlikely you will be having a shower. Wet wipes will soon become your best friend. Pack lots of wet wipes – you will need it. In addition to being the closest thing to a shower, they will come in handy many times for various purposes throughout the day.
Extra Food
You are provided with breakfast, lunch and dinner each day but it is a good idea to bring extra snacks along. Breakfast is eaten first thing in the morning but you can never be sure when lunch and dinner will be, as it depends on the activities lined up for the day and the amount of driving required. On top of that, some of the restaurants the guides plan to bring you might be closed. You will pop into a village with a convenience store most days which has basic goods. Drinking tea is a common practice in Gobi Desert, if black tea is not your favourite consider bringing along your own varieties.
Extras
You will be spending plenty of time in your Russian van so it's great to have some activities to pass the time. Books or e-books was our go-to option and we enjoyed tracking our route every few hours on the maps.me app which created a cool little loop at the end.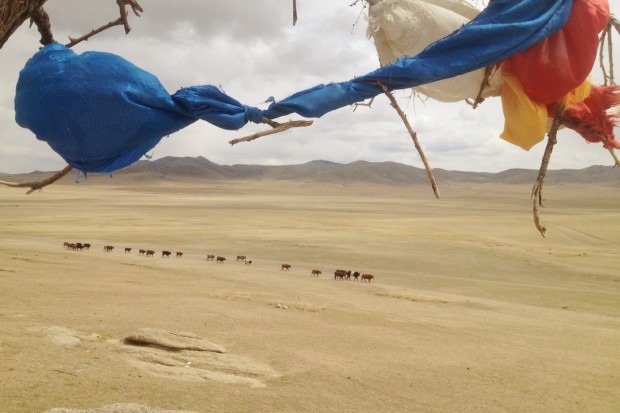 Sleeping
Sleeping bags are provided by the tour guide and if you get cold, the families always have a few extra blankets to hand out.
Tipping
Yup, the awkward transaction. We were not aware of the tipping etiquette for our tour until our guide and driver had departed, so ask your organiser about the general etiquette for the tour and tip (or not) accordingly.
Also Read: 23 Awesome Tips to Budget Travel Like a Pro