Cambodia has always been a destination that's laced with intrigue. Many know it merely as the birthplace of Angkor Wat but in fact, the country is brimming with countless things to do. If you're not sure where to start, where better to start your exploration of the country than in Siem Reap? Siem Reap can be easily visited on a long weekend getaway but we decided to set aside more time to explore the place fully. For those planning to do the same, here's a 6-day Siem Reap itinerary that's perfect for first-timers!
Day 1 – Pub Street & surrounding night markets

It only takes a little more than two hours to get from Singapore to Siem Reap via a direct flight. It's best to choose a hotel near Pub Street, which is bustling with shops, restaurants and various night markets. If you prefer to be away from the noise, there are plenty of hotels or hostels that are located along quieter streets that still put you within walking distance of all the action. Take your first night nice and slow; wander along the meandering alleys filled with shops or dig into some hearty Cambodian cuisine.

Some must-try dishes are Amok that comprises fish in a yellow coconut-based curry, Red Khmer Curry that is made with beef, chicken or fish and Lok Lak, a stir-fry meat dish served with rice. Even better, complete your meal with a beer that will only set you back USD0.50 (~SGD0.70). After your meal, trawl through the various night markets to pick up a few souvenirs for your friends and family back home. Do have an early night as you'll be off to explore the Angkor complex the next day!
Day 2 – Angkor complex

Unbeknownst to many, the Angkor complex is a sprawling complex that's home to more than 50 temples scattered over a whopping 400 square kilometres. Angkor Wat might be the most reputed of the lot, but it's really just one temple out of many!
To visit the Angkor complex, you'll need to buy a visitor pass that must be used for a consecutive period of time; a one-day pass costs USD37 (~SGD50), a three-day pass costs USD62 (~SGD83) and a seven-day pass costs USD72 (~SGD97). We opted for the one-day pass and rented a tuk-tuk to bring us around the three most popular temples – Angkor Wat, Bayon and Ta Phrom. Our tuk-tuk picked us up from our hotel at 4.30am and drove us to the buy our passes – no pre-booking is needed, you can simply show up and purchase yours on the spot.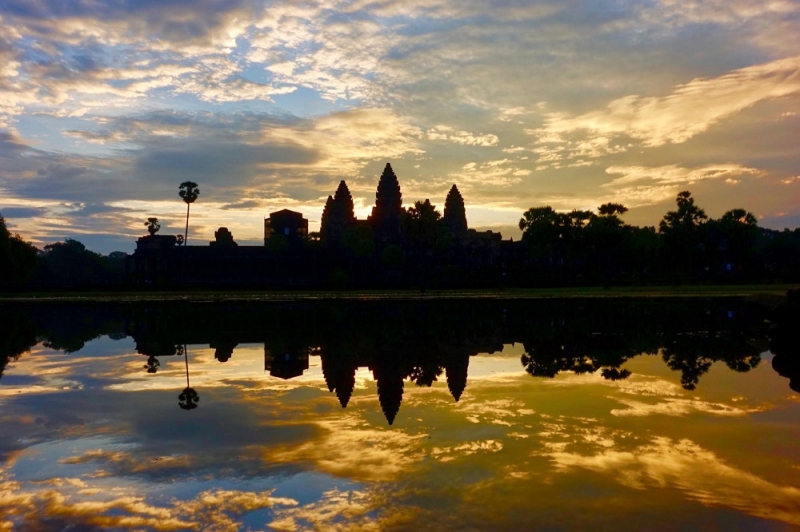 Once we got our passes, we headed straight to Angkor Wat for the sunrise. The prime spot to catch the sunrise is in front of a small lake, in which the silhouette of Angkor Wat will be reflected.
Tip: If you buy your pass before 5pm on any day, it also gives you free entry to the complex the day before your pass is dated should you wish to catch the sunset at Phnom Bakheng Temple. If you wish to do this, simply visit the Angkor complex on day 3 and buy your pass on day 2!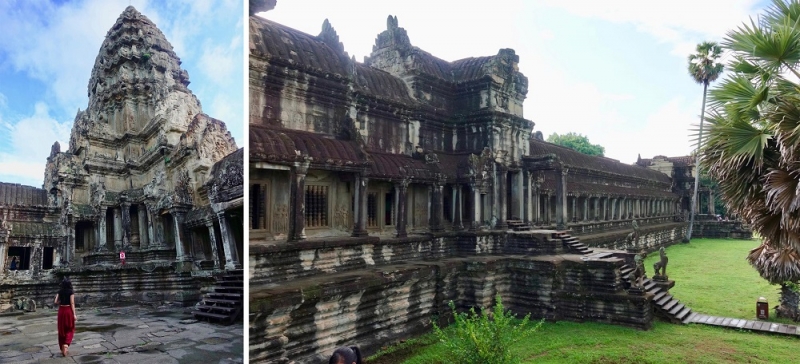 After catching the sunrise, take your time to explore the Angkor Wat temple, a UNESCO World Heritage site. The Cambodians are so proud of this national monument that it is even depicted on their National flag! One perk of hiring a tuk-tuk for a day is that your driver will wait for you outside each temple, giving you the luxury of exploring each temple for as long as you please. There are various guides on site as well, should you wish to learn more about the history of the temples.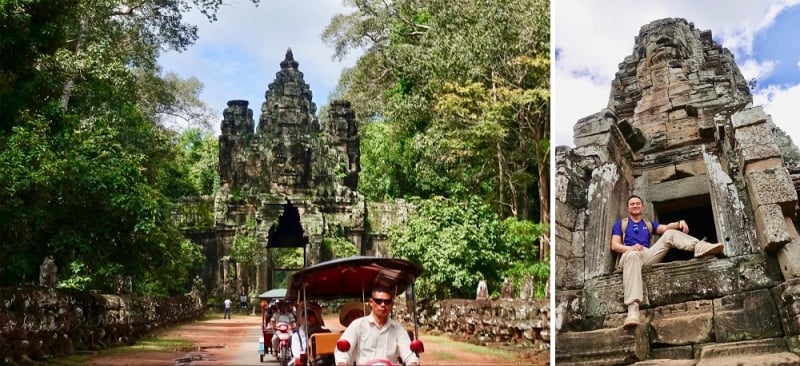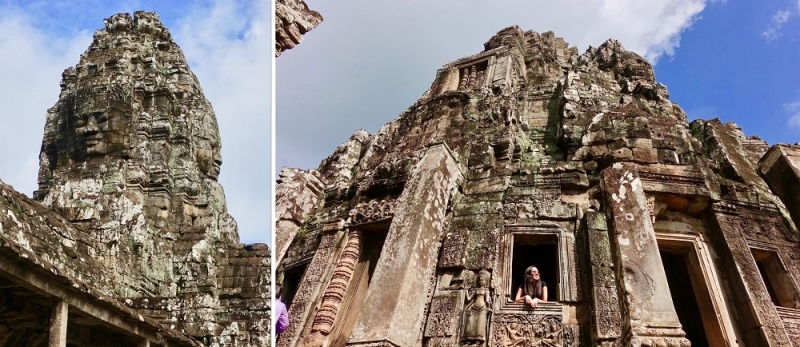 Next, we visited the Bayon Temple, which is best known as 'the temple with the many faces'. Indeed, the grounds are adorned with 54 towers (37 of which are left standing) that boast 216 stone faces on their exteriors
Tip: You can choose to visit 1-2 temples in the morning, return to your hotel for a quick nap or swim to cool off, before returning to explore the rest in the late afternoon. Alternatively, most tour buses return to the city for lunch at around noon so if you wish to explore the ruins without crowds, this timing would be your best bet despite the heat.

Finally, we ended our visit with an exploration of Ta Phrom, which many would recognise from the celebrated Hollywood movie, Tomb Raider. One distinctive feature of Ta Phrom would be how the roots are literally growing out of and amongst of the ruins, alluding to the fact that the temple is indeed one with nature.

You would have done a lot of walking and/or climbing at the Angkor complex, so reward yourself with a good meal at the hidden gem of Wat Damnak to end off the day. Acclaimed as one of Asia's best 50 restaurants, Wat Damnak serves authentic Cambodian cuisine with a French twist – and at a highly affordable price to boot. Only local ingredients are used at this restaurant, with tasting menus changing every week. Hence, this means that no two visits to Wat Damnak will be the same, with a five- and six-course meal only costing USD27 (~SGD36) and USD31 (~SGD42) respectively. Do note that reservations are highly recommended!
Wat Damnak
Address: Between Psa Dey Hoy Market and Angkor High School; Wat Damnak Village, Sala Kamreuk Commune, Siem Reap, Cambodia
Opening hours: 6.30-9.30pm (last order), Tuesday-Saturday
Website
Day 3 – Kampong Phluk Village + Floating Forest

The next day, take it easy with a half-day trip to the Kampong Phluk Village and Floating Forest. Located just a short drive from Siem Reap, the Tonlé Sap lake is Southeast Asia's largest freshwater lake. Kampong Phluk Village is located at the heart of this lake and can only be reached via boat. Before getting on the boats, head to the ticket centre to buy a ticket for about USD20 (~SGD27).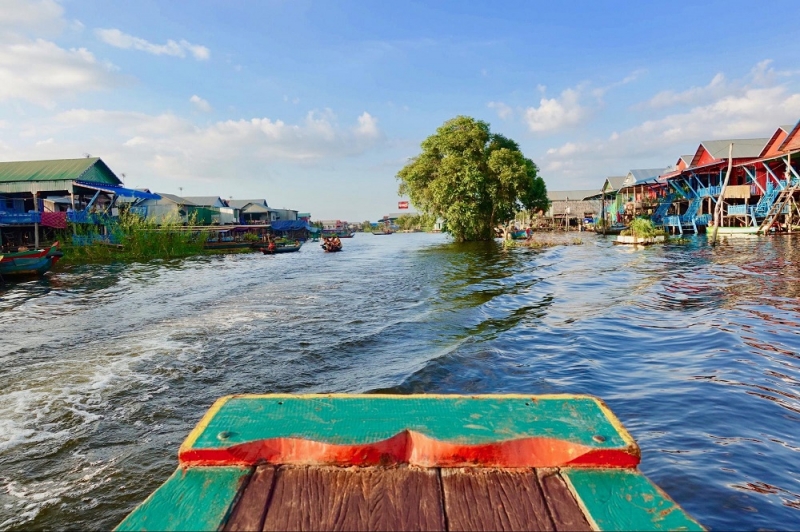 The boats will take you through calm waters and lush vegetation. Kampong Phluk Village comprises a collection of vibrantly coloured houses that are built entirely on stilts, where the main mode of transportation is via boat. The village is steeped in nostalgia, allowing us to feel as if we just time travelled back a few decades. Most people living at Kampong Phluk are fishermen; they have no running water at the village, thus relying on the water in the lake for all their needs. We were warned that Kampong Phluk might be somewhat of a tourist trap, but we actually really enjoyed the whole experience. There weren't any touts, forced selling of souvenirs or scams of any sort; instead, we were able to gain treasured insight into local Cambodian life.

Halfway through the tour, we were brought to a café where we could kick back with a beer or opt for a mangrove tour through a Floating Forest. This mangrove tour costs an additional USD5 (~SGD7) and will bring you through a serene, almost magical, partially submerged forest. We highly recommend this! After some time, the boat will bring you back to your original starting point.

Don't be so quick to depart once you get back to shore! Do hang around for the sunset, which the docks offer an unobstructed view of. For dinner, indulge in Cambodian BBQ, where meat is grilled and dipped into sauces before being eaten.
Cambodian BBQ Restaurant
Address: Street No 8, Pub Street, Siem Reap, Cambodia
Opening hours: 5-11pm, daily
Website
Day 4 – Ziplining & ATV riding + Phare Circus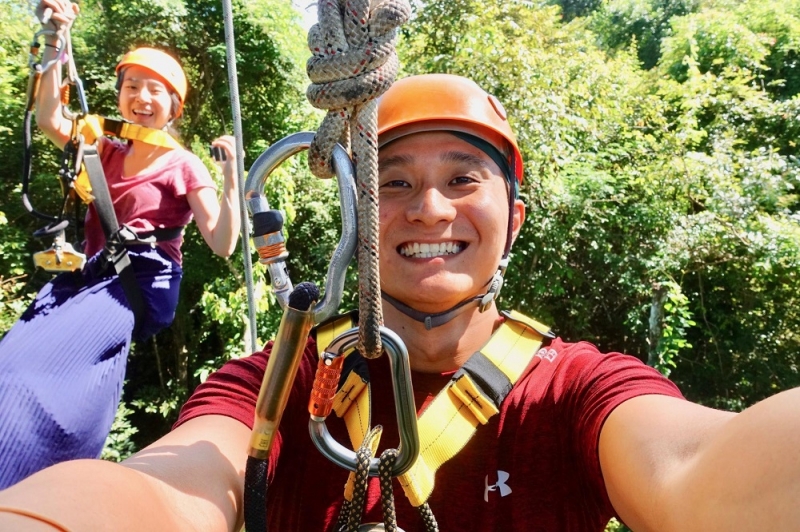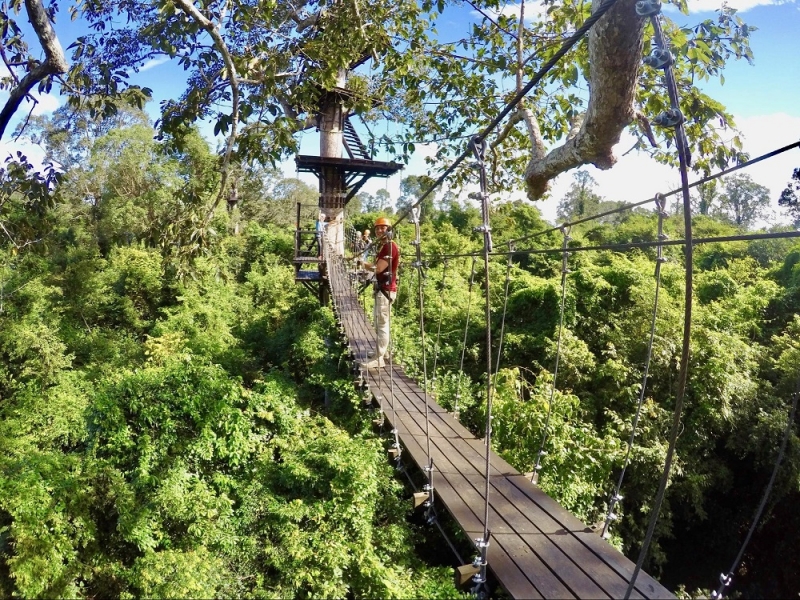 On our fourth day, we decided to try a bout of ziplining and ATV riding. We opted for a package with Angkor Zipline that set us back about USD89 (SGD119) per person. Unfortunately, the activities here in Cambodia do come with a rather hefty price tag!

The ziplining was carried out within the Angkor complex; should you book directly with the company, no visitor pass to the complex is needed. On the ziplining tour, we traversed nine platforms, two sky bridges, three single ziplines, one double zipline, one spiderman bridge and an abseil descent. It was incredibly refreshing to be away from the crowds and if you've never ziplined before, don't fret! You'll be accompanied by two skilled guides who will be with you every step of the journey.

After the ziplining experience, a local lunch will be provided at a nearby restaurant before we were returned to our hotels. After relaxing for some time, we were picked up again for an ATV ride through the countryside, where we drove through lush green paddies and local villages as well as alongside some local cattle.
Tip: We felt that the ATV ride was much more value-for-money than the ziplining experience. Hence, we recommend simply going on the ATV ride should you find the overall price to be a little too steep!
Angkor Zipline
Address: Angkor Archaeological Park, Cambodia (pickups are normally included in their packages)
Website

At night, we headed to the local Phare Circus which, interestingly, doubles up as a social enterprise. Any profits generated from tickets, refreshment and merchandise sales go towards the free training and education offered at an arts school in Battambang, one of Cambodia's provinces. This arts school is specially catered for children that are socially disadvantaged, aiming to provide an alternative avenue for them to excel in. Graduates of this school then become performers at the critically-acclaimed Phare Circus, where they combine dance, theatre and circus theatrics to weave spellbinding stories.

Phare Circus holds nightly performances 365 days a year, rotating among a variety of different performance line-ups. Tickets are going from USD18-38 (~SGD18-51), depending on where your seat is located. Do book your tickets in advance as the circus is highly popular and tend to sell out especially on weekends!
Phare Circus
Address: Phare Circus Ring Road, just south of the intersection with Sok San Road
Opening hours: Nightly performances at 8pm, with some special performances at 5pm (see website for more details)
Website
Day 5 – Beng Melea & Koh Ker temples

Located further up north, the Beng Melea and Koh Ker temples are well worth visiting on a combined day trip from Siem Reap. We first embarked on a three-hour drive to the ancient city of Koh Ker. Once home to over 10,000 inhabitants, Koh Ker was previously the capital of the Khmer Empire between the period of 928 and 944AD. Famous for a majestic seven-storied pyramid, visitors to Koh Ker are able to climb a narrow staircase all the way to the top.

The grounds of Koh Ker are also dotted with other smaller temples that are overgrown with vegetation, about 40 of which are open to the public today. Do take caution not to wander too far off the path; most of the area has been de-mined but it never hurts to err on the side of caution.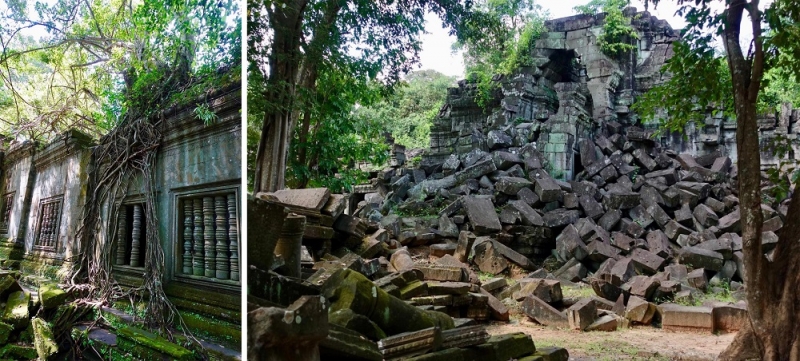 Next, we headed over to the jungle temple of Beng Melea. Beng Melea is sometimes known as the less-touristy sister of Ta Phrom in the Angkor complex. The grounds of Beng Melea is overrun by snaking tree roots and littered with large pieces of rubble, seeming as if it tumbled straight out of an Indiana Jones movie scene. The temple is in a glorious state of dilapidation, which makes any exploration of the labyrinth all the more thrilling.
Exploring Beng Melea can be nothing short of an adventure; be prepared to clamber over large pieces of stone, crouch under hanging walkways and navigate roots that protrude from the ruins' walls. Do note that you have to purchase entry tickets to visit Koh Ker and Beng Melea, which cost USD10 (~SGD13) and USD5 (~SGD7) respectively.

Once back in Siem Reap, adventurous eaters can try fried tarantulas and scorpions – you'll find many stalls peddling these along the streets. Alternatively, drop by Bugs Café, Cambodia's first insect tapas restaurant that serves whole fried tarantulas, spring rolls stuffed with ants, grasshopper skewers, silkworm cupcakes, pan-fried scorpions and more.
Bugs Café
Address: 351 Steung Thmey Village, Angkor Night Market Street, Krong Siem Reap, Cambodia
Opening hours: 5-10.30pm, daily
Website
Day 6 – Local market


On your last day, check out the local market to revel in the delightful symphony of early morning chaos. Some stalls even sell whole pig heads! After which, have a final meal at the nondescript 'Try Me' restaurant. Tucked away in a less-touristy part of town, it's a fantastic place to dig into some local fare. You can have a meal here for merely USD3-4 (~SGD4-5), inclusive of beer.
Try Me Restaurant
Address: Ta Phul Road, Siem Reap, Cambodia
Opening hours: 10am-11pm, daily
Facebook page

Snap a quick photo of the cute tuk-tuks (a ride on the Batmobile, anyone?), fill up on the USD0.50 beer, take a wander around the shops or have a quick swim back at your hotel before heading to the airport for your flight back home.
BONUS: Where to stay

We recommend staying at Hotel Tu Casa, which is located along a quiet stretch of road just off the hustle and bustle of Pub Street. Besides its fantastic location, the hotel also boasts a pool (which is a godsend in the humid Cambodian weather) and a D.I.Y. bar. What made our stay extra special, however, was the kind receptionist, Fumi. She was incredibly friendly to us and went the extra mile to make our stay comfortable. From packed breakfasts for our Angkor Wat sunrise trip and helping us make tour reservations to seamlessly arranging our airport transfers, the amazing service allowed us to enjoy every minute of our time in Siem Reap.

P.S. We also miss the hotel manager, Amigo the cat. We'll definitely be back for more!
Hotel Tu Casa
Address: Funky Ln, Krong Siem Reap 17252, Cambodia
Facebook page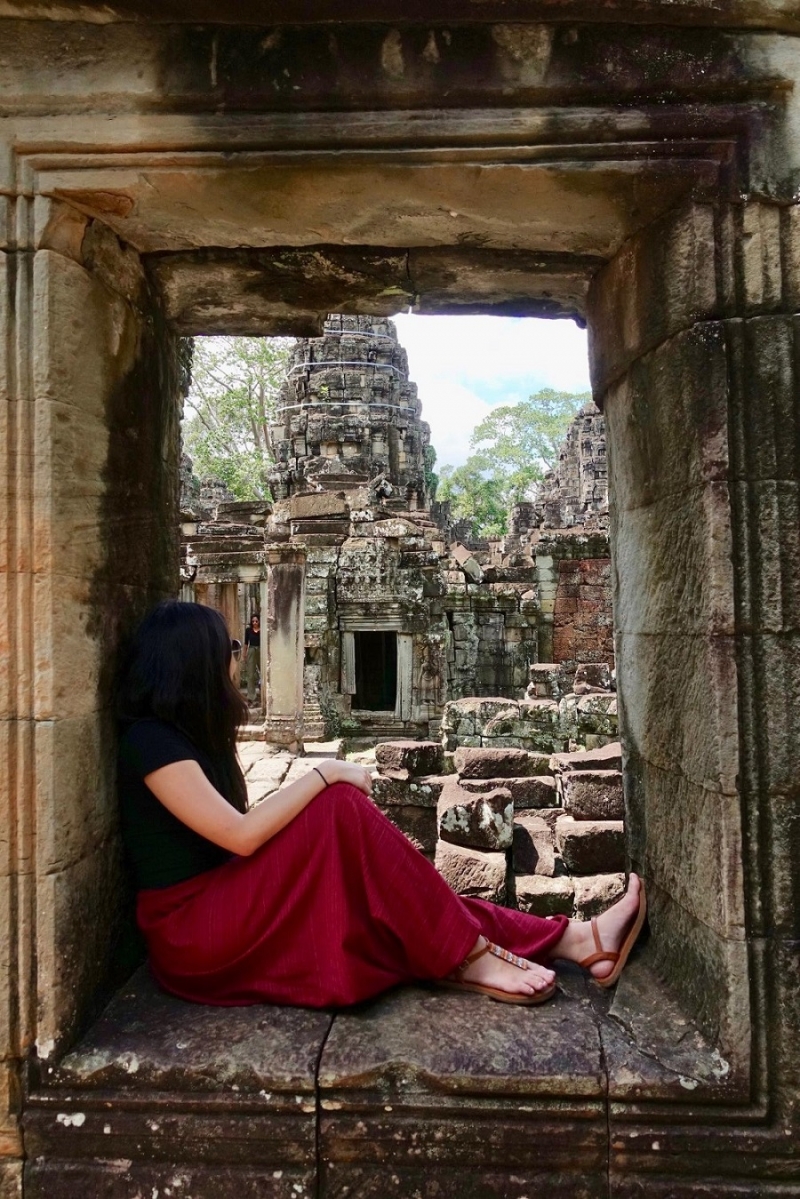 So if you're planning to visit Siem Reap, our advice to you is not to rush the experience. Instead, set aside five to six days – depending on what you want to do – and take your time to explore the place fully. After all, that's what going on holiday is all about!