Phnom Penh may be the capital of Cambodia but it is often sorely overlooked by Siem Reap, where the ancient ruins of Angkor Wat lie. Despite it not being home to any famous temple grounds, Phnom Penh is still full of culture and history—with its Khmer Rouge sites and museums aplenty. Attractions aside, did you know that Phnom Penh also has a growing cafe scene? Yes, you don't have to worry about just having amok and kuy teav every day. Whether you're craving for something other than local food or in need of a quick pick-me-up and afternoon tea, here are some cafes to get you started.
1. Mère Café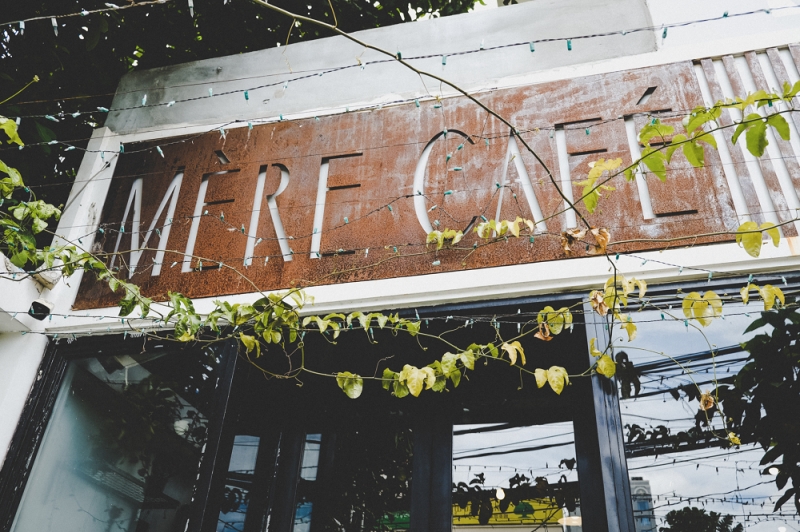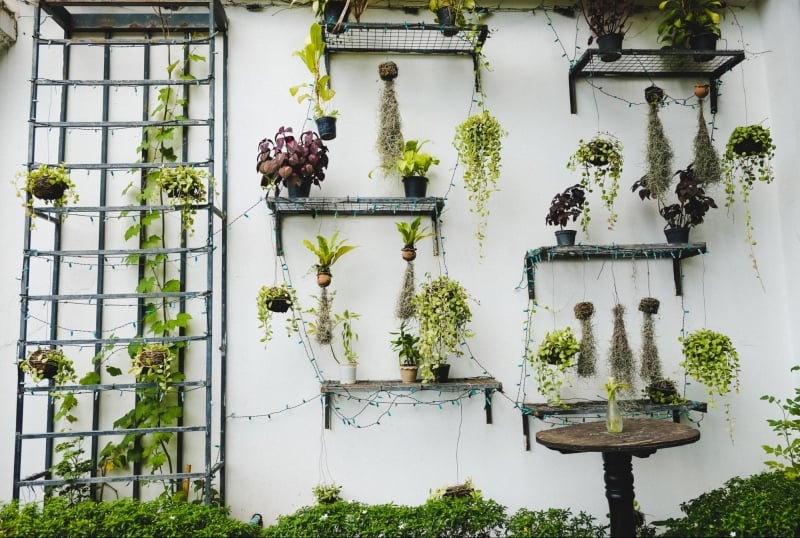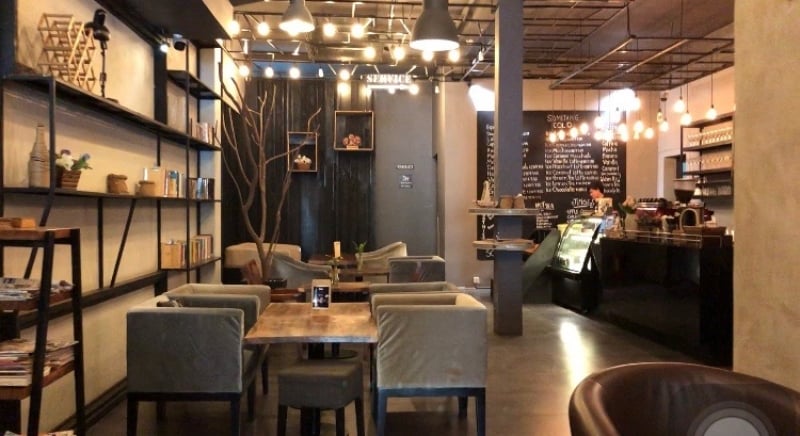 Located just a 15-minute walk away from Central Market is Mère Café, which can be easily identified from its gorgeous decor. Just look at that plant wall—get ready for those #ootd shots!
Upon stepping in you'll find a minimalist-themed café decked in muted grey accents. Adorned with bookshelves and even a piano in the corner of the room, this is the perfect cafe to while your afternoon away.
Their menu includes the likes of Berry Pancakes (both the normal and mini versions!) and savoury items such as the Egg Bake (highly recommended) and Eggs Benedict. There are a variety of drinks available as well, such as coffee (we loved the Strawberry Mocha), different flavoured teas and smoothies.
Whether you're looking for an early breakfast spot to fuel up for your day's adventures or swinging by for a quick bite, Mère Café won't disappoint.
Address: 63 Samdach Pan Ave (214), Phnom Penh, Cambodia
Opening hours: Daily, 7am-8.30pm
Website
2. Lot 369 Café And Bar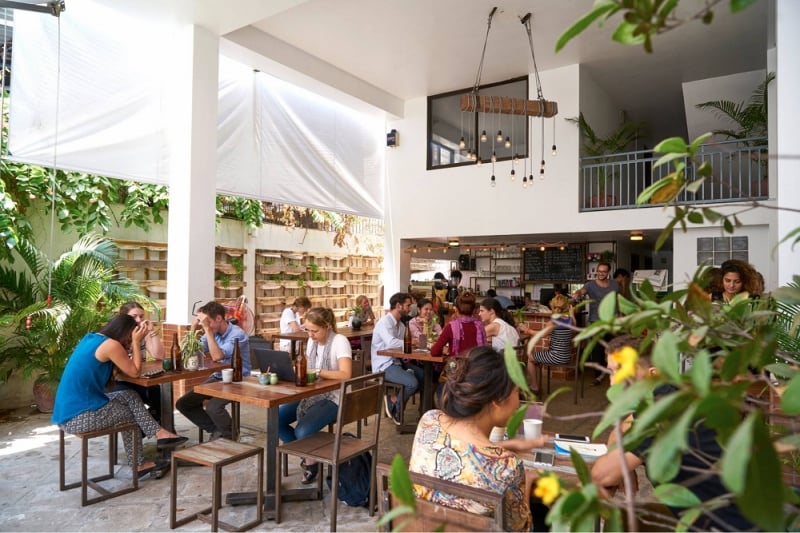 Another café ideal for an early breakfast, Lot 369 is an Australian-owned café. From the usual breakfast dishes like Big Brekkie, Chia Seed Pudding and Baked Eggs to other offerings like Jerk Chicken Tacos and Poke Bowls—this café serves up delectable dishes and of course, delightful coffee.
We stopped by for dinner and tried out their Chicken Schnitzel Burger and Cheesy Potato Croquettes (from their Night Tapas Menu). The burger was a little on the dry side, but the croquettes definitely made up for it. Just imagine breaking the crispy crumb coating into a fluffy interior oozing with gooey melted cheese—definitely a must-try for all the cheese-lovers out there.
We also tried their Iced Chocolate (with coconut milk and coconut ice-cream) which was super flavourful (two thumbs up!). For those who don't fancy coconut, you can also choose to have normal milk and vanilla ice-cream in your iced chocolate instead.
For a slice of Melbourne's coffee culture, this is the place to be.
Address: 13C, Street 454, Toul Tompoung 1, Phnom Penh
Opening hours:
Monday to Saturday: 7.30am-9pm
Sunday: 8am-6pm|
Website
3. Chillin' Café
A café with two stories, Chillin' Café is a laid-back space where you can do exactly as its name says: chill. After spending an entire morning hiking the ruins of Phnom Chisor located a two-hour-drive away from the city, we came back hungry and parched and decided to pop in this café for some much-needed refreshment.
This place is well-known for their dizzying variety of beverages from hot coffees to blended frappes and iced fruit teas (our favourite was the Iced Passionfruit Tea) but don't be surprised to find delicious light bites as well. We had (two!) portions of fries that were cooked to crispy golden perfection as well as their Carbonara Pasta, which was well-seasoned and not too creamy. They also offer cake slices and pastries too—great for those who are pining for a spot of afternoon tea.
Address: #395 Street Kampucheakrom corner 221, Kampuchea Krom Blvd (128), Phnom Penh, Cambodia
Opening hours: Daily, 7am-8pm
Website
4. Backyard Café
Serving up a whole slew of healthy bowls and bites which include vegan, vegetarian and raw options, this café is the place to be for something clean, colourful and delicious.
Go for the vibrant Backyard's Classic Acai Bowl which comprises a superfood blend of acai, blueberries, banana and avocado or pick from a wide range of wholesome eats that include
Warm Coconut Quinoa Porridge, Zest for Life (avo toast!!!) and Dreamy Chia Pudding. They even have in-house made wholefoods available for you to bring home so don't forget to pick up a package of raw granola and a bottle of cold-pressed juice!
Address: 11B, Street 246, Phnom Penh
Opening hours:
Monday: 7.30am-4.30pm
Tuesday-Sunday: 7.30am-9pm
Website
5. Java Creative Café (Toul Tom Puong)
A swanky, loft-style café and thriving arts space combined, Java Creative Café at Toul Tom Puong is a piece of art itself. Having a total of three outlets around Phnom Penh, Java Creative Café specialises in spaces that bring together good food and art programmes and events—from pop-up galleries to theatre performances. The Toul Tom Puong outlet even has its own black box theatre within the café grounds!
This café' creates the ideal setting for you to kick back and relax while musing at art pieces or staring in wide-eyed wonder at enthralling dance performances while you indulge in fantastic coffee and nosh.
Address: 53 Street 468, Phnom Penh 12310
(Check out the website for addresses of other outlets)
Opening hours: Daily, 7am-10pm
Website
BONUS
Oskar Bistro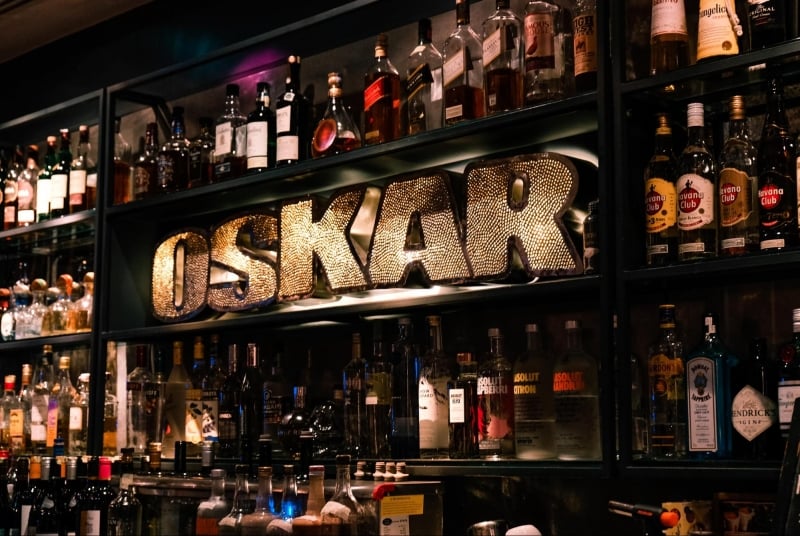 This isn't exactly a café but it's as good or even better (and that's why we've decided to include it in this list!). Say hello to Oskar Bistro, an eclectic bar cum restaurant which is conveniently located near Tonle Sap Riverside. We've heard nothing but good things about Oskar, so we decided to stop here for dinner and drinks after catching the sunset by Tonle Sap. Boy, it did not disappoint.

From tasty tapas and bar bites to woodfired pizzas, Oskar's extensive menu is bound to please. And if that doesn't sound impressive, wait till you check out their drinks menu! Choose from Cherry Blossom Sour or Espresso Martini shots to assorted daiquiris, shooters, cocktails and margaritas…get ready for a night to remember (or not!).
Address: No.159 Sisovath Quay, Phnom Penh 12206, Cambodia
Opening hours: Daily, 5pm-2am
Website
So the next time you find yourself in Phnom Penh without a clue on what to eat or where to go…let this list help you out. Happy eating!