Despite being an amazing destination in itself, Busan is often overshadowed by its sister city, Seoul. However, take it from us ­– Busan is no less exciting than Seoul. This underrated city is full of fun and awesome things to do, and very much deserves a spot on your Korea itinerary.
On top of that, if you're heading to Busan, you'll be just a hop away from its neighbouring cities of Gyeongju and Daegu, which are also worth exploring. If you've never heard of those places before, well, it's because they are rather off the usual tourist path. Can you smell the adventure already?
Here are 21 things to do in these three destinations – Busan, Gyeongju and Daegu – that will definitely spice up your Korean adventure!
Things to do in Busan
Located at the southern tip of Korea, Busan is a heaven for seafood lovers. Besides offering some of the freshest seafood in the region, Busan promises stunning views, beautiful beaches, as well as villages with a splash of colour.
1. Eat lots of kimchi at Gukje Market
First off, kimchi. No trip to Korea is complete without gorging yourself with lots of kimchi, and here at Busan's Gukje Market, you can knock yourself out. Pair this kimchi with lots of street food for an utterly satisfying meal.
Getting there: Jagalchi Station (Subway line 1), Exit 7.
2. Get lost in Gamcheon Cultural Village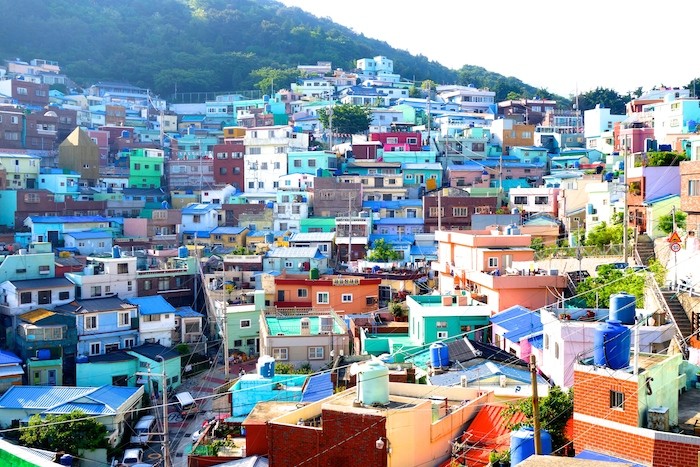 Known as the Santorini of Korea, Gamcheon Cultural Village is a delightful maze of colourful murals, winding alleys and quirky sculptures. Spend an afternoon meandering through the psychedelic streets of the village, and remember to take your camera with you!
Getting there: Toseong Station (Subway line 1), Exit 6. Turn right, and take buses 2 or 2-2 from the bus-stop right in front of the hospital.
3. Walk among the stars at BIFF Square & Shop at Nampodong Street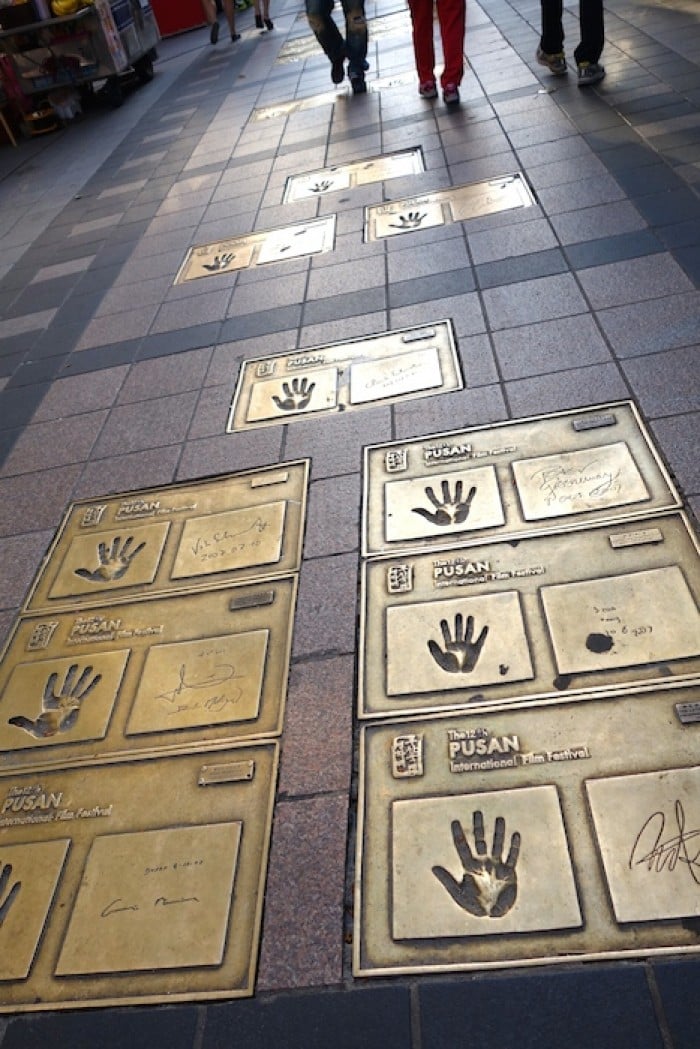 BIFF Square is home to the annual Busan International Film Festival. Go starry-eyed as you walk among handprint plaques of various celebrities, such as Chinese director Zhang Yimou and Korean actress Hwang Jung-soon. Do some shopping at the nearby Nampodong street, home to a dazzling array of shops and countless street food stalls.
Getting there: Jagalchi Station (Subway line 1), Exit 7.
4. Eat fresh seafood at Jagalchi Fishery Market
Jagalchi Market is Korea's largest seafood market, and here you find endless rows of fish, clams, crabs and other seafood on display. Get ready to sample some of the freshest seafood in Korea, or even try sannakji (live octopus) if you dare!
Getting there: Nampodong or Jagalchi Station (Subway line 1)
5. Enjoy the sea breeze at Haedong Yonggungsa Temple
Feast your eyes on Haedong Yonggungsa Temple which is uniquely situated along the coast. The Gulbeop Buddhist Sanctum is hidden away in a cave, and there is a three-storey pagoda home to four lions that symbolise joy, anger, sadness and happiness.
Getting there: Haeundae Station (Subway line 2), Exit 7. Take bus 181.
6. Take in the panoramic view from Busan Tower (Yongdusan Park)
The 120-metre-tall Busan Tower is a symbol of Busan, standing a proud 69 metres above sea level. Enjoy the breathtaking view from the tower, which gets even better at night! Busan Tower can be found within Yongdusan Park, one of Busan's most popular mountains.
Getting there: Nampo Station (Subway Line 1), Exit 7.
7. Take a step back into nature at Nurimaru Apec House
Created from the combination of the words nuri (Korean for 'world') and maru (Korean for 'summit'), the Nurimaru Apec House housed the 17th APEC (Asia Pacific Economic Cooperation) summit in 2005, and is a place of great significance. Nurimaru Apec House is found on Dongbaekseom Island, which is well-known for its rugged coastline and stunning scenery.
Getting there: Dongbaek Station (Subway line 2), then take bus 302 or 207 and get off opposite the Grand Hotel bus stop.
8. Soak in the sun at Haeundae Beach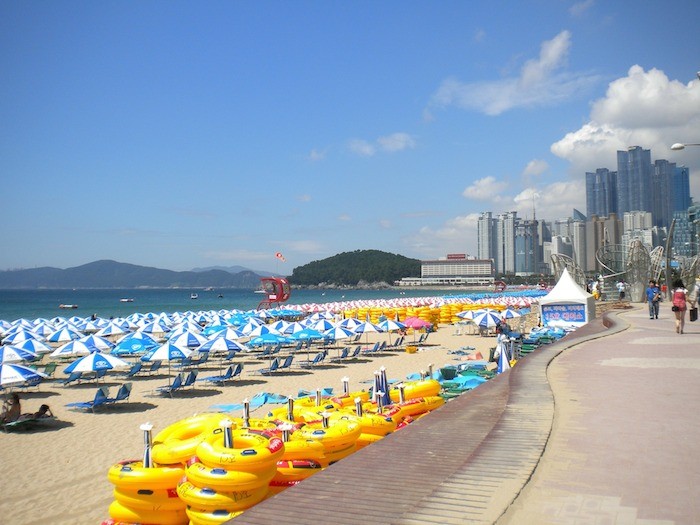 This white sand beach is tremendously popular among locals and tourists alike. Haeundae beach is the venue for various cultural events throughout the year, such as Korean wrestling. Event or no event, Haeundae Beach is a great place to put your feet up, lie back, and bask under the sun.
Getting there: Haeundae Station (Subway line 2), Exit 5
9. Hike along the cliffs of Taejongdae Resort Park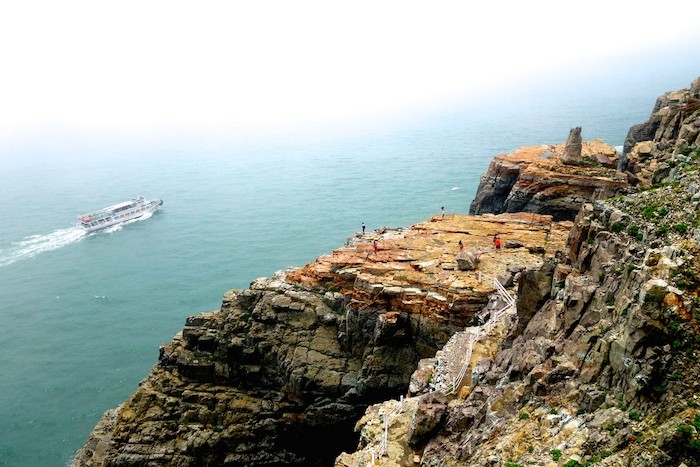 At Taejongdae Resort Park, you can enjoy stunning views of the oceans and rocky cliffs. Visit the black beach, the famous Yeongdo lighthouse, or dangle your legs over the edge of the cliff.
Getting there: Nampo-dong Station (Subway line 1), Exit 7. Take bus 8, 30 or 113. Or take bus 88 or 101 from Busan Station.
10. Watch a baseball game at Sajik Baseball Stadium
Baseball might not be a big deal in other parts of Asia, but trust us when we say that in Korea, it is a big deal. One of the best experiences in Busan would be to catch the Lotte Giants in action! Pack some pizza and soda with you, and soak in the electrifying atmosphere as the game progresses.
Getting there: Sajik Station (Subway line 3), Exit 1.
11. Get high on the Oryukdo Skywalk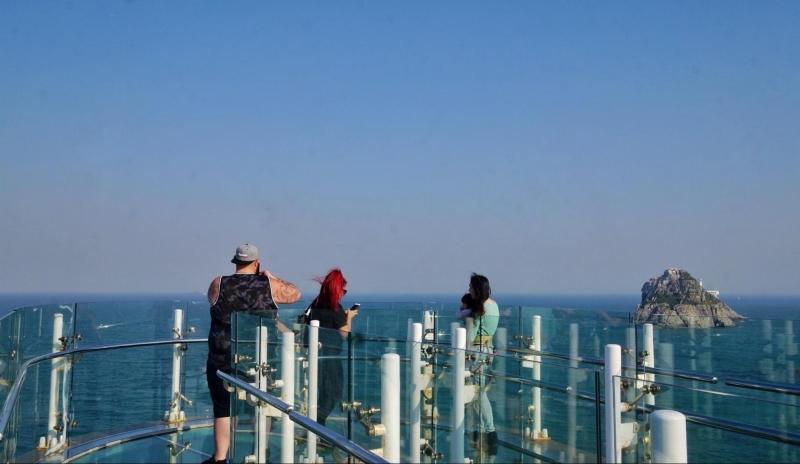 The skywalk is a transparent glass bridge that extends over the cliffs and leaves you feeling like you are 'walking in the sky' as you are immersed in the brilliant blues of the seemingly endless ocean and sky. Before entering the horse-shoe-shaped bridge, visitors will be given shoe covers to protect the glass from scratches and dirt.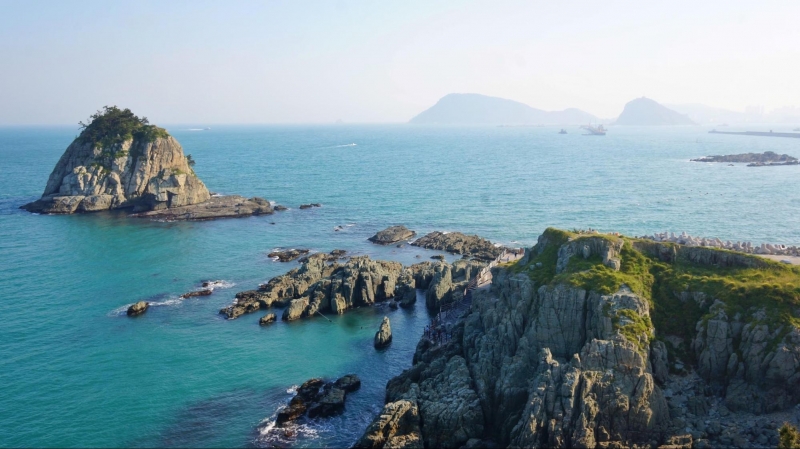 The magnificent views from the skywalk were really a feast for the eyes and made the trip here well worth it despite being slightly out of the way. We happened to visit during springtime and the hills were carpeted with wildflowers, such a beautiful sight!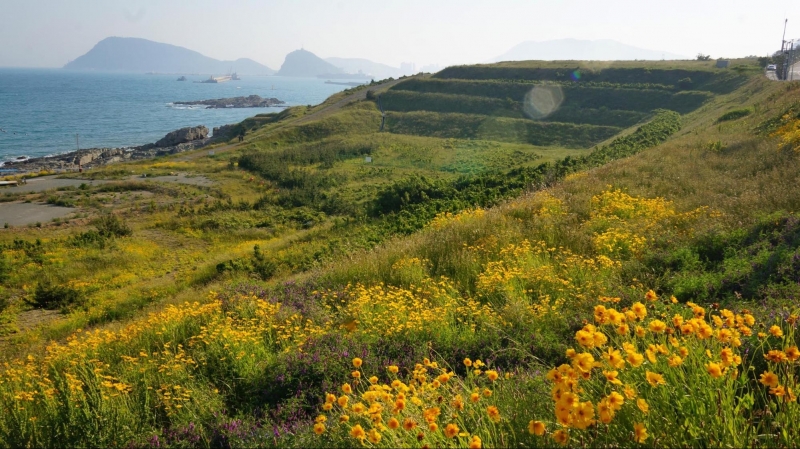 12. Stroll along Gwangalli Beach
One of Busan's most well-known beaches, Gwangalli is quieter and more laidback than its famous neighbour, Haeundae beach. For such a popular beach, it was extremely clean. Come at sunset to stroll on the soft sand or watch the calm waves from the deck. When night falls, Gwangandaegyo bridge lights up to showcase a beautiful light show that changes with the seasons. 
You can also enjoy the view from the myriad of cafes and bars lining the beachfront. At night, several pojangmachas will pop up where you can enjoy a bottle of soju accompanied by freshly grilled seafood!
13. Take lots of IG-worthy pictures at Jeonpo Cafe Street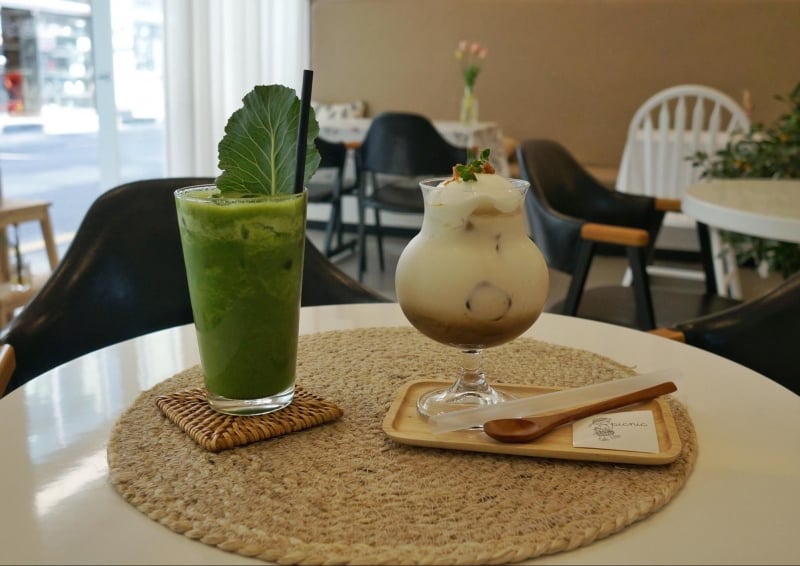 Jeonpo café street actually refers to the area in Seomyeon which houses some of the best cafes in Busan. This trendy area is chockful of indie boutique stores and quaint cafes perfect for you to recharge over a cuppa after shopping!
Things to do near Busan — Gyeongju
From Haeundae Station in Busan, it is a 1.5-hour train ride to Gyeongju. Known as the "museum without walls", Gyeongju promises a cultural escapade like no other.
14. Explore Gyeongju Seokguram Grotto
Visit Seokguram Grotto, an artificial stone temple made of granite and also a UNESCO World Cultural Heritage Site. Be sure to rise early and catch the sunrise from this spot; it's said to be a stunner!
Getting there: Take bus 10 or 11 from Gyeongju Intercity/Express Bus Terminal or Gyeongju Station, or bus 12 from Bulguksa Temple.
15. Relax at Gyeongju Spring Dome
Have a steaming good time at this hot spring theme park, which uses 100% natural hot spring water. There are both indoor and outdoor water and sauna facilities, as well as a separate outdoor kids' pool area for the little ones. A visit to the Gyeongju Spring Dome is guaranteed to soothe all nerves and unknot all tensions.
Getting there: From Gyeongju station, take Express city bus 101, or Intra-city bus 10, 16 or 18.
16. Have a history lesson at Cheonmachong
Large ancient tombs of kings and nobles of the Silla Kingdom can be found at the Daereungwon Tomb Complex in Cheonmachong. Here, take the chance to learn more about the history of these royal tombs and view the various historical artefacts. History buffs will definitely be pleased!
Getting there: Take bus 40 from Gyeongju Train Station and get off at Cheonmachong Back Gate Bus stop.
17. Experience a temple stay at Beomeosa Temple
For a truly authentic Korean experience, why not try a temple stay? UNESCO World Heritage site Bulguksa Temple is located on the slopes of Mount Toham, and offers a temple stay program. You can choose to enjoy a conversation with a monk over a cup of tea, have zen meditation sessions or undergo various tea ceremonies. No matter which program you choose, you will have the exclusive opportunity to experience the day-to-day lives of the monks in the temple. Don't forget to explore the Seokguram Grotto (another UNESCO World Heritage site) while you're at it!
Getting there: From Gyeongju Train Station, follow Hwarang-ro Street and take bus 10 or 11 from the bus stop in front of the bus office to the Bulguksa Temple bus stop. From Gyeongju Intercity/Express Bus Terminal, take bus 10 or 11 from the bus stop located across the street from Gyeongju Express Bus Terminal to the Bulguksa Temple bus stop.
Things to do near Busan — Daegu
Daegu, Korea's fourth largest city, is a melting pot of culture, tradition, and art. It is about 45 minutes from Busan with the KTX.
18. Go bargain-hunting at Seomun Market
At Seomun Market, you can find loads of silk, knitted goods, traditional Korean hanboks, crafts, as well as dried seafood, traditional wedding food, textile goods… you name it, they got it! Spend a couple of hours wandering around the market — you never know what you might chance upon!
Getting there: Seomunsijang Station (Subway line 2), Exit 1
19. Be artistic at Kim Gwangseok-gil Street
This 350-metre-long stretch is chock-full of colourful murals that depict the life and music of the late musician Kim Gwangseok. Marvel at the various statues and vivid murals, and if you happen to visit in autumn, join in the singing contest.
Getting there: Take bus 990, 991, 309, 403, 609, 649, 840 or 939 and get off at Bangcheon Market.
20. Shop till you drop at Dongseongno Street
Feel young again and shop your hearts out at Dongseongno Street, Daegu's major fashion district. Just a warning though: come prepared to leave with a considerably lighter wallet, and your hands full of shopping bags. Retail therapy, anyone?
Getting there: Jungangno Station (Subway line 2), Exit 2
21. Spend a night at a Korean Jimjilbang
This is the ultimate Korean experience. Jimjilbangs are Korean bathhouses that are open 24/7 and gender-segregated. They contain both hot and cold soaking pools, various bathing and massage areas, saunas and more! Jimjilbangs also make for affordable and alternative accommodation, so complete the experience by spending the night!
Getting there: Daegu has many jimjilbangs, and you can check out Sungwon Nexus jimjilbang, Goongjeon Lavender jimjilbang or Home Spa World jimjilbang.
Enjoy your next Korean adventure!