Korea is fast becoming one of the world's favourite places to visit, especially due to the Hallyu wave and addictive Korean romance dramas. With an increasing number of people dreaming of marrying their K-Pop idols and top actors, it is no wonder that thousands of fans flock to this country in hopes of getting a glimpse of their favourite stars. Yet other than the entertainment world and Korean cuisine, do we really know much about this country and its lovely sights?
Seoul, Busan and Jeju are the most-visited cities in Korea, attracting an overwhelming number of tourists yearly. If you hope to cover these places in Korea but have no inkling of how to go about doing so, you're in luck!
Here is a comprehensive 10D9N itinerary that brings you to the best attractions of each city. It's time for you to traverse Seoul, Busan and Jeju ALL in a single trip.
Day 1: Get up close with Jeju's volcanic remains
Begin your first day by having breakfast at Oneunjeong Gimbap, a famous korean-style sushi stall located at Jeju City. This stall requires you to pre-order in advance before going down for collection but its quality is assured! A popular hotspot even for celebrities, Oneunjeong Gimbap is totally worth the wait. Their bestsellers include the oneunjeong gimbap and the anchovy gimbap, which are tastes you can't find anywhere else.

Tip:  Stay in Jeju City so that you will be close to Jeju Airport and surrounded by many amazing restaurants. When travelling around Jeju, it is also advisable that you rent a car or hire a driver, as public transport is not readily accessible.
Manjanggul Cave
Next, embark on a 25-minute drive to Manjanggul Cave, a 13.4km lava tube featuring magnificent stalagmites and stone pillars. This place is a natural monument and probably one of the nicest lava tubes in the world! Not only is the tube very well-maintained, visitors are promised a cooling atmosphere and spacious path to walk on.
Created hundreds of years ago from lava movement underground, Manjanggul Cave features amazing and natural sights for visitors to explore, including lava columns and helictites. This entire tunnel is natural and you can even spot bats living in this cool and dark cave.  Although only 1km of the tube is open to visitors for safety reasons, you'll be able to catch a glimpse of the mysterious natural structure. Geography enthusiasts, this one's for you!
Woljeongri Beach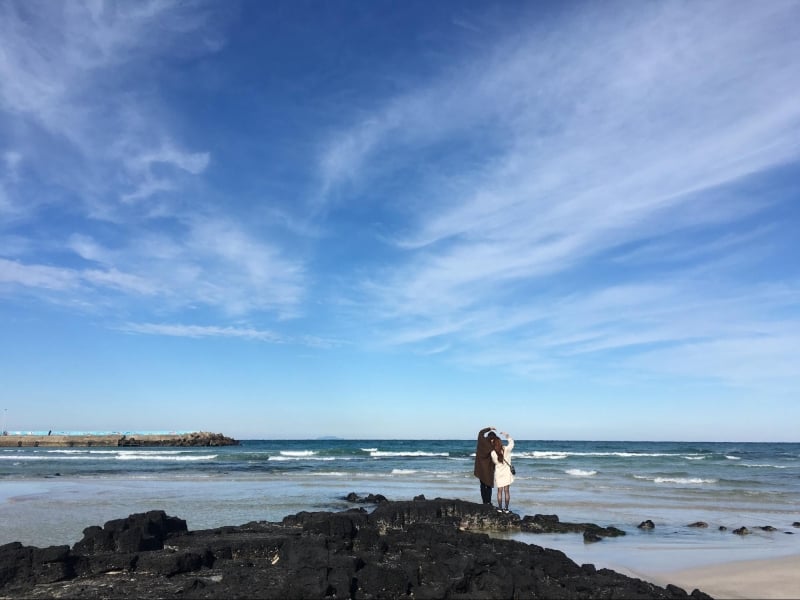 Next, head to Seongsan Ilchulbong, a beautiful volcanic peak which is a twenty-minute drive away from Manjanggul Cave. Located at Gimnyeong-ri, Gujwaeup, this peak is certainly the place that will make you fall in love with Jeju Island.
On the way there, you will pass by Woljeongri Beach, a beach that offers picturesque sights no one should miss. Stop and snap a couple of pictures if you'd like and enjoy the lovely sea breeze. There is a row of cosy cafes facing the ocean, where you can grab a snack and sip on some warm, fragrant coffee as you soak in the tranquil atmosphere.
Seongsan Ilchulbong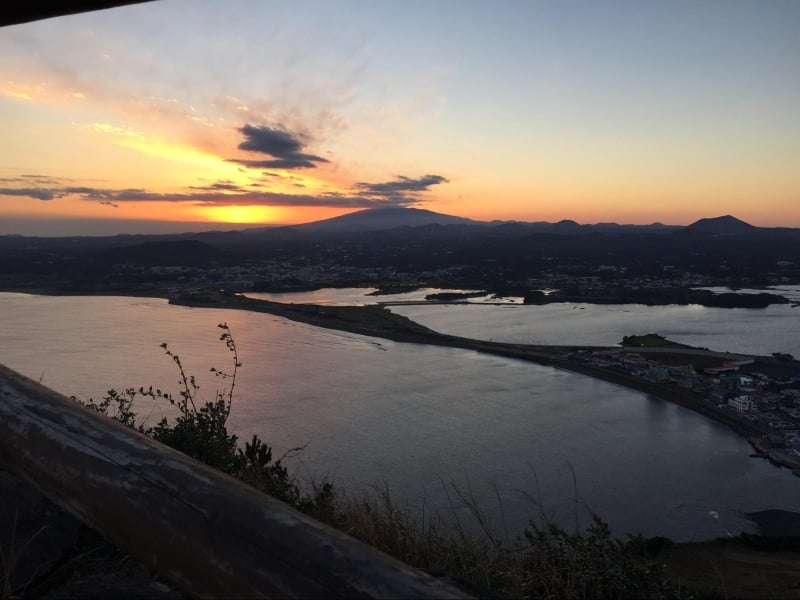 If those hunger pangs are slowly making their presence felt, fill your stomach at Jeju Ttukbaegi, a famous restaurant which is situated at the foot of Seongsan Ilchulbong. This restaurant sells amazing seafood and kimchi stew, allowing you to enjoy food that is old but gold. Also, a seafood stew only costs 7,000 korean won, which is a very affordable price for all, especially given its amazing quality. You'll be awestruck at how such typical Korean dishes can be so well-prepared.
Now that your bellies and hearts are full, it's time to hike up the mighty 180m-tall Seongsan Ilchulbong. This peak was formed as a result of a volcanic eruption and now serves as a UNESCO heritage site. While you'll have to do some cardio work as you scale to the peak, the jaw-dropping views will make it all worthwhile.
Day 2: Immerse yourself in green, green and more green!
Mount Hallasan
First up? Squeeze in some exercise by climbing Mount Hallasan, the tallest mountain in South Korea! Since the time taken to reach the summit and back amounts to roughly 10 hours, I recommend taking the shorter Eorimok trail, which takes you halfway up Mount Hallasan. Although you won't reach the top, this trail gives you a charming view of lush greenery and scenic views! Enjoy some ramen and sweets at the rest point, which is a common practice among local climbers.
O'Sulloc Museum and Innisfree Jeju House

After a physically strenuous first half, it's time to spend the rest of the day unwinding at the O'Sulloc Green Tea Museum. Walk around the green tea plantations and learn more about the history of green tea in Jeju Island. The highlight of this trip would be the cafe, where you can enjoy rich and delicious matcha delicacies including ice-cream, lattes and cakes!
Thereafter, walk a short distance towards Innisfree Jeju House. This is the perfect spot for a leisure stroll and some OOTD shots for your Instagram! You can also shop for Innisfree loots, and create your own soaps in the store.
End your day by having some Jeju black pork at Donsadon. This eatery is not only famous for its BBQ black pork but is also strongly recommended by K-Pop prodigy G-Dragon! Since black pork is a Jeju special, Donsadon is the place to relish black pork at its best.
Day 3: Marvel at gorgeous waterfalls and cliffs
Jusangjeolli Cliff
Start your third and final day in Jeju by visiting Jusangjeolli Cliff. Formed from the lava of Hallasan Mountain, this cliff exhibits a unique sight of hexagonal rock pillars by the sea. Walk around the area as you embrace the cool sea breeze and the therapeutic sound of waves crashing against the cliff.
Cheonjiyeon Waterfall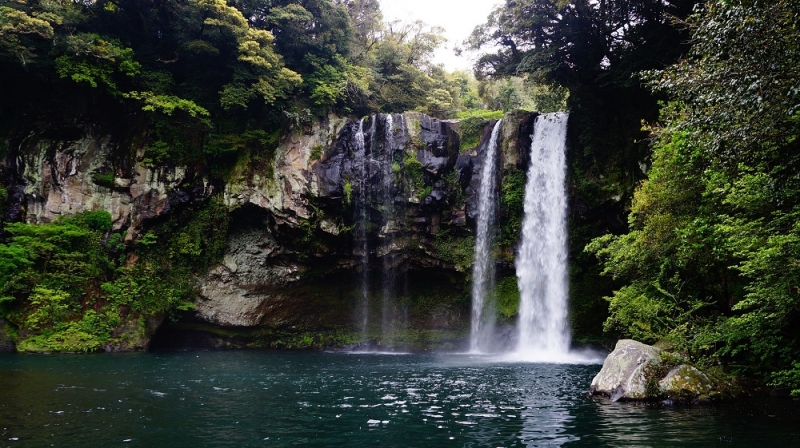 To get to Cheonjiyeon waterfall, you need to travel for fifteen minutes by car and walk a distance of about 1km through a thick foliage before arriving. Don't worry, the walk promises amazing landscapes and fresh air!
Cheonjiyeon means heaven and earth coming together, and many believe this was where fairies came to bathe. While you appreciate the surrounding greenery and cool temperatures, this 22m majestic waterfall will wow you with the power of its currents.
Jeongbang Waterfall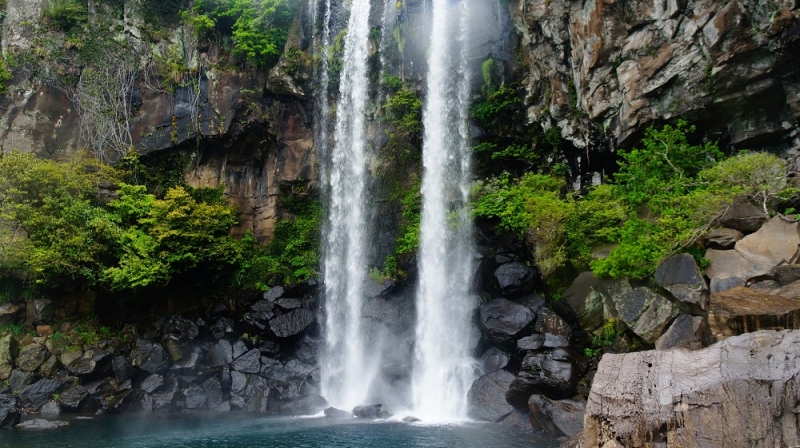 Stop by Jeongbang Waterfall, a 20-minute walk away from Cheonjiyeon Waterfall. This is the only waterfall in Asia which falls directly into the sea! Jeongbang waterfall promises an amazing sight and loads of fun as you manoeuvre around the rocks to get closer to it! A plus point: there are Jeju locals in the area who sell their fresh catches. Taste some of their mouth-watering sashimi and if that doesn't sit well with you, just watching them trade is fascinating enough.
Finish your last day in Jeju with a bang by visiting Myeongjin Jeonbok. This restaurant sells a Jeju favourite – abalone porridge, at just 12,000 korean won! This food is popular among locals since abalone, a precious and rare commodity outside, is so readily available on this island. Not only that, abalone is also famous for its health properties. You'll certainly be promised a fresh and nourishing meal at this restaurant.
Day 4: Fly to Busan and saunter amidst iconic temples
Most of the day will be spent travelling from Jeju to Busan, hence day 4 will be less packed with activities. Busan is the second largest city in Korea and is famous for its maritime movement and seafood. This is the city where you can experience both staying in a metropolis and being around nature. Busan's transport network, like Seoul, is extensive and efficient so taking public transport is encouraged here.
After settling down in your accommodation, head down Yonggungsa Temple for a stroll around the area. Busan is known for her temples and personally, Yonggungsa temple is the most beautiful of them all. Perched by the sea, this temple offers a breathtaking sight of the boundless and choppy ocean. For practising Buddhists, you'll truly appreciate having a place of worship boasting such a scenic backdrop.
Day 5: Venture to Busan's top attractions
Gamcheon Cultural Village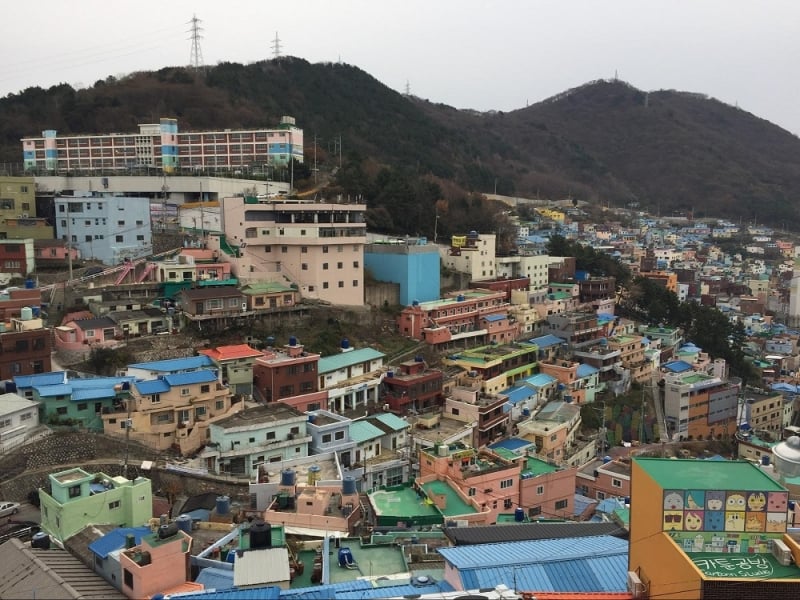 Begin this new day by visiting the colourful and layered Gamcheon Cultural Village. This little village is brimming with creativity and fun as you spot murals and sculptures created by the locals themselves.
Pick up a map from the entrance and start exploring as you navigate around checkpoints to collect stamps. It'll definitely be exciting as you uncover the nook and crannies of this village and appreciate the artwork of the locals. Bonus: Redeem a surprise gift once you've collected stamps from all the checkpoints!
Jagalchi Fish Market
Just a twenty-minute bus ride from Gamcheon Cultural Village, South Korea's largest fish market– Jagalchi Fish Market is a landmark you can't miss while you're here. Since Busan is known for being a buzzing maritime city, seafood is an absolute must-try here! At this market, you will see all types of fishes – live and dried, being promoted by the friendly ahjummas (aunties) who run the store.
It will be meaningful to witness how this Korean market operates and how locals interact with customers. Be spoilt for choice as you walk pass the myriad of restaurants selling quality seafood, from sashimis to piping-hot king crabs.
BIFF Square
Spend your night at BIFF square, where the first Busan International Film Festival was held. Just a fifteen-minute bus ride away from Jagalchi Fish Market, travelling will take barely any time and effort at all. Walk through the Star Street and find the handprints of renowned actors and directors. You can also engage in lots of shopping here too and munch away, thanks to the many street stores selling delicious local snacks.
Day 6: Reunite with Mother Nature
Taejongdae Park
After spending the previous day in bustling places, it's time to get some peace and quiet by visiting Busan's natural sites. Kickstart your day by visiting Taejongdae, a Busan monument well-known for its rock beach. This place is named after King Jong Dae, who frequently visited the area to shoot arrows in the Shilla dynasty.
You can choose to either hike up or take the Danubi Train to the Yeongdo Lighthouse. Here, you will get a panoramic view of the cliff and sea which promises different shades of blue at different times of the year. If you feel brave, walk on the flat surface of the cliff for amazing pictures (and the thrill)!
Haeundae Beach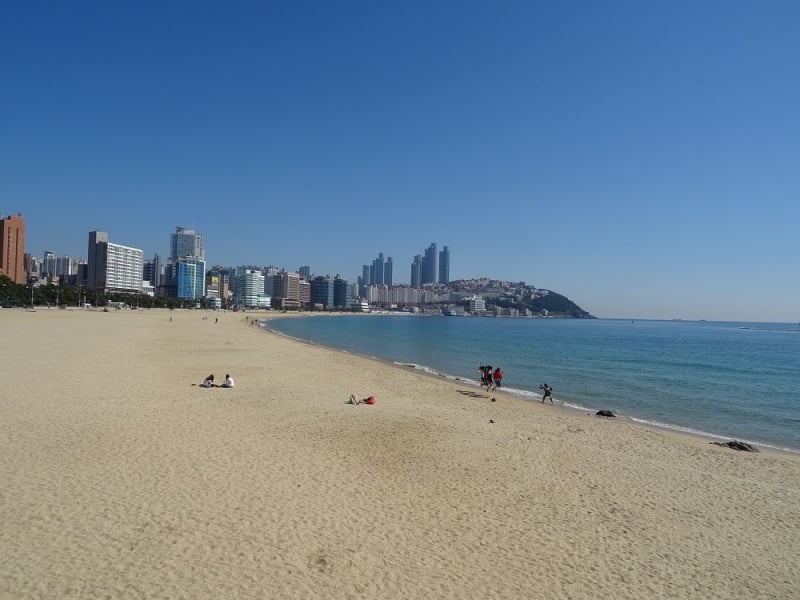 After Taejongdae Park, frolic in the sun at Haeundae Beach, one of the most popular beaches in the whole of Korea. How often do you find a stunning beach right beside hordes of skyscrapers? Haeundae beach is perfect for a summer getaway with its idyllic setting. You can also find good eateries near the beach, so don't worry about getting hungry while having fun!
Day 7: Train to Seoul for some sightseeing and shopping later
Seoul is the capital city of Korea and THE centre of Korean entertainment activities. Like Singapore, Seoul is a metropolis with well-connected transport networks, you'll hardly lose your way! It takes approximately three hours to get from Busan to Seoul, which will probably burn your entire morning. After adjusting to Seoul, it's time to venture out again!
N Seoul Tower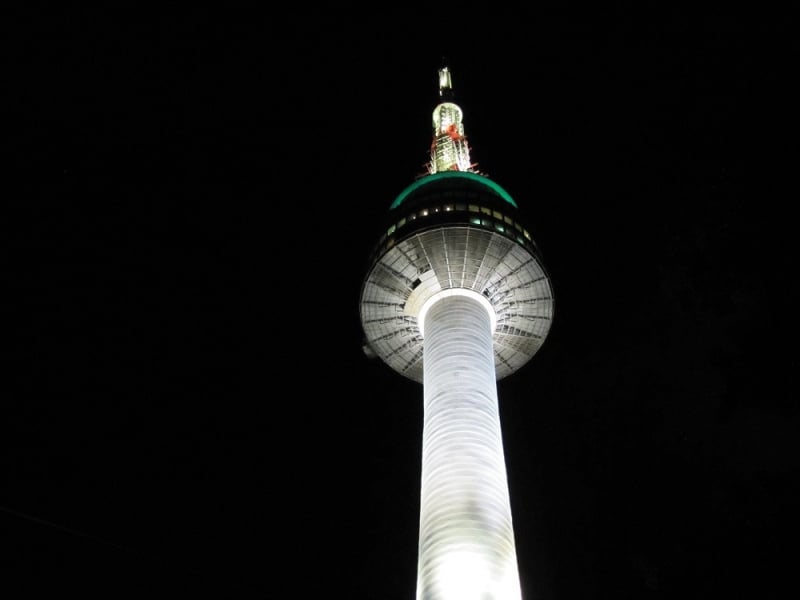 Begin your Seoul exploration by visiting N Seoul Tower, the country's very first radio wave tower. Take the cable car up to the top, where you can admire the breathtaking scenery of Seoul. If you're there with your significant half, why not purchase a love lock to declare eternal love towards each other? It'll be an interesting experience and who knows, your pledge to eternal love may even come true!
Myeong Dong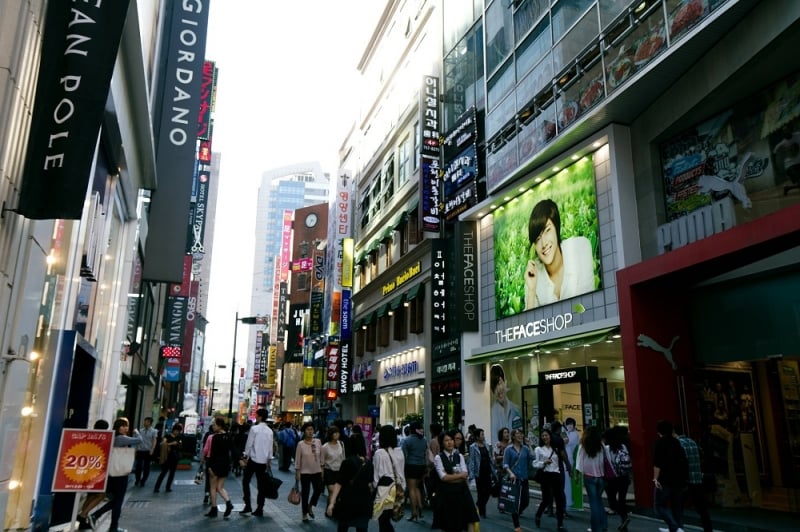 Next, move on to Myeongdong, where it's time to shop till you drop! Just a short bus ride from the N Seoul Tower, this is the street that is lined with many cosmetic shops, a haven for makeup enthusiasts out there. You'll also enjoy the plethora of street stalls which offers delicious delicacies that will fill you up. Don't forget to visit Myeongdong Cathedral as well, the first Joseon Catholic diocese ever erected.
Day 8: Go back to the Joseon era and soak in Korea's unique culture
Bukchon Hanok Village
On day 8, travel back in time and have a glimpse of Korea in the past. Commence your day by visiting Bukchon Hanok Village, an area with traditional houses that date back to the Joseon Dynasty. Immerse into Korea's traditional culture as you walk around these houses; you may also find locals selling their traditional sweet candies.
Gyeongbokgung Palace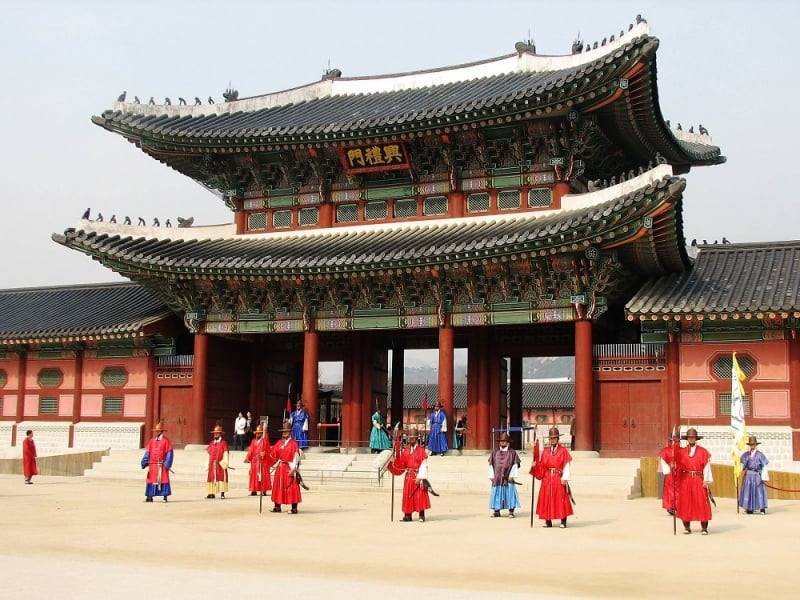 After your time at Bukchon Hanok Village, it's time to take a 15-minute train ride down to the place you've been seeing in your Korean dramas – Gyeongbokgung Palace. Walk the palace grounds and get a sight of how the home of the royal family looked like in the past. You can even be a royal for the day as you rent their traditional outfits just for fun!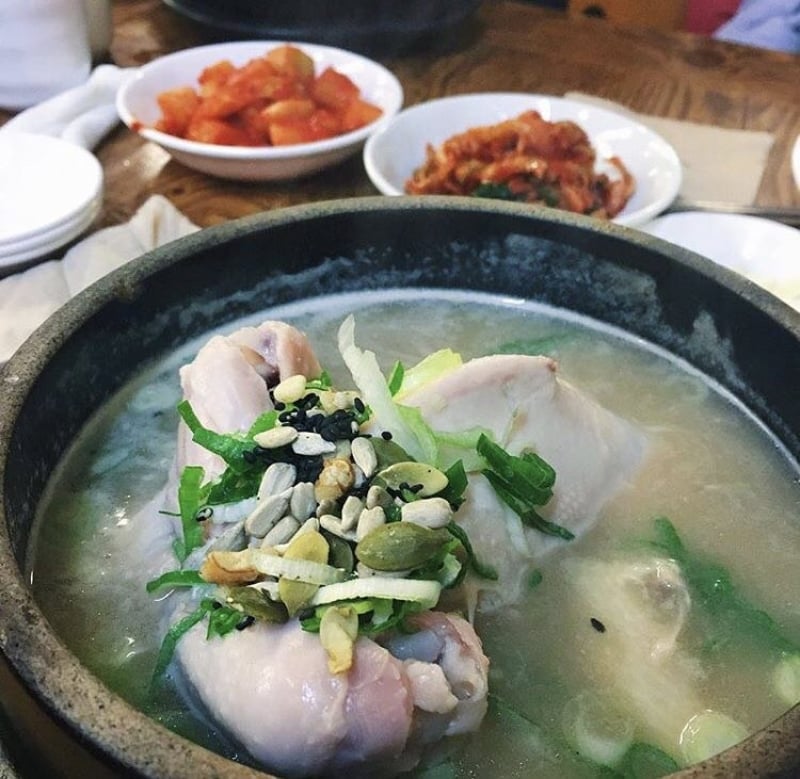 Have your lunch at the nearby Tosokchon, arguably Korea's best ginseng chicken restaurant. You'll be amazed by their large portions of tender and juicy chicken, paired with a rich and flavorful broth.
Hongdae
Think you haven't had enough of the Korean culture? Hongdae will leave you very satisfied and happy, with its many attractions in the area. Hop on a bus from Tosokchon and you'll find yourself in the street of Hongdae in less than forty minutes! First and foremost, Hongdae is teeming with youthful energy. On Saturday nights especially, the streets are filled with buskers and dancers who entertain passers-by in the area with their soulful voices and vivacious dancing.
Since Hongdae is a university district, you will find many shops with cheap apparels up for grabs! This vibrant place also has many painted murals done by the locals. If you ever get hungry, there are rows of Korean restaurants awaiting you in Hongdae.
Day 9: Embrace fun in epic proportions!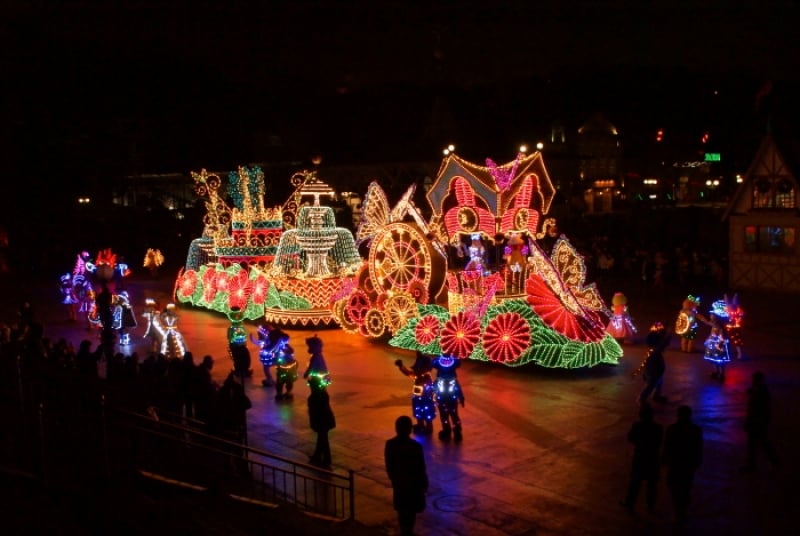 Maximise your entire day at Everland Resort, Korea's largest amusement park. For thrill seekers out there, it's time to have fun on the many roller coasters available including T Express, the world's steepest roller coaster! For those who have a milder taste, there are many fun rides in Everland as well that do not involve jaw-dropping and heart wrenching moments. This theme park is catered to people of all ages, with different attractions for different groups of people.
Fun Fact: This is also the place where you can spot Ligers (lion and tiger cross breeds) in the safari, and even feed animals from your vehicle. Everland Resort is packed with activities to keep you busy for the entire day.
Day 10: Spend your penultimate day in a romantic park
Wrap up your ten days in Korea by taking a day trip out of Seoul and visit Nami Island. This island takes you away from the hustle and bustle of Seoul's city life and brings you in touch with nature. Popularised by hit Korean drama, Winter Sonata, this place is now known for its romantic atmosphere and is loved by couples.
You can choose to arrive at the island via a ferry or by a zipline, although the latter is more exciting and memorable! Take in the breathtaking landscape as you walk through chestnut and poplar trees while listening to the birds chirp. This is also the perfect spot to capture great photos to keep as momentos.
So there you have it, a 10D9N itinerary that will take you to the best places in Seoul, Busan and Jeju. Fall in love with Korea's cities as you marvel at impressive natural sites and walk through districts buzzing with life. You're bound to have a favourite among the three so do tell us which city you love most after your trip to the land of Kimchi!