During one of my solo trips to Korea, I went on an active mission to seek new experiences. After much consideration, I decided to stay in one of Korea's public bath and sauna houses (a.k.a. jjimjilbang) for a night… by myself.

Most people visit a jjimjilbang for an authentic Korean spa experience, but few would consider staying there overnight. Some may also think that staying in a public jjimjilbang seems shady, but read on and you will find that it is actually a budget-friendly option that is both safe and fun!
There are many jjimjilbang in Seoul, from the more well-known ones like Dragon Hill Spa and Siloam Fire Pot Sauna to the unheard of ones located in various neighbourhoods. Since I was staying alone, I chose to stay at Siloam, the only jjimjilbang that offers gender segregated bunk beds. For only 15,000won (~S$18), I got myself a place to stay AND sessions of special Korean skin treatment – it's the best deal that any of you girls can treat yourselves to!
Here are some tips for your overnight jjimjilbang stay, based on my personal experience:
1. Go to your choice of jjimjilbang only after the night rate kicks in
Prices for day-time entrance and overnight stays are often differentiated in jjimjilbangs that stay open round the clock, ranging from 8,000won (~S$10) for the former and 15,000won (~S$18) for the latter. I arrived before the night rate at Siloam started, and decided to wait till the night session kicked in to get more bang for my buck.
2. Collect your jjimjilbang apparel set
Regardless of which jjimjilbang you go to, when you purchase a ticket to "check-in", you will be given a pair of t-shirt and shorts and a small towel. The counter staff gave them to me once I checked in, and told me that I should be clad in these throughout my stay.
3. Exchange your ticket for a set of locker keys
After you get your ticket, you are now ready to go into the gender-specific locker rooms. I entered the room and some ahjummas (Korean for 'aunties') took my ticket and gave me some locker keys. One key was for my shoe locker and the other was for my belongings and clothes. Taking off your shoes is the first step to…
4. Embrace your NAKEDNESS
Honestly, this was the very reason why I chose to go to a jjimjilbang alone. The NUDITY. When I entered the locker room, I was greeted by not only the ahjummas working in the jjimjilbang but also by other guests who were completely… naked. If you want to soak in the bath zones (which something you should definitely try), this is something you would need to do to. Simply put, staying in a jjimjilbang, is synonymous with the ability to be comfortable in your own skin.
If you are thinking that the towels they provide can save you from baring it all, I'm afraid that you'll be disappointed. The towels are simply too small to cover anything and even if you have your own towel to cover up, you will only invite stares from the locals. My advice? Just embrace your nakedness and blend with the people there.
My advice? Just embrace your nakedness and blend with the people there.
5. Enjoy the night by soaking in various baths
As with other jjimjilbangs, Siloam provides various types of medicinal baths and sauna rooms. All baths are located in the basement, which is directly connected to the locker rooms within the "no clothes" zone.
I recommend that you start by soaking in the medicinal bath that is lowest in temperature before slowly moving to the hotter ones. The recommended soaking duration is indicated in each of the pools' description. Remember to take a dip in the cold pool after each soak in the medicinal bath to get the maximum health benefit from each soak (or so they say!)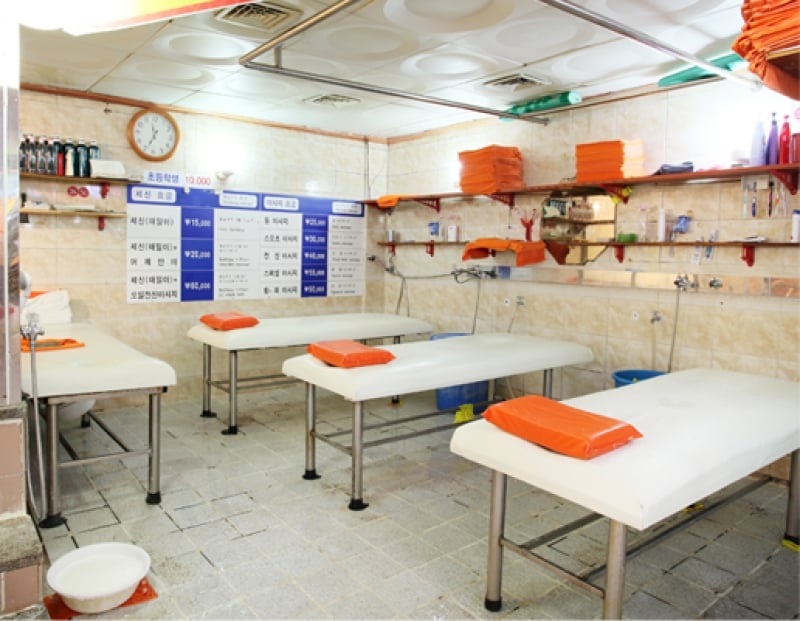 After your soak, you can also opt to have your skin scrubbed by an ahjumma for a small fee to obtain the soft and smooth skin that most Koreans have! However, there are rumours that this might hurt so I decided to give it a miss. Instead, I dried myself off, changes into my sauna attire and headed to the sauna area on levels two and four.
6. Sweat away in sauna rooms
In most jjimjilbangs, the only gender separated areas are the locker rooms and bath zones. Sauna rooms are open to both genders, and you should wear the shirt and pants provided. 
In case you are wondering, no, the towel was not given in the cute "lamb head towel" shape; you have to fold it yourselves if you want to! There are many guides online and I simply referred to one of them to make mine. I think only tourists actually do this because when I was staying there, I saw no locals using this!
After buying my cup of cold Sikhye, a Korean traditional sweet rice drink that is often consumed in jjimjilbangs, I started sampling the various sauna rooms available. I particularly enjoyed the salt sauna room, the oxygen room, the charcoal room and the cold room! The oxygen room was particularly tranquil and I almost fell asleep there. All these rooms have their own health benefits, so you can check all of them out during your visit.
7. Enjoy the other facilities, or shower and head to bed
The large jjimjilbangs often provide other facilities apart from the sauna rooms and baths, such as a fitness centre, mini-arcade, massage chairs and karaoke room ('norebang'). You can make full use of these facilities while you are there! However, I felt lethargic after all the spa treatments and decided to have a nice warm shower and head to bed. 
Siloam's sleeping facilities are why I would strongly recommend staying in Siloam Fire Pot Sauna instead of other establishments. Normally, in other jjimjilbangs, you would have to sleep in the hall with everyone else on a simple mat – just like what you see in many Korean dramas. However, here at Siloam, there are gender segregated sleeping bunk beds provided on the fifth floor. There is even a separate "Snorer's Room" where snorers can go to. How great is that, huh! Each bunk bed is nice and private, with curtains that ensure the privacy of the sleeping occupant. They even provide small lockers right outside the sleeping rooms, where you can place all your valuables before you sleep.
Remember that I only paid 15,000won (~S$18) for all this! Isn't an overnight stay in a jjimjilbang just the perfect accommodation option for budget travellers? The night rates in Siloam allow you to stay there until noon the next day, so you can try out the other facilities and go for another round of soaking or sauna before checking out.
Overall, I really enjoyed my self-pampering treatment and good night's rest in Siloam Fire Pot Sauna. If you are travelling on a budget, do consider this option to save your precious money on accommodation. Instead, spend them on all the shopping! And if you're travelling by yourself, this makes for a really cost-effective (and interesting) way to spend the night as well.
Also read: Solo in Korea: 8 Tips for a First-Time Female Traveller
What are you waiting for girls? See you in Korea!