Winters in Korea can be harsh, averaging a temperature of -10 to 5 degrees Celsius through the day. Even my native Korean friend would say, "Our winter is the kind of cold that will make you angry!" So, it's not surprising that most people tend to avoid visiting Korea during the months from December to February.
However, if you still want to make it there during this time, and hate feeling too cold like me, there are many exciting ways to outsmart the freezing temperatures and still have a wonderful time in this gorgeous country. Here are 10 fun things I found on my visit there that you can do to make your first winter in Seoul awesome!
1. Go Ice-Skating at Seoul Plaza (City Hall)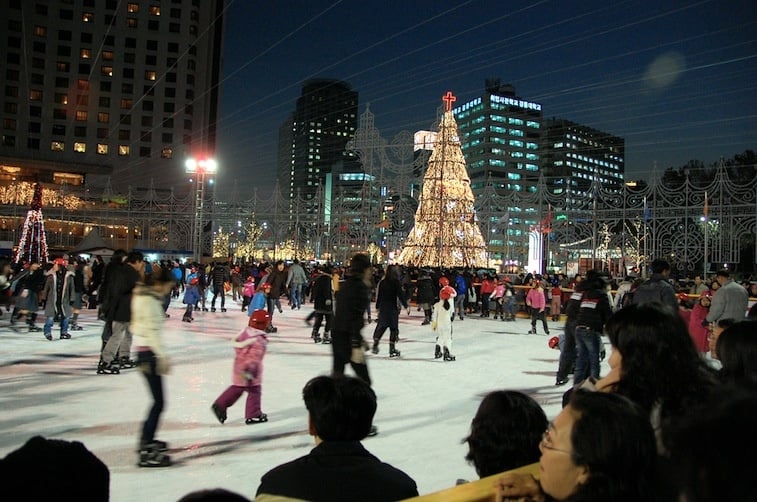 Outdoor ice-skating is one of the things you can only do in the winter, and coming from sunny Singapore, this was definitely one of the activities I wanted to try. Especially if you go around Christmas time, the surrounding decorations and lights does add that warm fuzzy feeling as you glide along the ice.
There are quite a few outdoor ice-skating rinks that are open around Seoul, e.g. Grand Hyatt in Itaewon and Olympic Park in Songpa-gu, but so far the one at Seoul Plaza (City Hall) seems to be the cheapest and easiest to get to. It costs 1,000 KRW per person for a one hour session, including the rental of a pair of skates. If you need, gloves can be rented for an additional 500 KRW and you can rent lockers to store your belongings for the same price.
Insider Tip: We tried going on the first day and found out that because it was the first day of opening, they were allowing people to skate for free! You may want to try going on the first day or the day before just to see.
Kid-friendly: They have a smaller rink for kids and beginners. Helmets for children are also provided free of charge if needed.
Getting there: City Hall Station (Seoul Subway Line 1,2), Exit 5
Operating Hours: Open Daily. Mon-Thu: 10am-10pm, Fri-Sun: 10am-11pm (Including Public Holidays)
2. Hop on a Pedicab to See the Bukchon Area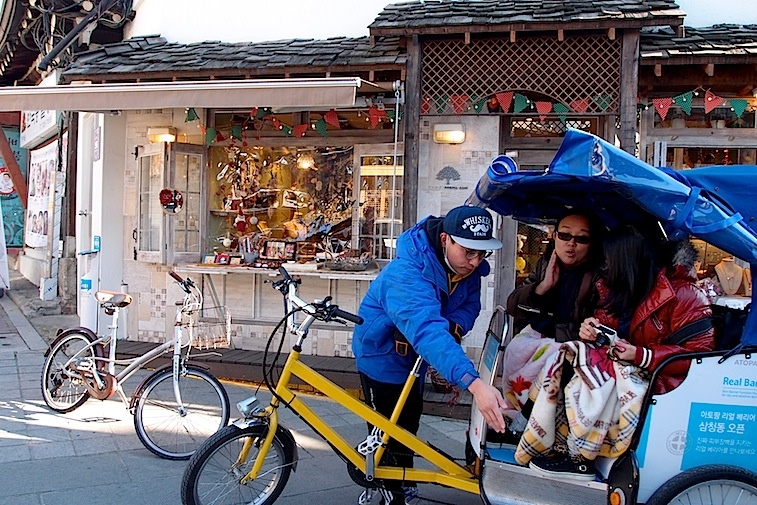 The Bukchon area is famous for the Bukchon Hanok Village. But there are other parts of the Bukchon area that are equally quaint and may even be less touristy. You can choose to explore the area on foot but we chose to try the Pedicab tour provided by Artee Pedicab. It gets more crowded in the Spring and Summer seasons, so the winter gave the ride a bit more of a quiet tranquility to it. Also, the hot packets and blankets provided were more than sufficient to keep us nice and snuggly for the whole duration of the tour.
Our Pedicab driver spoke fluent English and brought us through the nooks and crannies of the tiny, hidden Bukchon streets lined with traditional houses, shops and cafes. Naturally, we were thoroughly impressed by his ability to paddle both of us up and down the steep slopes and still having the stamina to deliver interesting insights and stories behind each landmark. Overall, the 1.5 hour journey was filled with pleasant surprises and lively conversation.
They have a few routes you can choose from. It costs 45,000 KRW for a 60-minute basic tour. 60,000 KRW for a 90-minute detailed tour. They have both English and Mandarin speaking guides available but it will cost more to have them. There are also many other pedicab tours around Seoul that you can check out.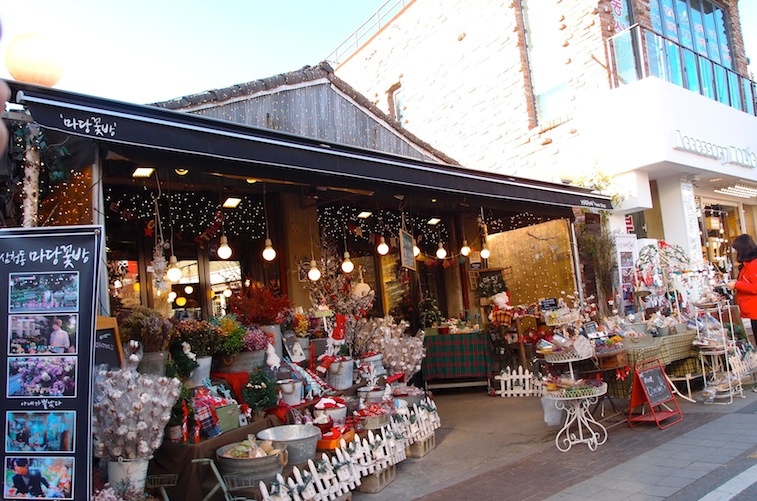 Getting there:
Meeting point – National Museum of Modern and Contemporary Art, Seoul (Best to confirm your meeting point with Pedicab Company)
Get off at Gyeongbokgung Station (Seoul Subway Line 3), Exit 5, walk straight for about 700 meters (10 minutes on foot)

Get off at Anguk Station (Seoul Subway Line 3, Exit 1, walk straight for 750 meters (12 minutes on foot)
Operating Hours: Open Daily. Mon-Sun: 10am-10pm. (Depending on weather conditions) Reservation is required. Click here to make a booking online. Closed for the holidays: 21 Dec-31 Jan
Getting there: Dongdaemun Stadium Station (Subway Line 2) / Dongdaemun Station (Subway Line 1 and 4)
3. Give Obama the Hand at the Grevin Wax Museum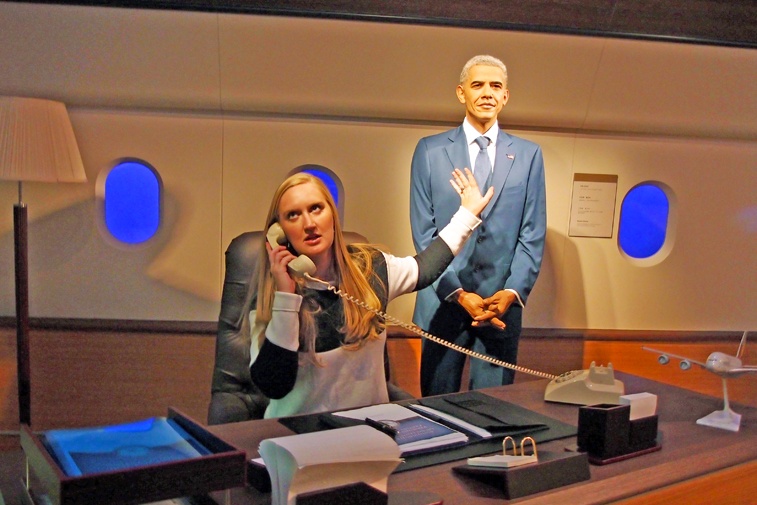 Laura Elford learns to manage high profile characters
Personally, wax figures do scare me a little. The idea of any of them suddenly popping out from the dark corners sends shivers down my spine. So, I was pleasantly surprised to find the wax figure exhibition at the Grevin Wax Museum to be well-lit and the figurines to be rather approachable!
The scenarios are cleverly set up for some wicked photo-ops, so get your cameras in there and get creative! Where else can you pose with your favourite K-POP stars and show Obama "the hand"?
It costs 23,000 KRW per adult, 18,000 KRW for students (ages 13-18), 15,000 KRW for children (ages 3-12), and 15,000 KRW for seniors (ages above 65). Children under 3 get in free accompanied by an adult.
Getting there: City Hall Station (Seoul Subway Line 1,2), Exit 6. Walk straight for 5 min. Or, Euljiro 1-ga Station (Seoul Subway Line 2), Exit 1. Walk straight for 3 min.
Operating Hours: Open Daily: 10am-6pm.
Also read: Korea's Underrated City: 6 Reasons You Should Visit Busan
4. Buy Cheap Winter Mits and Hats at Insadong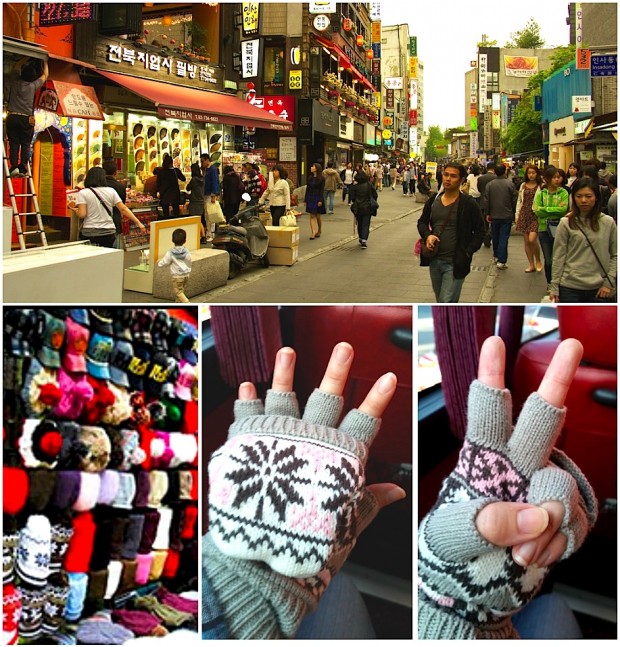 Insadong is famous for being the street where you can find traditional Korean goods. However, did you know that it's also a great place to get cheap and good winter mits and hats! I got myself this nifty pair of mits for just 5,000 KRW! They are thickly lined and kept my hands nice and warm throughout the sub-zero temperatures. The hats are really good quality as well. So, if you are looking for cheap and good knitted hats and mits, try Insadong.
Getting there: Anguk Station (Subway Line 3). Exit 6.
5. Dance along to a Hologram Concert at K-LIVE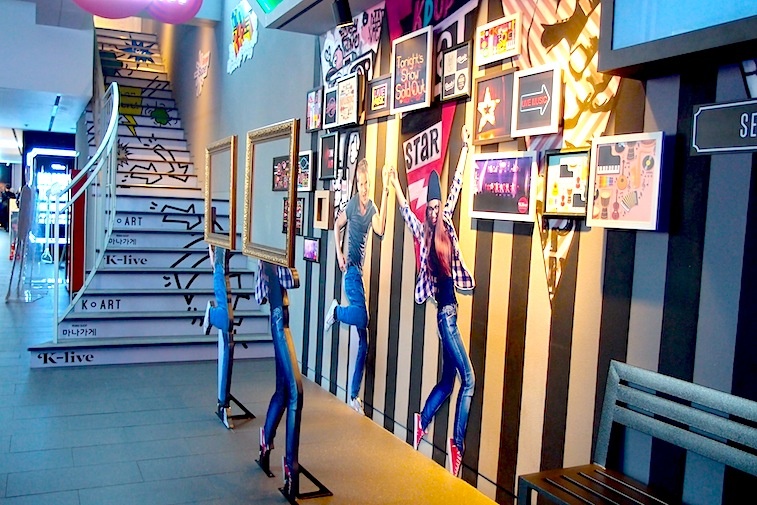 Even if you aren't a crazy K-Pop fan, the mini-hologram concerts held at K-LIVE on the 9th and 10th floors of Lotte FitIn, are a multi-sensory experience. Especially if you need to take a break from the cold, pop by for a 30-minute showcase and perhaps have a drink at the cafes downstairs.
Also read: A KPOP Fangirl's Guide Around Seoul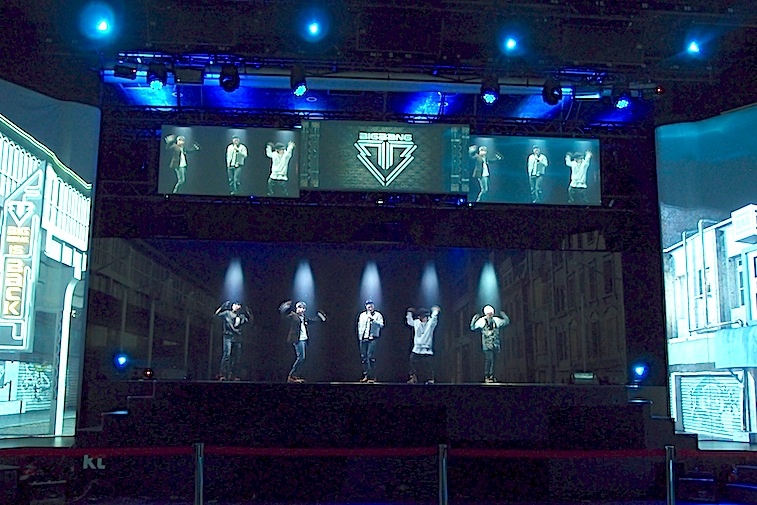 Personally, I was 'wow'-ed by the clarity and depth of the hologram images. The images and dance moves were very vivid and the stage had a 270-degree panorama view that fills your field of vision, so much so the images seem to pop out at you. The video presentation was quite a new-dimensional experience, making it really catchy and fun to dance and sing-a-long to.
Tickets cost 33,000 KRW for adults and 22,000 KRW for teens and kids.
Getting there: Located on floors 9 and 10 of Lotte FitIn. Dongdaemun History & Culture Park Station (Lines 2, 4, and 5) exits 11 and 12 (connected by underground path)
Operating Hours: Open Daily: 2-10pm except Mondays.
6. Visit N Seoul Tower at Night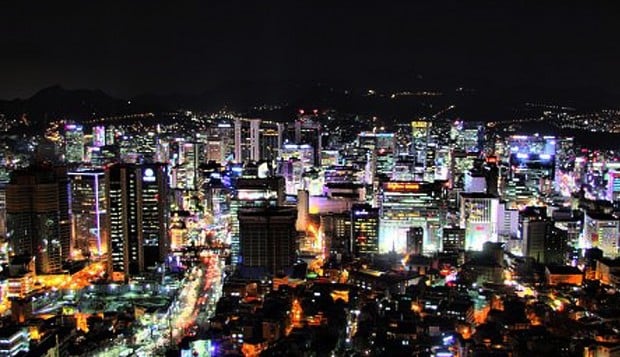 The views from the N Seoul Tower in the day is nice, but it is absolutely breathtaking at night.
TIP: I'd recommend going to the tower around dusk, take a walk around the vicinity and even put up a love lock with a special message, and then make your way up to the viewing platform to watch the sun set upon the city. This way you get to see the Seoul skyline transform in the changing light. An experience you must definitely try on your trip there.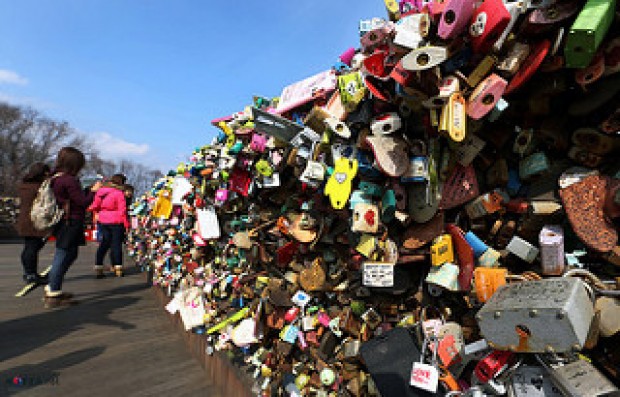 Getting there: By Bus – Namsan Circular Shuttle Bus No. 02. Take the bus from the closest subway station: Chungmuro Station (Seoul Subway Line 3, 4), Exit 2 (in front of Daehan Cinema) or Dongguk University Station (Seoul Subway Line), Exit 6. (Interval: every 15 min; Operating hours: 7am-12mn)
By Cable Car – Boarding point: Myeong-dong Station (Seoul Subway Line 4) Exit 3, walk for about 15 minutes following the street of the right side of the Pacific Hotel. The boarding place should be seen. (Operating hours: 10am-11pm)
Operating Hours: Sun-Fri – Observatory: 10am-11pm, Sat – 10am-12mn. Last admission 30 min before closing. Operating hours are subject to change depending on weather or business schedules.
7. Take Selfies at MBC World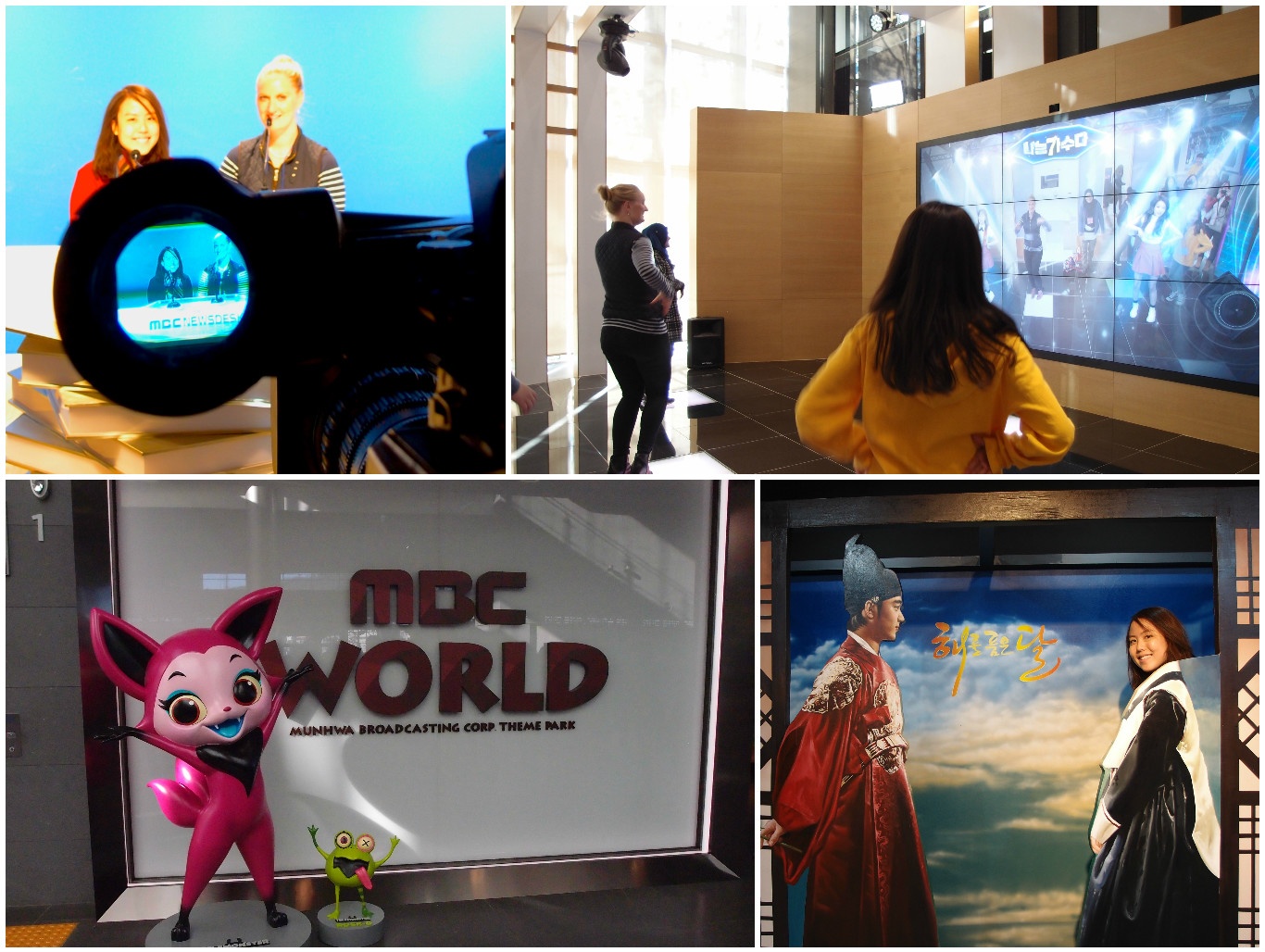 MBC – One of the major broadcasters in Korea offers three whole zones of photo opportunities for you to pose and interact with the latest in media entertainment in their new multimedia theme park, MBC World. You can pretend to be a broadcaster, walk through a day in the life of a celebrity and just learn to dance full-on K-POP. And if you are really…really lucky, like me? You may get to bump into a few celebrities while they're grabbing coffee in between shoots!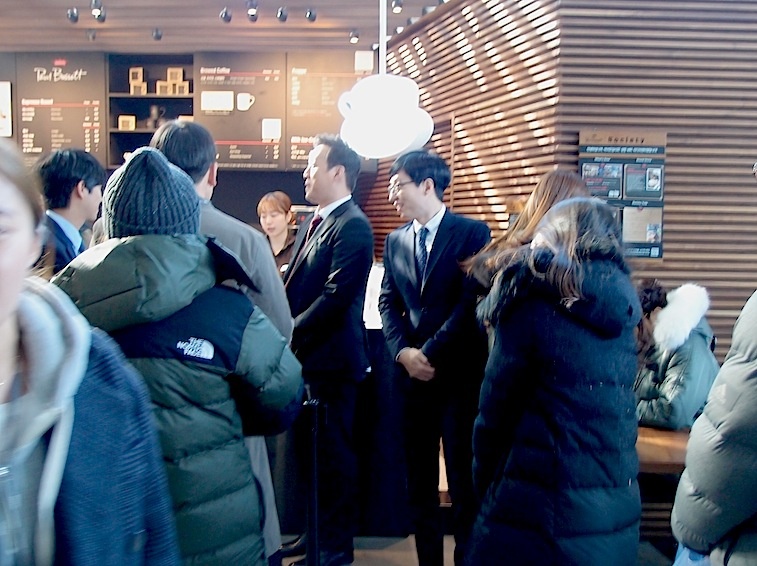 (Caption: Cast of Infinity Challenge on a coffee break.)
Tip: I happened to be in the building at the same time they were recording a favourite Korean variety show of mine. May help to know the regular shooting schedule before you plan your trip to MBC. You never know when you may cross paths with your favourite celebrities.
It costs 18,000 KRW per adult, teenagers (ages 14-18) cost 13,000 KRW and 9,000 KRW for children (ages 3-13).
Getting there: Digital Media City Station (IAirport Railroad Express Line), Exit 9.
Operating Hours: Open daily, 9am-6pm
Also Read: 5 Cafes in South Korea You'll Absolutely Love
8. Be wow-ed by the LED Flower Garden Outside Dongdaemun Design Plaza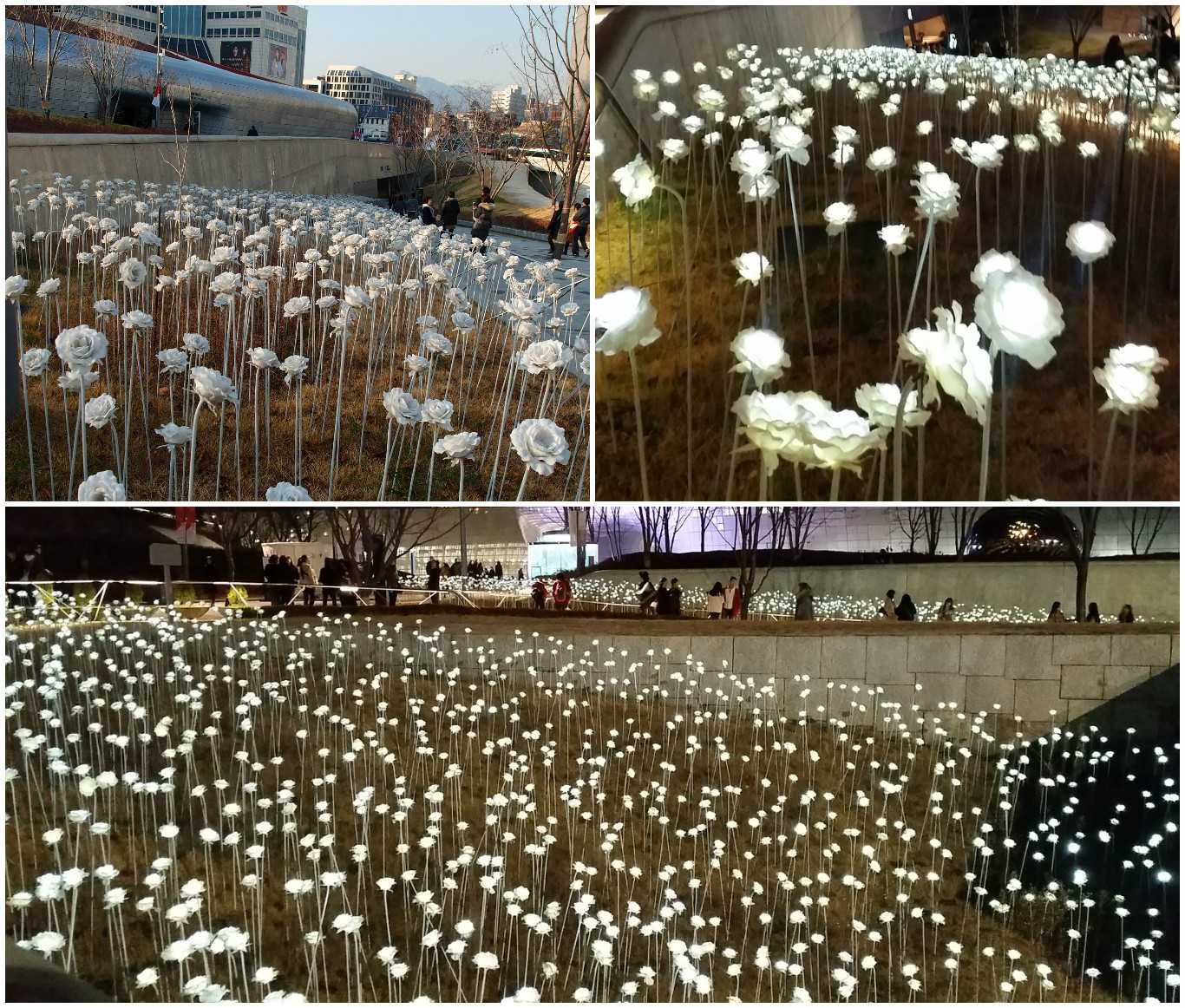 A gorgeous addition to the Dongdaemun Design Plaza (DDP), these 20,000 LED flowers glow as beautifully in the day as when night falls and gives the whole plaza a dreamy feel. Whether you go with your loved one, good friend, or just by yourself, it gives you an indescribable satisfaction to gaze at the seabed of roses. I'd recommend to add a cup of hot chocolate in hand for that extra touch of warmth.
Getting there: Dongdaemun History & Culture Park Station (Seoul Subway Line 2, 4 ,5) and Exit 1.
9. Have Fried Chicken and Beer at Hongdae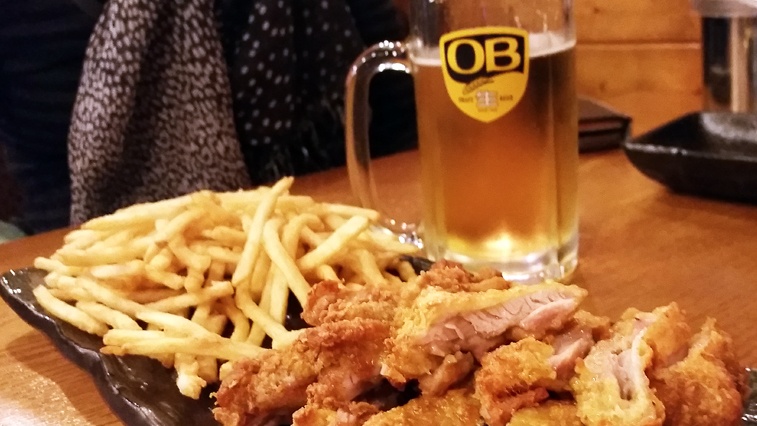 Fried chicken and beer or "Chimaek" – The supper food made popular by Korean Dramas. Is it really that good? My friend and I decided to give it the ultimate supper test. So, after a full dinner of Traditional Korean Ginseng chicken, we decided to have a nice evening stroll along the popular haunt for the younger crowd, Hongdae.
Coupled with the night lights and chill music from the street baskers, chimaek seemed like the perfect thing to wrap up the lovely night stroll. So we popped into one of the eateries along the street.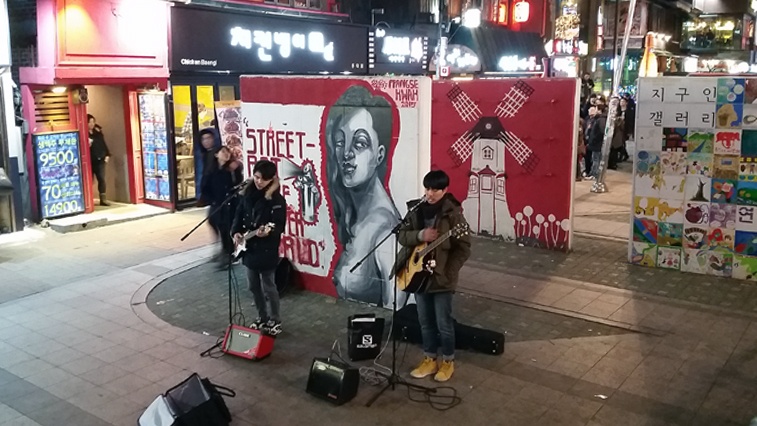 The conclusion? The fried chicken went wonderfully with the beer! We had Cass beer which was very light and refreshing to the taste – a great contrast to the oily fried chicken.
Tip: Servings are rather large, so best to order one or two plates to share, unless you have a big appetite.
Getting there: There are a couple of "Chimaek" eateries along the Hongdae stretch. Hongik University Station (Subway Line 2, Gyeongui-Jungang, AREX), Exit 9.
10. Warm up with Hot Korean Street Snacks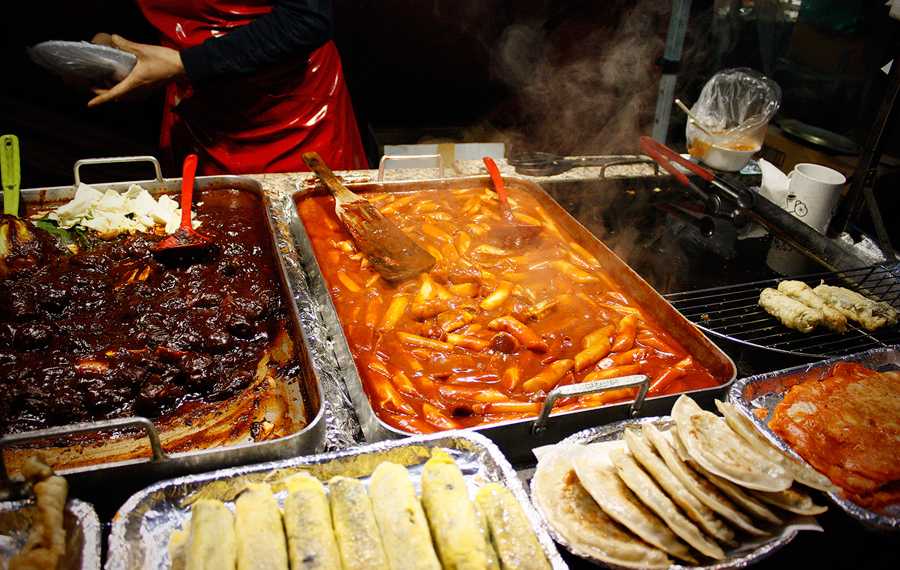 The wonderful thing about walking around Seoul in the winter is being able to stop anywhere and chew on all the wide array of delicious hot street snacks! Tteokbokki (spicy rice cakes), Odeng (Fish cake sticks dipped in soup), Gamja Hotdogs (French fry covered hot dogs) and Mat Tang (candied sweet potato) to name a few.
Operating Hours: Most snack stalls close at around 10pm unless otherwise stated. Helps to do your research before heading down to any market streets. 
11. Take the Ice-Cream in Winter Challenge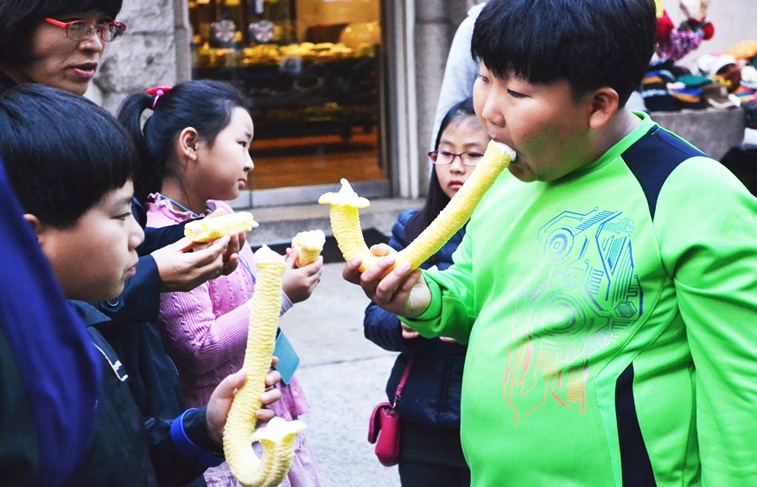 No, it's not crazy to eat ice-cream in the winter! In fact, it's a whole new experience! You strangely feel warmer on the inside as your body starts getting accustomed to the creamy, icy goodness. Not to mention that you don't have to worry about your ice-cream melting as you eat it. It's my new favourite thing! Try it!
12. Have a Choco-Pie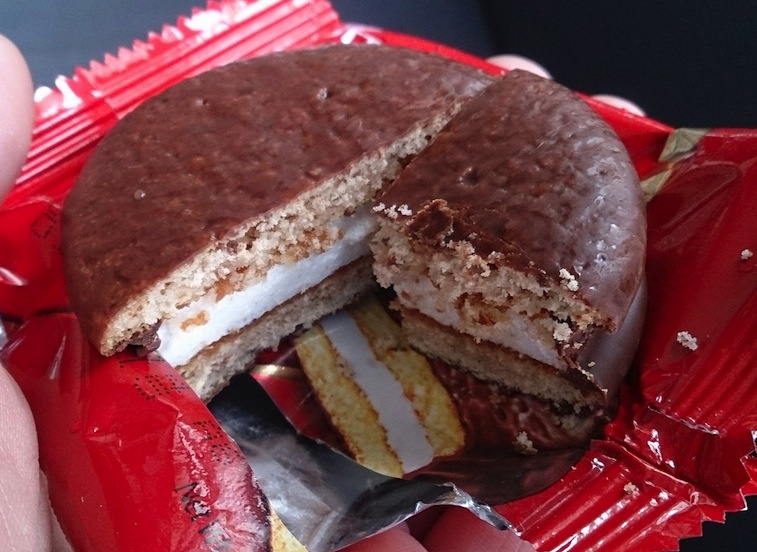 Choco-Pies are a South-Korean favourite snack of all time. It consists of two small round layers of cake with marshmallow filling dipped in a chocolate covering. It's cheap, easily available and absolutely a life-saver when you need a light snack to get through your hunger pangs while braving the winter. Not to mention super yummy too! Goes great with a cup of tea of coffee.

Before you go and have the time of your life in Seoul, be sure to download the extremely useful Visit Korea app which will help you with information, navigation, travel planning and so much more!
Do you know of any more exciting experiences that every traveller should have in Seoul on their first visit? Include your suggestions in the comment box below!
Also Read: 12 Must-Buy Food Items from Korea's Lotte Mart
The directions in this article are taken from VisitKorea, and my wonderful trip to Korea was made possible by Korea Tourism Organisation (Singapore Office).