Nestled in the northeast corner of Korea, Sokcho is a small town known for its gorgeous seaside and breathtaking mountainous landscape. Despite its modest size, Sokcho is one-of-a-kind gem that can reveal a side of Korea you've never experienced before. To give you a glimpse into Sokcho's unique character, we have prepared a list of exciting things that can only be done in this charming coastal town.
1. Visit Seoraksan National Park
The absolute crown of Sokcho's gorgeous natural canvas is the Seorak Mountain, located a short bus ride away from the central part of the town. If you're not in the mood for trekking, you can take the cable car that will unravel a panorama of Gwongeumseong region and the East Sea. Alternatively, lace up your hiking boots and go all the way to Ulsanbawi, where you can witness otherworldly rock formations and soak up the view that stretches for miles.
2. Admire Biryong Falls
While in Seoraksan National Park, you can also pay a visit to the majestic Biryong Falls. To get to this a roaring wonder of nature, you need to hike for about five kilometres from the entrance to the park. Once you reach the falls, you can relax with the sound of gushing water or dip your toes in the cool, refreshing water.
3. Spend the day at Sokcho Beach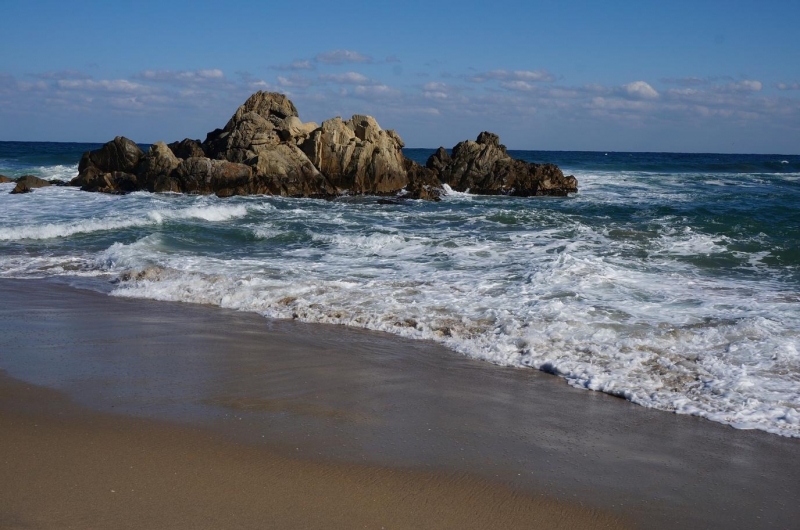 The East Sea, on which Sokcho lies, is known for crystal-clear waters and seemingly endless stretches of pristine beaches. In Korea, the eastern coast often gets overlooked in favour of beaches closer to Seoul and other bigger cities. This means that Sokcho beach is not only naturally stunning, but also free from crowds that tend to overwhelm Korean resorts during the summer months.
4. Take a hand-drawn raft to a North Korean Refugee Village
One of the most interesting places in Sokcho is the Abai Village, which used to be a place of residence for North Koreans who fled from the Hamgyeoung Province during the war. This quaint location was used in the K-drama Autumn in My Heart, which made it even more appealing to tourists. To get to Abai Village, you need to hop on a hand-drawn raft called gaetbae that will take you to the other side for just 200 won!
5. While you're there, try the Abai and Ojingeo Sundae
This nostalgic little village is also the perfect place to try a couple of dishes which you can only find in Sokcho – abai sundae and ojingeo sundae. Abai sundae is a variation on Korean blood sausage, which in Sokcho is prepared with extra vegetables and other fillings. Ojingeo sundae is prepared using squid instead of pork, which is stuffed with sticky rice and different kinds of vegetables.
6. Get your cuddles at the Teddy Bear Farm
Because who doesn't love teddy bears? Believe it or not, this quirky Sokcho site is dedicated to bear-shaped plush toys of all variations – from big to small, plain or dressed in hanboks, skiing, diving or reading a book. The Teddy Bear Farm is a great place to spend a couple of hours if you are into cutesy stuff, local obscurities or want to take a couple of silly pictures with your friends.
Also read: 7 Perfect One-Week Itineraries for Korea