New Zealand for adrenaline junkies
New Zealand is the ultimate paradise for all the adrenaline seekers out there, and extra so for those who also harbour a deep appreciation for natural beauty. It is a country where astounding landscapes meet its potential for outdoor pursuits – from mountain climbing and whitewater rafting to quirky Kiwi inventions like Zorbing. For the mildly adventurous to crazy adrenaline junkies, New Zealand has it all.
New Zealand's established reputation for its adventure tourism is a well-deserved one. Sitting in the centre of North Island, Taupo sees 30,000 bodies hurtle out of planes in the skies above every year. With the world's largest commercialised skydive drop zone, Taupo is said to be the 'Skydiving Capital of the World.' It is also the cheapest place to skydive in New Zealand, which leaves little reason not to overcome all your fears and to take the leap of faith.

My skydive experience
I myself took the thrilling jump in New Zealand, somewhere above the coastal paradise of Abel Tasman National Park, located at the northern end of the South Island. While Taupo is known to be the popular place to skydive, you can also take your pick from various locations across New Zealand depending on your itinerary or preferred view: Skydive in Franz Josef to take in snow-capped mountains, glaciers, and the ocean and rivers below, or do it in Queenstown for the picturesque Southern Alps and beyond.
I picked Abel Tasman because somewhere along my journey around New Zealand, I heard that Abel Tasman is the place for the most incredible view while skydiving in New Zealand. Of course, this claim is easily disputable but I trusted my sources and decided it was worth a go. I still remember that eventful morning. The weather was surprisingly brilliant despite the rather gloomy skies the past few days. My travel buddy Mae and I had been travelling around New Zealand for about two weeks, and every single day we were overwhelmed by the beauty of nature – and unbelievable as it may be, it just kept getting more and more beautiful the further south we go. Being quite the adrenaline junkie, I decided that if I was going to skydive, I was going to do it big (or rather, high), so I went for the pretty high altitude of 16,500ft with Skydive Abel Tasman. It was awesome.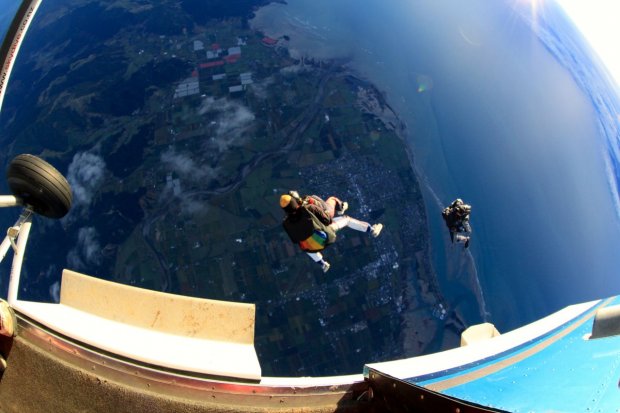 Getting ready for the dive
I'd always imagined myself jumping off a perfectly good plane strapped to a perfectly smokin' dude so I was slightly disappointed that among us, Mae was partnered with the better-looking one. I shared the most exhilarating few minutes of my life with Chris, and he was a great tandem skydiving partner because he made me feel safe, which is really important, you know, considering the situation. Surprisingly, contrary to what many would expect, I don't recall feeling any fear at all throughout the whole process. Before the jump, I mostly felt nothing *gasps* and I suppose part of the reason was that everything just happened so fast.
I remember getting dressed, all fluffed up in plenty of layers, getting on the plane, getting strapped onto Chris and looking out the window at the layers of green and blue. The door opened to a clear blue sky, and Mae went first, real quick. It surprised me how fast she plummeted and before I knew it – BAM I'm out, straight into thin air. Perhaps the 'scary' part was the initial fall, because of the phenomenal falling sensation that took over me as I descended rapidly down the earth.

The freefall
I had about one minute of freefall, which is, believe me, a bloody long time up in the air just falling, falling, falling, falling, falling (well you get the idea). I wish I could give you a more positive account of my freefall experience, and I'm sorry to say that I actually couldn't wait for the freefall to end. Granted, it gave a stupendous sense of flying through the air. For me, however, it came along with a mix of pain and crazy thoughts running through my head and yes did I mention – pain.
The air was in my face, my ear malfunctioned (the painful part) and my eyes teared. Halfway through the air, I began regretting my sleepy decision to put on my eyeliner that morning, which I know, is one of those things you'd totally expect anyone to be worrying about when you see them soaring through the skies. I was just kinda conscious about having black streaks all over my face when someone was taking a video.

Gliding down to earth
Finally, Chris activated the parachute, which brought a sudden pull upwards, followed by a slow descent. That that was the magic part. We had an incredible view of mountains iced with clouds, the morning sun peeking through the horizon, the blue sea hitting the shores, and the neat square patches of green at the bottom.
I can't quite describe it well but trust me when I say that the view of Abel Tasman from the top is incredible.
Skydiving New Zealand: Off my bucket list!
Every time I think back to the time I skydived, I remember the open door, the clear blue skies, the depths underneath me and I wondered how the hell I convinced myself to take the plunge.
But I did, and I had rightfully earned all the associated bragging rights that came along with checking skydiving off my bucket list (which is actually a good enough reason to just do it already). If I have the chance to do it again, trust me, I would, just perhaps at a lower altitude. Everything seems more attainable now that I conquered the beautiful Kiwi skies.
Also Read: Why I got a Working Holiday Visa in New Zealand

New Zealand's spectacular nature is awaiting your arrival. Start planning your trip now to step into the world of gorgeous mountains, blue lakes, crystal clear rivers and scenic beaches. 
 Contributed by Hey Explorer.