With its lush greens, rolling hills, and mountains as far as your eye can see, one can see why New Zealand is famed for their stunning scenery across both islands. So pack your camera, rent a car, and wind those windows down – this will be one epic adventure that you definitely won't forget.
South Island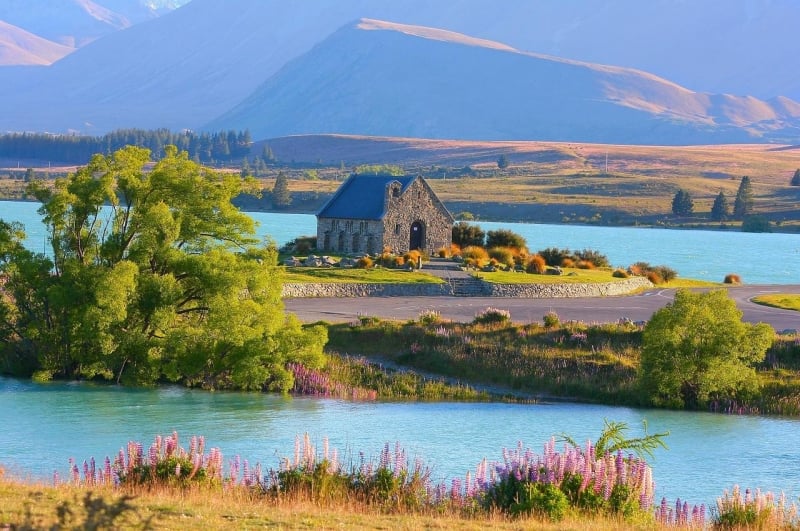 Mountains, forests, and glaciers – New Zealand's South Island hosts some of the world's most incredible and dramatic landscapes. Keep these places in mind to ensure that you see the best of the South Island's scenery.
Lake Tekapo
At first glance, you might just think this is a reeeally pretty lake, but there is so much more behind those vibrant shrubbery and deep blue waters. Lake Tekapo is also a UNESCO Dark Sky Reserve, which means that it is the perfect spot for stargazing. If you don't believe me, just look at this:

Now that's a sight you probably won't get to see at home! You probably won't get any sleep while you're here, but that's okay – this incredible sight will make it worth the while.
Franz Josef Glacier
New Zealand's South Island is renowned for its stunning Alpine beauty, and one of the best places to truly soak it in is at the Franz Josef Glacier. This is the perfect place to rest if you want to take a break from the long and arduous journey on the road. Just picture the lush greenery around you, and the sight of the glacier plunging through the rainforests around it. This is surely one of the most scenic pit stops you'll ever take!
Arthur's Pass National Park
Buried in the heart of the Southern Alps lies the breath-taking Arthur's Pass. Vast forests, lush rainforest, bubbling rivers – these frame the snow-topped peaks and glaciers looming in the distance. One should definitely take a hike through the majestic park in order to experience the full beauty of the place. Don't worry if you're a novice hiker – there are many treks in the park that caters to people of various fitness levels. All you gotta do is to grab your comfortable shoes, face your inhibitions, and go. Just trust me – it'll be worth the physical exertion.  
Milford Sound
Rudyard Kipling once touted this fjord as the eighth wonder of the world, and it's really not hard to see why. With its steep cliffs, majestic waterfalls, and spectacular mountain peaks, Milford Sound is a sightseeing attraction one can go to in any weather. The best way to experience the full beauty of this place is via boat tour – and who knows, you might get up close and personal with the sea lions that live there!
North Island
North Island is not only home to some incredible attractions and landscapes, it's also chock full with villages and towns that celebrate the Maori culture. These are some of the highlights of North Island to ensure that you get the best out of it.
Wai O Tapu Wonderland
New Zealand is home to some of the world's most spectacular geothermal-related attractions, and one of these sights would have to be the Wai o Tapu Thermal Wonderland. This place boasts some of the most colourful volcanic pools you'll ever see – if you don't believe me now, wait 'til you see the lime green pool, or the deep blue-green Champagne pool that is tinged with bright orange around the edges. It's something you'll have to see with your own eyes before believing in its existence!
Hobbiton
This is a place where all Lord of the Rings fans will absolutely delight in! Experience the beauty of Middle-Earth with a stroll through the rolling hills and green pastures that define the Hobbiton Movie Set. To avoid any disappointment, make sure to pre-book your tour way in advance. Tickets tend to sell out pretty quickly, and we wouldn't want you to make your way to Middle-Earth…ahem, New Zealand, without visiting Hobbiton!
Te Puia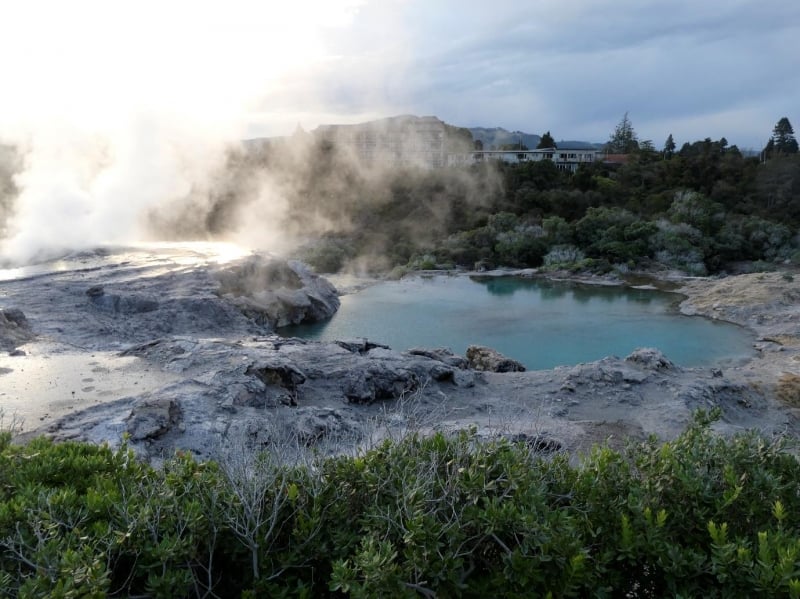 Te Puia is more than just a simple attraction. It's a place that revolves around its geothermal wonder and its Maori cultural experiences. Take a stroll through the Te Whakarewarewa Geothermal Valley, where you can marvel at its beautiful geothermal landscape and catch the almighty Pohutu Geyser erupt up to heights of 30 feet. Oh, and don't forget to check out their live kiwi and Maori performances! With so many things to do, you can easily spend half a day wandering around and immersing in its bountiful culture.
Agrodome
Did you know that the sheep-to-human ratio in New Zealand is 6:1? That sure is a heck lot of sheep – and what better to see the different varieties of them at the Agrodome Farm Show? You'll be wowed by just how many kinds of sheep there are! Other than that, there are also opportunities for the audience to milk a cow or feed some cute baby lambs – and who wouldn't want the opportunity to do that? Alternatively, if you miss the chance to feed those baby lambs onstage, just head to the Farmyard Nursery after the show. You can cuddle with the lambs to your heart's content then!
Huka Falls
This majestic waterfall lies just north of the town of Taupo. Don't be fooled by how short this waterfall is – despite being only 11m tall, its sheer velocity more than makes up for it, as it can fill up an Olympic-sized swimming pool in a mere 11 seconds. That's 220,000 litres of water per second. Whether you want to trek, bike, or ride a boat to experience this amazing waterfall, this is definitely one sightseeing attraction that you will not want to miss.
The beauty of New Zealand awaits, so what are you waiting for? Get going!
Itching to start your own New Zealand road trip? The best place to start at is Auckland, and just your luck – AirAsia is now providing
long-haul flights to Auckland
via Gold Coast! Simply pick your date, and get going!
---
My deepest gratitude to AirAsia X for extending their hospitality to us, and for making this trip happen.