After such a busy year, it's never too early to start planning your next vacation. Fortunately, this summer in Singapore is shaping up to be very different from last year's, thanks to a smooth vaccine rollout and herd immunity just within reach. You've heard about "flights to nowhere" and "glampcations" before, so how about embarking on a "seacation" next? 
Thanks to Genting Cruise Lines' World Dream, you can kickstart your travel plans and sail away on an epic adventure with a 2-Night Getaway Cruise! Starting at just S$199 per person in the Balcony Stateroom, you get to embrace the sweet life with the elegant accommodations, top-rated facilities, and world-class entertainment catering to every traveller. 
Whether you're toasting to an important milestone in your life or planning a multi-generational family holiday, you can make lasting memories on this luxury ship without leaving Singapore. After all, you deserve it for waiting this long. 
Looking forward to your next holiday?
Set sail with Dream Cruises' World Dream and enjoy delicious food, luxury shopping, and immersive entertainment that will make 2020 feel like a distant memory. 
Catch this special promo: Book a 2-Night Getaway Cruise and stay in the elegant Balcony Stateroom at just S$199 per person!
Make your hassle-free reservations through Planet Travel: Send a message through WhatsApp (+65 91265925) or send them an email at [email protected]. 
Excited to treat you and your loved ones to a staycation at sea? Luckily, we've rounded up the most exciting activities that you can enjoy while aboard the World Dream cruise. Check out these handy tips to get the most of your Super Seacation experience! 
1. Wake up to stunning ocean views at the Balcony Stateroom 
Before you set sail on the Super Seacation of your dreams, your adventure starts with a cabin that makes you feel right at home. Kick off your shoes and relax at the Balcony Stateroom, a luxurious and spacious cabin that greets you with ocean views from your window. Starting at S$199 per person, this well-appointed room can accommodate up to four guests, which makes it perfect for travelling couples, honeymooners, and families alike. 
With a total area of 22sqm, the Balcony Stateroom comes with a queen-size bed and a cosy couch that will tempt you to stay indoors. Other thoughtful perks include a flat-screen television, a coffee nook, and a bathroom stocked with all the amenities you might need. 
Counting the stars from your private balcony and feeling the ocean breeze on your shoulders are just a few of the advantages of sleeping in this stylish cabin. It's the perfect place to spend your 2N/3N Getaway Cruise on World Dream Cruises! 
But hurry, you'll need to move fast — the Balcony Staterooms are getting booked up as we speak! Check out the real-time availability of the cabins on World Dream Cruises here.
Feeling like you could use a break from busy city life? Hop aboard the World Dream for a 2N/3N Getaway Cruise on World Dream Cruises! 
Enjoy special rates for the Balcony Stateroom when you book with Planet Travel. Booking period lasts from Apr 2021 to Oct 2021.
 Prices start at: 
2 Nights Getaway Cruise (Wed–Fri) – From S$199
2 Nights Getaway Cruise (Fri–Sun) – From S$299
3 Nights Escapade Cruise (Sun–Wed) – From S$299
2. Feast on delicious food at world-class restaurants
Imagine you could eat in a different country for every meal of the day. That's precisely what dining on the World Dream Cruises feels like, thanks to its diverse range of Asian and international dining options that cater to every traveller. 
Taking your palate on a tour around the world, World Dream Cruises invites guests to dive into the world's finest cuisines and gastronomic experiences right on the ship, from Chinese fine dining to street hawker food that will remind you of home. Or maybe you'd prefer to grab a drink at the Sun Deck Bar or Pool Deck Bar under the dazzling rays of the sun?
Where you decide to relish your next meal is up to you. Just to give you a headstart in your travel planning, check out are some of our favourite indoor and outdoor dining venues below! 
Dream Dining Room
Head to the Dream Dining Room to choose from a mouth-watering variety of Asian and international cuisines. Compared to a standard dining area, this elegant dining room steps it up with the dramatic design of a ballroom with floor-to-ceiling windows. This way, you can admire the ocean as you tuck into a delicious meal. How's that for inspiration? 
Expect to have your cravings fully satisfied and your expectations exceeded, as the main dining room offers different menus each day for breakfast, lunch, and dinner. Halal dining options are also available upon request. 
Blue Lagoon
Craving a taste of something closer to home? For the aroma of sizzling plates and street hawker food, Blue Lagoon will whet your appetite for bak kut teh from Malaysia, Hainanese chicken rice and curry laksa from Singapore, and other Southeast Asian culinary favourites. 
Take your time to make your way through the food stalls, eyeing the colourful dishes and watching as the chefs prepare flavourful dishes at the live cooking stations. This 24-hour restaurant is guaranteed to sate your longing for Southeast Asian cuisine, whether you're in need of a hearty breakfast, a mid-afternoon snack, or a delicious dinner before a live show.  
Silk Road Chinese Restaurant
How about something grand to keep every member of your family satisfied? Bask in the decadent flavours and sumptuous interiors of Silk Road Chinese Restaurant, where you can experience Chinese fine dining in a lavish setting that oozes old-world glamour and opulence. With speedy service and a menu full of Chinese specialties, the restaurant offers the ideal venue for marking special occasions during your holiday. 
Umi Uma
Although you might not be able to travel to Japan right now, you can easily pull up a chair at the Umi Uma for the best of Japanese cuisine — and that's the next best thing, isn't it? Here, you can taste fresh sushi that has been expertly prepared by chefs and gather your family around the table for delicious shabu-shabu, complemented by an impressive sake selection that will mentally transport you to the streets of Japan. 
Better yet, why not grab a seat at one of the teppanyaki tables? There, a personal chef will do more than just whip up a meal for you; they will also put on a show for you — masterfully slicing, dicing, and flipping prime cuts of meat, vegetables, and seafood right before your eyes. 
Hot Pot
Lastly, don't hesitate to invite your travel buddies to a belly-warming feast at Hot Pot. With the shimmering sea and the horizon as your backdrop, this open-air restaurant invites you to choose from a large selection of meat, seafood, and vegetarian options, as well as a wide variety of soup bases, sauces, and other ingredients to add to the steaming broth. 
Just make sure to bring your camera with you, along with your appetite. From your table, you can hear the lapping of the waves and gaze out onto the wide expanse of sea and sky. Trust us, alfresco dining doesn't get any more stunning than this! 
3. Get your adrenaline pumping by ziplining, rock climbing, and joining a ropes course
After eating your heart out and resting in your cabin, you should absolutely take advantage of the sports facilities onboard the ship. When you're ready to work up a sweat, World Dream has many recreational activities to get your heart racing and your adrenaline pumping — all without you ever leaving the ship! 
Challenge your travel buddies to a friendly game of basketball at the SportsPlex, a large outdoor court for just about any sport you have in mind, from volleyball to tennis. Or, you can work on your cardio and get your heart pumping by racing around the jogging track, where the scenic views will surely motivate you to surpass your fitness goals. 
Looking for something to really get your pulse racing? For daredevils and thrillseekers out there, you can test your coordination and balance by navigating the outdoor Ropes Course on the ship. 
If heights don't scare you at all, there's even a 35-metre zipline towering 18 decks above the ocean. Strap yourself in for an exhilarating time as you zipline from one end to the next, while the cool wind rushes past your face. 
Of course, you can't miss out on the Rock Climbing Wall, which offers the ultimate bonding experience for you and your travel buddies. Take your workout to new heights by challenging your friends or family to see who can scale the wall the fastest. Not only will you burn calories this way, but you can also improve your physical fitness while having fun at the same time. 
So, if you're planning to stay fit and active during your holiday at sea, know that you're in good hands at World Dream Cruises! Just make sure that you and your companions are wearing comfortable sports shoes before you join any strenuous activities on the ship. 
Ready to embark on an adventure-packed cruise?
Thanks to its top-notch facilities, World Dream Cruises offers a stress-free playground for guests of all ages! 
World Dream Cruises has voyages setting sail from now until 31 Oct 2021. With plenty of dates to choose from, there's no better time to start planning your trip. 
Break free from city life on a 2 Nights Getaway Cruise that begins its voyage on a Wednesday or a Friday, or a 3 Nights Escapade Cruise that departs on a Sunday.
4. Make a big splash at the Waterslide Park
Can't wait to hit the beach? Here's another epic way to beat the summer heat: sliding down the slippery slides at the Waterslide Park! 
Guests can choose from six different types of slides with varying speed levels. There's a little something for everybody at this water park, from the easy-going slides for kids to the high-speed slides with steeper inclines, catering to adrenaline junkies who just want to feel alive. Either way, you can expect to get drenched and have the time of your life in the water! 
What if speeding down the watery slides is not your thing? Not to worry! Just bring your sunscreen and most fashionable sunglasses to the Main Pool Deck, where you can chill on the lounge chairs and get your daily dose of vitamin D. Whenever you're ready to dip your toes into the water, take your pick from the swimming pool or the soaking tubs in the shade. 
5. Shop until you drop at World Dream's luxury boutiques
Take your shopping to the next level by splashing out on the best international luxury brands that money can buy. The Dream Boutiques offers duty-free shopping featuring the world's leading designer brands, flaunting a curated selection of luxury watches, fine jewellery, superior leather goods, expensive perfumes, and so on. These goods are not only authentic; they are also tax-free. Now that's a glamorous shopping experience worth the splurge! 
Surely, no cruise is complete without getting a few souvenirs to remind you of your pleasant experience at sea. For charming mementos and tokens to look back on, you can choose from The Dream Store's collection of merchandise: a wide assortment of T-shirts, caps, miniature ship models, children's gifts, electronics, and more. 
6. Pamper yourself at the Crystal Life Spa
After a long day of shopping and exploring on the ship, nothing beats a day at the spa. At the Crystal Life Spa on World Dream Cruises, you can pick from a variety of traditional and progressive treatments, ranging from massages to therapies with advanced beauty technologies. 
Thanks to the expertise of World Drem's therapists, you can practically feel the stress leave your body after a session at the Crystal Life Spa. Customised services are tailored to each individual, keeping you refreshed and replenished throughout your cruise vacation. Consider this a sign to treat yourself to a self-care session after a stressful year! 
7. Watch movies under the stars at the Zouk Beach Club
Don't you just miss going to the cinema like the good old days? We have great news for you: You can take your movie-going experience up a notch by catching the latest blockbuster in an open-air theatre, surrounded by the romantic backdrop of the ocean. 
The Zouk Beach Club is an outdoor entertainment venue with an LED wall that screens top-rated movies in high-definition. As if you were invited as a guest to an exclusive movie premiere, you can sip a glass of bubbly as the sun sets on the horizon or find your cosy corner to watch a movie under the starry night sky. 
Finally, cap off a holiday cruise by dancing and partying the night away at the Zouk Beach Club, which embraces a tropical beach vibe in the middle of the ocean. 
Just like that, you have everything you need to make the most of your World Dream cruise getaway. With unbeatable ocean views, excellent facilities, and a neverending list of activities to explore on the ship, your thirst for adventure will be fulfilled. By the end of your trip, you'll have plenty of stories to tell your friends and family! 
All aboard your dream getaway on World Dream Cruises! Embark on fuss-free sailing and get the best value for your money while rooms are still available! 
Whether you're celebrating a special occasion or treating yourself to a weekend getaway from Singapore, you can make it happen with the help of Planet Travel. 
 Enjoy awesome discounts when you book from Apr 2021 to Oct 2021.
How World Dream Cruises prioritises the health and safety of guests onboard
Sailing on a ship like World Dream ensures that you won't have to worry too much about the logistics of your vacation. More importantly, World Dream Cruise has implemented numerous health protocols and preventative measures to keep passengers safe against COVID-19, which entails increased levels of sanitisation and disinfection of guests' cabins. 
All Dream Cruise ships do mandatory temperature checks and pre-boarding health declarations for guests aged seven years old and above. Plus, all common public areas on the ship — including duty-free shops and entertainment venues — undergo a two-tier sanitation process with thorough cleaning, fogging, and wiping using hospital-grade disinfectants. 
In addition, World Dream allows for 100% external fresh air to be filtered and supplied to all sea cabins and public areas with no re-circulation of air inside the ship. Even before you embark on your voyage to the open sea, you can breathe a sigh of relief knowing that World Dream has made your well-being and safety its first priority. 
Sail safely with the preventative measures of World Dream Cruises
To safeguard the health of passengers and crew members, World Dream requires all guests to undergo a mandatory COVID-19 Antigen Rapid Test (ART) at the cruise terminal before boarding the ship. 
Fortunately, this test is arranged by World Dream and is free of charge for bookings made from 18 Jan 2021 for cruises departing until 27 Jun 2021. Read the frequently asked questions about the process for embarking guests here. 
Also read: Great Deals on a Getaway Cruise in Singapore: Set Sail on a Super Seacation with World Dream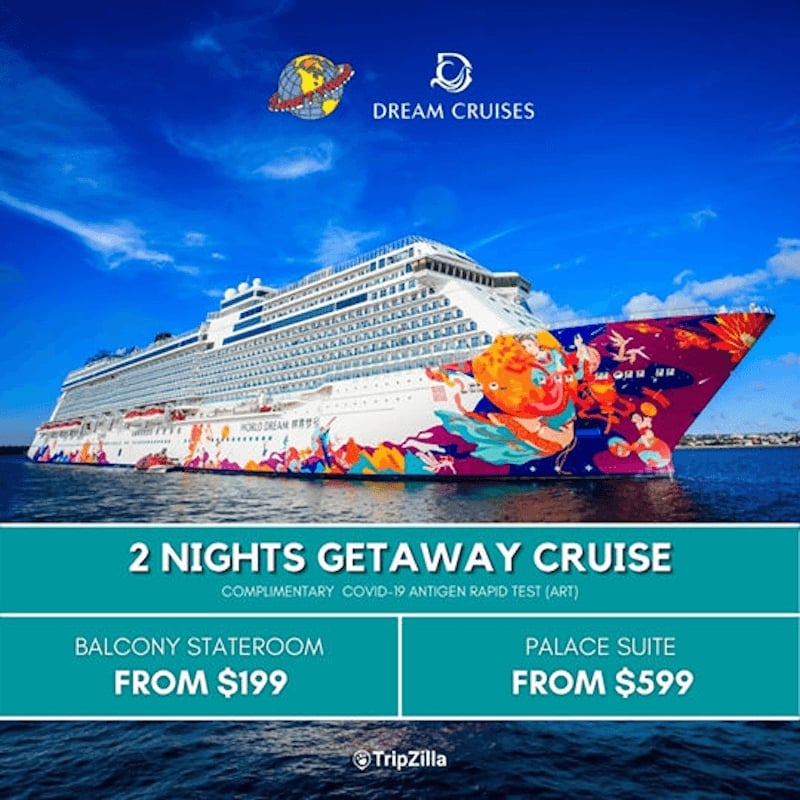 Feeling like a change of scenery is long overdue? Make your next holiday count by signing up for the 2N/3N Getaway Cruise on World Dream Cruises with Planet Travel. Send an inquiry through WhatsApp (+65 91265925) or email them at [email protected]. 
Sail Away On Your World Dream Cruise Getaway Today
---
Brought to you by Dream Cruises & Planet Travel.