Gardens by the Bay's latest floral display has just started, and it's none other than Autumn Harvest! This display gives you an opportune time to fall in love with pumpkin-themed installations that offer a creative interpretation of the autumn season!
Explore the abundant floral gardens and be dazzled by the vibrant colours of orange, red and green that permeate the displays. More than just a mini rendezvous with nature, this Autumn Harvest display allows you to truly learn and understand more about pumpkins in particular – a fruit that most people have closely associated only to Halloween.

---
When:
Now till 29 October 2017
9am to 9pm daily
Where:
Flower Dome, Gardens by the Bay
---
Our trip to Flower Dome was extra vibrant, all thanks to these mighty pumpkins that were quintessentially autumnal. The extensive collection of more than 2,000 pumpkins with 22 varieties on display clearly stole the limelight, even amidst the dazzling range of chrysanthemums, heleniums and callunas. You'll never be able to find them elsewhere in Singapore. Check out some of the most captivating things we unravelled at this golden event!
1. Indulge your fairy tale fantasies with Cinderella's pumpkin carriage
As you enter the refreshingly-cool Flower Dome, a grand sight awaits. A life-sized pumpkin carriage glistens under the natural light, clearly accentuating its shimmery gold coat. A silver wire-mesh sculpture of a horse is also cleverly placed in front of the legendary carriage, flanked by a tree adorned with adorable miniature pumpkins.
Ladies, strike a glamorous pose for your Cinderella moment has finally arrived! As you peer a little closer, you'll notice that "someone" appears to be inside. The only thing you'll see though is her sparkly glass shoe — what a mystery!
2. Look out for Polar Bears, Pump-Ke-Mons, and Red Warty Things amongst 22 varieties of pumpkins
Nothing screams Halloween more than the iconic carved orange pumpkin face with black eyes, nose, and lips. But who knew that pumpkins could actually come in all shapes and sizes? Nestled between the breathtaking blooms of chrysanthemums, heleniums, callunas, treat your eyes to an epic kaleidoscopic extravaganza as these pumpkins take on funky designs and eye-catching colours.
Don't you feel tempted to paint one for yourself too, now that you've seen all these quirky designs?
Also, did you know that there are more than 20 other varieties of pumpkins, with quirky names such as the white "Polar Bear", bizarre-looking "Red Warty Thing" and "Pump-Ke-Mon" — a pretty striped-pumpkin?
How many of them can you spot in this photo? Well, now we know there isn't just ONE type of pumpkin! The Autumn Harvest really opens our eyes to just how diverse pumpkins can be. Go ahead and spread your newfound knowledge with your family and friends today!
3. Prep your cameras because Instagram-worthy displays await
Spice up your social media feeds with these pumpkins in all shapes and sizes! We have a few brilliant tips that will get you the best shot for your that next Instagram post. At the lower level of the dome, spot these bright pumpkins scattered all around the lush farm setting. There's even a bright yellow pickup truck placed right within the display, adding authentic farming vibes and sunshine warmth all around!  
If you see a giant farmer on display, that's your cue! The farmer is interestingly made up of a myriad of fruit and vegetable props. Oh yes – he has watermelons for arms, bananas for elbows, tomatoes for cheeks, lemons, corn and peaches for his face, avocados for ears, and carrots for fingers!
Another sublime photo opportunity would be at the Flower Field where you'll find: a gigantic beanstalk structure! Inspired by Jack and the Beanstalk, this structure definitely makes you reminisce your favourite fairy tales! For that picture-perfect snap, smile and let the superb natural lighting do the glo' up.
Once you've fully explored the Flower Dome, head on outdoors because there are more surprises that await you! Stroll around the outer gardens, near the Marina Bay Sands link bridge, and you'll spot these brightly coloured fruit and vegetable lantern displays. Prep your tripods and snap that long-awaited family or clique portrait!
4. Spot the home-grown Atlantic Giant pumpkins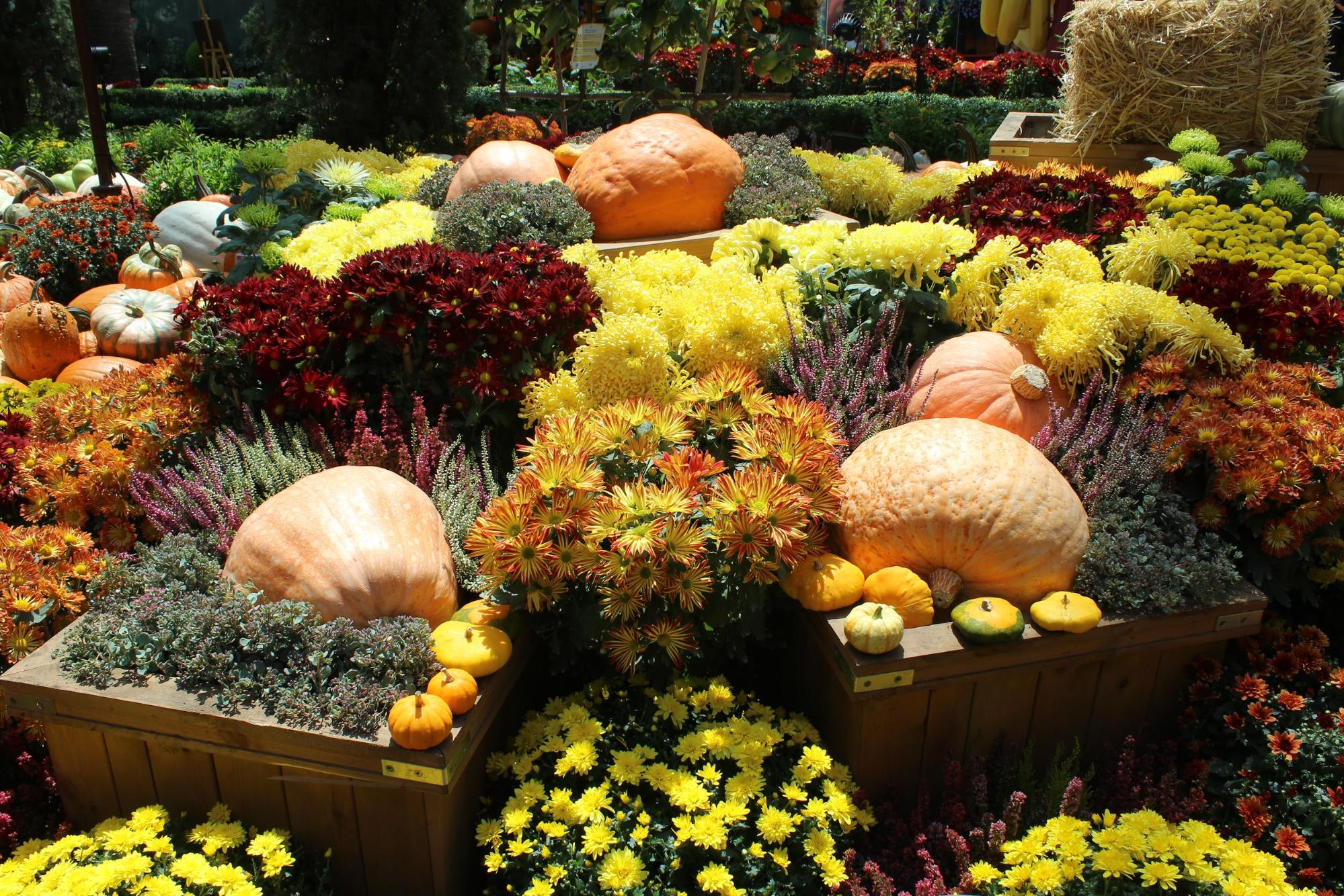 The Flower Dome is proud to be home to 5 glorious "Atlantic Giant" pumpkins. This great success is indicative of good soil, seeds — and of course, an incredible horticultural team! These behemoths are in fact, painstakingly grown AT Gardens by the Bay by their own horticultural staff! How cool is that? Who knew that we could actually grow such huge pumpkins right here in Singapore, huh! Plus, the biggest Atlantic Giant pumpkin they grew measures a whopping 40cm across – that's about the length of an average adult's elbow to their fingertips.
Did you know? Around the globe, there are people who grow pumpkins as a seasonal sport,  where the winner accrues massive bragging rights plus a lucrative cash prize. The world record till date stands at a whopping 2,624 pounds — approximately the entire weight of a compact car!
5. Feel like Alice in Wonderland with colourful florals and butterflies
An exhibition at the Flower Dome is obviously not complete without the beautiful florals and colours all around! Don't forget to take as many snapshots as you can of these blooms peppered all around the dome, and take in their fragrance while you stroll along languidly. From soft azure hues to bold fuchsia shades, every corner you turn is filled with vibrant daisies, hydrangeas, and more – a truly pleasing sight to the eyes.

7. Too curious about pumpkins? FREE guided tours await you!
If these super cool facts have piqued your interest, head on down to the Autumn Harvest from now to 29 October, 9am to 9pm daily! You'll be pleased to note that there is a complimentary guided tour on a first-come-first-served basis. All you have to do is locate the "Ask Me!" sign board and assemble at the stipulated timings daily at 11am and 3pm (2pm – 5pm on 9 & 10 Sep, 23 & 24 Sep, 14 & 15 Oct and 28 & 29 Oct). Obtain more fascinating details and of course, ask those burning pumpkin questions away!
As pumpkins are rather exotic and not naturally found in Singapore (the ones in supermarkets don't count!), this Autumn Harvest exhibition definitely makes for an eye-opening experience. Wait no more, gather your family and friends, and witness these orange giants right in front of you! It's a sight you wouldn't want to miss.
Check out their ongoing ticketing promotions and get booking right now!
---
Brought to you by Gardens by the Bay