While COVID-19 brought international tourism to a standstill, it has also allowed domestic tourism to reach new heights with inventive packages. First, there were flights to nowhere. Now, travel-starved Singaporeans can set sail on a Super Seacation without even leaving Singapore, thanks to getaway cruise World Dream.
Need a break from city life? A Singapore getaway cruise might just do the trick!
Let Dream Cruises' World Dream sweep you off your feet with a voyage that's sure to let your pandemic-related worries slip away.
Limited time offer: Prices start at $205 for 4 persons in a Balcony Stateroom. Book by 16 Dec to get special rates.
The same discounts apply to Balcony Deluxe Staterooms and even the plusher Palace accommodations. Rates for these at-sea dwellings begin at S$869 for UOB cardholders and S$1,019 for non-UOB cardmembers. What's more, UOB cardholders may enjoy FREE upgrades to Balcony Deluxe Staterooms.
Hurry — World Dream will be departing from Singapore from 6 Nov to 30 Dec 2020! Make fuss-free reservations today though Farmosa Holiday Tours: Send a message through WhatsApp (+65 89338652) or email them at [email protected]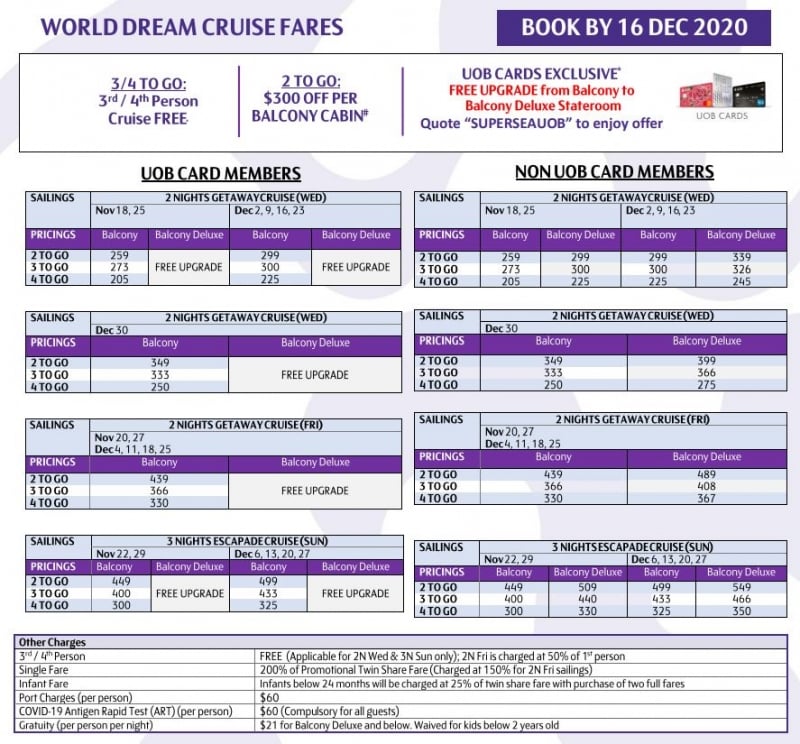 Officially "the newest built cruise ship to homeport in Singapore," Genting Cruise Lines' World Dream offers Singapore residents a sumptuous and state-of-the-art staycation at sea. Think of it as the "seacation" of your dreams! Sounds super, right?
Also read: A 3-Night Cruise That's Fun YET Enriching? Let's Sail on the Power-Packed Genting Dream!
COVID-19 safety, an utmost priority for this Super Seacation
Check Out 2021 World Dream Sailings
Of course, COVID-19 safety and preparedness is a top-of-mind concern for "seacationing" Singaporeans. No worries; aboard World Dream, it's all hands on deck when it comes to safeguarding passengers' health and wellness.
Before we dive into World Dream's Super Seacation experiences, here are a few key COVID-19 protocols to expect onboard this dreamy cruise to nowhere.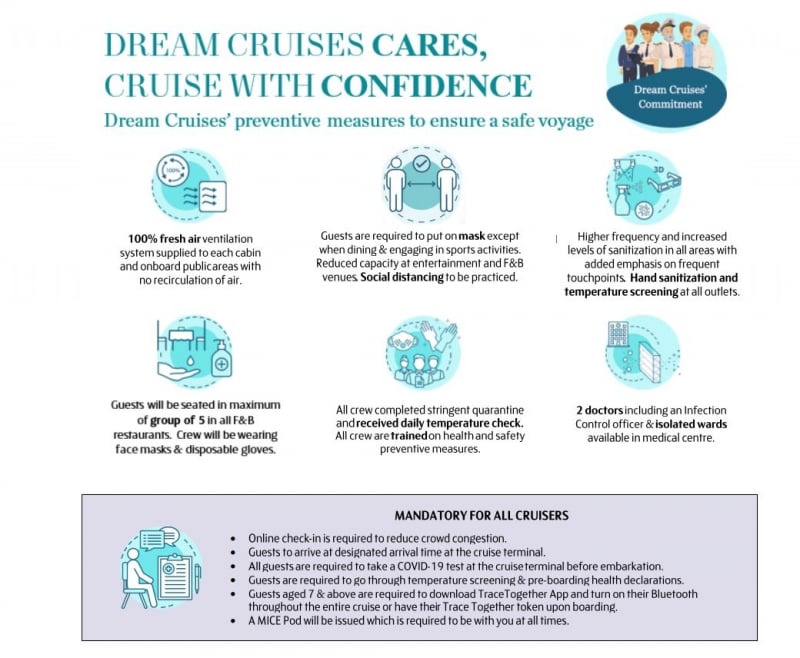 Mandatory COVID-19 safety protocols for all World Dream cruisers
Take COVID-19 tests before embarkation at the cruise terminal for all guests. Fee will be S$60 per test.

Wear masks at all times while onboard World Dream, except when dining and participating in sports activities.

Complete a stringent pre-boarding health declaration process at the cruise terminal.

Participate in regular temperature screening onboard, whenever requested.

Make use of hand sanitisation stations at every outlet before entering.

Download the TraceTogether app with their Bluetooth turned on all throughout the cruise for guests aged seven or older, or carry a TraceTogether token with them at all times.

Through the entire cruise, bring your assigned MICE Pod, which will be issued by World Dream upon embarkation.
COVID-19 safety measures practised by World Dream staff for your safety
Reduced capacity for amenities and restaurants, which shall only seat a maximum of five guests per table.

The use of a 100% fresh air ventilation system, which supplies clean air to all cabins and public areas.

Quarantine and stringent health checks for every crewmember, for every voyage.

Onboard doctors, an Infection Control officer, and isolated wards are available to passengers.

Click here for frequently asked questions

on World Dream's COVID-19 preparedness.
Onboard experiences that will make your cruise to nowhere your best Singapore staycation yet
Staterooms for cosying up indoors on your dream getaway cruise
It goes without saying that accommodations make or break any staycation. Fret not, for a Super Seacation with World Dream assures you homey staterooms and lavish villas that will make you want to stay in all day.
Perfect for seacationing couples, Balcony Staterooms won't disappoint with enough room for a queen-sized bed and your own couch! Spend indoor chill time by the coffee nook; or feel the breeze at your own sea-view balcony. Here, you'll certainly feel like you have a piece of the ocean all to yourself. There's no better place to spend your romantic 3 Nights Escapade Cruise in.
If you're cruising to nowhere with a bigger travel party, feel free to upgrade to more sizeable at-sea accommodations: Balcony Deluxe Stateroom or Palace Villa, among others. With World Dream, you'll be spoilt for choice!
Paying with a UOB card? Take advantage of additional perks and upgrade to a Balcony Deluxe Stateroom for FREE!
Don't forget to use the code "SUPERSEAUOB" for a most lavish World Dream getaway cruise in Singapore. Waste no minute — voyage slots are getting filled as you read this! Book by 16 Dec to get special rates.
Secure your reservations now though Farmosa Holiday Tours: Send a message through WhatsApp (+65 89338652) or email them at [email protected]
A pool deck with the ultimate beach club vibe
By now you're probably tempted to be wrapped in plush beddings all day at your stateroom, but that's just until you see what else awaits aboard World Dream. How about splashing away at the Main Pool Deck? 
Soak up some rays by the sun deck. When you're ready to get in the water, choose from the main pool or the smaller soak tubs that surround the area. You'll actually get to glimpse the Kids Water Park nearby, which means both adults and children get to have fun under the sun!
If you're not up for a few laps in the pool, World Dream offers other activities and amenities to get your heart pumping: mini-golf, rock climbing, a ropes course, jogging track, a 35-metre zipline across the ocean, and the Sportsplex, to name a few.
Restaurants that take you around the world
What's a dream staycation without good grub? World Dream aces that department, too — and a 2 Nights Getaway Cruise is more than enough time to get your fill
Nine operational speciality restaurants take cruisers around the world with international cuisine. Make room for hearty oriental dishes at Hot Pot and Silk Road. For Japanese delights with a modern European twist, Umi Uma wows without fail. In the mood for a meaty feast? Prime Steakhouse by Mark Best will take care of your protein-packed cravings. Whoever said that a cruise to nowhere can't bring you places
More gastronomical adventures await at the Dream Dining Rooms, but we don't want to spoil the fun. Just a tip: Forget the calories; you're on vacation! After every meal, make a beeline for the various bars onboard. 
Hint: World Dream boasts of a champagne bar, a wine vault, and tipple served at all sun decks. Pick a drink and settle down while watching the sunset. Cheers!
Entertainment for kids & the young at heart
World Dream houses an arcade, which is undoubtedly, loads of fun. But when we say you're in for a state-of-the-art seacation, we mean it. The Esc EXPERIENCE LAB is an at-sea entertainment hub like no other. It's a theme park that makes use of wondrous virtual reality, and it's hit with both kids and the young at heart.
Brave the worlds you'll zoom through with the Finger Coaster VR rollercoaster, or brace yourself for a heart-pumping time at the Star Wars™ Battle Pods. Explore realms unknown on your cruise to nowhere for a wild time at sea!
Trying to sneak in a long weekend getaway at sea? Or would you rather take a few days off from work? Aching to get some "me-time"?
World Dream offers various voyages from 6 Nov to 30 Dec 2020 and 6 Jan to 28 March 2021 to fit your busy schedule. Choose from a 2 Nights Getaway Cruise that sets sail on a Wednesday or a Friday, or a 3 Nights Escapade Cruise that leaves for the open sea on a Sunday.
Book by 16 Dec to get special rates.
Make your dream Super Seacation a reality with Farmosa Holiday Tours: Send a message through WhatsApp (+65 89338652) or email them at [email protected]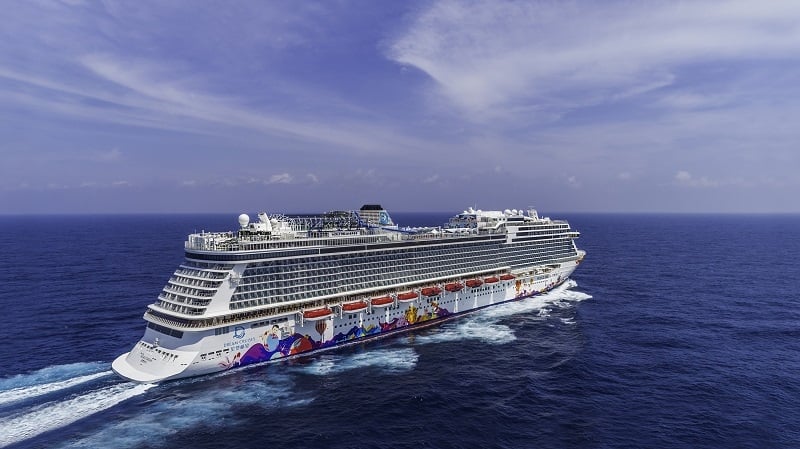 As you can see, there's nothing boring about cruising to nowhere in particular. World Dream offers you the trip of a lifetime to destinations unknown without ever leaving Singapore. The best part? If you're busy for the rest of 2020, you can always book a super seacation for the first half of 2021. Drop your enquiries here for Jan to March 2021 bookings before 16 Dec 2020 to enjoy special rates and added discounts!
All aboard your dream getaway cruise! Make it happen with the help of Farmosa Holiday. Book your reservations through WhatsApp (+65 89338652) or email them at [email protected]