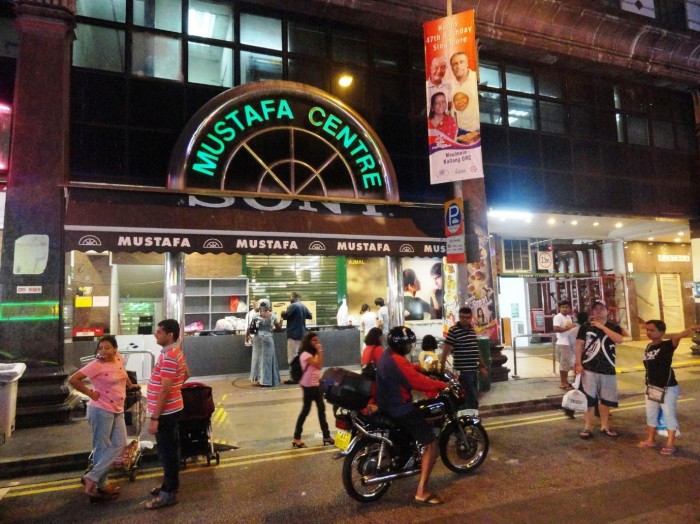 Image credit: Fabio Achilli
All Singaporeans know Mustafa Centre. It's one of Singapore's biggest shopping malls and it's also open 24 hours a day. The immense variety of affordable products found here is simply jaw-dropping. When a little bird told me that this is a great to buy travel essentials, I just had to come down and see for myself. Lo and behold, it is a treasure trove! Take a look at this list of travel essentials that you can buy at the best prices!
Also read: 16 Travel Essentials to Buy from Daiso Before a Vacation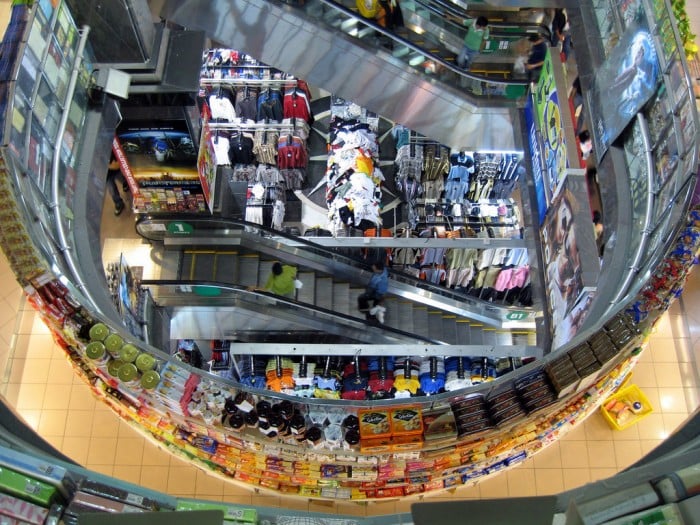 Image credit: factoids
1. Suitcases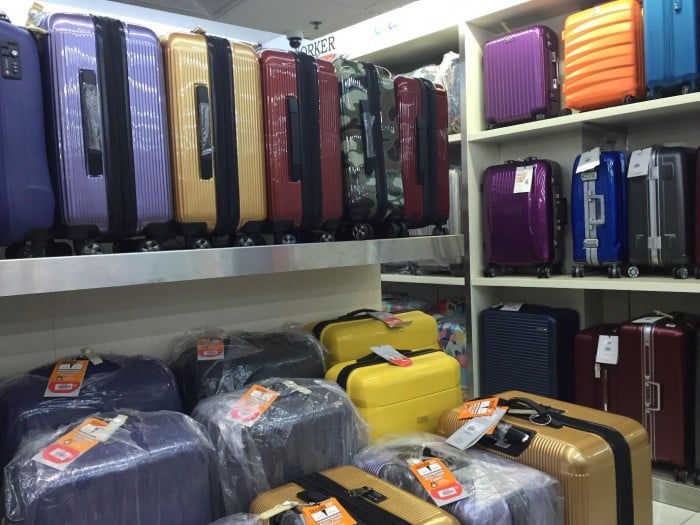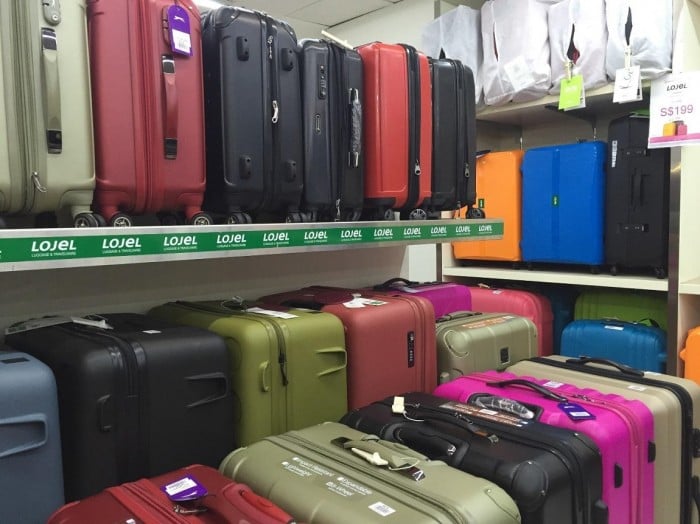 In need of a suitcase? I'll let you in on a little secret: the variety of luggage bags you can find at Mustafa is astounding. Imagine rows and rows of luggage bags. But that's not even the best part.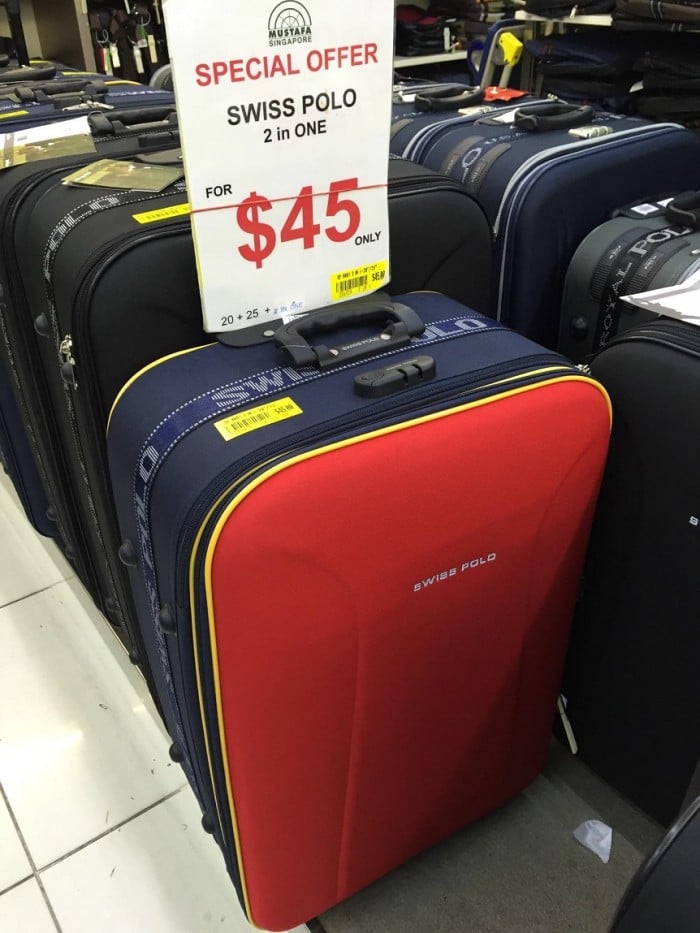 S$45 for a 2-in-1 suitcase. There's no way you can find such a great deal anywhere else, guys. I mean, seriously.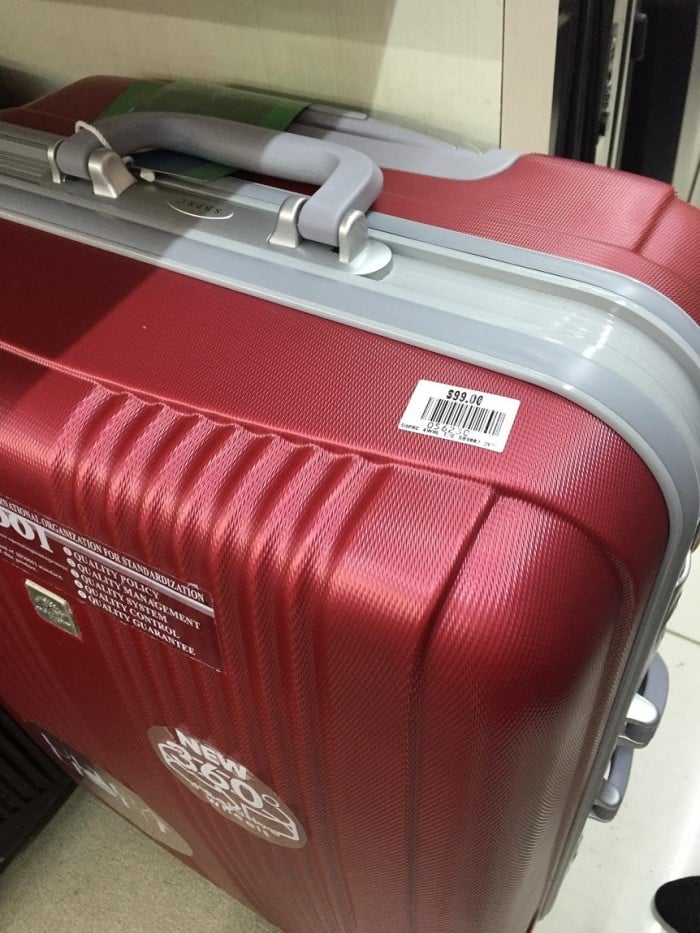 Of course, if you want a bag that's more atas or one that's sturdier than the Swiss Polo, you'll have to pay a little extra. Pierre Cardin, Lojel, Hush Puppies – you name it, they have it. Bonus points because it's cheaper as compared to the same luggage bags sold outside!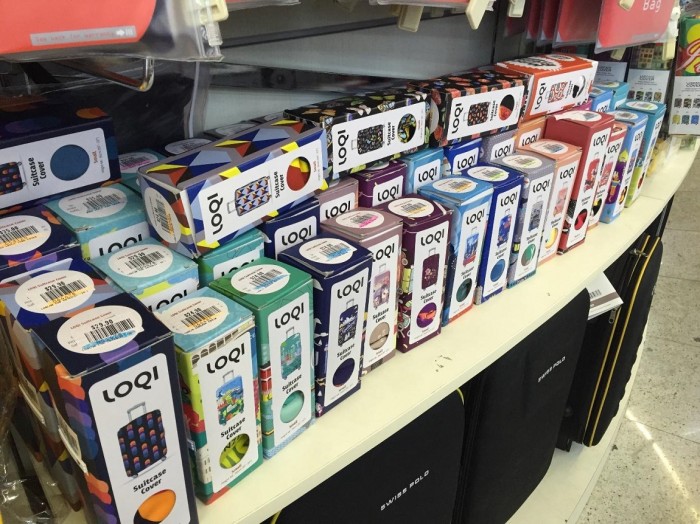 Worried that you'll get your precious suitcase scratched-up and dirty as you drag it across cobblestone streets? Don't worry, your suitcase will definitely be protected with these suitcase covers! They're not only functional, they're also fashionable. The suitcase covers above cost S$24.90 and can be found near the luggage section.
Location: Level 2 next to the stairs (Main Mustafa building)
2. Money belt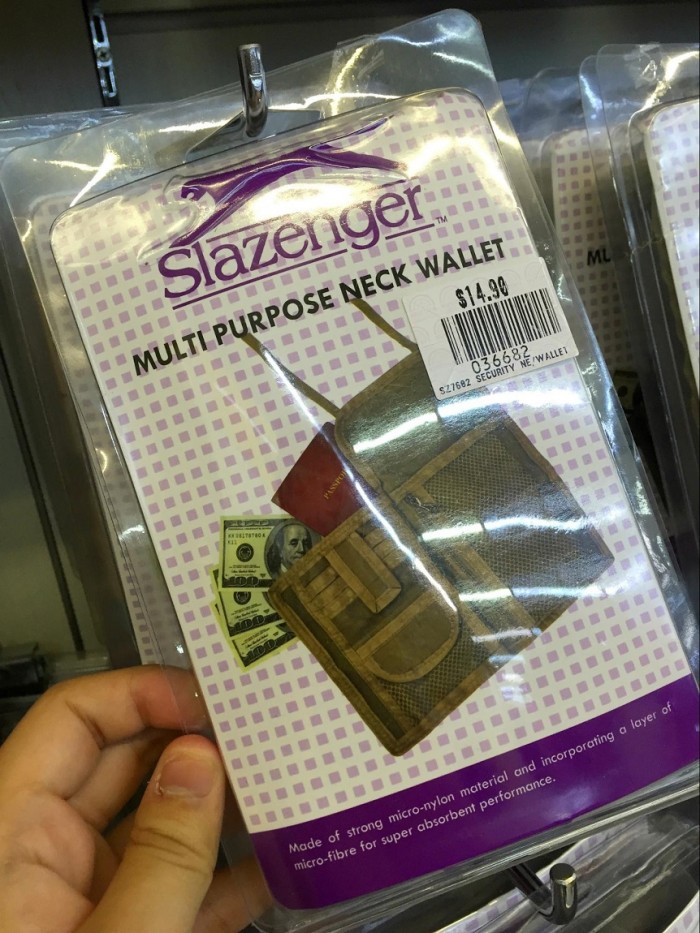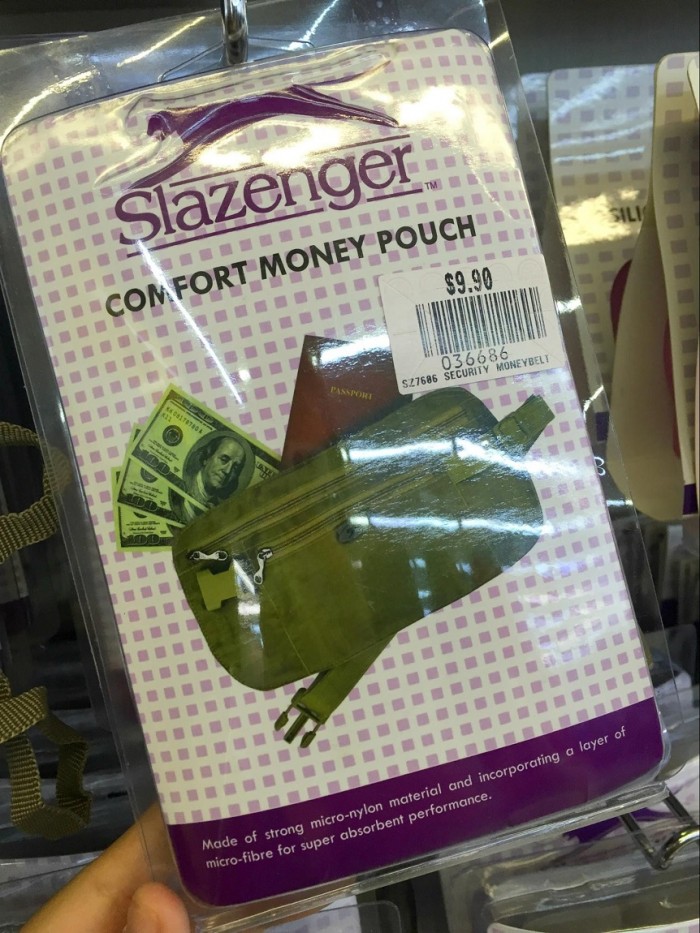 A good-quality money belt will keep your money and valuables secure. No need to scratch your head and think too hard about where you can find them – keep calm and go to Mustafa. You can find these Slazenger money belts right by the luggage section. They're not only made using good material, they're pretty affordable as well, as I'm sure you can tell.
Location: Level 2 (Main Mustafa building)
Also read: 8 Simple Ways to Avoid Pickpockets When Travelling
3. Plane essentials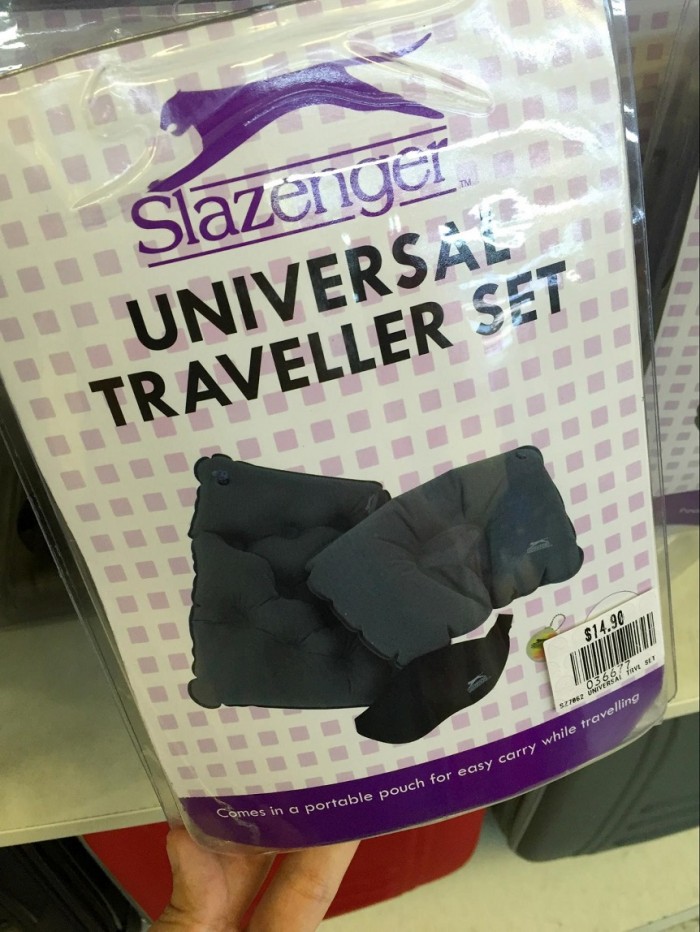 Stuck on an overnight flight with uncomfortable seats and a crying baby? Get everything you need – a pillow, neck cushion and sleep mask – for just S$14.90 at Mustafa! It even comes in portable pouch for your convenience. You'll thank me once you get a good night's sleep on your flight.
Location: Level 2 (Main Mustafa building)
4. Bathroom essentials…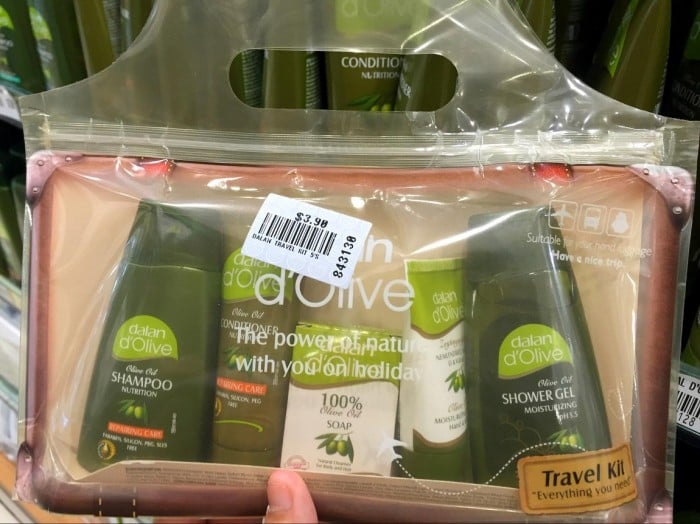 How much do your bathroom essentials normally cost? I estimate an entire travel-sized set to be about S$10. Well, ladies and gentlemen, I found the entire set of any bathroom products you need for just S$3.90. Yes, you read that right. Shampoo, conditioner, soap and more – for less than S$4. Brb, stocking up my travel toiletries bag with these babies.
Where you can find this: Level 1 (Main Mustafa building)
5. …And other hygiene essentials!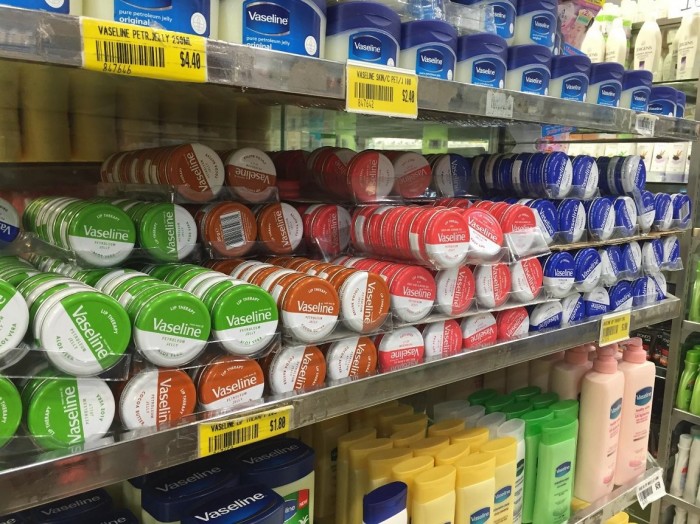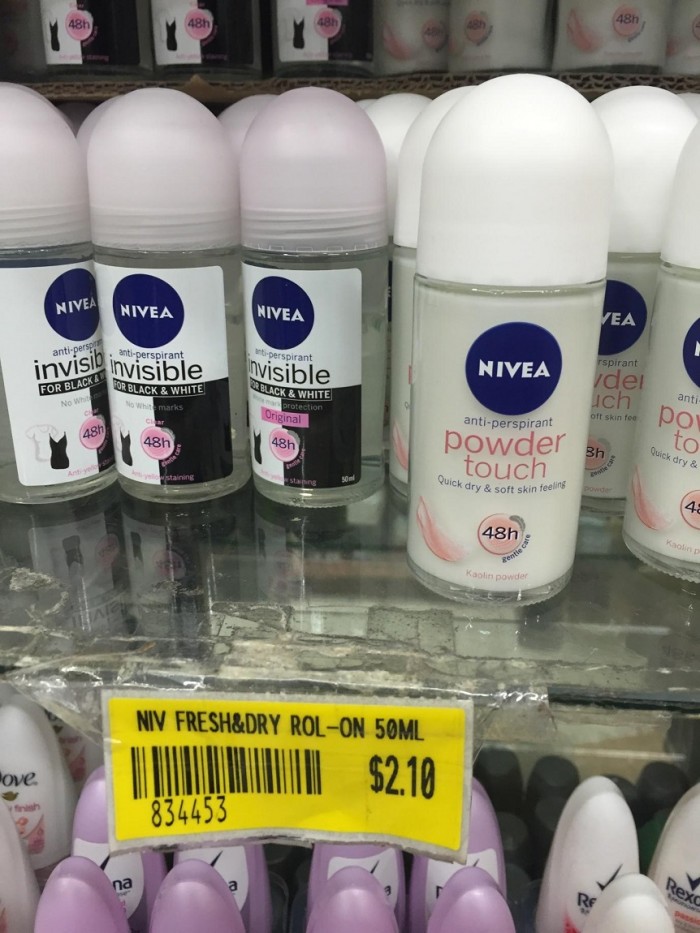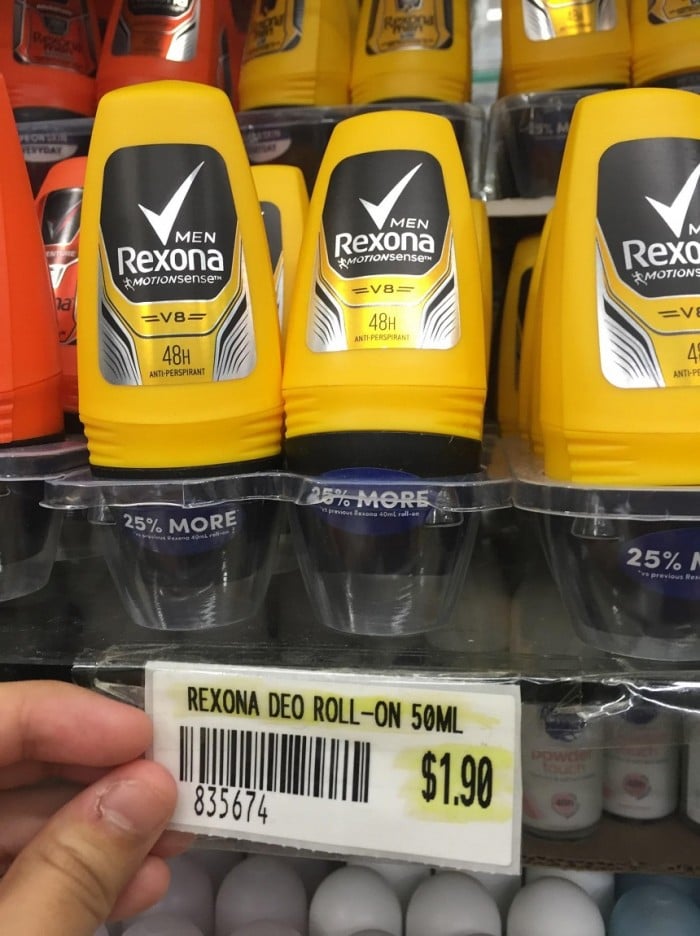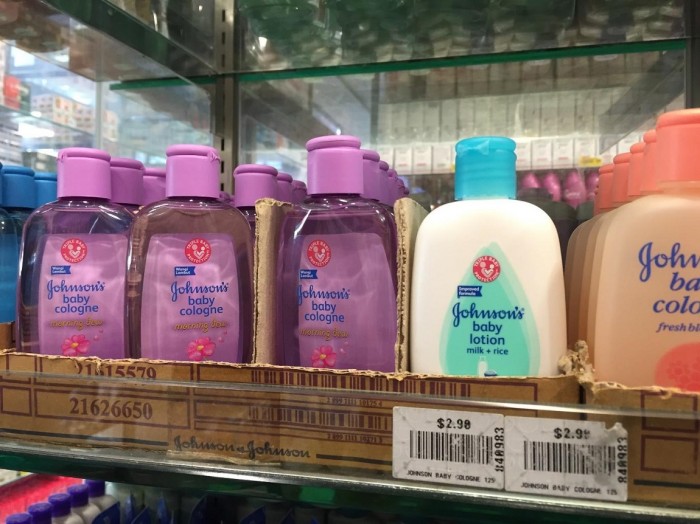 Wow, I don't even know where to start with hygiene products available in Mustafa. These pictures just skim the surface of all the incredible deals I saw. Cleansers for 3 bucks, roll-ons and Vaseline for less than 2 bucks…it's as if they were subtly egging me on to get them. Well, you got me good, Mustafa, because I'm sold.
Location: Level 1 (Main Mustafa building)
6. Grooming tools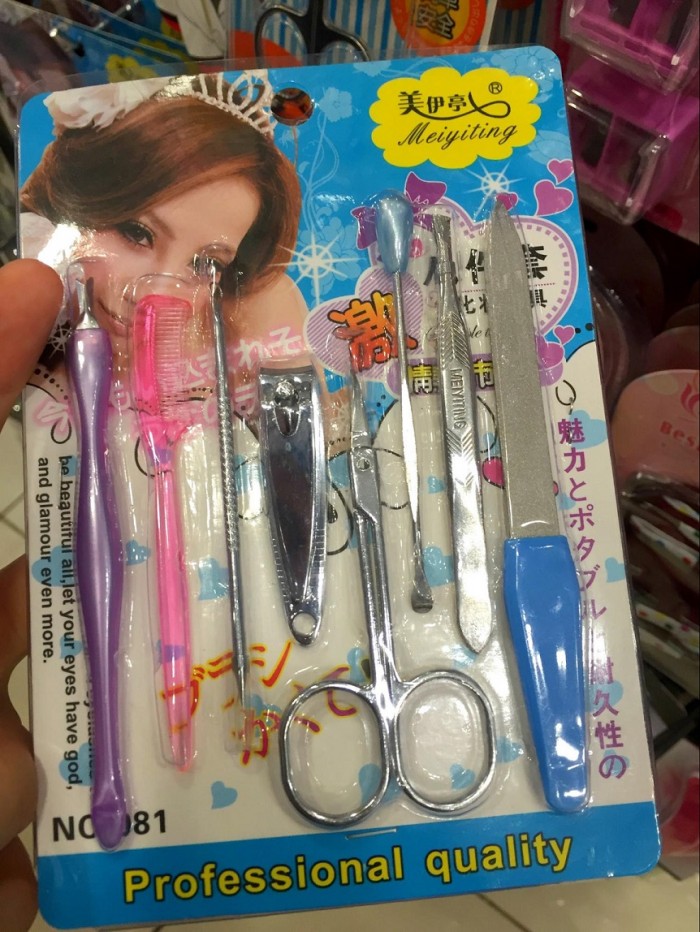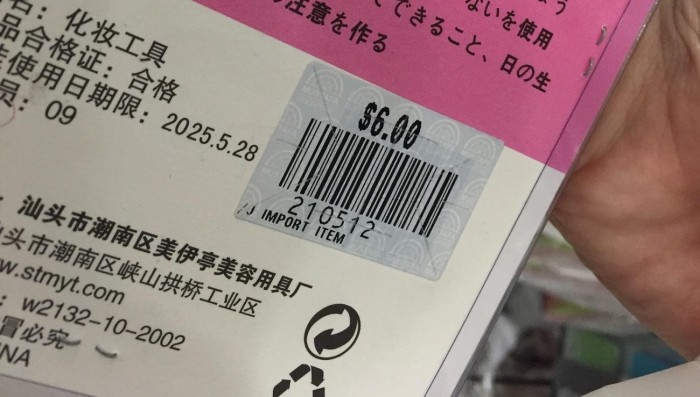 Just because you're on holiday doesn't mean you have to look like a hobo. I found the entire set of just what you need – for just S$6. Yup, your frantic hunting days are over!
Location: Main Mustafa building (Level 1)
7. Universal adaptor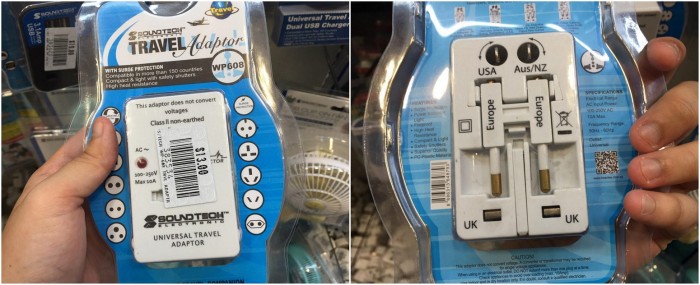 On a trip to more than one country? No need to get a travel adapter specific to every country, just get this one for just S$13 at Mustafa!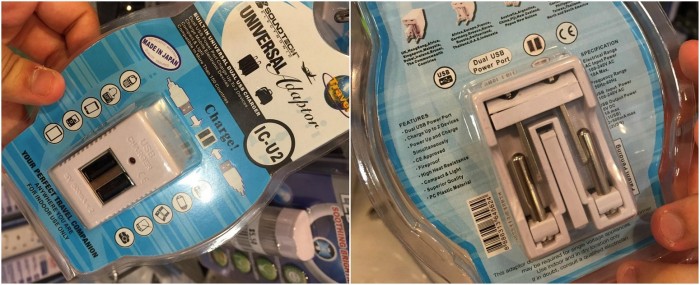 Better yet, get one with multiple USB power ports so you just need your USB cable!
Location: B2
8. Locks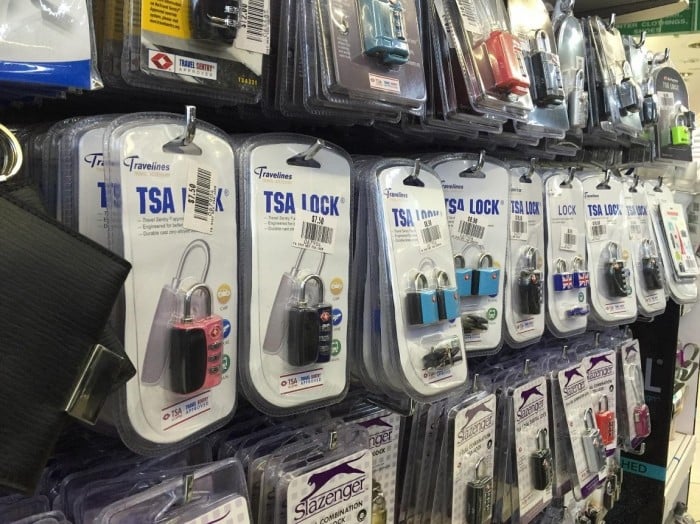 Pull yourself away from the luggage section for a bit and you'll find a whole array of TSA-approved locks waiting for your perusal, starting at S$7.50. Get a lock for your bag; it's better to be safe than sorry!
Location: Level 2 and B2
9. Vacuum bags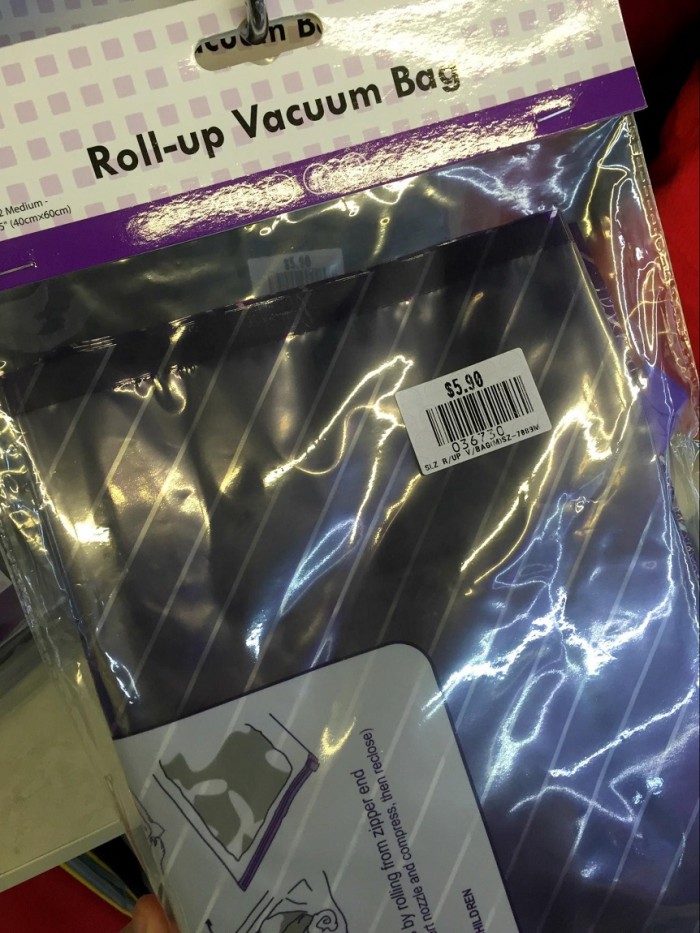 Please don't pack your things in plastic bags, guys. I know they're cheap and easy to get, but…eurgh. Get the next best thing instead: roll-up vacuum bags! They're cleaner, less noisy, and best of all – cheap. Mustafa sells a whole bunch of them for less than 6 bucks, so there's no reason why you shouldn't be getting them!
Location: Level 2
10. 5 in 1 USB cable
Are you the type to bring along a gazillion gadgets? If your gadgets have different jacks (the hole where you connect your cable to), then I've got just the thing for you! Presenting: the 5-in-1 cable! Charge multiple gadgets at one go with just one cable. It's even better if you get the travel adapter that allows you to connect two USB cables at one time, because you can charge double the number of gadgets at the same time! Yup, you're welcome.
Location: Level 1
Also read: 20 Travel Essentials Under SGD10 You Must Buy from Miniso Before Your Trip
Now that you know all this, you know what to do! Snag yourselves the snazziest travel essentials on the cheap and save yourself a ton of money before your next trip!