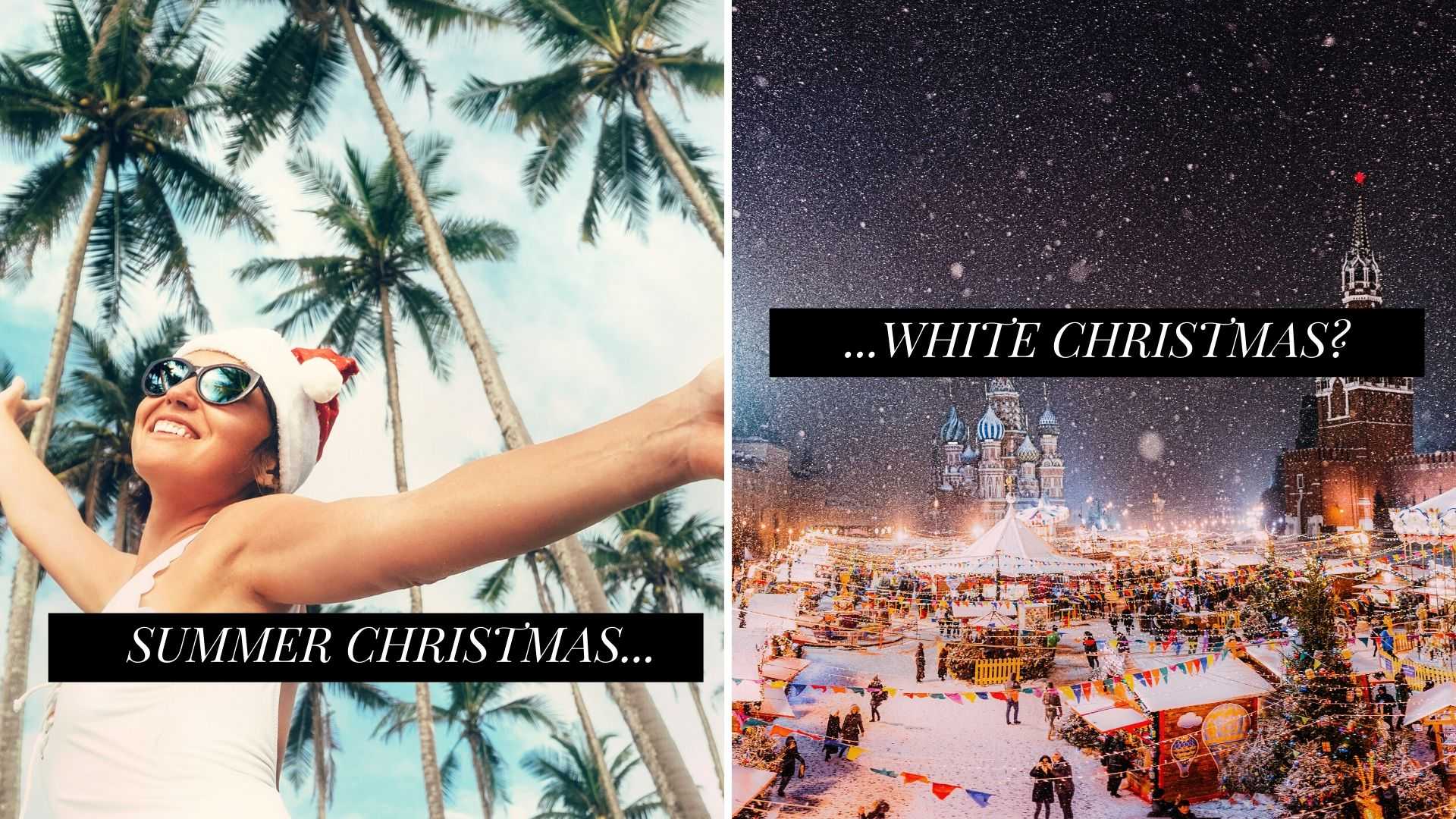 What comes to your mind when you think of Christmas? Probably the Christmas trees, ongoing festivities, and enjoying time spent together. Christmas conjures up images of warmth and cosiness, as everyone gathers around to celebrate this joyous occasion. 
While countries in the north celebrate a joyous winter Christmas, there are countries in the south and on the equator celebrating Christmas in the heat of 30-plus degree weather (yes, we're talking Celsius). 
Christmas, to folks in the south, is not about sitting by the fireplace and drinking hot chocolate. It's going out for a fun day at the beach, heading to the shopping malls when the weather gets too hot, and exchanging presents in the sunshine.
With two totally different kinds of Christmas, is one better than the other?
The case for a summer Christmas
The most problematic part about a winter Christmas is having to put on so many pieces of clothing. For those who have been to cold places, a day out might mean having to wear your long johns, t-shirts, sweaters and coats. When you reach your warm and cosy home, you spend 10 minutes just trying to take off all these layers of clothing.
A summer Christmas doesn't require layering. In fact, you even take off the layers you're wearing once you're at the beach! All you need is a tank top, shorts and slippers, and you're ready to conquer a summer Christmas. Oh, and a change of clothes for the beach too!
A winter Christmas also means shorter daylight hours. This comes with the freezing weather, which becomes even worse once the sun sets. As the day gets shorter, you will also spend most of Christmas season being cooped up inside your house. With the cold and gloomy weather outside, no person would want to spend their Christmas outside. 
Instead of wanting to stay at home, a summer Christmas allows you to go out and enjoy the festivities. Forget turkey dinners, why not have an outdoor barbeque feast instead? Spend time with family and friends playing sports or getting a tan at the beach, followed by a dinner of spare ribs and and ice cold beer.
But let's not forget the winter Christmas
Now, that doesn't mean a winter Christmas is bad. Some people might like cold temperatures and wearing layers of clothing. In fact, the number one reason why a winter Christmas is preferred might be the ability to play in the snow. Which other season would you have the opportunity for snowball fights and making snow angels?
Besides playing in the snow, winter is the season to go on ice. Ice skating rinks become crowded with families and couples, while sledding options are available for the kids. Those of us celebrating a summer christmas will never be able to truly experience these kind of activities. Sure, there are ice rinks and "snow cities" to be found, but it cannot compare to the real thing. That's why most of us travel in search of authentic things and experiences.
Why not enjoy both kinds of Christmas?
Both Christmas in summer and winter feel completely different from each other, but they still involves lots of celebrations, get-togethers and food. Perhaps if you have the opportunity, you can fly northwards or southwards and enjoy a different kind of Christmas. 
No matter a summer or winter Christmas, it's still the most wonderful time of the year!