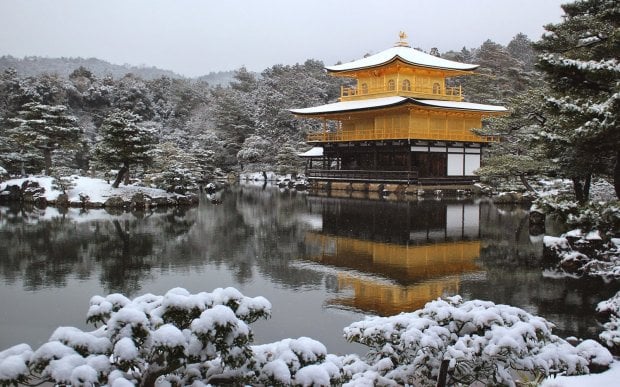 Yokoso Kyoto!
This is part two of the three-part series dedicated to travelling around Kyoto:
1. Going Japan? : Planning for Kyoto
2. Exploring Kyoto : The City
3. Exploring Kyoto : Day Trips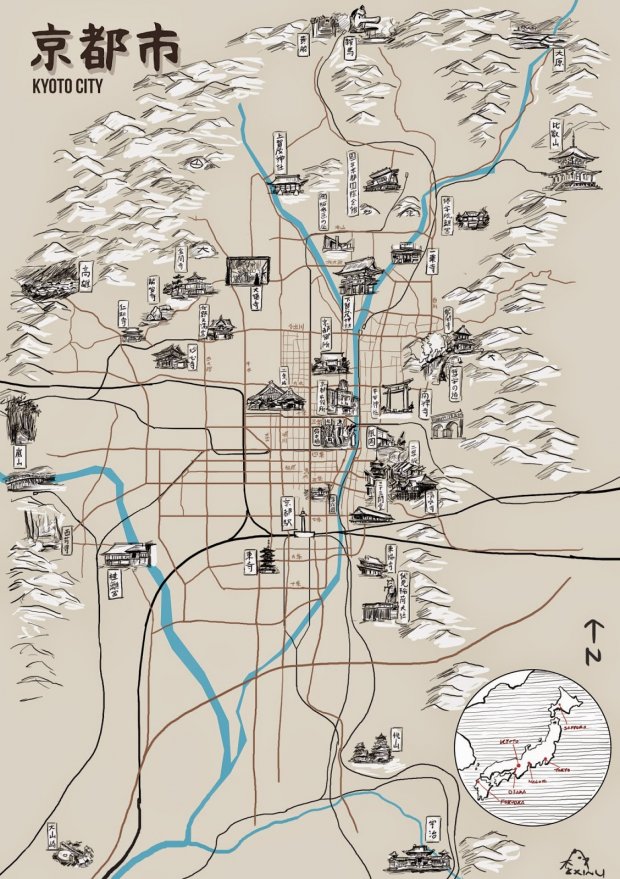 SHIMOGYO-KU | 下京区 (and Kyoto Station Area)
This area covers mainly around Kyoto Station, Gojo-dori and up till south of Shijo-dori (although some places will be categorised in proximity to Shijo-dori. It is bounded by the Kamo-gawa to the east and roughly Nishioji-dori to the west, and it goes slightly over the actual Shimogyo Ward by covering up to Jujo-dori.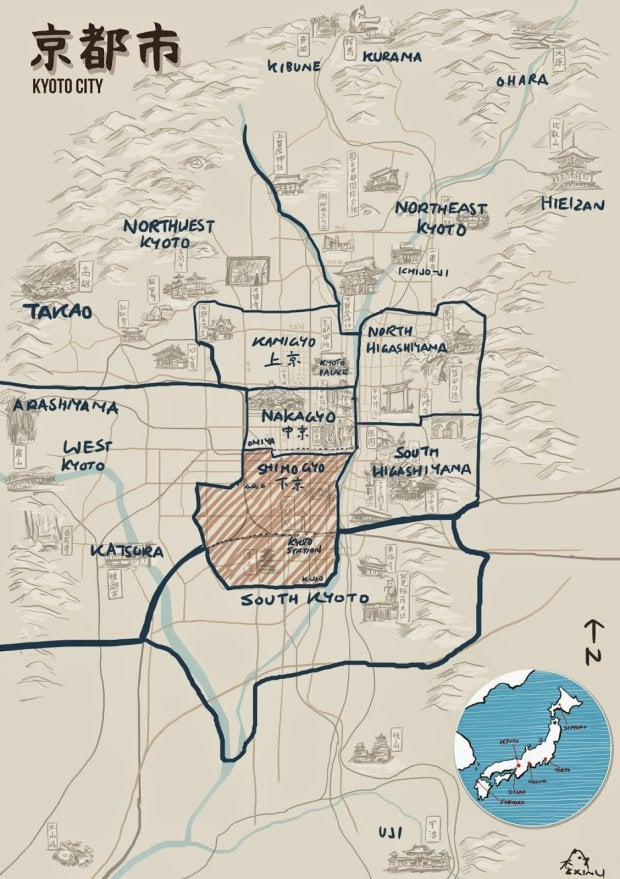 Around Kyoto station |京都駅 [explore]
Entering Kyoto, the station building might not be what one would expect for a city known for tradition and culture. However, the station building, a massive complex of hotel, theatre, shopping malls, train station, an indoor plaza, a roof-top garden and department store is a place worth exploring on its own.
The station was designed by Hiroshi Hara (原 広司) who also designed the Umeda Sky Building in Osaka. It was completed in 1997 to commemorate Kyoto's 1200th anniversary but its contemporary appearance would not have suggest that the original Kyoto station goes back to 1877 and was opened by Emperor Meiji and has been rebuilt at least 3 times.
Websites to visit: Kyoto Station Building | Japan-guide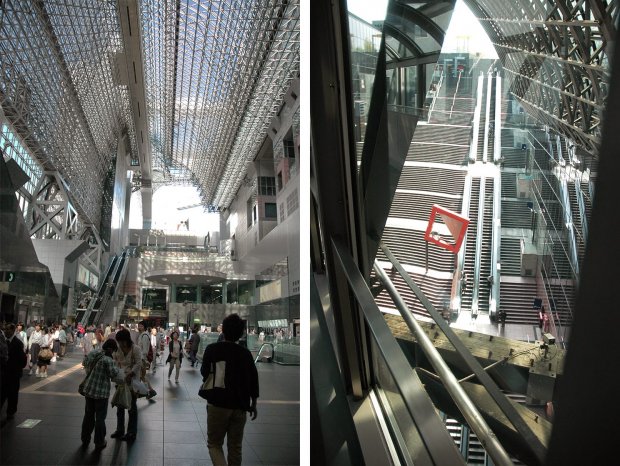 Panorama for free [explore]
The Skyway and Observation Deck of Kyoto Station
After ascending about 45 metres up the station building, you can walk the Skyway that runs along the length of the station, providing you views of Kyoto city from the 11th floor of the station building.
After which, you could also go to the observation deck of the station at the top floor of the station building to view the city as well.
The Skyway is open from 10:00 to 22:00 hours while the Observation Deck is open all day.
Admission: Free
Websites to visit: Kyoto Station Building | Japan-guide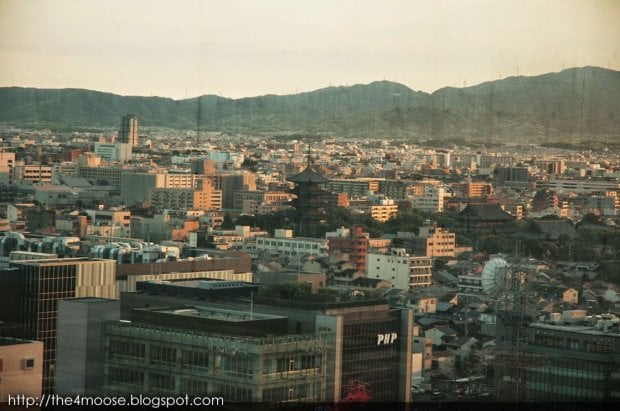 Ramen from around Japan for dinner [eat]
Kyoto Ramen Koji (京都拉麺小路)
For ramen lovers and if you want a meal that is not too expensive, head up to 10th floor of the station where you can find the Kyoto Ramen Koji, a ramen mecca in Kyoto station that gathers eight different ramen eateries from different parts of Japan such as Tokyo, Osaka, Hakata and Sapporo.
Also read: 11 Ramen Restaurants in Tokyo That Leave You Craving for More
For something familiar to Singaporeans, you can try Hakata Ikkousha (博多一幸舎) from Kyushu. This Hakata-style ramen eatery also has several branches in Singapore.
A bowl of ramen here cost about JPY550-1000 / SGD7 – 12
Opening Hours: 11:00 – 22:00 Hours
Websites to visit: Kyoto Ramen Koji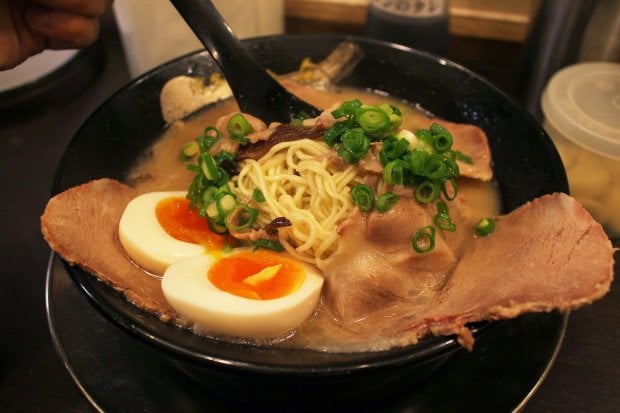 Shopping for souvenirs [shop]
Kyoto Station Shopping Malls
If you need to get a souvenir before your ride to the airport or towards Tokyo, Kyoto Station will offer you so many options that you would be spoilt for choice. With several shopping malls and an Isetan department store connected to each other, you can find traditional Japanese sweets, tea, Western-style confectionery, clothes, crafts etc.
Some of the more famous Kyoto brands that have shops within the station include Tsujiri from Gion, Nakamura Tokichi from Uji, Malebranche from Kitayama and Yojiya.
Opening Hours: around 8:30 am – 8:00pm
Websites to visit: Tsujiri | Nakamura Tokichi | Malebranche | Suvaco | Porta | JR Isetan Kyoto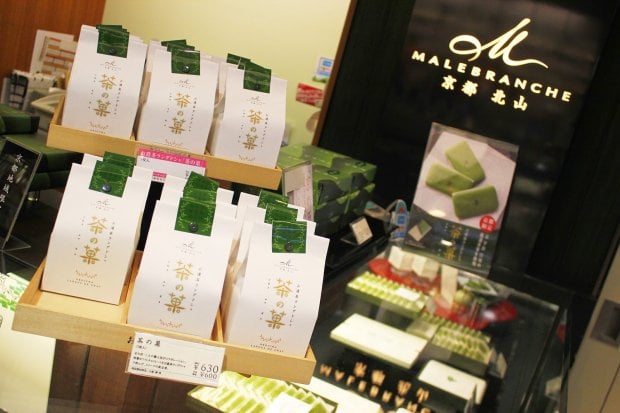 Chōshoku at the station [eat]
Junsai Washoku Tachibana (旬彩和食 たちばな)
If you want to have a taste of a traditional Japanese breakfast early in the morning, one of the restaurants open in the earlier hours is Junsai Washoku Tachibana which offers a selection of Japanese breakfasts such as Okayu with Umeboshi or a set with Grilled Salmon and Tamagoyaki.
Breakfast Sets cost about JPY500-750 JPY / SGD6 – 10
Opening Hours: around 8:00 – 22:30 Hours
Websites to visit: Junsai Washoku Tachibana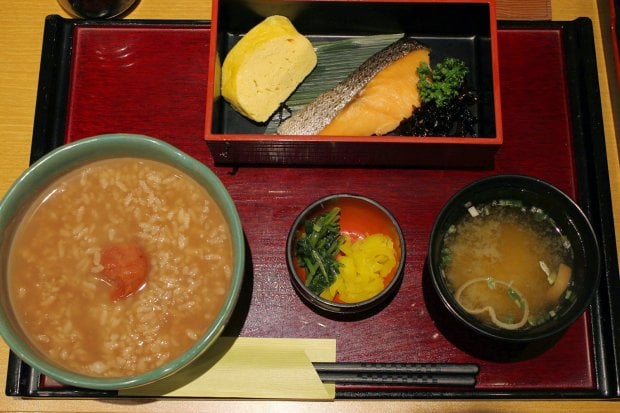 Depato wonderland [explore & shop]
Isetan Department Store Basement 1 & 2
Japanese department stores are phenomenal when it comes to what is on offer in their basement food sections. If you are a real foodie or just looking for a bargain meal in the evening, then don't give up the chance to explore the basement of Kyoto Station Isetan's basement where packed meals could be sold for as cheap as JPY200-300 (approx. SGD2-3) after discount and not to mention getting the opportunity to sample the many local pickles or food products on offer downstairs.
Opening Hours: around 10:00 – 20:00 Hours
Websites to visit: JR Isetan Kyoto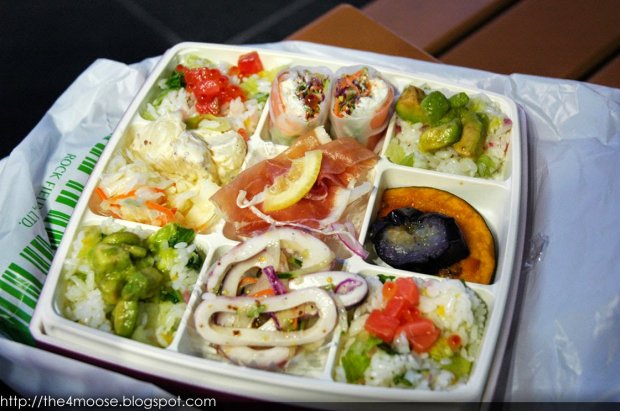 Exquisite Kyoto cuisine at the station [eat]
Hashidate (はしだて)
Named after Amanohashidate, one of three scenic views of Japan. Hashidate is a Japanese restaurant operated by the Wakuden group of kaiseki restaurants which has its roots in the temple cuisine of Kodai-ji in Kyoto. For a taste of what Kyoto cuisine is about, the emphasis on natural and refined flavours with seasonal ingredients, then Hashidate is a good place to try out if you are pressed for time, do not intend to splurge and could only hang around the station.
Highly recommended is the Tai no Goma Miso Donburi (鯛の胡麻味噌丼) which costs about JPY1575 / SGD19 which is a rice bowl dish using koshihikari rice harvested in the Tango peninsula of Japan and topped with raw sea bream and wasabi. You would then pour some broth over the dish and enjoy it with a sweet and tasty miso paste.
Opening Hours: 11:00– 15:00 Hours and 5:00 – 22:00 Hours.
In between lunch and dinner, there is a limited menu of tea and rice bowl dishes available.
Websites to visit: Wakuden Hashidate | Blog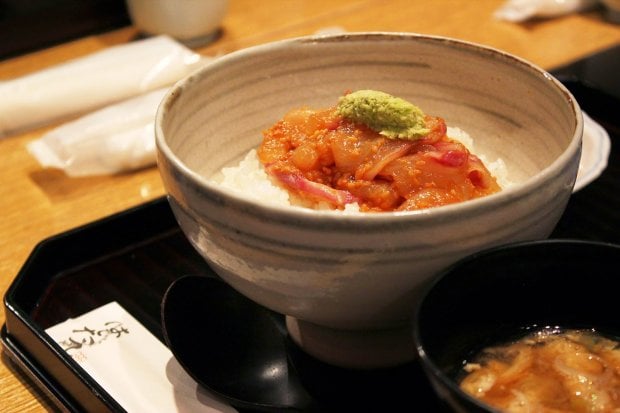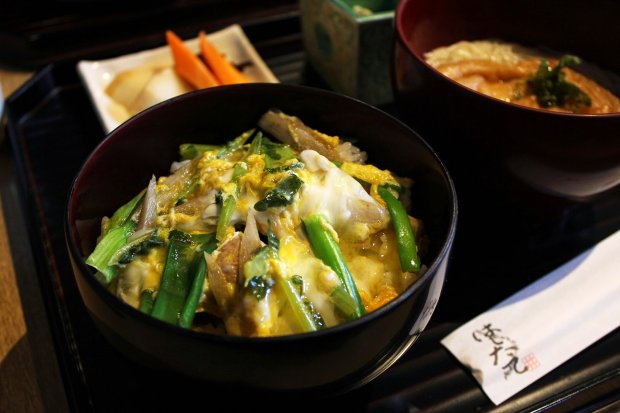 Shopping for MUJI and electronics [shop]
AEON Mall, Yodobayashi and BIC Camera
Located just around the station, are two huge buildings dedicated to electronics and more such as BIC Camera and Yodobayashi across the street, further down Karasuma-dori. Be sure to check for tourist privileges or VISA card benefits to get an additional 5 – 10% discount on your purchases. Some items that could be cheaper than Singapore include cameras and Wacom tablets.
You could find the Japan Travel SIM Card by IlJmio in Yodobayashi. Yodobayashi also sells 1:150 scale models for train models in one of the levels.
If electronics is not what you are looking for, there is an AEON Mall located to the southwest of Kyoto Station which has a decent sized MUJI shop selling your favourite Muji products are Japan prices. If you know a bit of Japanese you could even order online to collect your purchases at Muji Kyoto in Aeon Mall. The station's PORTA Mall has a MUJI to Go shop with a much reduced variety of products.
Bic Camera: 10:00 – 21:00 Hours
Yodobayashi : 09:30 – 22:00 Hours
MUJI Aeon Mall: 10:00 – 21:00 Hours / Aeon Mall 2nd Floor
Websites to visit: Bic Camera Kyoto | Kyoto Yodobayashi | Aeon Mall Kyoto | Muji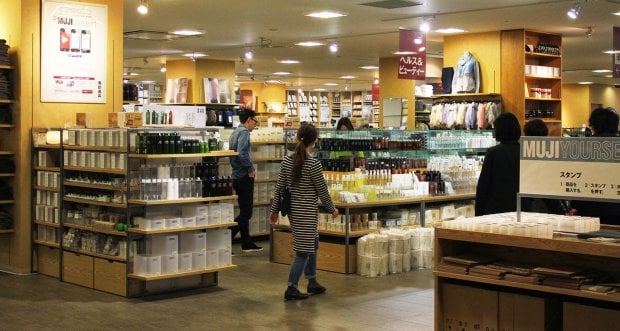 Hunting for bargains at the To-ji Kobosan [explore & shop]
To-ji (東寺)
To-ji is one of the earliest temples in Kyoto, dating back to the founding of Heian-kyo in 794 AD. Along with the former Sai-ji (西寺), it marks the southern entrance to the capital, the Rashomon gate. Its five-storied pagoda which has a history going back to the 826 AD is an icon of the Kyoto skyline.
On the grounds of this historic temple, there is a monthly flea market known as "Kobo-san", named after Kobo Daishi, the founder of Shingon Buddhism. This flea market is held on the 21st of each month. The largest of which will take place in December and January, before and after the New Year.
Websites to visit: Toji | Japan-guide | Inside Kyoto | Blog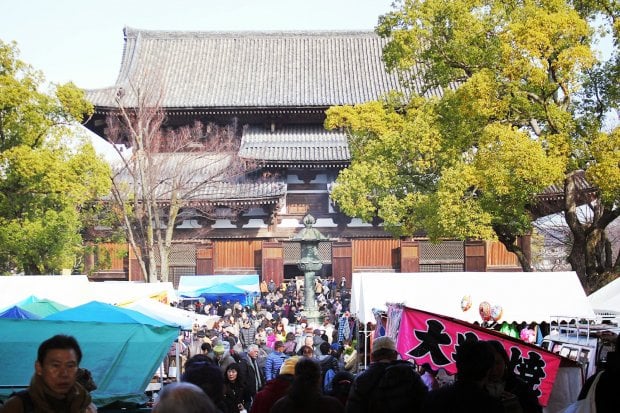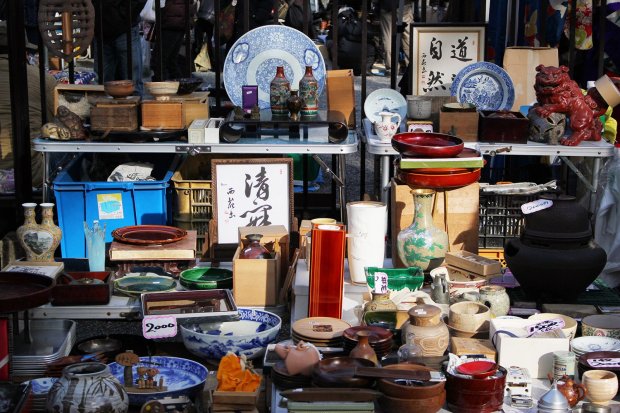 The Hongan-ji temples [explore]
Nishi Honganji & Higashi Hongan-ji (西本願寺と東本願寺)
The Nishi Honggan-ji and Higashi Honggan-ji Temples are some of the closest major temples to Kyoto Station. Both temples are headquarters to two different factions of the True Pure Land Sect. The older of the two temples is Nishi-Honggan-ji which was built in 1591 by Toyotomi Hideyoshi and richer in ornamentation.
Higashi Honggan-ji was first established in 1602 by Shogun Tokugawa Ieyasu after the Jodo Shinshu was split into two to reduce the power of the Buddhist sect by the shogun. The current buildings date back to the late 19th century. The Founders' Hall Gate dating back to 1911 is the largest wooden structure dedicated to Shinran, the founder of the Jodo-shin Buddhism.
A garden related to the Higashi Honggan-ji Temple named Shosei-en is located a couple of blocks to the east of the Higashi Honggan-ji and known for its autumn foliage.
Websites to visit: Honganji | Japan-guide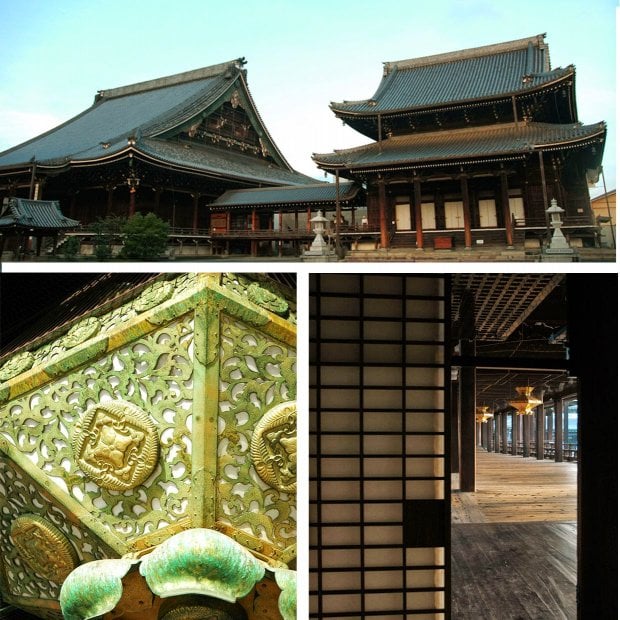 Ramen for breakfast [eat]
Daiichi Asahi Honten (第一旭本店)
One of the few ramen eateries to open early in the morning around Kyoto Station, Daiichi Asahi Honten is a local ramen eatery specializes in Kyoto style ramen and has a history of at least 50 years. The ramen is served in a soy-sauce base soup along with char siew braised and cooked in soy sauce and comes garnished with Kyoto Kujo Negi (Kyoto green onions).
The Special Ramen (特製ラーメン) costs JPY850 (SGD10)
Opening Hours: 5:00 – 2:00 Hours
Websites to visit: Daiichi Asahi Honten | Blog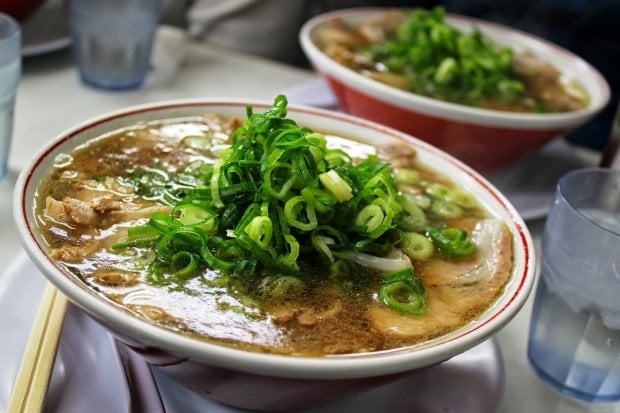 Panorama for a fee [explore]
Kyoto Tower (京都タワー)
Located just opposite Kyoto Station, the 131 metres tall tower, despite its appearance, is a lot older than the station. The tower was designed by Mamoru Yamada (山田守) and was opened in 1964, the same year of the opening of the Tokyo Olympics and the shinkansen.
The tower even has its own mascot. Each entry costs JPY770 (SGD9) for a free alternative, you could go to the Kyoto Station's sky garden or sky walk.
Opening Hours: 9:00– 21:00 Hours
Admission: JPY770 (SGD9)
Websites to visit: Kyoto Tower | japan-guide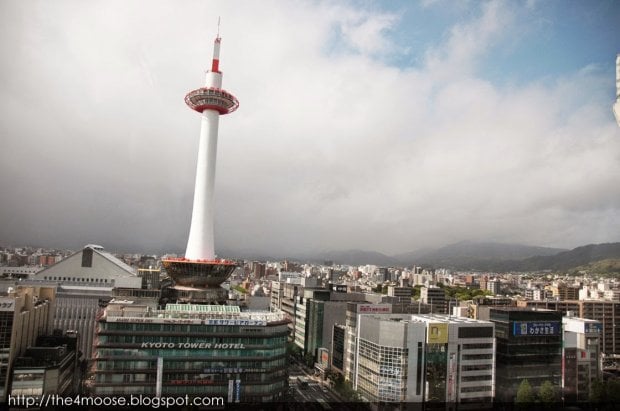 Stay at the Hotel Anteroom Kyoto [stay]
Hotel Anteroom Kyoto (ホテル アンテルーム 京都)
If you fancy a boutique hotel with a designer touch without breaking the bank, consider staying at the Hotel Anteroom Kyoto located around Kujo Station south of Kyoto Station. The hotel was designed by Tokyo based architecture firm, UDS Ltd. It is a former dormitory converted into a hotel and serviced apartment catering for designers, architects and artists.
The breakfast costs an additional JPY1000 (SGD11) and is pretty decent as well. It includes a pita pocket, your own salad, yoghurt, soup and choice of drink. There is also a gallery with changing exhibitions showcasing artworks by artists from around Japan. At times, there would be sharing session by these visiting artists.
If you book directly with Hotel Anteroom Kyoto in advance, you might be able to get some really competitive rates.
Websites to visit: Hotel Anteroom Kyoto | Blog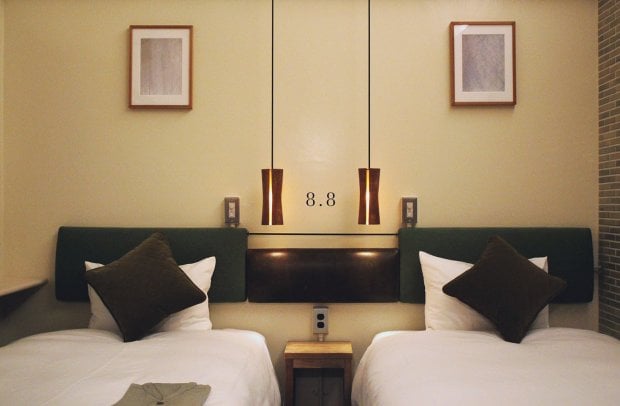 Craft and coffee along Suwa-dori [eat and see]
雑貨+カフェ tsubomi
Tucked somewhere between Shijo-dori and Gojo-dori is a discreet little café housed into a contemporary building designed by Eastern Design Office in a quiet neighbourhood along Suwa-dori. The café sells a selection of ceramics and craftworks. The menu includes light snacks and coffee to enjoy along with their coffee.
A cup of coffee cost around JPY400-500 (SGD4.6-5.7) each
Opening Hours: 14:00– 18:00 Hours. Closed on Fridays and Sundays.
Websites to visit: tsubomi cafe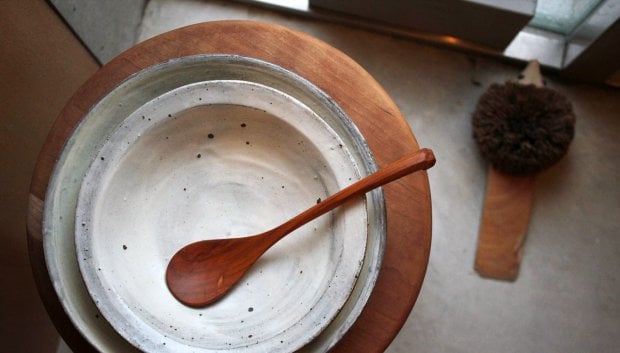 Café by the Kamogawa [eat]
efish (エフィッシュ)
Located near Kiyomizu Gojo Station, this café was once the residence of local designer, Shin Nishibori, an industrial designer who worked for Apple US for at least 10 years. Using the designer's works to furnish the place, the end result is a really cosy and beautiful little café by the river in the day and a bar in the night.
A cup of coffee cost around JPY480 to 600 (SGD6-7).while a cheesecake cost JPY600 (SGD7).
Opening Hours: 11:00 – 21:30 Hours
Websites to visit: efish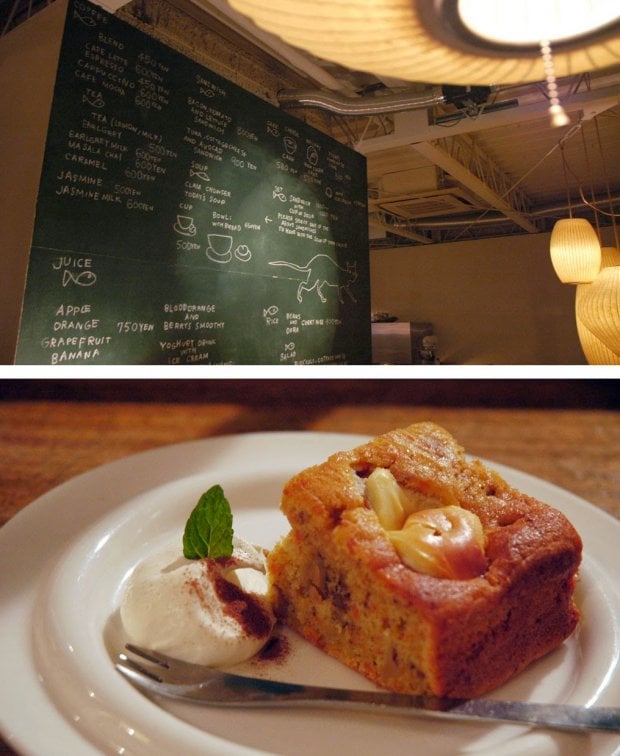 Staying with Airbnb: Kirakuan [stay]
Kirakuan (Airbnb)
Until the emergence of Airbnb, booking a stay in a machiya has been a troublesome affair and the only convenient way to experience it is to book a stay in a ryokan or hostel. However, through Airbnb, you could now find a convenient means to book a stay in a historical machiya such as Kirakuan.
Kirakuan is a 100 year old Machiya with modern conveniences. It can house up to 5 adults. The owner is Mako, a Superhost on Airbnb who enjoys meeting people and travelling.
Websites to visit: airbnb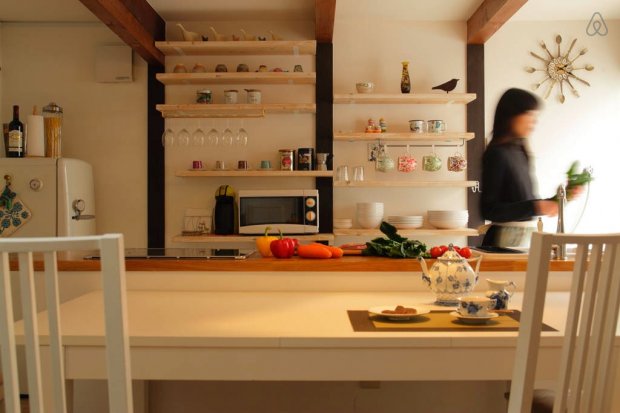 Interiors of Kirakuan (Source: Kirakuan Airbnb)
Site of an epic duel [explore]
Gojo-Ohashi (五条大橋)
Crossing the Kamogawa along Gojo-dori, you would cross a big bridge known as the Gojo Ohashi. This bridge has a place in the myths and legends of Kyoto. It is the site of an epic duel between a warrior named Musashibō Benkei (武蔵坊弁慶) and the famed Minamoto no Yoshitsune (源 義経, also known as Ushiwaka), a well-known samurai in Japanese history.
While the current form of the dorayaki dates back to the early 20th century. Legend has it that the origins of the dorayaki is somewhat related to Benkei when an elderly couple who took care of the injured warrior served him a round cake cooked on the surface of the gong and created the first dorayaki.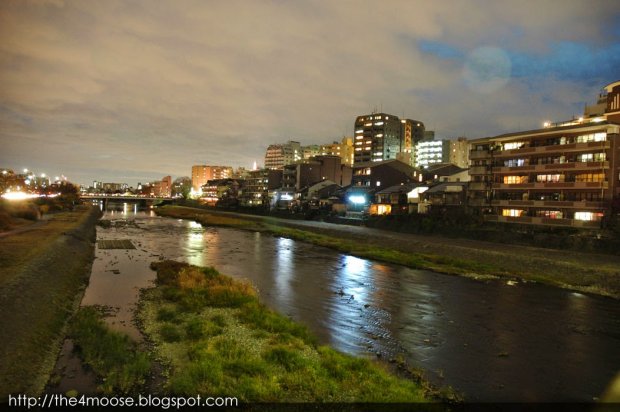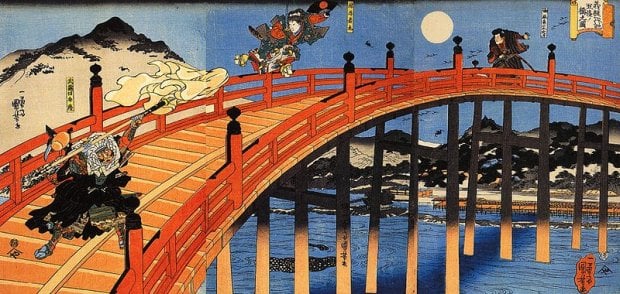 "Ushiwaka Overcoming Benkei at Gojo Bridge" by Utagawa Kuniyoshi (Source: KCP International Window on Japan)
Top: Gojo Bridge in the background.
Nakagyō-ku |中京区
This is the downtown part of Kyoto, easily accessible via bus or subway from Kyoto Station and of walking distance on a good day. Nakagyo-ku, is home to the Orchard Road of Kyoto which stretches from Shijo-Karasuma to Shijo Kawaramachi and perhaps up to Yasaka Shrine in Gion. The Hankyu Railways connect this area all the way to Umeda in Osaka. Towards Sanjo-dori in the north and Nijo castle to the west, it gets slightly quieter and beneath that serenity is a vibrant design and craft scene that is well-hidden within the tightly-packed neighbourhoods around Nakagyo-ku.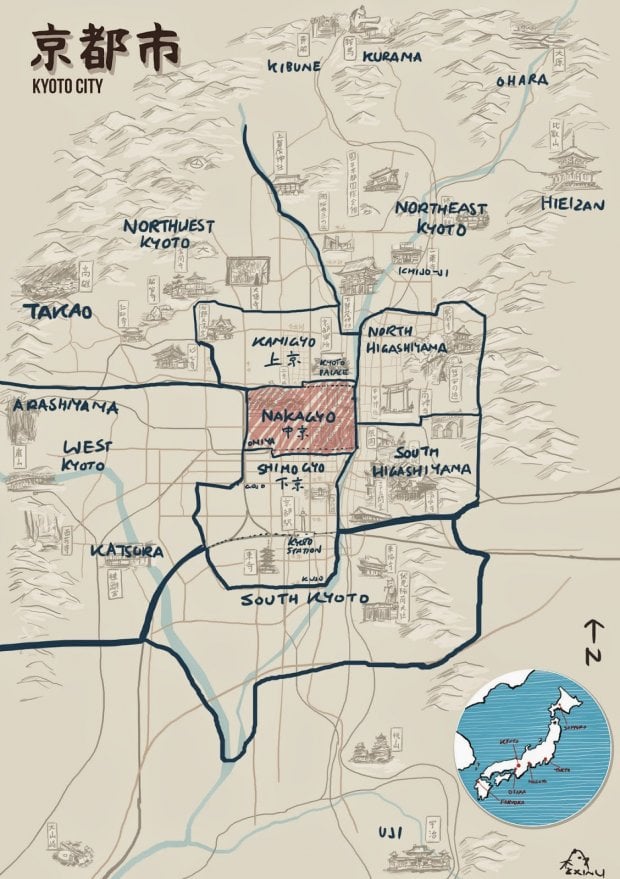 Karakami, Housewares and Ramen at Cocon Karasuma [shop & eat]
Cocon Karasuma (ココン烏丸) designed by Kengo Kuma
Located at the junction of Shijo-Karasuma, Cocon Karasuma was designed by famed Japanese architect, Kengo Kuma (隈 研吾) who did the SunnyHills shop in Tokyo's Minami Aoyama. Part of the design intention is to bring the street into the building and visitors to Cocon Karasuma should not only check out the architecture but take the opportunity to browse through Actus, a designer houseware shop as well as Kira Karacho (雲母唐長) which specializes in Japanese woodblock printed paper known as karakami. Kira Karacho is one of Japan's few if not only 'karakami' maker to date and was founded in Kyoto in 1624.
In the basement of Cocon Karasuma is a branch of Ten Ten Yu (天天有), another ramen eatery specializes in chicken ramen that originated from Kyoto's Ichijoji district in 1971.
Ten Ten Yu (天天有)
Opening Hours: 11:00– 22:30 Hours. English Menus available.
Kira Karacho (雲母唐長)
Opening Hours: 11:00– 19:30 Hours
Websites to visit: Cocon Karasuma | Actus | Kira Karacho | Ten Ten Yuu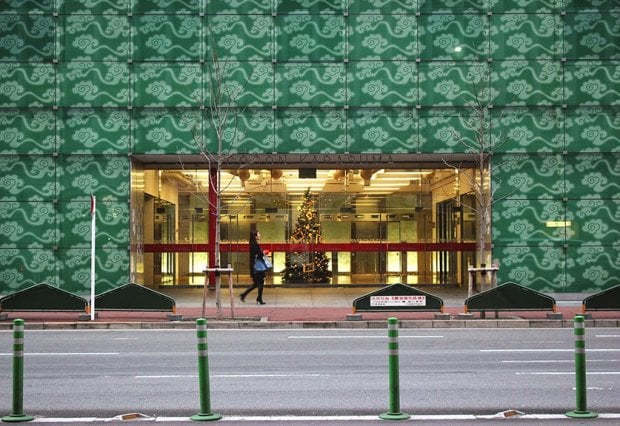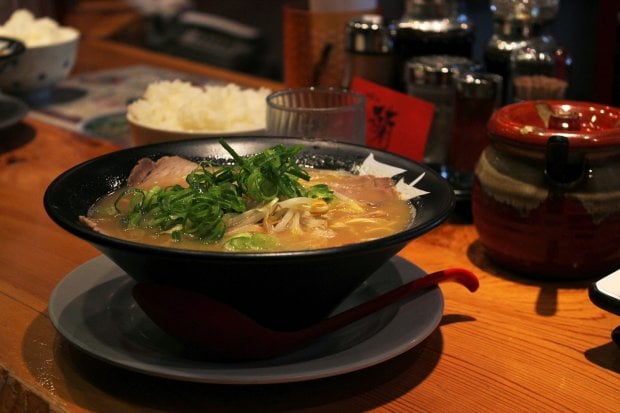 Taking a break at Omotesando Koffee [lim kopi]
Omotesando Koffee (オモテンサンドウ コーヒ)
Omotesando Koffee originated from Tokyo and a branch could be found within the United Arrows shop in Kyoto along Shijo-dori. The coffee kiosk serves a really nice cup of cappuccino and it is made with beans sourced from Ogawa Coffee in Kyoto. Highly recommend are the Baked Custard or Caneles (around JPY170 / SGD1.9 each) which you could enjoy along with your coffee.
A Cup of Coffee costs around JPY500-600 (SGD6-8)
Opening Hours: 11:00– 20:00 Hours
Websites to visit: United Arrows Kyoto | Omotesando Koffee | goodcoffee.me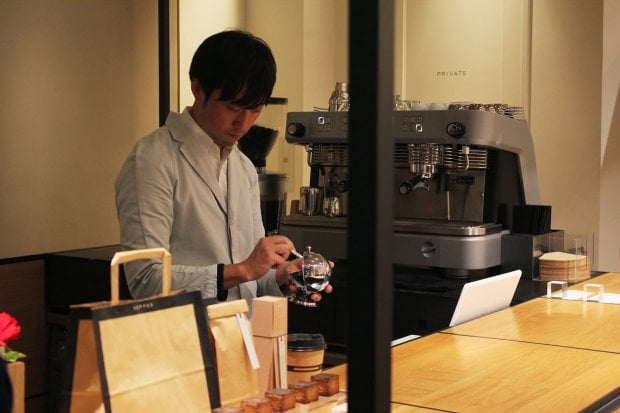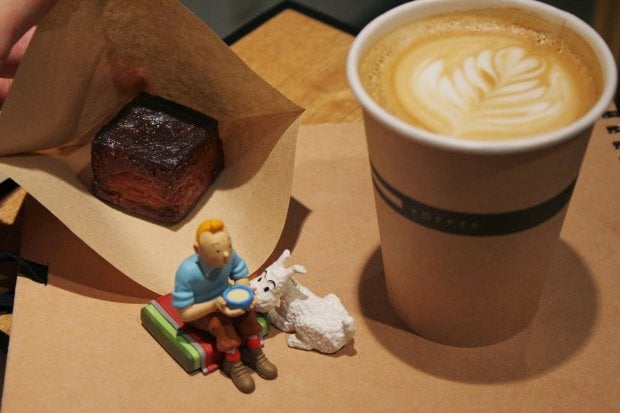 Jalan Jalan at Teramachi-dori and Shinkyogoku [explore]
Teramachi and Shinkyogoku Shopping Arcades (寺町通と新京極)
Teramachi-dori dates back to the Heian period of Japan was formerly a residential area until Toyotomi Hideyoshi took over Kyoto and attempted to reorganize the city. Higashikyogoku-oji was renamed as Teramachi-dori and several temples and shrines were relocated here hence the name. It eventually developed into a shopping destination beginning in the Meiji period with confectionery stores and the first photo studio.
The entire length of Teramachi-dori and the adjacent Shinkyogoku shopping arcade has a variety of shops, eateries and massive gaming arcades. You would find western-style cafes with humongous sundaes as well as shops with long history and goes back to the time when the commercial activity here serves the temples located around here.
One such example is Kyukyodo (鳩居堂), an apothecary started in 1663 which also sells incense and calligraphic stationary.
Websites to visit: Teramachi | Kyoto Guide | Inside Kyoto | Kyukyodo (鳩居堂)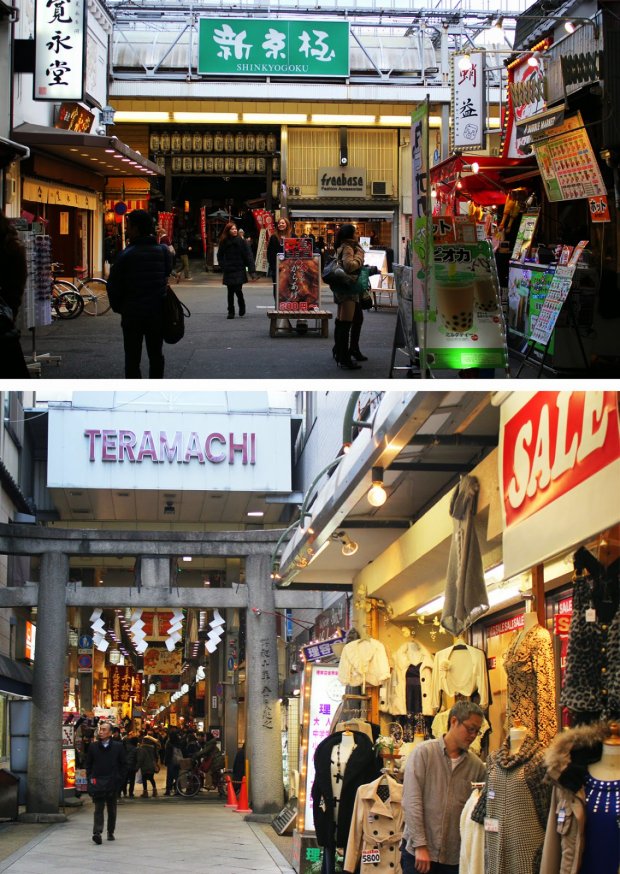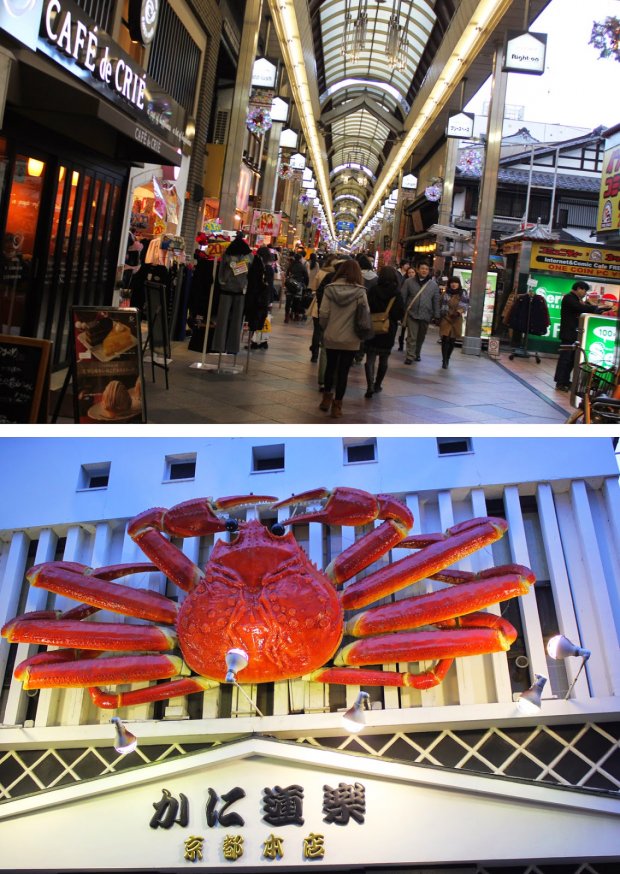 The TWG of Japan? [shop]
Lupicia (ルピシア)
If you have been to Kki Cake and Sweets and enjoyed their tea, this is the brand of tea you would be looking for. Lupicia is probably the TWG tea or the Osulloc of Japan. They have a branch along Teramachi-dori near the junction with Sanjo-dori.
The shop has a whole section showcasing the while range of teas available from Japanese sencha, oolong to rooibos. Packaging is exquisite and they often come out with seasonal limited editions of tea with some rather unique flavours.
Opening Hours: 10:00– 19:00 Hours
Websites to visit: Lupicia | Kyoto Asu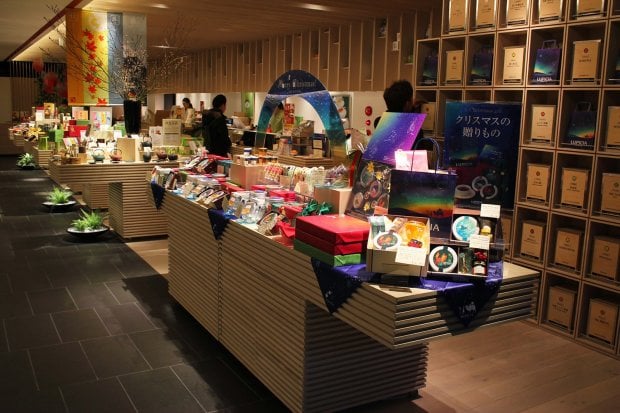 Visit the kitchen of Kyoto [eat and shop]
Nishiki Market (錦市場)
If there is one market to visit in Kyoto, this is it. It is the must-visit for the gourmet travellers.
The Nishiki Market is a 1500 metres long covered arcade of shops located on Nishikikoji Avenue branching out from Teramachi-dori. The market's history goes back to the 16th century when local merchants gathered around here to sell local products and the community of merchants of the same trade blossomed along the same street. According to the Kyoto Project, the market is located above a source of underground water beneath Nishiki that remains 15 degrees Celsius even in summer that was used to keep products fresh.
The myriad of eateries and shops here sells everything from fresh vegetables, pickles (a speciality of Kyoto), soy products, rice toppings (furikake), fresh and dried seafood, spices, herbs and food items like Osaka-style hakozushi (boxed style sushi) to share or kakinohazushi (persimmon leaf sushi) which originated from Nara.
Here are a couple of articles to read about what shops to look out for at Nishiki Market:
Websites to visit: Nishiki Market | Japan-guide | Inside Kyoto | Kyoto Foodie | CondeNast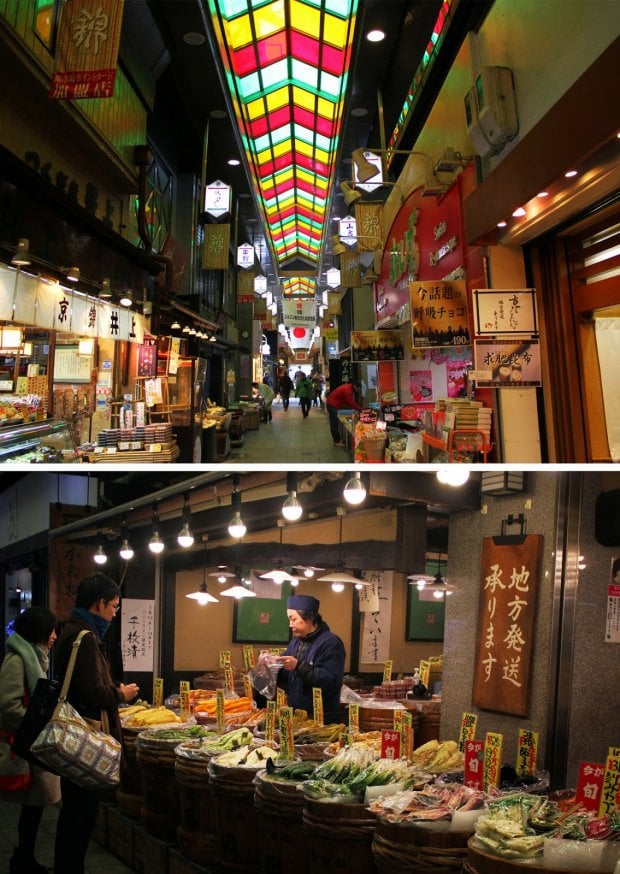 A taste of Macau in Kyoto [eat]
Andrew's Egg Tart (アンドリューのエッグタルト)
Lord Stow's Bakery was opened by Andrew Stow on Coloane Island, Macau in 1989. Known for their Portuguese-style Egg Tarts, the famed bakery from Macau has a branch along Teramachi-dori known as Andrew's Egg Tart which was opened around 2006.
Besides getting to try their Portuguese Egg Tarts, they also have special Teramachi edition called Teramachi Saryo Hana (寺町茶寮 華) which has matcha mixed into the egg custard and topped with azuki and kuri (red bean paste & Japanese chestnuts).
One Teramachi Saryo Hana costs JPY300 / SGD4
Opening Hours: around 12:00– 21:00 Hours
Websites to visit: Andrew's Egg Tarts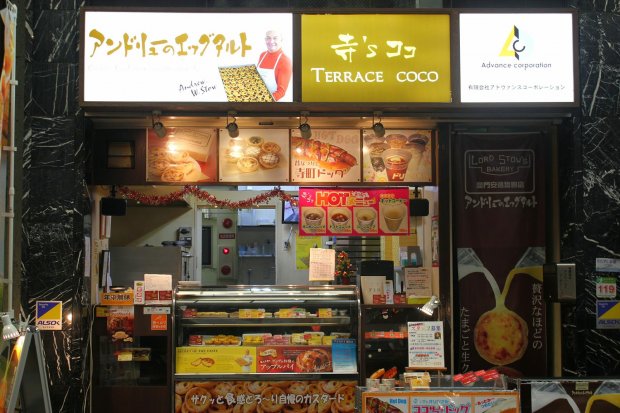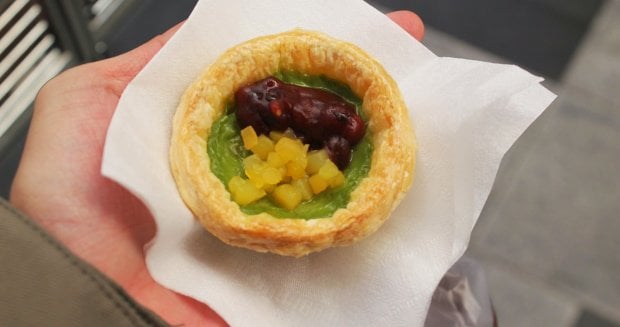 Walk down the Ponto-cho [explore]
Ponto-cho (先斗町)
Near the Kamogawa river and connecting both Shijo-dori and Sanjo-dori is a narrow alley known as Pontocho, one of the four hanamachi in Kyoto along with Gion, Kamishichiken and Miyagawa-cho.
Ponto-cho used to be an exclusive and expensive dining venue but it has changed much since the tourism and economic slump in the aftermath of the tsunami in 2011. Today, it has become more affordable to dine in the many emerging restaurants, bars and cafes along Ponto-cho and it is very popular during summer when restaurants would set up outdoor riverside terraces known as yuka but be prepared to pay a premium to dine by the river.
Websites to visit: Japan-guide | Inside Kyoto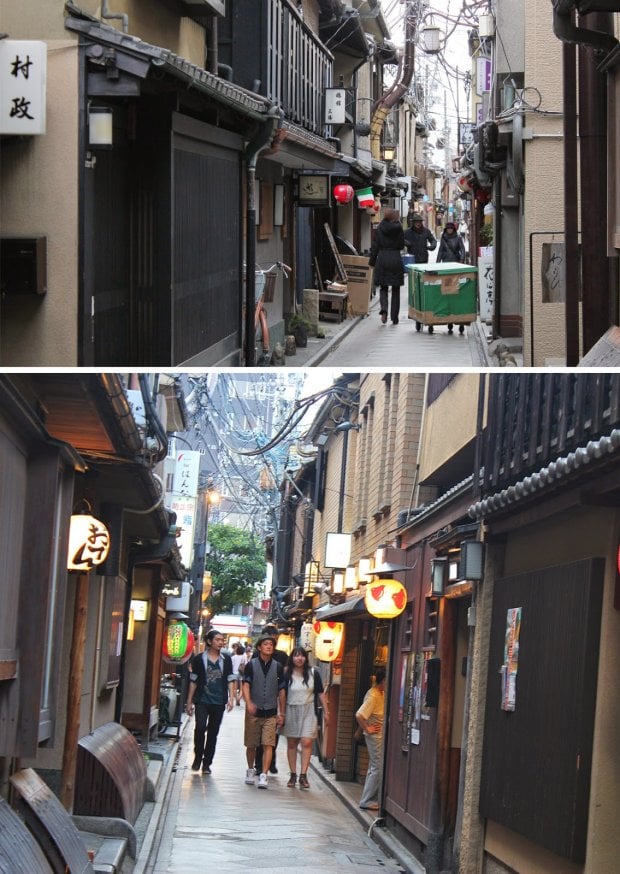 Tracing the roots of Ikebana [explore]
Rokkaku-do (六角堂)
There is special hexagonal shaped temple located at the western end of Rokkaku-dori next to Karasuma-dori. Rokkaku-do, also known as Shiunzan Chōhō-ji was founded by Prince Shotoku in 538 AD to enshrine the Nyoirin Kannon, the Goddess of Mercy which meant that this temple preceded Kyoto's founding as capital in 794 AD.
Not only the hexagonal shape of this temple is unique but the temple is also closely related to the history of Ikebana (the art of flower arrangement) as it was here where Ikenobo, the oldest and largest school of Ikebana (Japanese floral art) was originated. The Ikebono school was founded by Ikenobo Senno, a Buddist monk in 15th century and still based around Rokkaku-do. This was the place Anthony Bourdain has visited the for an ikebana lesson by Professor Manabu Noda in an episode of No Reservations.
Opening Hours: 6:00 – 17:00 Hours
Websites to visit: Rokkaku-do | Ikenobo | Kyoto Tourism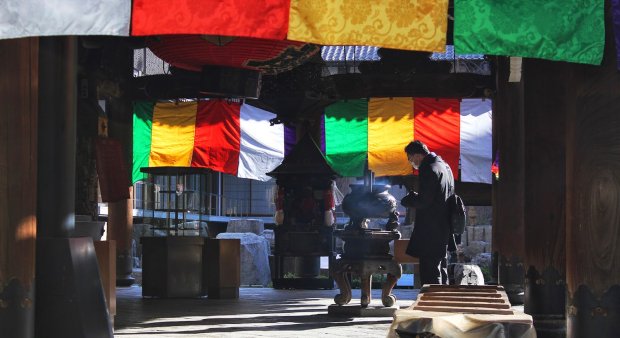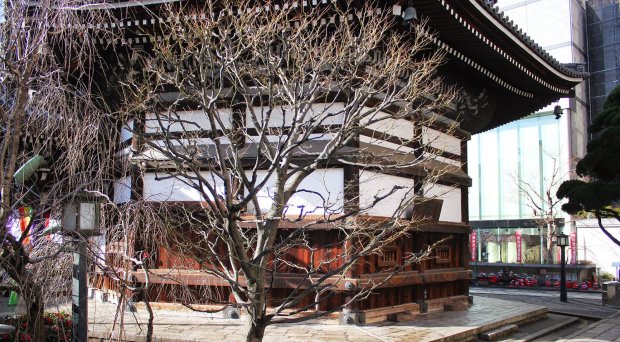 Old world cafés around Sanjo-dori [lim kopi]
Inoda Coffee (イノダコーヒ) and Tsutaya Coffee (珈琲 蔦家)
Unbeknownst to some, Kyoto is not just known for their tea but also for their coffee. Sanjo-dori area is home to some classic cafes with a long history. One of the most famous coffee houses in Kyoto is Inoda Coffee which has a few outlets around Sanjo-dori including its original one along Sakai-machi dori. Inoda Coffee first begun selling coffee in 1940 and opened their first coffee shop in 1947. The signature blend since foundation is the Pearl of Arabia, a European type blend with a deep roast flavour.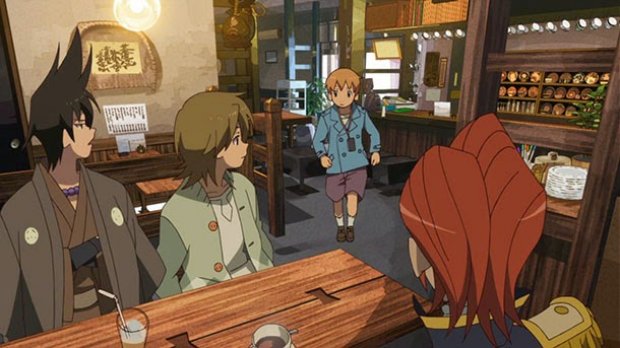 Tsutaya Coffee in Uchōten Kazoku (Source : likefishinawater)
Exploring the area a bit and you might end up in a well hidden café like Tsutaya Coffee, another old world café that has a history of at least 25 years. The café is known for its beautiful collection of coffee cups and saucers on display and used for serving the beloved beverage. The café was featured in episode 9 of an anime named Uchōten Kazoku (有頂天家族) in 2013.
Inoda Coffee (Sakaimachi-dori Honten)
Opening Hours: 7:00– 20:00 Hours
Tsutaya Coffee
Opening Hours: 8:00– 19:30 Hours (Mon, Fri, Sun) / 8:00 – 16:00 (Saturday)
Websites to visit: Inoda Coffee | gurunavi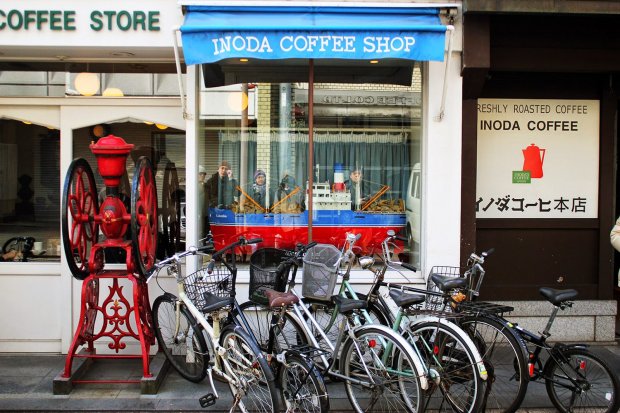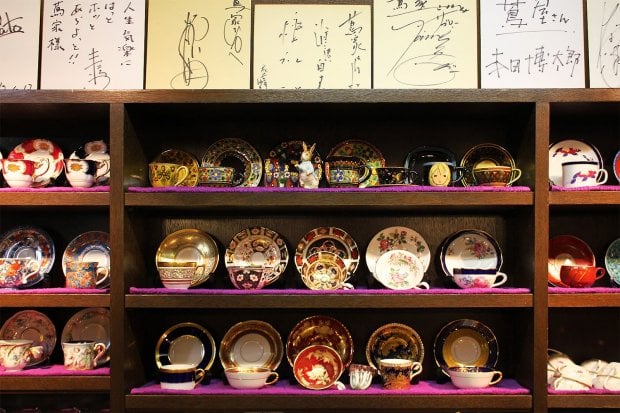 From the top: Inoda Coffee Honten, Sakaimachi-dori, Inoda Coffee, Sanjo-dori and Tsutaya Coffee.
19th – Early 20th Century Architecture along Sanjo-dori [architecture]
Sanjo-dori and the Museum of Kyoto (京都文化博物館)
Kyoto was narrowly spared from the fate of Nagasaki and Hiroshima as well as the Allied Bombing during the wall that left major cities like Tokyo and Osaka in ruins. As such, Kyoto remained to be one of those several cities in Japan where you could still see early modern Japanese architecture that goes back to the Meiji to early Heisei period with Western or Art-Deco influences.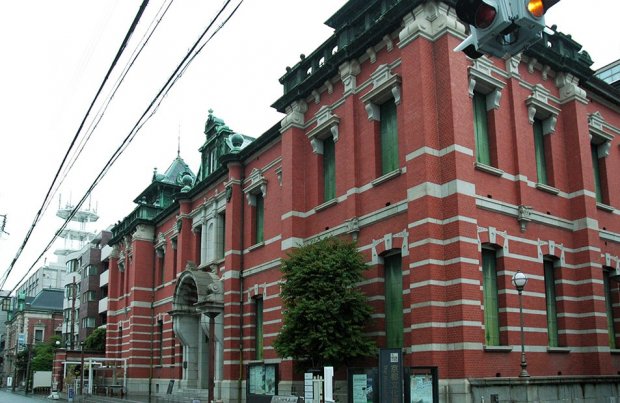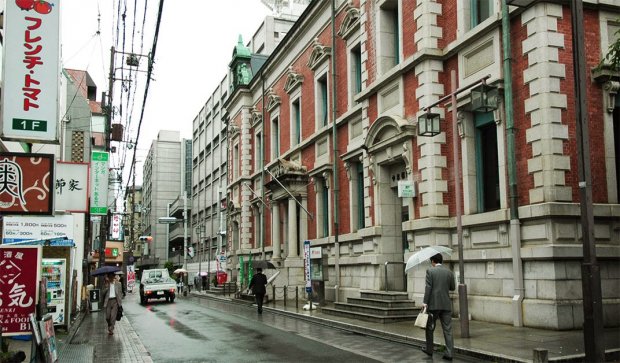 From the top: Museum of Kyoto designed by Nagano Uheiji and Nagakyo Post Office (中京郵便局, 1902).
One such example along Sanjo-dori is the Museum of Kyoto building which was formerly the Bank of Japan Building constructed in 1906 and designed by Tatsuno Kingo (辰野金吾) as well as Nagano Uheiji (長野 宇平治). Many of you might have seen Nagano Uheiji's work before if you have visited Taipei: The Presidential Office Building. The Museum of Kyoto is just one of the several 19th to early 20th century structures you could find around Nakagyo-ku.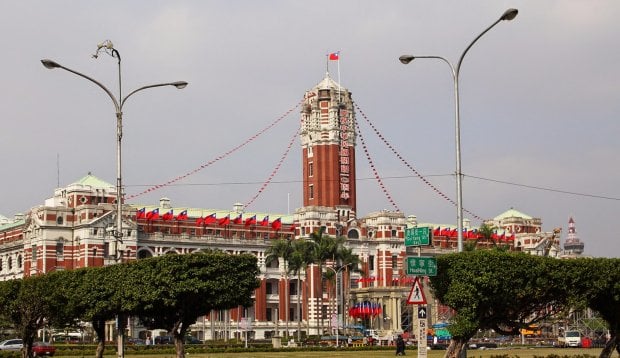 Presidential Office Building (總統府, formerly Governor General's Office) in Taipei designed by Nagano Uheiji.
A temporary Dean & Deluca Cafe has opened a 1916 residence along Karasuma-dori designed by Kingo Tatsuno (辰野 金吾) who designed the 1914 Tokyo Station. This cafe would be opened till August 2015.
Websites to visit: Museum of Kyoto | Dean & Deluca Kyoto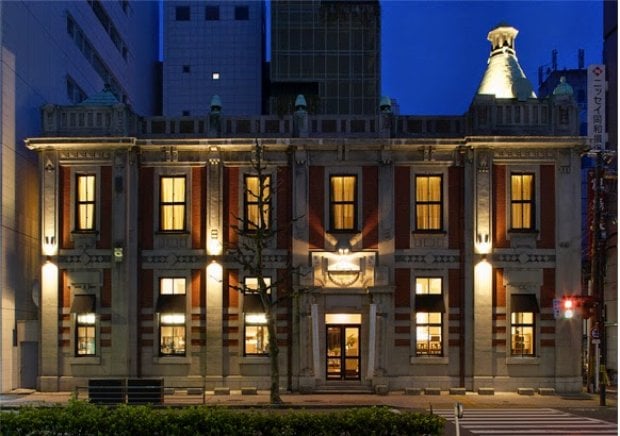 Dean and Deluca Kyoto at the former Yamaguchi Bank Branch along Karasuma-dori (Source: Dean & Deluca)
Tracing Steve Jobs: Ryokan & Soba Noodles [stay & eat]
Tawaraya Ryokan (俵屋旅館) and Misoka-an Kawamichiya (晦庵 河道屋)
The founder of Apple, the late Steve Jobs visited Japan including Kyoto several times when he was around. When he stayed in Kyoto, he always stays at the Tawaraya Ryokan located along Fuyacho-dori. The ryokan has a history of at least 300 years and has hosted celebrities and political leaders from all over the world including Steve Jobs himself. The entrance of the ryokan is always kept wet or washed to symbolize "welcome" for any would-be guests of the ryokan. The building's extension and new wing was designed by Junzo Yoshimura (吉村順三).
Also read: Top 20 Historic Japanese Inns You Can Stay In
He was also fond of soba noodles and has apparently dined at Misoka-an Kawamichiya a soba restaurant as old as Tawaraya Ryokan and opened in the 17th century located down the same street.
One of Steve Jobs' visited temples and perhaps favourite according to Nippon.com is Saihōji, the moss temple.
Websites to visit: Misoka-an Kawamichiya| Inside Kyoto | Blog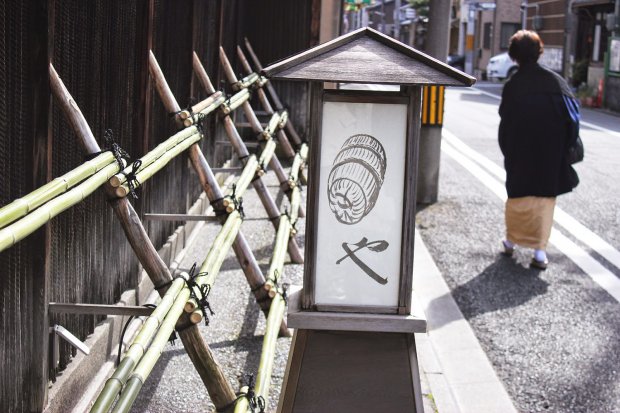 A tea salon by Tawaraya [cafe-hopping]
Yukei Salon de Thé (遊形 サロン・ド・テ)
While the exclusive luxury of Tawara-ya maybe out of reach for the many of us, it is still possible to get a taste of the historic inn's hospitality at Yukei Salon de The, run by Tawara-ya and housed in a machiya along Aneyakoji-dori.
Opening Hours: 11:00– 18:00 Hours
Websites to visit: Kyoto Asu | guide.travel.co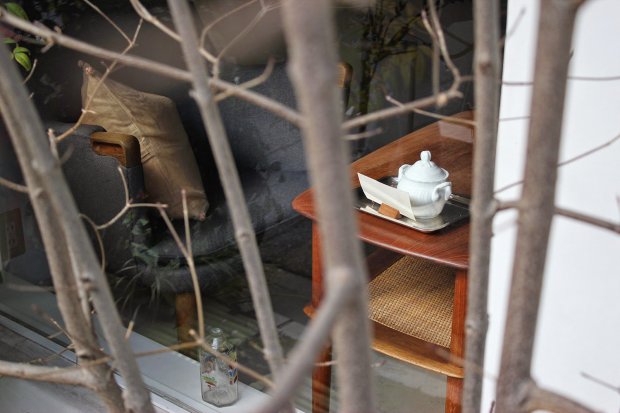 Architecture by Tadao Ando [architecture]
Kyoto Design House (京都デザインハウス) and TIMES I & II (タイムズ I & II)
Kyoto is also known for its contemporary architecture hidden amongst olden machiyas or concrete blocks built over time. Known for the Church of Light in Ibaraki, between Kyoto and Osaka, Tadao Ando also has several works in Kyoto and you could find a couple within Nakagyo-ku.
One the more prominent ones dating back to the 1980s is TIMES I & II located at the junction between Kiyamachi-dori and Sanjo-dori. The structure was inspired by the takasabune, boats that once carried craft up and down the Takasegawa (高瀬川), a canal running along Kiyamachi-dori and use to connect the city centre to Fushimi port along the Uji River to facilitate the flow of goods. In its heydays, TIMES I & II was meant to be an upscale shopping mall with upscale brands like Yohji Yamamoto.
Another more discreet work of Tadao Ando is the Kyoto Design House located along Tomikoji Street. The structure carried the aesthetics of surrounding townhouses and is occupied by a flagship shop of Niwaka jewellery as well as Kyoto Design House, a shop dedicated to crafts and designs from Japan.
Kyoto Design House
Opening Hours: 11:00 – 20:00 Hours
Websites to visit: Kyoto Design House | Archi-Map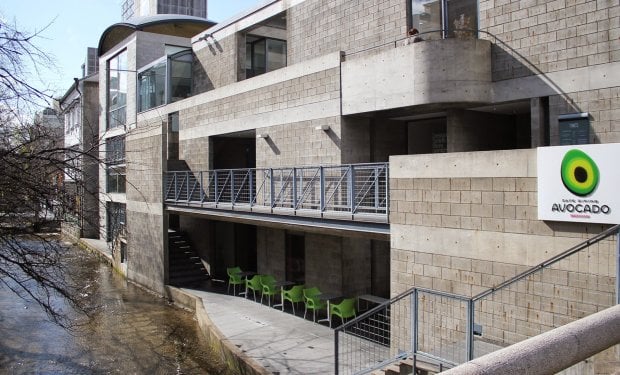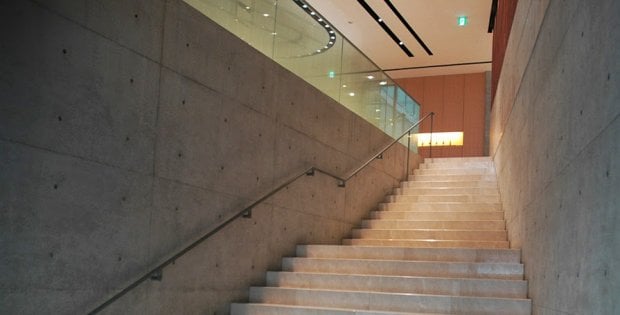 From the top: TIMES I & II, Kyoto Design House (or NIWAKA Building).
Hakata-style Ramen along Kiyamachi-dori [eat]
Hakata Nagahama Ramen Miyoshi (博多長浜ラーメン みよし)
Kiyamachi-dori dates back to 1586 after the construction of the waterway connecting the city centre near Nijo Street to Fushimi port. This waterway is known as Takasegawa (高瀬川) and served its purpose till 1920. Historically, it is also the home to both the Tosa and Kaga Clan Residences, who were influential in the Edo Period.
The upper length of the street between Shijo-dori and Sanjo-dori is known for its nightlife as well as cherry blossoms today and has many eateries. One of the highly recommended eatery is a Hakata-style ramen shop named Hakata Nagahama Ramen Miyoshi which serves a really robust and flavourful ramen with tonkotsu broth and tender slices of cha shu. A feature of this eatery is its variety of toppings offered to diners to customize their bowl of ramen.
A Bowl of Ramen here costs around JPY600-750 / SGD7-9
Opening Hours: 11:00– 6:00 Hours
Websites to visit: Ramen Adventures | Blog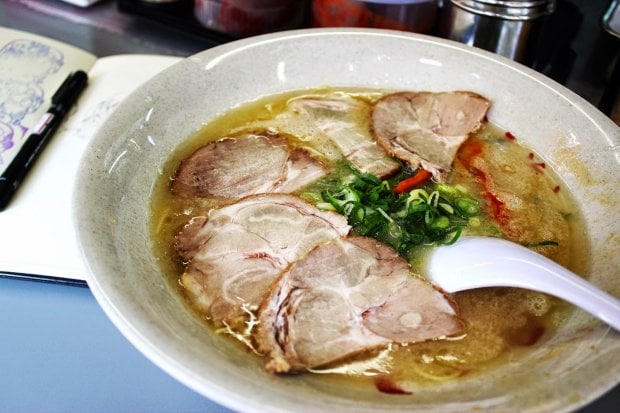 The end of the Tokkaido [explore]
Sanjo-Ohashi (三条大橋)
Walk towards the Kamogawa along Sanjo-dori, not too far the Tadao Ando's TIMES I & II building is the Sanjo Bridge. This bridge, depicted in Hiroshige's The Fifty-Three Stations of the Tokaido (), marks the end of his journey along the Tokaido, the old Edo-period highway connecting Edo (present-day Tokyo) with Kyoto.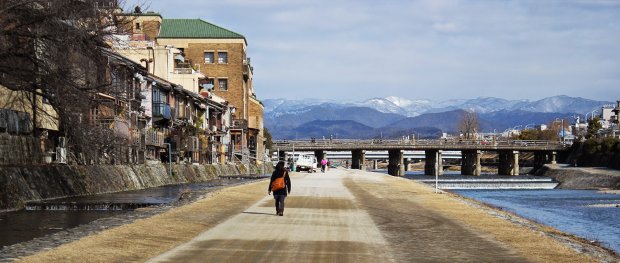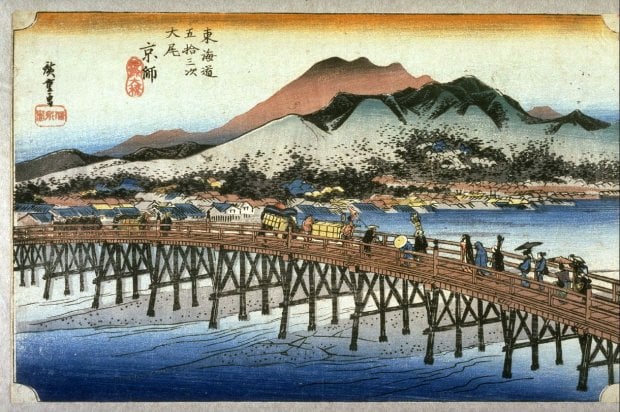 Keishi Sanjo Ohashi, No. 55 from the series Fifty-three Stations of the Tokaido by Utagawa Hiroshige. (Source : Ukiyo-e.org)
Centuries old woodcraft and residence to a pioneer of modern Japan [explore]
Kyoto Suya (京都酢屋)
Found in 1721, Su-ya is a shop specialized in woodcraft for at least 290 years. Here you can find exquisite wood craft such as a coast made with Kitayama cedar to bring home as souvenir.
More interestingly is the place's historical significance to a prominent figure in a late Edo period, Sakamoto Ryoma (坂本龍馬), a samurai and politician from Kochi who helped brokered peace between the Choshu and Satsuma provinces and united them against the Tokugawa shogunate and made major contributions towards the Meiji Restoration in 1868, a milestone in Japanese history. Unfortunately, Sakamoto Ryoma was assassinated in 1867 at age 31, shortly before the Meiji Restoration, at Ōmiya Inn (近江屋) located along Kiyamachi-dori in Kyoto.
The street of which Suya is situated on is named Ryoma-dori (龍馬通), named after Sakamoto Ryoma and Suya was where he once lived when he was in Kyoto. A gallery dedicated to him including his former residence is open to visitors for 500 JPY within Suya.
Websites to visit: Suya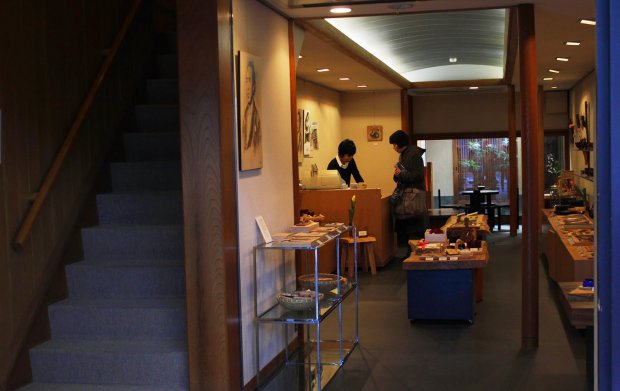 Contemporary design in Kyoto [shop & explore]
Sanjo-dori and Gokomachi-dori: Aesop , 45R, Bento&co, Prophet, Museum of Kyoto Gokomachi
Nakagyo-ku is treasure for the traveller with a keen eye for design or fashion. Located all around the district especially the area around Sanjo-dori and along Gokomachi-dori, are some pretty interesting shops or interiors with nice interiors.
One such shop is the Kyoto outlet of the Melbourne-based skin and hair care brand, Aesop designed by Shinchiro Ogata andhis team from Simplicity, a Japanese design firm based in Tokyo. One of the design inspirations for the Aesop shop was Junicho Tanizaki's In Praise of Shadows.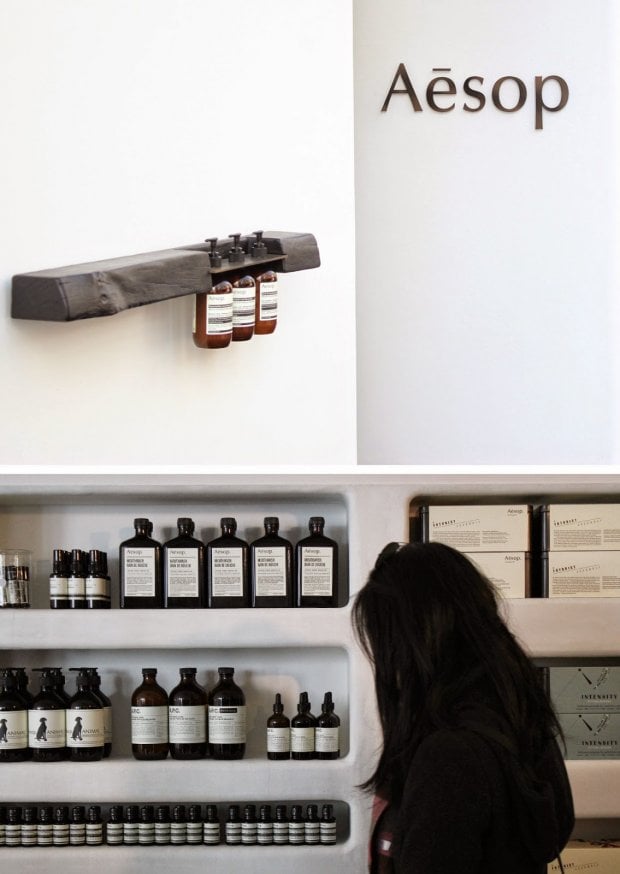 Take a walk around Sanjo-dori and you might encounter a shop with a 45-degree angled entrance with a noren printed with the number 45. This is 45R, a denim shop housed in a converted machiya which is worth checking out.
Along Gokomachi-dori, there is a small fashion shop named Prophet (プロフェット) which sells apparel by Japanese brands like Nonnative and Hobo.
Not too far from Prophet is a shop dedicated to all items Made in Kyoto. The Museum of Kyoto Gokomachi is a quirky design shop selling special works of design exclusive to Kyoto and Japan ranging from terrariums to designer clothing.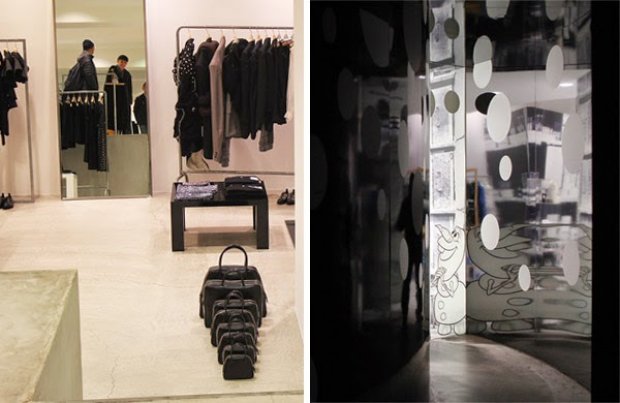 Northwards along the Gokomachi-dori, and crossing the Oike-dori is upscale brand, Comme des Garcons Kyoto flagship shop.
Last but not least for the bento lovers, be sure to check out the Bento&co outlet along Rokkaku-dori between Gokomachi-dori and Teramachi-dori for their varied collection of bento boxes.
Websites to visit: Prophet | Bento&co | Comme des Garcons | 45R | Musuem of Kyoto Gokomachi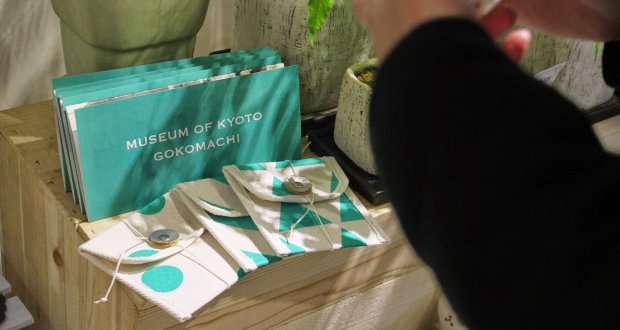 Coffee at Nao [lim kopi]
Nao Coffee (直珈琲)
Located along Aneyakoji Dori, north of Sanjo-dori is an exclusive café designed by Toru Kijima (木島徹). Combining the concepts of the aesthetics of the tea ceremony and the coffee, this is the place to go if you are really into coffee and what a unique (and rather intense) experience. The café, opened in 2008, has only a few seats and a hand written menu with cakes and coffee such as Guatemalan, Papau New Guinea, Mandheling and Rwanda single-origin coffee. You will get to see the owner prepare the coffee in the most meticulous manner and serve it in a cup and saucer which he thinks would match your personality.
The experience is like participating in a tea ceremony and having your fortune read at the same time.
No photography allowed.
Websites to visit: Four Square | Blog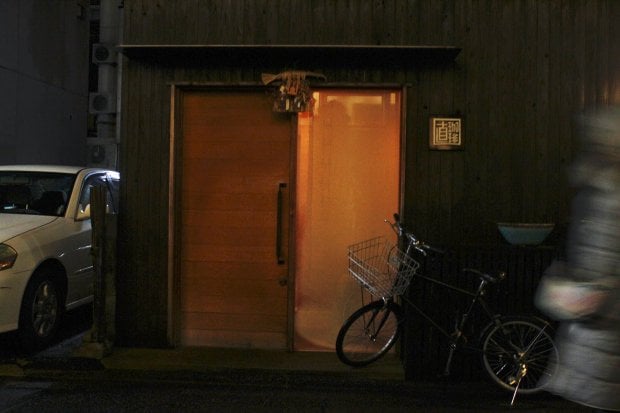 Shopping in a former warehouse [architecture & shop]
Shinpuhkan (新風館) designed by NTT Urban Development & Richard Rogers Partnership
Shinpuhkhan is a former sakagura or sake warehouse that was converted into a shopping by a team of Japanese and British architects and engineers from NTT Urban Development and Richard Rogers Partnership. The mall was awarded the 2002 BELCA Award for Best Renovation Design and Good Design Award in 2004.
It is a mall catering to the younger crowd with brands like Diesel and Columbia. The mall has a British sense of aesthetics and the contrasting architectural feel in comparison to the surrounding environment is worth a visit.
Opening Hours: 11:00– 20:00 Hours
Websites to visit: Shinpuhkan | Traveller's Kyoto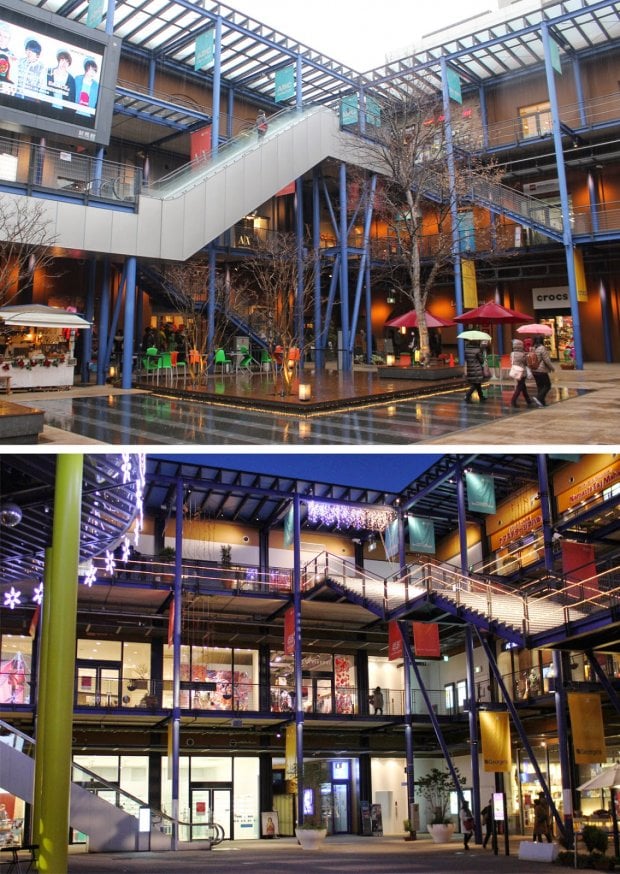 A treat for manga fans [otaku]
Kyoto International Manga Museum (京都国際マンガミュージアム)
Housed in the former Tatsuike Elementary School, this is a museum dedicated to all things manga and there is a library with numerous manga books to browse through.
The Melbourne based cartoonist, Zen Pencils (Gavin Than), visited here this year and commented "Visited the Manga museum in Kyoto today. Not much on show for non-Japanese speakers but still a treat…"
Opening Hours: 10:00 – 17:30 Hours
Websites to visit: Kyoto International Manga Museum | Japan-guide | Inside Kyoto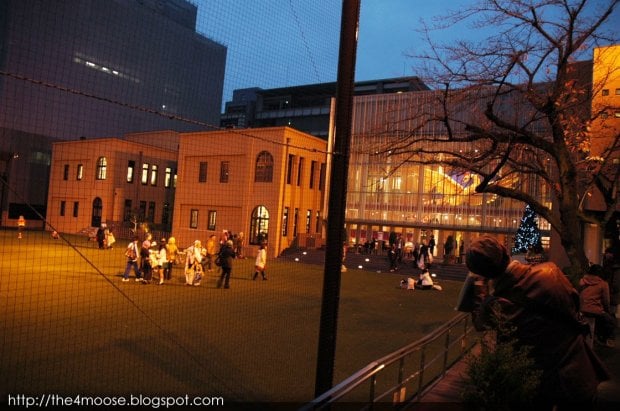 Kyo-Kaiseki at Wakuden Muromachi [eat]
Wakuden Muromachi (室町和久傳) designed by Ashihara Hiroko
Kyo-Kaiseki is a dining experience you should experience in Kyoto if you have the means and really into food. Kaiseki is often described as a multi-course haute cuisine. It has its origins in the tea ceremony but later developed into the elaborate meals that we come to associate with kaiseki.
Wakuden Muromachi is housed in an old machiya and designed by Tokyo designer and architect, Ashihara Hiroko (芦原弘子) who gave the restaurant a subtle contemporary touch. Wakuden's cuisine is true-blue Kyoto cuisine that originated from the Buddhist cuisine in Kodaiji where one of their main restaurants is located as well. Hence expect very light, clean and refined flavours from their food where the emphasis is on the essence of the seasonal ingredients available in the prefecture.
A Lunch Kaiseki costs about JPY4000 – 13000 / SGD46 – 155
Opening Hours: 11:30– 15:00 Hours / 17:30 – 20:00 Hours
Websites to visit: Wakuden Muromachi | gurunavi | Wandering Epicures | Blog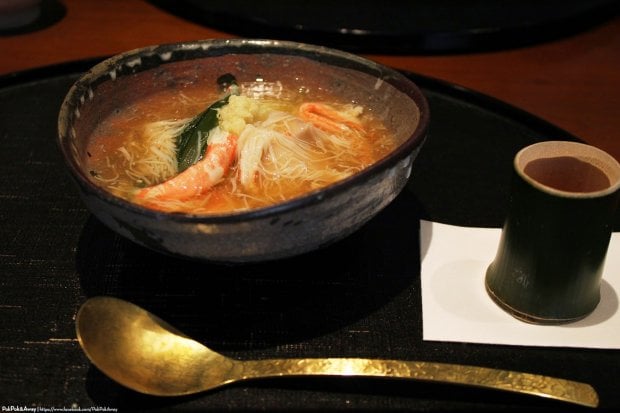 Watch a film at the birthplace of Japanese movies [explore]
The Rissei Cinema: Former Rissei Elementary School (元・立誠小学校)
The former Rissei Elementary School was constructed in 1869 and was one of the oldest elementary schools in Japan when it was built. The school ceased operations in 1992 but has since then became a popular arts venue hosting exhibitions, seminars and most importantly film related activities such as screening of films by the Rissei Cinema within the former school grounds.
The school is known as the birthplace of Japanese Movies because it was the site where an experimental showing of Lumiere cinema was performed in February 1897, made possible by Mr. Katsutaro Inahata. The businessman and chairman of the Osaka Chamber of Commerce and Industry met the Lumiere brothers in his trip to France and brought back film equipment from France. It was 2 years after the Lumiere brothers showed their first screening in 1895 in Paris.
To check out what film is being screened at the Rissei Cinema. Check out this website.
Websites to visit: Rissei Cinema | Rissei.org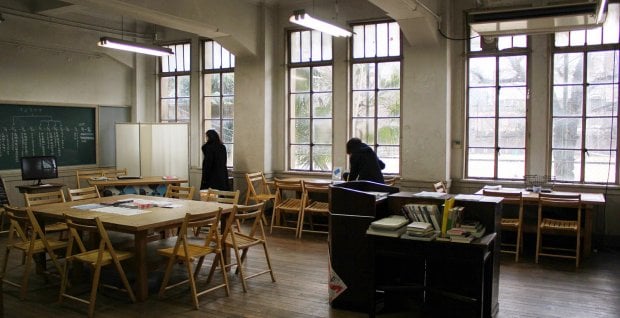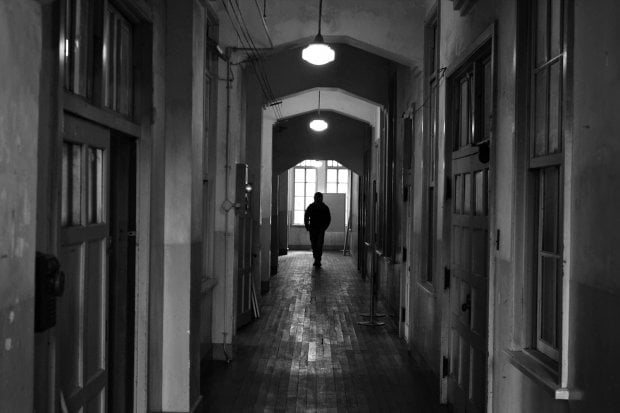 Stay at Akira Kurosawa's Favourite Inn [stay]
Ryokan Ishihara (京の宿 石原)
Tawara-ya Ryokan is Steve Job's choice of ryokan in Kyoto and just a street away is Ryokan Ishihara, a lesser known but remarkably significant historic inn has a place in the Japanese film industry. It was the favourite inn of the Japanese film director, Akira Kurosawa (黒澤 明) who was most well-known for his 1950 film, Rashomon (羅生門).
Websites to visit: Yado Web | Japan Travel | gurunavi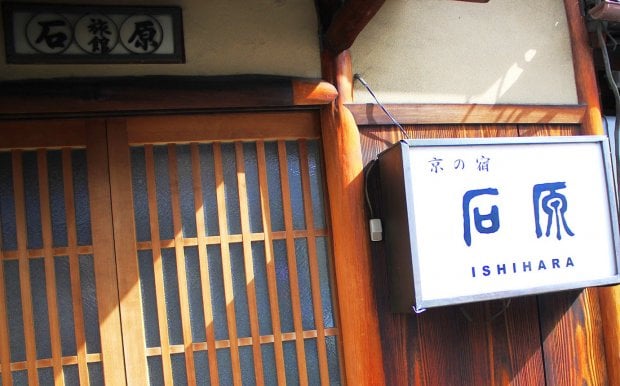 Browsing through design literature [shop]
Media Shop (メディアショップ)
Located within VOX Building in Daikoku-cho near Sanjo-dori is a small bookshop dedicated to all books related to design and even has a small area where you could have coffee and probably strike up a conversation with the owner and a curious visitor looking for a discussion on the design of the latest book on design.
The book shop itself has a gallery space showcasing art, photography etc.
Opening Hours: 12:00– 20:00 Hours
Websites to visit: Media Shop | Shift City Guide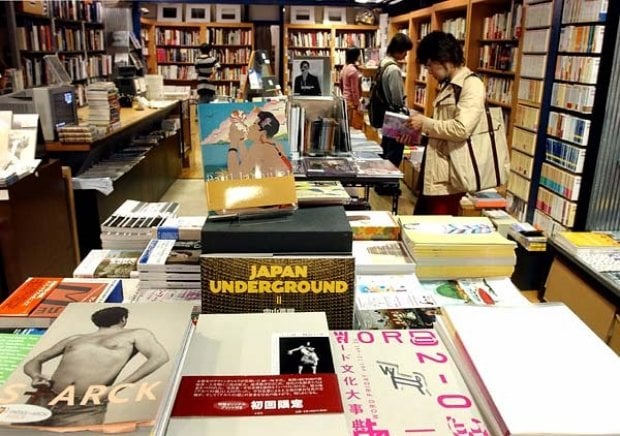 Media Shop (Source: Kiyamachi 360 Degrees)
Pierre Herme at the Ritz [architecture, stay & eat]
The Lobby Lounge at The Ritz Carlton, Kyoto (ザ・リッツ・カールトン京都)
The Ritz Carlton, Kyoto opened in 2014 and is arguably the most luxurious hotel after Hyatt Regency Kyoto to date. The hotel occupies a land of the former 1907 residence of Baron Denzaburo Fujita as well as the iconic and historic Fujita Hotel (ホテルフジタ京都) designed by JunzoYoshimura, which has been replaced by a refined and contemporary piece of architecture by Nikken Sekkei's Hiroaki Otani (to some controversy among the Kyoto architecture scene).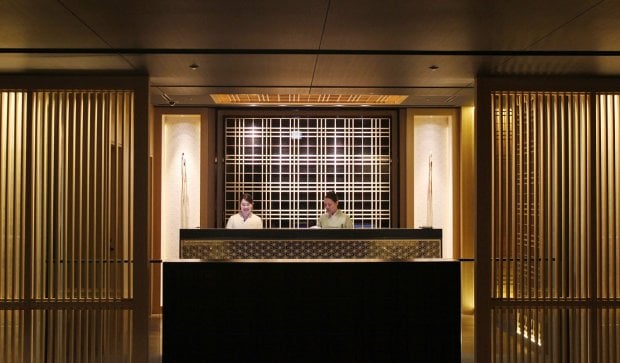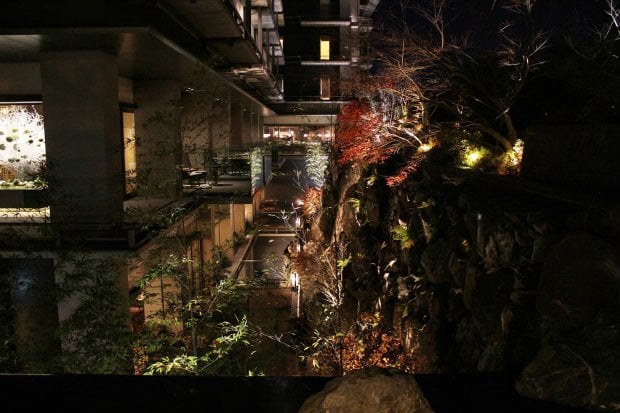 From the top: The lobby of the Ritz Carlton Kyoto and the garden of the former Fujita Hotel from the outside.
In the new hotel, you can savour pastries and confectioneries such as macarons or their signature Ispahan, a dessert made with rose macaron biscuit, rose petal cream, raspberries and litchis by the Parisian patisserie, Pierre Herme. One of the charms of the Lobby Lounge is that it overlooks the old garden of the former Fujita Hotel and the Kamogawa against the backdrop of the Higashiyama mountains.
The Garden of the Former Fujita Hotel (1970 – 2011)
The Lobby Lounge menu also includes a crazy-sounding King and Queen Burger that cost 10000- 12204 JPY (116 – 140 SGD), with the description:
"Enjoy building your own extravagant burger concepts, and dine linke true kings and queents. A lavish spread of 12 mouthwatering fillings and four types of fresh-baked buns right before the eyes."
Afternoon Tea Sets costs around JPY4500 – 6000 / SGD55 – 70
Opening Hours: 8:00 – 21:00 Hours
Afternoon Tea: 13:00 – 17:00 Hours
Websites to visit: The Ritz Carlton Kyoto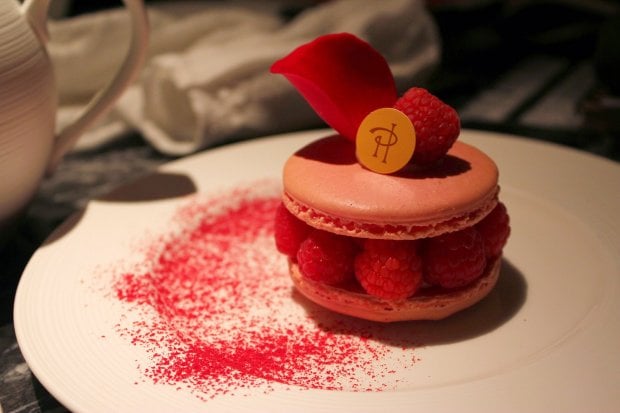 Tonkatsu for dinner [eat]
Katsukura (かつくら)
Katsukura is a chain of restaurants specializing in tonkatsu, or deep-fried pork cutlet. However, Katsukura's honten or main shop is located along around Sanjo area within Nakagyo-ku. Their tonkatsu is almost perfect with layers of textures and really tender juicy flesh depending on which kind of pork or cut was used and each set comes with free-flow of barley rice, cabbage with accompanying wafu dressing.
A Premium Loin Set (120 g) costs JPY1620 JPY (SGD20)
Websites to visit: Katsukura | gurunavi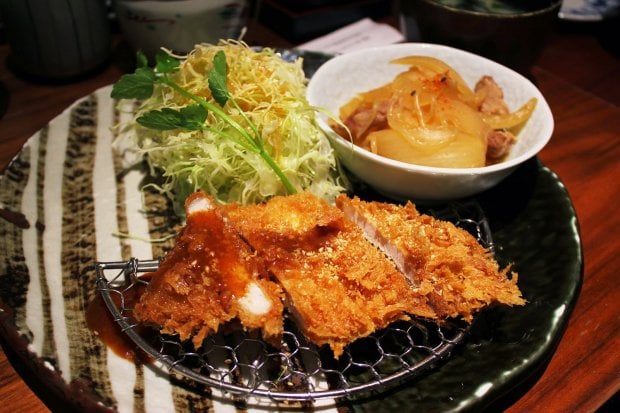 Cheap stays at the Khaosan Kyoto Guesthouse [stay]
Khaosan Kyoto Guesthouse (カオサン京都ゲストハウス)
Located south of Shijo-dori and along Teramachi-dori, this Tokyo-based hostel offers really affordable rates for dormitories and private rooms with modern facilities and adequate shower cubicles and toilets for guests.
Websites to visit: Khaosan Kyoto Guesthouse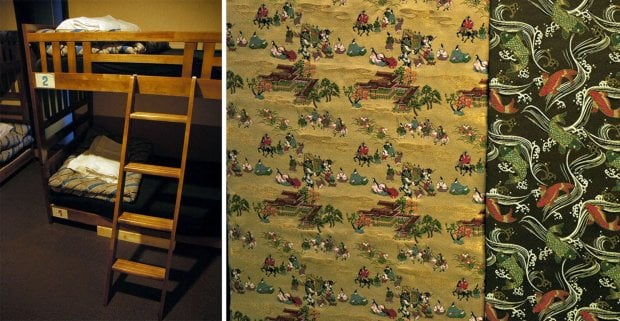 A designer capsule hotel [stay]
9Hours Teramachi (京都国際マンガミュージアム) designed by Design Studio S
If you want a unique experience of staying in a capsule hotel, but with a designer touch…then look no further than 9-Hours Teramachi located along Teramachi-dori and south of Shijo-dori. This hotel which opened in 2009 and designed by Design Studio S. The minimalist and slightly space-ship like interiors was designed by Takaaki Nakamura while Masaaki Hiromura came up with the clean signage design within the capsule hotel.
Websites to visit: 9Hours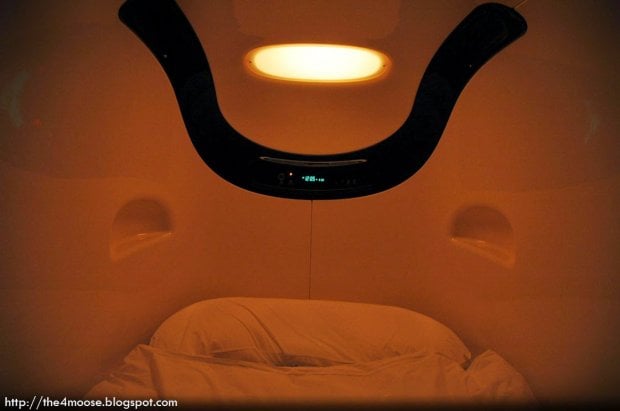 Kyo-Kaiseki at Roan Kikunoi [eat]
Roan Kikunoi (露庵菊乃井)
Yoshihiru Murata is one of the chefs on board Singapore Airlines' International Culinary Panel. Chef Murata heads the Kikunoi restaurant in Kyoto, an upscale kaiseki restaurant with a history going back to 1912 with at least three generations of history. Chef Murata is the third-generation within this family business.
Kikunoi has a branch located along Kiyamachi-dori named Roan Kikunoi where lunch kaiseki goes for 4000 to 10000 JPY (47-116 SGD) before taxes and service charges. Compare this to the main restaurant, Kikunoi's lunch kaiseki which costs JPY8000 JPY (SGD92), this is more affordable and would offer you the opportunity to taste Kikunoi's kaiseki cuisine.
Opening Hours: 11:30 – 13:30 Hours, 17:00 – 20:30 Hours
Websites to visit: Roan Kikunoi | London Insider | Planjapan | The Insatiable Eater | Blog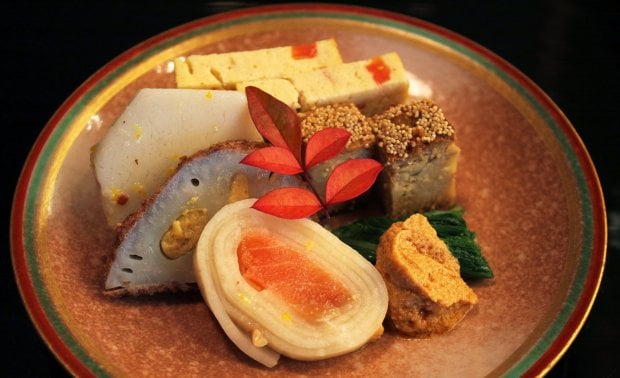 Ramen with Yuzu and Tororo Seaweed [eat]
Menya Inoichi (麺屋 猪一)
For a slightly more unique take of the ramen beyond the usual Hakata-style ramen or shoyu ramen, head southwards along Teramachi-dori to Menya Inoichi, a highly rated ramen shop among the Japanese. Most notable about Menya Inoichi's ramen is the use of yuzu and tororo seaweed as toppings for the ramen.
Highly recommended is the Shina Soba Shiro (支那そば 白, 700 JPY) a signature ramen with a clear-looking broth which comes with thickly cut char siu slices, shoyu-tamago and crunchy bamboo shoots.
Opening Hours: 11:30– 14:30 Hours / 17:30 – 22:30 Hours
Websites to visit: Menya Inoichi | Yumeyakata | Blog
Stay at the Grand Dame by the Nijo-jo [architecture & stay]
Crowne Plaza ANA Kyoto Hotel (京都国際マンガミュージアム)
The Crowne Plaza ANA Kyoto Hotel (formerly the ANA Kyoto Hotel) is a grand dame dating back to 1986 and designed by Kyoto architect, Tomiie Hiroyasu (富家宏泰) who also designed for the RIHGA Royal Hotel in Osaka where the central feature of both hotel lobbies is a stunning waterfall garden serving as backdrop for the hotel lobby.
The hotel is located opposite the Nijo Castle and near the subway Nijo-jo-mae Subway Station and has complimentary shuttle services to and fro Kyoto Station.
Websites to visit: Crowne Plaza ANA Kyoto Hotel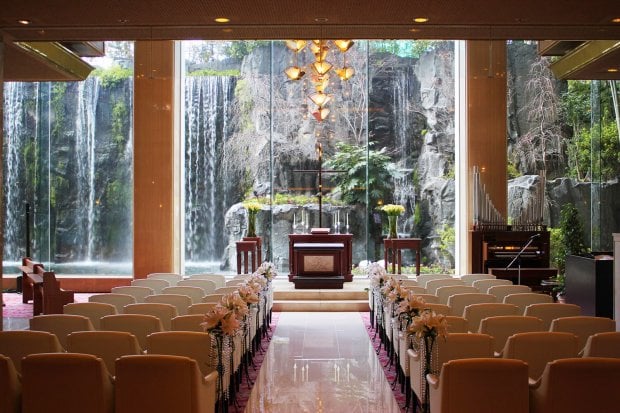 Listen to the floors 'chirp' at the Nijo-jo [explore]
Nijo Castle (二条城)
The Nijo-jo is one of the most popular attractions in Kyoto. The castle is a UNESCO World Heritage Site and dates back to the 17th century in the Edo Period. The castle was constructed as residence for the Tokugawa shoguns in Kyoto.
One of the special features of the castle is its uguisubari in the corridors or "nightingale floors" which squeak like birds when anyone walks on them to serve as an additional security measure against intruders and assassins.
Admission Fee: JPY600 / SGD6.8
Opening Hours: 08:45 to 17:00 Hours
Closed on Tuesdays in January, July, August, December as well as December 26th to 4th January
Websites to visit: Nijo Castle | Japan-guide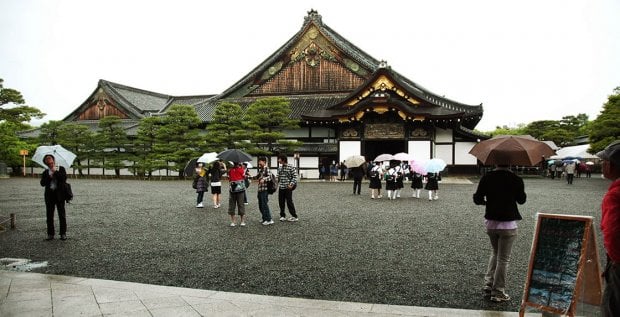 Machiya stay at Konruri-an [stay]
Konruri-an by Kyoto Machiya Inn (こんるり庵)
Kyoto Machiya Inn is an accommodation service which runs a number of machiya located all around Kyoto to be rented out as serviced-residence. One such property near Omiya station in the Mibu area of Kyoto is Konruri-an. The machiya is divided into three areas: the mienoma, nakanoma and okunoma and leads to a quaint little garden at the back. While traditional in appearance, modern conveniences like a kitchen with heated floors and ensuite bathroom with modern toilet and showers remained to ensure a comfortable stay.
Websites to visit: Konruri-an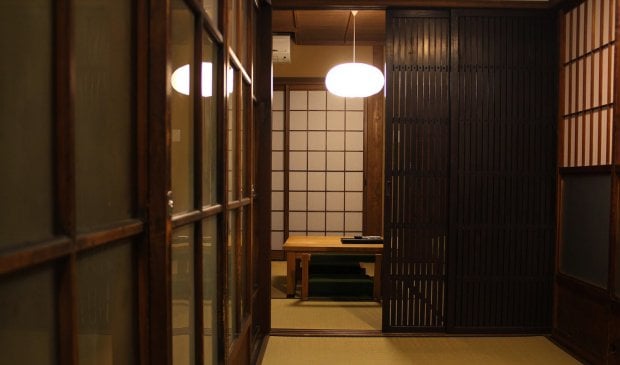 Sushi with a twist at AWomb [eat]
AWomb (アウーム)
If you are bored of the normal nigiri or maki sushi, this hugely popular Japanese restaurant named A Womb is highly recommended. The restaurant is housed within an old machiya with beautiful elegant interiors (with that MUJI feel)
The meal features a colourful platter of various condiments and quality ingredients including a selection of sashimi and portions of seasonal obanzai dishes (or local home-cooked dishes) a unique feature of A Womb's cuisine. This platter is served along with rice and sushi sheets and you could pick and mix the various ingredients presented to savour with your sushi rice which you could enjoy it plainly with rice or as topping over your rice over a sheet of seaweed, as a hand roll or maki roll.
For a premium, you would also get to enjoy dessert. The Shiromiso Purin (白味噌プリン), White Miso Pudding with kuromitsu and garnished with sesame seeds was heavenly.
The front of the restaurant is a tiny shop selling the serving wares, cutlery, books and items of all sorts related to the restaurant + design studio.
Opening Hours: 12:00 – 15:00 Hours / 18:00 – 20:00 Hours
Websites to visit: AWomb | gurunavi | Japan Times | Hitori Kyoto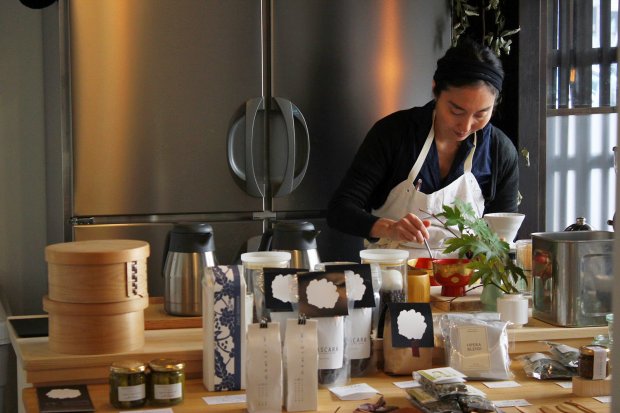 Breakfast at Iyemon Salon [eat]
Iyemon Salon (伊右衛門サロン)
Iyemon (伊右衛門) is a tea brand which originated in Kyoto, you can easily find their products around Japan and even overseas including Singapore. While in Kyoto, they have a rather upscale tea salon located along Sanjo Dori, next to Mitsui Garden Hotel.
The rear of the salon has a lounge-like seating overlooking a beautiful courtyard garden. The salon opens early in the morning and serves up a variety of breakfast sets including a Satsuma Akadama no Tamago Kake Gohan (薩摩赤玉の玉子かけごはん / JPY615 / SGD7) which is a popular Japanese breakfast food of raw egg mixed with cooked rice.
If you prefer something light, then you could opt for the Iyemon no Ochazuke (伊右衛門のお茶漬け / JPY972 / SGD11) which is Kamado-rice topped with sea bream sashimi and onions with green tea poured over it.
Opening Hours: 08:00– 24:00 Hours
Websites to visit: Iyemon Salon | Deep Kyoto | Tokyoeats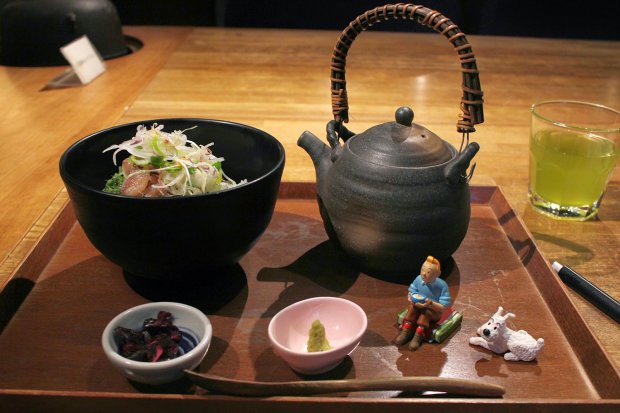 Korean Juk along Sanjo-Dori [eat]
Somushi Tea House (素夢子 古茶家)
Located just across the Iyemon Salon is an atmospheric Korean tea house which specialized in a Korean porridge known as juk (죽). The Somushi Tea House serves three kinds of porridge namely, Black Sesame, Pumpkin and Pine Nut porridge. The Pumpkin Porridge (かぼちゃ粥) is recommended for its mildly sweet flavours while the Pine Nut Porridge (松の実粥) is mellow in both flavours and textures. The Korean classic dish, Bibimbap (ビビンバ) is on the menu as well.
Meals cost around JPY750 – 1200 / SGD9 – 14
Opening Hours: 11:00 – 21:00 Hours
Websites to visit: Somushi Tea House | gurunavi | Deep Kyoto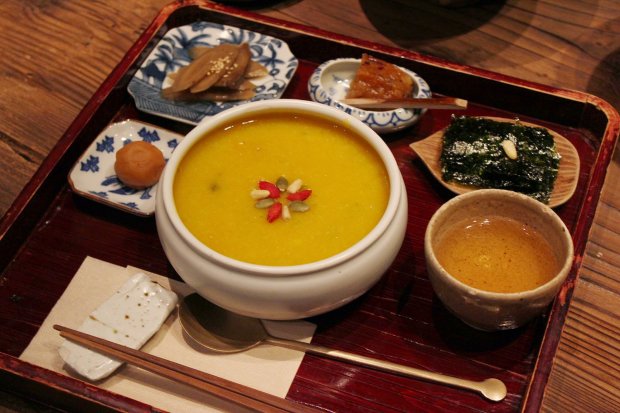 Night markets and giant floats at the Gion Matsuri [festival]
Gion Matsuri (祇園祭)
The Gion Matsuri is one of the largest and most famous festivals in Kyoto and perhaps Japan as well. The festival itself is at least one month long and recognized as an Intangible Cultural Heritage by UNESCO.
The festival's origins go back to 869 AD as a religious ceremony to appease the gods following an outbreak of an epidemic. For travellers, two of the most important events of the festival is probably the night markets held on the three nights preceding the parade of the floats which occur on the 17th July and 24th of July known as Yoiyama (July 16th, Yoiyoiyama (July 15th) and Yoiyoiyoiyama (July 14th).
On both the 17th's Yamaboko Junko, the float procession would feature several enormous and elaborately decorated floats, some of which could be as tall as 25 metres (about 6 stories tall)
Websites to visit: Gion Matsuri | Japan-guide | JNTO | Blog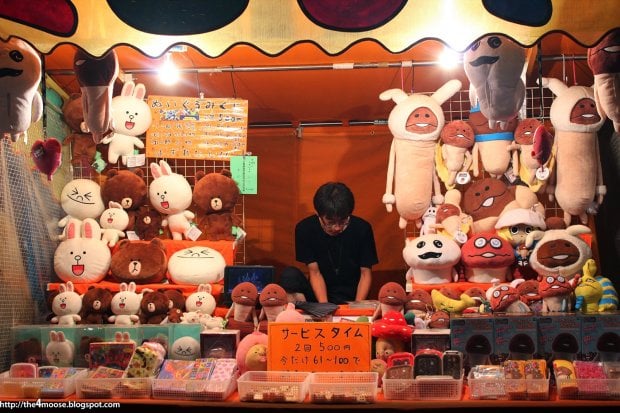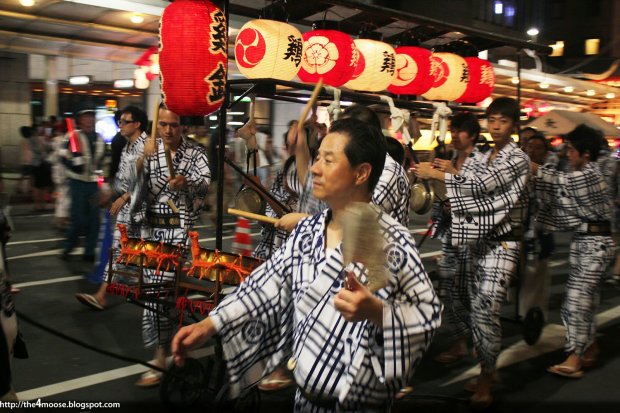 Learn about farming on the rooftop [architecture & shop]
Yao-ichi Honkan (八百一本館)
The Yaoi-chi Honkan in Nakagyo-ku is a huge supermarket which sources its produce from selected farms around the country. The group was established in 1974 in Kyoto and has several farms around the country such as Hokkaido and Keihoku, northern Kyoto prefecture.
The Yao-ichi Honkan was designed by Arai Yasuaki (荒井康昭) from the Kajima Corporation and features is a mixed use building with the supermarket occupying the first two floors including a wine tasting bar. The star feature of the building is the farm on the roof top known as the Rokkaku Farm (六角農場) which you could walk through and learn about the farming and vegetables.
Opening Hours: 10:00 – 21:00 Hours
Websites to visit: Yao-ichi Honkan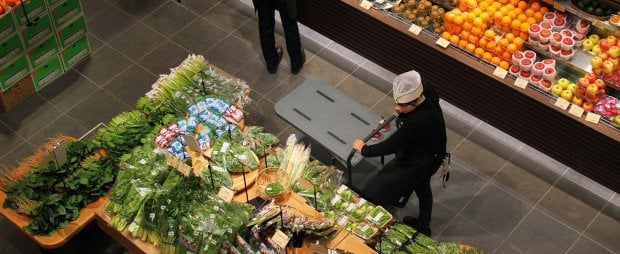 Vegetable buffet for dinner [eat]
Miyako Yasai Kamo (都野菜 賀茂)
Miyako Yasai Kamo is an affordable vegetarian buffet restaurant housed in a machiya located near Shijo-Karasuma junction. The restaurant uses "Miyako vegetables" or local vegetables cultivated in Kyoto for their buffet which includes steamed vegetables, salads, soups, a selection of main courses, ramen and miso soup.
A Lunch Buffet costs JPY880 / SGD10 while a Dinner Buffet costs JPY1350 / SGD15
Free flow of drinks costs another additional JPY300 / SGD3
Opening Hours: 7:00 – 22:00 Hours
Websites to visit: Nasu Kamo | gurunavi | Deep Kyoto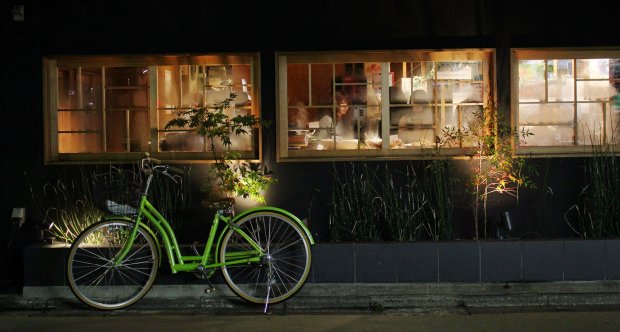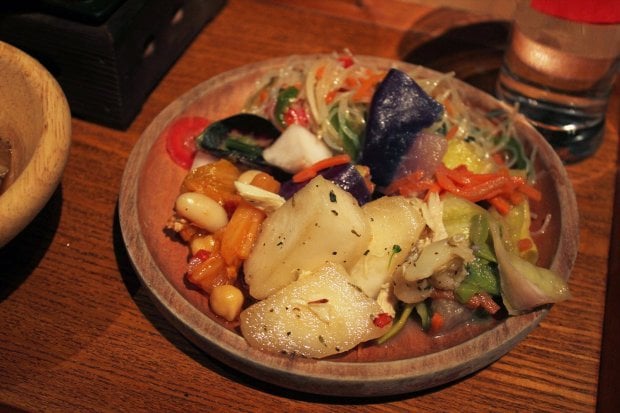 South Higashiyama
Located just across the Kamo-gawa from Nakagyo-ku is Gion, located within the large area along the mountains that framed Kyoto's east known as Higashiyama. To make things easier, I have separated this area into north and south. South Higashiyama covers from the area from Gion to Kiyomizu-dera, east of the Kamo-gawa.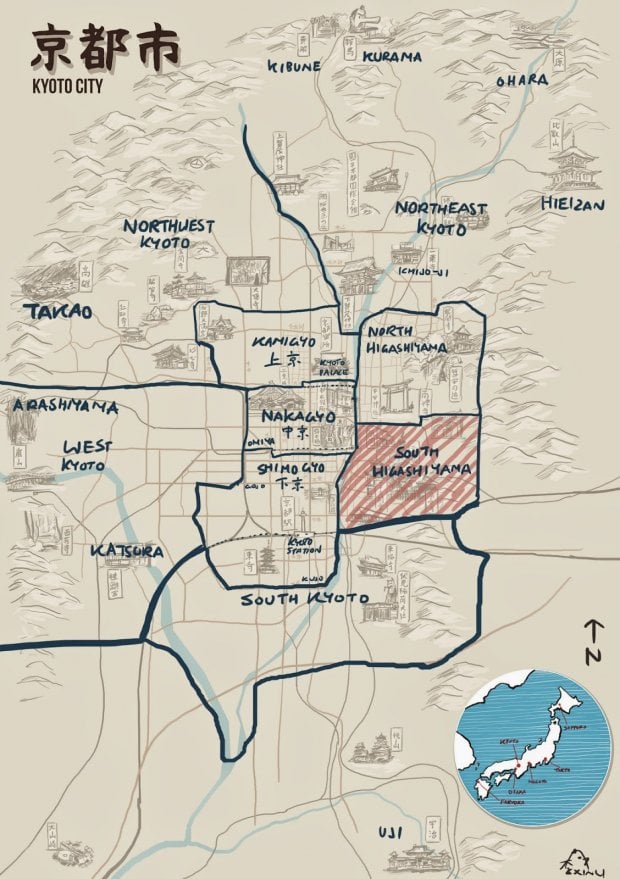 Get lost in Gion [explore]
Gion (祇園) and the Yasaka Shrine (八坂神社)
Gion is probably the most famous of all hanamachi (geisha districts) in Kyoto, and widely covered in all forms of travel literature. Historically, this historic part of the town developed around the Yasaka Shrine and catered for visitors and worshippers of the shrine. Further development of the town took place in the 18th century, creating what is known as the six towns of Gion (祇園内六町). These towns blossomed throughout the Edo and Meiji period. At one point of time, there were at least 500 tea houses.
Located at the end of Shijo-dori in Gion is the Yasaka Shrine (八坂神社), an ancient Shinto shrine previously known as the Gion Shrine which was first built in 656 AD. The current structure dates back to the 17th century. The shrine is an important venue during the Gion Matsuri in July as the portable shrines (omikoshi) would be paraded through the streets of the Kyoto.
If you have watched the film, Memoirs of the Geisha, you might be disappointed to know that almost all filming of the movie does not take place here but rather in the United States although a couple of establishing shots of Gion was used.
Websites to visit: JNTO | Japan-guide | Inside Kyoto | Yasaka Shrine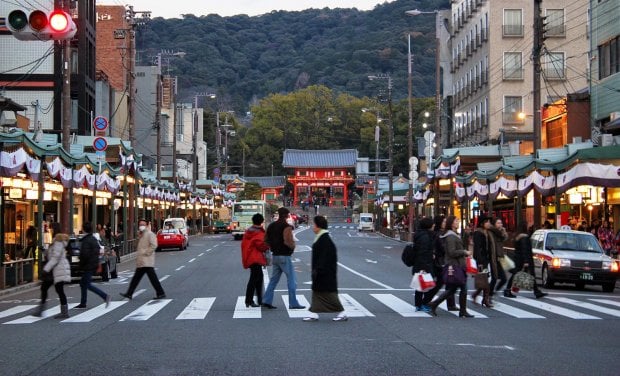 Spanish baroque by the Kamogawa [architecture]
Tohkasaikan (東華菜館) designed by William Merrell Vories
Technically, this building is within Nagakyo-ku however, it is from across the Kamogawa that you would see the full majesty of this Spanish-Baroque building, which has been a main fixture of the landscape around Shijo Bridge since the early 20th century. The Tohkasaikan (東華菜館) was constructed in 1926 and designed by William Merrell Vories, an American architect and missionary from Kansas.
The current building houses an upscale Chinese restaurant of the same name with set meals going for JPY5000 – 20000 / SGD57 – 230
Websites to visit: Tohkasaikan | Kyoto Prefecture Tourism | Deep Kyoto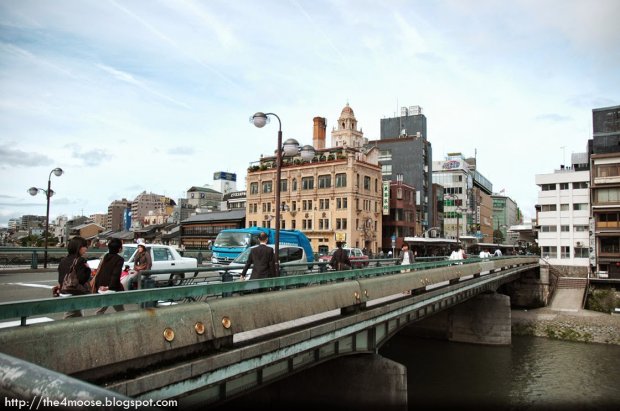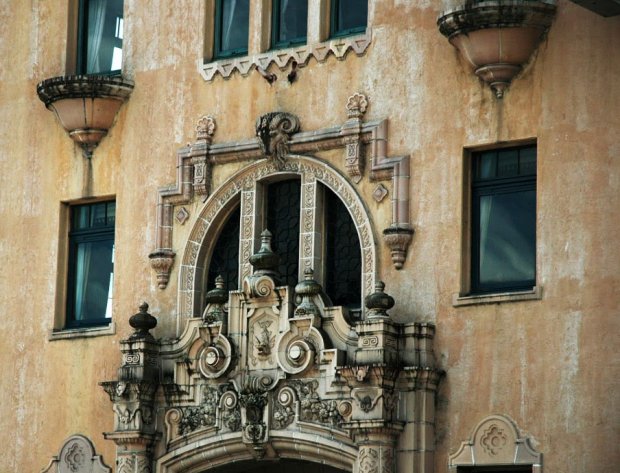 Birthplace of Kabuki [explore]
Shijo Ohashi (四条大橋) and the Kyoto Shijo Minami-za (京都四條南座)
The kabuki and one of the three famous theatre forms in Japan, alongside with Noh and Kyogen which are known to be more formal and slow.
The kabuki was born in Kyoto and attributed to a miko (shrine maiden) of the Grand Shrine of Izumo known as Izumo no Okuni (出雲の阿国) who performed and developed the kabuki on the dry riverbed of the Shijogawara of the Kamogawa in 1603. A statue of her was erected at the eastern end of the Shijo Bridge in 2002 to commemorate 400 years of kabuki.
One of the most famous kabuki playhouses in Kyoto is located along Shijo-dori in Gion. This is the Minami-za (南座) and houses a museum dedicated to the art form and started out in 1620 AD. However, the current building dates back to 1929 (designed by Shirahase Naojiro [白波瀬直次郎 ]) and was remodelled in 1991. The Theatre is known as the "South Theatre" due to its position on at the south side of Shijo-dori.
Minami-za Kabuki Museum
Admission: JPY1500 / SGD17
Websites to visit: Minami-za | Inside Kyoto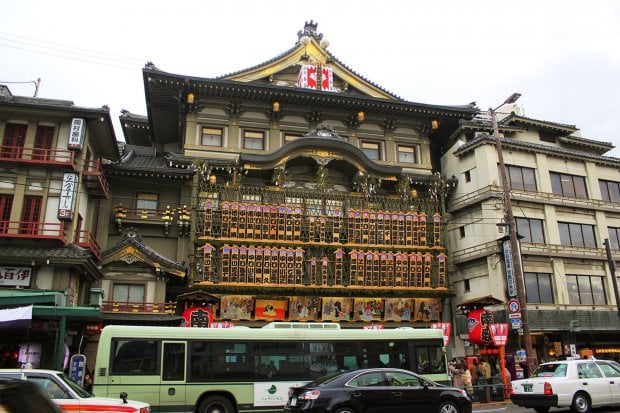 Leica in Kyoto [explore]
Leica Kyoto Store (ライカ京都店)
The famed German optics and camera brand has made a venture into the former imperial capital in March last year, setting up shop in a 100-year traditional machiya in the Gion area. For travellers into design and photography, the shop+gallery should be a nice stop to check out the exhibitions going on as well as the Danish design firm, OeO's work in the interior design of the shop, a result of a collaboration with Kyoto textile maker, HOSOO.
Websites to visit: Leica Japan Kyoto | Petapixel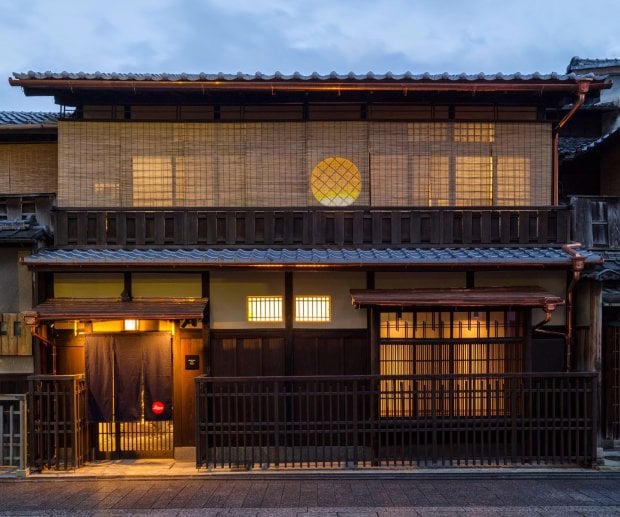 The exterior of the Leica Shop in Kyoto. (Source : Leica Japan)
Relax at the Maruyama Park [explore]
Maruyama Park (円山公園)
Located at the rear of the Yasaka Shrine on the east is a pleasant public park with a duck pond, playground and plenty of space to take a stroll around or have a picnic with the Higashiyama Mountains serving as the backdrop.
The park is insanely popular during the sakura season for cherry blossom viewing parties as it has some of the best cherry trees including a shidarezakura (weeping cherry tree) that serves as the centrepiece of the park.
Websites to visit: Maruyama Park | Japan-guide
Also read: My Japan Kyoto Leg Made Me Want to Crawl Through A Pillar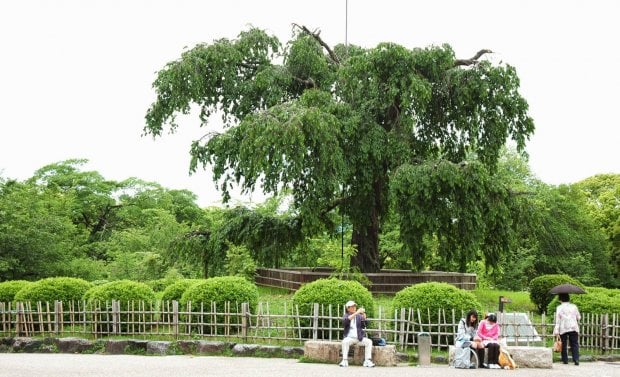 A Meiji-Era Hotel by the Park [explore & eat]
Chourakukan (長樂館)
Not too far from the Maruyama Park, is stately piece of period architecture. This is the Chourakukan, a hotel that was originally constructed in 1909 as a residence for a tobacco magnate named Murai Kichibei. The building was designed an American architect, James McDonald Gardiner. Today it is both a hotel and a café which is a popular venue for afternoon tea.
The café has a Bösendorfer Piano made in 1955.
Chourakukan Cafe (長楽館カフェ)
An Afternoon Tea Set costs about JPY4000 (SGD46)
Opening Hours: 10:00 – 20:00
Websites to visit: Chourakukan | Kyoto Prefecture Tourism | Kyoto Creative | Japan Geographic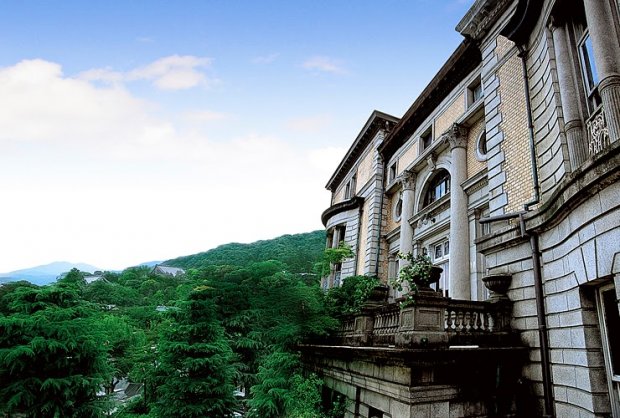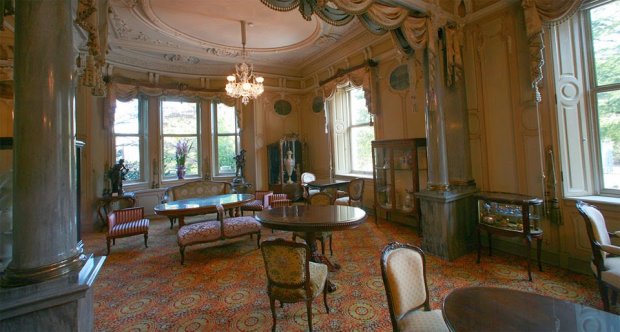 The Chourakukan's exterior and reception room. (Source: Chourakukan)
Bags made in Kyoto [shop]
Ichizawa Shinzaburo Hanpu (一澤信三郎帆布)
Kyoto takes pride in its "Made in Kyoto" products. One such product is the high-quality and fashionable bags by Ichizawa Shinzaburo Hanpu. This brand goes all the way back to 1905 and the brand was originally known as Ichizawa Hanpu. The original bags were designed to hold milk, sake, ice and newspapers then and many of these bags were used by companies serving the drinking establishments in Gion.
Ichizawa Shinzaburo is the second son and head designer with 30 years of experience under Ichizawa Nobuo, the third-generation owner of the Ichizawa Hanpu. After a legal dispute over two different wills in 2001 – 2003 that led to the original Ichizawa Hanpu behind awarded to his elder brother who had no prior working experience in the craft. As a result, Ichizawa Shinzaburo, along with the original team of craftsmen and canvas supplier abandoned Ichizawa Hanpu and started Ichizawa Shinzaburo Hanpu. The court reversed the ruling in 2009 and today Ichizawa Shinzaburo Hanpu is recognized as the legitimate successor to the original Ichizawa Hanpu brand.
This local Kyoto brand continues to be famous for its range of linen, cotton canvas and resilient canvas bags.
Opening Hours: 09:00– 18:00 Hours
Websites to visit: Ichizawa Shinzaburo Hanpu | Kyoto Creative | Trunk Clothiers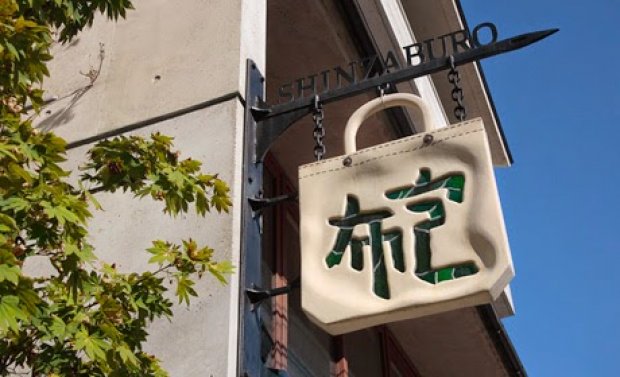 Ichizawa Shinzaburo Hanpu. (Source : Ishizawa Shinzaburo Hanpu)
Design: east meets west in Gion [architecture, shop & explore]
Sfera (スフェラ)
Sfera, despite its European sounding name was started in Kyoto as a designer lifestyle shop located very near the western end of the Shinbashi-dori of Gion . The brand aims imbue Japanese aesthetics and handicraft into modern lifestyle through architecture, furniture and interior design.
The Sfera building houses an art gallery, book shop, design showroom and café. The building with its cherry-leaf patterned façade was designed by Claesson Koivisto Rune, a Swedish architecture firm.
SferaShop
Opening Hours: 11:00– 20:00 Hours
SeseragiSfera Cafe
Opening Hours: 11:00– 20:00 Hours
Websites to visit: Sfera | Archdaily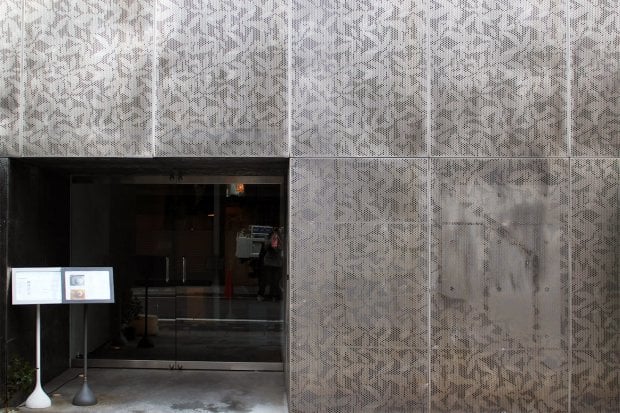 A hole in the wall bookshop [shop]
books&things
This small little bookshop is housed within a renovated machiya located in a back alley off Furumonzen-dori. The bookshop specializes in art and design books collected by the owner, Yasutsugu Kojima.
Websites to visit: books&things | Kyoto Asu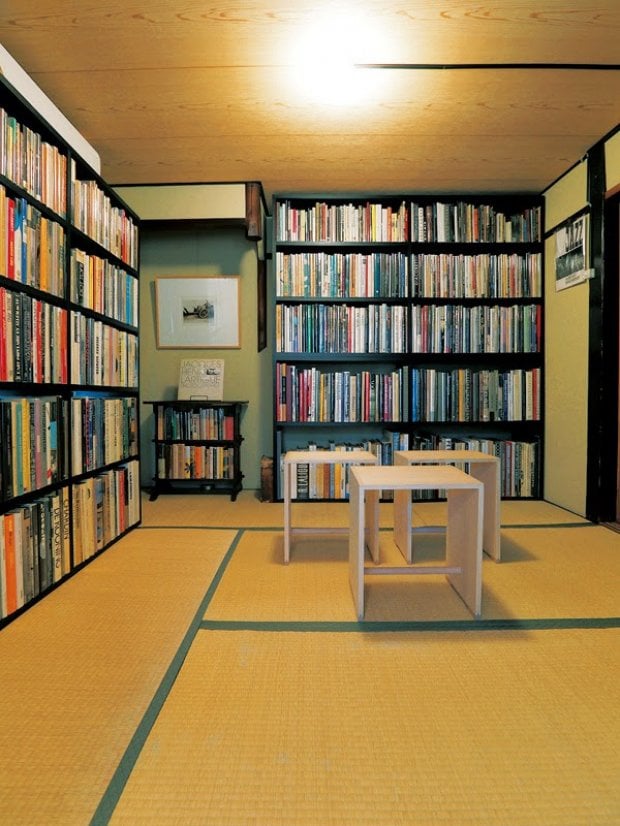 The Interior of books&things. (Source: 井村佳代子, www.trip.kyoto.jp)
The most beautiful streets of Kyoto [explore]
Nene-no-Michi (寧寧之道), Ninenzaka and Sannenzaka (二年坂・三年坂), Gojo-zaka and Kiyomizu-michi(五条坂・清水道)
Described by Lonely Planet as "Kyoto's loveliest restored neighbourhoods", I can't agree more. The pair of gently sloping lanes that roughly joins Kodai-ji and Kiyomizu-michi leading upwards to Kiyomizudera is easily one of the most atmosphere places to walk while in Kyoto.
While the multitude of souvenir shops etc might come across as touristy to some, it remained to be a charming route to have a walk, dropping by one or two shops selling a senbei or have a cup of Inoda coffee along the route is part of the experience here.
To see some of the most beautiful streets in Kyoto, follow the walking route beginning with the cobblestone pathway that starts slightly further down from Yasaka Shrine and ends with Kiyomizudera along Ninenzaka and Sannenzaka. You will pass by sights like the Shunkoin and Kodaiji Temple, catch a glimpse of the huge statue of Kannon Bodhisattva at Ryozen Kannon and get the chance to patronize the numerous galleries, cafes and shops housed in traditional shophouses along the way. After a visit to Kiyomizu-dera, you could descend down the hill along Kiyomizu-michi and Gojo-zaka to take a bus back, a reverse route is also recommended from Gojo-zaka to Gion is also recommended.
Websites to visit: Welcome to Kyoto | Japan Travel | Inside Kyoto | Japan-guide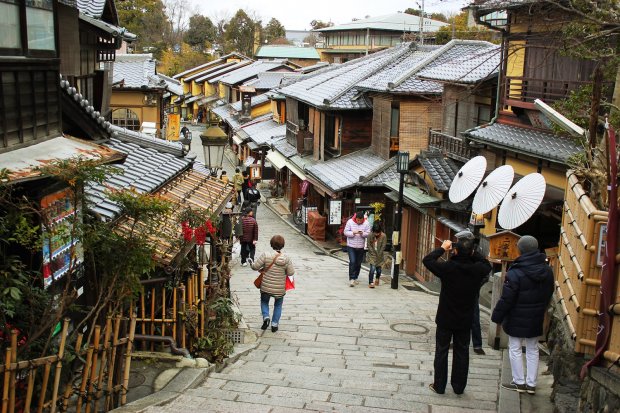 Viewing Kyoto from the Verandah of Kiyomizu-dera [explore]
Kiyomizu-dera (清水寺)
Kiyomizu-dera is another UNESCO World Heritage Site of Kyoto and one of the most popular sightseeing destinations in Kyoto. The temple was established in 778 AD but the current buildings date back to 1633. The most iconic element of the temple is its stage-style main hall with a verandah which offers a magnificent view of the Kyoto skyline.
The temple is part of the Chugoku 33 KannonPilgrimage route.
Admission: JPY300 / SGD3
Opening Hours: 06:00– 18:00 Hours
Websites to visit: Kiyomizu-dera | Japan-guide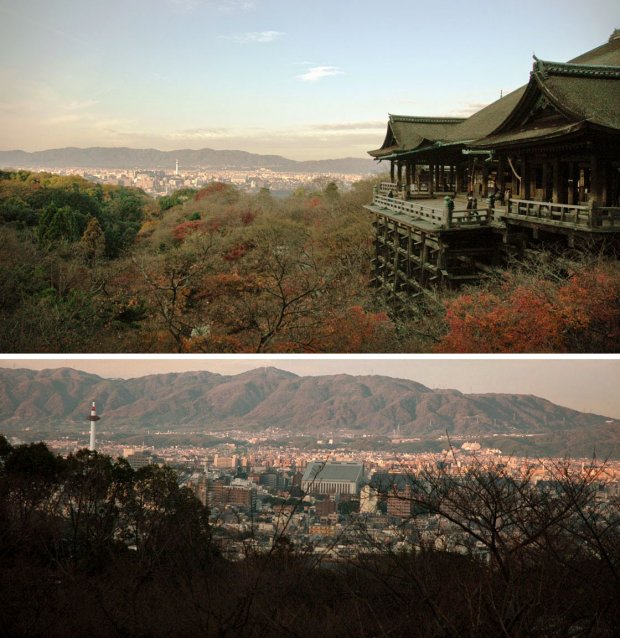 The "Hoko" Pagoda [explore]
Daiunin (大雲院)
Daiunin Temple was built in the 16th century in honour of Oda Nobunaga and his eldest son, Oda Nobutada. Originally located at around Shijo-Teramachi, the temple was moved to its current location after the expansion of the Takashimaya Departmental Store in 1972. An iconic feature of the temple is its pagoda which resembles a hoko in the Gion Matsuri.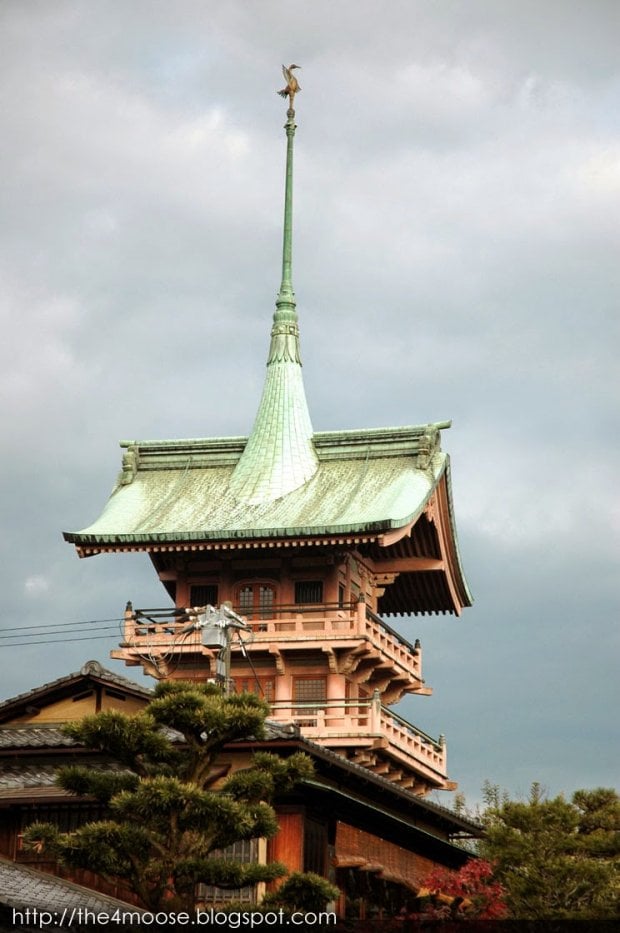 The quaint Hanamachi of Miyagawa-cho [explore]
Miyagawa-cho (宮川町)
Miyagawa-cho is one the four hanamachi in Kyoto. Located south of Gion and Shijo-dori, this hanamachi is lesser known and hence less crowded and more quiet than Pontocho and Gion. To appreciate Miyagawa-cho, you could take a stroll down Miyagawa-cho-dori, flanked by traditional buildings on both sides including several exclusive chayas.
Once in a while you might encounter a geiko or maiko making their way to an appointment.'
Websites to visit: Miyagawa-cho | Japan Times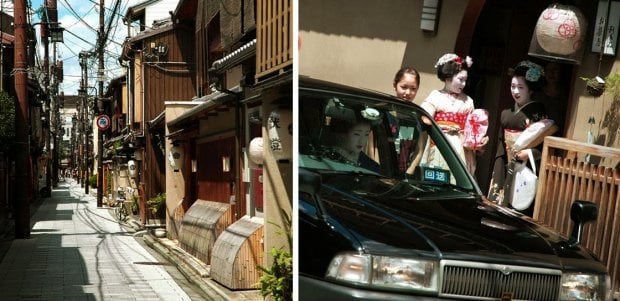 1001 Statues of Kannon [explore]
Sanjusangendo (三十三間堂)
Sanjusangendo, officially known as Rengeo-in is famed for a long main hall housing at least 1000 carefully carved statues of Kannon made of Japanese cypress and cladded in gold leaf. The temple itself was constructed in and 1164 and rebuilt in 1266.
An archery tournament is held at the temple in January each year.
Admission: JPY600 / SGD7
Opening Hours: 08:00 – 17:00 Hours / 09:00 to 16:00 from 16th November to 31st March
Websites to visit: Sanjusangendo | Japan-guide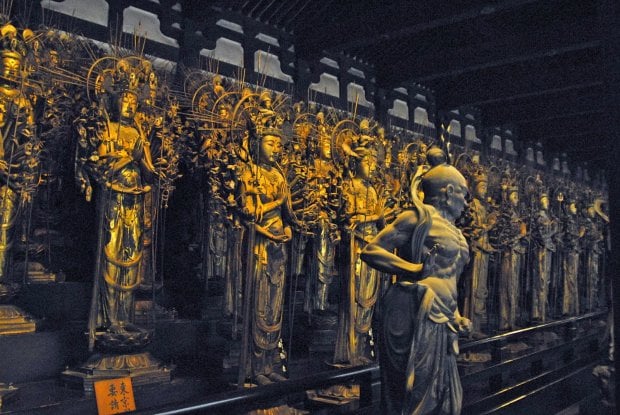 The Interior of Sanjusangendo. (Source: 福地真也, shinya818.com)
Tempura in Gion [eat]
Tempura Endo Yasaka Gion Kyoto (京都祇園天ぷら八坂圓堂)
This restaurant specializes in Tempura, which are pieces of lightly battered vegetables and seafood. This was introduced to Japan during the 16th century by the Portuguese in Nagasaki. Tempura Endo Yasaka Gion was founded in 1910, (the 43rd Year of the Meiji Era) and around Yasaka in Gion before moving to its present location in 1991 (3rd Year of the Heisei Era).
Tempura Endo Yasaka Gion Kyoto is a must visit if you are willing to splurge for a tempura meal in a beautiful 90-year old sukiya-style building. Diners could expect ingredients such as the local Kamo-nasu egg plants and hamo (conger pike eel) in summer, both are specialities of Kyoto.
Lunch sets cost about JPY3500 to 6500 (SGD41 – 76) while dinner set costs about JPY9000-13000 (SGD103-149) Boxed tempura rice balls and tempura rolls are available for takeaways and there is an a la carte menu as well.
Opening Hours: 11:30– 14:45 Hours / 17:00 – 22:00 Hours
Websites to visit: Tempura Endo Yasaka Gion Kyoto | Japan TWO | Epicurean Escapes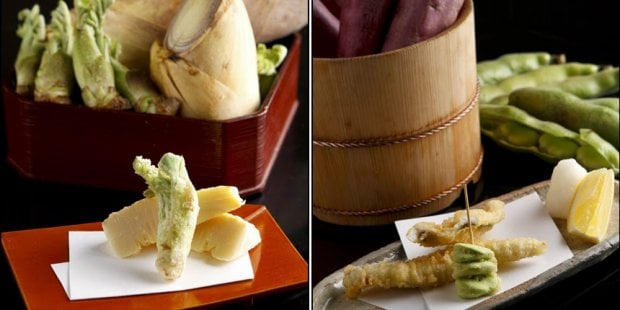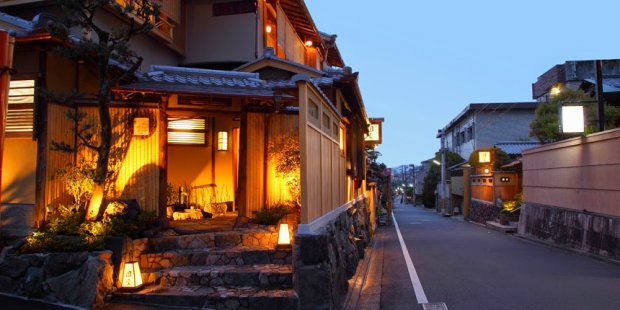 Tempura Yasaka Endo Gion. (Source: www.gion-endo.com)
Udon noodles for dinner [eat]
Benkei Higashiyama Shop (辨慶 東山店) and Udon Museum (うどん ミュージアム)
For a more affordable and local meal, head down to Benkei Higashiyama Shop which serves traditional delicious udon noodles.
The Kinoko Udon (きのこうどん, 680 JPY) is udon noodles with assorted mushrooms served in a soup is recommended for its flavorful and clean-tasting soup.
If you are really into Udon, there is an Udon Museum in Gion as well. The main Benkei Udon restaurant is located in Nishikyogoku, in West Kyoto.
Each bowl of Udon Noodles costs about JPY575-850 / SGD7-10
Opening Hours: 11:30– 23:00 Hours
Websites to visit: Benkei | Kyoto Guide | Blog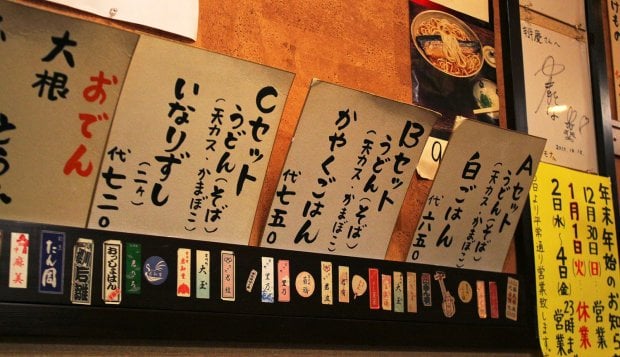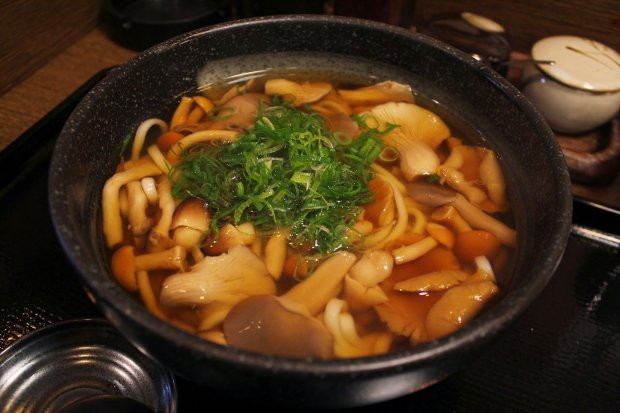 Northern Higashiyama
The Northern Higashiyama begins stretches above Gion towards Ginkakuji, this area is known for attractions like the Heian Jingu and the Philosopher's Path. It is also where Kyoto University is located in.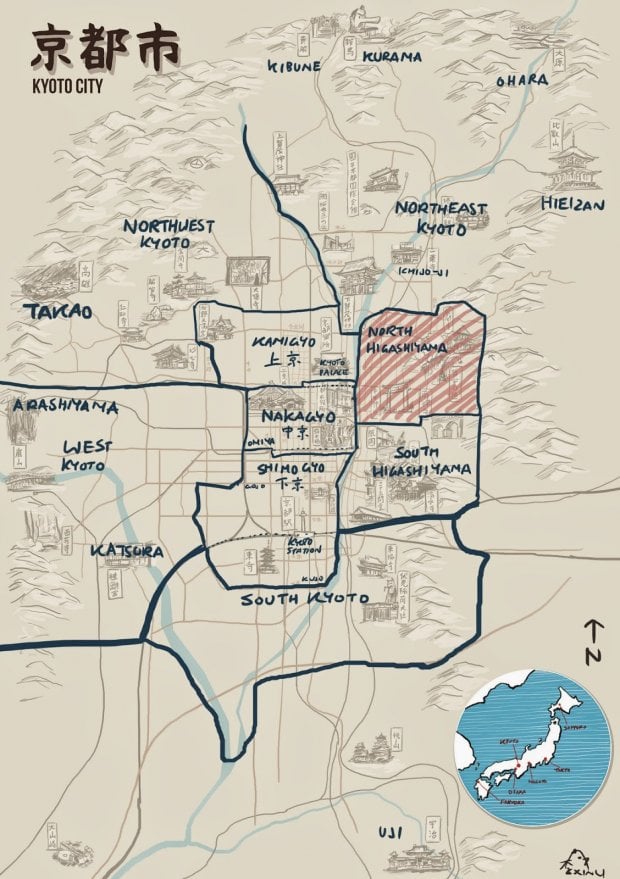 Behold the giant Torii [explore]
Heian Jingu (平安神宮)
Perhaps one of the most iconic images of the Heian Jingu is the huge torii gate (24.2 metres tall) at the front of the shrine. It is without surprise, one of the largest in Japan. (the biggest is the 33.9 metres tall torii gate of Kumano Hongu Taisha located in the Kii Peninsula of Wakayama Prefecture)
The Heian Jingu was constructed in 1895 and meant to be a reproduction of the Chodoin (Emperor's palace in the former eras, specifically from the Heian Period) and it also a symbol of revival for the city of Kyoto after the shift of the imperial capital to Tokyo in 1869.
Besides the huge shrine complex, the Heian Jingu also has an expansive Japanese garden known for its cherry trees. The garden was also used in the establishing shot for Kyoto in the Memoirs of the Geisha. Furthermore it is also the site of the Jidai Matsuri held on October 22nd celebrating the founding of Kyoto.
Heian Jingu
Opening Hours: 06:00– 17:30 Hours.
Heian Jingu Garden
Admission: JPY600 / SGD6.8
Opening Hours: 08:30 – 17:00 Hours
Websites to visit: Heian Jingū | Jidai Matsuri | Japan-guide | Inside Kyoto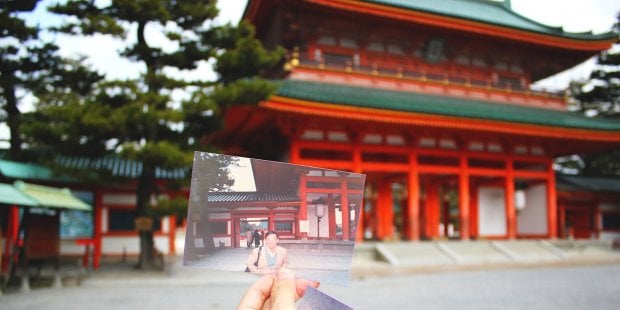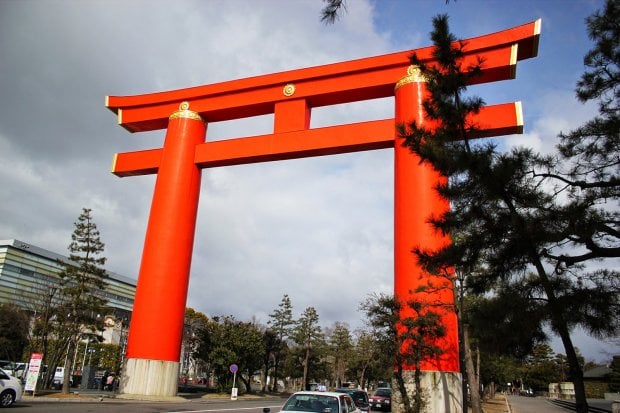 Modern architecture next to the Heian Jingu [architecture]
The National Museum of Modern Art Kyoto (MoMAK) designed by Fumihiko Maki
Kyoto Kaikan (京都会館) designed by Kunio Maekawa
Within the same area of the Heian Jingu, stands two pieces of modern architecture by famous Japanese architects. The first is the Museum of Modern Art Kyoto which was opened in 1986. The museum was designed by Fumihiko Maki (槇 文彦). The Pritzker Prize laureate's firm was also responsible for the design of RepublicPolytechnic campus in Singapore.
Just next to MoMAK is an older piece of modern architecture done by one of the pioneers of modern Japanese architecture. The Kyoto Kaikan (京都会館) was designed by Kunio Maekawa (前川國男) in 1960. Currently under renovations, the building would be re-opened in 2016 and renamed as ROHM Theatre Kyoto (ロームシアター京都).
The National Museum of Modern Art Kyoto (MoMAK)
Opening Hours: 09:30– 17:00 Hours. 09:30 – 20:00 Hours on Fridays during certain months.
Admission: JPY430 / SGD5 for Adults (Collection Gallery only)
Websites to visit: MoMAK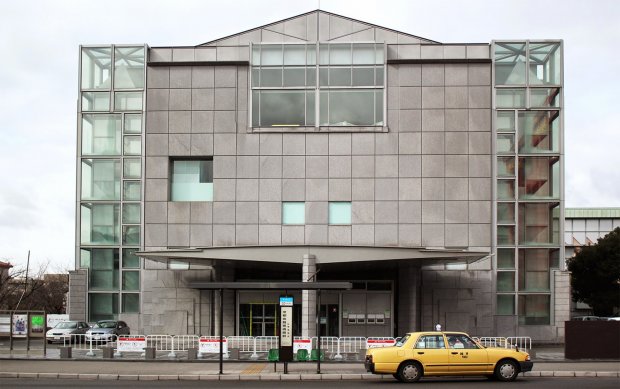 Rabbit figurines in a shrine [explore]
Okazaki Shrine (岡崎神社)
The Okazaki Shrine was founded in 794 AD (the year of the founding of Kyoto or Heian-kyo then) and was rebuilt in 894 AD, dating back to the Heian Period. Located near the Heian Jingu, this shrine is one of the four most ancient shrines in Kyoto, yet it is relatively unknown in common travel literature about Kyoto.
The shrine which served as a shrine for safe birth since 1178 and also a shrine for marriage, is particularly known for its adorable rabbit figurines. This is because the rabbit is considered a helper spirit of Okazaki Shrine and the mountain behind the shrine was inhabited by many rabbits.
Websites to visit: Let's Japan | Japan Travel | Tale of Genji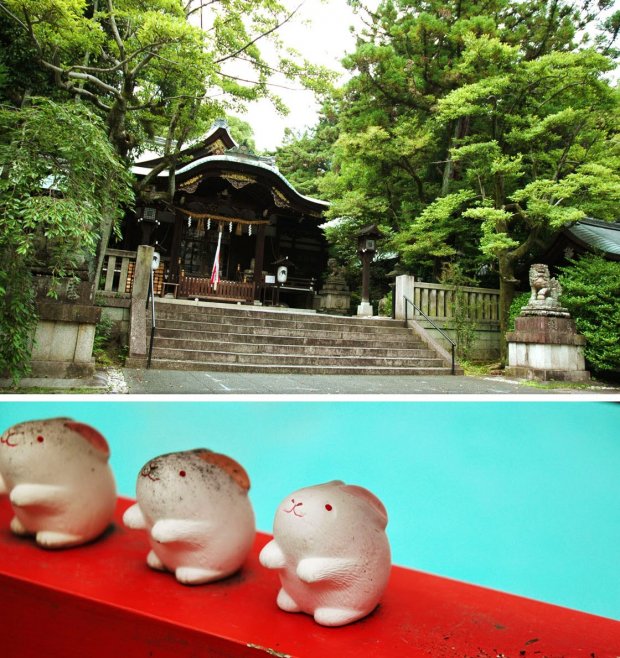 Explore Nanzen-ji [explore]
Nanzen-ji (南禅寺)
Nanzen-ji is a massive Buddhist temple complex located at the base of the Higashiyama mountains. It is one of the most important Zen temples and dates back to the mid 13th century. However, its current buildings date back to the 16th century after the civil wars of the Muromachi Period (1333-1573).
Nanzenji is easily accessible via the Keage Subway station and is located south of the Philosopher's Path. One of the features of the temple is the brick aqueduct that passes through the temple grounds dating back to the Meiji Period. The aqueduct was constructed as part of a canal system to carry goods and water between Kyoto and Lake Biwa, Japan's largest lake in the Shiga Prefecture.
Websites to visit: Nanzen-ji | Japan-guide | Inside Kyoto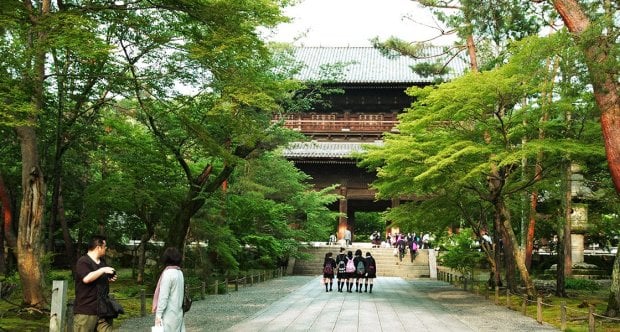 Walk the philosopher's path [explore]
Tetsugaku no Michi (哲学の道)
Located slight north of Nanzen-ji and stretching up to Ginkaku-ji, the Philospher's Path is the next most beautiful walking routes in Kyoto after Gion to Kiyomizudera via Ninen-zaka and Sannen-zaka. For most part of this route, it hugs the Biwako canal which meanders between Gingakuji and Nanzen-ji.
The path is named after a Kyoto University Professor and 20th century philosopher named Kitaro Nishida who used to walk along this path frequently. The philosopher is thought to use this path as means of meditation and in search of inspiration for new poetry.
Websites to visit: Tetsugaku no Michi | Japan-guide | Inside Kyoto | Blog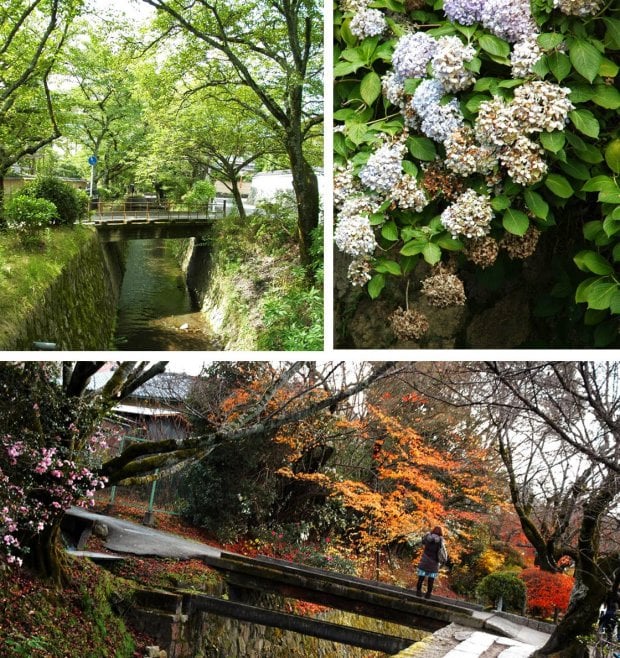 Seeing the silver pavilion [explore]
Gingaku-ji (銀閣寺)
Near the end of the Philosopher's Path is Gingaku-ji, the Silver Pavilion. In contrast to its more opulent looking counterpart, the Kinkaku-ji. The Gingaku-ji possesses a more subtle beauty. It demonstrates effective a number of Japanese gardening techniques to present the Silver Pavilion in various perspectives in a tight space where the pavilion is also presented with a new relation or perspective from various angles while walking around the garden.
The Gingaku-ji was a former mountain villa of Ashikaga Yoshimasa in 1482 before it was converted into a Zen Buddhist temple in 1490 after Yoshimasa's death.
Admission: JPY500 / SGD6
Opening Hours: 08:30 – 17:00 Hours | 09:00 – 16:30 Hours from December to February.
Websites to visit: Gingaku-ji | Japan-guide | Oriental Architecture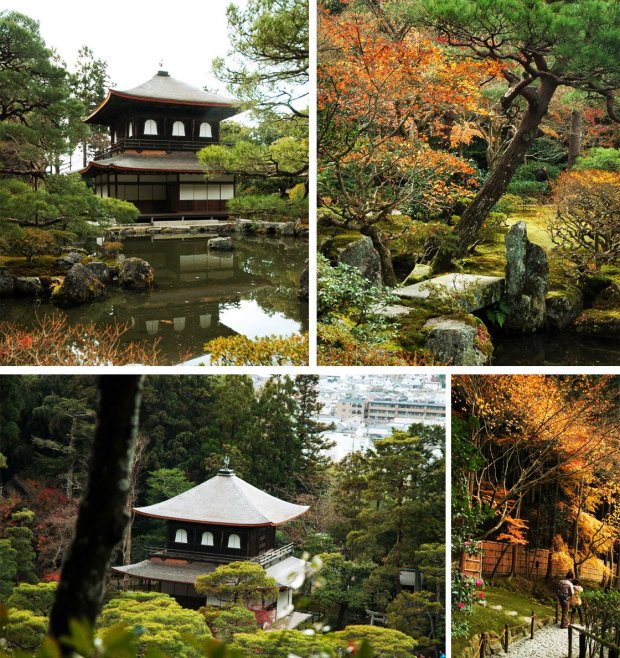 Udon lunch near the Gingaku-ji [eat]
Omen (おめん)
Omen is a must-visit for the udon lover, this restaurant was opened in 1967 and reputedly serves the best udon noodles in Kyoto. The udon noodles are served with either a cold or hot broth and has English menus.a
Opening Hours: 11:00 – 21:00 Hours
Websites to visit: Omen | Inside Kyoto | Tiny Urban Kitchen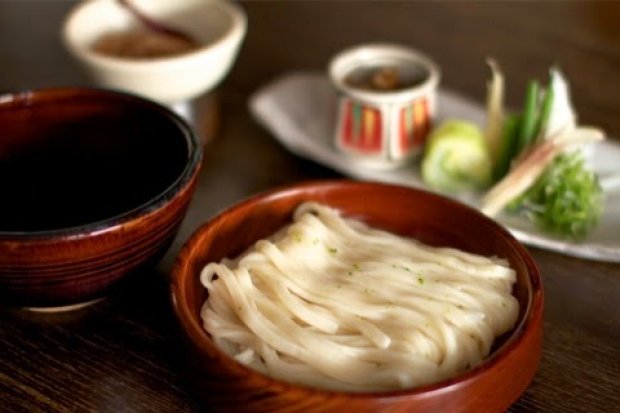 Udon Noodles at Omen. (Source: omen.co.jp)
Kamigyō-ku|上京区
Kamigyo-ku is located north of Marutamachi-dori and Nijo Castle, bounded by the Kamogawa by the east and Tenjin River to the west, occupying the areas such as the Kyoto Imperial Palace Garden and the Kitano Tenmangu Shrine. It is also the home to the famed Nishijin textile district.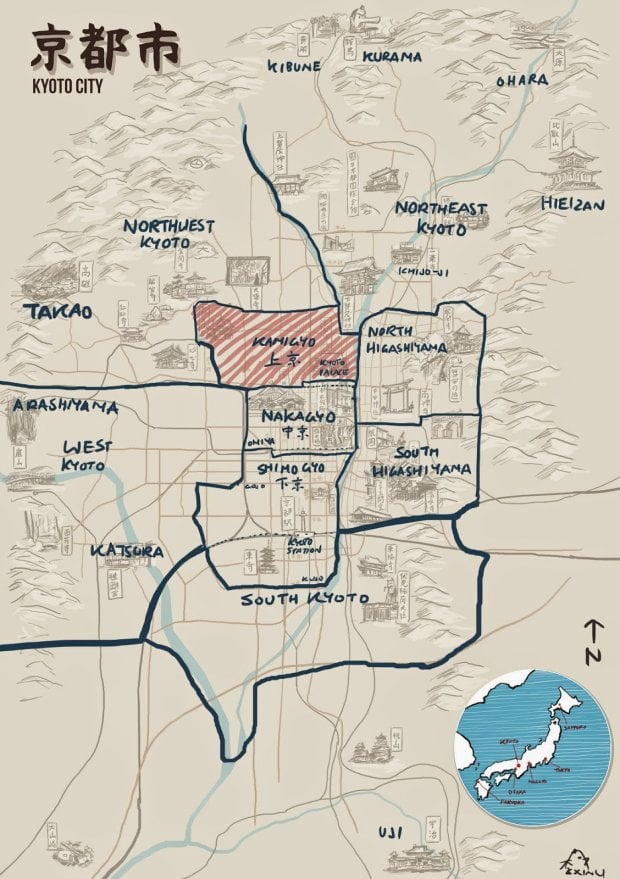 Looking for plum blossoms and good grades [explore]
Kitano Tenmangu (北野天満宮)
Located in the northern edge of the Kamigyo-ku is Kitano Tenmangu, an important shrine dedicated to Sugawara no Michizane (菅原道真), a scholar, poet and politician from the Heian Period. As Sugawara no Michizane is associated with the kami (Shinto God) of education, the shrine became very popular for students praying for success in their studies.
The shrine also features a grove of some 2000 plum trees (a favourite of Sugawara no Michizane) which bloom from February to March. A special tea ceremony known as the Baikasai is held in this plum grove every February 25th. An event attended by the geiko and maiko of the nearby Kamishichiken hanamachi.
Websites to visit: Kitano Tenmangu | Japan-guide | Inside Kyoto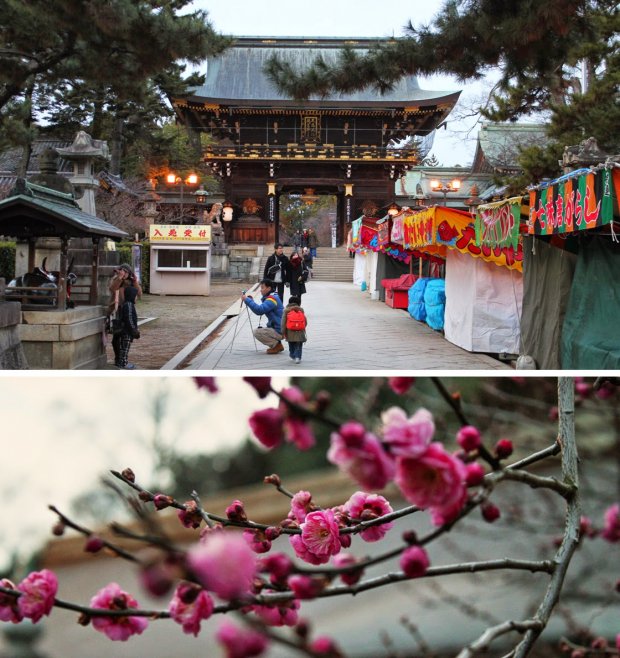 The Northern Hanamachi [explore]
Kamishichiken (上七軒)
Not too far from the Kitano Tenmangu is perhaps the least well-known hanamachi to foreigners. The Kamishichiken hanamachi got its name from the seven teahouses that were constructed from the materials after the renovations to the Kitano Tenmangu during the Muromachi Period. At its peak, there were about 50 tea houses in this hanamachi. Today, there are about 10 tea houses left with around 25 maiko and geiko.
Websites to visit: Kamishichiken | Japan Visitor Guide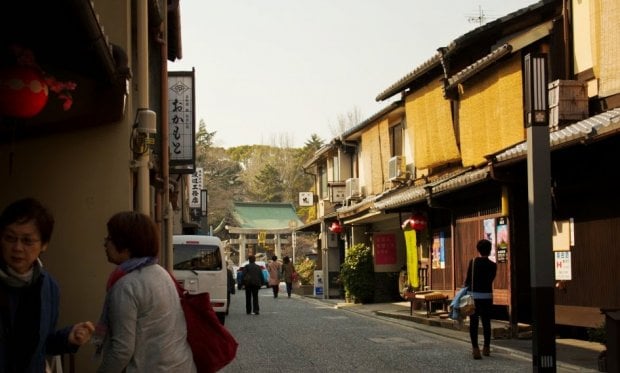 Kamishichiken. (Source: Marcus, Japanbilder)
Walking on the grounds of the Imperial Palace [explore]
Kyoto Gyoen (京都御苑) and Kyoto Imperial Palace (京都御所)
Formerly the grounds of a huge imperial palace complex, much of the former imperial complex are no longer around and in its place, a public park popular with runners, walkers, picnickers etc took over. Some traces of the former imperial palace complex remained such as the Kyoto Imperial Palace and Sento Gosho which you could book tours with the Imperial Household Agency located within the park.
The Imperial Household Agency is also where you had to book your tours to other imperial household properties in Kyoto, including the Katsura Imperial Villa and Shugakuin Imperial Villa.
Websites to visit: Kyoto Gyoen | Japan-guide | Inside Kyoto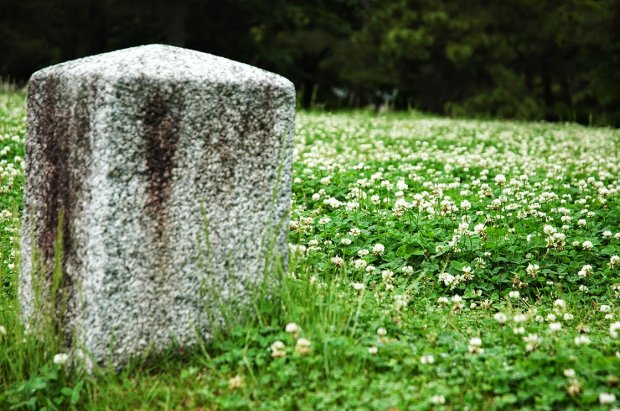 Wagashi at Toraya [architecture and eat]
Toraya Kobo (虎屋菓寮) designed by Hiroshi Naito
Toraya is a confectionery founded in Kyoto in the early 16th century. Beginning with the reign of Emperor Goyozei from 1586 to 1611, Toraya had been making wagashi for the imperial court and accompanied the imperial court's move to Tokyo after the Meiji Restoration in 1869 but kept its Kyoto shop.
Toraya has a beautiful tea room located along Ichijo-dori not too far from the Imperial Palace Garden and near its Ichijo-dori Shop. The tea room is a mix of traditional and contemporary architecture designed by Hiroshi Naito (内藤 廣). Here you could sample some of the exquisite creations by Toraya and sip on quality tea.
Opening Hours: 11:00 – 18:00 Hours
Websites to visit: Toraya | Foodie Topography | Blog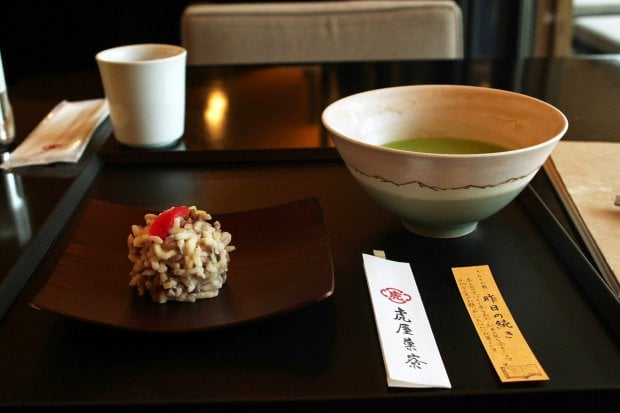 A Gothic revival church in Kyoto [architecture]
St Agnes' Episcopal Church designed by James McDonald Gardiner
Designed by an American architect from St.Louis, Missouri, James McDonald Gardiner. He is also the architect for the 1907 St.John's Church building (Reassembled in Meiji-mura, Aichi Prefecture and formerly located in Kyoto) and the Diplomat's House in Yamate, Yokohama.
The church is one of the oldest Christian church structures in Kyoto and it is the diocesan Cathedral the Diocese of Kyoto
Websites to visit: Kyoto.Travel | Wikipedia
Northwest Kyoto
Northwest of Kamigyo-ku is home to some of the most famous sights in Kyoto such as Ryoan-ji and Kinkaku-ji, the famed Golden Pavilion. It is bounded to the north by the Kitayama Mountains and to the east by the Kamogawa.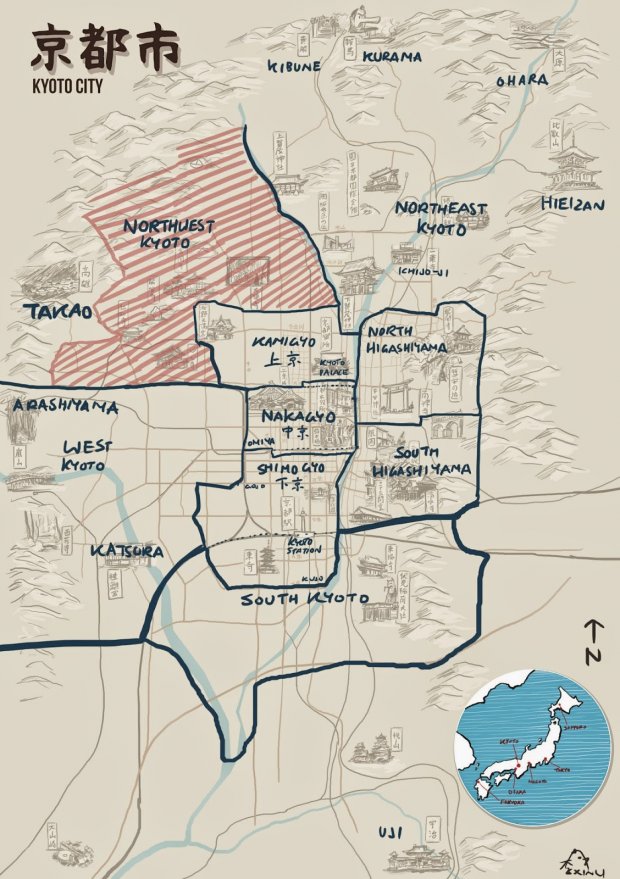 A moment of contemplation at Daitoku-ji [explore]
Koto-in (高桐院)
Beginning with a lesser-known temple is Daitoku-ji (大徳寺), a walled temple complex and the head temple of the Rinzai Sect's Daitokuji School of Japanese Zen Buddhism. A must-visit of this temple is Koto-in, probably the most popular sub-temple of Daitokuji. Koto-in was founded by Hosokawa Tadaoki, a samurai warrior in the late Sengoku period and early Edo period.
Koto-in has a picturesque moss garden as well as simple tea house named Shokoken. The layout and spaces of Koto-in was said to serve as a source of inspiration for Peter Zumthor's Serpentine Gallery Pavilion in 2011 when he visited Kyoto. The serene environment at Koto-in is perfect for introspective moments while looking out onto the garden.
Websites to visit: Koto-in | Japan-guide | Blog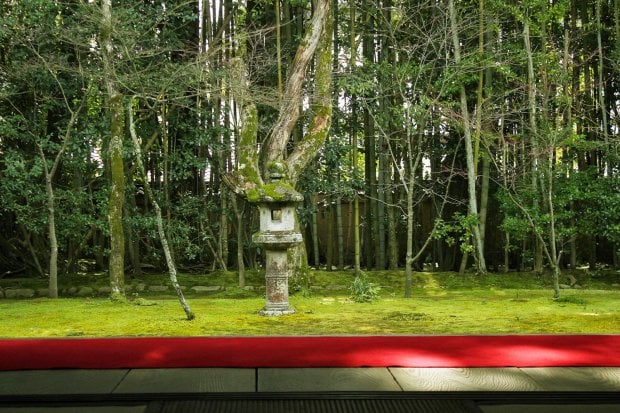 Matcha & Tea at the Kinkaku-ji [explore]
Kinkaku-ji (金閣寺)
This UNESCO World Heritage Site doesn't need much introduction. The Golden Pavilion is a former retirement villa of Shogun Ashikaga Yoshimitsu and was converted into a Zen temple after his death in 1408. The golden pavilion is quite a sight even though the present structure was rebuilt in 1955.
The Kinkaku-ji could look rather different in each season hence it warrants a return trip even if you had been to Kyoto before. One of my favourite moments visiting temple for the first time was to have matcha and a Japanese sweet in summer at the end of the visit.
Opening Hours: 09:00 – 17:00 Hours
Admission: JPY400 / SGD5
Websites to visit: Kinkakuji | Japan-guide | Blog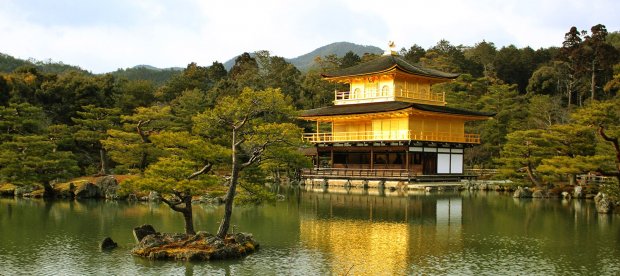 Moment of Zen [explore]
Ryoan-ji (龍安寺)
Ryoan-ji is another icon of Kyoto like its nearby Kinkaku-ji. The Zen Temple was founded in 1450 and has one of the best surviving examples of kare-sansui, a form of Japanese Zen Temple garden design.
The UNESCO World Heritage Site is very popular with both local and foreign tourists. During the peak periods, do not expect to have your Zen moment with high-school students swarming the temple. It is advisable to visit when there is less crowds (such as in the late evening just) to better appreciate the subtle beauty of the garden.
Opening Hours: 8:00 to 17:00 Hours (Mar to Nov), 8:30 to 16:30 Hours (Dec to Feb)
Admission: JPY500 / SGD6
Websites to visit: Ryoanji | Japan-guide | Blog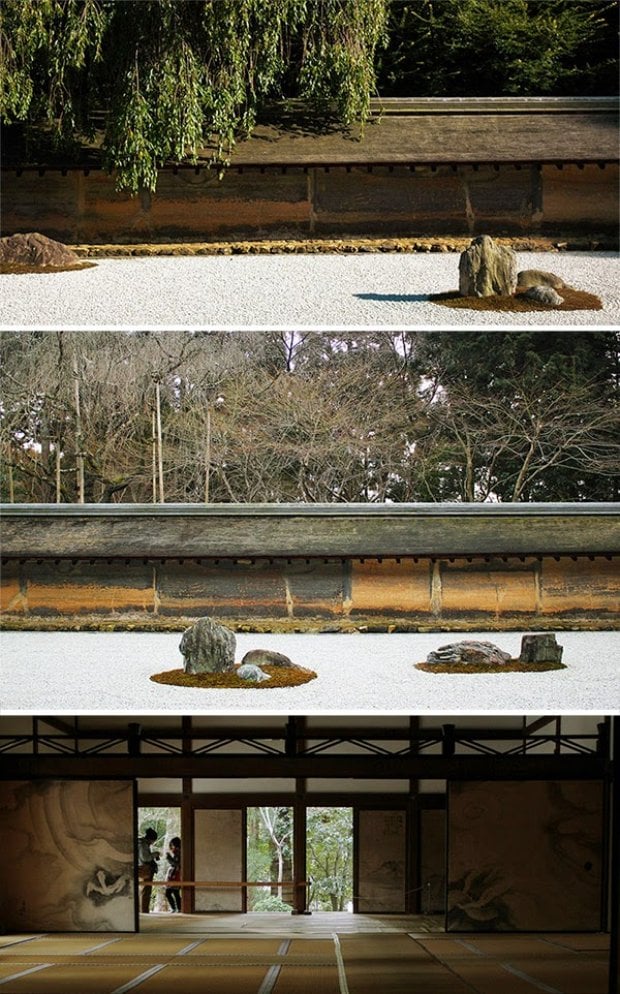 The glass temple [architecture]
Reigenji (霊源寺)
Located rather far north and outside the bus zone is Reigenji, a temple located at the foot of the Funayama Mountain. The temple was founded in 1638 by Emperor Go-Mizunoo who also built the Shugakuin Imperial Villa.
Within the temple compounds is a new addition designed by Takashi Yamaguchi in 1998 named the "Glass Temple" and was featured on several architecture publications. Takashi Yamaguchi also designed for another temple known as the "White Temple" located in the outskirts of Kyoto.
Websites to visit: Architizer | Minimalissimo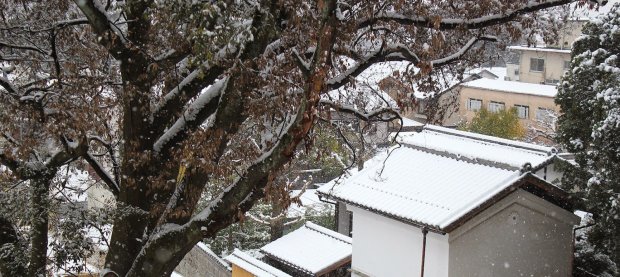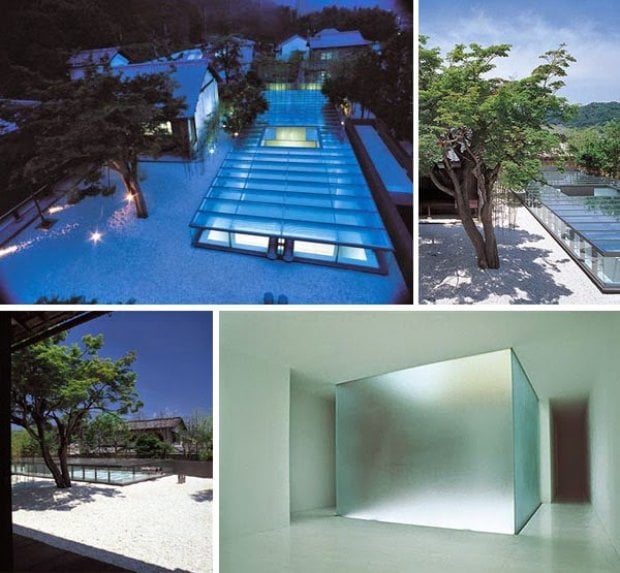 Glass Temple by Takashi Yamaguchi. (Source : Takashi Yamaguchi & Associates)
Northeast Kyoto
East of the Kamo-gawa and north of the Higashiyama is home to the Kamo Shrines of Kyoto as well as the vibrant neighbourhood of Ichijoji, known for its cafes, ramen eateries, bookshops and craft-oriented shops. Within northeast Kyoto, one could also find the Kyoto Institute of Technology as well as the Kyoto Prefectural University.
Other famous sights in the area include the Shugakuin Imperial Villa and the historic signing venue of the Kyoto Protocol: the Kyoto International Conference Centre.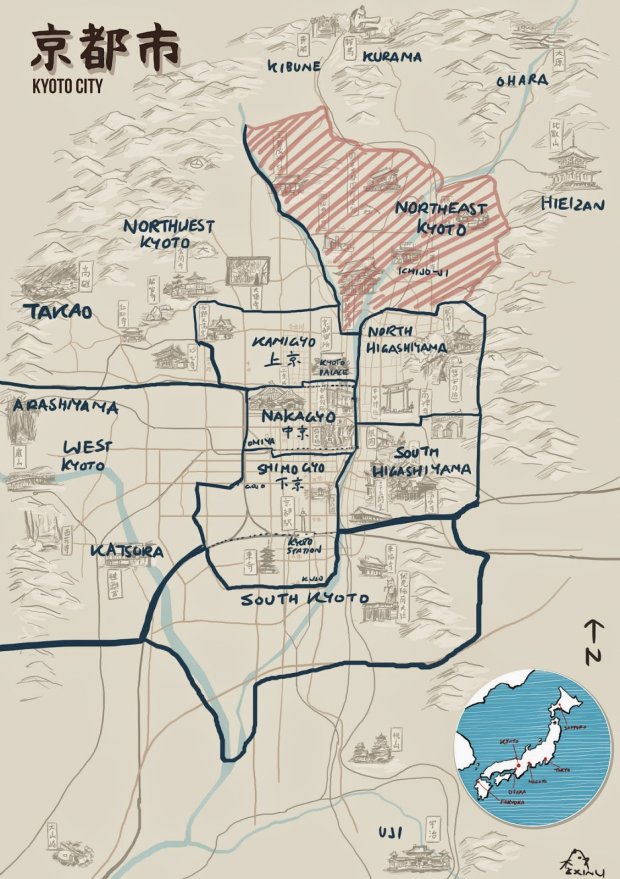 An open museum of concrete and water [architecture]
Garden of Fine Arts by Tadao Ando
Located near the Kitayama Subway Station and the Kyoto Botanical Gardens is another architecture piece by Pritzker Prize Laureate, Tadao Ando (安藤 忠雄) completed in 1994. The Garden of Fine Arts is an open-air museum featuring replicas of several famous artworks including Michelangelo's "Judgement Day" and Leonardo da Vinci's "The Last Supper". The masterpieces were replicated on ceramic plates by Otsuka Ohmi Ceramics from Tokushima.
Opening Hours: 09:00 Hours – 17:00 Hours
Admission: JPY100 / SGD1
Websites to visit: Garden of Fine Arts | Architectural Moleskine | Blog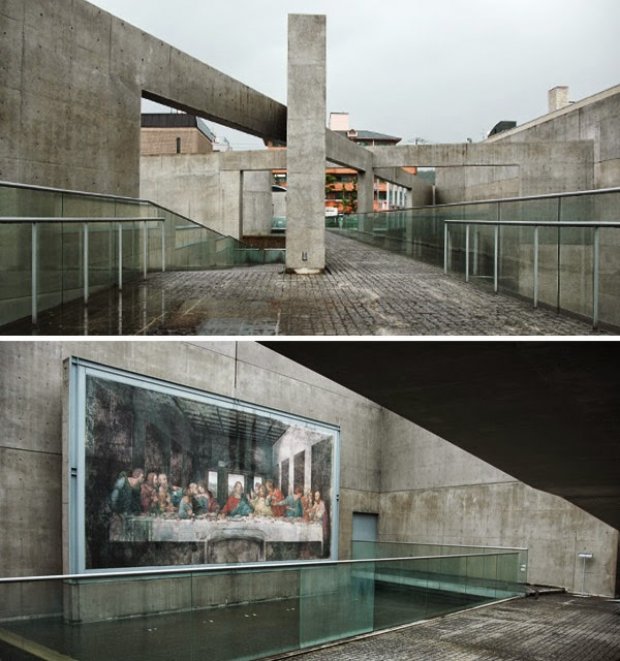 Kyoto's dessert district [cafe-hopping]
Malebranche Kitayama (マールブランシュ 北山本店) and Kitayama Kochakan (北山紅茶館)
Malebranche is a patisserie from Kyoto known for its Chanoka (茶の菓), the Kyoto equivalent of Hokkaido's Shiroi Koibito (白い恋人) by Ishiya. The Cha No Ka, available only in Kyoto is a white chocolate sandwich cookie. The dough of the cookie was mixed with koicha, a thick form of matcha, which gives the Cha No Ka its distinct green colour.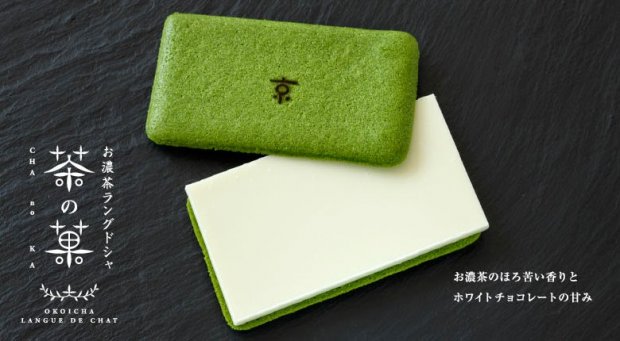 The Cha No Ka (茶の菓). (Source: Malebranche)
Malebranche's main shop is in Kitayama which features a salon and a café area serving seasonal sweets and cakes which you could enjoy with some tea. Part of the Malebranche shop is located within a concrete building next door. It is another architectural piece by Tadao Ando known as B-Lock Kitayama. Kitayama is known as the "cake district" of Kyoto as there are a number of cake shops, patisseries and cafes around the area.
Located further down Kitayama-dori in the Matsugasaki area is Kitayama Kochakan with a cottage like setting and located near the foot of the northern hills. This tea house specializes in afternoon tea service, offering afternoon tea sets with various teas to pair. The tea house uses British Portmeirlon china to serve their drinks and food.
Malebranche Kitayama
Opening Hours: 09:00 Hours – 21:00 Hours
Kitayama Kochakan
Opening Hours: 10:00 Hours – 20:00 Hours
Websites to visit: Malebranche Kitayama | Kitayama Kochakan | Japan Times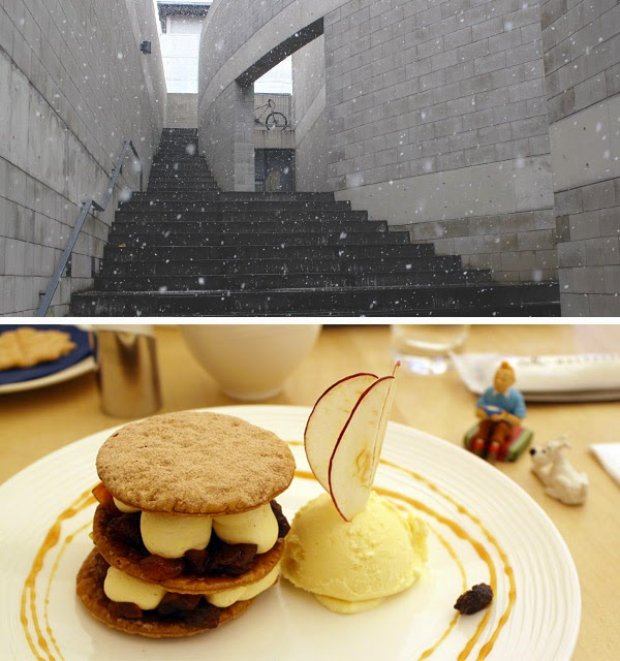 Vision of the future by Shin Takamatsu [architecture]
Ining'23 by Shin Takamatsu
The 1980s saw the emergence of several new architectural forms in Japan such as futuristic structures that seemed like it is taken out from a science fiction film or anime. Kyoto architect, Shin Takamatsu (高松伸) is one such figure in the architectural scene in the late 1980s. Shin Takamatsu was known for his futuristic, anthropomorphic designed buildings which would seemed peculiar to some.
You can find one of his works in Kitayama area, not too far from Kitayama Subway Station. The building, Ining'23 was built in 1987 and is one of the several works by the architect in Kyoto and Osaka.
Websites to visit: Arcstyle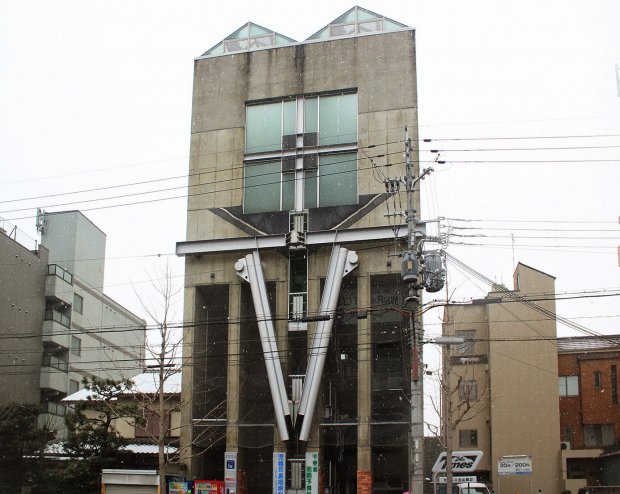 The 1997 Kyoto Protocol [explore and architecture]
Kyoto International Conference Centre (国立京都国際会館) designed by Sachio Otani
Located at the end of the Karasuma Subway Line is the Kyoto International Conference Centre, a massive conference facility and modernist architecture designed by Sachio Otani (大谷 幸夫). More significantly, this was where the parties to the UN Framework Convention on Climate Change met in December 1997 and concluded with the Kyoto Protocol, an international effort to reduce greenhouse gases emissions.
Near the Kyoto International Conference Centre is the Grand Prince Kyoto Hotel, designed by Togo Murano (村野 藤吾) in 1986.
Websites to visit: ICC Kyoto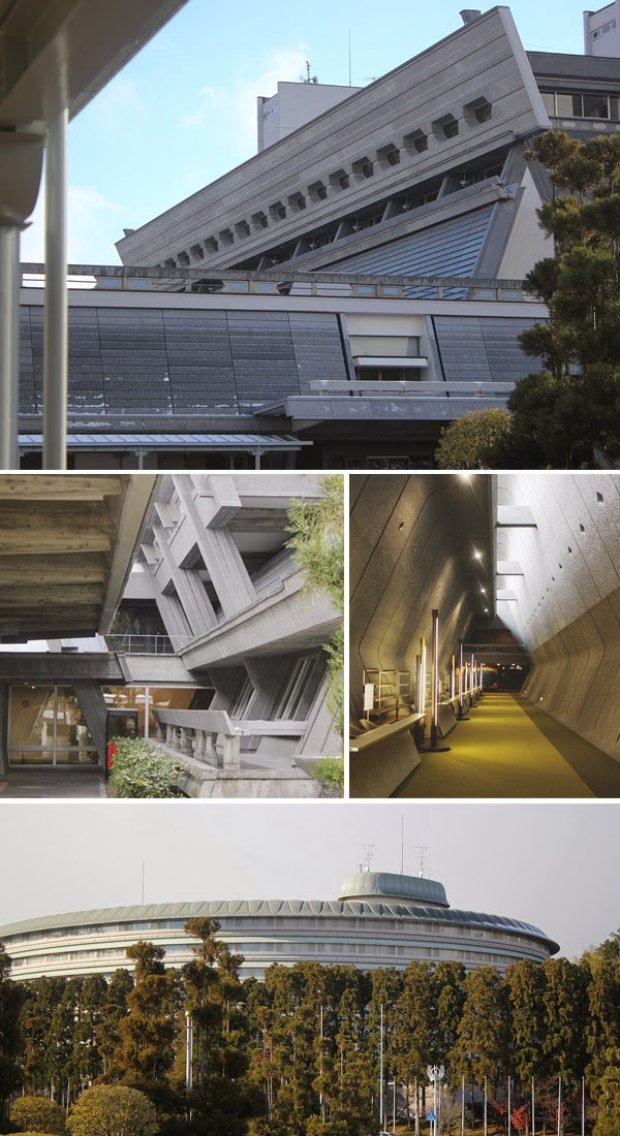 The Kamo Shrines [explore]
Kamigamo Jinja (上賀茂神社) and Shimogamo Jinja (下賀茂神社)
The two shrines, recognized as UNESCO World Heritage Sites, predated Kyoto's founding as capital in 794, hence they are some of the most ancient shrines in Kyoto. After establishing Kyoto as the imperial capital, the two shrines are patronized by the Imperial Court for protection and prosperity of Kyoto.
Every May 15th, the two shrines holds one of the three major festivals of Kyoto: the Aoi Matsuri (葵祭) which features some 500 people wearing ancient costumes and parading through the streets of Kyoto from the Kyoto Imperial Palace followed by Shimogamo-Jinja and ending at Kamigamo-jinja.
Also read: 5 Magnificent Temples You Must Visit in Kyoto, Japan
Websites to visit: Shimogamo-Jinja | Kamigamo Jinja | Japan-guide | Blog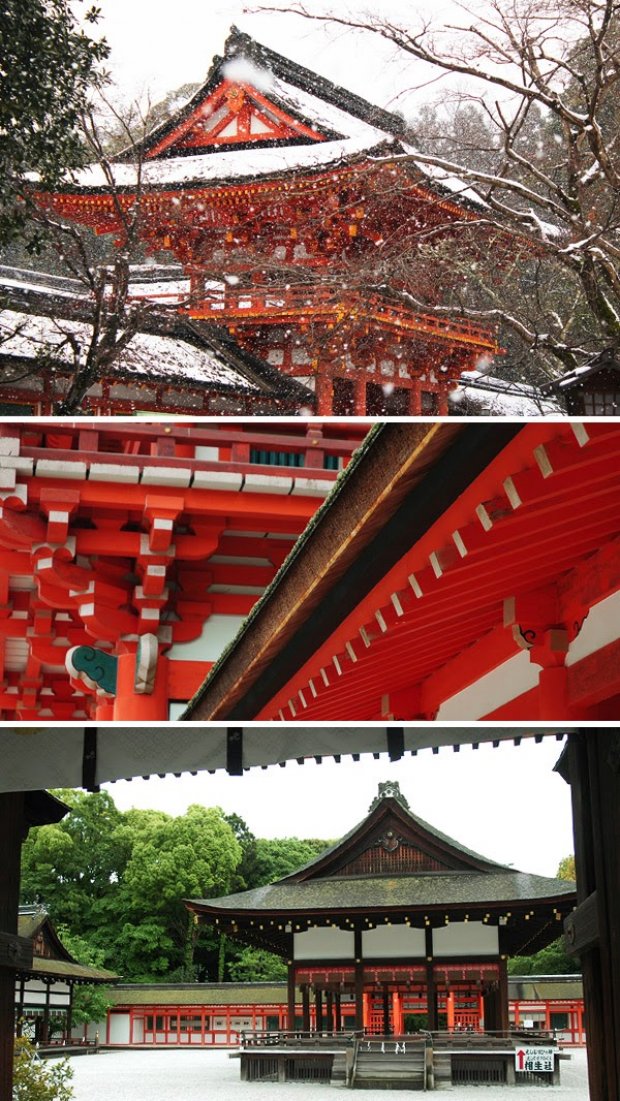 Saba for lunch [eat]
Imai Shokudo (今井食堂)
A local eatery not too far from Kamigamo Shrine and quite popular with the locals as well as students from the universities nearby is Imai Shokudo, an eatery opened in the 1960s. Imai Shokudo's speciality is boiled mackerel served with a tasty soy sauce.
A set meal cost about JPY700 – 750 / SGD8-8.6. I had the Osusume Teishoku (おすすめ定食) which came with their signature boiled mackerel dish (saba-ni), chicken cutlet, croquettes, tamagoyaki, a bowl of soup, pickles and rice.
Opening Hours: 11:00 – 14:30
Websites to visit: Hot Pepper | Gurunavi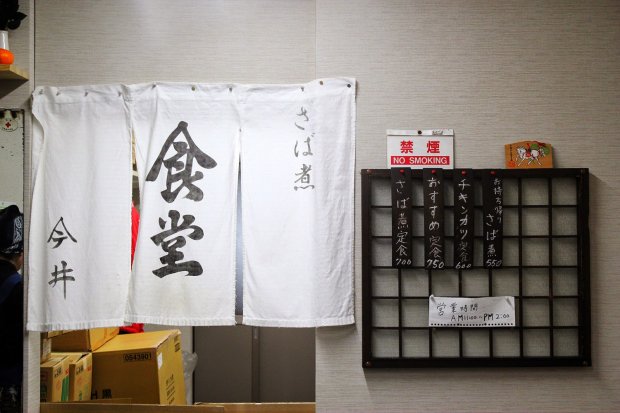 Where two rivers meet [explore]
Kamogawa Delta (鴨川デルタ)
The Kamogawa Delta is the confluence of the Kamo River and Takano River not too far from the Shimogamo Shrine and the Keihan Demachiyanagi Station. When the river is nice and calm, you could cross the Kamogawa on stepping stones (some of which are shaped like a turtle) from both sides.
On a good weather this is can be quite a scenic place for photography.
Websites to visit: KyotoNavi | Samurai Guide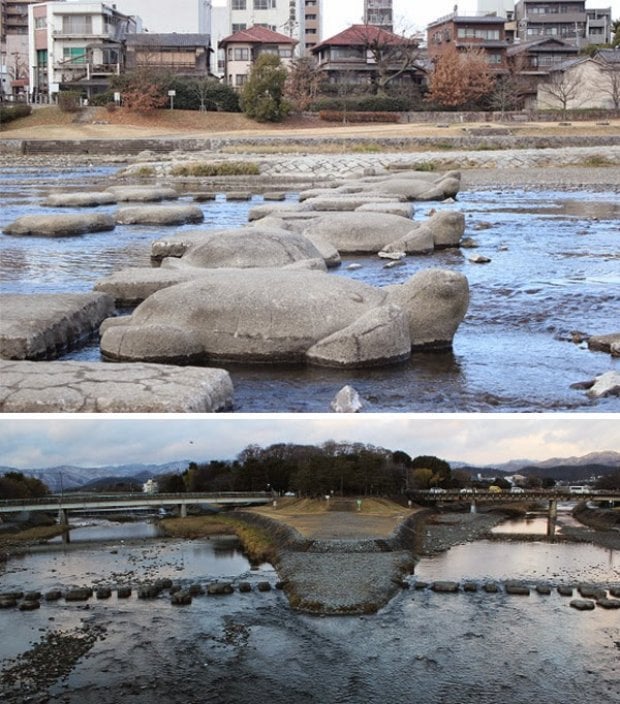 Books and ramen in Ichijoji [explore, shop and eat]
Ichijoji Keibunsha Shop (恵文社一乗寺店) and Ichijoji-Bogi (一乗寺ブギー)
Ichijoji is situated near a couple of schools and universities such as Kyoto Institute of Technology and the Kyoto University of Art and Design to the southeast. This area is often off the travel radar for the common traveller to Kyoto. Ichijoji, easily accessible via the Eizan Railways is home to a some really nice bookshops such as Hagi Shobo (萩書房) and Ichijoji Keibunsha Shop (恵文社一乗寺店), recognized by Guardian as one the top 10 bookstores in the world in 2008. The bookshop is a mix of gallery space, a small design shop, a bookshop and a café hidden at the back of the bookshop. This bookshop served as one of the sources for inspiration for the renewed Grassroots Book Room inBukit Pasoh (草根书室), Singapore.
Besides a lively design scene around Ichijoji, the district is also known for its numerous ramen eateries such as Ramenya Akihide (らーめんや亜喜英), Ten Ten Yu (天天有), Ichijoji-Bogi (一乗寺ブギー) and Menya Gokkei (麺屋 極鶏).
Ichijoji Keibunsha Shop
Opening Hours: 11:00 – 22:00 Hours
Websites to visit: Ichijoji Keibunsha | Kyoto Asu | Blog | Ramen Akihide | Menya Gokkei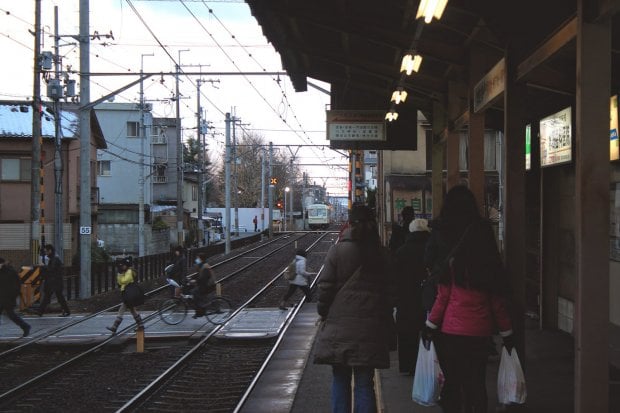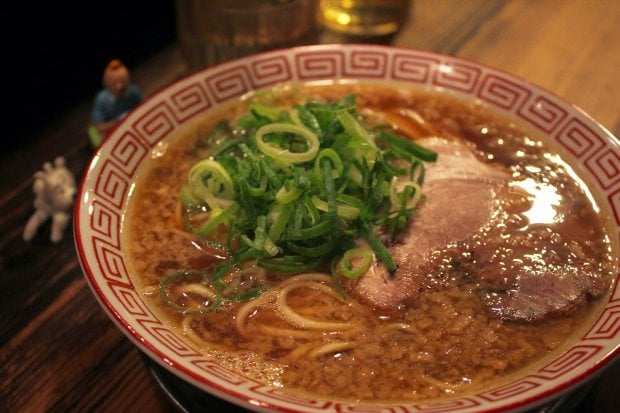 Gardens in the Shadow of Hieizan [explore]
Shugakuin Rikyū (修学院離宮)
The Shugaku-in Imperial Villa is a cluster of gardens, villas and tea houses dating back to 1655. It was originally constructed by Emperor Go-Mizunoo and was completed in 1659. The Shugakuin rikyu possessed some pleasant looking gardens with, one of which has an artificial lake and the verandah of Rin-un-tei (隣雲亭) in the Upper Villa has beautiful views of its gardens, the Yokuryuchi Pond and Kyoto's northern skyline.
You need to register for a tour at the Imperial Household Agency located within the Imperial Palace Gardens in order to be allowed to visit the Shugakuin Rikyu.
Admission: Free. Booking Required.
Websites to visit: Shugakuin Imperial Villa | Japan-guide | Inside Kyoto
West Kyoto
West Kyoto consists of the famed scenic area of Arashiyama as well as the sights west of the Katsura Villa such as the Katsura Imperial Villa and the moss temple, Saihoji, also known as Kokedera.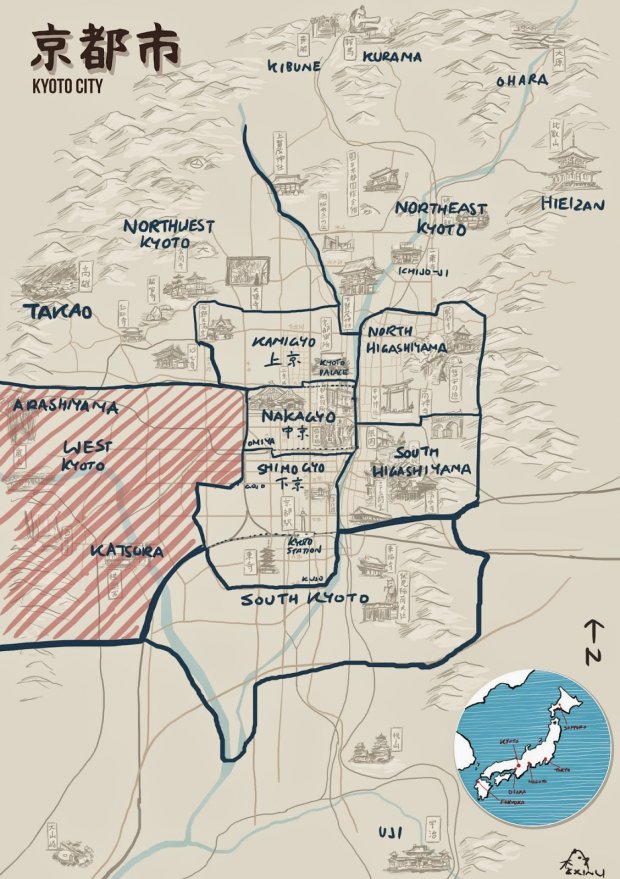 The bamboo groves [explore]
Arashiyama (嵐山)
Arashiyama is a famous and popular sightseeing spot for many travellers to Kyoto. While the area might be known for its UNESCO World Heritage Site, the Tenryu-ji Temple, the historic Togetsukyo Bridge and autumn colours. Arashiyama is probably most closely associated with its stunning bamboo groves. Due to its popularity, Arashiyama has somewhat been experiencing a boom in the tourism development after the nationwide tourism slump following the tsunami and Fukushima Daiichi incident in 2011.
More souvenir shops, shopping malls and tourism related development has developed around Arashiyama in particularly around the Randen Arashiyama Station area.
Nonetheless, once you are out of the bamboo groves and station area, you would be amazed by the contrasting tranquillity in the northern part of Arashiyama, towards the Saga-Toriimoto Preserved Street area.
The 1 Day Bus Pass now includes parts of Arashiyama within its Free Zone.
Websites to visit: Arashiyama | Japan-guide | Inside Kyoto | Blog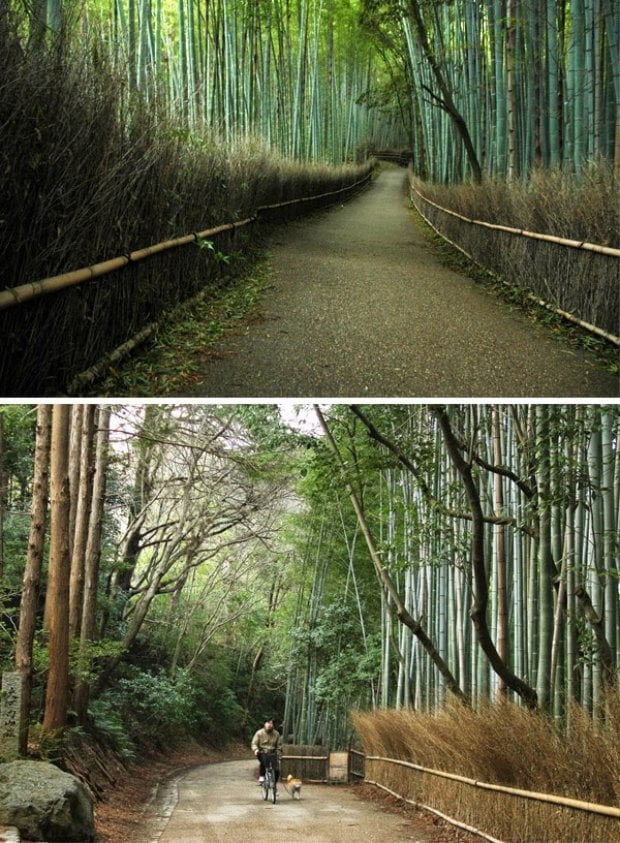 Borrowed scenery in Tenryu-ji [explore]
Tenryu-ji (天龍寺)
Besides the bamboo groves of Arashiyama, the Tenryu-ji is the next most famous attraction in Arashiyama. The UNESCO World Heritage Site was founded in 1339 by Shogun Ashikaga Takauji to venerate Gautama Buddha. The site was a former imperial villa used by Emperor Go-Daijo and his son before it was converted into a temple.
One of the highlights of the temple is its gardens which use the technique of shakkei to make its garden seemed larger and more majestic by incorporating the mountains of Arashiyama into the design of the garden.
Opening Hours: 11:00 – 22:00 Hours
Websites to visit: Toji | Japan-guide | Inside Kyoto | Blog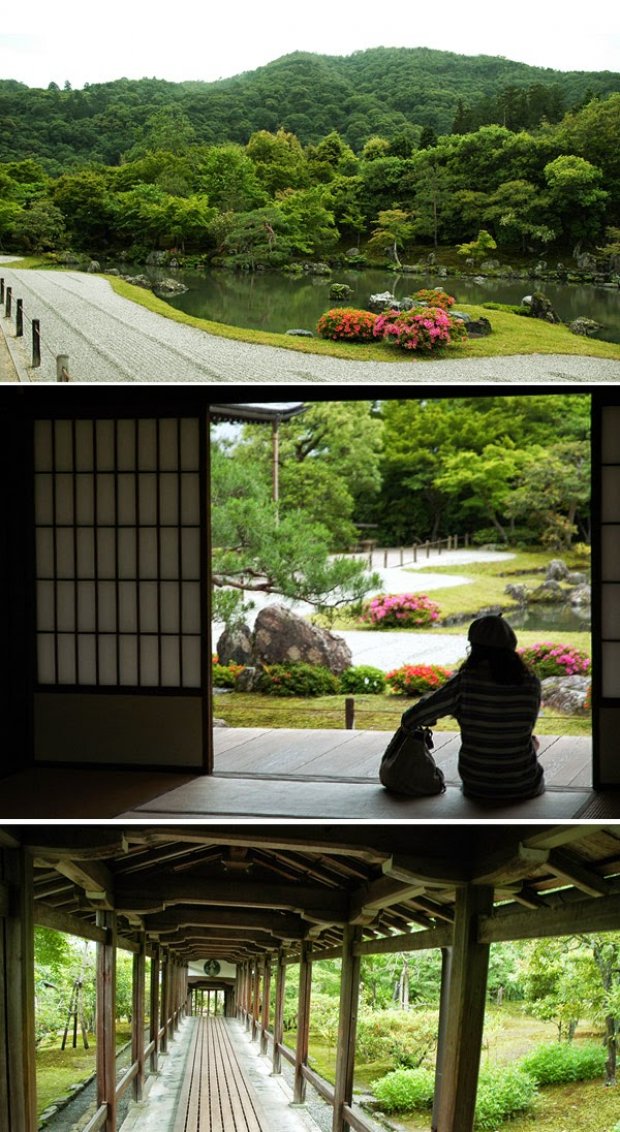 Yudofu in Arashiyama [eat]
Saga Tofu Ine (嵯峨とうふ 稲)
Yudofu is one of the must-have meals in Kyoto. While some recommend having it around Nanzenji, Arashiyama has some decent restaurants serving Yudofu as well. One such restaurant that has since branched out into chains along the same road is Saga Tofu Ine which serves relatively affordable set meals of various kinds of tofu dishes. Set meals cost about 1620 to 2380 JPY.
Saga Tofu Ine
Opening Hours: 11:00 – 18:30 Hours
Websites to visit: Saga Tofu Ine | Hot Pepper | Blog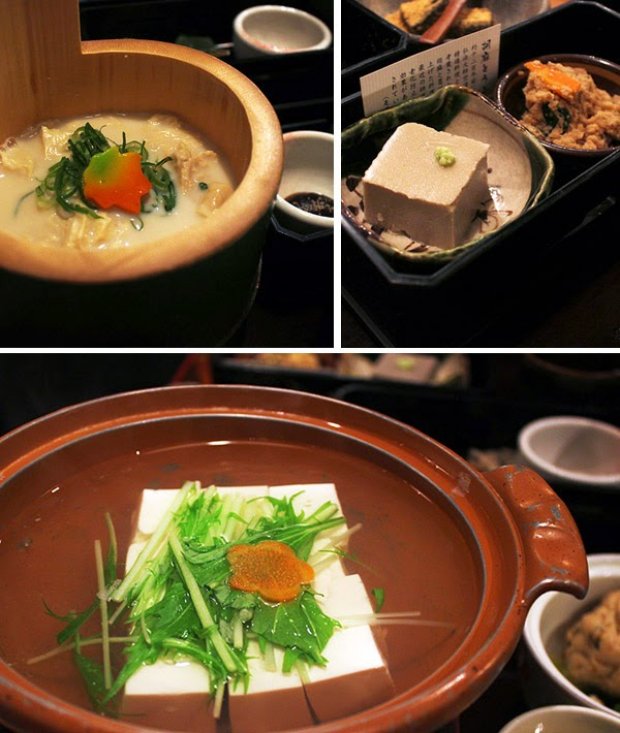 Night illumination at Arashiyama [festival]
Arashiyama Hanatouro (嵐山花灯路)
The Hanatouro is a bi-annual night illumination festival. It would be held in two places: Higashiyama in spring and Arashiyama in the late autumn till early winter. Pathways around Arashiyama including the bamboo groves would be lit up with lanterns.
Websites to visit: Hanatouro | Japan-guide | Blog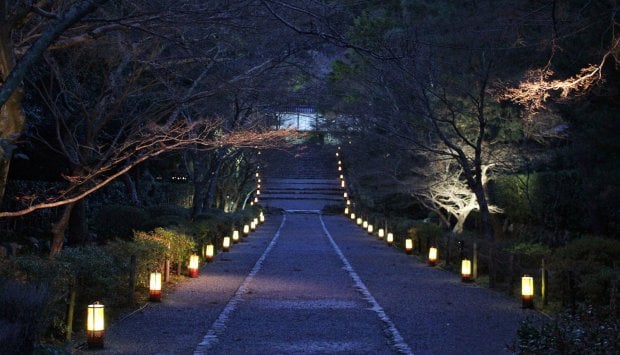 Books for a bargain [shop]
London Books (ロンドンブックス)
If you are looking for really cheap second-hand books while in Arashiyama, do stop by this second-hand book shop located not too far from the JR Saga-Arashiyama Station. Some cookbooks or local publications about neighbourhood sights etc cost less than 1200 JPY each.
Websites to visit: London Books | Blog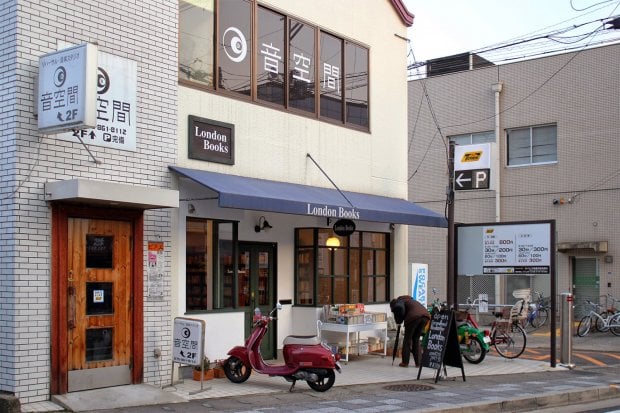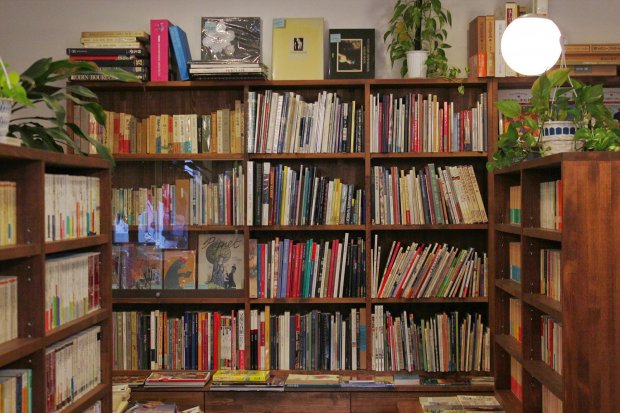 Tradition and creation in Japanese architecture [architecture and explore]
Katsura Rikyū (桂離宮)
The Katsura Imperial Villa is an important piece of Japanese architecture that dates back to the 17th century first built by Prince Toshihito, the younger brother of Emperor Goyozei. The Katsura district was known as a popular spot for villas since the Heian period, furthermore it is also known as a good spot for moon viewing which attracted Prince Toshihito to construct the villa here, inspired by the Tale of Genji.
The villa was expanded and renovated over the years and was known for its minimal, simple and elegant aesthetics. These aesthetical qualities inspire the pioneers of modern architecture such as Bruno Taut, Le Corbusier and Walter Gropius who visited the villa in 1953.
Walter Gropius along with Japanese architect, Kenzo Tange and photographer, Yasuhiro Ishimoto would later publish an influential book on Katsura Villa and its relationship to Japanese architecture : Katsura : Tradition and Creation in Japanese Architecture
Admission: Free, Booking Required.
Websites to visit: Katsura Imperial Villa | Japan-guide | Oriental Architecture | Blog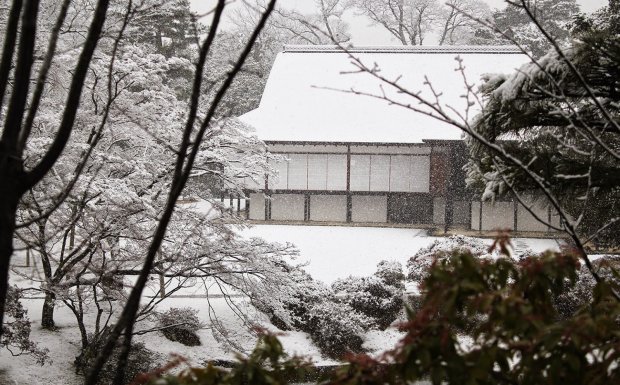 South Kyoto
South Kyoto includes the area south of Jujo-dori and includes the famous Fushimi-Inari Tasha.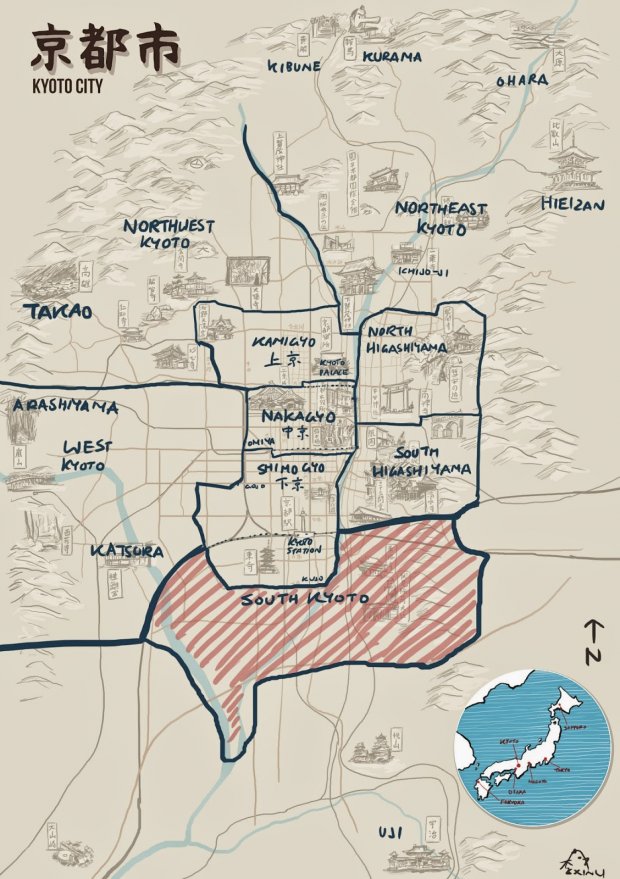 The Vermillion Torii of Fushimi-Inari [explore]
Fushimi Inari Taisha (伏見稲荷大社)
The Fushimi Inari Taisha is where you could one of the most unique, iconic and impressive sights in Kyoto. The Fushimi Inari Taisha is an important Shinto shrine dedicated to Inari, the Shinto god of rice. Most iconic about the temple is its thousands of vermilion tori gates which bestride a network of trails around the sacred and forested Mount Inari.
The Fushimi Inari Taisha is one of the filming locations for the 2005 film, Memoirs of the Geisha.
Websites to visit: Fushimi Inari Taisha | Japan-guide | Inside Kyoto | Blog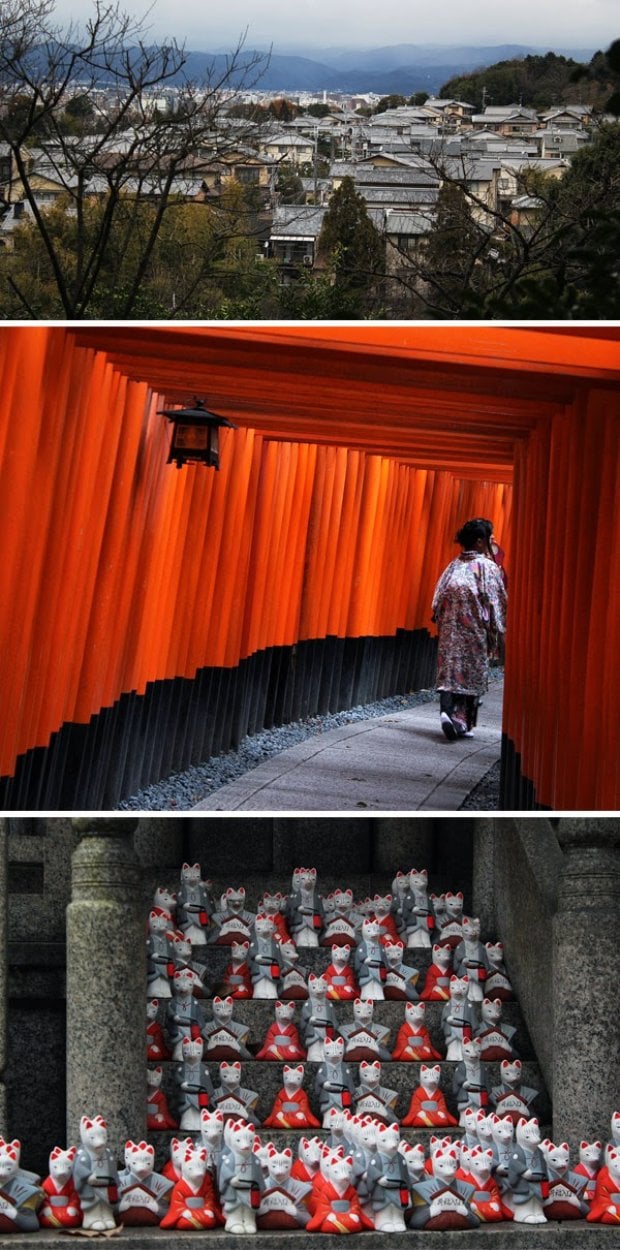 The Home of Link, Mario and Donkey Kong [otaku]
Nintendo HQ (任天堂本社)
Nintendo Co. Ltd, which gave us Super Mario, Donkey Kong and the Wii was founded as a card company in Kyoto in the late 19th century by Fusajiro Yamauchi (山内 房治郎) near Syomen-dori Ohashi. The company specialized in producing Japanese playing cards known as Hanafuda (花札). It later ventured into the video gaming industry in the around 1974- 1978 and hired Shigeru Miyamoto (宮本 茂), who would later design Donkey Kong, Legend of Zelda and Mario.
The current headquarters, designed by Yoshimura Architects is Nintendo next to the junction between Shin-machi Dori and Kuzebashi Dori. The HQ is not open to visitors and there are no museums to visit.
Websites to visit: Nintendo Japan | Kotaku | NintendoScene
Nintendo Kyoto HQ Exterior (Source: Wikipedia)
This is just some of the things you can do, eat, see and where you can sleep in Kyoto. Tsunagu Japan also has a list of 50 Things to do in Kyoto covering some sites that you could check out. If you want to know the location of the above places, here is a map to help you out:
The next part will touch on possible day trips out of the Kyoto city proper to places like Ohara, Takao, Nara and Uji.
Also read: The Ultimate Kyoto Travel Guide
Contributed by Pok Pok and Away.