Bratislava is the beautiful, olde-worlde capital of Slovakia. While often overshadowed by its more famous neighbours like Prague and Vienna, Bratislava makes for a pleasant few days of exploration. A relatively small and compact city, it's easy to walk around the historic core and sightsee by foot. If you love discovering medieval European cities, you should definitely consider adding Bratislava to your travel plans.
Here are some of the top things to see and do:
1. St. Martin's Cathedral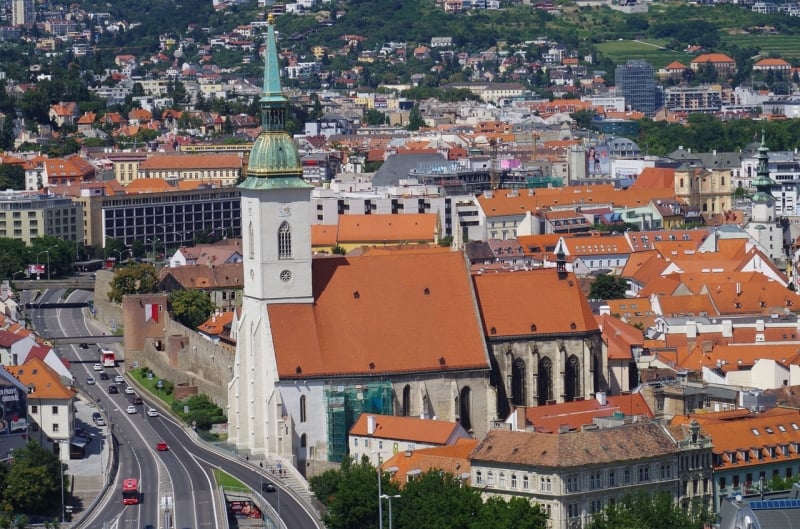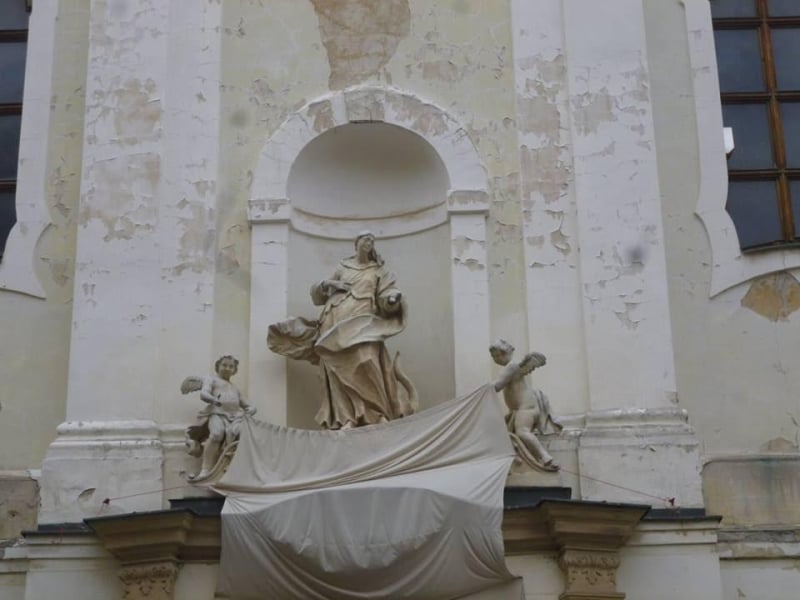 St. Martin's Cathedral is Bratislava's largest and oldest church. Sometimes also referred to as St. Martin's Minster, the elegant building was previously used to conduct crowning ceremonies for Hungarian kings. The soaring tower is likely to be the first thing you notice, with a Hungarian crown perched high on top. The exterior has a mixture of neo-Gothic and baroque designs, and there are a number of statues outside. The interiors are quite plain in comparison to the facade.
2. St. Elisabeth's Church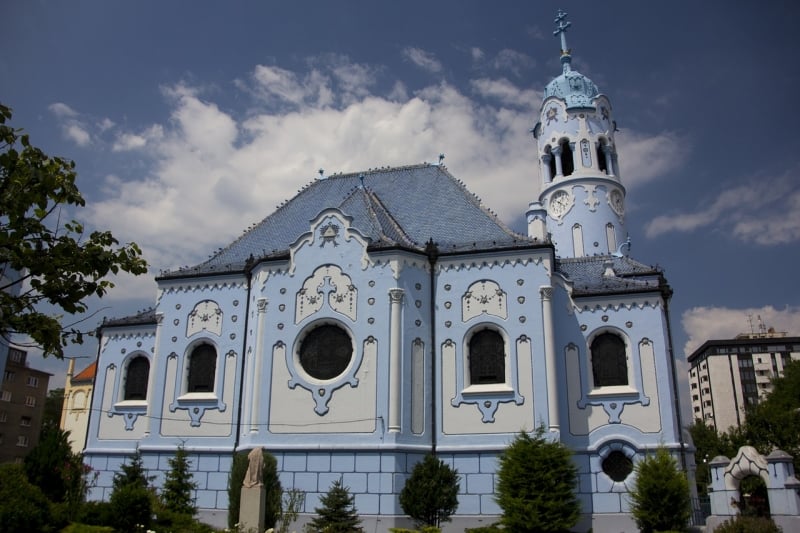 Also known as the Blue Church, St. Elisabeth's Church is, as its moniker suggests, a charming vision of blue, both inside and out. Constructed in the early 1900s, it's definitely one of the city's more unique sights. The tall tower looms over the fairytale-like building and there's a mosaic depicting St. Elisabeth above the doorway.
3. Bratislava Castle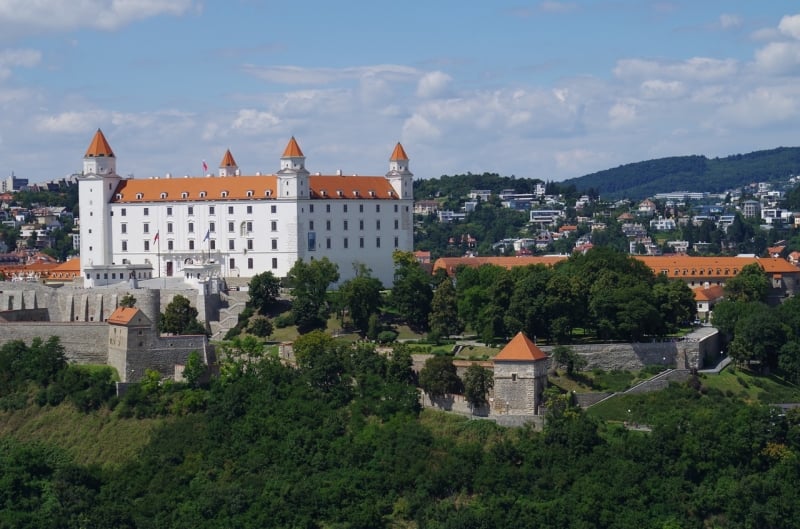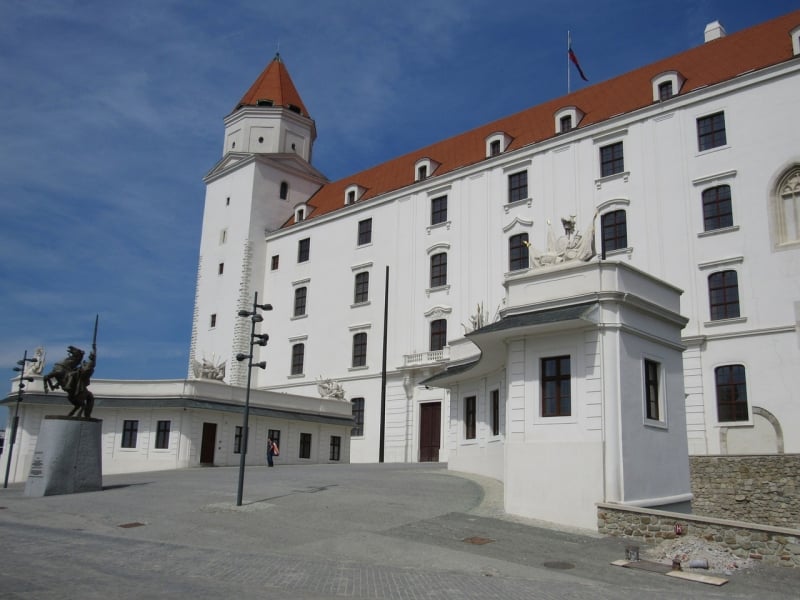 Recently renovated to showcase its former splendour, Bratislava Castle sits high on a hilltop. The elevated position offers great views of the city below. With bright white walls and orange turrets, it's an impressive sight. Inside, there's a museum with artefacts from Bratislava's past. Exhibits include pottery, decorative items, art, jewellery, and clothes.
4. Primate's Palace
An architectural gem, the pinky-coloured Primate's Palace dates back to the 18th century. The neoclassical building has an interesting history—Napoleon and Franz I met here to sign a peace treaty. After admiring the building from the outside, you can stroll through the peaceful courtyards to find an impressive statue of St. George killing a dragon. The insides of the palace are as opulent as the facades, with grand portraits of former Habsburg leaders, large chandeliers, and sturdy columns. You can also see a collection of ornate tapestries and stand in the Great Hall of Mirrors, the room where the peace agreement was brokered.
5. Horsky Park
Just a short distance from the old town, Horsky Park is a pleasant place to sit and enjoy the sunshine on a warm summer's day. You'll likely spot locals exercising and walking dogs in the large and leafy park too. It's a nice place to escape the city streets and spend some time in nature.
6. Capuchin Church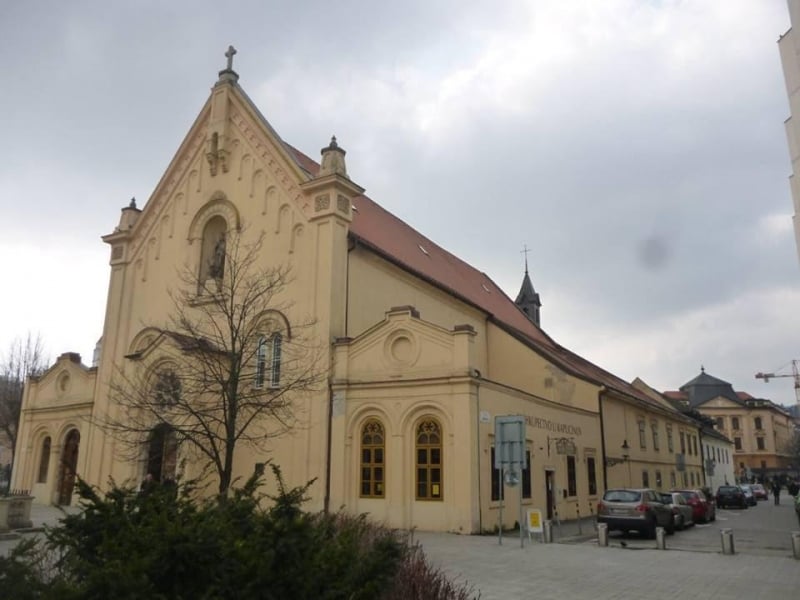 Bratislava has many quaint churches, and Capuchin Church is another place of worship that's well worth a quick photo stop. It has pale outer walls and a magnificent altar inside.
7. Trinity Church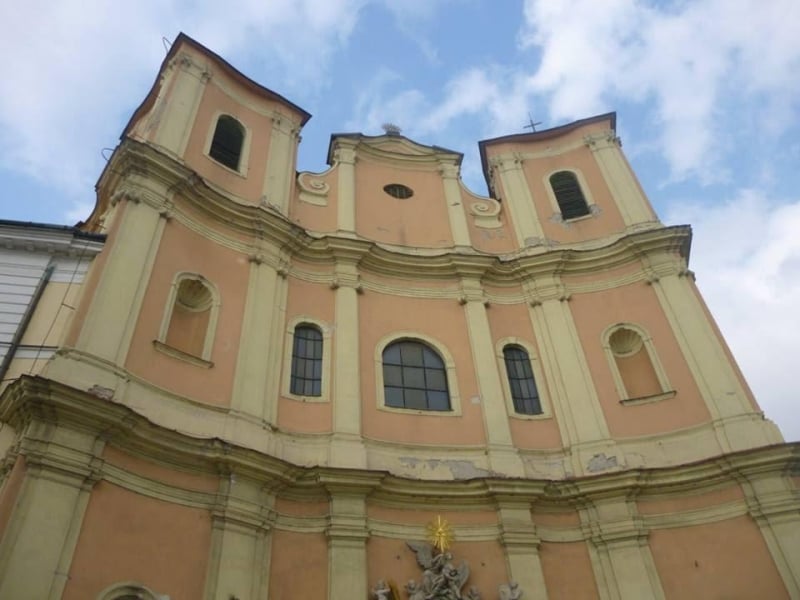 Yet another attractive church in Bratislava, the baroque Trinity Church was constructed in the 1700s. It stands on the site of an older place of worship and is still open for services today.
8. St. Michael's Gate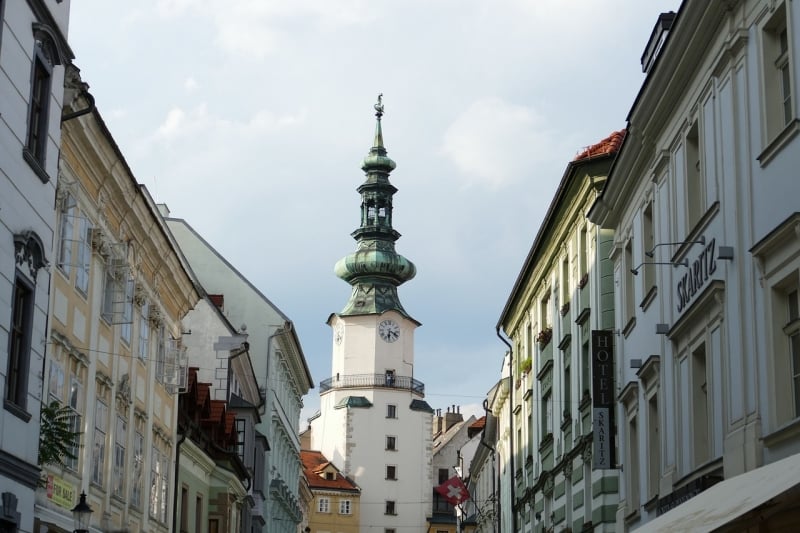 One of the oldest structures in Bratislava, St. Michael's Gate is the only gate into the old city to have survived to the present day. Constructed in the 14th century, the monumental gateway has a tall tower on top of it. Inside you'll find a museum dedicated to defence and weaponry — the Museum of Arms. A visit to the museum lets you climb up the tower for a bird's eye view of Bratislava.
9. Slavin Memorial
Built to remember Soviet troops who lost their lives while freeing Bratislava from German control, the Slavin Memorial can be found close to Bratislava Castle. Rather austere in appearance, the statue is a prime example of Stalin-era designs.
10. Presidential Palace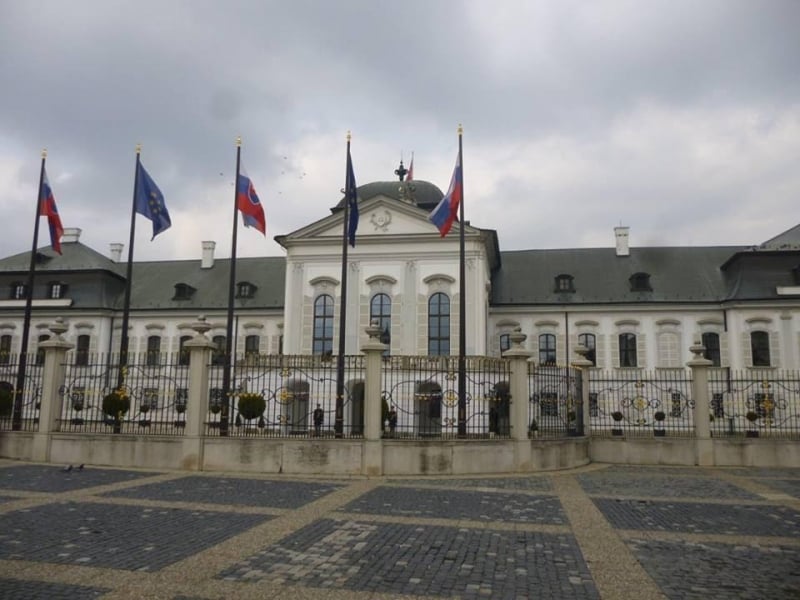 Bratislava's Presidential Palace, officially named Grassalkovich Palace and nicknamed Bratislava's White House, is the seat of the nation's president. Guards stand to attention next to the entrance. While visitors cannot pass beyond the metal railings, they can still admire the striking building from outside. On top of that, there are delightful gardens behind the palace that are open to the public. Designed in a French formal style, the gardens have plenty of seats where you can enjoy the peaceful air, watch the greedy pigeons hovering impatiently for food, and watch the world go by.
11. Danube River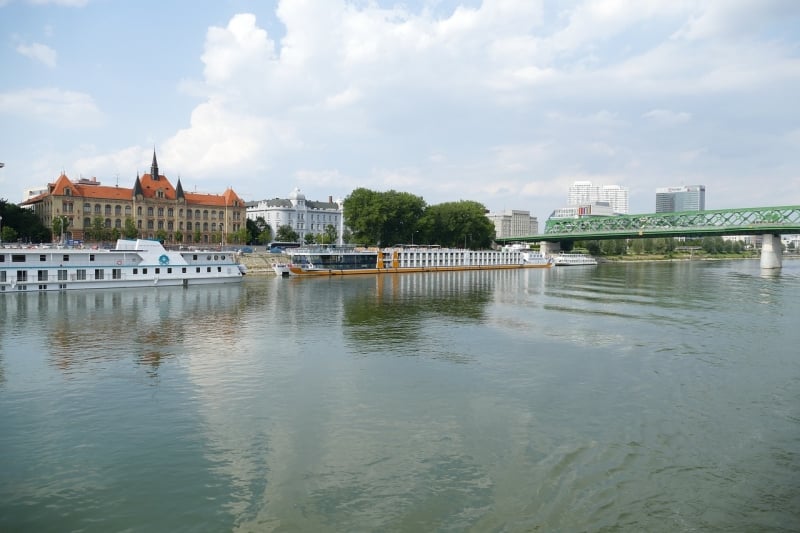 The Danube River runs through Bratislava, and a wide path runs alongside it. It's a popular place for locals to walk, jog, and skate while enjoying the river views. There are some interesting contemporary sculptures next to the river, as well as cute cafes and shops.
12. Slovak National Theatre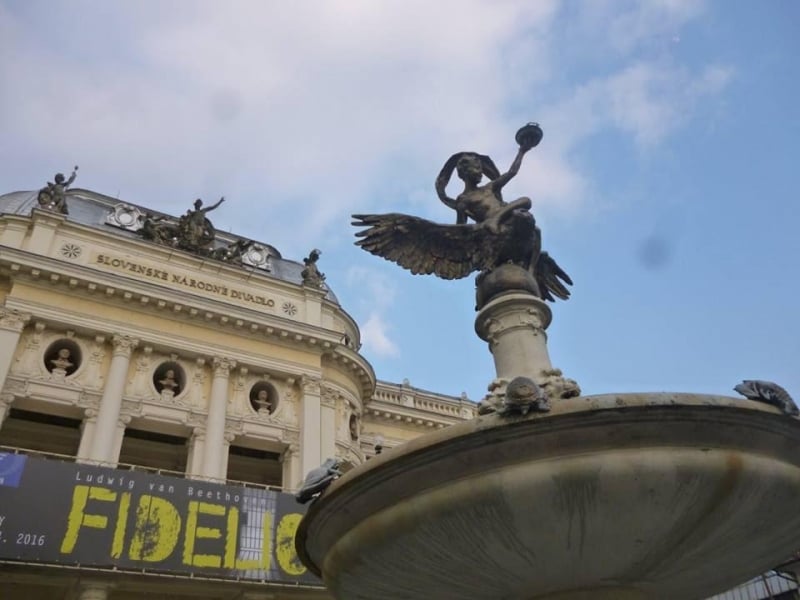 Slovakia's oldest theatre, Slovak National Theatre has two buildings, one of which dates back to the 1880s. Plays, ballets, operas, and other performances are regularly held here from September to June. You can also simply visit for a peek without watching a show.
13. Cumil Sculpture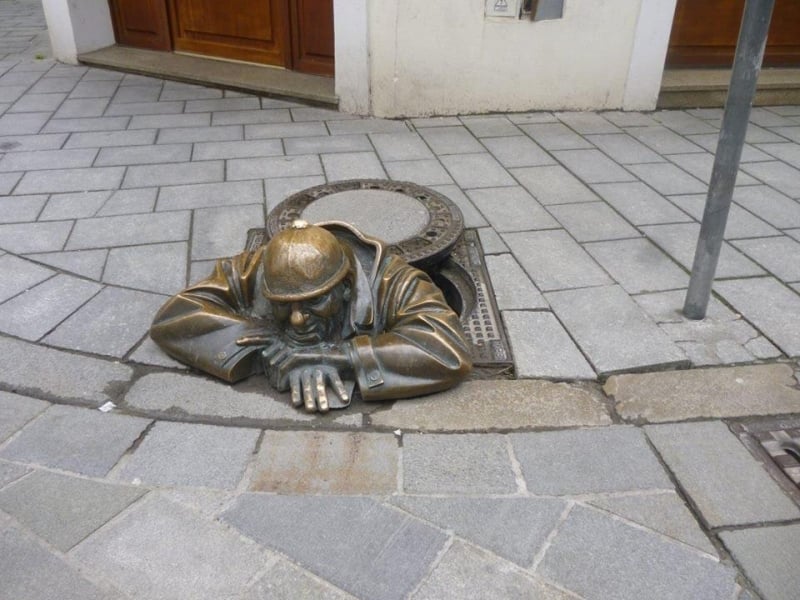 Cumil, also known as Rubberneck and The Peeper, is one of Bratislava's quirkiest attractions. One of a series of statues added to the city's streets, Cumil is a workman who pokes up out of a manhole. There are even traffic signs to warn people to watch out!
14. UFO Tower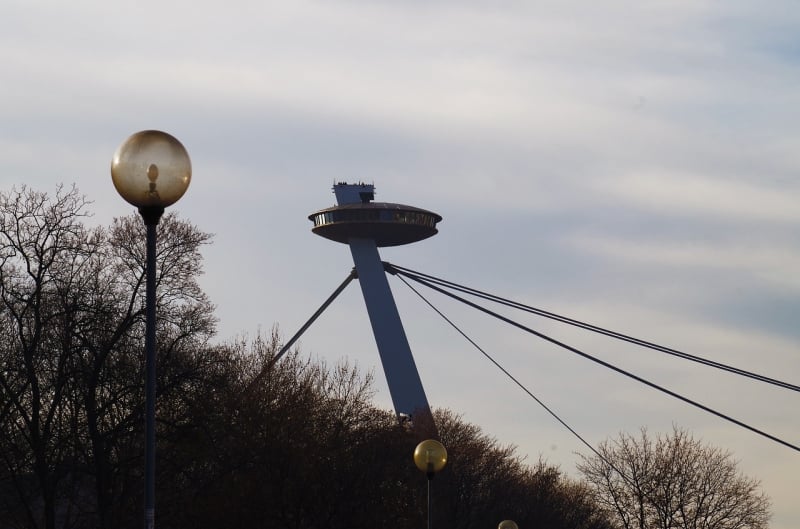 An unusual and futuristic landmark, the UFO Tower sits close to the waters of the Danube River. The observation deck provides great views of the river and city, and there's also a restaurant within the alien-like orb.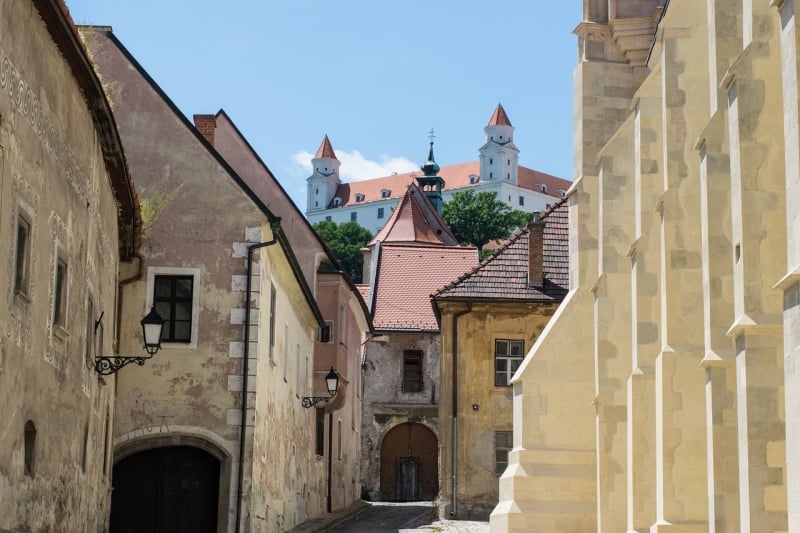 Bratislava is a charming city with plenty to keep you busy. There are many great places to eat and drink throughout the old town, and small souvenir sellers can also be found scattered around the pedestrianised streets.