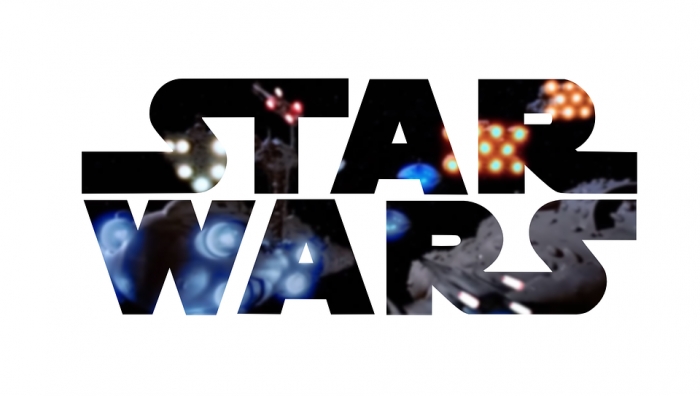 Event line-up
Appearance by Chewbacca and Kylo Ren
May 5th (@ Supertree Grove)
6pm-6.30pm, 7pm-7.30pm, 8pm-8.30pm,  9pm-9.30pm, 10-10.30pm

May 6th (@ Supertree Grove)
3pm-3.30pm, 4pm-4.30pm

May 6th (@ The Meadow; only for run participants)
9.30pm-10pm (Chewbacca only), 10.30pm-11pm (Chewbacca only), 10pm-10.30pm (Kylo Ren only), 11pm-11.30pm (Kylo Ren)

SaberTrees Light-up
May 4th – 6th
8pm-12am
Garden Rhapsody: STAR WARS Edition
May 4th – 6th
7.45pm-8pm, 8.45pm-9pm, 9.45pm-10pm

May 7th – June 2nd
7.45pm-8pm, 8.45pm-9pm

Silent Disco
May 5th – 6th
9pm-11pm
*Priority entry for STAR WARS RUN participants on May 6th from 9pm-10pm. Silent Disco may be cancelled in the event of inclement weather.
Screening of Star Wars: The Force Awakens
May 6th (@ The Meadow)
9pm-11.15pm
---
In conjunction with Star Wars' 40th anniversary this year, Singapore Tourism Board (STB) x The Walt Disney Company are kicking off a Star Wars Festival from 4-6 May at Gardens by the Bay titled "STAR WARS DAY: MAY THE 4TH BE WITH YOU"!
This is part of an exciting three-year partnership that aims to bring Disney's biggest characters and stories straight to our little red dot!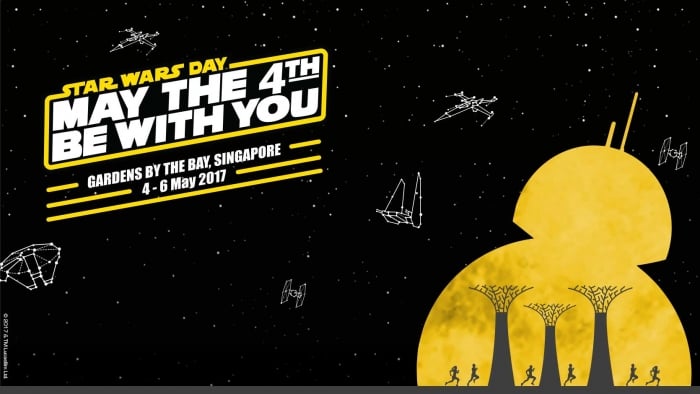 Credits: Gardens by the Bay
If you, like me, were, riddled with a sense of euphoria after watching that teaser trailer for Star Wars: The Last Jedi, this will be music to your ears. It might even tide you over until the eighth installment of the franchise is finally released later this year.
Let's take a look at some of the highlights of the festival shall we, young Padawan?
Watch the Supertrees glow to epic Star Wars music
When:
Garden Rhapsody: 7.45pm and 8.45pm daily
SaberTrees: 8pm to 12am daily
Where:
Supertree Grove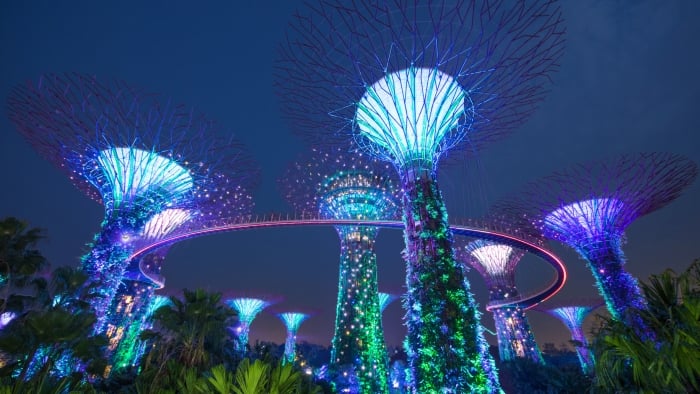 Credits: Gardens by the Bay
Ever been to Gardens by the Bay to see the Supertrees light up at night? Well, the Garden Rhapsody: Star Wars Edition promises to brighten things to the next level: The light show will see the magnificent Supertrees light up to the epic tunes from the Star Wars Soundtrack!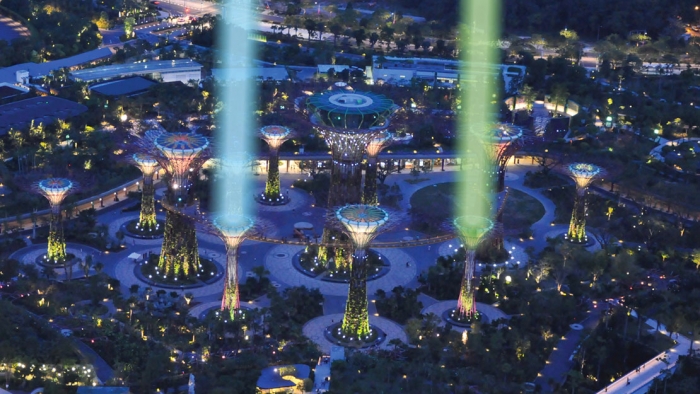 Credits: Esprimo
What's more, catch the Supertrees transforming into SaberTrees as they take on various colours of lightsabers! Gather and choose your weapon of choice which will determine your fate – Jedi or Sith?
Rub shoulders with fan-favourite Star Wars characters
When:
4-5 May 2017: 6pm, 7pm, 9pm and 10pm
6 May 2017: 3pm and 4pm
Where:
Supertree Grove
Do you sympathise with the Rebel Alliance or crave universe domination like The First Order? Don't worry if you're boggled over which side of the Force to choose because you'll get to experience both at the festival!
Meet Chewbacca, the Millennium Falcon's furry co-pilot and Kylo Ren, master of the Knights of Ren, right here in Singapore! Sneak in some selfies with the two characters as they make their first-ever appearance in Southeast Asia. The iconic All-Terrain Scout Transport (AT-ST) Walker will also be stomping around throughout the three-day festival and those miniature Ewoks won't be able to thwart them this time around. The towering Scout Walker can be found alongside the Supertrees and this is your chance at snapping a shot with this movie icon!
Dance with your fellow Force-users
When:
5-6 May 2017: 9pm to 11pm
Where:
Supertree Grove Lawn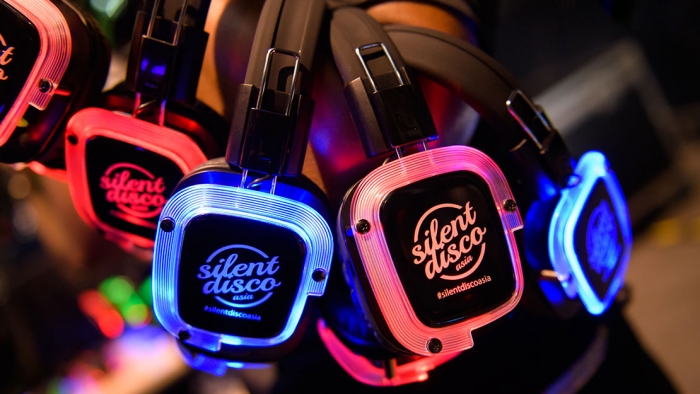 Credits: Silent Disco Asia
Imagine grooving out like Oola, Jabba the Hutt's Twi'lek dancer with those silky dance moves. Silent Disco Asia proudly presents to you a Star Wars themed experience! Yes, you heard me right; it's time to put on your headset, switch between three-channels and dance the night away! Pick your favourite lightsaber shade from the racks of red, blue and green LED lights and dance to that catchy Cantina Bar tune.
Show your support for the Light or Dark Side of the Force
When:
6 May 2017: 4pm to 11.15pm
Where:
The Meadow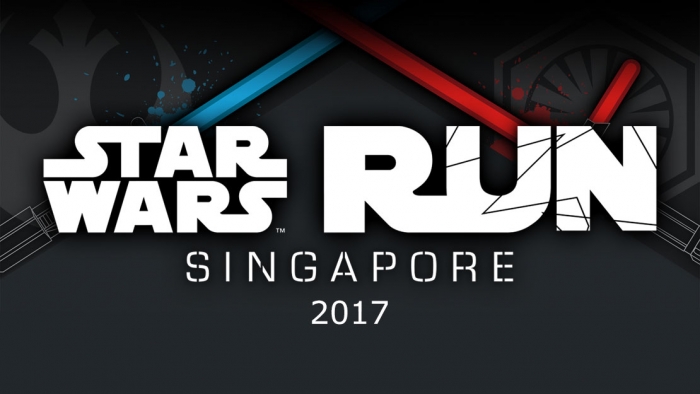 Credits: Esprimo
It may be too late to join the battle but it's never too late to show your support! Cheer on your team as the Light and Dark sides race it out through The Meadow at Gardens by the Bay. Runners will be wearing their respective side's race shirt and if you're lucky, you might even catch some runners cosplaying as your favourite characters! We promise that you'll never get tired of watching a running Yoda or Emperor Palpatine in the race.
Have a get-together with fellow Jedis and Siths
When:
4-6 May 2017: 3pm to 11pm
Where:
Supertree Grove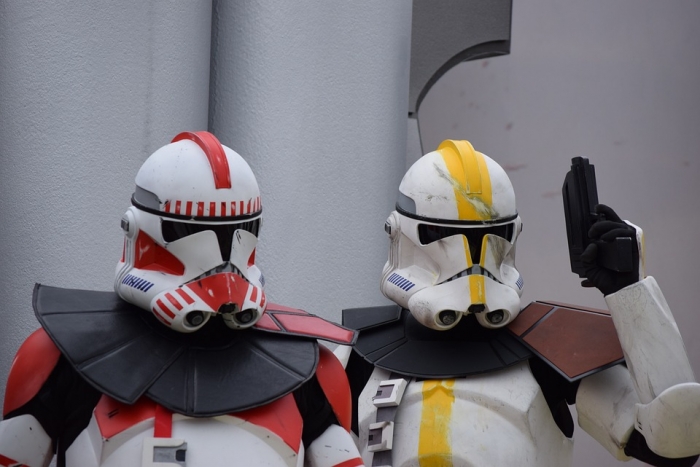 Join throngs of Star Wars fans and nerd out to all things Star Wars related. From exclusive vintage toy collections and fan art to character costumes, you're sure to find something in common with your fellow fans! Various Singaporean fan groups will also be on site – you may even be recruited to join in their crusade if the Force is strong with you! So pray that you Midichlorian count is high.
With your popcorn in hand, finish off your three-day Star Wars adventure by catching an outdoor screening of Star Wars: The Force Awakens, on the final night of the festival! Huddle under the stars, in the midst of The Meadow, as you and fans alike revisit the latest episode of the series!
There are plenty of exciting opportunities for all you Force-sensitive beings out there to keep your weekend busy! Be it meeting fellow fans or participating in the race, we can only leave you with this parting message: "may the force be with you".