Here's a heads-up for all you poor souls suffering from office blues: Singapore's Ministry of Manpower has released the dates of the 2018 public holidays!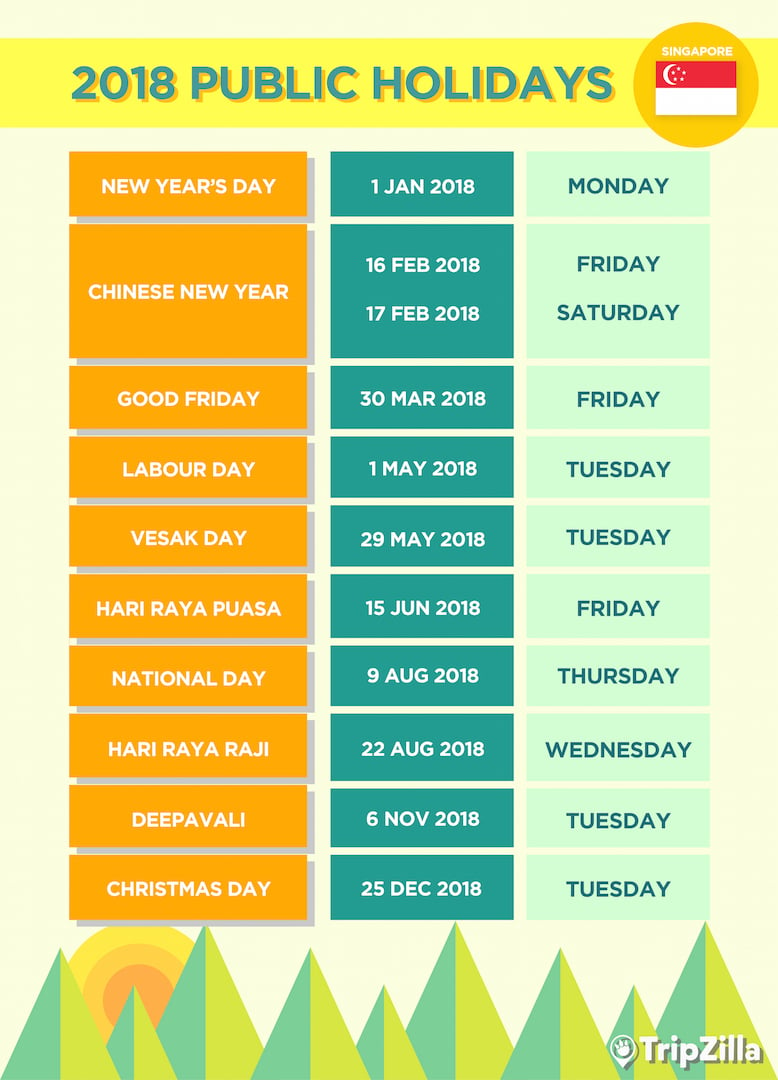 Only 4 Long Weekends in 2018?
And yet, is that something to rejoice? Not really – an abysmal four out of eleven public holiday dates in 2018 falls on a Friday or Monday! So get ready to scrape multiple getaway weekend plans off your calendar, and brace for public holidays to randomly pop up in the middle of the week and disrupt your working momentum.
Here's the (miserably) short list of official long weekends in Singapore next year:
1. New Year's Day
30 December 2017 to 1 January 2018
(Saturday to Monday)
2. Chinese New Year
16 February to 18 February
(Friday to Sunday)
3. Good Friday
30 March to 1 April
(Friday to Sunday)
4. Hari Raya Puasa
15 June to 17 June
(Friday to Sunday)
And that's all for your official long weekends in 2018. Time to weep.
Make it 9 Long Weekends with this Calendar & Cheatsheet
But despair not. With some masterful application of leave, you can more than double the number of long weekends you can have on your 2018 calendar!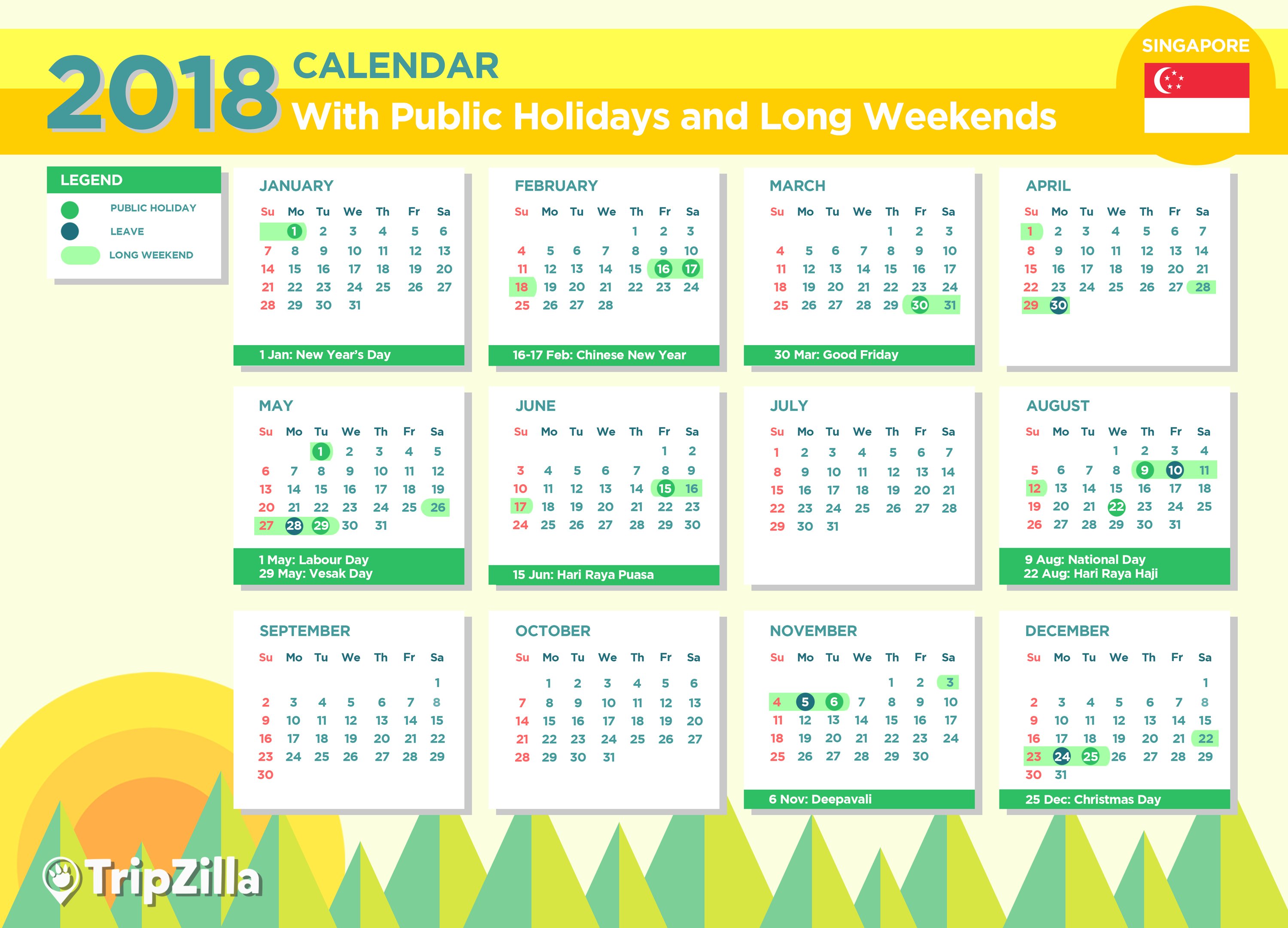 Another four public holiday dates in 2018 fall on a Tuesday: Labour Day (1 May), Vesak Day (29 May), Deepavali (6 November), Christmas Day (25 December). Simply take a day's leave on the corresponding Mondays, and you'll be well on your way to a lovely vacation away from the dreary city life.
If you wish to conjure up an additional long weekend, take leave on August 10, the Friday after National Day (9 August)!  That gives you another 4-day weekend to go on an epic adventure overseas, though your peers might deem you unpatriotic (but we know better).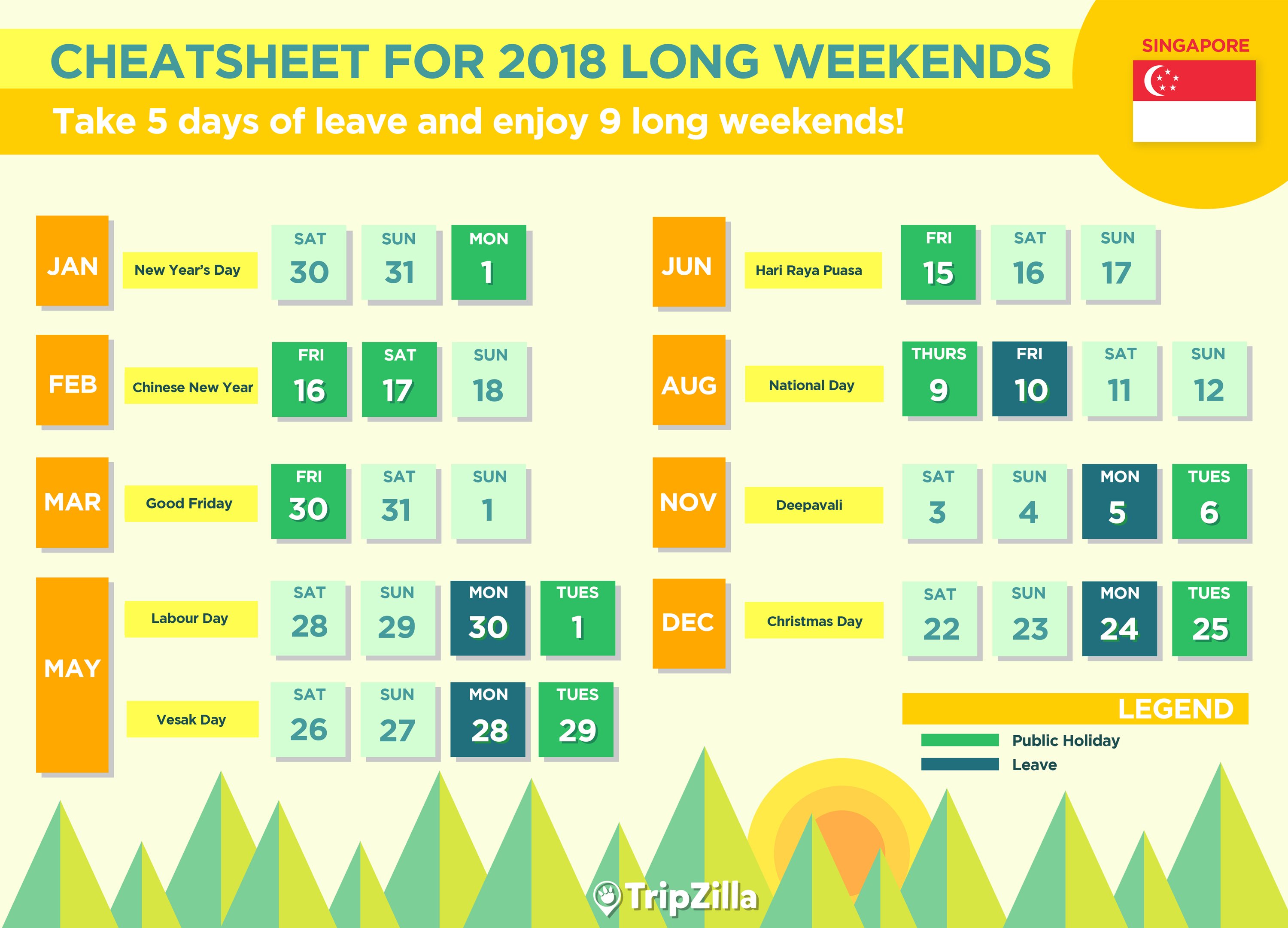 If you are still befuddled on what to do during these weekends, check out this amazing list of legendary train journeys you can take from Singapore, or the seven islands easily accessible from your home. Alternatively, head over to TripZilla Stays for the best hotels to have your staycation in.
Before you scamper off excitedly to tell your friends about this wonderful way to beat the system, do remember to download this planner and cheatsheet! And do share this article with your colleagues as well (because accumulating social capital is important too).
Also Read: 6 Long Weekends in Singapore in 2019