Seoul is not usually the kind of city that you visit for just a day – it is best savoured slowly, as it has far too many nooks and crannies to be explored. However, if you somehow end up with just one day to spend in Seoul, whether due to a short layover or time constraints, fret not. Your time in this city can be so short, but seoul wonderful too. Here are some things you can do in Seoul, from day to night, during your short stay.

Also read: 3-Day Seoul Itinerary: What to See & Do
Morning
Stroll around the Bukchon Hanok Village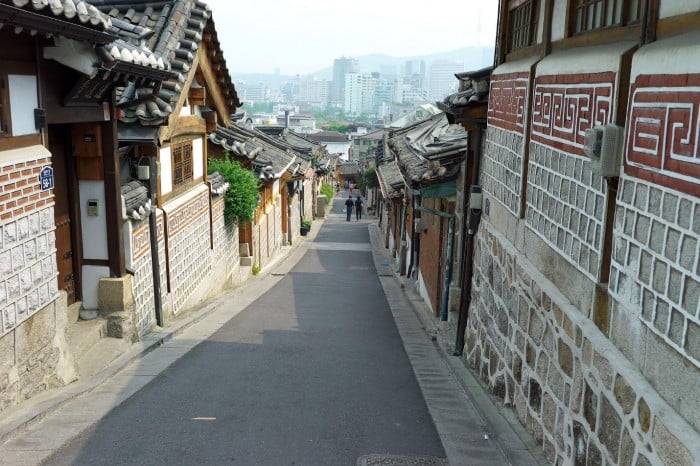 Image credit: Beega Tan
Bukchon, which means "small village" in Korean, is definitely a place you wouldn't want to miss on your short trip. An embodiment of Korean culture, these traditional houses have roots all the way back to the Joseon Dynasty and have now transformed into guesthouses, hippie cafes, and restaurants. These houses are not only well-preserved in and out, they also offer great photo-taking opportunities for that Instagrammer in you!
Dress up as royalty at Gyeongbokgung Palace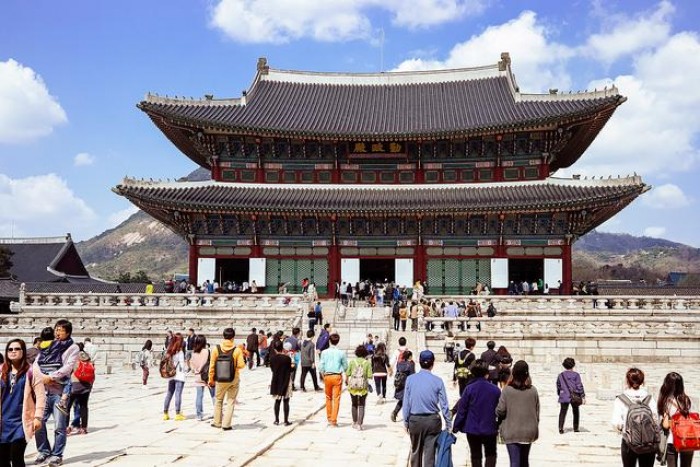 Image credit: epicaxas
Realize your childhood dream of being born a king or princess by adorning traditional royal costumes at one of the biggest palaces in Seoul, the Gyeongbokgung Palace. Located at the heart of the city centre, the palace was built in the 1300s and remains the most gorgeous amongst the other famous palaces in Seoul to date.
Also read: Solo in Seoul: A Survival Guide
Afternoon
Go cosmetic crazy at Myeongdong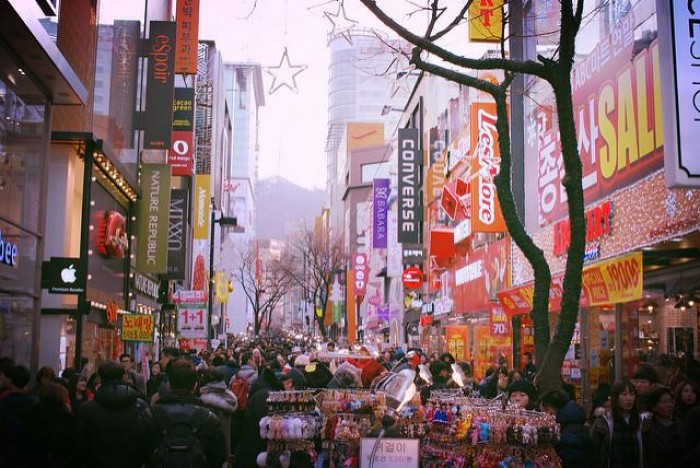 Image credit: Ha Jeong Jeong
A fan of popular Korean brands Etude House, Innisfree, The Face Shop? Then your Seoul trip will not be complete without a visit to beauty haven Myeongdong. Walk along any alley here and you will be instantly greeted by these brands and more. Before you know it, your baskets will be overflowing with bargain beauty buys. Don't say we didn't warn you!
Also read: Seoul: 10 Tips for Shopping in Myeongdong
Have tea breaks in Garosugil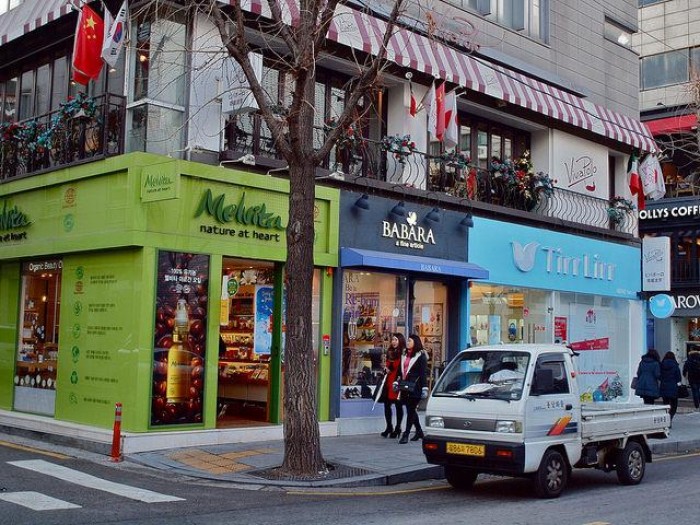 Image credit: Alejandro
With its name derived from the phrase "tree-lined streets", Garosugil is located in the Gangnam area and is known for its dichotomy of modern stores ranging from designer clothing shops to hippie cafes, and the more historic art galleries and establishments dating back to the '80s. Should you become tired of shopping in the area, you may wish to pop by some of these bohemian-looking cafes for a tasty cuppa!
Feast on local delights in Gwangjang market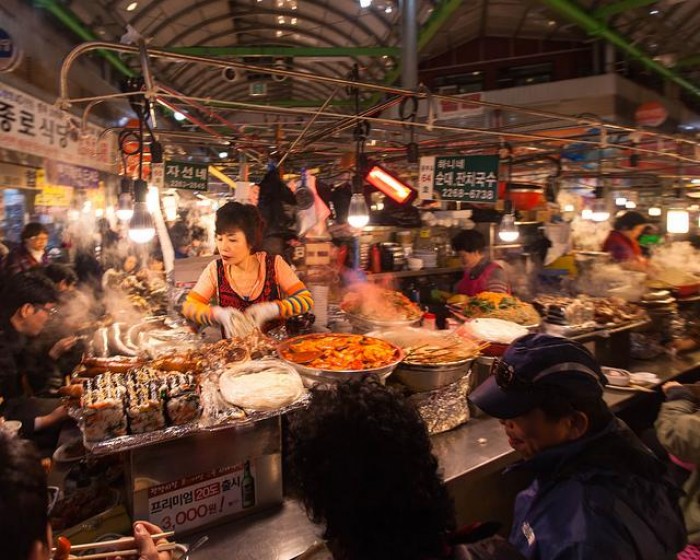 Image credit: Erik Barfoed
Street food is an integral aspect to the Korean culture and there is no best place to sample them than at Gwangjang market. In the day, the market sells lacquerwares and handicrafts, and then it transforms into a bustling food centre that specialises in popular fares like japchae (Korean glass noodles), ganjang-gejang (raw blue crabs), and bindaetteok (mung bean pancakes).
Night
Shop till you drop at Dongdaemun Market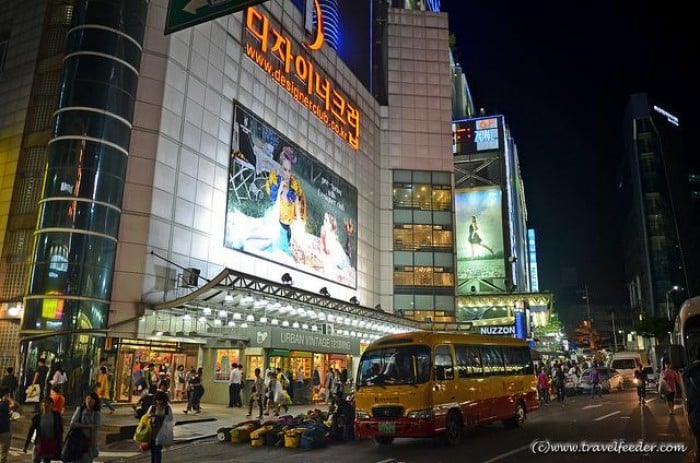 Image credit: Cecil Lee
Spanning 26 shopping malls, 30,000 specialty shops, and 50,000 manufacturers, Dongdaemun market is a commercial behemoth bound to usurp all your remaining won without you noticing. It is one of the few shopping areas that opens nearly 24/7 in Seoul and it features the latest in fashion at reasonable prices. Brush up on your bargaining skills before your shopping spree!
Have supper at a Pojangmacha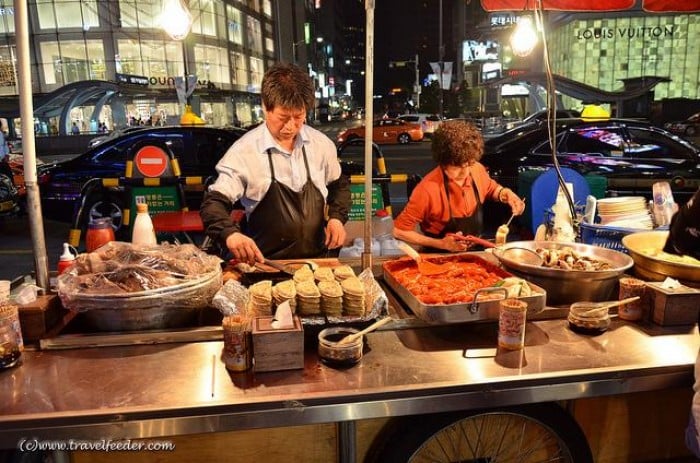 Image credit: Cecil Lee
A common feature in many Korean dramas, the Pojangmacha (i.e. small street food tents) is a popular venue for late night snacks and drinks. These tents, often run by older ladies (also known as ahjummas), usually pop up in the late evenings and you can easily find them strewn along in the Jongno, Hongdae, and Namdaemun market areas.
Also read: 24 Fun Things to Do in Seoul on Your Very First Visit
Ready for a day of non-stop fun activities in Seoul? When you're done with your short stay in Seoul, you're almost guaranteed to be dreaming of returning to this incredible metropolis soon!