Known for its magical, almost ethereal atmosphere, Nami Island boasts a plethora of scenic viewpoints with beautiful natural landscapes that stretch as far as the eye can see. It also plays host to numerous unique experiences celebrating its spirit of imagination. In fact, the island declared itself as culturally independent from the rest of South Korea. The UNICEF Child-Friendly Park is definitely worth a trip out to explore its stunning gardens and gorgeous nature trails. To get you started on your adventure, here's a simple guide to Nami Island. Before you go, remember to download a reliable VPN to protect your data while surfing the web using public WiFi in South Korea! 
How to Get to Nami Island from Seoul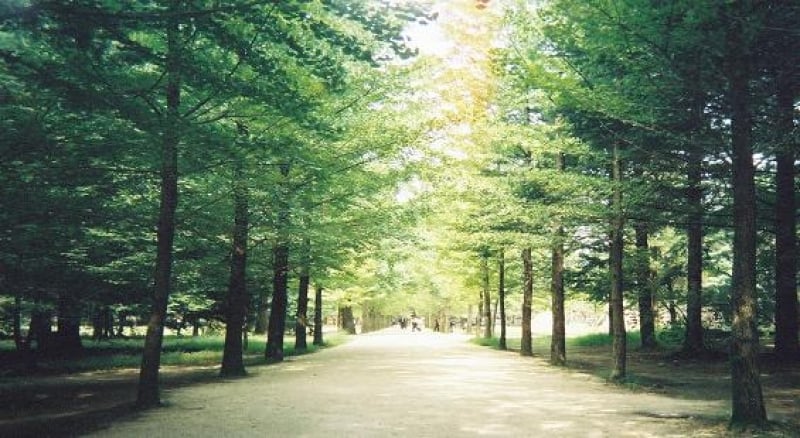 The first leg of your journey to Nami Island starts from Seoul to Gapyeong Station. There are two popular options you can choose from: the Metro Train or the ITX Cheongchun.
For the former, take the metro train from Yongsan Station to Sangbong Station, and then transfer to the Gyeongchun line. After which, continue your journey from Sangbong to the Gapyeong Station. This option takes about 100 minutes, and costs around ₩2350 or approximately S$2.73.
The next option is to take the ITX Cheongchun, which brings you directly from Yongsan Station to Gapyeong Station. This would save you 40 minutes in comparison, taking about an hour to reach Gapyeong. A train ITX ticket costs about ₩5200 or about S$6 for allocated seating, or ₩4900 or about S$5.68 for standing and non-assigned seating.
The second leg of your journey to Nami Island would be from Gapyeong Station to the Gapyeong Ferry Wharf. We recommend the easiest and fastest option, which would be a short taxi ride that sets you back only ₩3000 or about S$3.50.
Lastly, the final step would be to take a ferry from Gapyeong Ferry Wharf to Nami Island! Ferries run from 7.30am to 9.40pm daily. From 9am to 6pm, there are ferries every 10-20 minutes, and every half an hour for the rest of its operating hours.
Getting around Nami Island
Nami Island is very accessible and you can definitely explore the whole area on foot. However, to save some time and get the full experience frequented by island regulars, there are more exciting transport options such as the sky-bike, electric tri-way! An option would be to buy a Nami Island All Pass which covers most transportation on the island, including the abovementioned as well as standard bicycles and the story tour bus.
Best Seasons to Visit Nami Island
In truth, there really isn't a "best" season to visit Nami Island. Each season boasts unique experiences, and have different pros and cons. Here's an overview of Nami Island through the four seasons for you to take your pick based on your individual tastes and preferences:
Spring
Typically ranging a short period from March to April, Spring in Nami Island, as with the rest of South Korea and East Asia is an impressive sight to behold. The island would be littered with cherry blossoms in full bloom, enveloping the gardens in floral magnificence. In Spring, be sure to visit Cherry Tree Lane, a walking path that will be covered with the prettiest sea of cherry blossoms in the season. Also, look out for the special annual Cherry Blossom Festival during this period.
Summer
The summer season is great weather for activities such as watersports and zip-lining. Although it'll be hot and a tad humid, Nami Island is not scorching because of the shelter provided by the woodlands trees all around the island.
Fall
Happening around October to November, the seasonal change transforms the entire island with fall foliage decked out in bright auburn colours. The Korean Harvest Festival featuring grand maple trees is one you must experience.
Winter
Visit Nami Island during the winter to recreate the iconic scenes of Winter Sonata, the 2002 Korean drama that brought the island to mainstream media. The entire place would be covered in a blanket of snow, bringing about some romantic vibes as you explore the island. However, not all activities are available during the winter as they are dependent on weather conditions.
What to do on Nami Island
1. Take a zip line to the island
For the adrenaline junkies, the first activity you should definitely try is the zip line from the zipwire tower at Gapyeong to the island itself! Instead of a ferry boat ride, you'll certainly be travelling in a much more exciting and adventurous way right from the beginning of your island exploration!
2. Explore the riverside paths
There are numerous wooden boarded walks that allow you a closer look at the stunning crystal clear waters of Nami Island's lakes. There, you'll also be treated to awe-inspiring sights of the vast mountain ranges that stretch as far as the eye can see. It truly is a serene experience that'll let you take in the beauty of nature.
3. Snack on a hotteok
This Korean red bean pancake is a favourite among locals and tourists alike, and is a must-try when visiting South Korea! It is served fresh and hot and makes for a great snack to take along while exploring the rest of Nami island.
4. Walk down Metasequoia Lane
Metasequoia Lane is one of the most popular and iconic spots to visit on Nami Island. Lined with redwood trees affectionately called the living fossils of the island, the scene is a postcard-perfect image capturing the essence of natural beauty. As you walk through the gigantic lean trees, it's as if you've been transported to another whimsical dimension — definitely a must-see experience!
5. Visit a Memorial Garden
The island also plays host to a couple of memorial gardens, testament to the island's rich cultural heritage. The Sujaewon Garden remembers the founder of Nami Island with a stone statue of Minn Byeong-do, while the Champyeongwon Garden celebrates the spirit of sharing and creativity espoused by him. The memorial gardens offer a spectacular hideaway from the typical walking paths and are great for picnicking.
6. Butterfly-watch at Hampyeong Butterfly Park
Because of the untouched nature on the island, the fields of nectar-producing flowers readily attract colourful butterflies! Visit the Hampyeong Butterfly to catch some pollination in action, and do check out the annual butterfly festival held around April and May.
7. Have a picnic at Dodamsambong Garden
Dodamsambong Garden is a miniature replica of the popular Dodamsambong Peak at the Namhangang River. Here, Nami Island's very own peak is tucked away within a calm lotus pond away from the touristy crowd.
8. Spot some wild animals all around the island
Animals are commonly seen roaming freely around the whole Nami Island area. If you're lucky, you'll be able to spot some exquisite species of deers, squirrels, rabbits, and plenty of birds.
9. Listen to some tunes at the Song Museum
The Song Museum traces the history of music in South Korea, dating back to traditional vernacular forms of music, to modern-day contemporary Korean music. Understanding this genealogy will definitely edify your appreciation of the K-Pop and how historic Korean musical practices have been transformed into the viral phenomenon it is today.
10. Visit Petite France
While not technically on Nami Island, Petite France is only a bus or taxi ride away and it's often covered together by tourists making a day trip to the area. The park showcases a village of buildings designed in French-style architecture, and features iconic references to Le Petit Prince, the famous French children's novella written by Antoine de Saint-Exupery.
With so many attraction to explore, a trip out of Seoul is definitely worth your time. Be sure to add Nami Island to your next South Korea travel itinerary!
Also read: 7 Perfect One-Week Itineraries for Korea