As I began to write this, I realised that most of our time in Switzerland was spent either lounging away in our rented apartment in Zermatt, or commuting between cities.
Zermatt, the southernmost alpine town that lies right next to the mountainous shared border with Italy, is at least an hour's journey by train to the nearest interchange, Visp, and to travel to the other main cities like Zurich, Bern, or Interlaken would require between one to three hours. Not that we were complaining — Central European trains, as we had discovered, were extremely comfortable and reliable. Many an interesting story were shared amongst ourselves whilst we were on the move. This final leg of our European journey did not consist of adrenalin-filled moments. We didn't ski or jump a bungee; it was a time for us to flee from clockwork activities, and to stop and breathe.
It was snowing heavily over most parts of Switzerland just days before our arrival, so I was disappointed to see greenery in abundance; it would seem that I had missed that one experience in life I wanted more than anything. That, however, could not take the gloss from what I felt was unparalleled Swiss beauty as the Glacier Express chugged upwards in a slow spiral, slaloming around mountains and passing through sleepy towns en route, each with its own unique allure, whether it was a cluster of inns, a construction hub, or even a hilly area with small cottages scattered about. From time to time, I find myself wondering if this could be an ideal place to escape to and live like a recluse.
It was getting dark, and we were eagerly anticipating the end of the line — St. Niklaus, Randa, Tasch, inching higher and higher, and to our delight, green grass gradually came topped with white froth, creeping upwards into the trees — perfectly shaped blobs resting on branches and leaves. A tunnel separated us from Zermatt, and we did not know what to expect on the other side. Screeching whistles; howling wind. We emerged as quickly as we had gone in, and what lay before us will forever be etched in my memory as my first foray into an environment I could only fantasise about before this. It must have been snowing substantially the day before, for both my feet landed on the platform not with a thud, but with a plod, as if I were scraping ice. Snow, all around, inches thick, and we as people dot the landscape like chocolate chips on vanilla ice cream.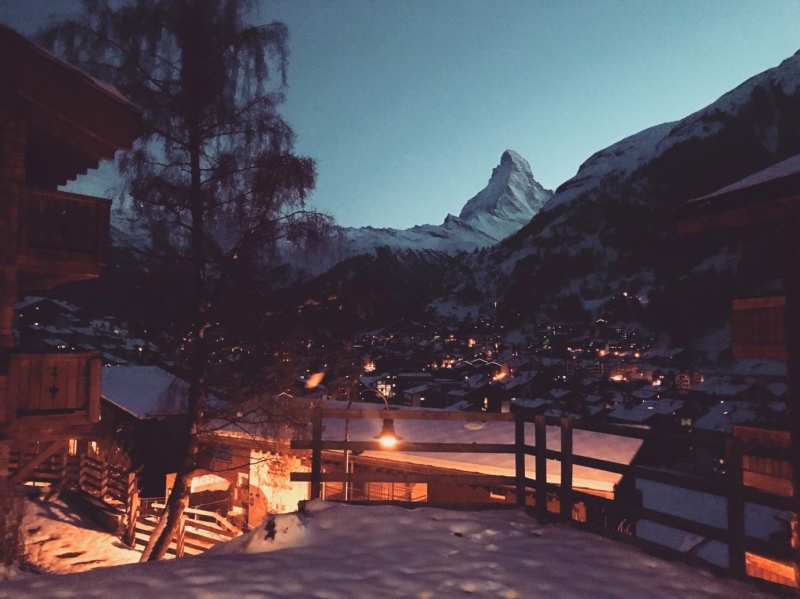 The best way to describe Zermatt would be to liken it to a town that you could associate Christmas with. There is always snow: on the ground or on the roofs, trees, slopes and hills, or on the tips of mountains. It is a town of mostly wooden buildings to match thick swathes of trees on the hillsides. A network of sloping paths and roads maximises the limited land that is available, and the Gornera River cuts through the centre. Our apartment is located on one of the higher platforms, and it became clear why my father had chosen that to be our home for the next few days. Out in the backyard, over in the distance, an all-too-familiar shape greeted us: the iconic tip of the Matterhorn.
We did not have much planned, except to enjoy the snow. We frolicked around, rolling back the years as we had snowball fights and (unsuccessfully) attempted to build snowmen. Spring's memo had yet to reach Zermatt, and were we glad. As a tribute to the winter we never had, we made flavoured ice kacang by scooping cupfuls of snow—we shaved the top layer for hygiene's sake—and pouring honey and fruit syrup. I remained outside in the snow, lost in the thrill of tossing snowball after snowball.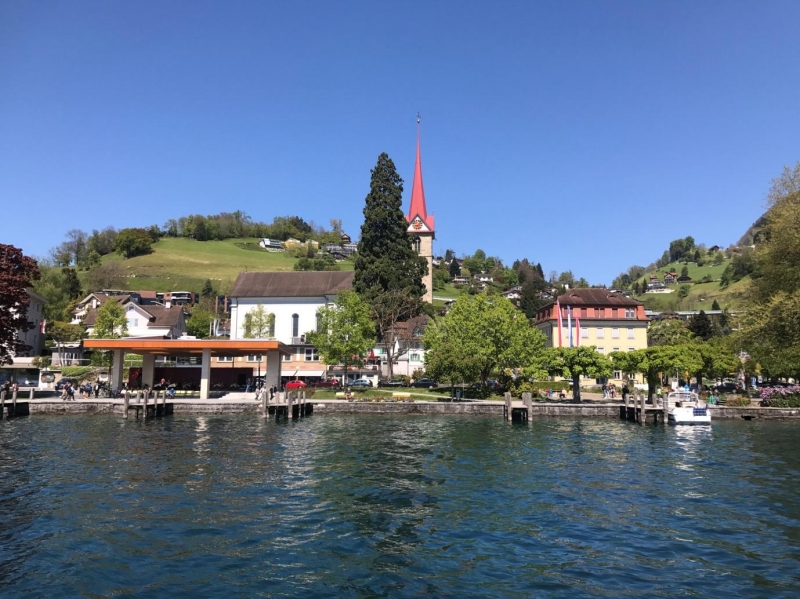 We did venture outside when we wanted a change in scenery. One of my favourite places in Switzerland is the gorgeous Lake Luzern, where Swiss Pass holders can embark on cruises around its perimeter free of charge. There is nothing quite like finding your own little spot just by the port or starboard, and silently observing the little towns that you will pass by. I later realised that not all of the passengers were tourists; the ship also acts as a form of public transportation, ferrying residents of the towns by the lake to and from the city centre. Wherever a large body of water is present, there you will also find a ferry. It seems like the Swiss have become accustomed to living in all manner of locations, no matter how rural. Later, as we took the tram up to Mount Rigi, we saw a few shacks lined up by the side of the track. In one of them, a little girl no older than ten peeked from behind a window, looking inquisitively at us.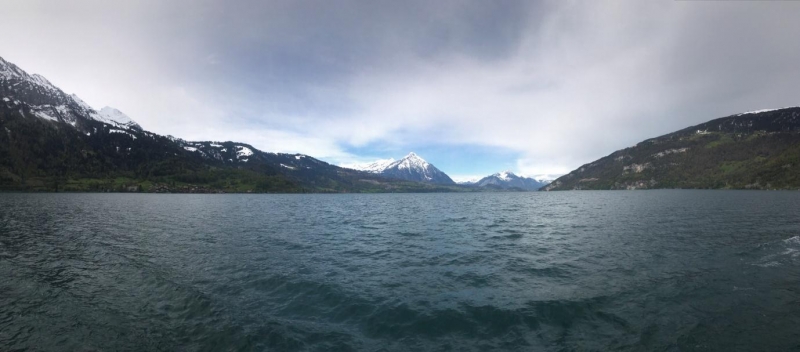 We first visited Switzerland as a family back in 2014, and as we prepared to depart this time round, it dawned on me that even though much had stayed the same, much had also changed. We tried to locate familiar shops, but most of them had gone — the bicycle rental shop, the rösti bistro, or even the flock of geese that would gather by the bay of the lake in between two cafes. It seems like no matter where I find myself, everything around me is always moving, moving, moving; so quickly that I could go back to the very same spot in another few years and it wouldn't feel the same. How then, can we ever run out of places to explore?