Often touted as one of the most beautiful countries on Earth, Switzerland is a destination that is on the bucket lists of many travellers despite the price tag that comes along with holidaying in this picturesque destination. Overwhelming natural beauty awaits from lofty viewpoints in Jungfrau or the iconic Toblerone mountain, the Matterhorn, to the turquoise lakes in Lucerne, Geneva or Lugano.
The best way to take in the scenery of Switzerland while on the move would be the train or boat rides. The Swiss public transportation system is safe, efficient, and can even be considered an attraction in itself. To navigate the dense transportation network of Switzerland that spans some 29,000 kilometres over land and water, having a Swiss Travel Pass is extremely convenient.
Similar to the Japan Rail Pass, the Swiss Travel Pass enables you to travel freely on all public trains, buses and even boats in Switzerland during its duration of validity. You can choose between the 3, 4, 8 or 15 consecutive days pass according to your travel duration in Switzerland. While the cost of the travel pass might take up a chunk of your budget, you can still score exclusive deals, such as those from Dynasty Travel which starts from S$332 per person.
If you aren't convinced already, here are five reasons why the Swiss Travel Pass is absolutely a must-have for travellers.
1. Spontaneity, flexibility and seamless journeys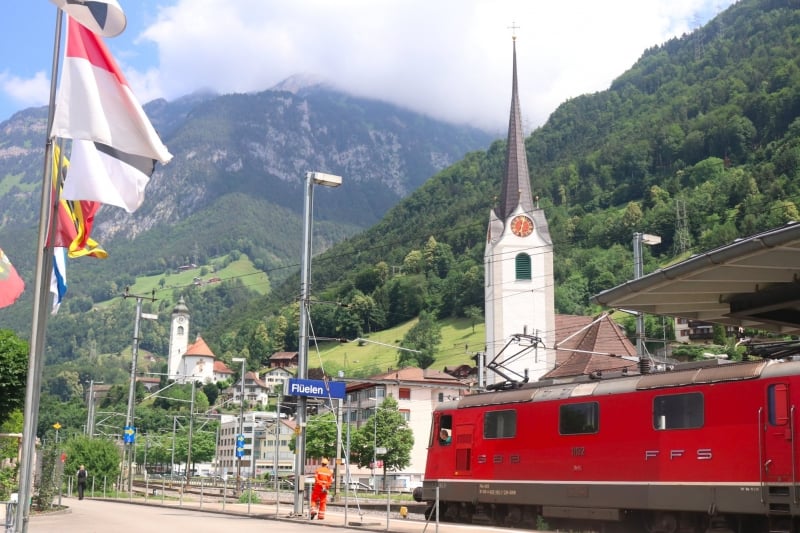 By train, it took me only around 2.5 hours to get from Zurich in the northern part of Switzerland to Zermatt, which is close to the southern border of the country. Indeed, Switzerland is a compact country and it's possible to see much of it even without advance planning or a fixed itinerary.
Armed with a Swiss travel pass, you can spend your day in Zurich and then hop on the next train for dinner out of town. Since there's no need to pay an additional cent for transport, your sudden whims to make a trip somewhere can be accommodated easily. Spontaneous travellers can even book a few nights of accommodation at their first stop and decide afterwards where to go next.


The Swiss Travel Pass is designed to make travelling around Switzerland more convenient for travellers like yourself. With it, you will not need to queue for tickets before boarding the trains, trams, buses or boats; simply keep your pass QR code within easy reach and you can have a seamless journey.
In the unlikely case of a delay, you can also hop on the next train without worrying about getting a refund or replacement ticket. My train from Zurich was delayed because of a train fault and I missed my connecting train to Zermatt. Thankfully, the Swiss Travel Pass and the good train frequency enabled me to continue my journey on the next train which arrived 20 minutes later.
2. A huge discount for witnessing the best sceneries in the country
Other than using your Swiss Travel Pass for rides on public transportation, you can make full use of it by taking the premium panorama trains! These special panoramic trains connect some of the most beautiful Swiss cities in a journey called the Switzerland Grand Train Tour. This self-guided tour combines eight different routes that stretch a total of 1,280 breathtaking kilometres.
If you do not have enough time to complete the whole route, I would highly recommend embarking on the Gotthard Panorama Express. It consists of a train and boat ride connecting Lucerne and Lugano, and also the slowest express train in the world: the Glacier Express, which ply the route between Zermatt and St. Moritz.
One thing to note is that although tickets for these panoramic rides are free, some trains require passengers to make a seat booking (chargeable, price varies depending on the train) as seats are limited. When you purchase your Swiss Travel Pass with Dynasty Travel, they are able to make these seat reservations on your behalf.
If the stunning views from the panoramic trains aren't enough for you, you'd be pleased to know that holders of the Swiss Travel Pass also get FREE mountain excursions to three spots in Switzerland: Rigi, Schilthorn and Stanserhorn. This means that you will be able to take the train or cable car up to these mountains for free while others are paying over CHF 50 (S$68) per ride!
Your savings do not stop there. Having the Swiss Travel Pass also gives you a whopping 50% off most of the other Swiss mountain excursions, be it Jungfraujoch and Gornergrat.
3. Free access to 500 museums
Culture and history buffs, take note: the Swiss Travel Pass grants you free access to 500 museums all around Switzerland! From museums displaying classic art pieces to contemporary design and other unique museums, you will be spoilt for choice.
For a comprehensive list of museums included, visit this page.
4. Extra benefits and savings for families and youths
The Swiss Travel Pass offers several perks for families and youths.
Among them, children below the age of six can travel for free if he or she is accompanied by an adult holding the pass. On top of that, parents of kids aged six up to their 16th birthday can collect a complimentary Swiss Family Card for similar benefits. If you're purchasing your pass with Dynasty Travel, let them know that you need the Swiss Family Card and it will be provided for free. Not forgetting the young adults, youths between 16 to 26 years old are eligible for the Swiss Travel Pass at a special youth price starting from S$284 from Dynasty Travel.
5. The best way to meet and interact with locals
On top of fantastic views and savings, traveling with the Swiss Travel Pass presents a great chance to meet other international visitors and more importantly, the locals. Between snapping tons of photos on the ride, be sure to strike a conversation with friendly commuting strangers or the staff on board to exchange stories and further enrich your Swiss travel experience.
What are you waiting for? Your next Switzerland adventure awaits! Purchase your Swiss Travel Pass from Dynasty Travel today and enjoy exclusive deals from S$332 per person. Click here to enquire via email or call them at +65 6536 4966 for more details.
---
Special thanks to Switzerland Tourism and Dynasty Travel for making this wonderful Swiss by Rail trip possible.