Interestingly, I've always encountered more female solo travellers than men on my travels.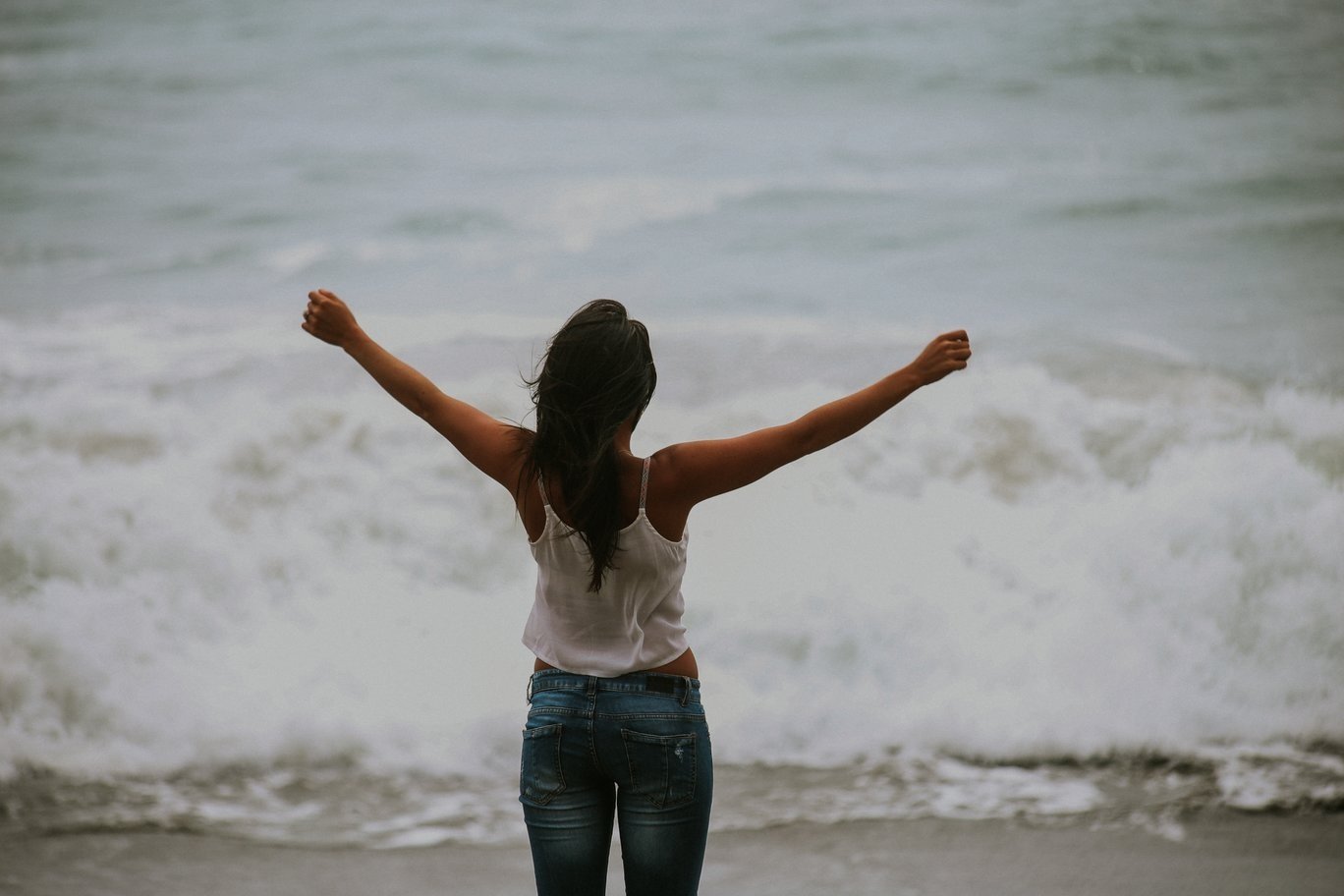 Cursory research online revealed that it held true statistically: a 2014 Booking.com survey revealed that 63% of women book their hotels without a partner, and research firm Hitwise found that women make up 55% of searches for solo travel alone in 2019. And if the hundreds of active Facebook groups entirely dedicated to female travellers don't tell you the same, I don't know what will.
This left me curious: why do women embark on solo travels more than men? Is it a quiet defiance of social norms that still confine women to more 'domestic' aspirations until today? Are we just more adventurous? Or maybe, women more likely to subscribe to the narrative of travel's spiritual ability to help you 'find yourself'. I'm not sure what the answer is, but I suspect the truth lies somewhere in between.
"Travel is Liberating."
Even a quick poll among the female travellers within the TripZilla office on what travel means to them surfaced answers like "liberation!", "life!" and a way to "challenge routine ways of doing and thinking", highlighting that we women seek to travel perhaps because of how fulfilling and transformative it can be.
And I fully relate. Travelling on my own for the first time two years ago in Turkey was definitely an 'a-ha!' moment for me. Beyond finding it incredibly satisfying to navigating unfamiliar streets on my own and discovering a new destination completely on my own terms, I learned to love my own company.
Which was an empowering realisation for me of sorts (and perhaps for many other women too), considering we've often been socialised to think we need company and we're somewhat less 'whole' of a person when we're alone. (I call #BS on this one.) Since my virgin solo trip, I've visited Lebanon, Europe, and around Southeast Asia within the same year, and am still hungry for more globetrotting… with or without a partner!
"I've had my fair share of fending off advances by men. I think that unwanted attention is the most annoying problem faced by solo female travellers."
While the increase in female travellers are a promising sign of how things have changed for women in the past decades, we can't ignore the very real dangers and issues women still face while travelling. While I'm lucky to have not experienced anything grave, but I've had my fair share of "where are you from, lady!", wolf whistles and disconcertingly pointed stares – I think you'd be hard-pressed to find a woman who hasn't experienced the same.
In fact, sometimes I'm almost wary about the narrative of 'romanticising' female travel because it can sometimes eclipse and gloss over the issues that women are vulnerable to (though I acknowledge that's not just specific to travel) whether that's catcalling, harassment, or sexual assault.
Also read: Dear Female Travellers, You Don't Have to Be Polite All the Time
That said, if you do travel solo or are considering doing so, it should by no means stop you from diving into the rich culture, geography, landscapes and history the world brims with. Keep your wits about you, trust your instincts, and do your research! There are great Facebook forums that guide you on the best female-friendly hotels to stay and travel guides dedicated to solo female travel that you can rely on to curate your trip.
In the spirit of International Women's Day, I've roped in my fellow TripZilla female travellers to find out why they solo travel, the highs and lows they've experienced as a female traveller, and their #1 tip to other female travellers.
Also read: 5 Fun & Safe Countries for a First-Time Solo Female Traveller
Describe a travel moment you've experienced (however big or small) that's changed you.
"My favourite travel destination is definitely Japan for its fascinating culture, that is both conservative yet oddly provocative. One of my most memorable experiences was on the last day of my solo trip to Tokyo. I was walking back to my capsule hotel through a quiet residential area at night and it suddenly hit me how much I loved travelling alone and didn't want to head back to Singapore. I started bawling in the middle of the road – thankfully there weren't any people around!" Xun Lin, Digital Content Strategist
"I was at Universal Studios Osaka, about to go on one of those crazy roller coaster rides, when a Japanese lady stopped and pulled me aside. I was baffled at first and before I knew it, she started placing these clips with strings to attach my hijab to my clothes to ensure I don't lose my hijab during the ride! It looked silly but I appreciated how thoughtful and accommodating the Japanese are. It also reminds me that despite the growth of Islamophobia around the world, there are still people who don't define you based on how you look." Nor Inshirah, Associate Editor
What are the 'peaks and pits' of solo travel to you?
"The best part of solo travel is that you never have to wait on people. You can always choose where you would want to go and when. You have that freedom of being in control and also you really get to learn a lot about yourself. The only pit is that there is no one to split the bill with you. You probably have to pay for two even though you are alone." Nor Inshirah
"A major peak is definitely the solitude and being able to do whatever you want, whenever you want. A pit is definitely the increased costs on things like accommodation… and inability to share food." Xun Lin
"The peak? Going wherever and whenever I feel like to. No more waiting for anyone, no need for conversation or small talk. I get bolder and open up more easily to strangers! And the pits: I can't exactly walk into a grilled restaurant myself and order a BBQ set for one. Theme parks are less fun without friends too!" Shing 
Have you experienced any difficulties travelling as a woman?
"Thankfully, I've yet to encounter any real difficulties travelling as a woman. However, there are times when I get catcalled or have men being unnecessarily invasive, like asking where I'm staying or my plans for the night. Generally, pretending not to understand what they're saying seems to deter them away." Xun Lin
"I've had my fair share of fending off advances by men. I think that unwanted attention is the most annoying problem faced by solo female travellers." Dina Malyana
"I feel like I always have to be mindful in the way I dress (and it's not even if what I'm wearing is provocative or not). Sometimes I have to be mindful about whether it is safe to wear my hijab at certain destinations like in the States where I would sometimes get stares from people. I've had an instance when a salesperson didn't want to serve me because I was Asian and wearing the hijab." Nor Inshirah
Conversely, are there any perks?
"Totally! I believe that many people are extra helpful when a solo female traveller approaches them for help… simply because we look harmless." Dina Malyana
"Locals can be really helpful, especially when you're a petite Asian girl struggling with a huge-ass luggage!" Xun Lin
Unfortunately, women still continue to face safety risks while travelling. Have you encountered any disapproval/concern for travelling solo?
"My family was worried, but I understand where they were coming from. Show them that you can care and be responsible for yourself. Also, be alert of your surroundings and trust your intuition!" Shing
"Well, my parents have never been wholly agreeable to the idea of me traipsing around the world alone. However, they've never gone to the extent of forbidding me to board the plane. All I had to do was to convince them that I knew what I was doing and I wasn't wandering into dangerous territories." Dina
"My parents are strongly against me and my sisters travelling solo and I've lied about every single solo trip that I've been on. My parents are pretty conservative so it didn't surprise me that they disapproved; however, I did have a lot of friends who expressed concern as well (whether its concerns for safety or for my crushing loneliness). Honestly, if you act smart and have an active internet connection, there isn't too much to worry about when travelling solo as a female!" Xun Lin
Lastly, what's your #1 tip to other female travellers (solo or otherwise)?
"Don't be afraid to say "no" or to walk away when you're in an uncomfortable situation." Dina Malyana
"If you're hesitant to embark on your first solo trip, start with a city destination that is easy to navigate, safe and solo-friendly, like Tokyo or Sydney. Even if you do get lost, the nearest train stations are almost always just a short walk away. It helps if you look like the locals and don't stick out like a sore thumb too!" Xun Lin
"Fanny packs are godsend! They keep valuables really accessible, close to you (you can sleep on planes/trains/buses in peace), and it's not bulky (you can easily wear your backpack or jackets without the fanny pack getting in the way). Plus, they're in trend!" Sara Amira, Editorial Intern  
"Be smart and be brave. Yes, there are horror stories about solo female travellers but you have to be smart about your whereabouts. If you feel uncomfortable, then leave and move a spot with more people. It is important to trust your instincts." Nor Inshirah
Also read: Solo in Korea: 8 Tips for a First-Time Female Traveller