Contributed by A Girl and a Bald Traveller
I'm a girl. I'd always wanted to try travelling solo.
And yes, now that I've tried it, I actually enjoy it.
Come to think of it, I love it. (Travelling with the Bald Guy can be annoying at times.)
I'm sure the idea of travelling alone at least once has crossed the mind of most girls (except those whose idea of life is clinging on to their boyfriend like sticky glue). Even some of my married girl friends confessed they actually regretted not trying out solo travelling. Now that their kid is here, well, let's just say it isn't getting easier. (Possible, though, with an open-minded husband)
If you run a quick search on Google, you'll find a lot of posts on where "the best" countries for females to travel solo "supposedly" are. After a quick read, I found myself with more questions than answers; Are these destinations seriously recommended for solo travelling?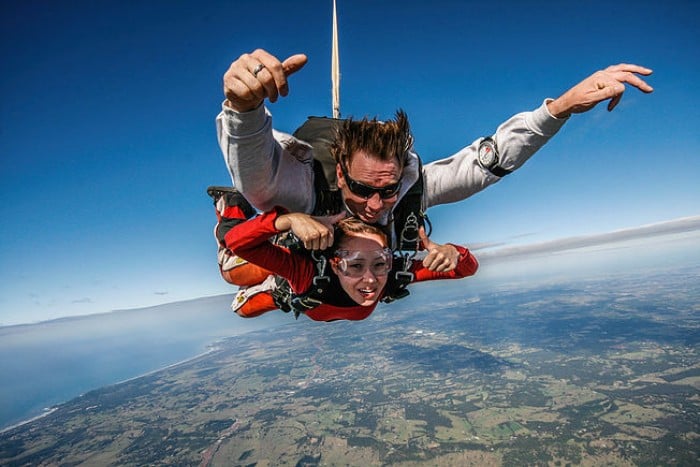 Here are some typical solo travel destinations I've come across in my brief 10-minute scan on Google.
The USA? Seriously? Not the country I'd like to find myself alone with nothing but my backpack. A road trip might be a cooler (and more efficient) way to experience the wonders America can offer.
Also read: 12 Safest and Cheapest Countries to Travel SOLO!
New Zealand? Yeah, it's beautiful, safe, and relatively cheap. But exploring it by camper-van with the "Bald Guy" and friends might be a little less boring than it should be.
Canada? Good luck to you trying to make your way across the world's second largest country alone.
Scandinavia? (Norway, Iceland, Sweden, etc.) Beautiful, yes. But for travelling alone? Pure financial suicide. Together with friends, rather than solo, would be a better choice for exploring one of the most expensive regions in the world.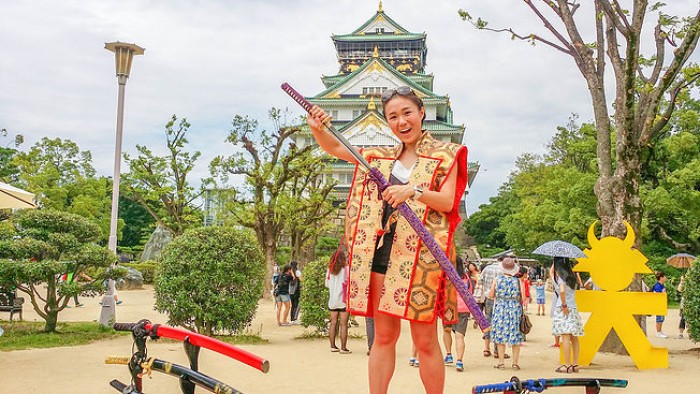 So there. Here's my (The Girl's) very own list of fun and safe destinations BEST suited for the typical shy, anti-social Singaporean female hoping to step out of her comfort-zone. The methodology for this post is as follows (recommended destinations have at least 2-3 of the characteristics below):
Basic English should be enough to get by (no need to learn Russian).
Getting around the country needs to be straightforward enough while remaining relatively cheap and WITHOUT hitchhiking, which is not an acceptable choice of travel for all females, especially first timers.
Have at least ONE girly or adventurous activities befitting of a 1st solo trip experience (skydiving, beautiful beach to laze on, good-looking men maybe, and of course shopping!).
The country should be welcoming of tourists and more importantly, not too difficult for a shy Singaporean girl to make friends.
And of course, safe.
With that, it's time to take that Solo Trip.
1. Portugal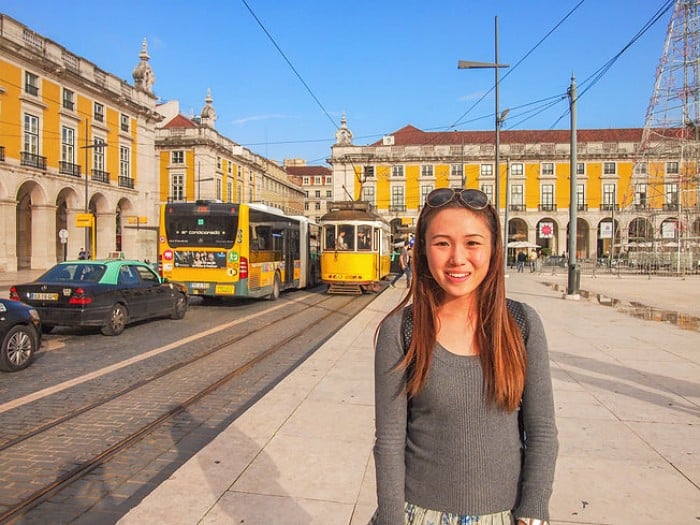 Great wine, delicious egg tarts, good-looking Portuguese men, and what an "ab-so-lutely beautiful" country. If you thought Spain was cheap (for a non-Eastern European country), you really need to visit Portugal.
Portugal is perfect for a shy Singaporean girl on her virgin solo trip. The backpacking culture is prevalent enough for even the shyest of girls to have enough opportunities to make friends. Free city walking tours, common rooms in hostels with loads of friendly backpackers, and to top it off – it's safe (which is the main concern for Singaporeans).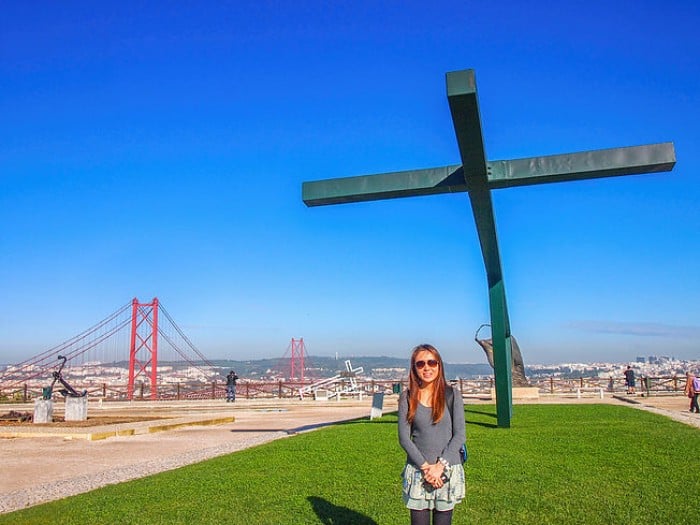 Singaporeans tend to fancy themselves as different from the rest; "I'm not like other girls", they'll say, yet not daring to venture enough into the great unknown. Portugal is a nice balance. Touristy enough for a Singaporean girl to feel comfortable, without being as common as the Italy's and France's of the world.
2. Andorra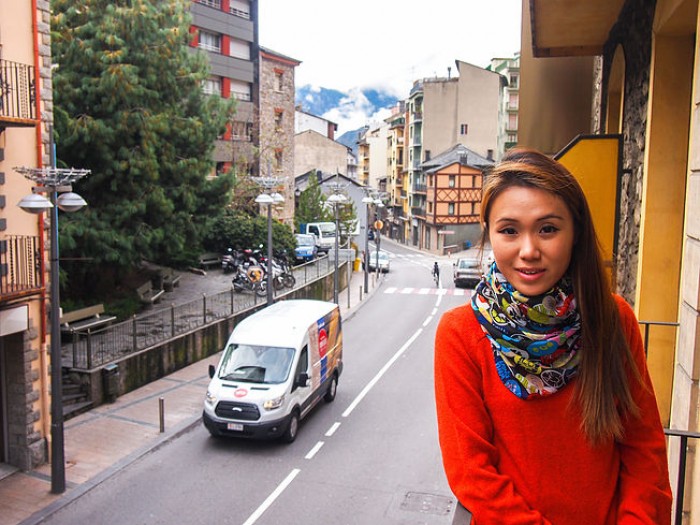 It's shopping time! Ferragamo! Givenchy! Loewe!
Andorra is the "cheapest European destination for luxury goods shopping", especially for brand-new products. For the typical materialistic Singaporeans girl whose life revolves around brand-name luxury items, you can't give this a miss!
Oh, and you'll want to travel to Andorra without your boyfriend/husband. They aren't going to be too pleased carrying your shopping bags as you go shopping for hours. Just make sure they hand you their credit card first (or you could buy them yourself). Did I also mention Andorra is home to Europe's largest spa?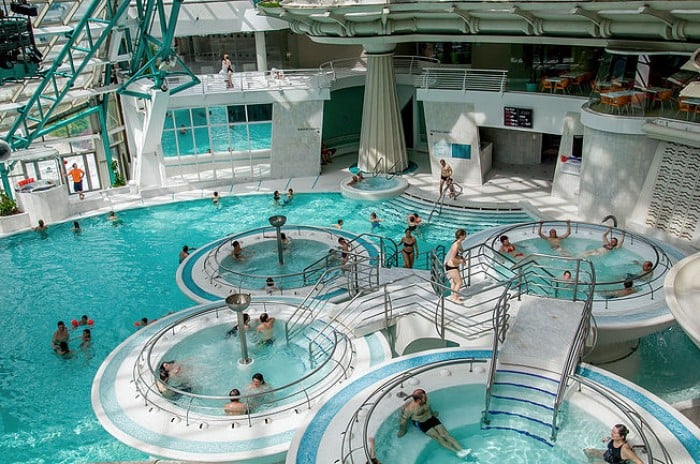 Shopping aside, Andorra is home to one of Europe's premier skiing destinations. Costs in Andorra are slightly higher than its Spanish neighbour, and there is a lack of a backpacking culture here. You might have a couple of lonely nights, but the shopping should make up for it.
Pros:
Cheap luxury shopping, spas, skiing and beautiful scenery to "discover the meaning of life".
Cons:
Few solo travellers/backpackers and hostels which can get pretty lonely. You'll hate solo travelling after visiting Andorra if you don't at least enjoy shopping enough to offset the loneliness.
3. Montenegro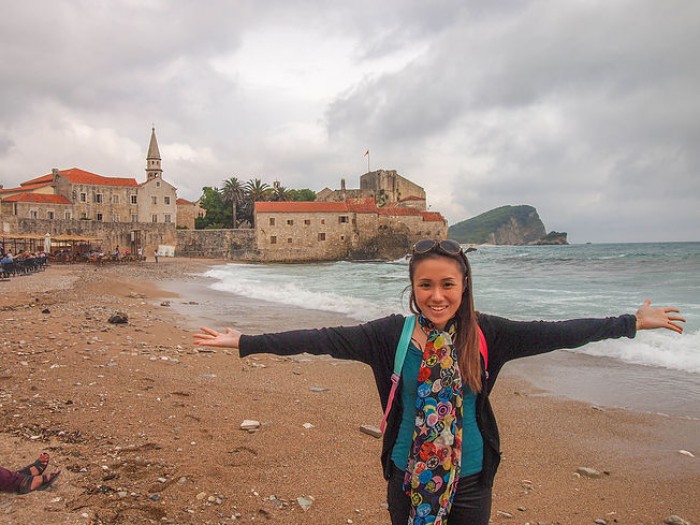 I know, you haven't really heard of Montenegro. It probably sounds "unsafe" to the typical Singaporean. If you're actually seriously planning (and not just talking, like how everyone always says they want to get a tattoo sometimes) your first solo trip, I'll presume you are somewhat adventurous enough to accept that just because you haven't heard of a certain country, that doesn't necessarily make it unsafe.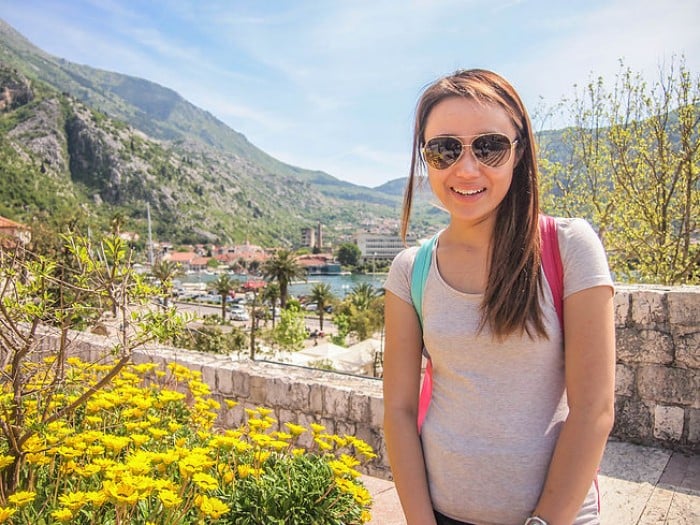 In fact, Montenegro is safe, even by Singaporean-standards. English will get you by easily; almost everything you can think of is cheap; the people (locals/backpackers) are really friendly, and the country is small enough to travel without too much hassle.
4. Australia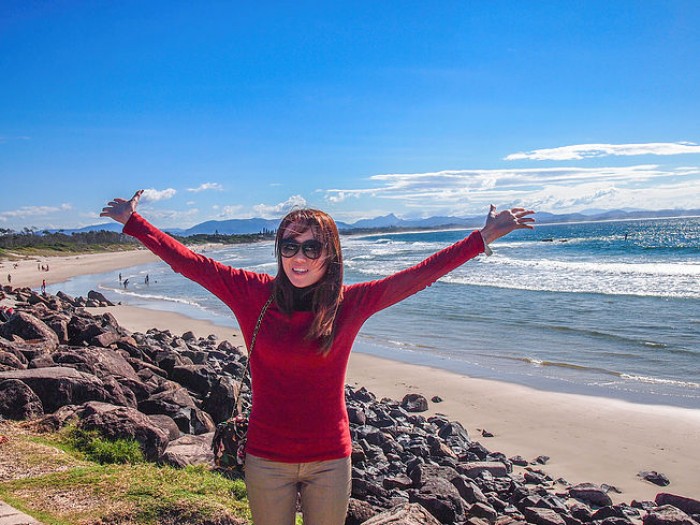 Australia! Probably the backpacking capital of the world!
Without a doubt, Australia is the easiest country for females (or anyone) to attempt their virgin solo travel experience. The country is littered with hostels. You'll probably come across a hostel every few blocks! This speaks volumes about the country's backpacking culture; there's never a lonely day in an Australian hostel. Yes, even if you are as anti-social as a Singaporean can be, someone will still strike a conversation with you and ask you out for dinner or to hangout at the beach!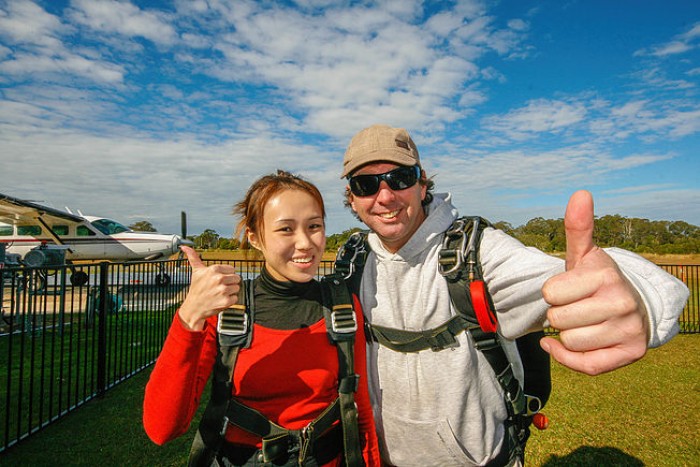 I will always have fond memories of Australia because I had my virgin skydive experience here. It was a birthday present from the Bald Guy. If safety is the main reason why you haven't tried a skydive, it's time to head here. The words Australia and skydive go together; safety is top-notch with the clearest instructions. You can also be sure the instructors go out of their way to ensure a fun yet safe experience which you'll remember for years.
Getting around is usually a concern for us girls;,especially when it's our first time alone overseas. Despite Australia being such a huge country, it's surprisingly easy to get around even if you're alone. Greyhound buses bring you from state to state with easy booking available at most bus stations or hostels.
Long distance travel doesn't have to be boring. It's highly likely you'll meet someone at your hostel going to the exact destination you're planning to. An instant travel buddy! Oh don't worry, Australia is generally safe. You'll have a higher chance of being killed by spiders than a crazy Aussie guy.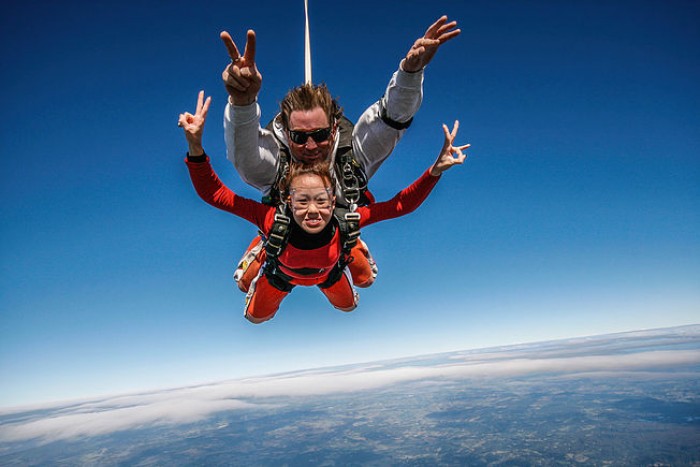 There's just so much to do in this country. (The Bald Guy travelled to Australia 14 times!) Head to Darwin for crocodile-spotting or exploring gorges and waterholes. Cairns is the State of Adventure – whitewater rafting, rainforest trekking or skydiving. The coast is littered with magnificent beaches, and of course, the Great Barrier Reef. Today, the Aussie dollar is almost at parity with our Singapore dollar, what are you waiting for?
Also read: 10 Awkward Struggles Every Solo Traveller Has To Deal With
5. Morocco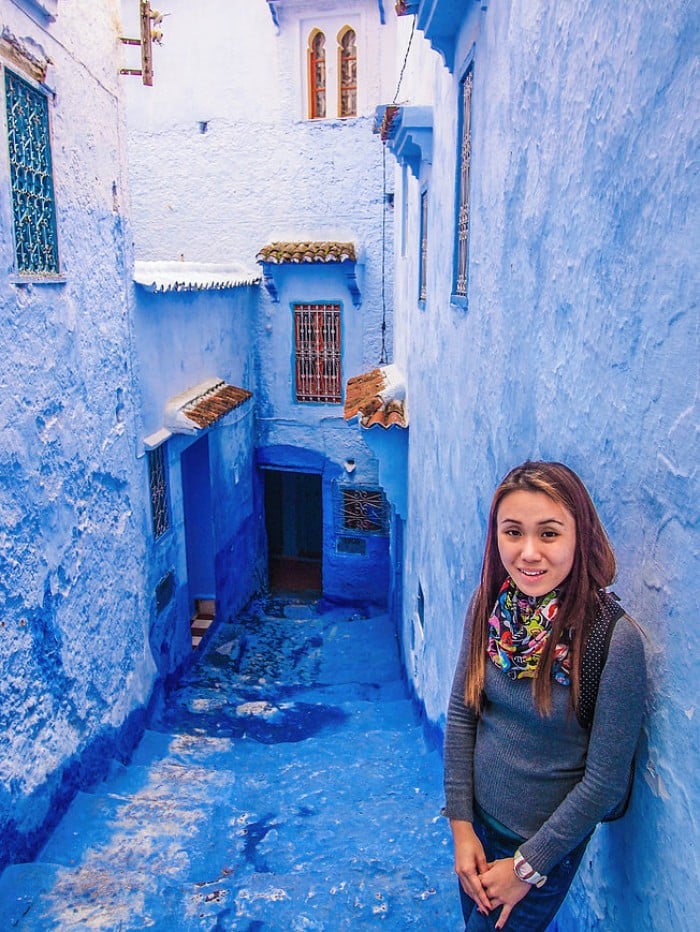 What! Africa? For a female travelling alone for the first time? You gotta be kidding!
Fortunately, you don't have to worry. When I came out with this post, I actually gave this topic some thought. Morocco is safe enough (as long is you stick to the touristy parts), cheap enough, popular enough (among backpackers), and offers an experience so amazing, you'll truly feel "alive" and proud of yourself that you visited an African country without your boyfriend by your side.
Note: The main issue you might face as a female traveller are "catcalls" and possibly men trying to flirt with you. But as long as you are firm and able to laugh it off, the Moroccan experience is fantastic enough to make you overlook this "treatment" the local men have toward females.
Morocco offers a "taste of Africa" while maintaining a balance of some sort with an injection of European influence and "comfort". Let's just say you'd feel way safer in Morocco than say Mali (another country in Africa near Morocco).
Also read: 7 Off-The-Beaten-Track Destinations in Morocco
Conclusion
A key reason why us females might even contemplate solo travel might be the "feeling of independence or adventure". Or perhaps to feel "alive". When are you going to step out from your boyfriend/husband's shadow? Aren't you even the least bit curious to know if you're more than what you think you are?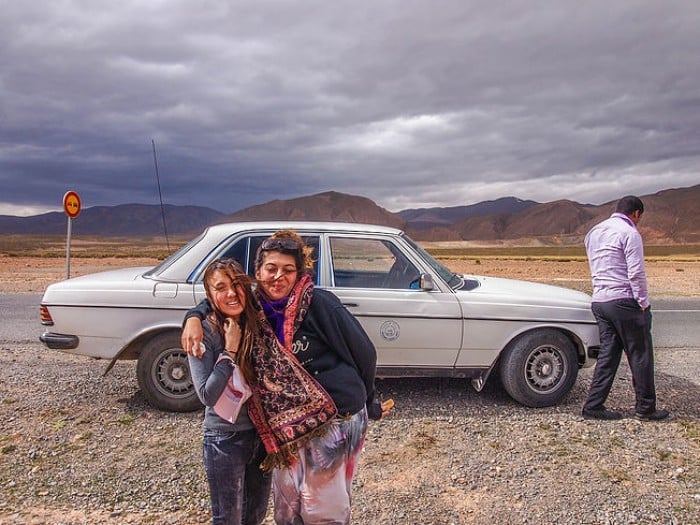 If you're one of those girls "permanently glued" to your boyfriend, Korean dramas, and pretty much being a "lamb", maybe a dose of solo travel is what you need. (There's nothing wrong with being that type of girl though. To each her own.)
So here's what I learnt by traveling alone:
I discovered I could say yes to things I usually would have said no to.
I enjoyed determining my own schedule.
I learnt to make friends with strangers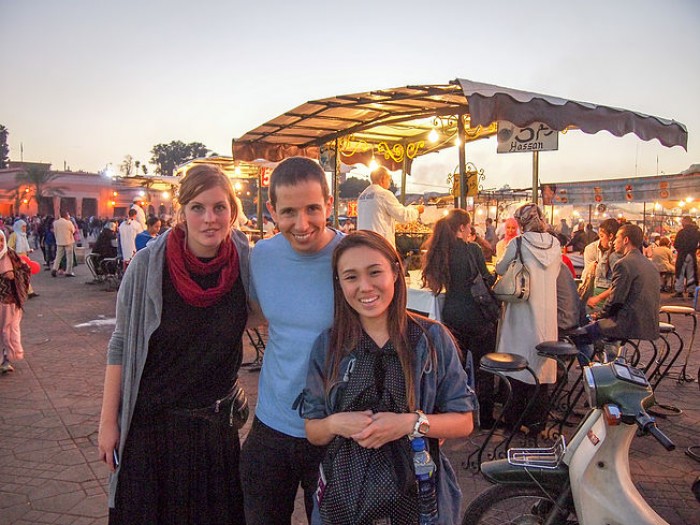 I managed to rely on more myself more often.
I "expanded" my eating preferences.
I felt free.
I enjoyed the change I saw in myself.
I actually did it.
Also read: 9 Life-Saving Tips For Any Solo Female Traveller
So yes, if you're a female and you're reading this, perhaps it's time to give it a shot, ladies; I promise you'll enjoy it. After all, there must be more to travelling than just Bangkok shopping trips with our "girlfriends" and romantic European holidays with our "boyfriends", don't you think?