I think we can all agree that Japan is beautiful in any season. But it gets a little more fun when snow is involved; because whether or not you're fond of winter, a village or city covered in snow is always a magical scene to behold. If you haven't experienced snow in Japan, don't lose hope. An enchanting experience still awaits you. You can start by learning about the best places in Japan to experience snow!
Tip: Snow in Japan normally starts from November to March with its peak in February. Some areas experience snow until May. 
1. Hokkaido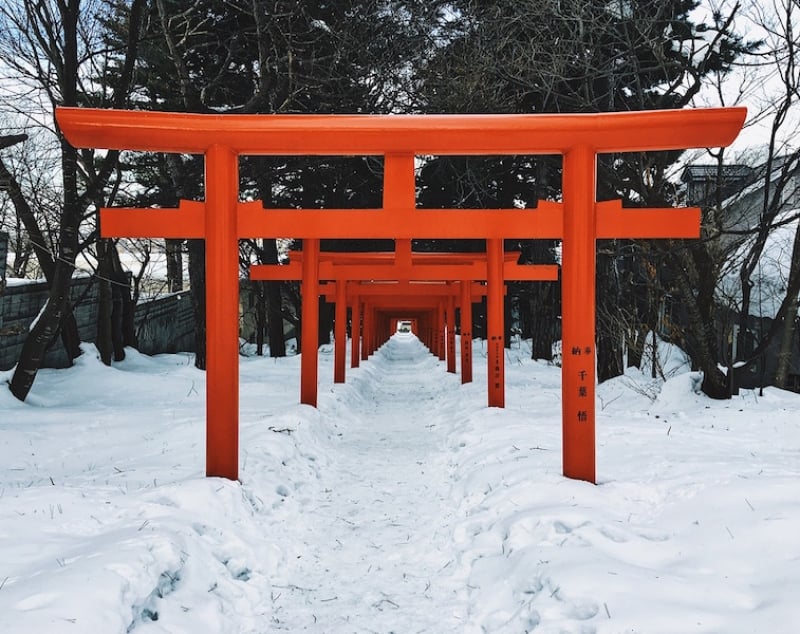 Hokkaido is said to be Japan's coldest island. Because of this, the island is abundant with ski resorts, as well as notable snow festivals and attractions. Hands down, it's the number one place to experience snow in Japan. Let's go through some of its famous snow attractions, shall we?
Sapporo Snow Festival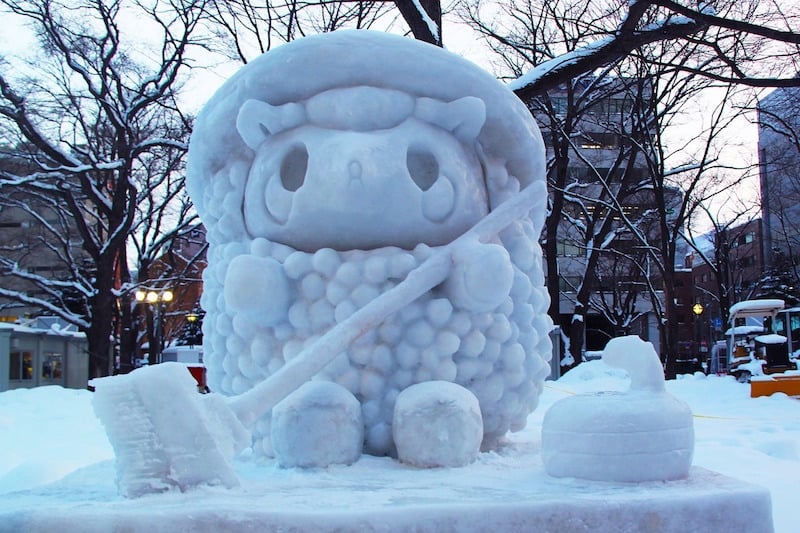 As Hokkaido's capital, we'd expect nothing less than for Sapporo to throw a week-long winter festival. Sapporo decorates its parks with snow and ice sculptures along with interactive attractions, such as snow slides and snow rafts, which both parents and children can enjoy. It's truly a winter wonderland that approximately two million foreign tourists take part in every year. 
Biei
Biei is a small town in Hokkaido whose hills become entirely hidden under snow during the winter. It has popular snowy attractions such as the Blue Pond, Whitebeard Falls,  and an amusement resort called Shikisai no Oka. 
At night, blue light is reflected on the Blue Pond's frozen surface and the trees above the surface start to look like glass sculptures. You might recognise this from the built-in iPhone wallpaper back in 2013! On the other hand, Whitebeard falls feature frozen waterfalls that closely resemble white beards — hence the name. If you're travelling with family, Shikisai no Oka will surely be a joyride as the resort offers snowmobile rides, snow rafting, and an alpaca farm!
Abashiri Drift Ice
If you've always wanted to see drift ice — in other words, sea ice that is detached from any surface — then make your way to Abashiri port. Rent one of the sightseeing boats, which will take you to the Sea of Okhotsk, where the thickest drift ice is more likely to be found. If you want to know more about the science of Abashiri Drift Ice, visit Okhotsk Ryuhyo Museum where you can also find out about animals living beneath the ice and sea. 
Niseko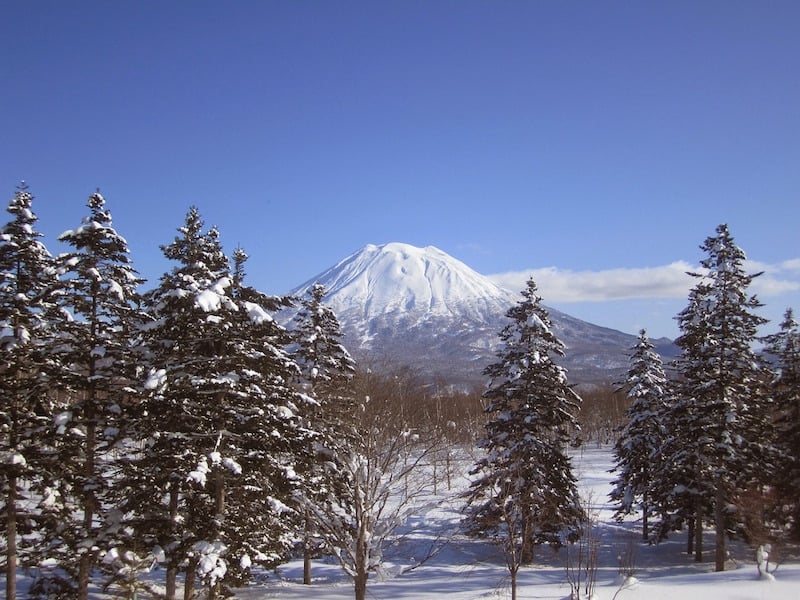 Want to go skiing? Head to Niseko, Japan's largest ski resort. All its resorts are located at Mount Niseko-Annupuri, which feature three major resorts where you and your family can indulge in not just skiing, but also after-ski activities such as shopping and restaurant hopping. Many of the eateries in Grand Hirafu resort are said to have English menus and sell imported food in convenience stores, which makes the resort convenient and foreigner-friendly. 
Also read: Niseko, Japan: My Powder Snow Experience & Guide
2. Ginzan Onsen, Yamagata Prefecture
There's no better time to enjoy a relaxing hot spring than in the winter. Hence, it would serve you well to note that Ginzan Onsen is the most picturesque onsen town during winter in Japan. The town reflects a 19th-century Japanese village and was even declared "Japan's most charming winter village" by CNN. 
Should you be fortunate enough to visit when the snow settles on the vintage rooftops and charming walkways, be sure to take pictures in remembrance of such an enthralling scenery. Oh, and of course, enjoy the warmth and healing properties of the onsen!
3.  Shirakawago, Gifu Prefecture
If you dare to experience snow in Japan in all its wintery glory, Shirakawago in Gifu Prefecture is the place to be. It's one of the snowiest villages in Japan, so much so that the steep roofs of its massive houses are actually designed to withstand the heaviest of snowfall and reduce manual efforts in snow removal. 
While the snow can serve as a burden to locals, it nonetheless creates a scenic winter wonderland for everyone. What's more, tourists can catch illumination events in January and February, wherein even the farmhouses light up against the breathtaking silver snow. And since you've already made it all the way to Shirakawago, might as well book a tour in a gassho-zukuri house to get a glimpse of what old Japanese living was like.
4. Kinkakuji, Kyoto Prefecture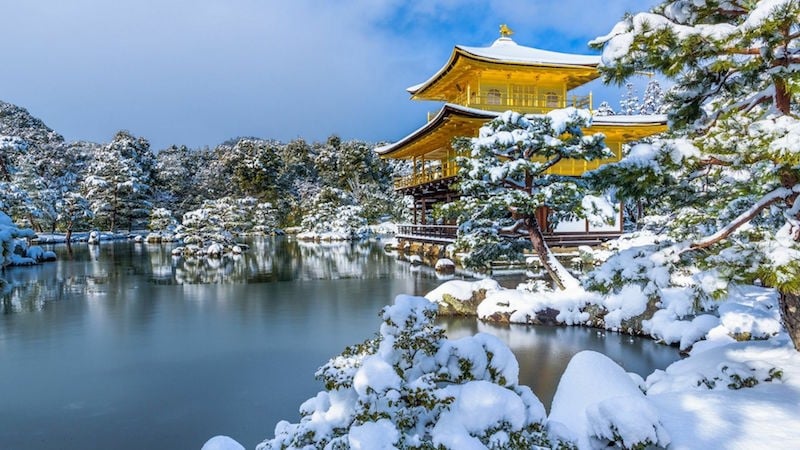 One doesn't visit Kyoto without feasting his eyes on Kinkakuji, Kyoto's famous Golden Pavilion. The temple's design has a long history, but notably, the exterior's thick gold-leaf layer was added in 1987. Today, tourists from all over the world flock to Kinkakuji either in autumn or winter. 
The beautiful contrast of the golden facade set against red leaves and white snow makes for a storybook experience. But it's the tranquil surroundings of the pond, pine trees, and shrubs, that truly create a perfect snapshot of this UNESCO World Heritage Site. 
5. Kamakura Festival, Akita Prefecture
Those who have always been fascinated with igloos have a chance to finally enter one in the Kamakura Festival. This festival is held every year from the 15th to the 16th of February. The Japanese call these igloo-like snow houses Kamakura, each of them housing a snow altar dedicated to the water deity. Visitors are offered rice cakes and warm sweet rice wine when they enter a Kamakura. In return, they are expected to make their own offering to the deity. 
Find a captivating sight of mini Kamakuras along the Yokote River, where these miniature versions are illuminated with candles, making them look like lanterns that light the path to a glistening river. This winter tradition has an approximately 450-year long history in the Akita Prefecture. 
6. Snow Monkey Park, Nagano Prefecture
The Snow Monkey Park is one of Nagano Prefecture's best attractions as tourists are able to witness wild monkeys who dip into the hot spring during winter. Where else could you experience such a spectacle? These monkeys inhabit the park, which means spotting them isn't hard and tourists can encounter them there throughout the year. However, you are not allowed to touch the monkeys.
If you're lucky, you might even catch up to 60 monkeys unwinding in the hot spring. The sight of them against the snowy slopes of Shiga Kogen Highland will surely have you dumbfounded. 
Also read: Spring in Nagano and Niigata: Rainbow Fields, Melting Snow + 10 Things to See
7. Metasequoia, Shiga Prefecture
The Metasequoia road in Shiga looks striking all year round, thanks to the 500 tall and proud metasequoia trees planted on each side of the road. This row of metasequoia trees is 2.5 kilometres long and leads to Makino Plateau, and is a famous tourist spot to drive by in the summer and winter. So if you're after the best views of snow in Japan, add this stunning road of snow-covered branches and pavement to your itinerary. With hundreds of trees lined up, the white road offers a boundless view. 
8. Mount Zao, between Yamagata and Miyagi Prefecture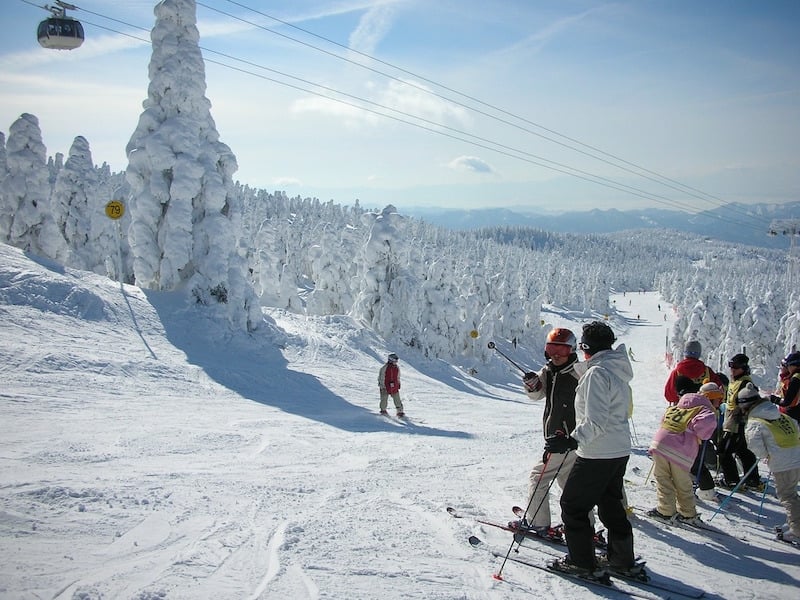 Zao is another one of Japan's go-to winter destinations for those who love to relax and ski with… a unique view. The Zao Ski Resort is famous for its "snow monsters", locally known as juhyo. These strange figures are simply hardy fir trees that have been covered with snow. But the combination of the atmospheric conditions and various tree shapes engenders odd forms for the fir trees every winter. 
At night, the "snow monsters" are also lit up and give the ski area somewhat of an eerie feel. It's a good thing that you can easily get rid of the chills that might be running down your spine in the Zao Onsen, another popular attraction in the area. 
9. Icicles in Saitama Prefecture
Saitama is known for its icicle attractions in its Chichibu area during winter. The most popular of these is called the "Icicles of Misotsuchi". These icicles are frozen streams from the Arakawa River and are illuminated at night to enhance its enchanting scenery. The best time to catch these icicles is mid-January to mid-February.
The next attraction is called "Onouchi Hundred Icicles". Unlike the ones from Misotsuchi, the icicles in Onouchi are artificially made by using a 500-metre pipe. This wall of icicles is a majestic backdrop to a suspension bridge where visitors may stand to witness how the giant icicles are illuminated in different colours at night. 
Meanwhile, the Ashigakubo icicles are the easiest to reach as it'll only take tourists a 10-minute walk from Ashigakubo Station on the Seibu Chichibu Line. These icicles are created by the locals and usually measure 30 metres in height and over 200 metres in width at various angles.
10. Yuzawa, Niigata Prefecture
In case you're thinking of taking a day trip outside of Tokyo to indulge in some snow sports, then make your way to Yuzawa in Niigata. Yuzawa is studded with over 20 ski resorts and hot springs to match. If you're travelling with kids, you'll love the fact that their ski resorts also feature play parks where children can safely enjoy the snow. It's the ultimate winter getaway for the family. To make things more convenient, make arrangements with a ski resort that's only an 80-minute train ride from Tokyo!
Also read: 6 Insta-worthy Sakura Spots in Japan: Vibrant Blossoms, Snow-capped Mountains + More!
Snow in Japan can be the best winter experience you've ever had as long as you know all the places to go and things to see. We hope this list of snowy Japanese attractions has helped you decide where you might want to spend your next winter holidays. Well, wherever you end up in, be sure to bundle up!
---
Featured image credit: Laurentiu Morariu | Unsplash