Going around on four wheels when travelling solo is seldom in my plans. Cost of petrol, parking and the lack of confidence in my driving skills are amongst the many reasons. If not for my accommodation arrangements while in Okinawa, I don't think I would have made the plunge.
This plunge turned out to be such a blessing as I saw more of the island that I would have if I opted for other modes of transportation.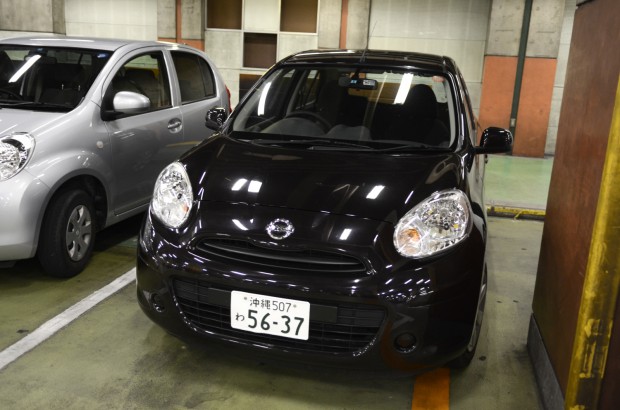 My rented Nissan March during my time in Okinawa
Okinawa is Japan's southernmost prefecture and one of the least developed. This is one of its main attractions – many Japanese purposefully relocate here from other more hectic parts of Japan. Hence well-built infrastructure is not its strongest suit and public transportation options for travellers, especially with limited time, aren't plenty.
The only train line in Naha city takes one up only to Shuri castle, which covers only the lower-fifth of the island. This means that you would miss out on experiencing the rest of the island if you weren't driving or on a package tour. Here's the map that I used, plus the GPS system, to get around in Okinawa-honto.
Also read: 10 Destinations in Japan to Spend your Autumn and Winter Vacations
With a car at my disposal, I managed to take in more sights than you would be able to by just relying on the train system. Here are some things I managed to do, with just two days in Okinawa because I had the wheels to do so, starting from Central Okinawa where I was staying.
Cape Manzamo in Onna-san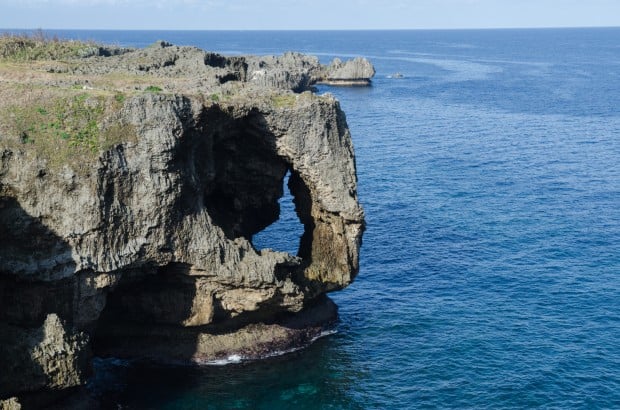 Though better known for viewing sunsets, I was lucky to get here early in the morning, just before the busloads of tourists came by. I still can't get over how blue the sky and waters are in Okinawa. Just vantage views of the surrounding seas.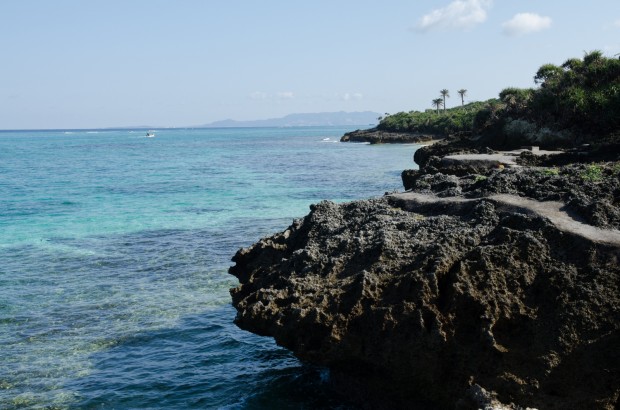 The perk of self-drive is definitely being able to stop wherever I wanted to along the way if I saw something interesting or in this case beautiful. Once again, the gradients of turquoise and cobalt grabbed my attention and I was not alone. Near me was another couple from the nearby hotel who was posing against this gorgeous backdrop.
The ruins of Zakimi castle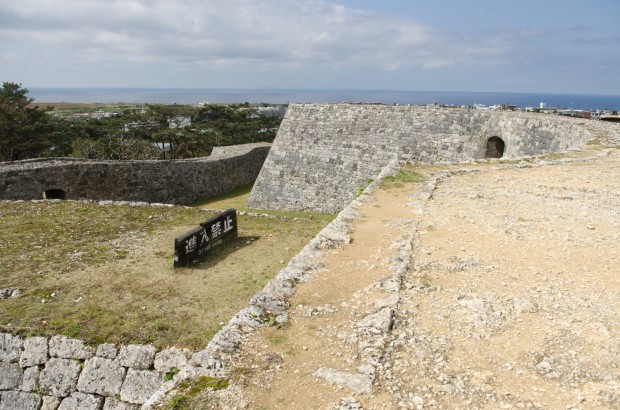 The nearest bus top is at least 20 minutes away by foot, so having a car was the main reason I got to visit this site. One of the ten odd castle ruins left in Okinawa, this one gives a good view of the surrounding Central Okinawa area. As my GPS indicated that Cape Zanpa was nearby, about a ten minute drive away, I headed to to Cape Zanpa next.
Cape Zanpa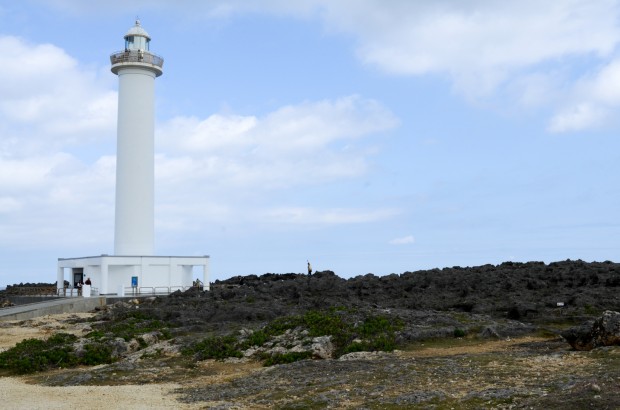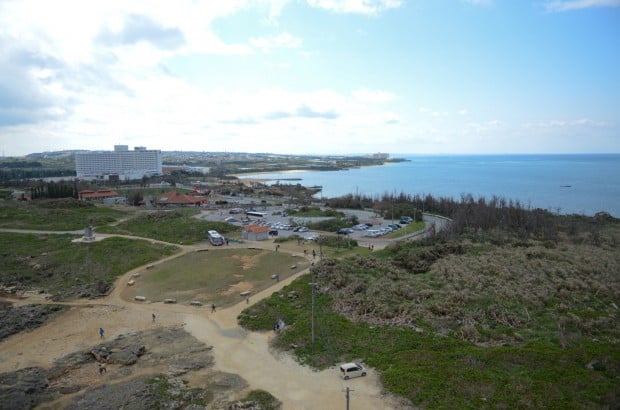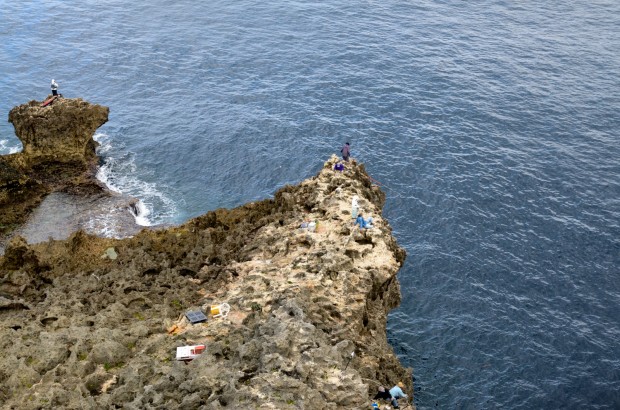 One of the main attractions is the Zanpa lighthouse and up it was to see the views of the surrounding areas. It was a bit of a climb up the metal stairs, but there are signs to encourage you along the way to not stop and make it way up to the top. As the area is just next to the sea, fisherman could be spotted trying their luck at getting a good catch.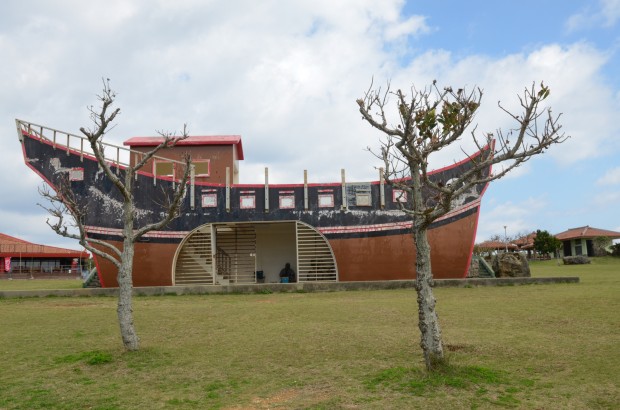 Don't forget to check out the gigantic ship in the park nearby, with a larger than life-sizes Shisa nearby in red too.
Shuri castle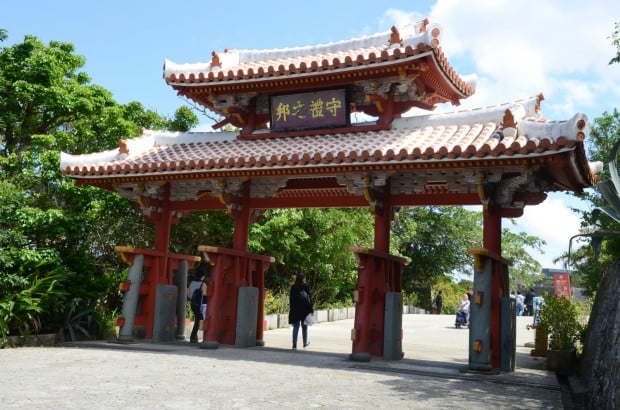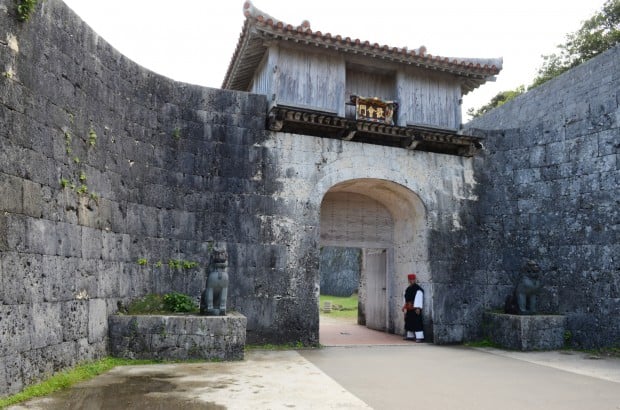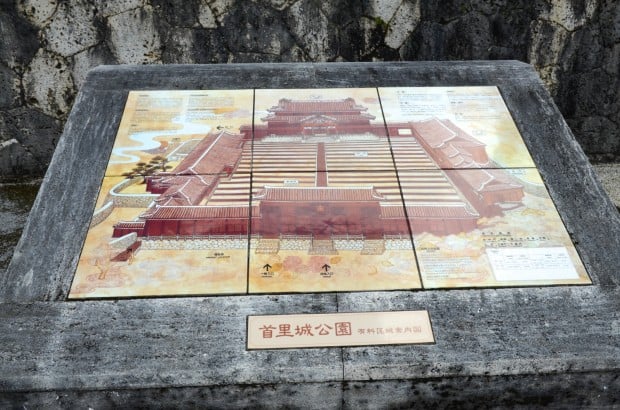 Zipping down south, I headed to Shuri castle, a rebuilt UNESCO site as it had been damaged during the war. This is also the one castle that can be reached via the train system in Okinawa, being at the end of the line. This also means to expect long lines of people waiting to go. As my time was short, I took an hour's stroll around the complex, taking in the atmosphere of the place. Living in today's world, it is hard to imagine how people used to stay in palaces of old, especially as they are mostly furniture-bare when they are opened to the public.
That said, the construction techniques and architecture are still impressive for the time. Also fun at this site is the stamp hunt activity that they have for visitors to go to all the highlighted sights on the site, a good way to entertain any kids that you have along with you. Also watch out for the vendors offering to dress you up in olden day palace wear and take photos of you at the palace.
Marine House SEASIR Naha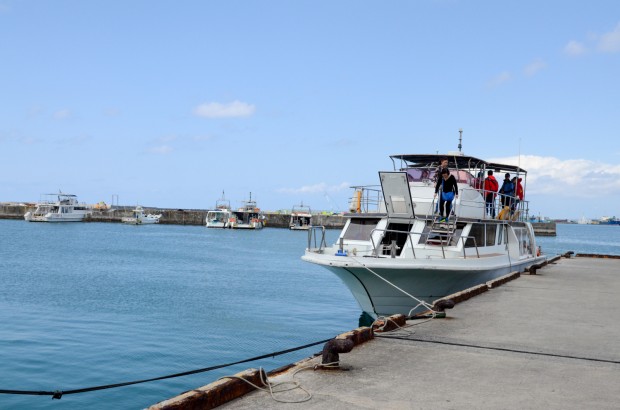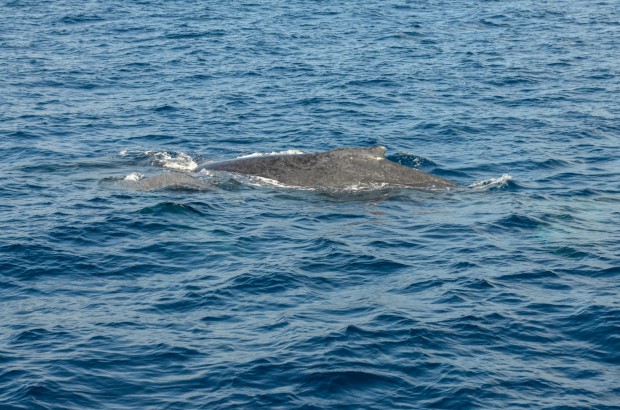 The reason for my limited time at Shuri castle was because of my appointment to watch the whales with Marine House SEASIR Naha. Whales migrate to Okinawa during winter for the warmer waters, thus whales can be seen around the island from late December to early April. Unfortunately we saw nothing more than the top of the baby whale and his mother that my guide pointed out. The dream would have to of course see the whale breeching, but unfortunately that was not to be.
Interesting point to note was that the tour was conducted in mandarin as opposed to English, this a phenomenon thanks to the large numbers of China and nearby Taiwan tourists (it is just an hour's flight away from Taipei). It was also nice to take a cruise out on sea and see it glittering under the sun.
Sunset Beach in Chatan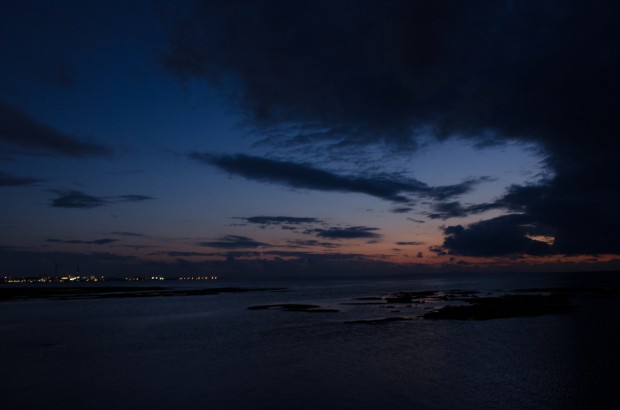 Off to view the sunset at one of the best places to do so in Okinawa, Sunset beach in Chatan, otherwise also known as American Village, thanks to the mix of shops that cater primarily to the many American military bases on the island. I made it just in time, after getting lost (as usual) and I literally sprinted to ensure that I got to witness the sun set. Personally though, I prefer the rainbow hued skies that appear after the sun sets, and stayed on way past after my fellow sunset seekers.
Night called for a bout of shopping at Aeon for unique Okinawan specialities and Tokyu Hands, one of my favourite stores in Japan, then driving back up the highway. One thing to note about the highway, it was the first time that I drove with my headlights on high beam as certain parts of the highway are dimly/not lit. The highway also requires a toll fee, which was about JPY6,000 each time I drove on it.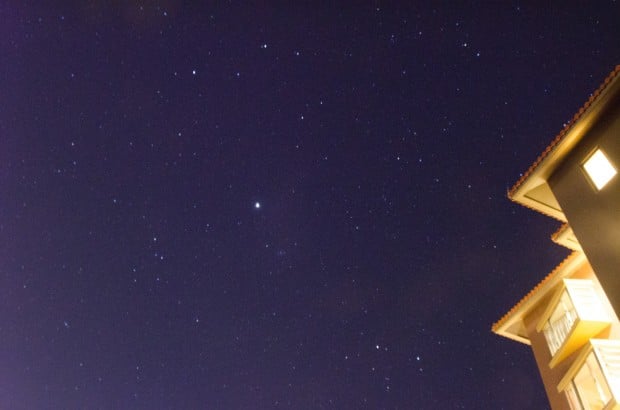 With the many stars dotting the sky, it was impossible to not try to capture some of the gorgeousness as the place is far from the city lights. Check out Jemma's blog for tips for beginners and helpful if you are trying this out for the first time.
Kouri Island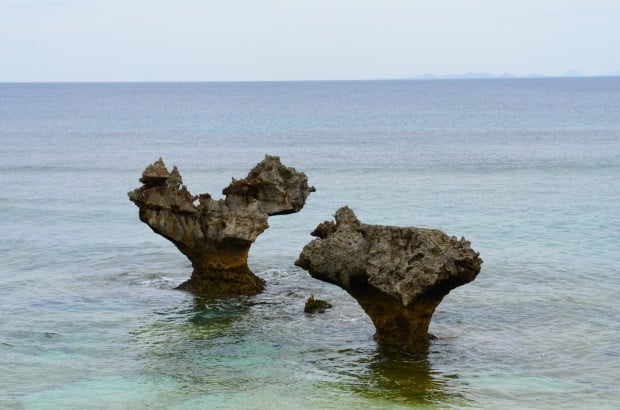 The next morning, if was a drive to up north Okinawa instead and first to Kouri island, a sparsely populated island which gained popularity after an observation tower and bridge to main land was built; prior to this, the only mode of transport to the island was via boat, as is/was the case for many of the small islands surrounding Okinawa-honto.
These heart-shaped love rocks are another attraction for visitors, having been made famous after a Japanese pop star filmed a music video here. Making the most of its popularity is a local that set up a container-contained cafe and started charging for parking, JPY400/hr. The steps to the rocks are makeshift and carved out from the cliffs, require a delicate sense of balance.
Cape Hedo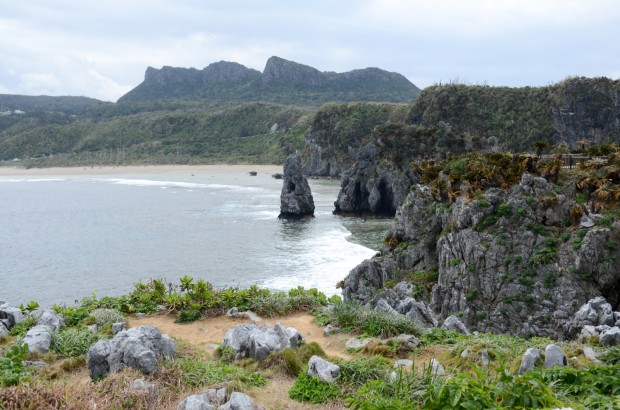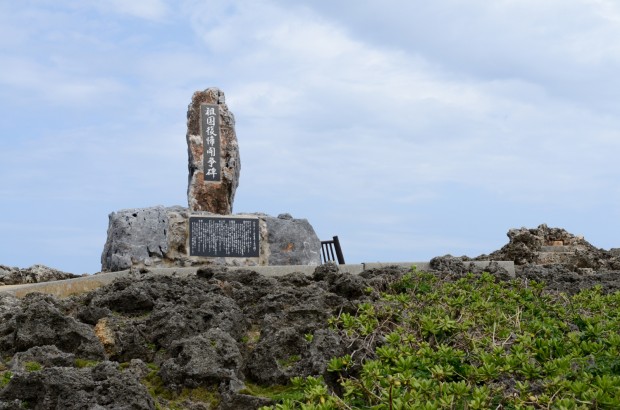 The northern tip of Okinawa is Cape Hedo, a drive away, but transporting you to a nearly different experience of Okinawa. Down south, glitzy lights and tourist paraphernalia stores light up the streets, with izakayas at every turn.
In the central portions, various beach resorts line the coast. Up north, where villages are more spread out, there's a lot more greenery to be had, and the drive up is full of beautiful scenic and quiet sights. Free divers like to come up here to dive and explore the underwater sights I'm told.
Ogimi Village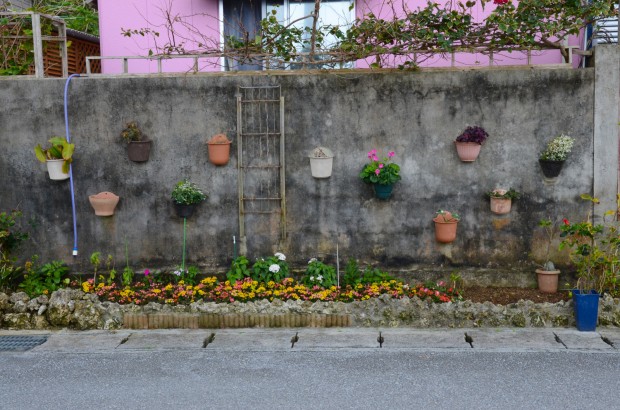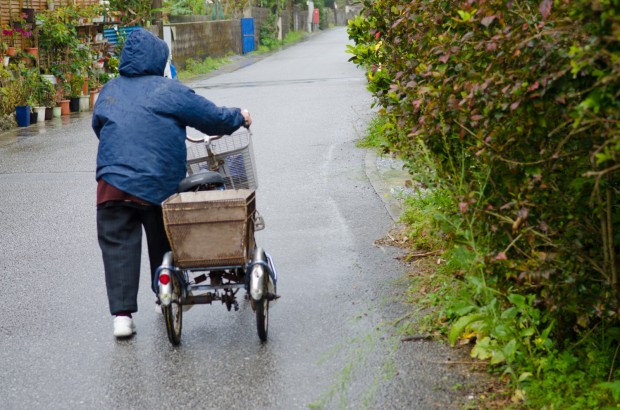 Ogimi village also up north has gained fame for being the village with the most number of centenarians in Japan. A picturesque little village, Emi no Mise, serves up healthy longevity beneficial foods and surrounding her restaurant are many gardens where she grows her own produce that is used in her restaurant. The lady pictured is pushing 80 and still cycling her way around the village and her daily life.
Also read: 12 Places in Japan too Stunning to be Real
I can honestly say I would not have seen as much of the island as I did and gained a better understanding of living in Okinawa without the opportunity to drive. Thankfully, the fears of getting into an accident were unfound. I would definitely recommend ensuring that your papers are in order to allow you to drive if you were to visit Okinawa, and eschew just the popular tourist attractions but to drive, take in the beauty of the island and let the four wheels take you to new places.
Contributed by The Wanderer's Notes