Spring – the symbol of new life. When the winter cold finally gives way to warmer temperatures, nature bursts forth gloriously from the frigid snow.
In Nagano and Niigata – where waves of tourists visit for the region's high snowfall and fantastic year-end sights during winter – the transition into spring is no less breathtaking.
From endless seas of flowers and cherry blossoms to intriguing formations of melting snow and the freshest produce nature has to offer, here are 12 Nagano and Niigata sights you have to experience in spring!
Flower Festivals
White snow fades away to reveal a myriad of colours as flowers blossom across lush expanses. While the pale pink cherry blossoms first come to mind at mentions of spring in Japan, there's a great variety of flowers from yellow canolas to vibrant azaleas that herald the new season in as well.
1. Iiyama Nanohana Festival
Viewing period: late April – early May
Festival period: 3–5 May every year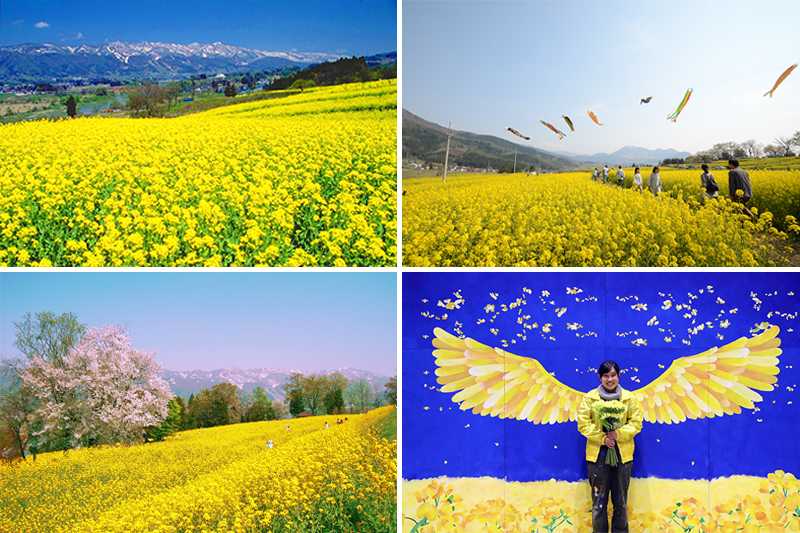 Marvel at 13 hectares of yellow nanohana (canola) blossoms against the backdrop of snow-capped Sekida Ridge at the Iiyama Nanohana Festival, which also features stage events, festival food and Nordic walking tours. Take in the fresh mountain air as you listen to the soothing notes of the Oborozukiyo musical performance, a song which features the very flowers before you.
To commemorate the nanohana, the festivities extend city-wide as 'Happy Yellow' events are organised. Sample local food that incorporate nanohana, and walk around the crafts flea market that sells 'yellow' goods.
Address: 〒389-2322 Nagano-ken, Iiyama-shi, Mizuho, 495-2
Access: 25 min bus ride from JR Iiyama Station (only during late April – early May, estimated 27 April – 05 May for 2019)
Website (Japanese only)
Take in the beautiful rustic scenery on the seasonal Oykot Train on your way to Iiyama from Nagano!
The design of the train cabins was inspired by rural Japan, and calls to mind the returning to "Grandma's house" from the hectic city life (hence the train's name, which is Tokyo spelt backwards).
Enjoy several activities that characterise the Japanese countryside, such as taking photos in snow straw clothing, traditional music and sampling Nozawana cabbage pickles which are closely related to the nanohana.
This is a ride that will truly invoke nostalgia in both locals and foreigners alike!
2. Tsurumine Park Azalea Festival
Festival period: early–mid May
Famous in the region for its azaleas, Tsurumine Park Azalea Festival explodes with colour as 30,000 bushes of 30 varieties bloom, covering the park in clouds of pink, red, white, orange and purple.
Lose yourself in the sea of colour or soak in the festivities by indulging in festival grubs, souvenirs or participating in weekend tours held by volunteer guides.
Address: 3 Chome Kawagishikami, Okaya, Nagano Prefecture 394-0048, Japan
Access: From JR Okaya Station, take a 25-min walk or a 5-min taxi ride.
3. Gosen City Tulip Festival
Festival period: mid – late April
The tulip is the prefectural flower of Niigata, its heritage going back to Niigata being the first in Japan to produce its flower bulbs. Today, it is the second biggest producer of tulips in Japan, making it an ideal place to view the vibrant blossoms.
Held for 30 years and running, the Gosen City Tulip Festival lets you take in 1.5 million tulips in their full spring glory. With more varieties having been brought over from Holland, it can only get more colourful.
Bask in the warm sun together with rows and rows of tulips in varying hues and colours. Taking a walk around the festival, you can sample foods, activities and products made and organised in honour of the flowers.
There are also other tulip festivals if you have free time for exploring. You'll find yourself surrounded by dizzying fields of gorgeous blooms in different hues at Echigo Hillside Park Tulip Festival, held annually at the 120ha flower park. Not to be outdone, Tainai City Tulip Festival has 800,000 tulips from 60 varieties, and even offers helicopter rides for viewing the colourful expanse of flowers from above!
Gosen City Tulip Festival
Address: 〒959-1601 Ipponsugi, Gosen-shi, Niigata
Access: 10 min by taxi from JR Gosen Station
Echigo Hillside Park Tulip Festival
Address: 〒940-2082 Niigata Prefecture, Nagaoka, Miyamoto Higashikata-machi
Access: 35 min bus ride from JR Nagaoka Station
Tainai City Tulip Festival
Address: 〒959-2712 2860, Tsuiji, Tainai-shi, Niigata
Access: 20 min bus ride from JR Nakajo Station (only during weekends and Golden Week PH)
Cherry Blossoms
Since the olden days, cherry blossoms have been a Japanese symbol of a new start. These blossoms flourish in a spectacular burst before wilting away in just a few weeks, so catching them in full bloom is often a difficult yet rewarding challenge.
Due to their higher elevations, cherry blossoms in Nagano and Niigata bloom slightly later – in early to late April. Here are some spots we recommend for you to catch the flowers in their full glory.
Also check out 6 Insta-worthy Sakura Spots in Japan: Vibrant Blossoms, Snow-capped Mountains + More!
4. Takato Castle Ruins Park
Viewing period: early – mid April
Festival period: TBA April 2019 (01–30 April 2018)
Renowned for being one of the top three places in Japan to view cherry blossoms, Takato Castle Ruins Park is located on a hill in Ina city and cultivates 1,500 sakura trees of the exclusive Takato Kohigan Zakura variety that is smaller in size and richer in hue.
This spot is popular with locals all over the country, so be prepared to share the space with many who will be holding hanami (flower viewing) parties under the blooms and partaking in the festival. It would be advised as well to visit during the weekdays when it is less crowded.
While not much of the original castle is left, you'll still be able to snap beautiful pictures with historical structures around the park such as the Taikoyagura (a drum tower) and the iconic curved Ounkyo Bridge. The park comes alive at night as the trees are lit up with bright illuminations, so stay around past sundown to catch the blooms in a different light.
Address: Takatomachi Higashitakato, Ina, Nagano Prefecture 396-0213, Japan
Access: 25-minute bus ride from JR Inashi Station. (The JR East Pass Nagano, Niigata Area covers up to JR Tatsuno Station. JR Inashi Station is not covered by the JR East Pass Nagano, Niigata Area, but you can buy a ticket for ¥320 (~S$4) to cover the ride from JR Tatsuno Station to JR Inashi Station.)
5. Takada Castle
Viewing period: mid-April
Festival period: TBA April 2019 (06–22 April 2018)
If you're more of a night person, why not head down to Takada Castle in Niigata, one of Japan's three best places to view cherry blossoms at night? Stroll through 4,000 trees covered in lofty blooms in the day, and marvel as they take on an otherworldly beauty in the night. Festival stalls will also be set up for you to indulge in delectable treats under the trees.
Spectacular sights include the sakura tunnel, Takada Castle and the Inner and Outer Moats. While illuminations last up to 10pm during the peak viewing period, the park is open all day round and is free to enter.
Address: 6-1 Motoshirocho, Joetsu, Niigata Prefecture 943-0835, Japan
Access: 15 min walk from Takada Station on the Echigo TOKImeki Railway (JR East Pass Nagano, Niigata Area covers Echigo TOKImeki Railway line between Naoetsu – Arai, including Takada Station)

If you're on your way to Niigata, why not hop on the Genbi Shinkansen?
This train is the world's fastest-moving art gallery, with carriage after carriage of beautiful modern works by prominent artists to intrigue and inspire you. Ranging from colourful installations to stunning photography and beautiful paintings, you'll definitely not want to sit it all out on your journey.
The Genbi Shinkansen runs between Echigo-Yuzawa and Niigata, and can be ridden for free with the JR East Pass Nagano, Niigata Area.
Snow in Spring
A remnant of a passing season, the refreshing sight of snow in climbing temperatures is a fitting representation of the transition in weather and climate. Due to the mountainous terrain in Niigata and Nagano, you'll be able to catch spectacular snowy sights even in the middle of spring.
6. Yukigata in Hakuba Valley
Viewing period: mid April – May
On mountain faces of Hakuba Valley, the emergence of dark rock against the melting white snow forms interesting shapes – which became signs of spring approaching to the locals. These are called yukigata, which roughly translates to 'snow shapes'.
While the thick snow in Hakuba Valley makes it an ideal skiing location in the winter, locals till this day take interest in interpreting the shapes they see on the darkening mountain face. Did you know that Hakuba means 'white horse' – a reference to the horse-like snow patterns that are formed every spring?
The Hakuba Highland Hotel organises an annual Yukigata Watching event that's free to enter, so why not join them as you behold the grandeur of the sprawling mountains that stretch beyond sight, and who knows, you might spot the likeness of a chicken, a dog or even a gorilla among other things!
Address: Warabidaira-21582 Hokujo, Hakuba, Kitaazumi District, Nagano Prefecture 399-9301, Japan
Access: 15 minute walk from JR Hakuba Station
7. Snow Walls at Mt. Norikura
Viewing period: late April – late June
The towering snow walls at the Tateyama Kurobe Alpine Route is a must-see for everyone visiting the Toyama region. If you're in Nagano, the 10m-tall snow walls at Mt. Norikura – a welcome alternative to escape long queues and crowds – are not to be missed either.
The snow walls remain even in summer, which is a delight for those taking part in the annual Norikura Heavenly Marathon, held on 23 June this year. Participants start from an altitude of 1,500m and run all the way up to 2,700m – if the weather permits, they get to enjoy panoramic valley views and the snow walls along the way!
Address: Nyukawacho Iwaidani, Takayama, Gifu Prefecture 506-2254, Japan
Access: 2-hour private railway train/bus ride from JR Matsumoto Station. (The private railway train/bus are not covered by JR East Pass)
­Fresh New Greens
With spring also comes the sprouting of new leaves. The vibrant green sprouts – coupled with the fresh cool air of spring and blue skies – are a much-welcomed sight after winter. Enjoyed by generations of locals who live near the mountains brimming with nature's splendour, this period is known as shinryoku (新緑), which translates to "new green".
Experience for yourself these beautiful sights at these spots in Niigata and Nagano!
8. Kamikochi
Viewing period: May – June
Considered the crown jewel of the Japanese Alps, Kamikochi is a 15-kilometre wide plateau characterised by clear waters and lush flora that change dramatically with the seasons.
In spring, you can immerse yourself amidst the fresh greenery with the blue Azusa River and snow-capped mountains – a location hikers and nature lovers definitely have to check out.
Address: Matsumoto, Nagano Prefecture, Japan
Access: 90 min bus/train ride from JR Matsumoto Station
9. Bijin Bayashi Beech Forest
Viewing period: late April – early May
Enter a realm of peace as you tread through the towering trunks of beech trees at Bijin Bayashi, also known as the Forest of Beauties.
While the forest became barren in the 1920s as the beech trees were harvested for charcoal, the trees grew again to the height they are today, each tree matching the others in height and beauty.
The name was historically derived from the locals describing its beauty, as well as their efforts in maintaining it through the decades. Participate in shinrinyoku ('forest bathing') as you immerse yourself among sprouting leaves and remnants of snow – a definite boost to one's vitality that only nature can give in our fast-paced modern world.
Address: Matsunoyama Matsuguchi, Tokamachi 942-1411, Niigata Prefecture
Access: 15-min bus ride from Hokuhoku Matsudai Station, followed by a 20-min walk. (JR East Pass Nagano, Niigata Area covers all lines of the Hokuhoku / Hokuetsu Express, including Matsudai Station)
Spring Delights
The Japanese have customs and practices for each season – with spring come several seasonal delights brought forth from nature and age-old traditions sure to delight your palate. Here are some of those that you have to try in Niigata and Nagano.
10. Strawberry Picking
The Echigo Hime (Princess of Echigo) is a large juicy strawberry that hails exclusively from Niigata, formerly called Echigo. Its fragrance and low acidity will make you want to eat it fresh off the plant; it's also a great gift to bring back home. Cultivated in the Niigata winter, these little royalties are ripe for picking in farms throughout Niigata.
11. Sakura Mochi
Why not enjoy your time under cherry blossoms with a sweet treat inspired by the blooms themselves? Available exclusively in spring, sakura mochi is made up of pink chewy rice cake filled with chunky sweet anko (red bean paste) wrapped up in a sakura leaf. The leaf is edible, adding a tinge of saltiness and texture to the treat. Leaving it out is also fine, as the aroma of the leaf stays with the mochi after wrapping.
12. Sansai (Mountain vegetables)
Along the sloping mountains of Niigata and Nagano, fresh, nutritious sansai (mountain vegetables) can be harvested and enjoyed – especially in the spring when young grasses and sprouts are in their best conditions.
These vegetables may be earthy and slightly bitter in taste, but they are versatile ingredients that can enhance the flavour of a variety of dishes such as udon, soba and tempura.
With so much to see in Niigata and Nagano in springtime, time is of the essence during your trip here. With the JR East Pass, you can get to different sightseeing spots and destinations around Niigata, Nagano, and East Japan – all accessible by train!
With unlimited rides on a variety of lines from the speedy shinkansen to homely train services, you'll not only get to your destination with ease, but also enjoy huge savings along the way!
Journeying around Nagano and Niigata require quite a fair bit of travelling. To make life easier for you, be sure to get yourself a JR East Pass (Nagano, Niigata Area)!
You can enjoy UNLIMITED RIDES on all JR East Rail Lines in the designated areas as well as rides on the Narita Express to/from Narita Airport, Tokyo Monorail to/from Haneda Airport and all Shinkansen lines.
You also get free rides on the uniquely-themed Joyful Trains with a JR East Pass! Learn more about the Joyful Trains here.
Make advance reservations up to one month before departure – you'll need it, especially during peak seasons!
Valid for any five days within a 14-day period after collection, you can purchase the JR East Pass from within Japan itself, or you can get yours through licensed overseas sales agents at about ¥1,000 cheaper!
For an unforgettable journey through the captivating sights of Nagano and Niigata, contact any of the travel agents listed below to get your JR East Pass (Nagano, Niigata Area) now!
JTB
Tel: 6595 0600
Website (Singapore)
Website
(Philippines)
Website (Malaysia)
H.I.S.
Tel: 6222 1230
Website (Singapore)
Website
(Philippines)
Website (Malaysia)
Wendy Tour
Tel: 6225 8324
Website
---

Azza Travel & Tours 
Tel: 6292 7110
Website
Centour Travel
Tel: 6344 3492
Website

Changi Recommends 
Tel: 6701 1185 
Website

Euro Asia Holiday
Tel: 6339 9133
Website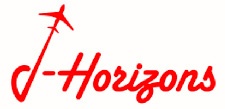 J-Horizons (Malaysia)
Tel:+60 (03) 2161 0922
Website
---
Brought to you by JR East (East Japan Railway Company)