While there's more than enough to occupy any visitor to Tokyo for weeks on end, you might get a little exhausted by the hectic pace and boundless energy of the capital. Fret not: Tokyo's superb public transportation network makes it a breeze to access some stunning natural areas within a short period of time. Have a look at this list and consider taking a day trip back to nature to experience a more tranquil side of Japan!
1. Nikko National Park
The town of Nikko lies 125km north of Tokyo and is one of the most popular day trips from the capital. The National Park, however, is the biggest draw for nature lovers; it spans across four prefectures and plays host to a dramatic variety of flora, fauna and ancient temples. The park provides excellent opportunities for hikers of all skill levels. One of Nikko's most famous attractions is the mausoleum of Tokugawa Ieyasu, who founded the Tokugawa Shogunate. UNESCO listed the shrines and temples of Nikko as a World Heritage Site in 1999. This designation encompasses 103 buildings, as well as the landscape around them.
2. Kairaku-en
Kairaku-en translates into English as "a park to be enjoyed together", and that is a very fitting name indeed. This traditional park that dates from the mid-19th century features many uniquely Japanese flowers and is geared towards all ages ranges and families. A giant Ferris wheel lies at the heart of the park alongside a roller coaster, and there is even a small golf course for casual golfers looking for a fun day out. The park's bamboo grove and traditional buildings provide a glimpse into a bygone era of Japan. Kairaku-en lies in Mito, the capital city of Ibaraki Prefecture, about two hours away from Tokyo by train.
3. Hakone
Situated just west of Tokyo, Hakone is an iconic mountainous retreat popular with locals and visitors alike. Especially notable is the abundance of onsen, or hot springs, which provide travellers with a sense of otherworldly relaxation after a brisk hike. The scenic Lake Ashi is surrounded by an abundance of natural beauty that has enticed millions with its charms, as well as spectacular views of Mt. Fuji off in the distance.
4. Ashikaga Flower Park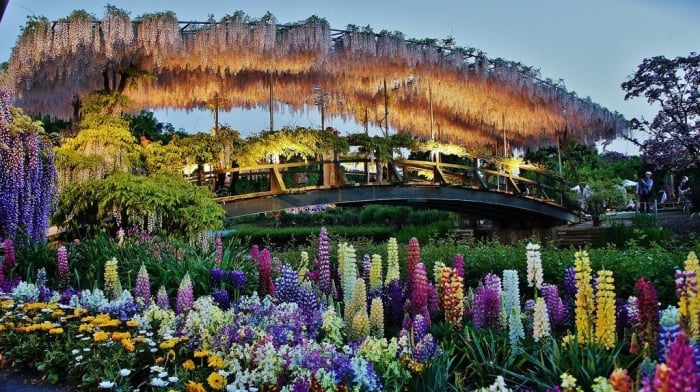 Japan is internationally renowned for its beautiful flowers, and here you will get to witness their splendour firsthand. Located in Tochigi Prefecture to the north of Tokyo, Ashikaga Flower Park is open every day from 9am to 6pm from March to November and from 10am to 5pm from December to February. The park is especially famous for its Wisteria, known in Japan as Fuji flowers, which are usually in bloom during the first half of May. The park also features a restaurant and holds numerous festivals and events throughout the year in accordance with the passing of the seasons.
5. Suruga Bay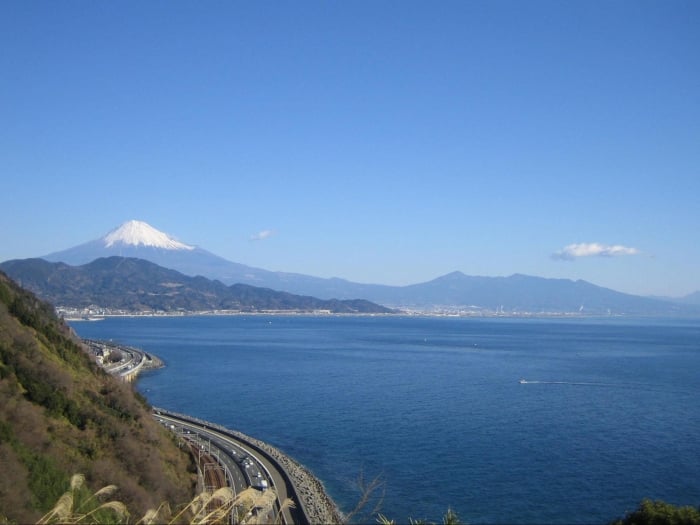 This scenic gem can be found in Shizuoka Prefecture to the south of Tokyo. Suruga Bay offers splendid views of the Pacific coast complimented by delicious locally sourced seafood, notably little pink shrimp known as Sakura Ebi. Many visitors opt to take the Suruga Bay Ferry, which departs from Shimizu Port. The ferry takes a little over an hour and offers breathtaking views of both the Izu Peninsula coast and Mt. Fuji.
6. Hitachi Seaside Park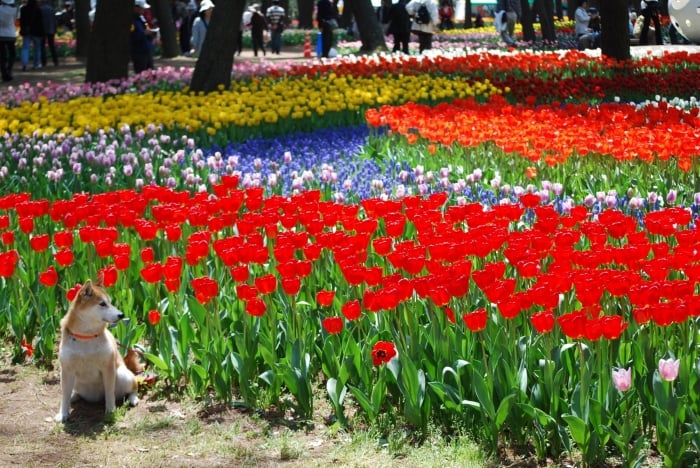 Public parks are omnipresent in Japan, and Hitachi Seaside Park in Ibaraki Prefecture is among the best. Abundant seasonal flowers such as Nemophila are the highlight here, but there is also a popular amusement park present inside the park as well as an extensive cycling path network with accompanying rental bicycles. The park is quite large, spanning 350 hectares in total, and even has a small train which circles the park's outskirts. The colours of the foliage change with the seasons, so repeat visits at different times of the year yield new wonders.
7. Enoshima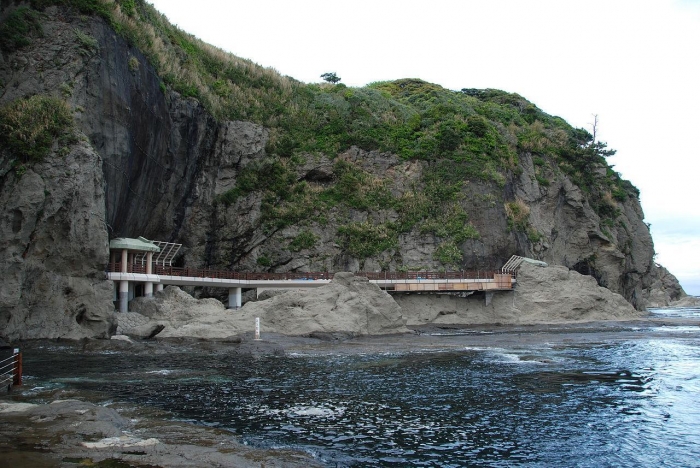 Enoshima is a small island in Kanagawa Prefecture, approximately 70 kilometres south of Tokyo, which is attached to the mainland via a causeway. The island is filled to the brim with natural wonders and is host to a number of sandy beaches which are hugely popular with surfers and jet skiers. Cliff climbing and cave exploration are common activities for adventurers who feel confident in their abilities. Like Hakone, you can get an excellent view of Mt. Fuji from the island. There's also an aquarium to boot!
8. Nagatoro
Nagatoro is a small town in the mountains of Saitama Prefecture, northwest of Tokyo. The town has been designated a prefecture nature park and preserve. River cruises carried out by tour boats which travel along rock walls are commonplace and widely acclaimed by travellers. White water rafting and kayaking services are also available for more adventurous day-trippers. Many visitors also hike along the Iwadatami rock formation, which follows the course of the river.  
9. Nasushiobara
One of the lesser known destinations on this list, Nasushiobara was established in 2005 after the merger of the former city Kuroiso and the smaller settlements of Nishinasuno and Shiobara. The area has plenty of scenic hiking trails to enjoy and quiet onsen to relax in afterwards. You can easily reach Nasushiobara via the JR Tohoku Shinkansen from Tokyo and arrive there in about an hour. The relative lack of tourists compared to Hakone and Nikko may be an added bonus for you!
10. Lake Kawaguchi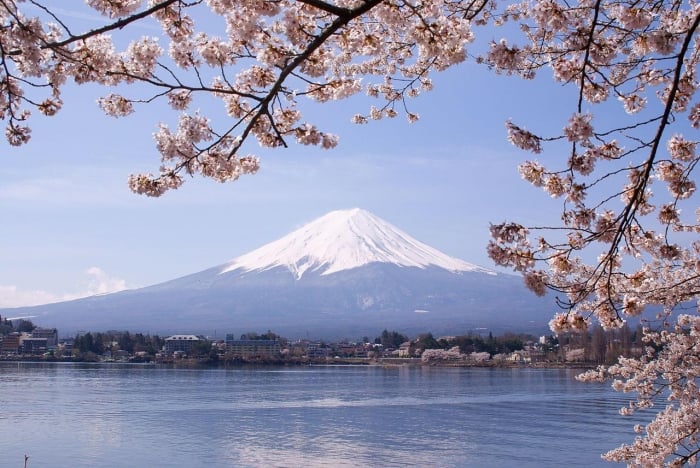 Lake Kawaguchi is the most famous of the Fuji Five Lakes, so called because they were formed by ancient eruptions of Mt. Fuji. Visitors have the opportunity to take boat rides across the lake and try their hand at fishing along the way. The shoreline of the lake is dotted with hotels and other tourist amenities. Yagizaki Park, on the southern shore of the lake, is famous for its 80,000 lavender flowers. The blooming season last from late June to early July, but both the lake and park are well worth visiting at any time of the year.