Niseko, a town in northern Hokkaido, is known for its world-class powder snow and has been credited as one of the best ski resorts in Asia.
Growing up in a country with only 2 seasons and watching so many Hollywood winter shows, I really yearn for the experience of what snow feels like but going to the west takes a lot of time and money so I decided to search for snow-like destinations in Asia.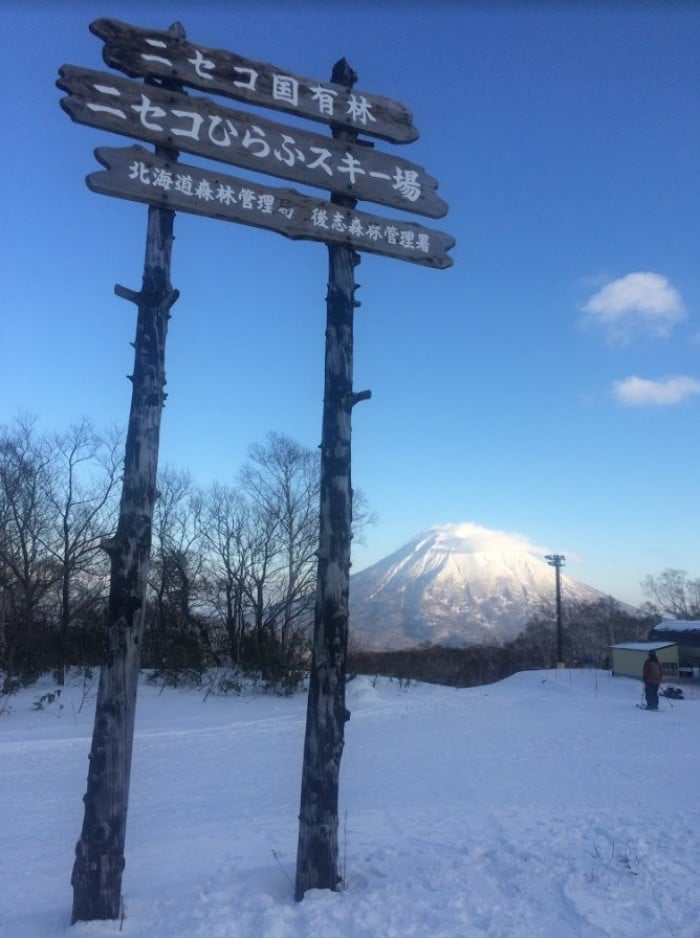 I found that Niseko was a popular snow destination for Australians. I had a hard time finding travel guides or blogs on Niseko from Filipino travellers.
When I got to Niseko, I was really in awe of the place and wondered why this was not popular among us. From the beautiful views to the variety of activities, I am sure that a lot of Filipinos will enjoy this place during the winter season. Since more Filipinos are travelling to Japan, Niseko should definitely be included as a must winter destination.

Secure a visa
Philippine passport holders need to apply for a Japan visa to visit Niseko. Read: Easy Japan Tourist Visa Guide for Filipinos
Getting there
The nearest airport to get to Niseko is via the New Chitose Airport. There are no direct flights between the Philippines and Hokkaido. Only connecting flights are available. I took the connecting flight of Jetstar from Manila to New Chitose Airport (Sapporo) with a transit in Chubu Centrair International Airport (Nagoya). The flight from Manila to Nagoya takes around 4 hours and I had a two-hour transit in Nagoya until I took my two-hour flight to Sapporo.
UPDATE (6 July 2018): Philippine Airlines will have non-stop flights from Manila to Sapporo (Chitose) starting 10 September 2018.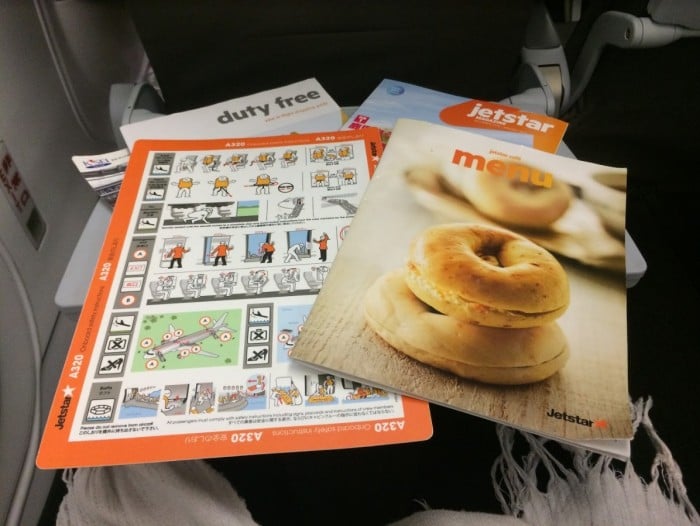 My Manila flight left at midnight so I arrived in Nagoya early morning. I had breakfast at the airport while waiting for my next flight. You can exchange your money here and explore a bit as the Chubu Centrair International Airport has a lot of shops, restaurants, and a great observation deck to watch planes arrive and depart. My next and last flight to Sapporo felt really quick and I arrived at the airport at around 10am. The flight was really a satisfying and convenient option for the travel schedule that I had.
For land transfers, the most affordable way to get to Niseko is by public bus. I rode the Hokkaido Resort Liner as this was one of the most affordable and convenient options to get to Niseko. A bus costs ¥4,000 (₱1,693) per way. The bus ride took me from the New Chitose Airport to the Hirafu Welcome Center in just 2.5 hours with 1 stopover for a bathroom break and a few stops to other ski resorts around Hokkaido.
Leaving Niseko, I took another bus from the Hirafu Welcome Center to a specific Sapporo hotel stop. The Hokkaido Resort Liner leaves and arrives on time so make sure that you are at the boarding areas 15-30 minutes before it is scheduled to leave.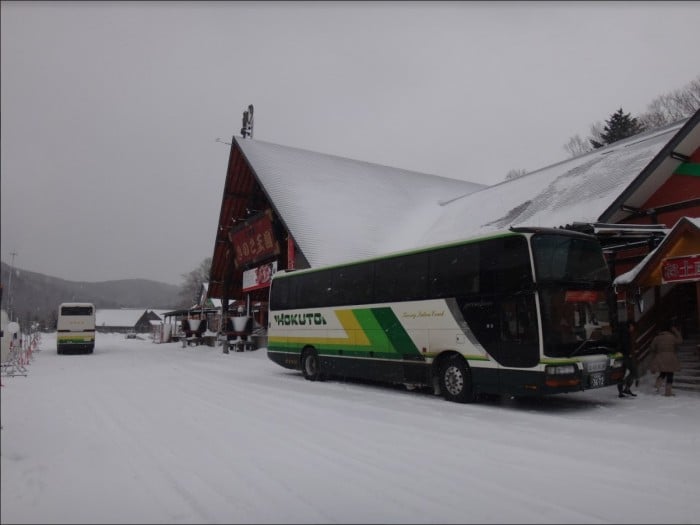 Our Hokkaido Resort Liner Stopover
Other land transfer options
Public Bus via Chuo Bus – I wanted to avail this option as this was the cheapest but it would take a longer time to get to the Hirafu Welcome Center as the bus has my Niseko stop as the last stop in its schedule. A roundtrip bus costs ¥4,000 (₱1,693)
JR Train – You can try this option if the public buses are not operating yet. The buses operate early December so this and a private car/taxi will be your only option. Riding the train consists of 3 transfers and 1 taxi/bus (New Chitose – Sapporo – Otaru – Kutchan). According to Rome2Rio.com, one way would cost as much as ₱4,300
Private transfers – This is the most expensive option. This can cost you as much as ₱10,000+ for one way.
I really loved the bus ride going to Niseko because it became a winter spectacle for me. 30 minutes into the ride, we passed by a lot of woods and ocean view roads with a lot of snowfall. Coming from 2 flights, I should have slept on the bus but the views were too beautiful to sleep on. I kept my eyes open during the entire ride and marvelled at the most beautiful views I have ever passed by. At the stopover, there is a store where you can buy food and use the bathroom.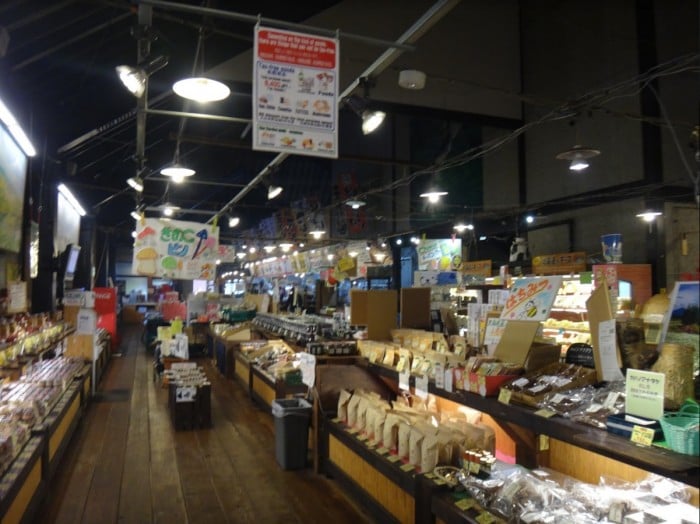 Bus Stopover Store
I hopped out of the bus and experienced my first snow shower. It was really an amazing moment to see all the white snow and feel the cold. An hour and a half into the ride, the snow shower was getting stronger and there was even a point of 0 visibility. The bus was safe and very efficient. The bus literally stopped at the Hirafu Welcome Center at 3.20pm, which was the exact arrival time on the schedule.
Accommodation
Niseko is comprised of 4 ski resorts – Hanazono, Niseko Village, An'nupuri, and Grand Hirafu (Niseko United). I stayed at the popular Grand Hirafu, Ki Niseko. Since my stay in Niseko was just a quick getaway (2 days & 1 night), I stayed at a hotel that is near the Grand Hirafu mountain slopes.
View from Ki Niseko room
Ki Niseko is a ski in and out boutique hotel and is definitely a world class accommodation. This was the best hotel I have stayed at in my entire life so far. The amenities are complete and of quality.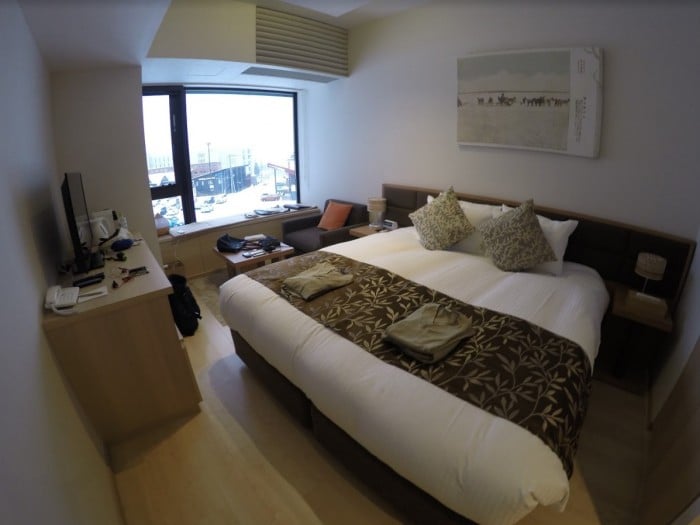 The people are very accommodating. Their concierge literally provides you with anything that could make your stay in Niseko one of the best winter experiences of your life.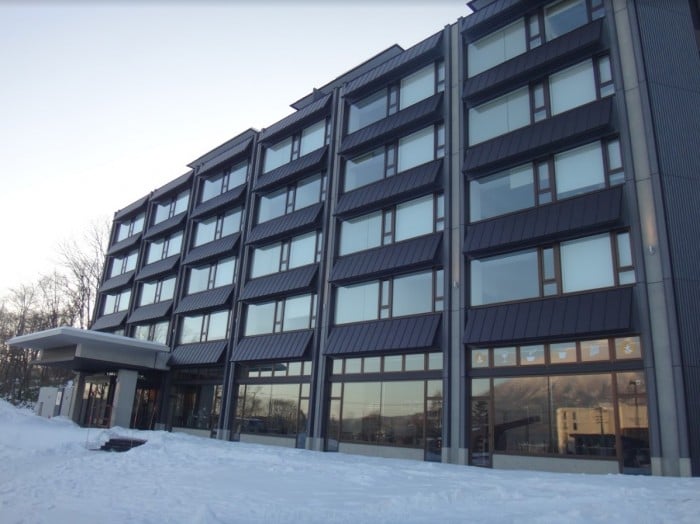 Ki Niseko Front
Here are some points to consider when you book this hotel:
A 30-second walk away is the Grand Hirafu Mountain Welcome Center and Gondola which brings you up the slopes of the mountain.
They have a ski valet that keeps your snowboard or ski equipment safe and clean.
They have indoor and outdoor onsens (spa or bathing facility) that are public or private.
A 2-minute car ride or 5 to 10 minutes walk from the Hirafu Welcome Center
Hirafu town, where you can find stores, restaurants, and convenience stores, is just a 10-15 minutes walk away.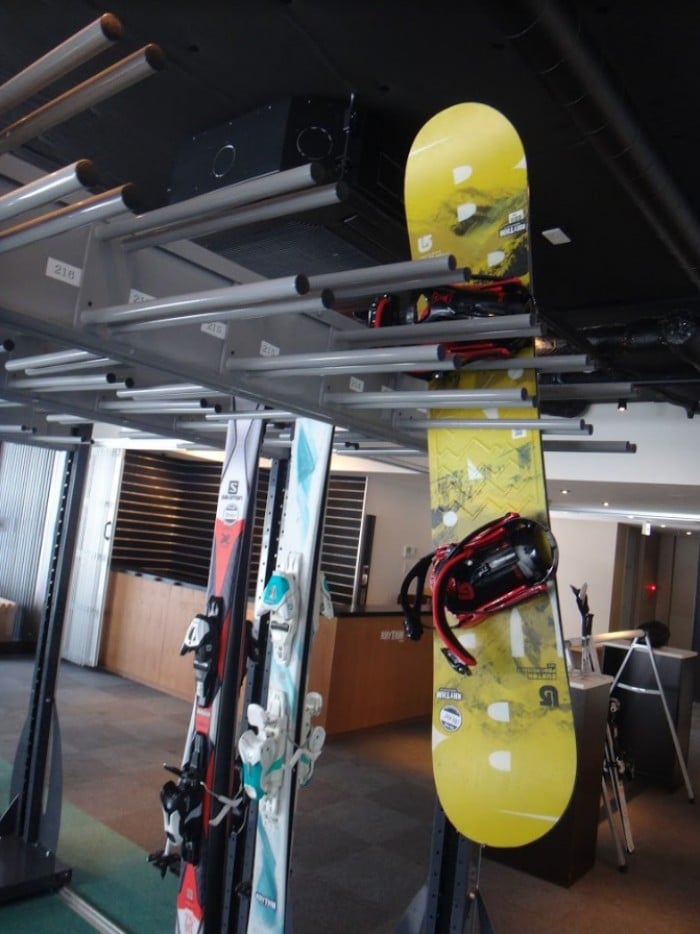 Hanging up my snowboard at the Ki Niseko ski valet
One of the best things about Niseko is that even though you're in Japan, communication is really easy. Most of the people who work at Niseko are Caucasians who are staying for the winter season to work and ski or snowboard during their breaks or off days. During my stay, I met so many people from around the world – England, Poland, Germany, Malaysia, Australia, etc. I really felt like I was in a western country.
The people at Ki Niseko were the most accommodating and proactive hotel staff I have ever encountered. I did not need to ask questions as they provided me with everything that I needed to know. Instead of you approaching them, they approach you first. They really make sure that all guests enjoy the best service during their stay. The price of this luxury resort really justifies its worth.
Snowboarding
Snowboarding was the winter activity that I planned to try in Niseko as I have never done this before and I wanted to cross it off my travel bucket list. With the help of Ki Niseko's concierge, I was scheduled a snowboarding lesson with Go Snow – the official winter sports school in Grand Hirafu.
Also read: Japan's Best Ski Resort Got Even Better With New All-Season Ski Lifts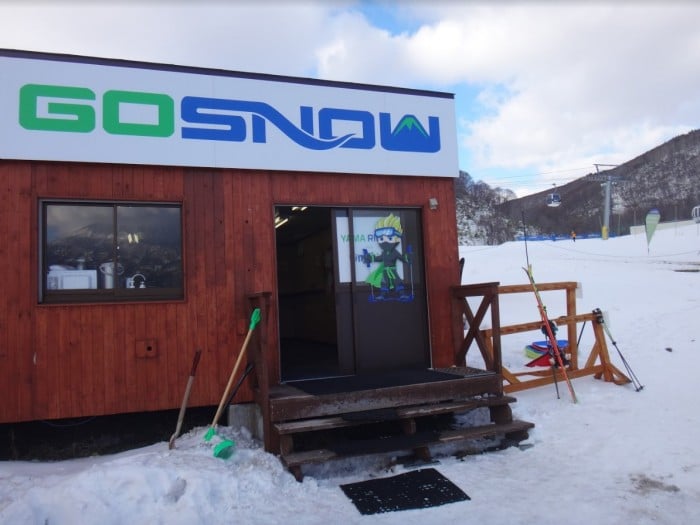 Go Snow Information Center
The cheapest snowboard lesson is ¥9,000 (₱3,809+) for a half a day. Ski/Snowboard lessons rate vary with age, duration, and type (group or private).
During my first night, I was tasked to pick up my Snowboard equipment and gear at Rhythm Sports, Ki Niseko's official partner for winter gear and equipment.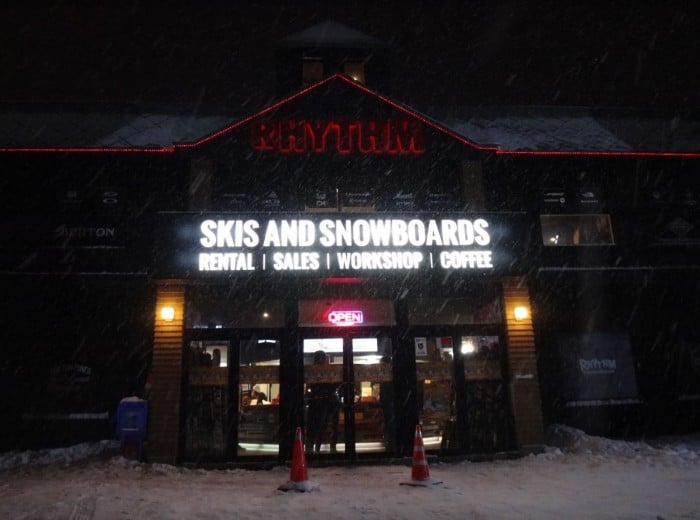 Snow shower outside Rhythm Sports
I paid a total one-day rental rate of ¥7,363 (₱3,116) for all my snowboarding needs. You can spend less if you bring your own winter jacket and pants.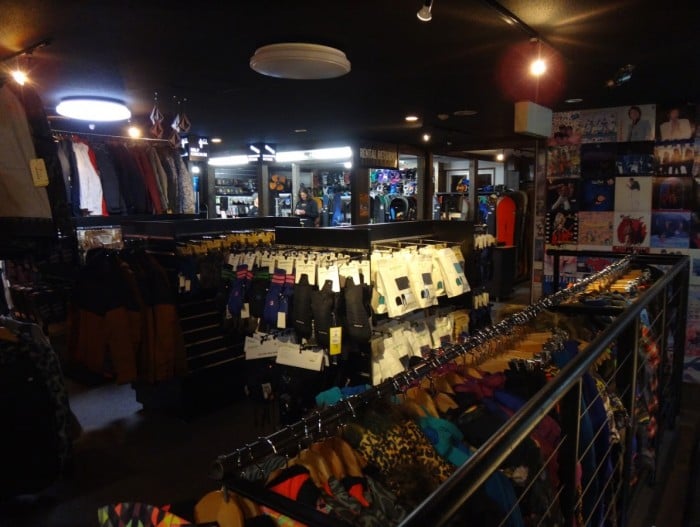 Inside Rhythm Sports
I had my snowboard lesson during the morning of my 2nd and last day from 10.30am – 12.30nn. We were a group of 5 people with a Go Snow instructor from Poland. Most of the instructors are Caucasian.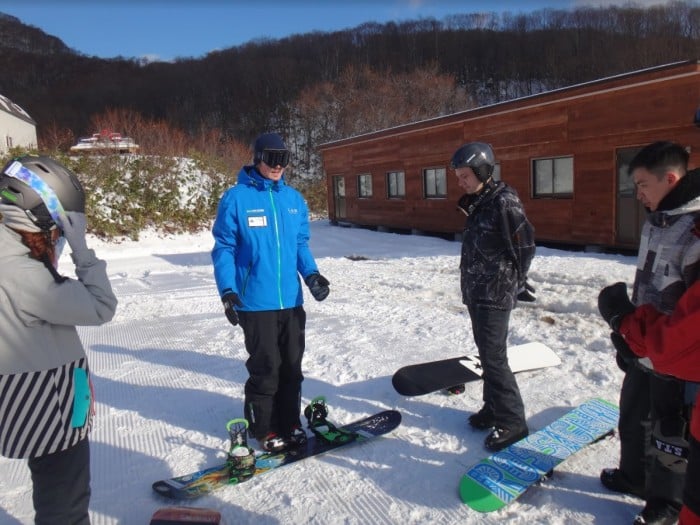 Our Go Snow instructor, Stefan, teaching the basics of Snowboarding
The snowboard lesson started off with introductions and a short walk from the Go Snow meeting area to the Go Snow lessons slope. There, you can see so many Japanese locals having their own ski or snowboard lessons.
Go Snow lessons meeting area
Our snowboard instructor was really fun and encouraging. Snowboarding was really difficult but our instructor really made sure that we were all happy and having the best time. The lesson consisted of basic skills, tips, and fun games. Go Snow provides complimentary water from a station nearby when you get tired.
Snowboarding looks easy but really difficult when you're doing it yourself. But when you get a few skills in and successful runs, the feeling was really exhilarating. In those few seconds of able to do the right thing, I somehow understood why so many Caucasians would go to Niseko and work there to ski or snowboard during their free time.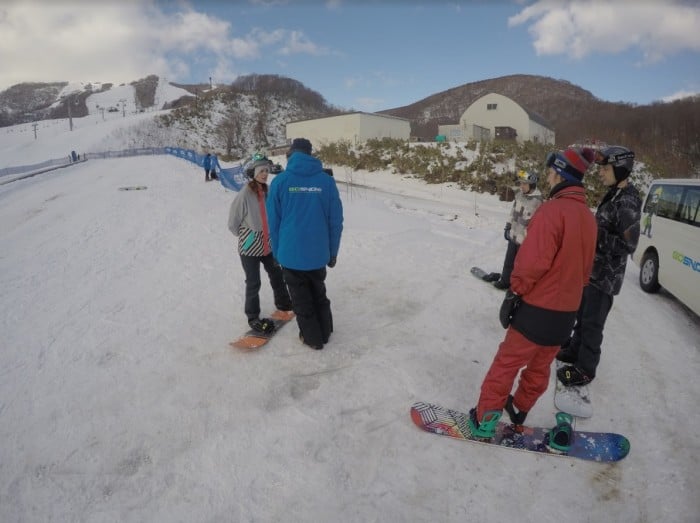 The feeling of snowboarding was great but doing it with quality snow around really leaves you with an amazing and grateful feeling.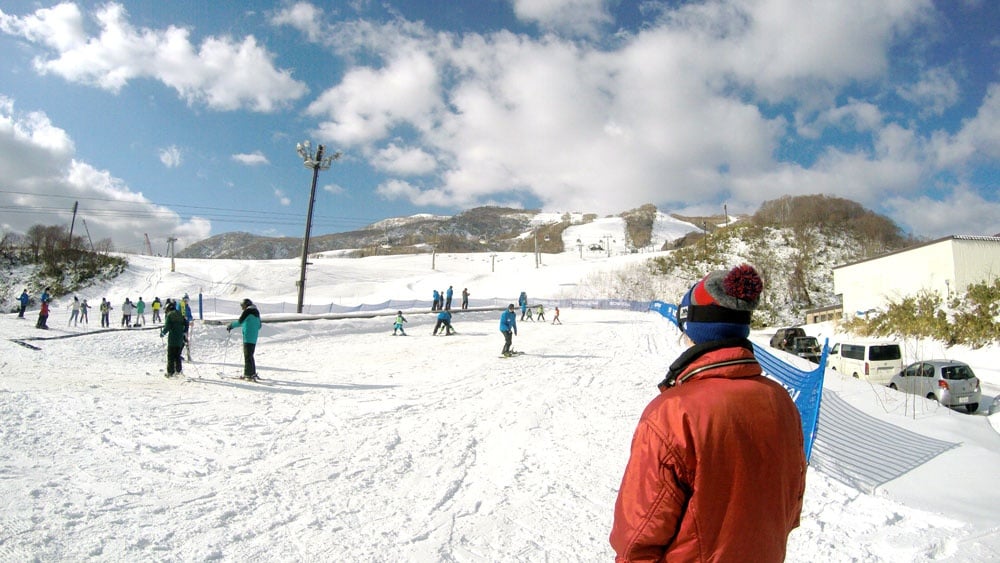 Also read: 12 Must-Try Winter Activities in Japan This Year
Grand Hirafu Mountain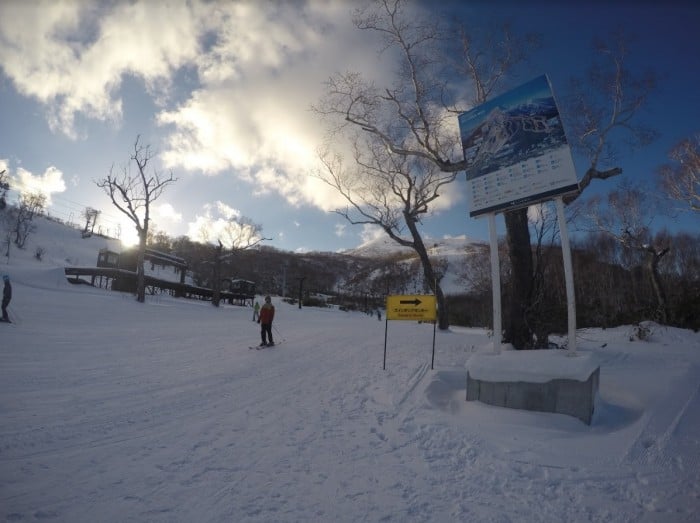 After my snowboard lesson, I had a few more hours to spare before my bus leaves for Sapporo. I decided to explore the Grand Hirafu mountain by riding the Hirafu Gondola. I availed the cheapest lift pass (5 hours consecutive) for ¥3,400 (₱1,439+). Please note that the card has a ¥1,000 (¥423+) deposit, return the card after use so you can get it back.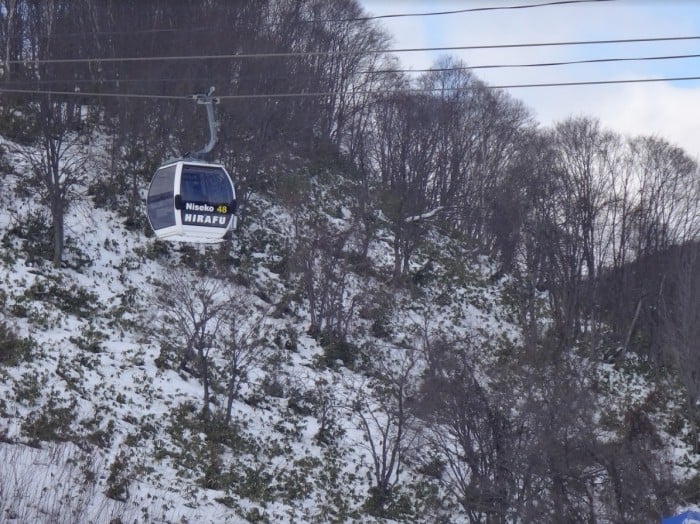 A Grand Hirafu Gondola
Even though you're not skiing or snowboarding, you can ride the Hirafu Gondola up to the Grand Hirafu mountain. The Gondola lets you experience an amazing view of the Grand Hirafu slopes and Mt Yotei – a dupe for Mt Fuji. When I showed the photo to my sister, she really thought it was Mt Fuji. The Gondola is about an 8-10 minute ride of spectacular views of white snow and winter sports enthusiasts enjoying the mountain slopes.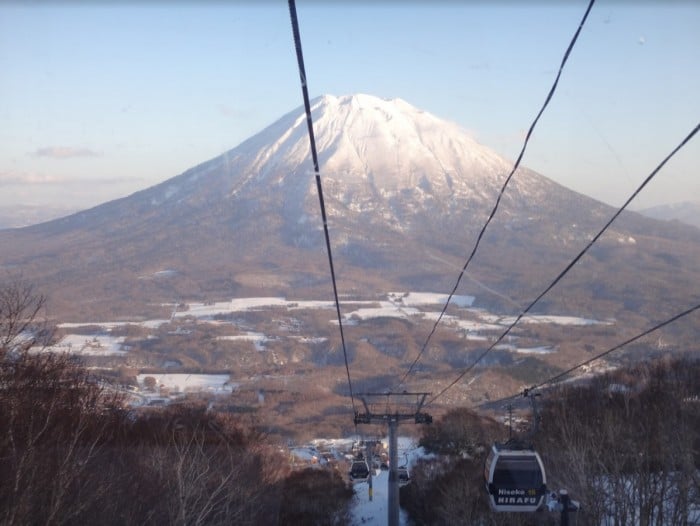 View of Mt Yotei from Hirafu Gondola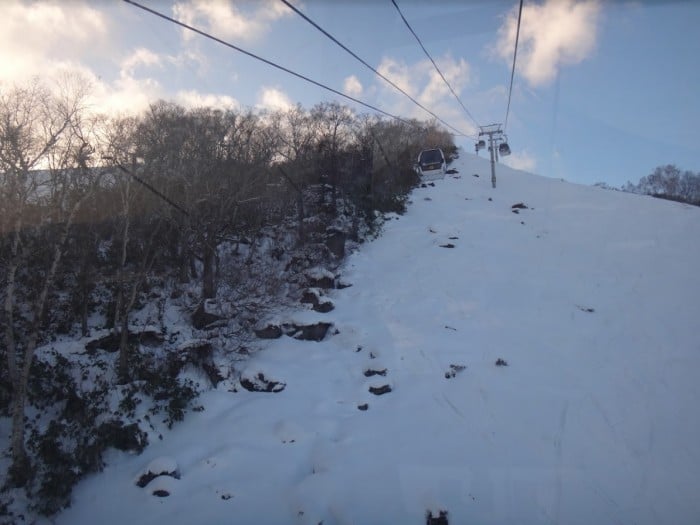 Fresh snow, white and pristine surroundings are what met me when I was at the top. You can freely play and experience the snow here any way you want.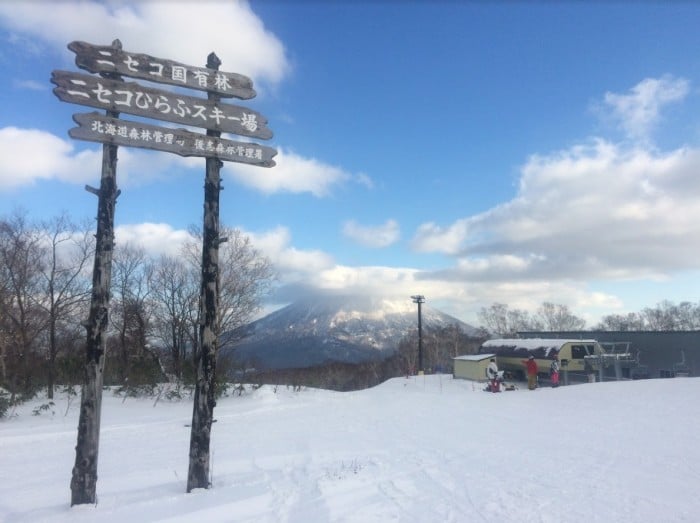 When it gets too cold, you can rest, dine, and appreciate the beautiful views at the Grand Hirafu Mountain Café. The food choices are a bit expensive and limited but really good and of quality. There is also free wi-fi at the café. Aside from the café, you can find different chair lifts which can take you to higher points of the mountain. This is only usable for people who are skiing or snowboarding.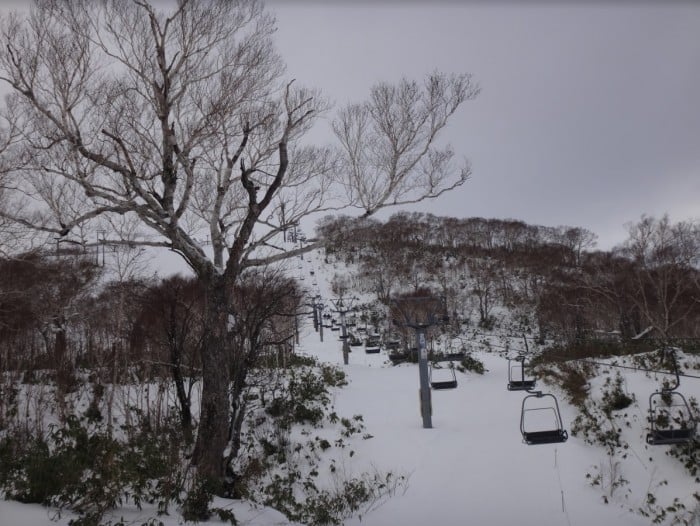 I was here for 3 hours and wished that I stayed longer. I took photos, played in the snow, ate at the café, and watched the view.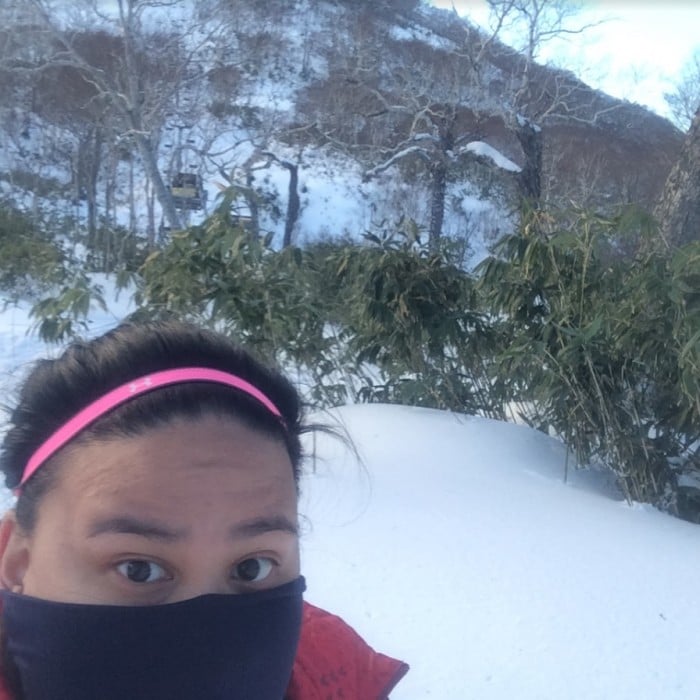 I also explored the woods and walked a few snow paths.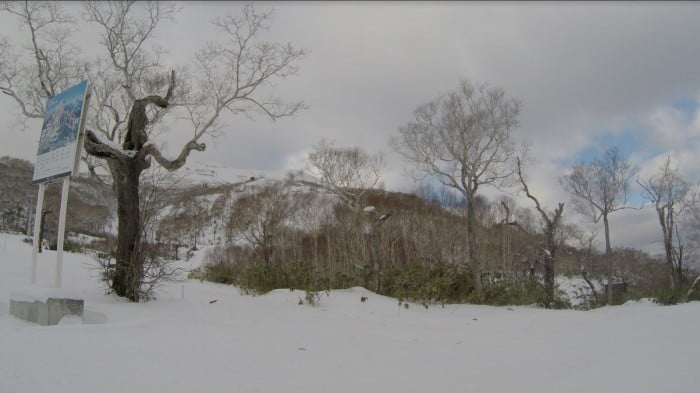 It was one of the best moments during my stay in Niseko. If I was with my family, I would have loved to have a picnic here and make a snowman. There were a lot of kids playing in the snow and also a few Go Snow instructors and students doing their lessons up there. Do not miss out on going at the top of Grand Hirafu. It is definitely a must experience!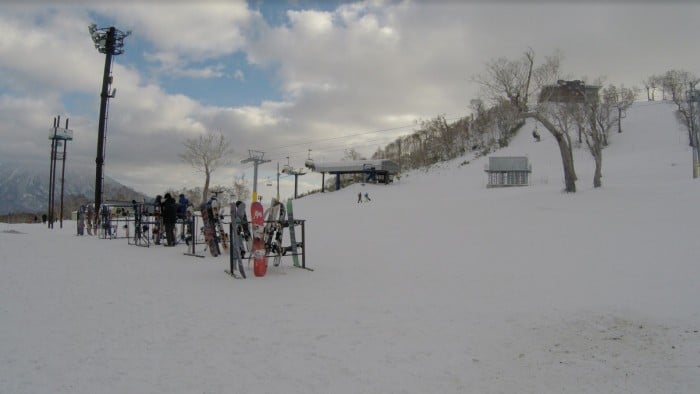 Food
Since I was only in Niseko for a limited time, I stayed at Ki Niseko most of the time. Prior to arriving in Niseko, I knew that prices were expensive so I already bought extra food and snacks at convenience stores at the New Chitose airport.
During my first night, I had my very first signature course meal at An Dining. I had about 8-9 prepared meals of the chef's specialties.
An Dining Course Meal – Assortment of Sashimi
An Dining Course Meal – Fried Hokkaido wild stingray with 3 kinds of salt
Also read: My Food Trip in Japan: 17 Must-Try Foods in the Kansai Region
They were all delicious and tasty but what stood out the most for me was its local inspired course – a slow braised Ebetsu black pork served with mashed Kutchan potato.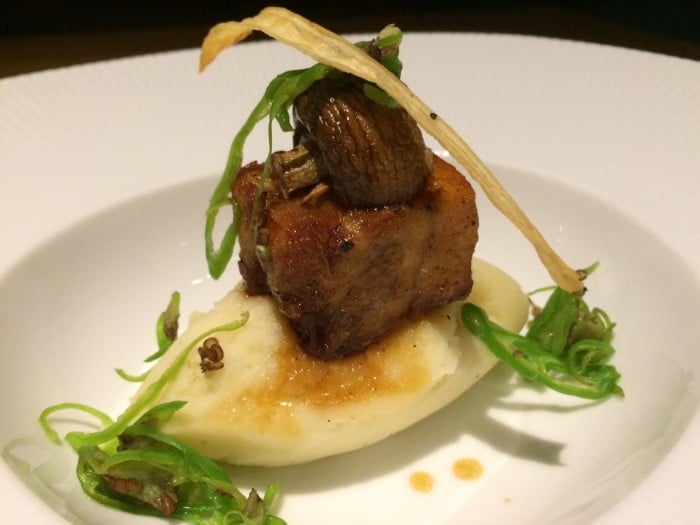 The pork just melted in my mouth and went so good with the mashed potato. The signature meal costs ¥8,000 (₱3,386+). If you wanted to experience local food at its finest, definitely invest in this course meal.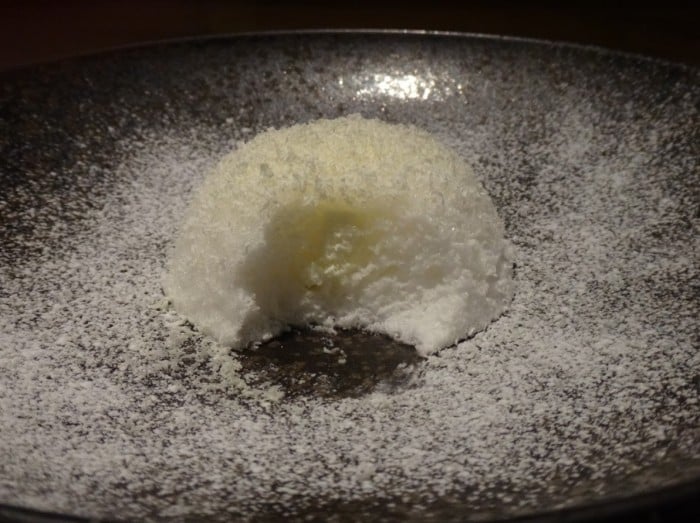 An Dining Course Meal Dessert – Snowball (Light fluffy plum wine marshmallow with cheesecake centre topped with white chocolate shavings)
The next day, I availed Ki Niseko's breakfast for ¥2,000 (₱846+) and I'm glad that I did because it is the best breakfast I have ever had in my life. The food was delicious and of quality that in some tastings, I really wanted to cry in the moment.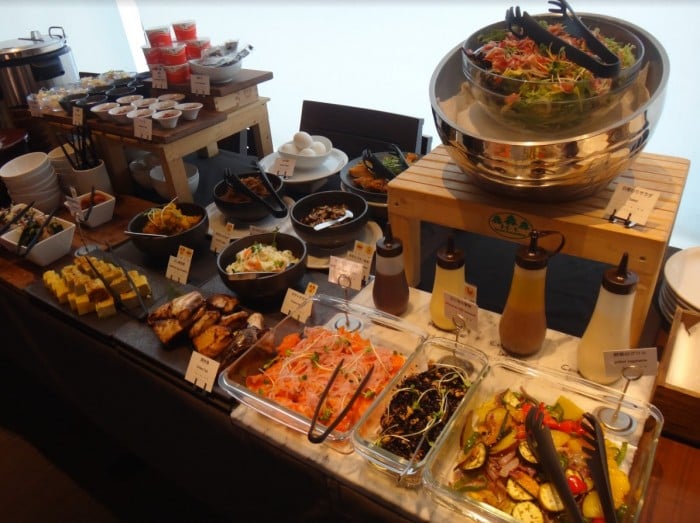 An Dining of Ki Niseko provides a breakfast buffet with Japanese and Western variety. What I loved most about the selection was the local Hokkaido butter and bread. It was so creamy, cheesy, and milky all at the same time!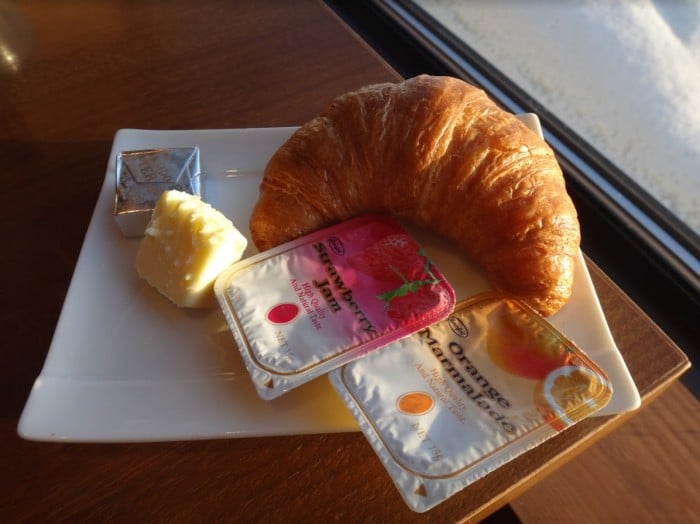 You should also try the gluten free desserts as this capped off the already amazing breakfast in a perfect way.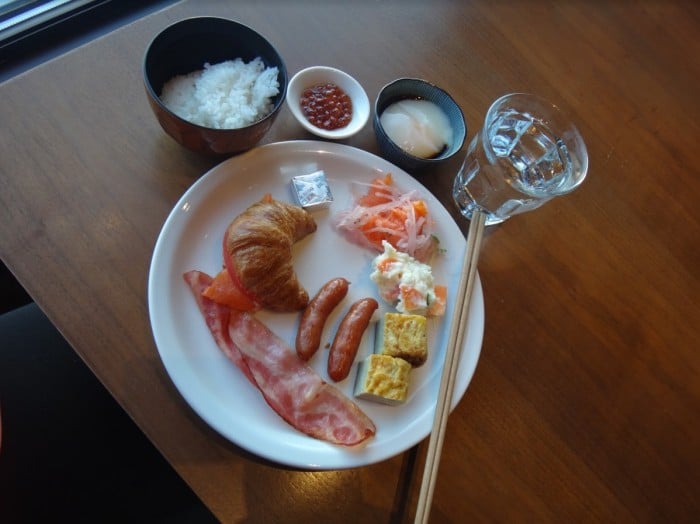 Make sure you sit at an angle where you can see the sunrise view of Mt Yotei, it was such a spectacular experience.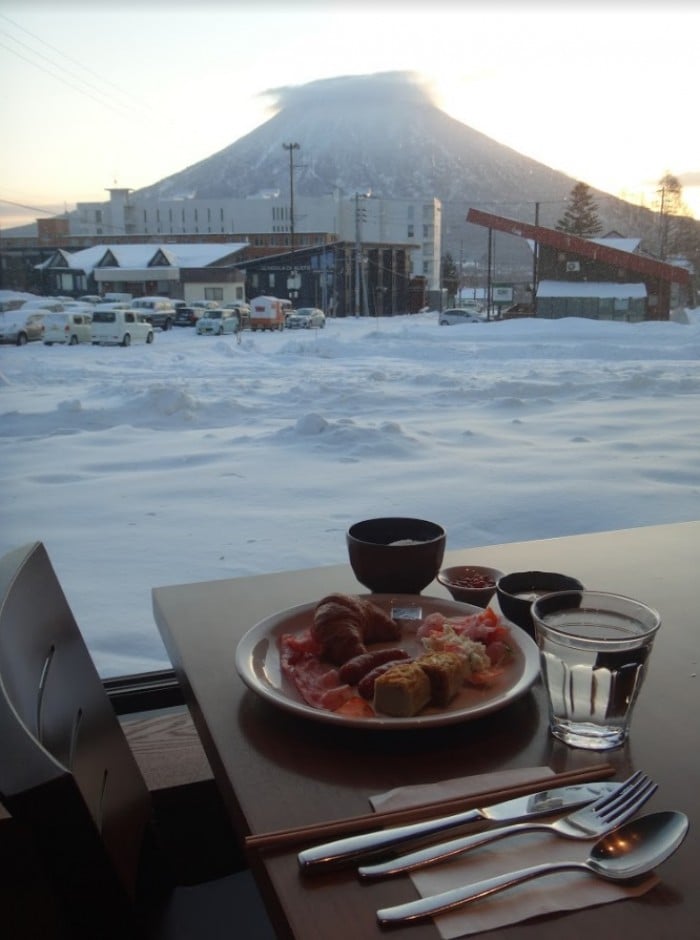 I had my last meal in Niseko at the Grand Hirafu Mountain Resort Café. Since it was very cold up there, I ordered the ramen. The ramen costs ¥950 (₱450+) and had a big serving. It was delicious and very tasty. Again, make sure you eat at an angle where you can see the Mt Yotei view. It is more beautiful from up the Grand Hirafu mountain.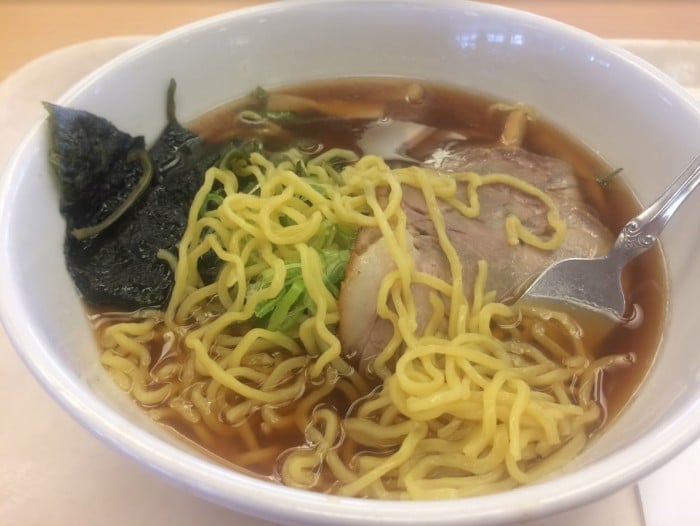 Visiting Niseko was one of the best travel experiences of my life and should definitely be added to your travel bucket lists!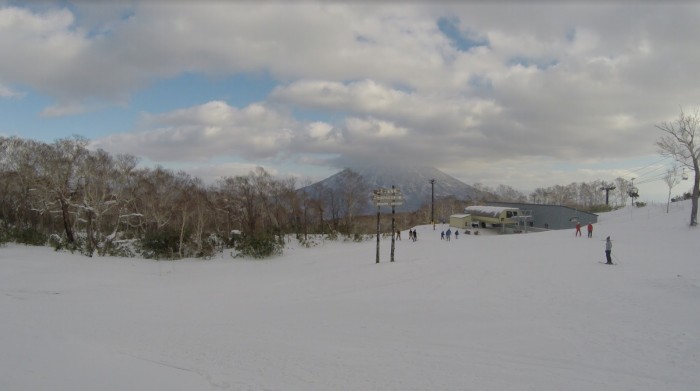 Please note that Philippine peso amounts may vary depending on exchange rate. As of December 2016, ¥1 = ₱0.42