From 27 March 2020 (9am), all travellers arriving in Singapore are required to submit an SG Arrival Card – an online health declaration – before proceeding with immigration clearance. This is applicable to foreign visitors, travellers enrolled in the Frequent Traveller Programme, Singapore citizens, permanent residents and long-term pass holders.
It can be completed via the SG Arrival Card electronic service three days prior to arrival – and is available on the ICA website or on a free mobile app that can be downloaded from the Apple App Store and Google Play Store.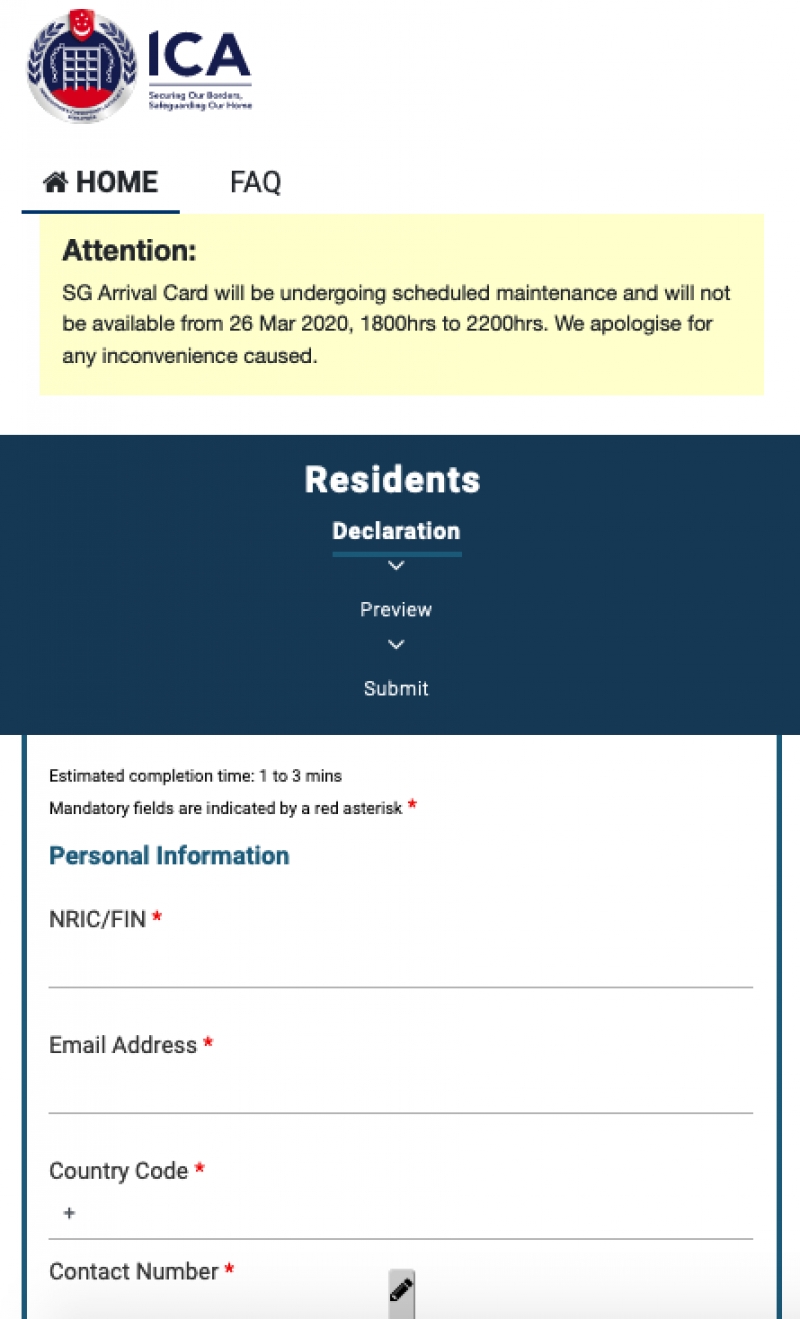 Also Read: Singapore Lockdown Begins With Closure of Bars and Entertainment Venues
The Immigration and Checkpoints Authority (ICA) explained that this new entry requirement is an additional pre-emptive measure to diminish the risk of importing Covid-19 into Singapore. It will come under review periodically as the situation evolves. 
The data from the declarations will be employed by the Ministry of Health (MOH) to ease the process of contact tracing in an unfortunate turn of events, when any traveller becomes a suspected or confirmed coronavirus case. The data will also be assimilated by local healthcare institutions where these infected travellers will receive treatments.
ICA informed that those who fail to submit their electronic health declarations before arriving in Singapore must do so on the spot before they can move to immigration clearance – which might cause unnecessary delay.
Travellers are obliged to provide their health and recent travel information, on top of personal and contact details three days before entering Singapore. They must re-submit their health declaration if there are changes to their health conditions or travel histories prior to arrival. 
Those who provide false declarations can be prosecuted under the Infectious Diseases Act which entails a fine of up to S$10,000 and/or imprisonment of up to 6 months for first-time offender and a fine of up to S$20,000 and/or imprisonment of up to 12 months for subsequent offence.
Also Read: Singapore Travel Ban In Effect For All Short-Term Visitors
Upon immigration clearance in Singapore, travellers will be subject to a mandatory 14-day stay home notice (SHN).
ICA announced this move after the Ministry of Health implemented the unprecedented step to bar all short-term visitors on 23 March following a spike in imported cases within the republic. 
The e-service was rolled out as a pilot study since August last year to enable short-term visitors to submit essential information digitally before setting foot in Singapore replacing the need to fill up paper-based disembarkation/embarkation cards.
ICA added that it will cease allocating paper-based disembarkation/embarkation cards to visitors from 27 March (9am). Hence, once the ban for short-term visitors is lifted, future travellers must utilise the SG Arrival Card e-service instead to declare their arrival and departure information.