For those who are travelling around Southeast Asia and eventually land in Singapore, you may have noticed a sudden spike in price – especially when it comes to drinks. (Even the Singaporeans themselves admit to this.)
High alcohol taxes can drain someone's holiday budget very quickly. With cocktails and speakeasy-type bars booming all over town, a crafty martini can easily cost SGD 25. But there are some alternatives if you aim to maintain your budget.
1. Bar Canary
Image credit: Bar Cranary
Should you be looking to drink a lot, you might want to consider the free-flow offering of the Bar Canary. Located in the Grand Park Orchard Hotel, you will be surprised with an outdoor pool setting, stylish décor and views over the city's favourite shopping stretch. Every Friday between 7pm and 8:30pm for only $28, you can get free-flowing wine. Considering the prices of wine in Singapore, this is a good deal. Ladies can look forward to Wednesdays, as for $35 they will receive unlimited champagne, wine, house pours and a pizza.
Address: 270 Orchard Road
2. Sticky Fingers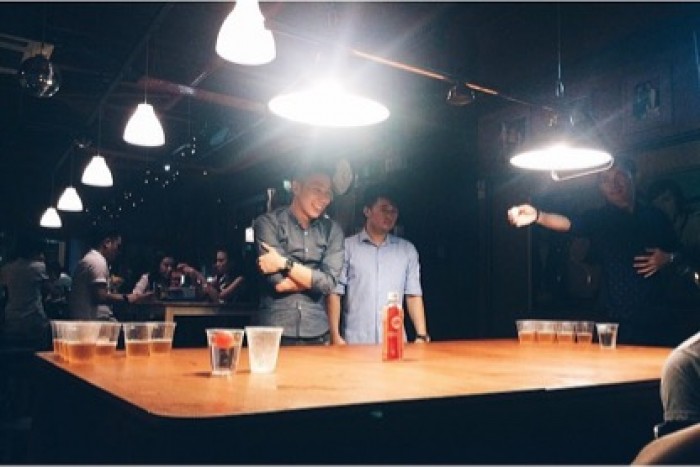 Image credit: StickyFingers Singapore
Here is another free-flow option for your Singapore vacation. Sticky Fingers is located at Riverside Piazza and frequented by young folks. Mingle (and drink) with the locals on Mondays, as there is a free flow of draught beers between 8pm and 11pm for a mere $35. On Tuesdays there will be a 1 for 1 offer for just anything (that you can drink). Like anywhere else in town, Wednesdays are for the ladies – flowing house pours for $25 all night. On Fridays this offer holds for everyone at $35.
Address: 11 Keng Chow Street
3. District 10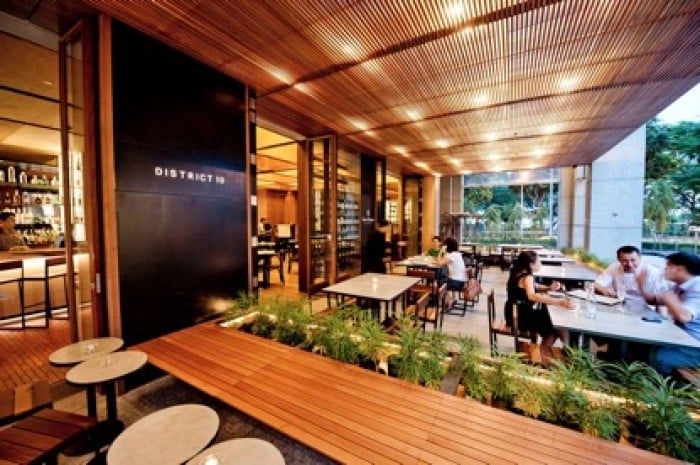 Image credit: District 10 Bar & Restaurant
With several outlets in town and a Happy Hour starting already at 11am, District 10 is perfect for an afternoon beer after exploring the city. A welcoming and open space as well as a stylish interior make the bar an ideal spot to unwind and enjoy a few drinks, as draught beers, house pour spirits and gin & tonics are offered as a 1-for-1. So if you are gently cruising through Singapore with a friend, you will get your boozy reward until 8pm. On offer are also gourmet pizzas for $10.
Address: 81 Clemenceau Avenue
4. Five Izakaya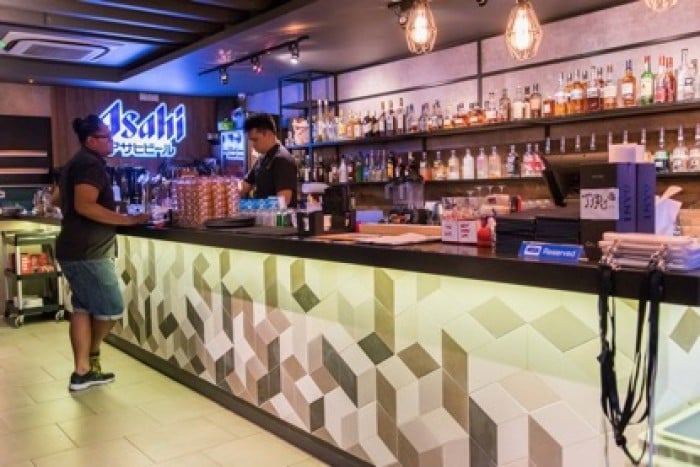 Image credit: Five Tapas Bar
You will find several outlets of this bar around town – but it doesn't matter which one you visit. Everything is $5! Well not quite, but most of it. Although the prices are still before taxes and service charges, Five Izakaya is still much cheaper than most places. A big benefit is that you can experience local bands live on almost every evening. It's the perfect place to hang out, if you want to get to know some young locals.
Address: 25 Cuppage Road
5. Privé Chijmes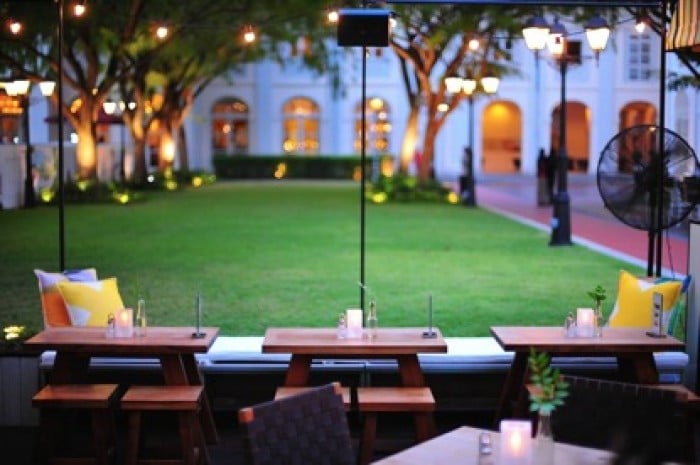 Image credit: Prive Chijmes
In order to get cheaper drinks in Singapore, you will have to look for Happy Hour deals. Privé at Chijmes has very generous Happy Hour from 11am to 8pm, including all mojitos for $12 and house pours for only $7. If you are more into beers and wines, you will also find those at reduced prices. The biggest plus point of Privé is its location which is in a former convent. The cosy backyard atmosphere of the bar will let you forget that you are actually in a city.
Address: 30 Victoria Street
6. The Exchange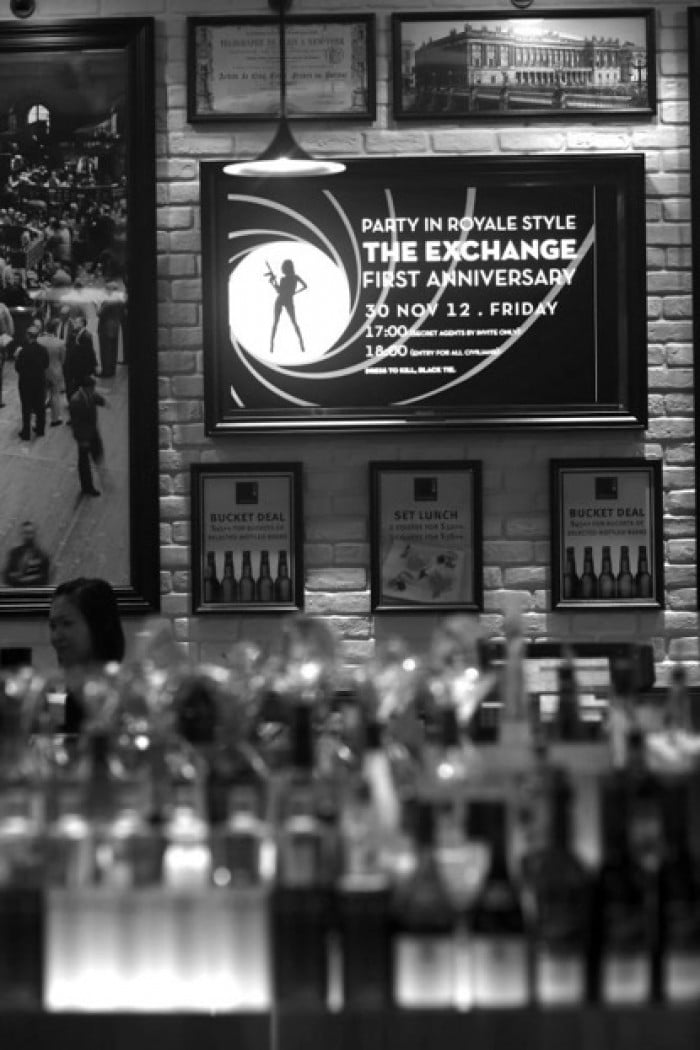 Image credit: The Exchange
Located in the busy CBD (Central Business District), the Exchange holds a few aces for you. Don't be put off because you might see mainly business people and bankers hanging around – they are here for the same reasons as you. All women receive a special treat on Wednesdays – free-flow of martinis. Exactly – free! Dear men don't despair – their daily Happy Hour lasts until 8pm and gets you for example Margaritas, amongst other drinks, for already $5. Just around the corner is also Singapore's oldest food court Lau Pa Sat.
Address: 8 Marina View
7. No.5 Emerald Hill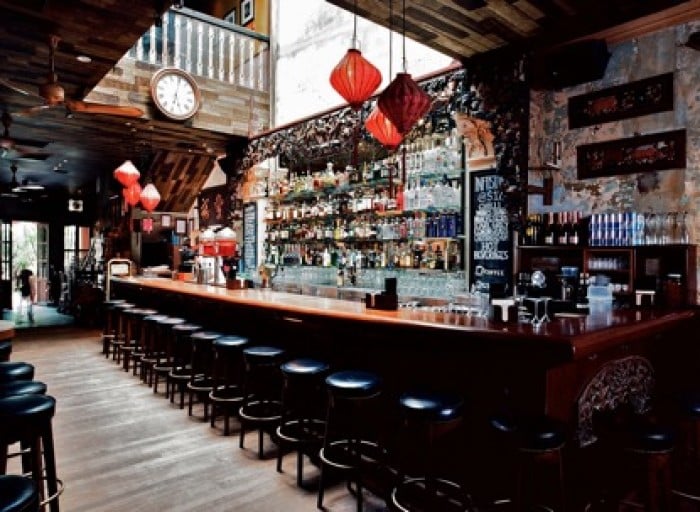 Image credit: 5 Emerald Hill Cocktail Bar
It is often described as one of the oldest bars in the city. No.5 on Emerald Hill has a few good reasons why they have survived so long. FYI, most bars in Singapore don't even make two years. No.5 is special, as you will receive a free-flow of peanuts all day long. Tradition around here is to throw the empty peanut shells on the floor – everyone does it, so don't be shy. Happy Hour lasts from midday to 9pm and gets you draught beers and house pours for already $8. The drinking continues after 9pm with two martinis for the price of one. It doesn't get any cheaper around Orchard Road.
Address: 5 Emerald Hill Road
8. 1 Tyrwhitt Road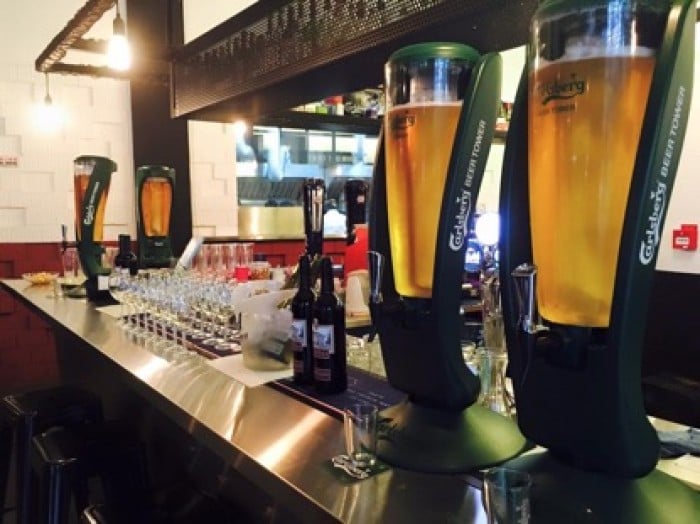 Image credit: 1 Tyrwhitt Bistro & Bar
This new local neighbourhood bar is the latest edition to the hip Jalan Besar area – many hostels are just a few minutes walk. It's well worth checking out, if you are staying around there. Happy Hour starts early at 11.30am and lasts until 9pm. Their best offers include two Carlsberg pints for $14 and two Kronenbourg for $16. Alternatively you can also order a 3L beer tower for $49.
Address: 1 Tyrwhitt Road
9. Ice Cold Beer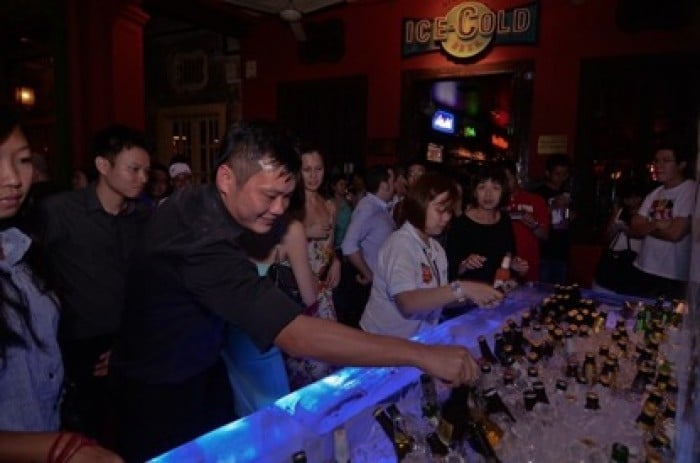 Image credit: Ice Cold Beer
As the name of the bar already suggest, this bar is for beers – especially if you get one for free. 1-for-1 offers are very common in Singapore's bars, so grab them if you see them. Ice Cold Beer has a daily Happy Hour from 5pm to 9pm with exactly such offer. Evenings can get crowded around here, but that makes the bar one of the liveliest in town.
Address: 50 Stamford Rd
10. BeerFest
With Happy Hour not once but TWICE a day (excluding Fridays), this specialty bar makes for a must-visit! BeerFest is renowned for their craft beers such as the golden wheat beer, roasted barley Dark Stout beer, sweet caramel American Amber Ale and the most unique of the lot: Cherry Ruby beer. A perfect wind-down spot after a taxing day, this bar provides more bang for your buck with freshly brewed beers priced at just $4/mug and $7/pint. Grab your drinking buddies now!
Address: 4 Rochester Park