Singapore's efficient mass transportation system and beautifully constructed roads make travelling the island a breeze most of the time. But it's also possible to conquer Singapore on foot for a total of 28 hours while covering 200 kilometres, whether you're doing it for recreation or fitness. Granted, everything still depends on how fast you are. But if these two men can do it, so can you.
Phil Daniel and Jean-Henri Haniquaut are French nationals currently living in The Lion City. Around mid-March 2021, the two went viral after completing a 200-kilometre run around the perimeter of Singapore. Starting at 8pm on 11 Mar 2021, they circled Singapore's Round Island Route (RIR) and ended their over two-day journey just after midnight of 13 Mar 2021.
What's the Round Island Route?
The RIR is a 150-kilometre park connector that lets one go around Singapore on foot continuously. Through it, you can pass by and enjoy various natural, cultural, historical, and recreational sites in Singapore without having to hop on a vehicle. According to NParks Singapore, locals and tourists alike may use the route for activities like cycling, skating, jogging, and hiking.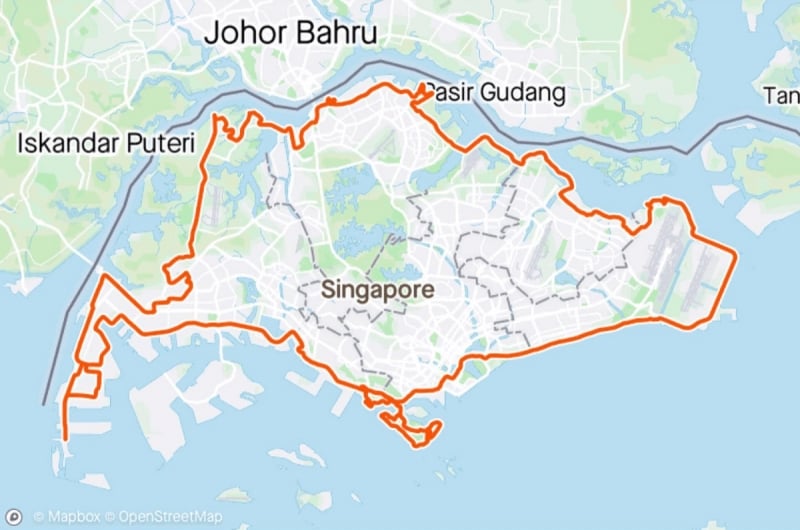 The route starts and ends between the Rower's Bay and Gardens by the Bay. Here, RIR users can already take advantage of a nearby boardwalk, lookout pavilion, and a wetland. This stretch alone measures 60 kilometres and provides an access point to the Seletar Aerospace Park via a three-kilometre trail. It's where you can drop by three of Singapore's nine Heritage Trees. You'll also find a shelter that comes with charging points.
The rest of the route likewise features more of Singapore's popular and underrated destinations. By 2035, the RIR would be fully completed with enough amenities to cater to more cyclists, skaters, joggers, and hikers in Singapore.
Also read: By 2026, Singapore Will Have New Parks & Four New Nature Trails
Why they did it
Rather than stick to the original length of the RIR, Daniel and Haniquaut extended their run for a bit more challenge. Both individuals were already experienced ultrarunners with thousands of kilometres worth of trails conquered under their belt.
"After I met Philippe on Strava, then later in person, we started doing little challenges like 'every path in the Botanic Garden'. This was farther than either of us had gone, but that's what a challenge is all about," Haniquaut told Red Dot Running Company (RDRC) in an interview. But there were a few more reasons why they did the feat, which a lot of people thought was simply crazy to begin with.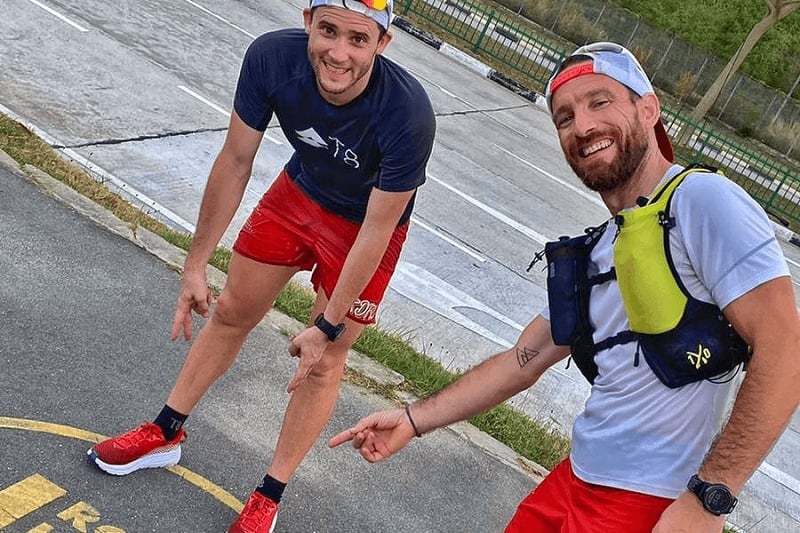 "I guess the spark for doing this right now was that I wanted to celebrate my new job. But it's also something that we were discussing for six months," Daniel said in the same interview. "We were going to do it last year, but I did not start because I was busy studying and it was a stressful time."
More than the personal, the two have actually been supporting a couple of France-based organisations that aim to help the environment. "We were raising funds for charity, for two non-profit foundations that work to protect coral reefs, and you don't want to let down the people who contributed to that campaign." The campaign in question was actually posted on GoFundMe, where they were praised for doing the challenge for a cause.
Also read: Travel For A Cause: Advocacies You Can Contribute To While Travelling
The Singapore on foot challenge
Daniel and Haniquaut originally planned to do the entire Singapore on foot challenge in under 24 hours. The preparation involved thorough training, even when they were already running for years, and planning.
"I've just been doing my normal training, which is around 80 to 100 kilometres a week of running, plus 150 to 200 kilometres on the bike. And last year we were doing a long run on the weekends, 40 to 50 kilometres, which I'm sure was quite useful training," Haniquaut shared. Daniel, on the other hand, has already been doing short RIR cycling trips. Weeks before 11 Mar 2021, he has also been running for 80 to 100 kilometres a week.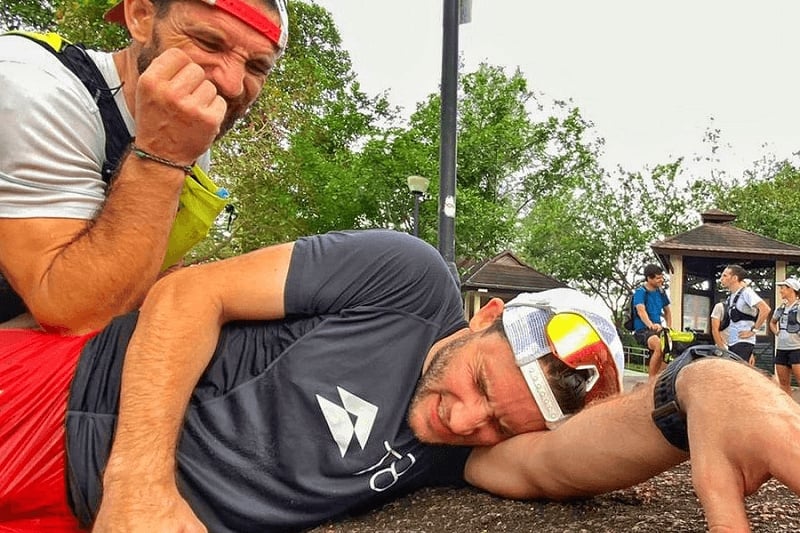 On top of adding more kilometres, they also designed their route in the hopes of somewhat making the run a lot less rigorous.
"We designed our course to try to reduce the chance we would be tempted to cut it short," Daniel said. They then opted to do the route clockwise by skipping Sentosa and avoid climbing the hill nearby. "We also wanted to be sure to get to Sungei Buloh when it was open. We also figured that after we passed Changi, we would be basically just running back home, getting closer with every step."
Still, factors like Singapore heat, humidity, rain, and even injury for Daniel stopped them from pulling off everything as planned.
"The toughest part was that at around the halfway point I started to have a serious problem with my hip. I had to stop every few kilometers to get treatment from our support team, and in some cases from Jean, and then at around 120 kilometers I had a calf problem in the other leg, probably from compensating for the hip. I felt bad for Jean because I really slowed us down," Daniel said.
Also read: Top 32 Things to Do in Singapore Including FREE Activities
Their tips for other runners
Asked if they would do it again, both said yes. "The point of doing it was to challenge ourselves in a big way, and we certainly had success in that. It was a big challenge. And we're looking forward to the next challenge!" Haniquaut told RDRC.
Aside from their physical training, both Daniel and Haniquaut relied on a nutritional plan. "We had Tailwind, thanks to RDRC, and it was my first time to drink anything but water in a long endurance event. As I said before, running in the heat and humidity of Singapore has been a real change for me over the past year," Haniquaut added.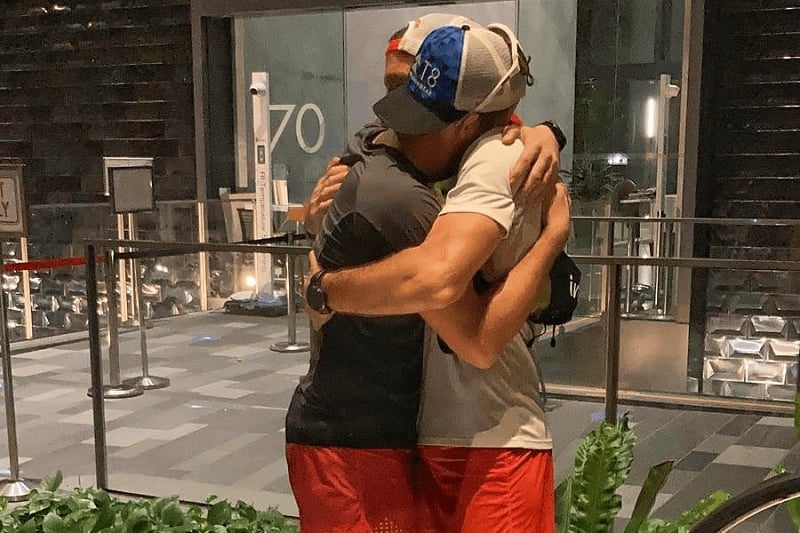 They brought real food too, according to Daniel. "We made around 10 croque monsieur (baked ham and cheese) sandwiches before we set off, and we had nuts of course and plenty of gels. At one point in East Coast Park, I ate a Unived gel and felt like Superman for around two kilometres. Then the effect wore off and I went back to limping!"
To keep them motivated, they also had a support crew composed of their respective families and friends. "My family came out, which was great, and we had pacers for almost the whole thing, except for 30 to 40 kilometres, I think," Haniquaut shared. Other people also came to the course and actually ran with them on some parts of the course.
As for safety, Daniel and Haniquaut assured that they did their Singapore on foot challenge as safely as possible all the while following Singapore's regulations for public gatherings. They even had an online sheet that showed which parts of their course had the most number of supporters, so those who wanted to see them could spread themselves out to ensure physical distancing.
---
All images credited to Red Dot Running Company via Endurance Asia Podcast.