If you have been scrolling through your Facebook feed these days, chances are you would have seen the above poster before. But what is it actually about?
CHEF: Bibimbap VS Chilli Crab is a humorous non-verbal show that uses live beat-boxing and b-boying to tell a story of two rival chefs, the Red and Green chef. If you have watched Nanta or BIBAP: Bibimbap show in Seoul, this show was created with a similar concept but with local adaptations.
CHEF: Bibimbap VS Chilli Crab's crew is made up of Koreans and Singaporeas. Singaporean celebrities Jayley and Hayley Woo will also take turns to play Cutie Chef, one of the staff chefs in the play.
Show Time and Location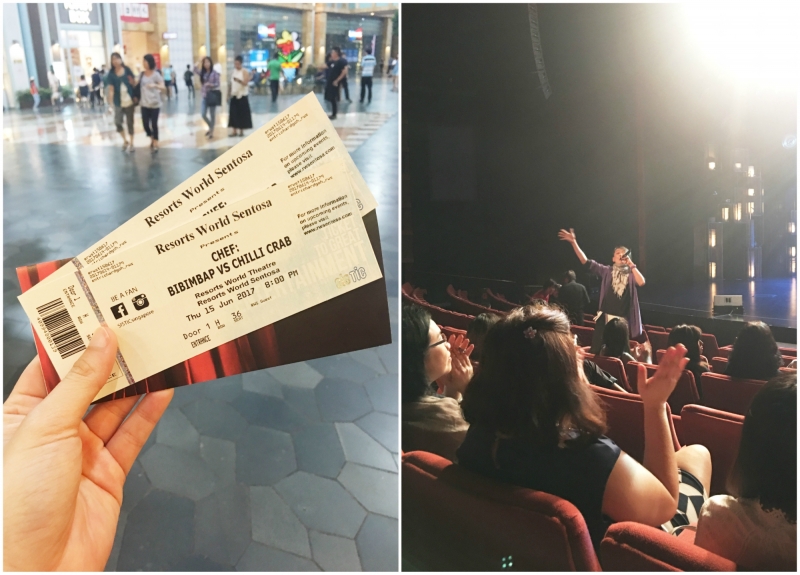 CHEF: Bibimbap VS Chilli Crab runs from 9 June to 22 July 2017 at Resorts World Sentosa Theatre. Show timings are as follows:
8pm on Thursdays and Fridays

2pm and 8pm on Saturdays

2pm on Sundays
You can book tickets in advance on SISTIC or simply go to the theatre an hour before the show if you happen to be in the area.
CHEF: Bibimbap VS Chilli Crab Review
The show starts off with an introduction to the chefs: The Green Chef, Red Chef, Cutie Chef, Sexy Chef, Strong Chef, Rookie Chef, Beat-boxer Chef and B-Boy Chef. The Red and Green Chefs then started taking turns to cook 3 dishes: sushi, italian pizza and chicken noodles before moving on to the final showdown where the Green Chef cooks Bibimbap while the Red Chef cooks Chilli Crab. One thing unique about this musical is that they involve the audience in their show. The audience was asked to clap, shout and some lucky ones even had the chance to be on stage with the crew. The ones who went up on stage also received various dining vouchers from Resorts World Sentosa.
TIP: Sit nearer to stage at the aisle area to increase your chances of being chosen to go on stage!
The element of humour comes in with the sound effects the crew makes while "cooking" and when audiences are invited to stage and asked to play along.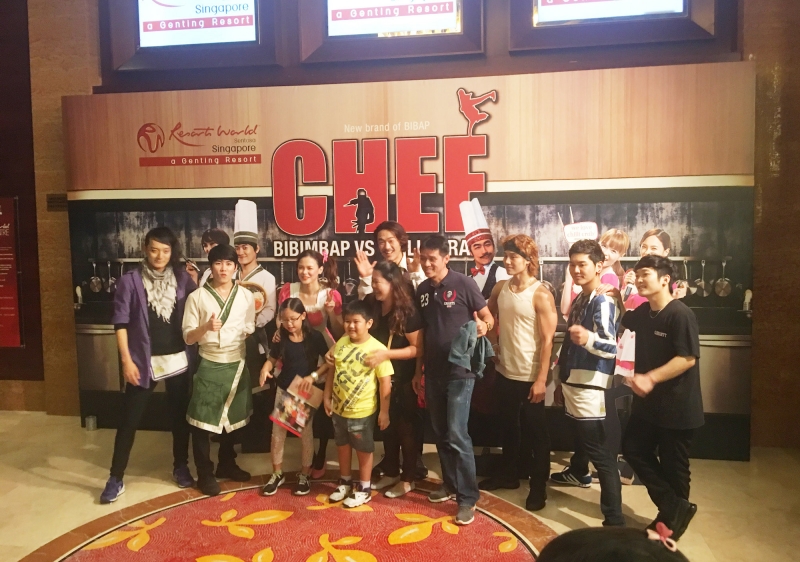 If you enjoyed the performance as much as we did, you can also take photos with the crew after the show for a small fee of $10 per group!
Here is the official trailer for the show
Book your tickets on SISTIC today and be careful not to hurt your stomach laughing during the show!