Contributed by My Quirky Soul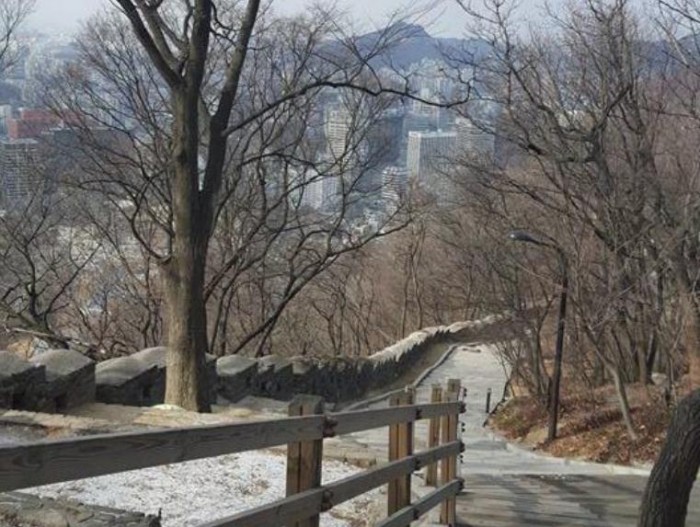 Exploring Seoul, solo, was one of the most liberating and life-changing opportunities I've ever thrown myself into. I was a bit nervous at first, but I love how I easily kept up with the bright lights of the city. Massive thanks to its kind people and [insert drum roll please] a surfeit of authentic Korean FOOD!  Yes, in seconds, all the anxiety died down! Seoul just felt so safe since then.
Also read: Solo in Seoul: A Survival Guide
And, it's totally crazy to see the past, present and future all meet in terms of culture, arts and lifestyle.  How can a place be so freaking amazing?
Well, this first solo travel was very short, actually.  Excitement got the best of me [while booking the tickets] – didn't notice that I'd be staying in Seoul for just 2 days.  Very short indeed, huh!  Oh I forgot, this was in January, winter season! Yeaaahh!
I love being spontaneous but I sure had an awful lot of readings prior to this trip – what to eat, what to do, where to stay, and how I could maximise my 2 days in Seoul – needless to say, I'm a bit meticulous, haha!  Besides, I couldn't afford to waste my precious 48 hours, agree?!
Travel summary
3D2N in Seoul, South Korea
All-in Expense – ₱20,000 (approx. US$400
Airline – Cebupacific (of course it's a seat sale!)
Accommodation – Bauhaus Guesthouse in Hongdae (Recommended)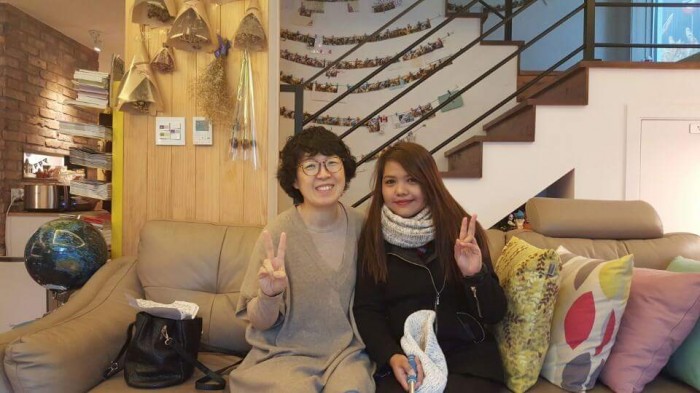 With the lovely Bauhaus host. Their guesthouse felt really homey – it's as if I was staying with a relative. Definitely a value-for-money accommodation – strategically located in Hongdae (5 min walk from Hongdae Station)! 
For my itinerary – it is not that detailed.  I just took note of the places which I find really interesting and checked the subway map to find the fastest routes.  For me, it's much more exciting if you get to decide where to go and how much time you'll spend there – just following your guts.
Also read: 3-Day Seoul Itinerary: What to See & Do on Your First Visit
By the way, I kept everything on my phone [itinerary, subway app, travel notes]  – it's way more efficient than carrying all the printouts.  Plus, my brain wouldn't keep up with all the info-overload, thank God smartphones were invented.
Tip: It's very critical to take note of the exits of the station where you're intending to go – this will save you a real good amount of time.  Subway stations in Seoul are really big and busy, they can get you all confused. But once you familiarise yourself with the subway routes, you'll get the hang of it.
Here are some of the activities you can enjoy while in Seoul:
N Seoul Tower Observatory Ticket
Han River Ferry Cruise (Day & Night)
Trick Eye Museum Seoul & Love Museum Ticket
Cookin' NANTA Show Seoul Discount Ticket
Everland Ticket & Shuttle Bus Package Promo
Nami Island and Petite France in One Day
Nami Island + Gangchon Rail Bike + Garden of Morning Calm Day Tour Promo
Famous neighbourhoods in Seoul
Shopping/Food & Drinks: Hongdae
Nearest station: Hongik University – Green Line (40 min – 1 hour away from Incheon airport, via AREX)
This is where I chose to stay during my whole tour and I think it was quite a  good decision!
Hongdae station is connected to AREX – this makes the transportation going to/from the airport really easy and convenient
It has a youthful, artsy vibe – there are lots of students hanging out in cafes, clubs and restaurants.  Also, the atmosphere is very bright and colourful, which is very Korean.
Hongdae has the liveliest mood in Seoul – very upbeat and youthful which makes it more fun to even just stroll around the area. You'll  see lots of students doing their craft (dancing, singing with their guitars, etc]) in the streets!  How random can that possibly be?!
Also read: Travel Cheat Sheet: Late-Night Shopping Haunts in Seoul for the Restless Insomniac
Sightseeing: Seoul City Hall
Nearest station: City Hall – Intersection of Dark Blue &  Green Lines
Since it's winter, the whole Seoul was freaking cold!  Despite the freezing weather, I bravely strolled around the City Hall area at 9am.  I bet strolling around is much better at night – will definitely do it on my 2nd time! ♥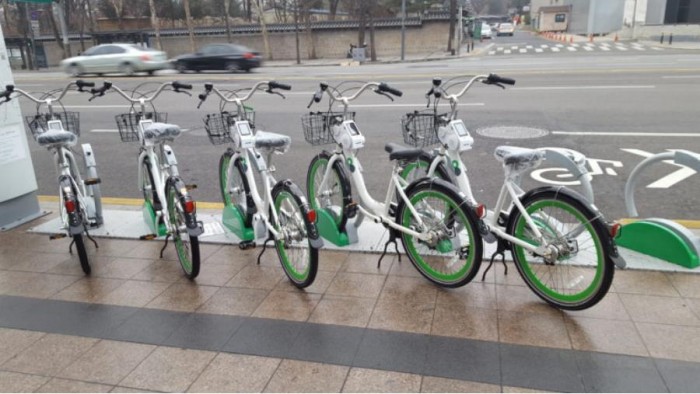 Seoul Rental Bikes! 🙂Definitely a must-try!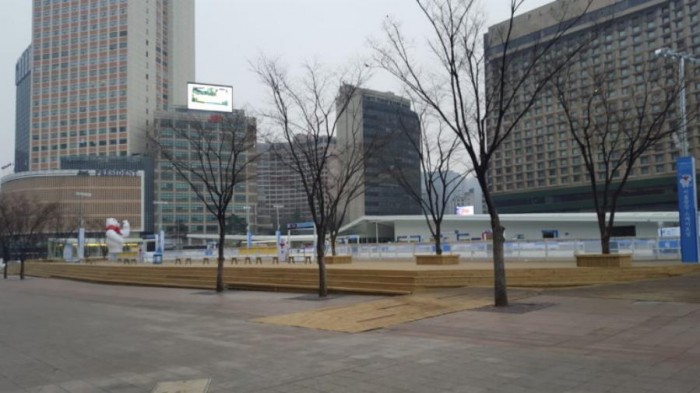 Went to the ice skating rink and watched some kids enjoy skating!
Passing by this area felt like I was inside a Kdrama – also waiting for the bus! 🙂
Personally seeing Koreans waiting for the bus! How cute! 🙂
Sightseeing: Gwanghwamun Square
Nearest station: Gwanghwamun – Pink Line
I just strolled around the area, took pictures and crossed the streets with the locals! ♥  Again, I'd prefer strolling at night but due to the lack of time, I was here early in the morning.  T_T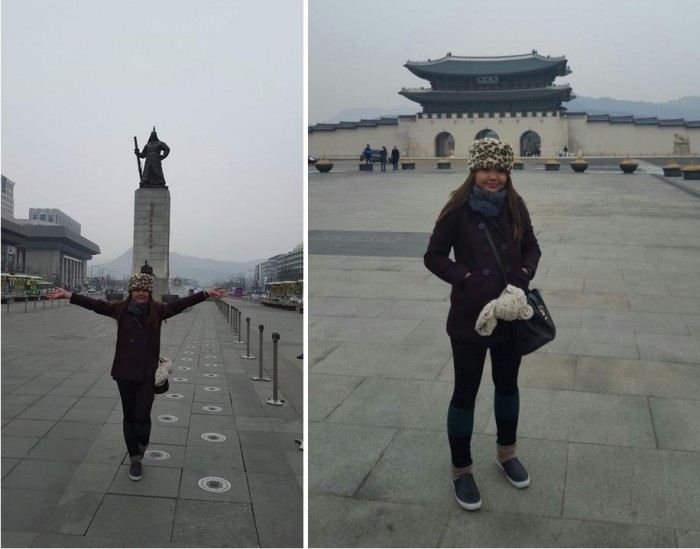 Mandatory shot at the Gwanghwamun Square! Strolling around the square – at the back, you can see a glimpse of Gyeongbokgung 🙂
Sightseeing: Gyeongbokgung Palace
Nearest station: Gyeongbokgung – Orange Line
The palace is actually in front of Gwanghwamun Square, so if you're just around the area, it's better to walk. 🙂  Also, the famous Tosokchon restaurant, where you can eat really delicious, authentic Samgyetang (ginseng chicken soup), is just nearby, you may want to drop by for lunch! They said there's always a long queue but when I went there, there was just a decent number of customers – had an early lunch by the way, around 11am.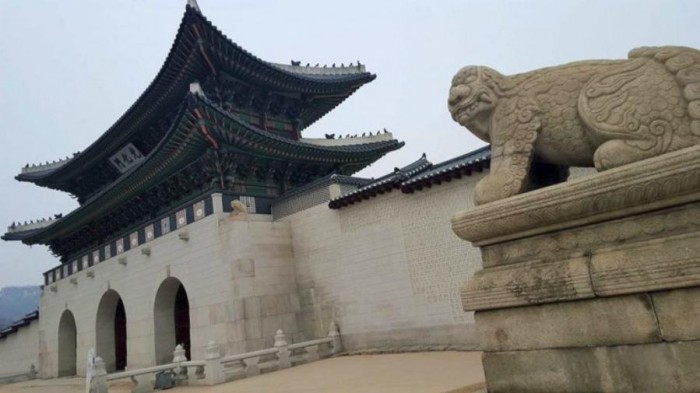 An artsy shot of the Gyeongb0kgung Gate 🙂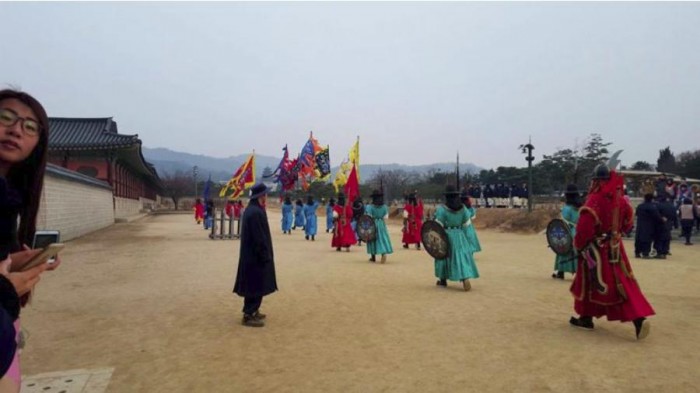 Lucky me, was able to catch and witness the "changing of the guards" ceremony!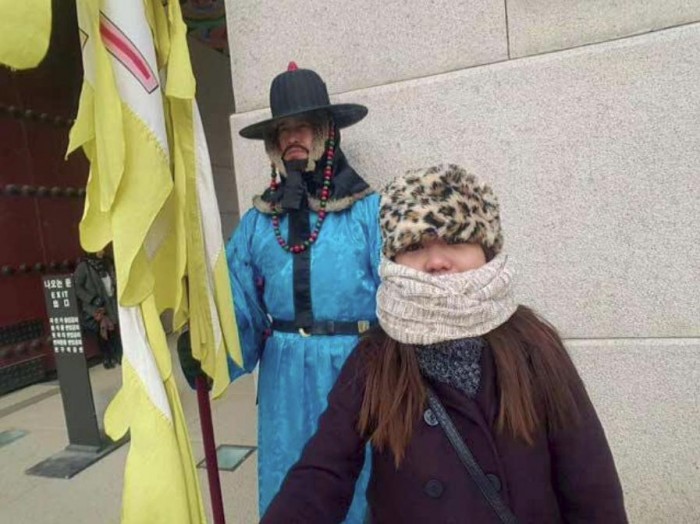 Lets take a selfie with this guard, lol! Really, these guards are insanely tall!
Had the famous Samgyetang for lunch at Tosokchon! This costs about ₩15,000 (₱640)
This is how an order of Samgyetang looks like when served – sizzling hot, full of herbs and spices, and very enticing! Perfect for the cold winter! Note that this comes with free side dish like kimchi. Well in Seoul, most of the servings come with free side dishes.
Just a note, you'd have one whole chicken in one serving.  So if you just want to try this most-raved about Samgyetang and is travelling with a group, I suggest you order one.  Well, it surely's still a case to case basis – depending on the capacity of your stomach and how hungry you are at the moment.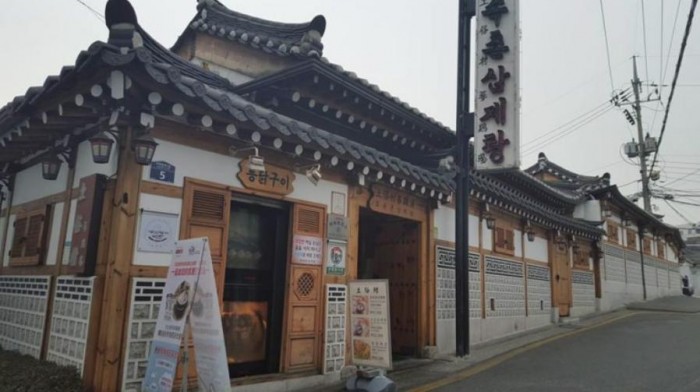 Tosokchon Address: 5, Jahamun-ro 5-gil, Jongno-gu, Seoul
Shopping/Food & Drinks: Insadong
Nearest station: Anguk – Orange Line
If you are around Gyeongbokgung area, going to Insadong is just approx. 10-15 min walk.  What you need to take note of is, there's a police station nearby – so if you're seeing people in police uniform, you're on your right path!
Also read: 23 Cute & Cheap Souvenir Items to Buy from Korea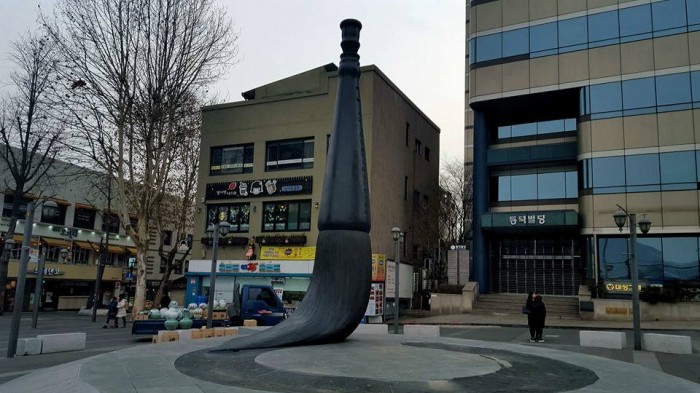 Also, you'll know you're already in the area because a huge work of art will greet you! ♥ 🙂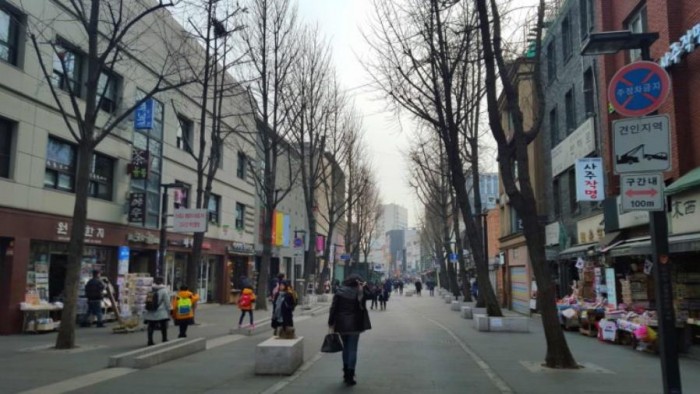 This is where I first noticed that trees really go bald during winter. What a unique sight to see! 🙂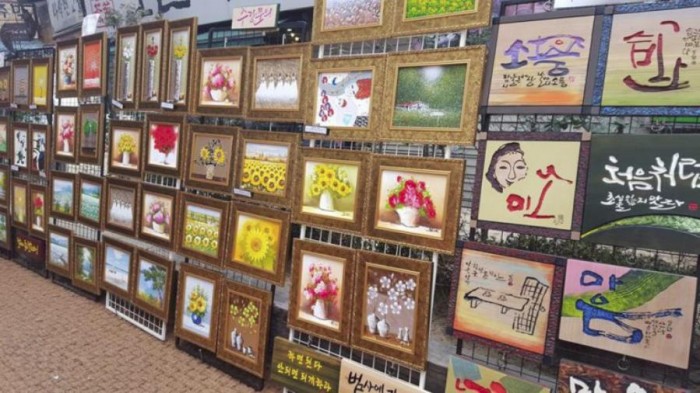 Insadong is a traditional market – offering more of the traditional, more vintage souvenir items.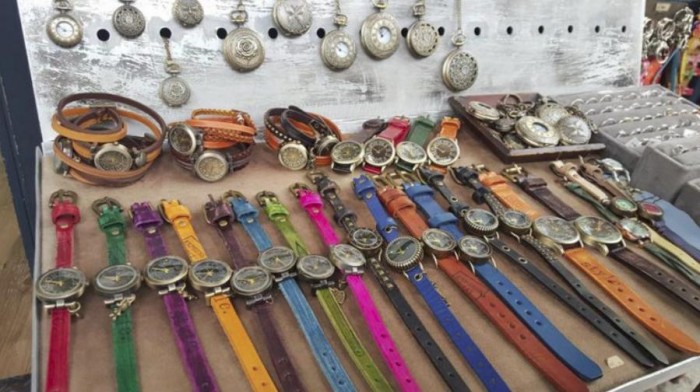 You can find unique items by local designers who are just starting up! ♥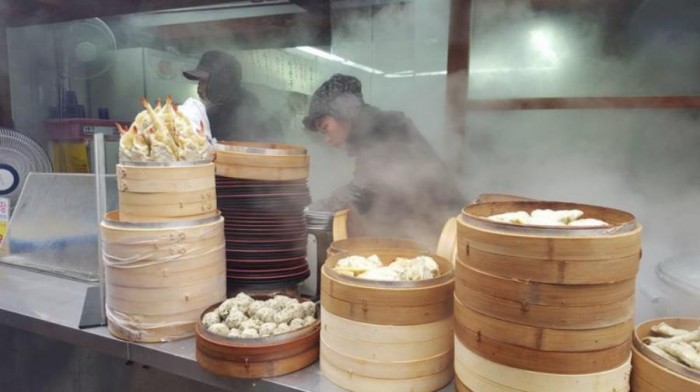 Fresh Seafood dumplings! Enjoyed it soooo much! For ₩3,000 (₱128), you get 3 pcs of shrimp dumplings! 🙂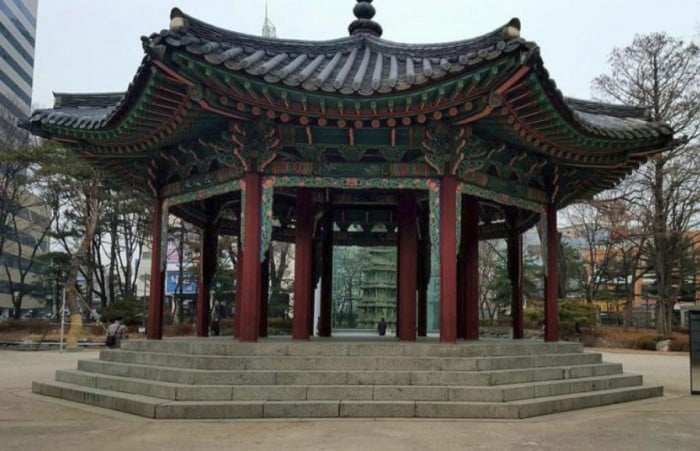 Tapgol Park – just stroll Insadong street until the end, you'll find this 🙂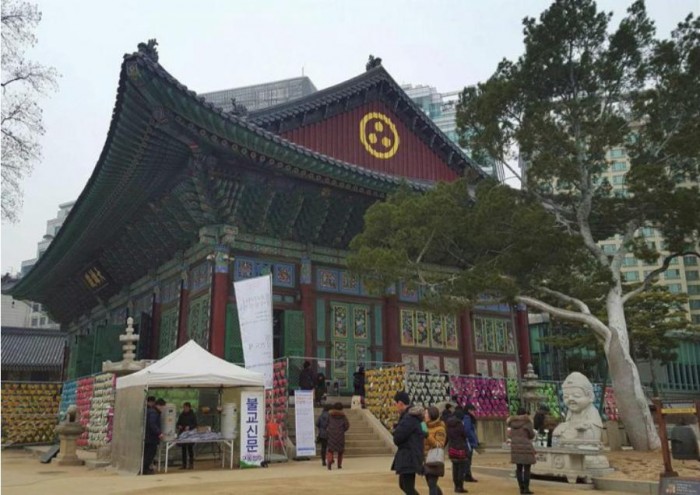 Jogyesa Temple – you can visit this Buddhist temple as this is just near Insadong
Shopping/Food & Drinks: Myeongdong
Nearest station: Euljiro Stations – Green Line/Myeongdong – Light Blue Line
Myeongdong is said to be the haven of shopping particularly cosmetics – well, undoubtedly it is!  This is the only place where multiple rows of stalls only sell cosmetics.  Face masks, creams, lotions and lippies which come in cute packaging are so all over the place!
I know this place is known for shopping but there's just a surfeit of good food – a foodie like me would be more likely to indulge. So yes, I went on a food trip in Myeongdong instead of shopping.
Also read: 12 Must-Try Korean Street Foods in Myeongdong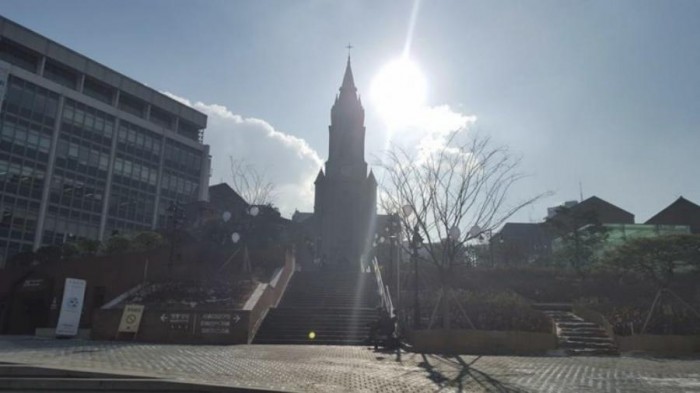 The Myeongdong Cathedral!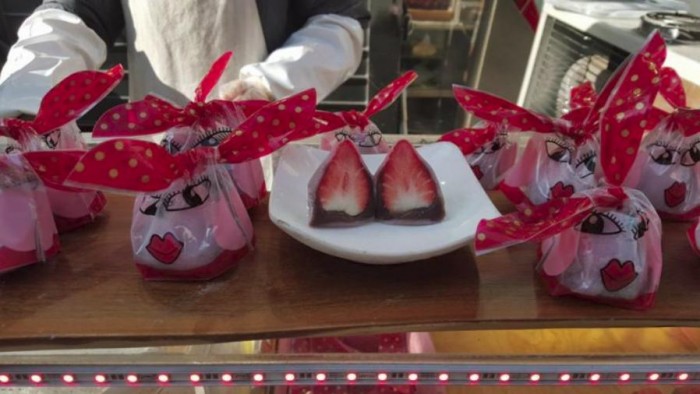 How cute these strawberries are! ♥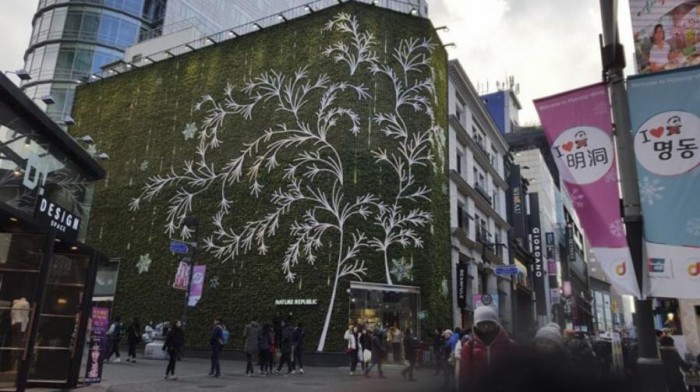 I was amazed by the wall design of this Nature Republic store. You won't notice it but there are lights in there, making it more visually gorgeous.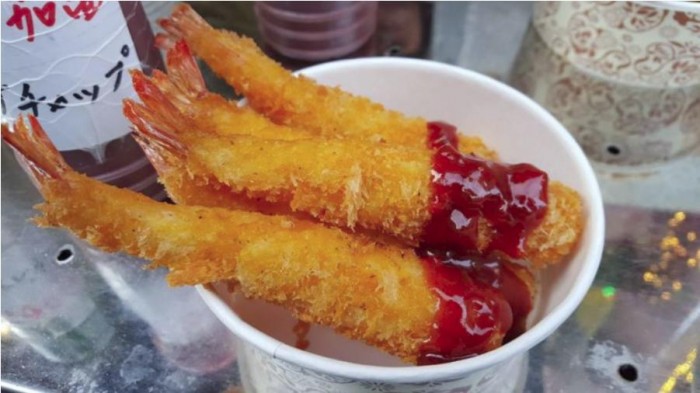 My favourite streetfood tempura!!! With the perfect sauce combination – catsup, chili sauce and mustard! ♥  This ₩3,000 (₱128) as well.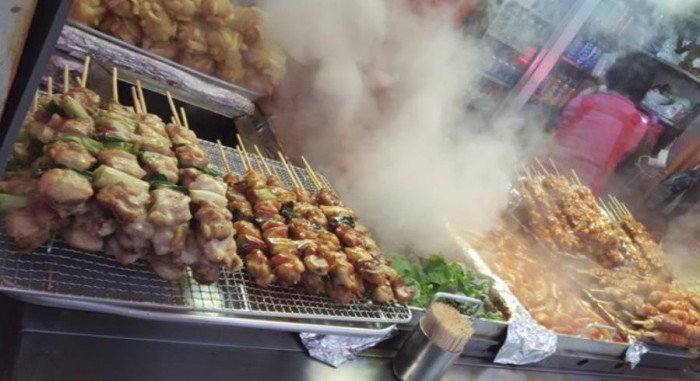 Dakkochi, more of like a Yakitori in Japan! ♥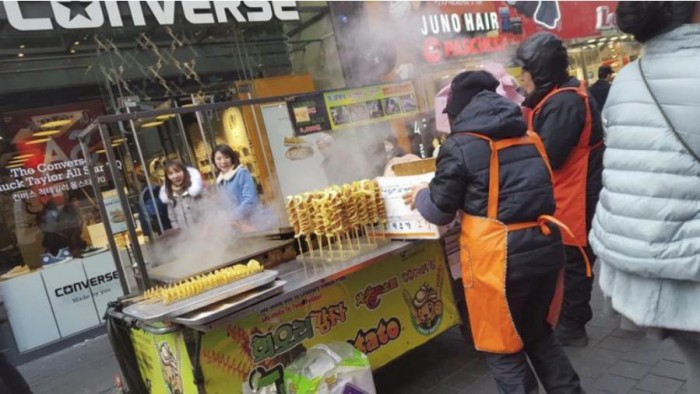 All-time favourite of Koreans – Twist Potato! 🙂
Sightseeing: N Seoul Tower
Nearest station: Myeongdong – Light Blue Line
After shopping in Myeongdong, you can go see the  N Seoul Tower.  Actually, it's a bit of a hike, about 20-30 mins from Myeongdong station.  Mind you, there are lots of stairs! So please be in your most comfortable shoes.
I went there in the afternoon, around 4pm.  Since it was winter, going up to the tower was absolutely freezing cold!  But the view was breathtaking. ♥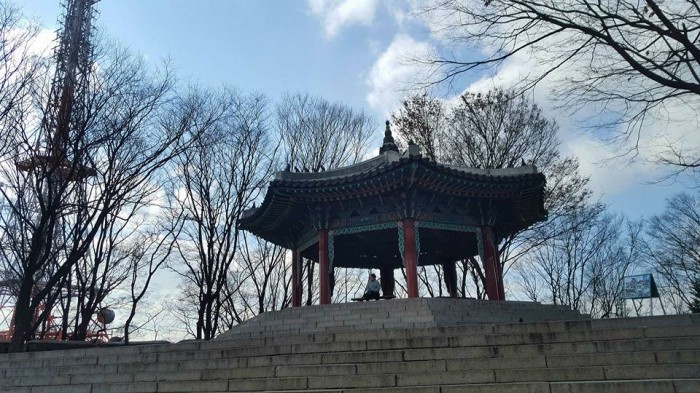 There's a small park near the observatory deck of the N Seoul Tower. If you'd like to see a bird's eye view of Seoul from the highest peak of the tower, you'll have to pay around ₩16,000 (varies depending on the package).  But I suppose, seeing Seoul from this park is quite good enough.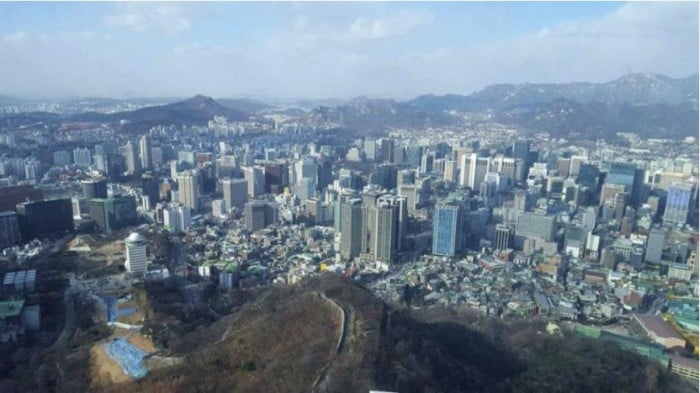 Looking at the whole of Seoul from the observatory deck! ♥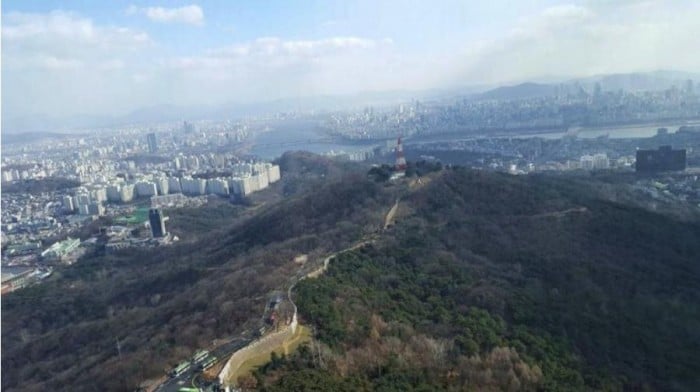 Viewing the mountainous side of the city. You can see the stretch of the Seoul City Wall!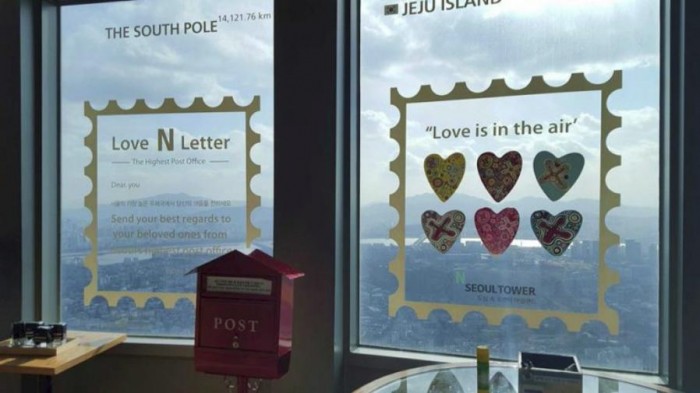 Love N Letter post box – where you can actually write and send love letters 🙂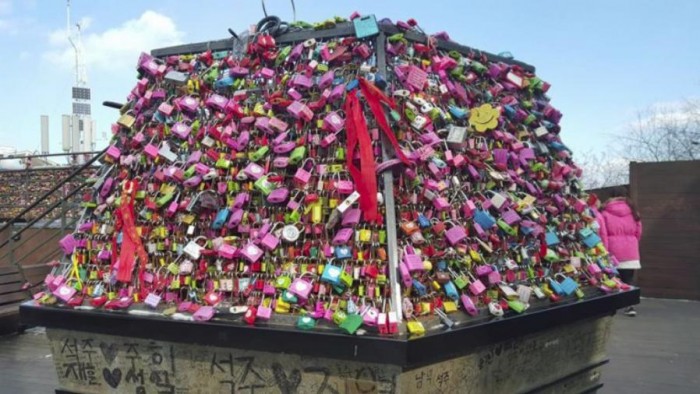 The infamous love locks! ♥
Also read: 6 Secret Photo Spots in Seoul for Your Instagram-worthy Shots