South Korea might be more famously known as a shopping and beauty mecca but it is also home to a plethora of mountains that are definitely worth a hike!
Here are 11 mountains in Korea, ranging from famous ones to those you've probably never heard of before. They are all simply stunning – just give them a chance! No matter the season, these mountains offer spectacular views of South Korea, leaving you with unforgettable memories!
1. Bukhansan, Seoul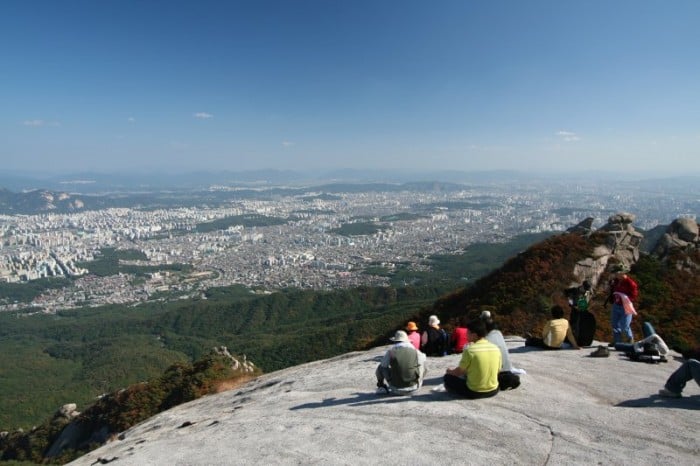 Image credit: hojusaram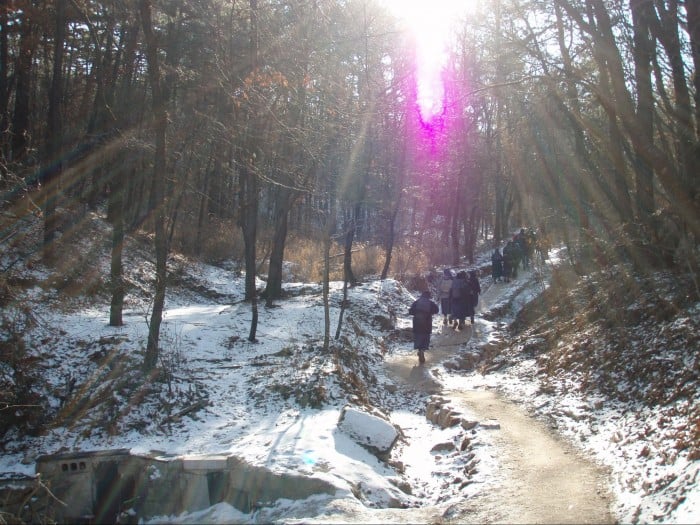 Image credit: srasteria
Hailed as the "Big Mountain in the North", Bukhansan encompasses more than 50 access points with 13 gates around the mountain. Seoul's highest peak – Baegundae Peak (840m) – is located within Mt Bukhasan and takes roughly 2.5 hours to complete. Bukhasan is a relatively popular mountain and it even entered the Guinness Book of World Records for being the national park with the most number of visitors per square foot. Averaging about 5 million visitors, it is almost a guarantee that hiking up Mt Bukhansan will not be disappointing.
Expect to see gorgeous mini falls during spring or autumn and Munsusa, which is a temple built inside a cave. If you have only a day or two to explore the mountains in Korea, Mt Bukhansan will be a good choice as it covers everything from large granite peaks, Buddhist temples, gorges, valleys and streams. An interesting site to look out for would be Bukhansanseong, which is a walled fortress that protected the South from the invasions from the North and was also used as a refuge for the king during the attacks.
Address: Goyang-si, Gyeonggi-do, Seongbuk-gu, Gangbuk-gu, Jeongno-gu, Eunpyeong-gu, Seoul-si
How to get there: Bukhansan National Park, Gireum Station (Seoul Subway Line 4), Exit 3
2. Daemosan, Seoul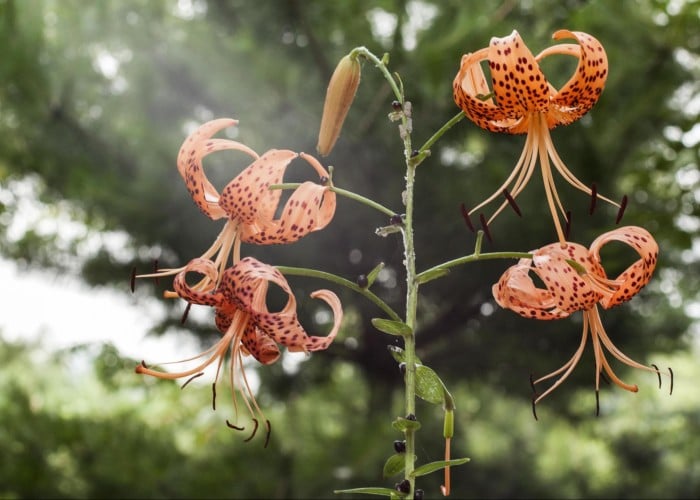 Image credit: ligynnek
With easy and well-marked trails, Daemosan is one of the best mountains for beginners to climb. It takes one hour to reach the peak, which is demarcated by a helipad. This short hike is the perfect choice for a quick morning workout. On a clear day, you can expect to see the skyline of Gangnam, Seoul Sports Complex, Lotte World tower and Namsan Tower – pretty much all the major landmarks in Seoul.
If you would like to challenge yourself and get an even better view, continue hiking up to the next mountain, Gyeryongsan, which is roughly an additional 1.8km past the Daemosan peak. Try to avoid the trail during rainy weeks as the dirt paths can turn into muddy sludge, making it especially dangerous if you don't have proper footwear on.
Address:  Irwon 2(i)-dong, Seoul, South Korea
How to get there: Irwon, Exit 5
3. Suraksan,  Seoul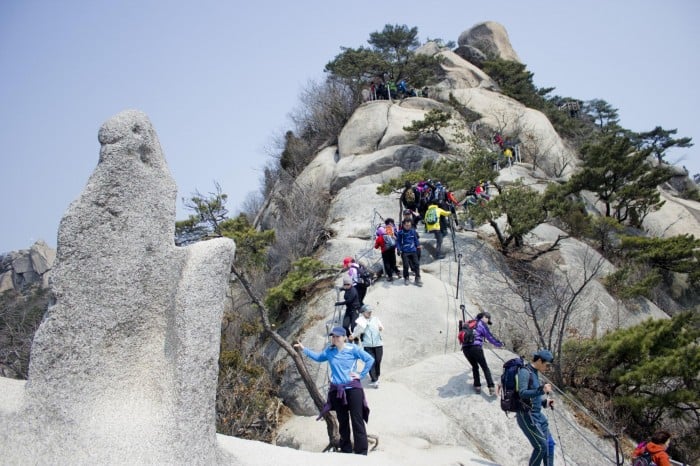 Image credit: corrinestaley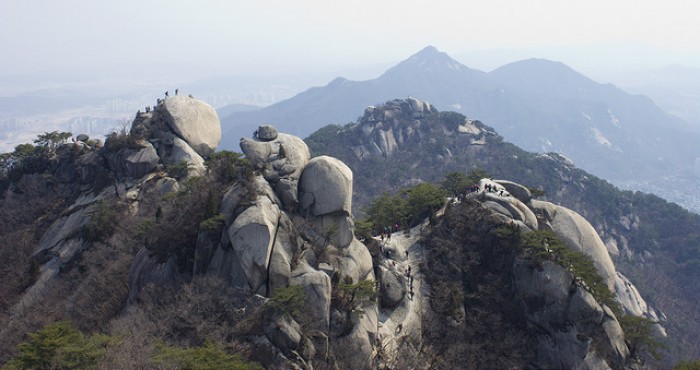 Image credit: corinnestaley
Suraksan is one of the most popular hikes in Korea. It begins from Danggogae Station and passes Hangnimsa and Yongguram. If you're looking for a less crowded and quieter hike, Suraksan is a good option since it pretty much provides a nice view comparable to the one offered by Bukhansan. At 638m high, it takes about 3.5 hours (round trip) to complete and the hike is a medium level difficulty as it can get a little strenuous near the top.
With a mix of concrete, dirt paths, wooden stairs and rocks of various sizes, hiking up Suraksan is perhaps less boring than other flat trails. Hiking up the mountain during the summer is always a delight as you will encounter a few vendors selling snacks and drinks, as well as a bee farm that sells big jars of fresh honey for KRW 50,000. In the final leg of the journey, you will see a small temple with a big gold buddha statue. The journey on Suraksan is certainly a scenic one, with walks along ridges that are lined by gnarled pines.
Address: Sanggye-dong, Nowon-gu, Seoul
How to get there:  Danggogae Station (Seoul Subway Line 4) Exit 1 or 4, Suraksan Station (Seoul Subway Line 7) Exit 1-3, Uijeongbu Station (Seoul Subway Line 1) Exit 1.
4. Umyeonsan, Seoul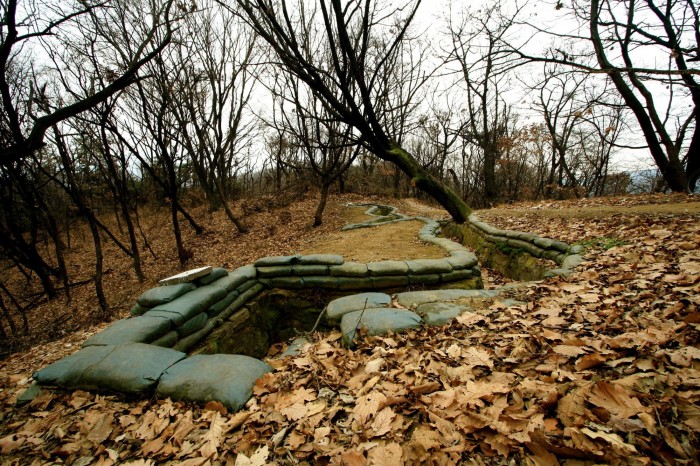 Image credit: raus kinnie
Standing at 293m, Umyeonsan may sound like a simple feat but in actuality, its paths are quite steep. It will take about 2 hours (round trip) to complete the hike. Follow the many signs along the hiking trail, which ensure that you will always be on the right track. Standing at the peak will enable you to have a great view of Seoul and you might be able to pinpoint some famous spots. At the bottom of the mountain, there is the Seoul Art Centre, which has elaborate artworks and occasional performances. It makes for a nice spot to relax after the hike. 
If you're a big fan of mountain biking, the southwest portion of Umyeonsan might be a better option as it consists of some of the best biking trails in Seoul. It is well-maintained and has an abundance of up-and-downhill challenges, and are not too rocky as compared to other slopes in the city.
Address: Umyeon-dong, Seoul
How to get there: Nambu Express Bus Terminal, Exit 5
5. Yongmasan, Seoul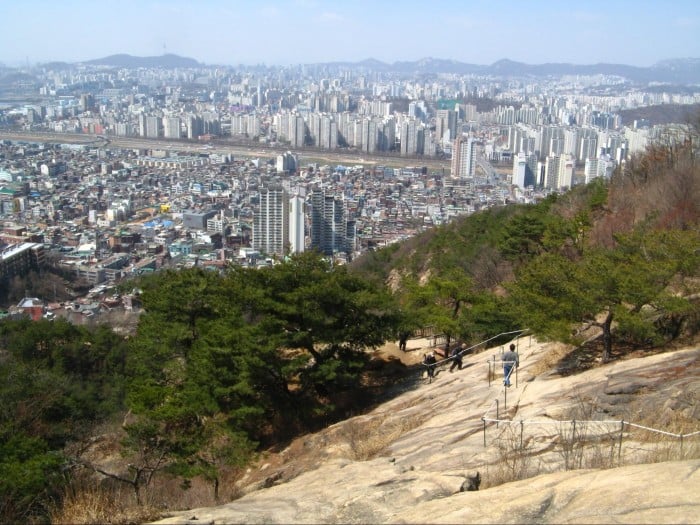 Image credit: jisun_chong
Popular amongst the locals and visitors for a scenic workout, Yongmasan stands at 348m and takes around 2 to 3 hours to complete. There is usually many people hiking up and down, and the trails are well-maintained and clean. There are fitness equipment along the hike, so you can easily add in some workouts to complement the cardio. Various lookout points along the hikes give you the opportunity to snap the perfect photo for keepsake. Reward yourself with a drink at the makeshift bar at the summit.
The hike is also connected to Yongmasan Waterfall Park, which houses the largest man-made waterfall in Asia. You can also choose to visit the Yongmasan Sagajeong Park that is located at the entrance of the Myeonmok Drinking Well. It offers various facilities such as picnic areas, playground, sagajeong (traditional pavilions) and outdoor exercise equipment.
Address: Myeonmok-dong, Jungnang-gu, Seoul
How to get there: Yongmasan (Seoul Subway Line 7), Exit 2
6. Seoraksan, Gangwon-do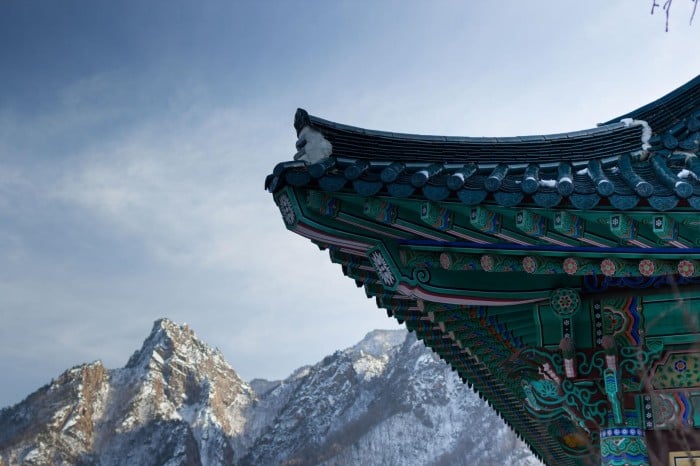 Image credit: Emily Orpin
"Seol" is snow in Korean and it is certainly an apt name for the mountain, given that the rocks are in a permanent state of white (as the snow on the mountain takes a very long time to melt). With its highest peak, Daecheongbong, standing at 1708m, Seoraksan is the third-highest mountain in Korea. Seoraksan is designated as a natural monument preservation area in 1965 and a biosphere preservation district by UNESCO in 1982, making this a great place to visit if you're looking for an "award-winning" mountain with stunning views.
The seaside city of Sokcho is the most popular entrance to Seoraksan National Park, which has an entrance fee of KRW 3,500. If you're slightly lazy or want to save the trouble of hiking to the peak, you can take the cable car which costs KRW 9,000 per person for a round trip. The cable car service also offers a storage space (KRW 500) for people who would like to be hands-free as they enjoy the views.
Some of the sites that are worth stopping by include the Sinheungsa Temple, which is just 10 minutes away from the entrance, and the Biseondae Rocks, which is a 30-40 minute walk from the entrance and great for beginner hikers. The Geumganggul Cave, located just 30 minutes away from Biseondae, gives a nice view of Cheonbuldong Valley where you can see streams of rocks against thick green mountains. The cave cannot fit more than 15 people and gets really crowded during peak period so try to arrive early, preferably before noon, to avoid the crowd.
Address: Seoraksan-ro, Sokcho-si, Gangwon-do
How to get there:  From Seoul Express Bus Terminal or Dong Seoul Bus Terminal, take a bus to Sokcho.
Travel time: approximately 2.5 hours
7. Taebaeksan, Gangwon-do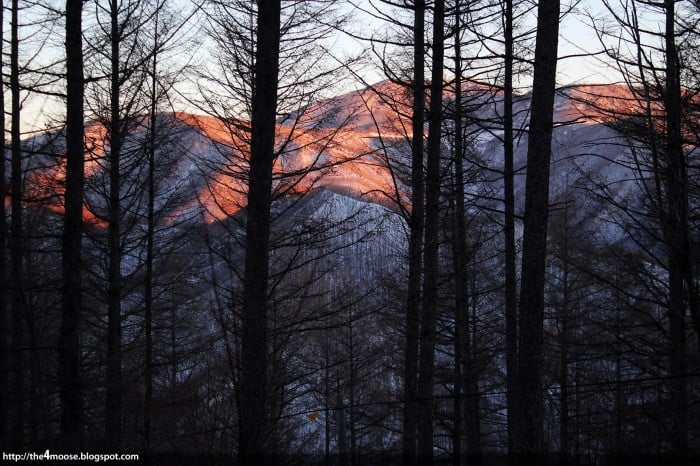 Image credit: Richard Lee
Taebaeksan consists of several peaks such as the Yeongbong, Cheonjedan, Janggunbong and Munsubong. It is one of the three sacred mountains of Korea and its peaks look different during the different seasons. The mountain becomes hot pink in the spring, green in the summer, rainbow-coloured due to the changing leaves in the fall, and pearly white during winter. The most spectacular sight is perhaps the sunrise at Cheonjedan, so try to head up early!
The Taebaek Coal Museum, which documents the history of coal mining in the region, is located within the mountain and makes for a nice break after a hike to the peak. If you're in Korea during winter, try to make it for the Taebaeksan Mountain Snow Festival which is said to be one of the largest and most popular family winter festival destinations. The snow festival consists of a snow sculpture exhibition, an igloo cafe, and a whole host of snow activities such as ice slides, snow tunnels and dog sleds.
Address: 4778, Taebaeksan-ro, Taebaek-si, Gangwon-do
How to get there: From Dong Seoul Bus Terminal, take an intercity bus to Taebaek.
Bus Schedule: 6am to 11pm, 30-40 minutes intervals
8. Songnisan, Sangju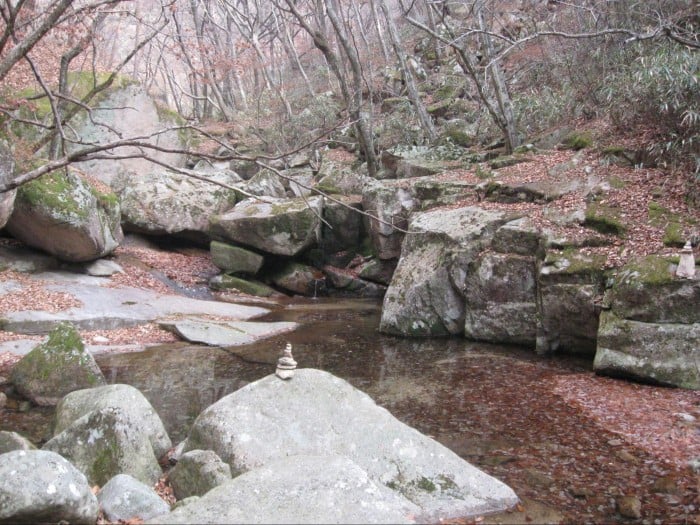 Image credit: Joe Coyle
The largest Buddha statue in the world, Cheongdongmireukbul, is located in one of Korea's largest temples, Beopjusa, which can be found on Mt Songnisan. Beopjusa Temple is perhaps the best place to experience the brilliant history of the Buddhist civilisation with its numerous treasures and national monuments.
The southern portion of Mt Songnisan is the most crowded but you can always enter the park from the Hwabuk area to avoid the crowds. Admission from the Hwabuk area costs KRW 1,600 for adults, KRW 600 for teens and KRW 300 for children. Spring and autumn are the best times to visit Songnisan given the presence of the cherry blossoms and green pine forest respectively.
Tip: bring your smartphone with you on the hike as there are posts around the national park with QR code icons that allow you to scan and receive useful information about your location.
Address: Sangpan-ri, Songnisan-myeon, Boeun-gun, Chungcheongbuk-do
How to get there: From Dong Seoul Bus Terminal, take an intercity bus to Songnisan Mountain.
Bus schedule: 07.30am to 6.30pm, runs 12 times a day
9. Jirisan,  Gyeongsangnam-do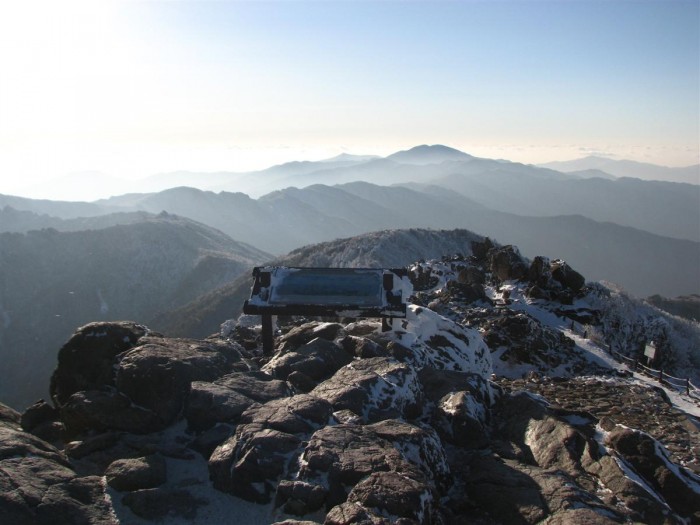 Image credit: buddhaflow
Spanning across four counties in three provinces – Hadong, Hamyang, Sancheong of Gyeongnam province, Gurye of Jeonnam province, and Namwon of Jeonbuk – Jirisan is the largest mountainous national park in Korea. Jirisan is also the first national park in Korea after being designated as one in 1967. For those who are less adventurous or have limited time to experience Jirisan's beauty, you can choose to hike up to Buril Pokpo. The trail begins from Sanggye-sa (3 hours round trip) and winds through the forest along a rippling creek. Another option would be the Jungsanri course which is the shortest route to Cheonwangbong Peak. It takes about 4.5 hours (round trip) and covers a distance of 12.4km. Expect to see the rotary shelter, Cheonwangbong spring and finally the Cheonwangbong peak, which is the highest peak of the Jirisan mountain.
Address: 320-2, Jirisan-daero, Sancheong-gun, Gyeongsangnam-do
How to get there:  From Dong Seoul Bus Terminal, take a bus to Jinju. From Jinju Intercity Bus Terminal, take a bus to Daewonsa Temple OR take a bus to Jungsan-ri.
10. Naejangsan, Jeollabuk-do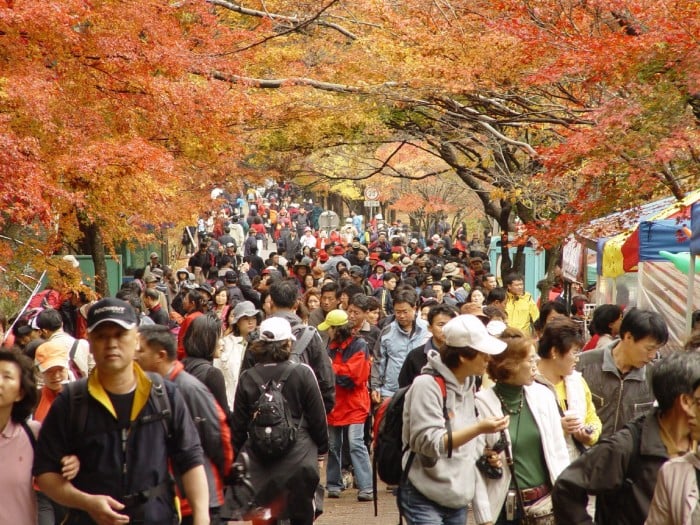 Image credit: Peter Garnhum
Naejangsan is perhaps the best mountain to visit during autumn, as crimson leaves lining the grounds offer a nice backdrop for candid photos. Famous waterfalls such as the Dodeok Falls and the Geumseon Falls, as well as temples such as the Baekyangsa and Naejangsa, are places of interest as you hike up the mountain. Dodeok falls is a 20-metre waterfall that cascades from the cliff, while the Geumseon Falls bear the legend that the gods bathed in its waters and they will appear if you go further along to the left of the valley path. Late autumn, during the last week of October and first two weeks of November, is the peak period of the park when many visitors from around the world drop by to experience the yearly Maple Tree Festival.
Address: Naejang-dong, Jeongeup-si, Jeollabuk-do
How to get there: From Central City Terminal (Honam Line), take a bus to Jeongeup Intercity Bus Terminal. Take Bus No. 171 and get off at Service Area Naejangsan Bus Terminal Bus Stop.
11. Hallasan, Jeju-do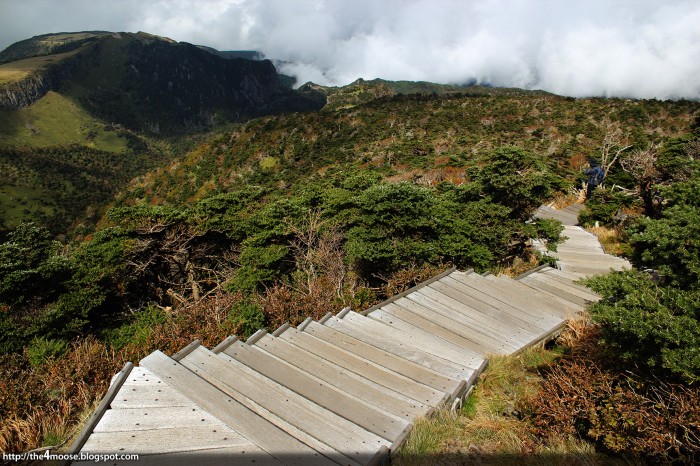 Image credit: Richard Lee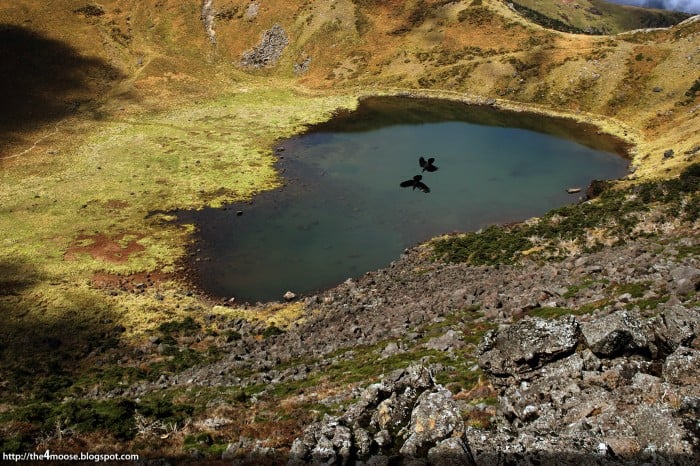 Image credit: Richard Lee
Designated as a UNESCO World Natural Heritage Site and located in the centre of Jeju Island, Hallasan is the island's most memorable and treasured landmarks. Interestingly, Mt Hallasan is also known as the "mountain high enough to pull the galaxy" and is widely known by scientists for its geological value. Standing at 1950m, Hallasan is the highest mountain in Korea and you will be given a certificate of achievement for $1 after completing the hike. Remember to take a photo of yourself at the peak as proof of you conquering the mountain! It takes about 9 hours (round trip) to complete the course so try to allocate one full day for the trip.
There are several trails that you can attempt such as the Gwaneumsa trail (North), Seongpanak trail (East), Eorimok Trail (Northwest) and Yeongsil trail (Southwest). The Gwaneumsa trail offers the best view of Hallasan's deep valleys and stunning terrain; the Eorimok trail offers a breathtaking view of the countryside and the island's signature oreum (uniquely-shaped volcanic mountains); the Seongpanak trail offers a lush greenery with pretty azaleas lining the path in spring; and the Yeongsil trail allows you to witness a series of unusual rock formations. The four trails are pretty easy, so you can pretty much choose to attempt any depending on what you would like to see on that day.
Address: 2070-61, 1100-ro, Jeju-si, Jeju-do
How to get there:
(i) Jeju Intercity Bus Terminal – Eorimok
Take Bus No. 740 (Jeju, Yeongsil, Jungmun), and get off at Eorimok Trail Entrance Bus Stop.
Travel time: approximately 45 min
(ii) Jeju Intercity Bus Terminal – Seongpanak
Take Bus No. 781 or 781-1 (Jeju, Seongpanak, Seogui) and get off at Seongpanak Bus Stop.
Travel time: approximately 40 minutes
Also read: 8 Reasons Why Travellers Keep Going Back to South Korea
PIck your favourite mountain and start planning your hike!