ZUJI x TripZilla: Presenting to you, our nifty 'ZUJI Keeps It Real' series!
Straight up, no fluff: arm yourself with candid travel cheat sheets that contain authentic stories, real life experiences and insider tips for fellow travellers. We've been inspired and we hope you will be too!
---
You know that feeling when you're all pumped up, ready to go on an epic shopping spree…Only to find out that the stores are closing for the night? Yeah, I know how that feels. IT'S A TOTAL BUMMER! And it's even worse when it happens overseas, especially since you know you only have a short time to shop till you drop!
Nobody – and I mean, nobody – messes with a true shopaholic, am I right? Especially when you visit Seoul, the world-famous shopping paradise! On my last trip there, I sussed out a couple secret late-night shopping spots where you can literally shop till the wee hours of the morning. All you need? A plump wallet full of cash and a willingness to splurge on anything your heart desires.
Are you ready to shop like crazy? With ZUJI offering flights to Seoul from $342 all-in, there's no reason to resist all your shopaholic urges!
NOTE: THIS FLASH SALE HAS EXPIRED, BUT DON'T MISS THE NEXT ONE! FOR INSIDER INFORMATION ABOUT THE NEXT FLASH DEAL, JUST:
Heads up, all you shopaholics! ZUJI is having an outrageous
FLASH SALE
from
7 to 9 Dec 2016
, where you can
fly to
Seoul
–
shopping heaven
on earth –
from just $342 all-in
!
How awesome is that?! Grab these unbelievable fares before it's too late – the flash sale is on
for 3 days only!
Besides Seoul, ZUJI is also offering amazing fares to all cities in Korea from $342, Thailand from $132 and Malaysia from $49 as well! If you book your flights with your credit card, you'll get to enjoy:
Up to $120 rebate for flight/package bookings

12% hotel coupon code
Plus, the first 100 bookings on ZUJI receive an additional $10 Capitaland voucher!
So what are you waiting for – start booking your flights to Seoul and make sure there's plenty of room in your luggage for all your spoils!  
Take it from me – these late-night shopping spots are perfect for that much-needed bout of retail therapy.
1. Dongdaemun Area
Dongdaemun is the number one place you'll want to head to if you're a nocturnal shopper! It's a haven for all you night owls to do your shopping while the rest of the city stays sound asleep. With 26 malls and 30,000 shops available for your indulgence, the sky's the limit! I highly recommend you make a beeline for Doota, Migliore, and Hello APM, also known as the Golden Triangle of Dongdaemun.
How to get to Dongdaemun:
Wholesale area: Take subway Line 2 to Dongdaemun History & Culture Park station (Exit 2 or 14)
Retail area: Take Subway Lines 1 or 4 to Dongdaemun station (Exit 8) | Subway Line 2 to Dongdaemun History & Culture Park station (Exit 14)
1.1. Pyeonghwa Fashion Town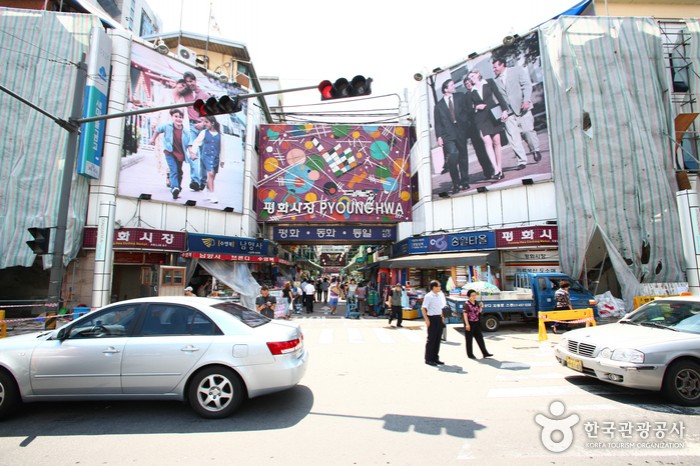 Image credit: VisitKorea
The wholesale section of Pyeonghwa Fashion Town is open at night and closes the next morning – you'll have plenty of shopping time, and won't have to to panic or rush through your shopping at all. My friends and I literally went crazy sieving through racks and racks of clothes, determined to leave with good buys – and it really paid off! We were extremely happy to have grabbed affordable yet lovely pieces. We even bought matching t-shirts too because we're overly attached like that. Don't judge!
Travel Cheat Sheet Tip: Shop with a group of friends at the wholesale market, because if you buy multiple pieces from the retailers, they will sell it to you at a cheaper price! The more you buy, the more savings you enjoy! Remember to prepare enough cash as well, as credit cards are not accepted here. This is our greatest achievement, but we managed to score a dress for 4112 won (~S$5) before – what a steal!
Opening Hours: 9:00pm – 6:00 pm ( the next day) daily
1.2. Yellow Tents at the Open Market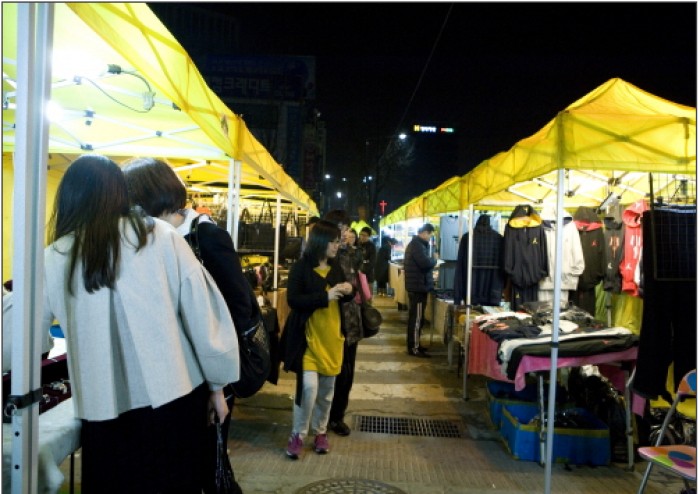 Image credit: VisitKorea
The Open Market near Exit #4 of Dongdaemun History & Culture Park Station remains completely empty until 10pm, when neon-coloured yellow tents parading an assortment of goods are revealed in all their glory. There are endless rows of vendors selling clothes, leather goods, sunglasses, shoes, bags, and other accessories at majorly discounted prices! It's pretty similar to a night market in Taipei or Bangkok. My friends and I were overjoyed to get trendy sunglasses for less than 10,000 won (~S$12) each – best buy of the day for sure!
Opening hours: 10pm – 5am daily
1.3. Migliore Mall

Image credit: VisitKorea
Migliore reminded me somewhat of Platinum Mall in Bangkok, especially as they look immensely similar! Also filled with wholesale shops sending trendy fashion and accessories, the prices at Migliore were much more suitable for my wallet. HOORAY! I struggled to control my impulsive spending by limiting myself to no more than 10 pieces, and am glad to say that I kept within my target. Nevertheless, I still managed to score some really comfortable basic shirts, dresses and denim shorts for less than 12,300 won (~S$15) each!
Opening Hours: 11am – 5am (Tue-Sun)// Closed on Mondays
Wait no more to turn your shopaholic fantasies into reality!
Fly to Seoul right now from just $342 all-in with ZUJI's FLASH SALE!
You know what they always say – shopping is the best form of exercise, so go ahead and indulge in some guiltless shopping!
The first 100 bookings during the flash sale period also get an additional $10 Capitaland Mall voucher – which means you can start shopping in Singapore first even before you fly to Korea! Sounds like the perfect warm-up shopping session, no?
Hurry book your tickets now – you know you want to!
1.4. Hello APM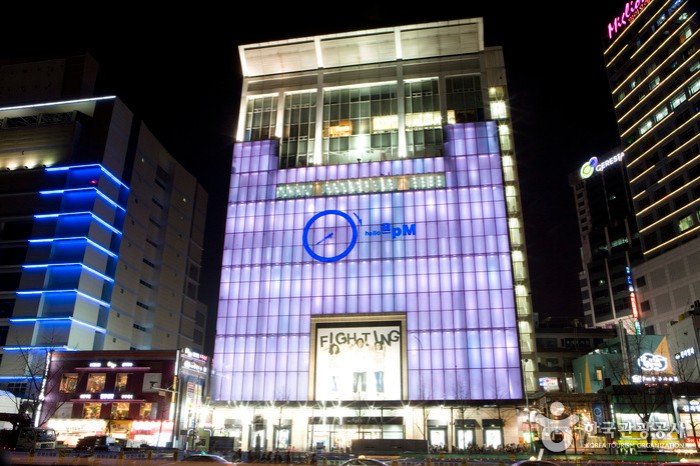 Image credit: VisitKorea
Situated next to Migliore, Hello Apm is slightly smaller but has similar vibes. You can bargain here as well, and the sellers are extremely enthusiastic – making it (extremely) difficult for you to resist buying. Trust me, I speak from my very broke experience. They sell a variety of clothing such as suits, casual wear, and sportswear. I couldn't resist getting some of the sweaters and graphic shirts for my brother and dad as souvenirs, they were so affordable and had funny designs!
Opening Hours: 10:30am to 4:20am (the next day)
1.5. Doota Mall

Image credit: VisitKorea
Doota Mall is the swankiest out of Dongdaemun's late night malls. 600 stores within the mall display a jaw-dropping array of clothes, bags, shoes, and accessories – all guaranteed to leave you spoilt for choice! Most of the designer products are unique and high in quality, so naturally the prices are higher. If you're not willing to spend above 41000 won (~S$50 SGD) on a single piece, I would suggest that you quickly browse through the selections and head to the other malls instead.
Travel Cheat Sheet Tip: All products sold here have a fixed price, so don't bother bargaining.
Opening Hours: 10:30 am – 5 am the next day (Mon to Sat)// 10:30am – 12am (Sun)
2. Apgujeong Rodeo Street

Image credit: (left) Rinux; (right) VisitKorea
Apgujeong Rodeo Street stands at the forefront of fashion and culture in Korea, especially amongst the young adults. Stylish homegrown boutiques line the streets, offering a kaleidoscopic array of unique accessories and outfits! I was thoroughly wowed by their eclectic fashion sense and sleek styles, that showcased the effort and creativity in producing each piece. Seriously, each piece of clothing is unique! Gone be the woes of running into somebody else in the same outfit on the streets 😉
Everyone walking around looked so immaculately dressed and trendy, I felt slightly embarrassed about my simple outfit… But that's what shopping is for, right? Since I bagged quite a few items back, I'm now hopefully on my way to becoming a fashionista! Clothes here are retailed at really affordable prices, and go for about 8000-12000 won (~S$10-S$15 per piece) with some even going for less than 8000 won (~S$10).
Opening Hours: 11am – 3am daily
Address: 65, Eonju-ro 172-gil, Gangnam-gu, Seoul
Directions: Take Seoul Subway Line 3 to Apgujeong Station (Exit 2)
3. Shinsadong Garosugil Road

Image credit: Alejandro; (right) Alejandro
Garosugil is another popular destination for trendy young shoppers located near Apgujeong Rodeo Street, so make sure you visit one after the other! It's filled with quirky shops selling upscale and vibrant fashion items that cater mainly to a young crowd. With plenty of boutiques, pop-up stores and free markets, this area is popular amongst Seoul's fashion kings and queens. If you're lucky, you might even be able to spot celebrities who frequent the area for their shopping spree!
Travel Cheat Sheet Tip: Although there are renowned fashion brands such as Zara, H&M, and Forever21 in the area, you should head for the smaller local boutiques or vintage shops. It pains me to share this but one of my favourite shops is Spicy Colour, a three-level boutique full of modern and colourful Korean designs!
Opening Hours: Most shops open from 10 am – 12 am daily
Address: 667-13 Sinsa-dong, Gangnam-gu, Seoul, South Korea
Directions: Take Subway Line 3 to Sinsa Station (Exit 8). Walk straight for three blocks and turn left onto Garosu-gil.
4. Lotte Mart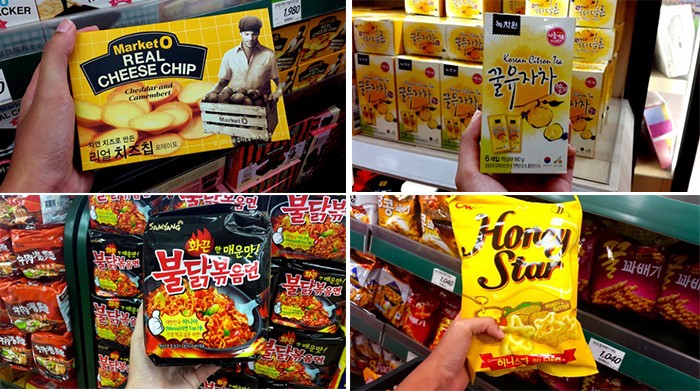 Lotte Mart is Korea's top supermarket store which sells everyday essentials, clothes, and lots of yummy SNACKS! The most popular and easily accessible outlet for most tourists is the Seoul Station Branch. Stock up on all things delicious like Honey Butter Chips, Market O's Real Brownies, Crown Butter Waffles and crispy seaweed right here. The selection is humongous and you will find yourself going crazy and sweeping items off the shelves! Or at least, we did :p
Although Korean snacks have become more accessible due to this awesome process called "importing", it's still more fun to shop for them at the original location itself! Besides, only the popular items are imported (thankfully), so the selection at Lotte Mart still remains second to none. Snacks also make great souvenirs for your friends and family as well! Personally, aside from snacks, I highly recommend heading to the lifestyle section for quality innerwear at affordable prices.
Travel Cheat Sheet Tip: If you've bought too many snacks or items and have no idea how you're going to stuff them all into your luggage, don't fret! Lotte Mart has a self-packaging station where they offer free cardboard boxes and masking tape for you to pack all that goodness in, making it easier for you to ship or fly it back home. Is that convenient or what!
Opening hours: 9am to midnight, Daily (Closed every second and fourth Sunday of the month)
Address: 432, Cheongpa-ro, Jung-gu, Seoul
Nearest station: Seoul Station, Exit 1
So there you go! Are you night owls ready to shop and splurge? I hope your wallet is ready as well. To make things easier for you, grab these ULTRA-CHEAP tickets to Seoul from just S$342 ALL-IN during ZUJI's irresistible flash sale:
For first-hand information about ZUJI's upcoming deals and promotions, simply subscribe to their mailing list right here and have them delivered right to your doorstep: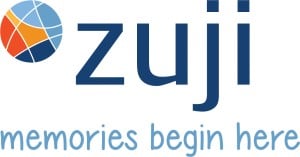 Thank you for your subscription.
By subscribing to ZUJI's mailing list, you will:
Be the FIRST to know about flash sales and exclusive airfares/promotions

Receive hints about flash sale timings – every minute counts!

Have first-hand information about ZUJI special promotions
Book your tickets to Seoul right now and get ready to rock and roll! But be warned – once you head there, you might never want to leave! Stay tuned for the next installment of our 'ZUJI Keeps It Real Series' where we'll divulge even more of our exclusive travel secrets – just for you.
---
Brought to you by ZUJI.