Let's be honest – a huge part of travelling involves going to picturesque places and snapping Instagram-worthy shots for all your followers to admire, no? Travel, photography, and Instagram go together like three peas in a pod.
Those gifted with aesthetic talents can basically hold a photoshoot at any location; but sadly for the rest of us plebeians, we actually do need gorgeous backdrops to make photo taking THAT MUCH easier. So for all you Insta-addicts out there – we've sussed out some secret photo spots in Seoul where you can snap away relentlessly until you get the ideal shot (and even go sightseeing at the same time)!
1. Gyeongnidan-gil 경리단길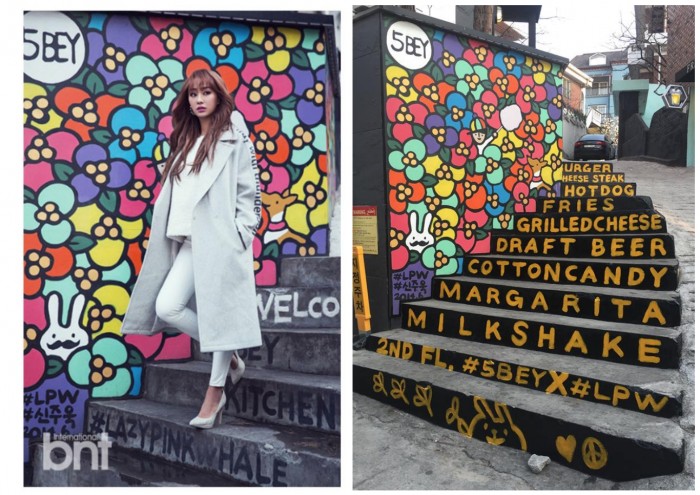 Image credit: 5Bey
This quaint and charming street is popular amongst the expats, but remains under the radar to many tourists who flock to Seoul. Packed with hipster cafes, unique restaurants and a diverse variety of international cuisine, every corner is a photo-worthy spot! The exterior of 5Bey American Kitchen in particular, is extremely photogenic due to its colourful and vibrant design. The place has even been used in magazine photoshoots starring various Kpop idols, so why not give it a shot and strike your most modelesque pose!
Directions: Noksapyeong Station (Seoul Subway Line 6), Exit 2. Walk straight for about 3 minutes until you reach an underpass. Use the underpass to cross over to the other side of the street.
2. Buam-dong 부암동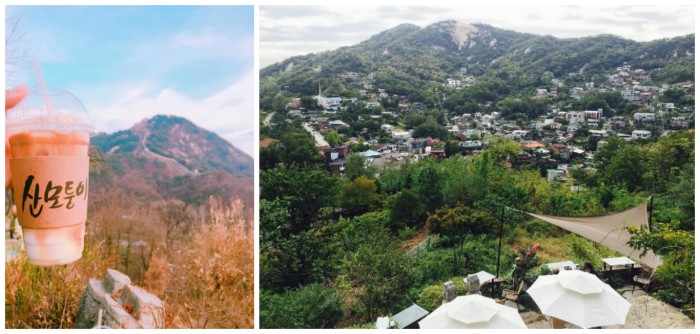 Image credit: (left) hellooos.hwa (right) eunjiiii91
Buam-dong is a charming and quiet neighbourhood filled with eclectic cafes, craft shops, as well as art galleries! It's far away from the hustle and bustle of the crowds, and is an ideal place to escape to. You should definitely head to Sanmotoonge Cafe (산모퉁이) for a refreshing cup of ice coffee and unparalleled views of the Seoul Fortress Wall, as well as the Inwang and Bugak mountains.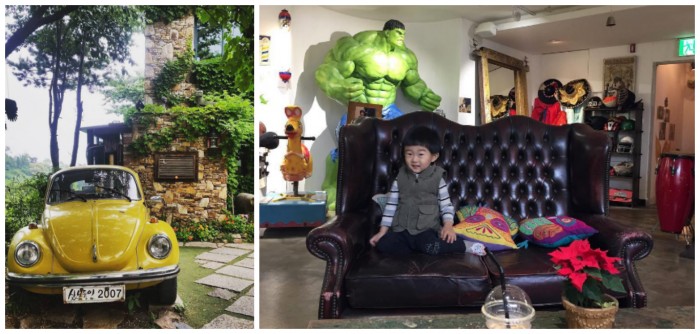 Image credit: (left) littlecorneratkorea (right) eun0603
Snap photos with the iconic yellow Volkswagen Beetle, or go to the basement and explore the cafe's quirky gallery! There you can find a giant Hulk statue, as well as various props used during the filming of Coffee Prince – a popular Korean drama – at this cafe. On top of all that, the place is a delightfully idyllic location to while away your afternoon while enjoying the scenery.
Directions: Gyeongbokgung Station (Seoul Subway Line 3), Exit 3. Transfer to Bus No. 1020, 7022, or 7121 and get off at Buam-dong Community Service Center bus stop.
3. Seochon Village 서촌마을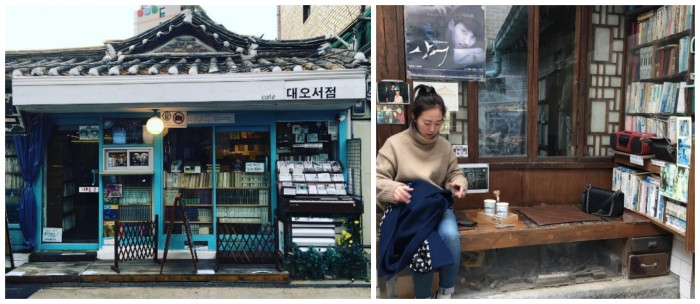 Image credit: (left) bakiwon (right) youree
Past meets present right here at Seochon Village, where narrow alleyways are filled with traditional Hanok houses, beautiful cafes, art galleries and boutique shops. Modern and stylish spaces accentuate the cozy ambience within the village, while the walls are adorned with vibrant murals and charming photos. Its beauty also lies in the fact that it's not as well-known as its sister, Bukchon Hanok Village, which means lesser tourists to jostle with as well as more freedom to explore! You can also find the famous Tosokchon ginseng chicken soup restaurant in this area.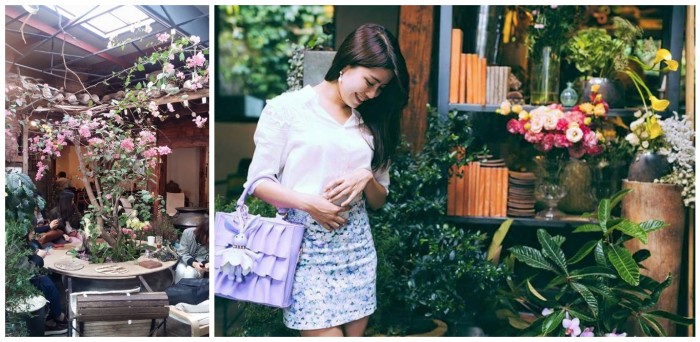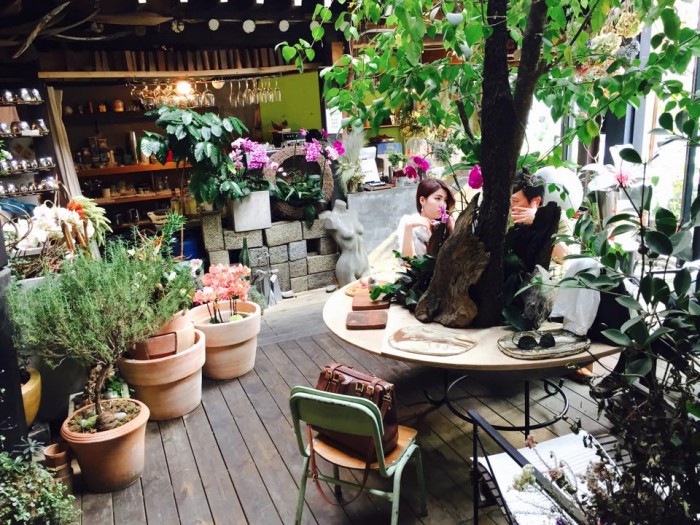 Image credit: (top) eatmeetsweet (bottom) daohousewife
One of the must-visit places in this area would be Flower & Cafe Do (플라워&카페두), a traditional Hanok house that has been remodeled into a floral garden themed cafe. Stepping into the restaurant will transport you to another world, where you'll be surrounded by with lush greenery and colourful blooms amidst scattered ceramic pots and wooden furniture. It's truly a unique cafe like no other! Take it from us – you're bound to spend a copious amount of time snapping photos of every corner.
Directions: Gyeongbokgung Station (Seoul Subway Line 3), Exit 2. Walk for 5 minutes.
4. Yanghwa Hangang Park 양화한강공원

Image credit: (left) noheeah (right) loach4ever
Situated at the southern part of the Hangang river, Yanghwa Hangang Park features scenic landscapes that vary accordingly to seasons. The pillars below the Yanghwadaegyo Bridge have been jazzed up with quirky murals as well. You can have lots of fun either snapping pictures of these paintings, or taking a leisurely stroll along the nearby bike trails which are surprisingly excellent photo spots as well! The glistening silver reeds and blooming florals in shades of pink and white found all along the bike trails make spectacular backdrops for your #OOTD shot.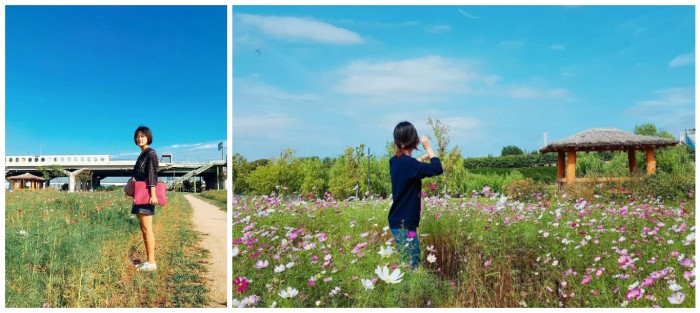 Image credit: (left) yenireal (right) yjyjlim
Cliche as it may be, there's no backdrop more beautiful than that of Mother Nature – especially on days with exceptionally good weather! The perfect combination of blue skies and the sprawling fields of grass and flowers make producing those Insta-worthy shots remarkably effortless.
Directions: Dangsan Station (Seoul Subway Line 2), Exit 4. Walk for about 5-min towards the river.
5. Haneul Sky Park 하늘공원

Image credit: (left) 93.rani (right) chaomail
Haneul Sky Park is a place where you'll get to touch the sky – as long as you manage to make it up a flight of 290 steps first! It is known as the spot closest to the sky in Seoul, and is a favourite location amongst the locals for family picnics and gatherings. The best time to visit is in spring with sprawling fields of brightly coloured flowers, or in autumn with eulalia grass swaying gently in the wind. Not only is the park a great location for photos, you'll also be rewarded with unparalleled views of the Han River, the World Cup Stadium, and Seoul's skyline! You can even spot the Namsan Tower from here.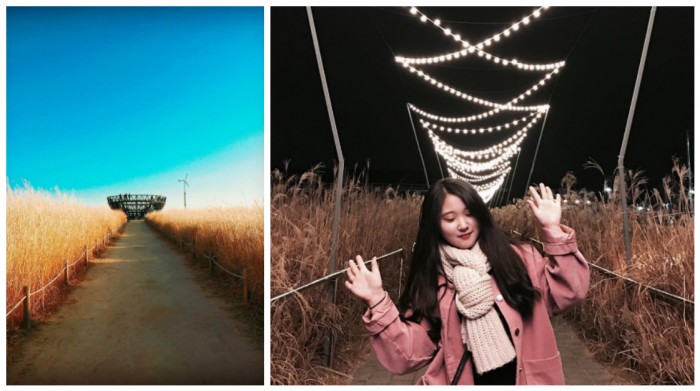 Image credit: (left) hyunsj97 (right) genie_you
There's also a windmill and a unique bowl-shaped resting platform for you to get creative with your shots! Bask in the refreshing breeze atop the hill and just watch the world go by as you spend a tranquil afternoon in the park, simply immersing yourself in the beauty of nature. As night falls, the park is a romantic place for a leisurely stroll, enhanced by sparkling fairy lights and the spectacular reflection of shining city lights onto the Han River.
Directions:  World Cup Stadium Station (Subway Line 6), Exit 1. Go straight to the main street, cross the street at the crosswalk, use the Haneul Stairs or the sloping road.
6. Gaemi Mural Village 개미마을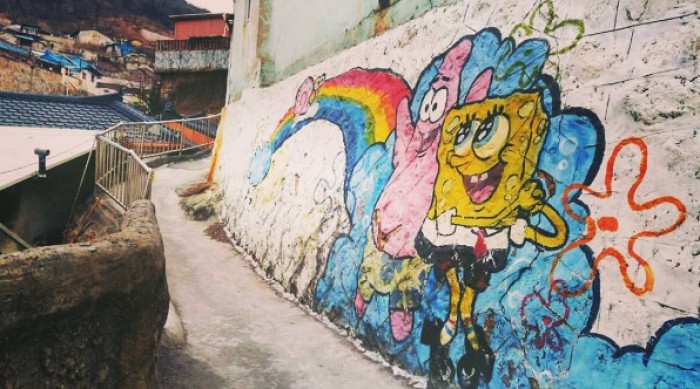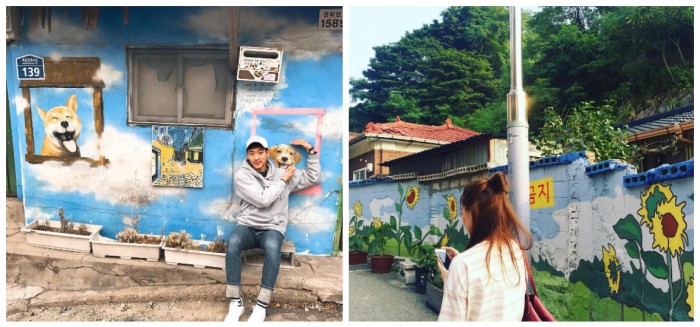 Image credit: (top) popp2009 (left) hongjik_lee_simon (right) chen.huangjia
Most people have heard of Ihwa Mural Village, but what about Gaemi Mural Village? Located on top of a hill, this village is a quiet neighbourhood at the foot of Inwangsan Mountain. There's just something so beautiful about murals, something about the way they give broken walls a new lease of life and enliven the entire area with kaleidoscopic colours and adorable designs. Exploring the alleyways will also give you a glimpse into the everyday lives of the local elderly folk, and if you run into them, be sure to flash them a smile or two just to brighten up their day!
Directions: Hongje Station (Subway Line 3), Exit 1. Take bus 7 to the last stop at the top of the hill.
Excited to head to Seoul and start snapping away at all these photogenic locations? To make your travel planning even easier, check out the holiday packages provided by EU Asia, a travel company hand-picked by TripZilla for its excellence and also a favourite travel partner amongst our discerning travel community.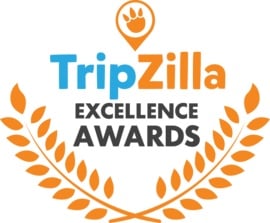 Winner of the TripZilla Excellence Awards – Best for Korea, EU Asia focuses on tour packages to Taiwan, Japan and Korea to provide customers with specialized tours and guarantees excellent service that will enhance your travel experiences. They provide a wide variety of tour packages that are very popular amongst their customers, such as 8D6N Snowy Korea & Jeju Incheon and 8D6N Exploring Jeolla Korea.


Just sit back, relax, and get ready for an exciting trip when you book your holidays with this Korea travel expert!