Denmark is fast becoming a favourite destination for travellers across the globe. Its capital city, Copenhagen, is a harmonic blend of historical charm and modern vibe.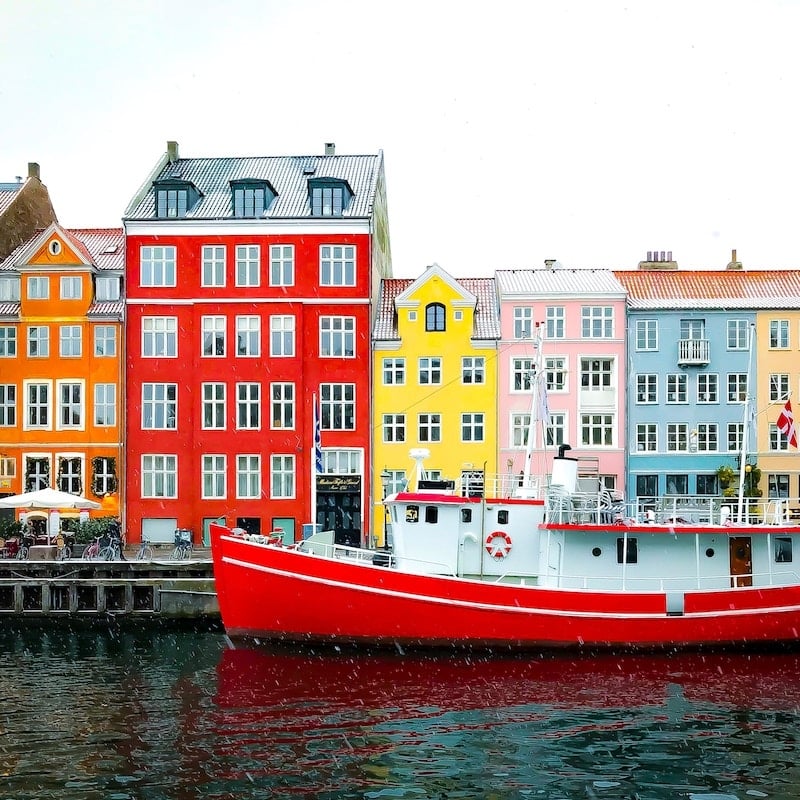 Who can resist biking through those cobblestone streets, visiting 19th-century amusement parks, taking a peek at the Little Mermaid statue, admiring the modern urban space of the Superkilen park, experiencing being inside a rainbow at the ARoS Art Museum, and exploring a huge LEGO house? Here are seven of the 10,000 reasons why you should be booking a flight to Denmark right now.
1. Catch a thousand Santa Clauses at one place
Christmas comes early in Copenhagen as hundreds of Santa Clauses and Mrs. Clauses spread holiday cheer in July as part of the annual World Santa Clause Congress. These jolly good souls started convening in 1957 at Bakken, the world's oldest amusement park. If you're heading to Denmark in the summertime, try to pack in your Santa or elf costume because everyone is welcome to join.
2. Visit a buried church and an underwater bridge
Denmark is surrounded by water, hence the fascination with mermaids, mermen, and everything buried underneath. While some are mostly mythical in nature, the buried St Laurence's Church in the very north of Denmark isn't. Churchgoers in the 18th century had to dig their way in through the door to attend mass at the church which is named after the patron saint of seafarers. It was finally enveloped by sands in 1795 and today, only the tower is visible.
In a more modern era, Danish engineering firm designed The Øresund, a bridge which turns into a tunnel connecting Copenhagen to the Swedish city of Malmö. You will see part of the bridge above water while the other part is underneath so that ships can cross the Baltic sea. This engineering marvel is operated by both countries and takes only 35 minutes to commute.
3. Find Hamlet's Castle — and all the other castles in your storybook
The Kronborg Castle, Denmark's most famous castle, is the setting of Shakespeare's Hamlet. It has existed since 1420 and been burned to the ground and rebuilt since. The castle became a UNESCO World Heritage Site in 2000. If you'd like to plan a castle tour, it's highly suggested to visit the Frederiksborg Palace, the largest and most beautiful Renaissance castle in Scandinavia. A sight to behold is the dramatic Roskilde Cathedral, the world record holder of having so many royals buried in the same place.
4. Live in a hippie commune with hippie laws
It is quite hard to imagine but there is a real-life hippie commune with its own laws in Copenhagen. "Freetown Christiania" is a green living and car-free neighbourhood best known for living under the autonomous "Christiana Law of 1989". It was established in 1971 by a group of people who squatted at an abandoned military barracks and developed a completely independent set of social rules. It's a little utopian in nature but the "No Running" rule works fine with me.
5. Walk along giants
Giants can be found everywhere in Denmark—both in plain view and in hiding. The monumental sculpture "Man Meets Sea" by Svend Wiig Hansen stands tall at the West Coast near Esbjerg. These giants have been crowd-drawers since 1995. Hidden around Copenhagen are the "Forgotten Giants" created by exceptional artist Dambo, who specializes in reclaimed and recycled materials. The sculptures were intentionally constructed at obscure places to encourage people to go out and explore the beautiful city of Copenhagen.
6. Marvel at the place where two seas meet
An entrancing sight to see is the tip of Skagen called the Grenen Beach, where the Skagerrak and Kattegat seas meet in eternally clashing waves. The current of the Kattegat flows into the Baltic Sea while the Skagerrak into the North Sea. Seeing these waves crash into each other is both mesmerizing and enthralling.
7. Vikings, vikings everywhere!
Vikings used to rule the Scandinavian seas—but now they have traded their boats for bikes. However, there are still places exhibiting the Viking way of life. The Bork Viking Harbour, part of Ringkøbing-Skjern Museum, houses a series of authentic buildings, history reenactments and guided tours that show visitors the life lived there throughout the ages. The Lindholm Høje Museum in Nørresundby, right next to the Viking burial site, is another unmissable living Viking museum. The well-preserved fort of Harold Blåtand's is another place worth visiting. Its gigantic circular fortress from around 900 will certainly give you a feel of what life was like a thousand years ago.