Got Denmark on your bucket list? If so, you better gear up for an adrenaline-filled adventure in Copenhagen. In this clean and green capital, you'll find a sports facility that's simultaneously a waste-to-energy power plant called Copenhill. This building is Copenhagen's tallest and has been the most popular landmark in the city for the last 10 years. It also happens to be Copenhagen's key player in its quest to become the world's first carbon-neutral city by 2025. 
In an effort to reflect the city's environmentally-centred mission, Copenhill was architected to feature a number of outdoor recreational facilities such as venues for skiing, running, and hiking all year 'round. The latest instalment to the building's facade is a 279-foot artificial climbing wall, making it the largest of its kind in the world. With features like roofs, cracks, and ledges, the wall gives off the impression of a real outdoor climbing experience. 
Copenhill's colossal climbing wall has five routes that have varying difficulty levels. That said, should you wish to test your wall-climbing skills and challenge your fear of heights on this record-breaking wall, you have to be 18 years old and above, and have the appropriate certification, depending on the difficulty level you want to climb.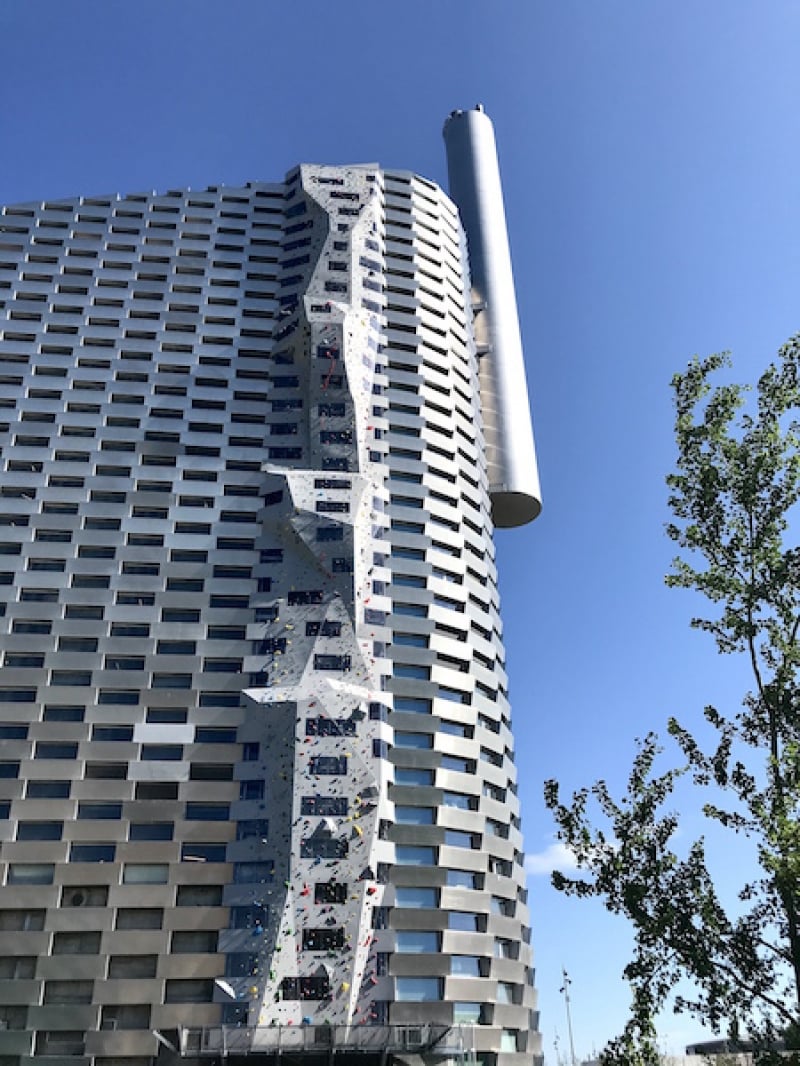 The wall was designed and manufactured by a company called Walltopia. According to them, creating the climbing wall had its struggles. "The wall design was a challenge as we were striving to find the right balance between appearance and functionality. The goal was to create an appearance matching the impressive building architecture while designing wall topology that offers supreme climbing experience," shared Vasil Sharlanov, head of Walltopia.
Meanwhile, the head architect of the climbing wall expressed what this new sports facility meant to Copenhill as a whole. "As a power plant, CopenHill is so clean that we have been able to turn its building mass into the bedrock of the social life of the city—its façade is climbable, its roof is hikeable and its slopes are skiable. A crystal clear example of 'hedonistic sustainability'—that a sustainable city is not only better for the environment—it is also more enjoyable for the lives of its citizens," said Bjarke Ingels. 
Copenhill is open from Monday to Sunday. Walk-in guests are welcomed at varied hours. For more information, see their website here. 
Also read: World's First Happiness Museum Opened in Copenhagen
If you're on a mission to dive into daring activities around the world, Copenhagen's large climbing wall in Copenhill is definitely one for the books. But more importantly, be sure to follow all safety protocols on whatever adventures await you. Feel free to tag us on Instagram at @tripzillamag to get featured!
News sourced from Climbing Official Website. 
---
All images credited to Copenhill | Official Website