Welcome to Copenhagen, also known as the "City of Fairy Tales." Here, you'll find stretches of canals that cyclists and pedestrians flock to, plus an excellent restaurant and art scene. Thus, its reputation as one of the happiest cities in the world comes as no surprise! 
At these Airbnbs in Copenhagen, you'll be positioned right in the heart of all that Copenhagen has to offer — so that you can experience a wave of euphoria on your time here, too. 
Also read: 12 Things to Do in Copenhagen on Your First Visit
CHECK BOOKING OPTIONS IN COPENHAGEN
Airbnbs in Copenhagen in the heart of the city
1. This cosy attic-style loft situated along one of the oldest streets in the city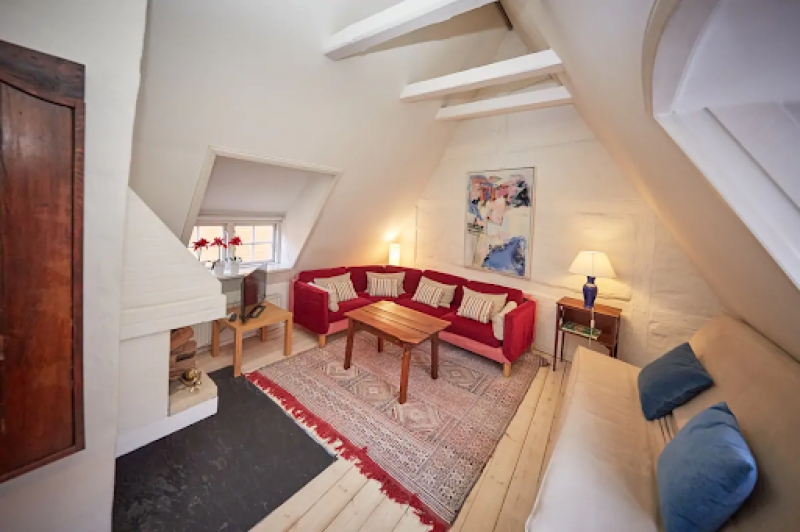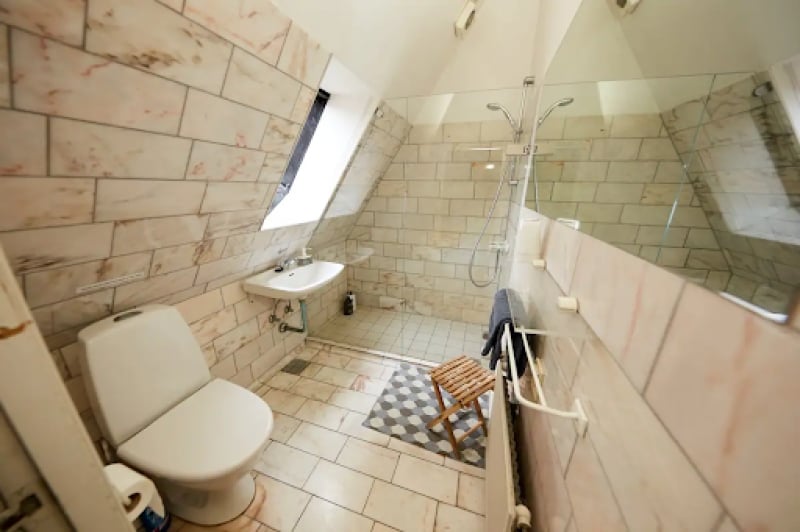 Listing type: Entire apartment
Max. no. of guests: 4
No. of bedrooms: 1
Have you always been enthralled by the beauty of attics? Then, take a look at this Airbnb in Copenhagen, which calls one of the oldest streets in the city its home! Built in the 1730s, this historical loft boasts an elegant charm of wooden panel floors and antique furniture; however, perhaps our favourite feature are the roof-shaped ceilings that perfectly befit an attic. From the warm and inviting lounge to the marble-lined bathroom, there's no shortage of cosiness to be found here. 
This Airbnb perfectly embodies a mix of tranquillity while remaining in close proximity to Strøget, one of the city's most bustling pedestrian walkways! Also, you're just a few steps away from the Port of Copenhagen. Therefore, whether you're looking to immerse yourself in city life or relax with a peaceful stroll, this Airbnb in Copenhagen has it all. 
2. This Scandinavian apartment named after a 17th-century Dutch Renaissance palace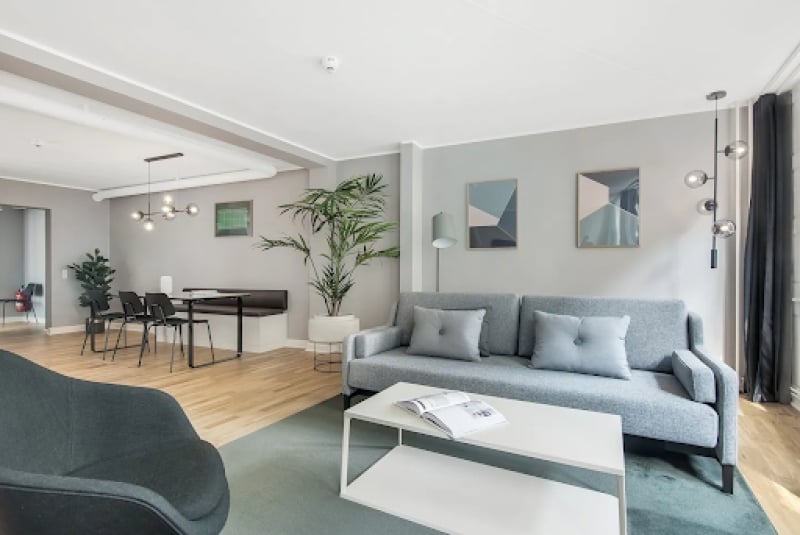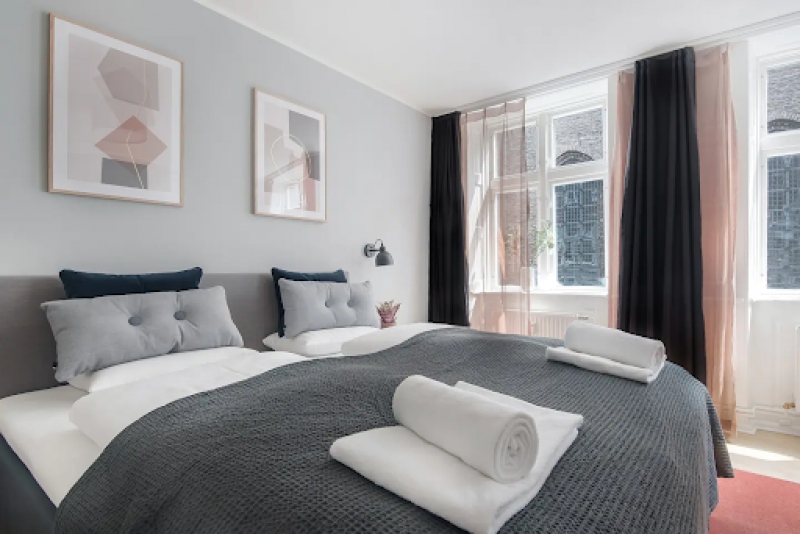 Listing type: Entire rental unit
Max. no. of guests: 6
No. of bedrooms: 2
Named after the 17th-century Rosenborg Castle, the Rosenborg Hotel Apartments mirror luxury in their design, too! The Scandinavian-designed apartment features grey and pink as its primary colours, from the spacious living room to the two bedrooms. Best of all, this Airbnb in Copenhagen can accommodate up to six guests, making it perfect for bigger travel groups! 
Aside from the Dutch Renaissance palace in the vicinity, the 17th-century King's Garden and The Round Tower are a stone's throw away as well. Once you've combed through these iconic sights, stroll along the street of boutiques and restaurants to get your fix of Danish culture. 
3. This cave-like home in the centre of the city's exciting nightlife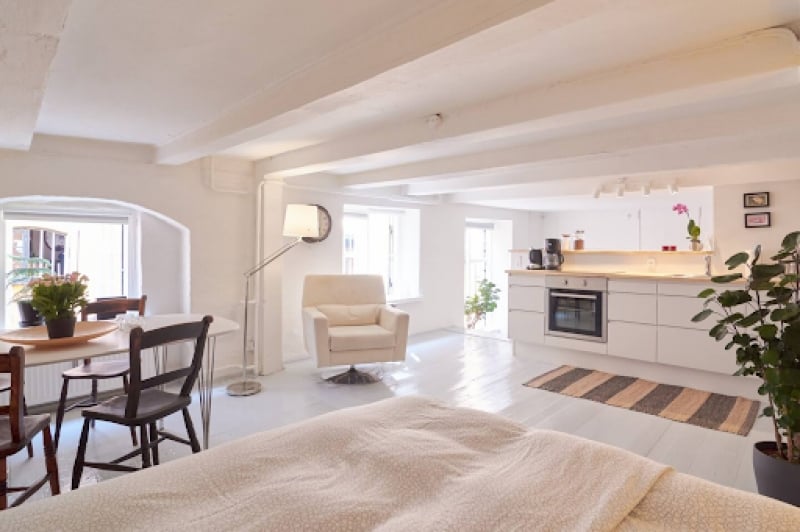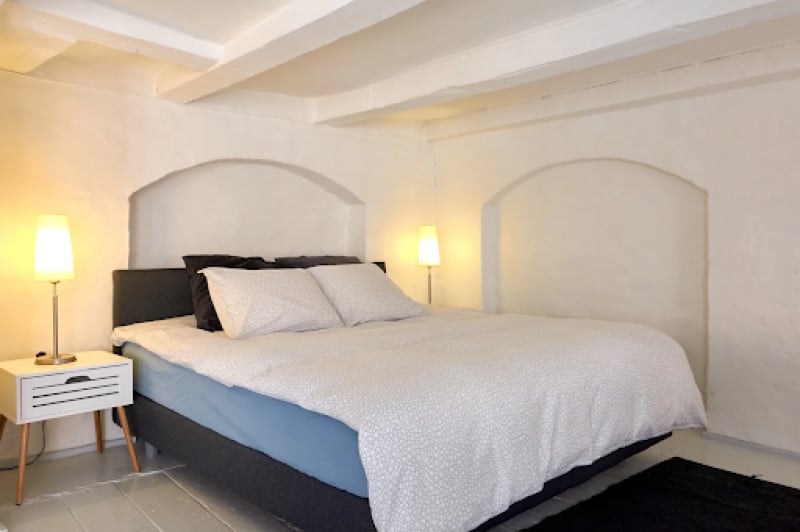 Listing type: Entire rental unit
Max. no. of guests: 4
No. of bedrooms: 1
Reminiscent of the cave-like homes of Oia, this Airbnb in Copenhagen oozes cosiness from every corner. Situated within a 300-year old building, this apartment retains its historic charm with cement floors, ceiling beams, and arched walls. Despite its spacious, open concept layout, the low ceilings unfortunately make the apartment unsuitable for anyone taller than 190cm. 
The best of the city's nightlife lies just outside your doorstep, with a throng of cocktail bars and restaurants populating the area. Thus, as long as you enjoy revelling in the buzzing nightlife, you're sure to be nothing less than happy during your stay here. 
Also read: Top 17 Airbnbs in Greece for Your Dream Getaway
 4. This open concept apartment sitting along Copenhagen's famous pedestrian street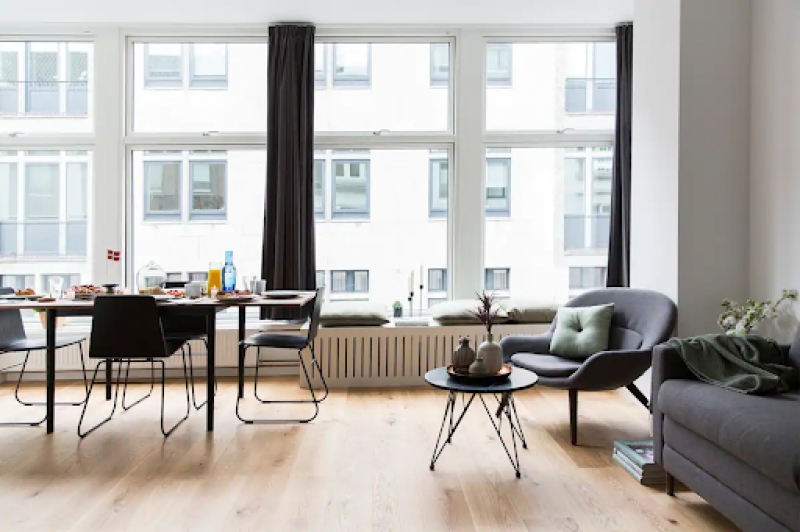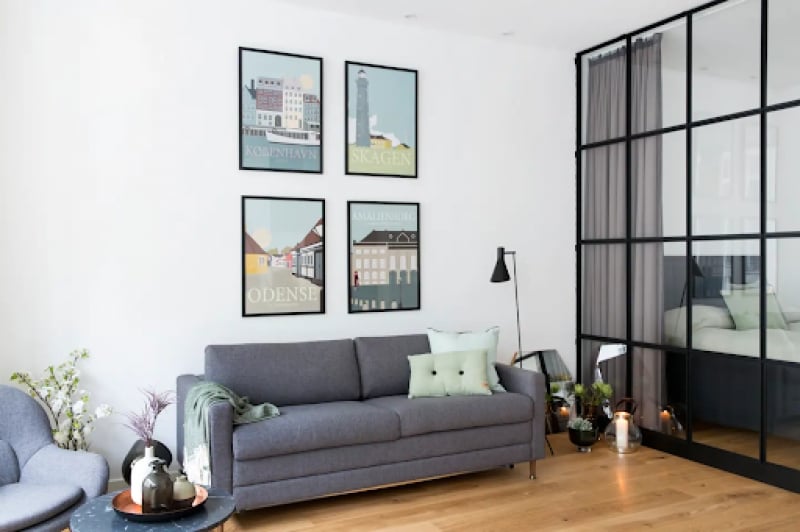 Listing type: Entire rental unit
Max. no. of guests: 4
No. of bedrooms: 1
If you fancy an open-concept apartment, check out this Airbnb in Copenhagen! Think of a minimalist space with hardwood floors, white walls, and touches of black, dark grey, and mint green for that sleek finish. Although the property only has one bedroom, the sofa transforms into a bed, making it an ideal space for up to four guests. 
Do you love exploring new cities on foot? Then you'll be happy to know that this Copenhagen Airbnb is located right in the heart of the city centre! From the moment you leave your doorstep, you'll be able to indulge in the myriad of department stores and restaurants along the lively Strøget. 
5. This pet-friendly apartment right in the heart of the city centre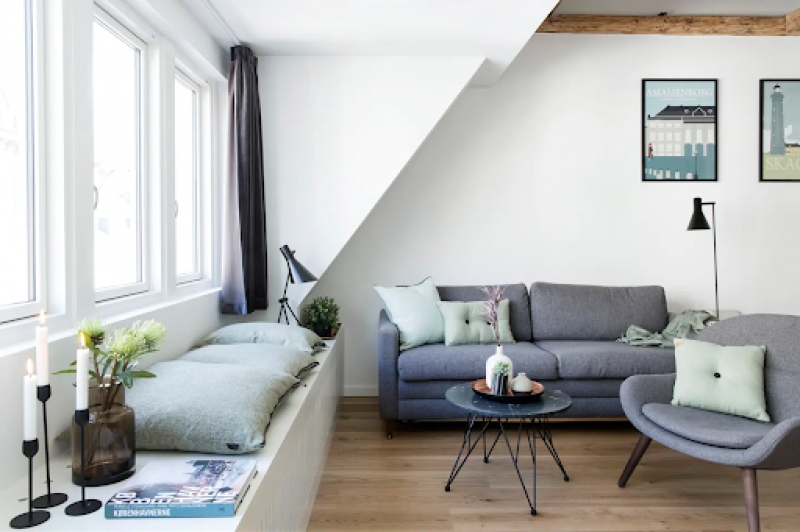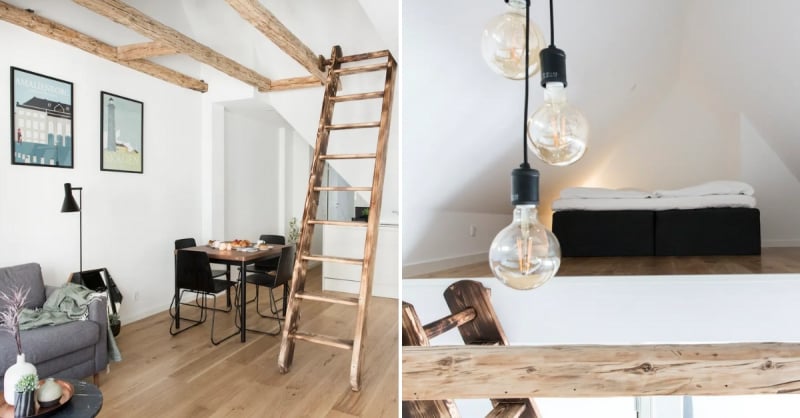 Listing type: Entire rental unit
Max. no. of guests: 6
No. of bedrooms: 2
This pet-friendly Airbnb in Copenhagen features three beds, a travel cot, and a high chair, making it absolutely family-friendly. The more energetic travellers can access the mezzanine bedroom via the wooden ladder, while the rest of the group can settle down in the living room. 
Explore the best that the city has to offer all around you! Every avenue in the vicinity brims with a lively atmosphere; furthermore, choose from an array of restaurants and bars, which are sure to fill up even the hungriest of tummies. 
6. This unique, retro-inspired apartment with the best of the city at your doorstep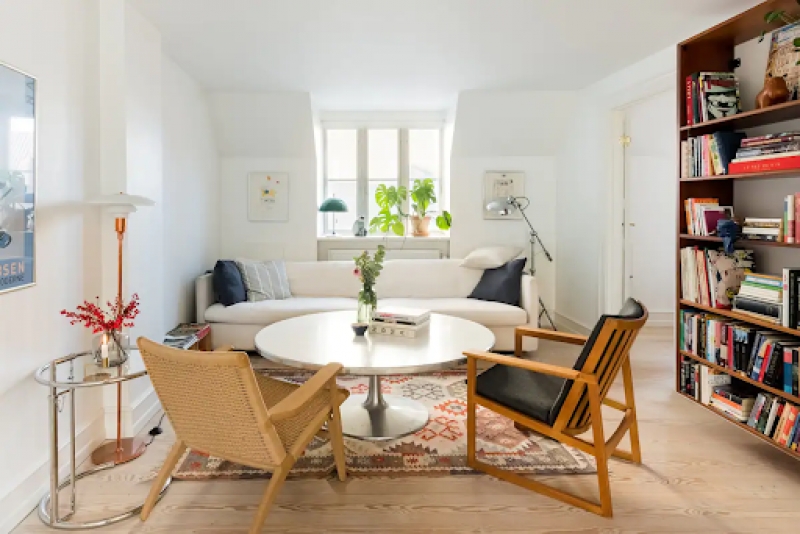 Listing type: Entire apartment
Max. no. of guests: 2
No. of bedrooms: 1
Striking artwork, traditional rugs, colourful furniture, and floor-to-ceiling mahogany bookshelves. That precisely describes the unique character of this Airbnb in Copenhagen! This quaint space is perfect for two guests to unwind in the double bedroom or on the balcony overlooking the courtyard. 
Your apartment lies along the famous Strøget, putting a wide selection of restaurants, boutiques, cafes, and bars right at your doorstep. So, walk along the cobblestone streets of medieval buildings and bask in the buzzing local atmosphere. However, if you'd like a quieter afternoon, the Port of Copenhagen isn't too far away.
 7. This cosy, antique-inspired home near an eclectic mix of dining and entertainment opportunities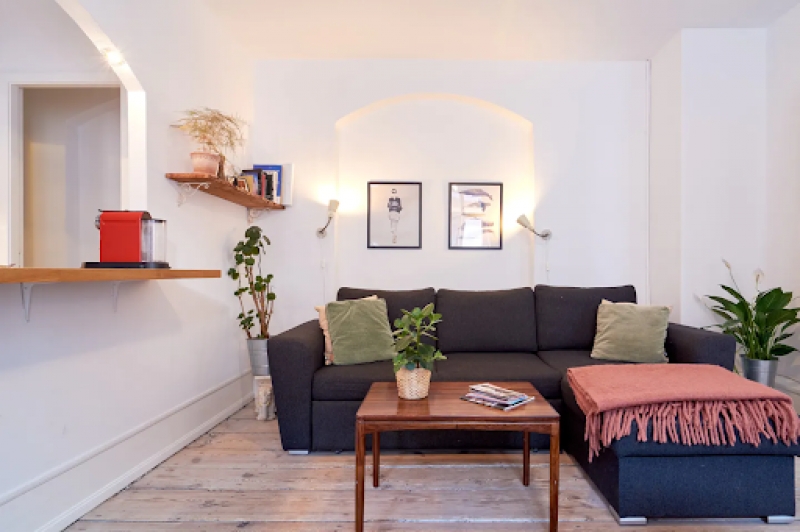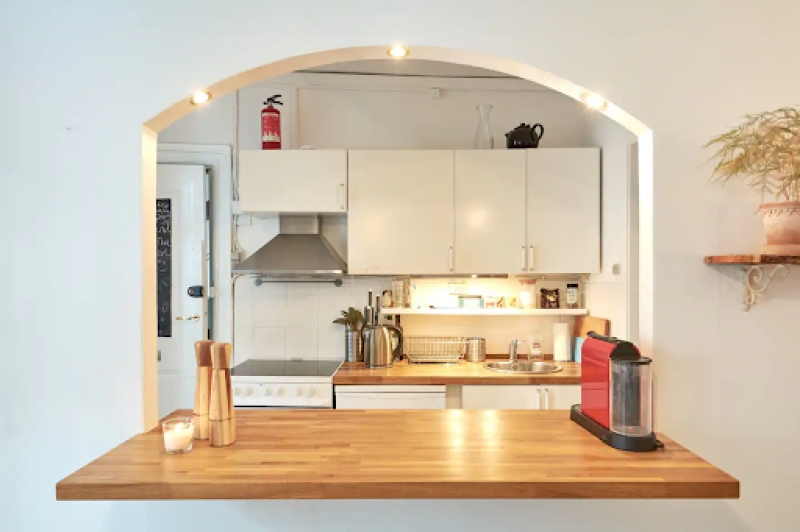 Listing type: Entire apartment 
Max. no. of guests: 4
No. of bedrooms: 1
This Airbnb in Copenhagen is all about exuding warmth from every corner. Think antique barnwood-style floors, a cosy seating area, and perhaps our favourite — the arched kitchen counter! If your travelling party doesn't need much space and you are just looking for a homelike space to unwind in, this is the Airbnb for you.
Step out and choose from the variety of eateries around you! Furthermore, many entertainment opportunities await you, too. These include the indie cinemas of Grand Retreat and Gloria Biograf, plus the massive City Hall Square, where cultural performances and concerts take place. 
8. This apartment located in a 1730s complex with a picture-perfect al fresco patio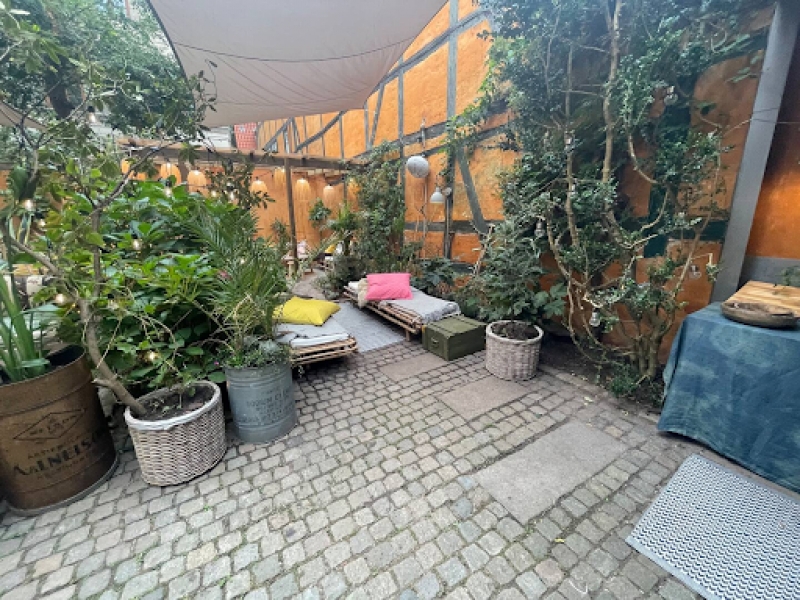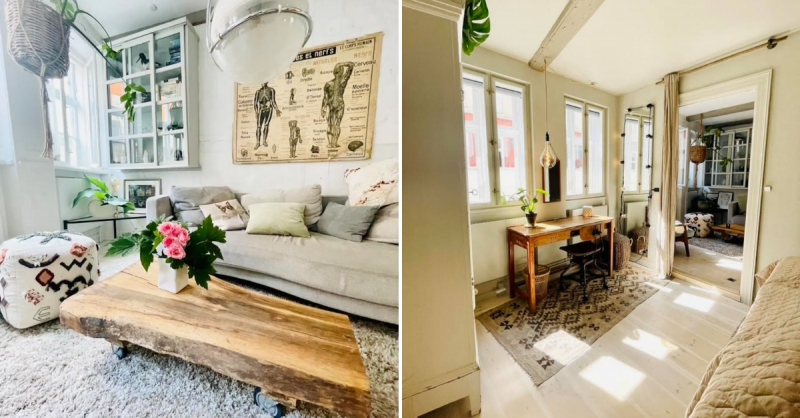 Max. no. of guests: 2
No. of bedrooms: 1
Would you rather be lounging al fresco to truly enjoy the warm sunshine and cool breeze? Look no further than this Airbnb in Copenhagen, whose main appeal is the cobblestone private backyard! This terracotta paradise is reminiscent of Morocco, with a myriad of seating options, tropical plants, and fairy lights. Head on inside, and you'll notice that the comfort continues. The eye-catching barn-inspired decor features a log coffee table and walls adorned with wooden beams.
Besides the myriad of restaurants outside, an indie bookstore and record shop reside nearby, too! Also, a two-minute walk is all you'll need to reach Ørstedsparken, a public park with a massive lake in the middle. 
Airbnbs in Copenhagen in picturesque and quiet neighbourhoods
9. This quiet and charming bohemian apartment bathed in natural light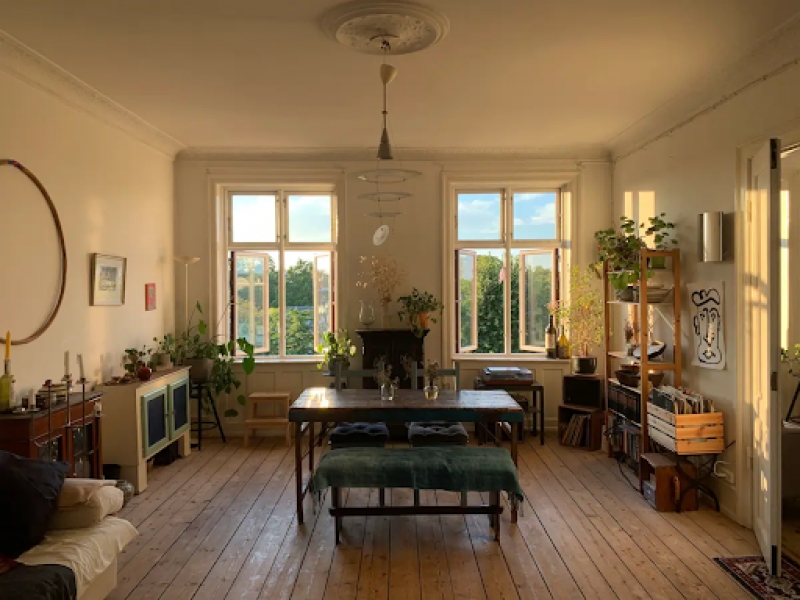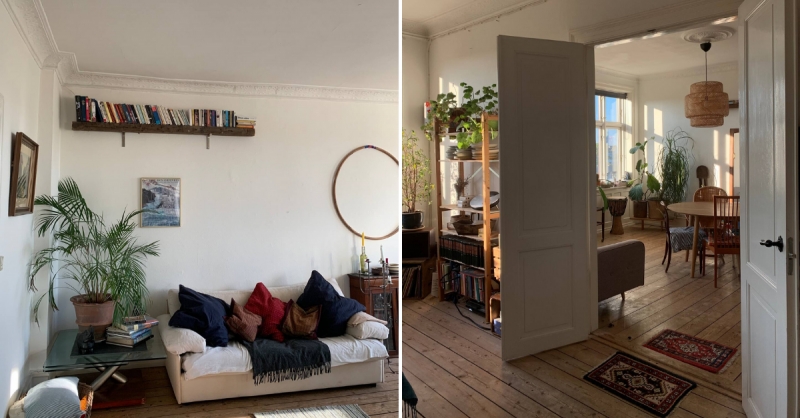 Max. no. of guests: 6
No. of bedrooms: 2
Do you long for the bohemian vibes of music festivals? If yes, then how about staying at your very own Coachella-inspired apartment? Hickory wood and plants feature heavily, along with wide windows that wash the space in natural light. With four bed/sofa bed options, up to six guests can call this Airbnb in Copenhagen their home for a few days! Moreover, the antique wooden bathtub is perfect for soaking in after a long day. Talk about comfort without sacrificing aesthetic beauty, right? 
Due to its location away from the city centre, the apartment embraces its quiet and picturesque neighbourhood atmosphere instead. Thus, you can opt for a quiet day by ambling through the streets or walking to the myriad of restaurants along Strandboulevarden and Nordre Frihavnsgade.
 10. This classically modern apartment bathed in natural light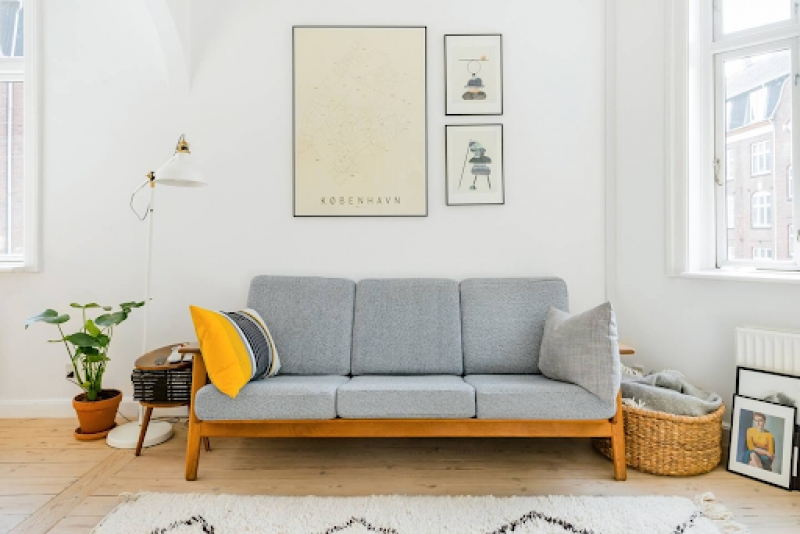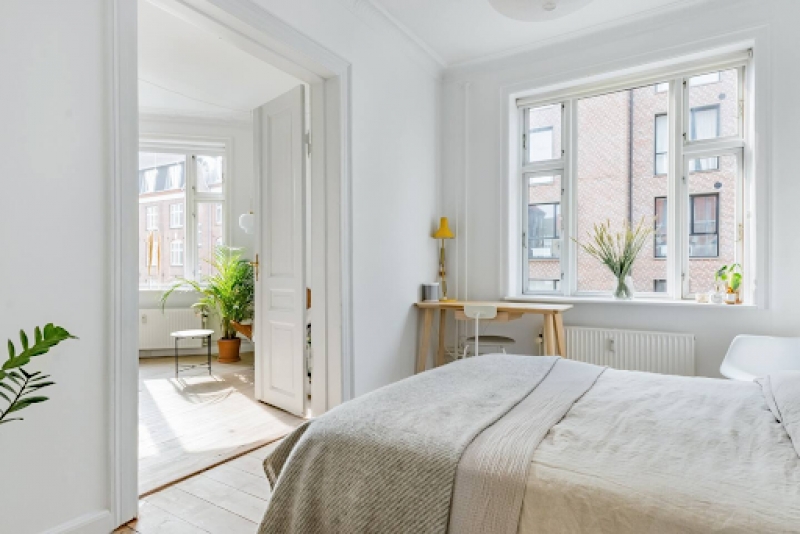 Listing type: Entire rental unit
Max. no. of guests: 2
No. of bedrooms: 1
If you're all about natural light, white walls and furniture, and teak wood floors, then this Airbnb in Copenhagen is perfect for you! This classically modern sanctuary also features a wood-burning stove and an indoor fireplace, certain to warm up chillier days. 
Although a little further away from the city centre, this Airbnb in Copenhagen definitely has its own charm, too. The quiet Nordvest neighbourhood boasts streets of fall-coloured brick buildings. As you walk around, you'll spot the number of Middle Eastern restaurants and community parks in the vicinity. 
11. This quaint one-bedroom apartment with an outdoor balcony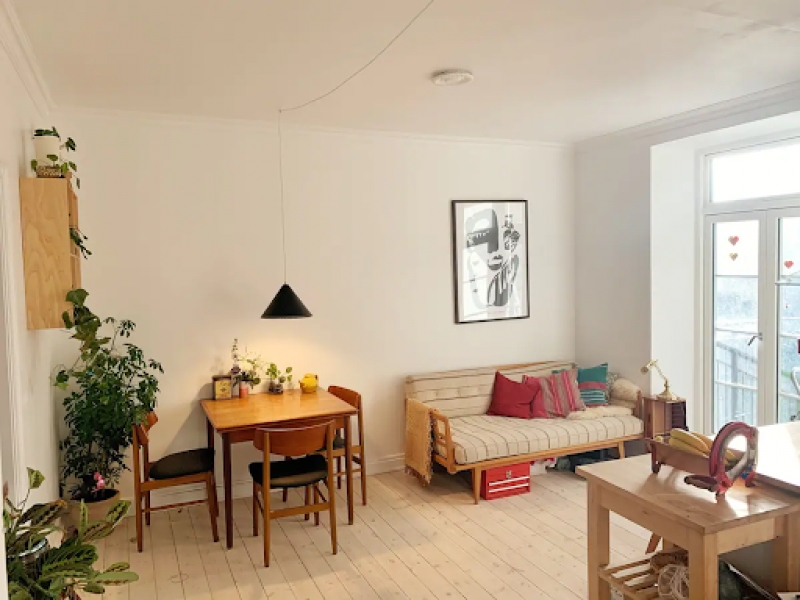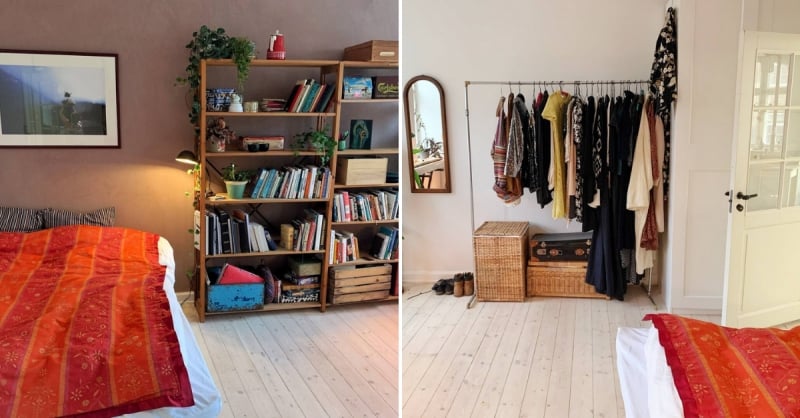 Listing type: Entire rental unit
Max. no. of guests: 3
No. of bedrooms: 1
This cosy one-bedder might be small, but it's got everything you'll need: a dedicated workspace, a fully equipped kitchen, and plenty of plants to brighten up the space. The crème de la crème, however, is the balcony — a superb place to unwind amidst the relaxing landscape of the quiet neighbourhood. 
A selection of restaurants and bars line the nearby Nørrebrogade, along with Hans Tavsens Park. Besides strolling or cycling through, why not set up a picnic here to soak up the lovely atmosphere of the park? 
12. This old-meets-new apartment a stone's throw away from one of the city's largest green spaces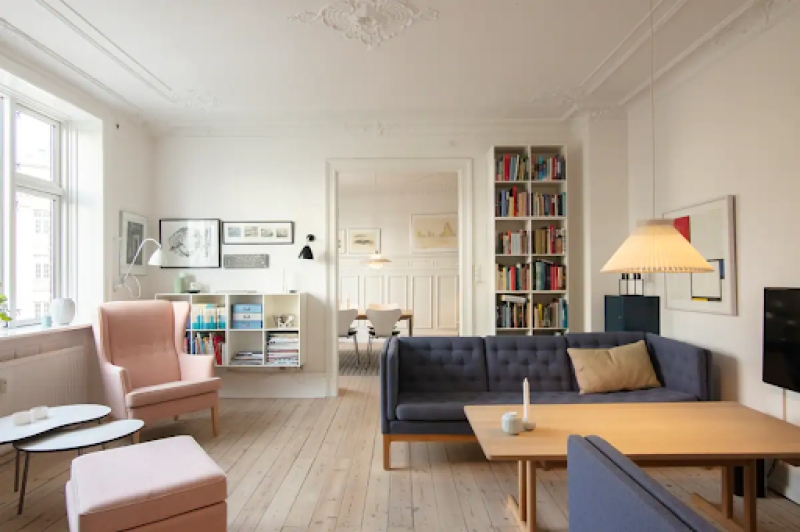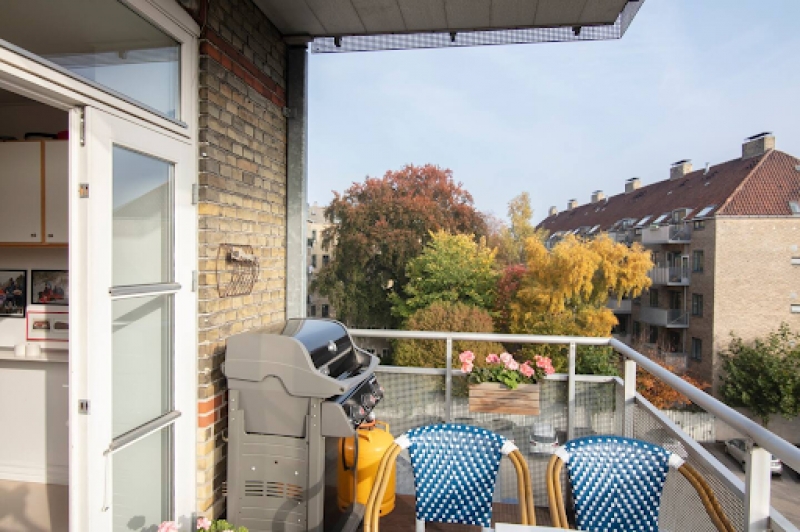 Listing type: Entire rental unit
Max. no. of guests: 5
No. of bedrooms: 3
This Airbnb in Copenhagen balances a modern, Scandinavian design while retaining an old-world charm in its cornice ceiling and vintage walls. Moreover, the pops of colour from the artwork and bookshelves lend a homely feel to the space — the perfect home away from home. Start your morning with a cuppa at the balcony and bask in the quiet surroundings. 
Your location in Frederiksberg puts a myriad of cafes right at your fingertips! Spend an afternoon exploring the picturesque 18th-century landscaped English Gardens of Frederiksberg Have, as well as the grounds of the Italian Baroque-style Frederiksberg Palace. 
13. This chic loft with impressive restaurants and cocktail bars nearby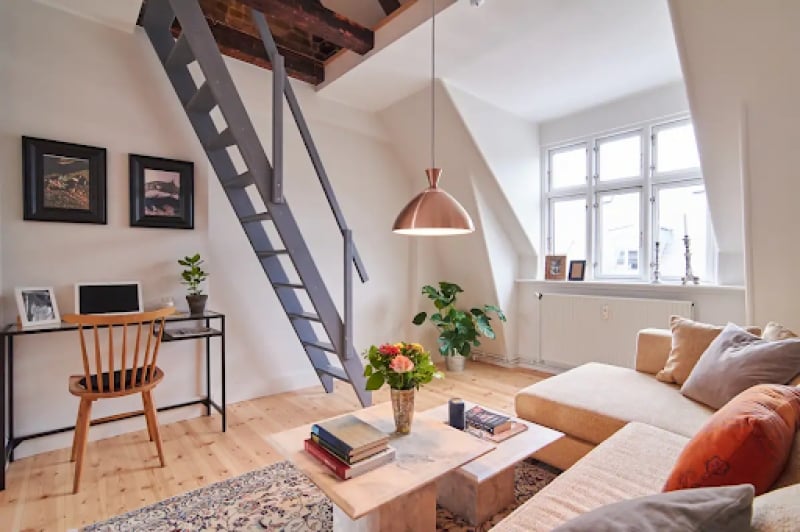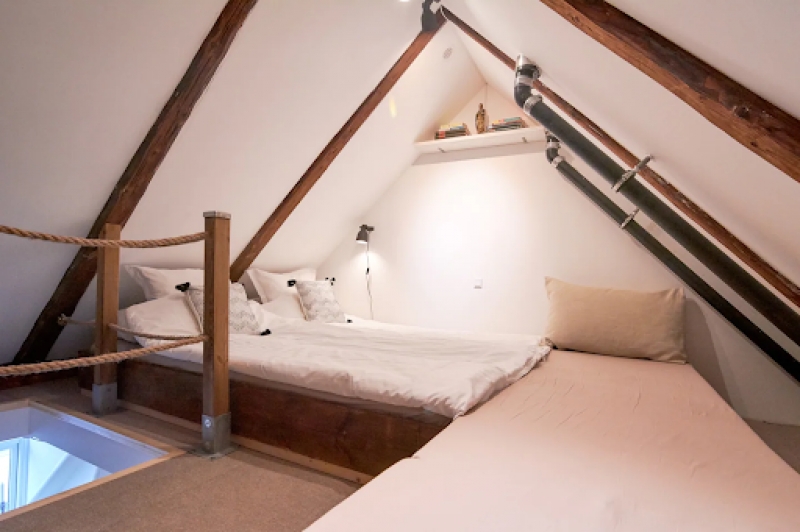 Listing type: Entire rental unit
Max. no. of guests: 2
No. of bedrooms: 1
Tap into your inner child with this exciting Airbnb loft in Copenhagen! The main ground floor has everything you need for a peaceful getaway: a peach-coloured sofa, monochromatic artwork, and splashes of rose gold and grey. Come nighttime, ascend the ladder to your double bedroom, where the attic ceiling offers a cosy touch. 
Foodies will be excited to explore Copenhagen's Meatpacking District, where your apartment enjoys a strategic location. Here, you'll find an eclectic mix of meat and fish-centric restaurants set in former factory buildings, along with impressive breweries and trendy cocktail bars.
14. This bohemian hideaway situated by the waterfront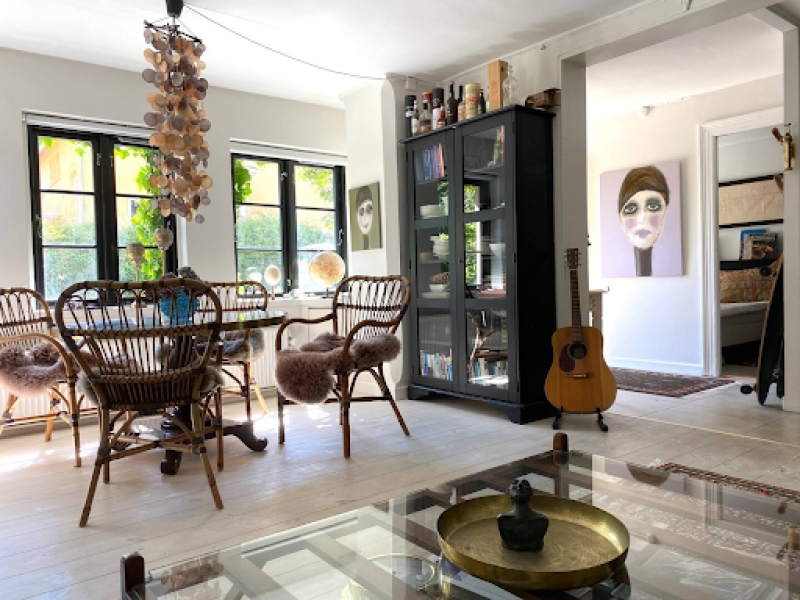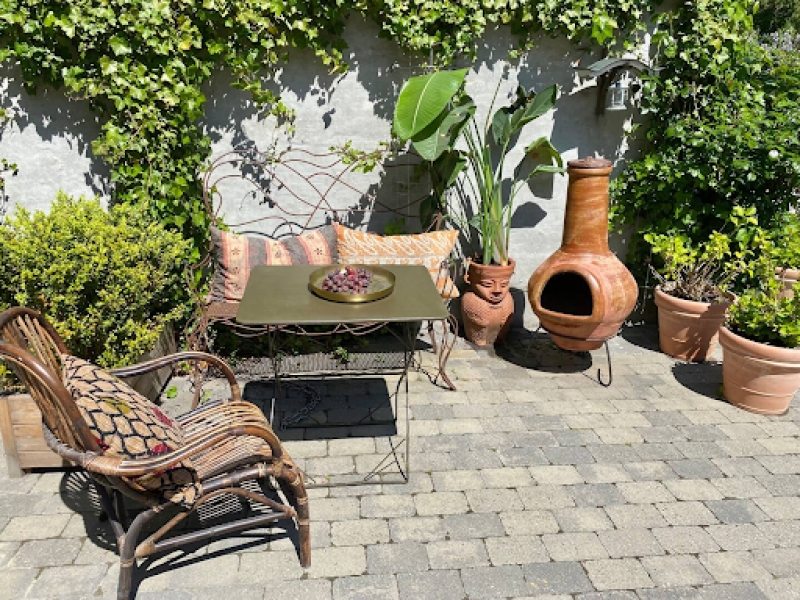 Listing type: Entire rental unit
Max. no. of guests: 2
No. of bedrooms: 1
Want to live close to the waterfront and harbour, while also enjoying a quiet stay away from the city centre? Then, this Bohemian-inspired Airbnb in Copenhagen is the one for you! Colourful collectibles and artwork adorn the living room, while the outdoor garden is complete with wicker chairs and sculptures. 
With your location in the heart of the Hellerup suburbs, you're a few steps away from the Hellerup Havn marina, where a peaceful amble along the bank awaits you. Further down sits the Hellerup Strand, a small and quiet beach; stand at the tip of the boardwalk and see if you can spot Sweden across the Øresund strait! 
CHECK ACCOMODATION OPTIONS IN COPENHAGEN
From the bustling city centre to quieter yet breathtaking neighbourhoods, here are just some of the best Airbnbs in Copenhagen to stay at! Whether you like an eclectic mix of restaurants, a buzzing nightlife, or scenic waterfronts, rest assured you'll be leaving with your heart full of joy.