Contributed by Dreams of a Wanderess
Dreaming of a trip to Phuket but hesitating because of your budget? What if I told you that you can survive with an ALL-IN budget of US$10 a day without starving yourself or sleeping at crowded hostels? Here's everything you need to know. Including tips on what transport to use, where to stay, almost-free activities, cheap food and many more travel hacks!
Also read: If You Only Have Two Days in Thailand
Tips on Transportation
Airport
From the airport, expect to be quoted ฿800 for a private taxi to Patong – I know what you're thinking (Phuket = bankrupt). But relax, you can ride a shared mini van for only ฿180-200/pax depending on your destination. Another option is the airport bus, which would cost from ฿30-100/pax.

Motorbikes
This is probably the cheapest option if you want to explore all the beaches in Phuket. You can rent a motorbike for as low as ฿200 for the whole day and renting one is a piece of cake. The vendor will ask you to sign some papers, ask for the payment, give you the helmet and keys and you're off to go. They won't even bother asking for your driver's license, but please make sure that you have one or else you risk getting fined ฿500 by the local police on their random checkpoints. (like us… haha oops!)
Phuket Beach Buses (Songthaew/Baht Bus)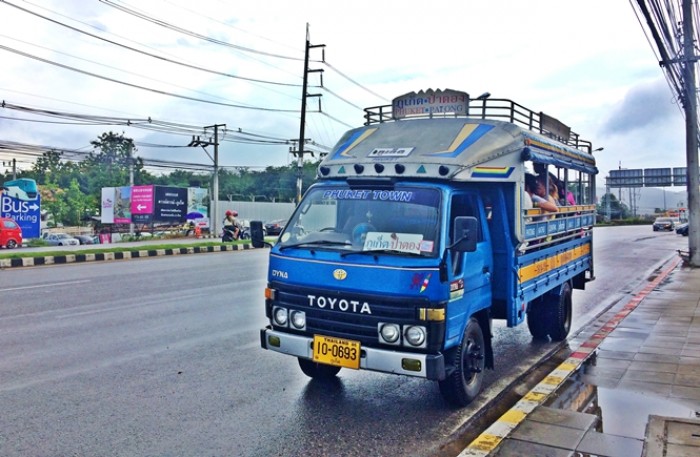 But what if you don't ride motorbikes? Going around Phuket can be expensive especially if you ride the tuk-tuk. We got quoted ฿700 for a trip to Phuket Town from Patong Beach (30-minute journey). Crazy! No way I'm paying for that. If you want to explore different beaches without getting broke, and also not wanting to ride motorbikes, you should learn how to ride the Songthaews or Baht Buses. They are the exotic-looking blue vehicles with yellow stripes.
Note that there are NO songthaews that can take you from beach to beach. All songthaews only follow ONE route and their destination is always to Phuket Town bus station (on Ranong Rd) and back to the beach of origin.
For example, you are on Patong Beach and you want to visit Rawai Beach. From Patong, you have to ride a songthaew to Phuket Town. Then, you have to find the songthaew that is labeled Rawai Beach. From Rawai Beach, you have to take a songthaew to Phuket Town again. Then, take the songthaew that will take you back to Patong.
We stayed in Patong and the fare was only ฿30 per person each way. EXACTLY. So you still want to ride that tuk-tuk? From our experience, Patong songthaews also stop in front of Central Festival. Use google maps to know as and when you have to ring the bell. But if you don't have internet/phone, you can always tell the driver where you want to go before getting on the songthaew.
How to hail/ride a songthaew?
There are no bus stops on the island; all you have to do is find a main road and wait on the side of the road you wish to proceed. Once you see the blue songthaew, flag one down by waving your hand, palm down. Hop on the songthaew. Press the bell when you want to get off. Walk towards the driver's window and pay. Voila! (Tip: always bring exact/small change.)
Where to stay
Personally, we stayed at Chusri Hotel & Apartment because they had a great deal on Agoda – a twin room for only ฿250 per night. And no, we DID NOT stay in a filthy room with rats. Our room was surprisingly huge and spotless. I would recommend them for the following reasons: they are tucked away from the loud tourist area but only walking distance to major establishments and attractions. I also loved the fact that we were surrounded by local stores which means lower prices. We definitely had a more authentic experience finding local food stalls/eateries right outside our hotel. It also added that most of the staff can speak good English and were very helpful.
I'm not entirely sure if the hotel and apartment rooms are the same but there was a problem with my booking when we arrived and we were brought to the apartment instead (which is just behind the hotel). Our room had a huge bathroom with hot and cold shower, balcony, fridge (with free bottles of water), microwave, water kettle, a big cabinet with hangers and umbrella. ALL THAT for ฿250??? I was quite happy with the booking error, to be honest. Haha.
They also have their own restaurant. We tried their Chicken Burger with fries for only ฿99. It was good to have Western food after eating Thai food for a few days straight. They also have motorbike rentals and tour arrangements.
(Almost) Free things to do
Now that you know how to get around Phuket like a boss and have a place to stay, here are a number of super affordable things to do around the island:
1. Watch the sunset on Patong Beach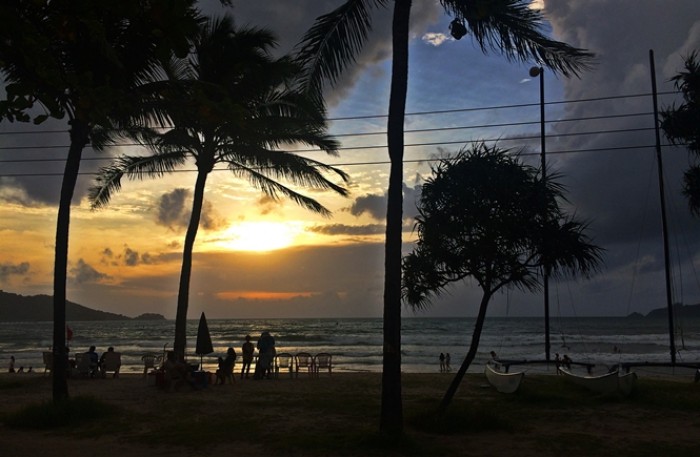 Best things in life are FREE – including sunsets! One of the best places to watch the sunset in Phuket is Patong Beach while relaxing on your beach chair, sipping fresh coconut, listening to the soothing sound of the waves. Another popular spot to watch the sunset is Promthep Cape, just be ready to share the experience with a bunch of Chinese tourists with their selfie sticks.
Also read: Krabi vs. Phuket: Which is Thailand's Better Beach Destination?
2. Explore different beaches on a motorbike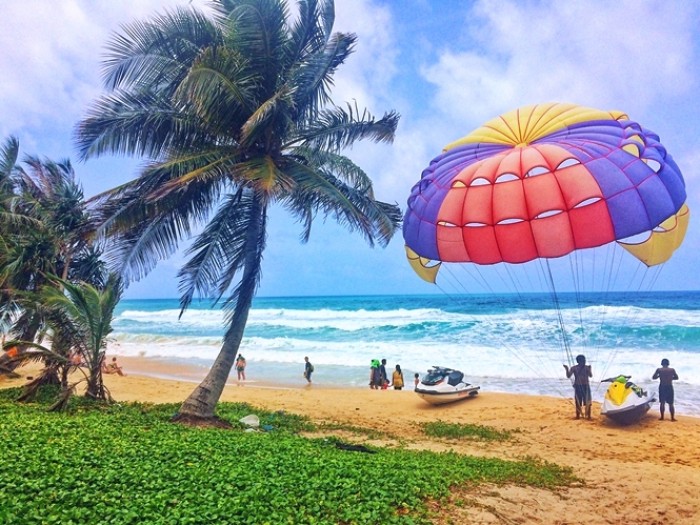 As mentioned earlier, this is probably the cheapest way to explore different beaches in Phuket and there's more than 30 beaches to choose from, but here are my favourites:
Karon Beach (picture above) – The most picture perfect beach that I went to during my visit. Surprisingly not as crowded as Patong Beach even if it's the second longest beach in Phuket. Quiet beach but not too isolated.  Good for relaxation.
Rawai Beach – A smaller romantic beach located on the southern end of Phuket. If you're lucky, there's a high chance of having the beach to yourself. Unfortunately, no swimming is allowed here but the views make up for it. Perfect for picnic on the beach or relaxing on your hammock.
Patong Beach – I know that you probably read on other blogs to stay away from this beach because of the crowd but I actually enjoyed my time in Patong. I liked that there are many shops and good restaurants by the beach. It's also just walking distance to Bangla Road and Jungceylon Mall.
3. Drive your way up to Promthep Cape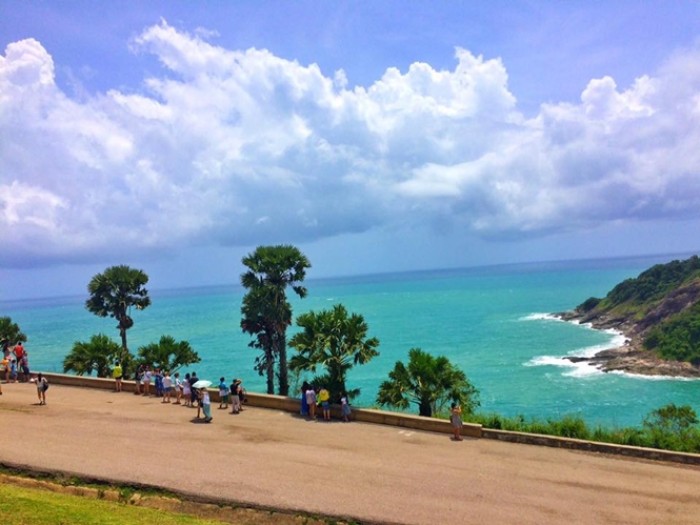 Promthep Cape (or Laem Promthep) located in the far south west of Phuket. It is famous for its spectacular views and the most popular spot for that perfect sunset shot. Unfortunately, we weren't able to stay that long since it started to rain.
4. Have a short break at Karon Viewpoint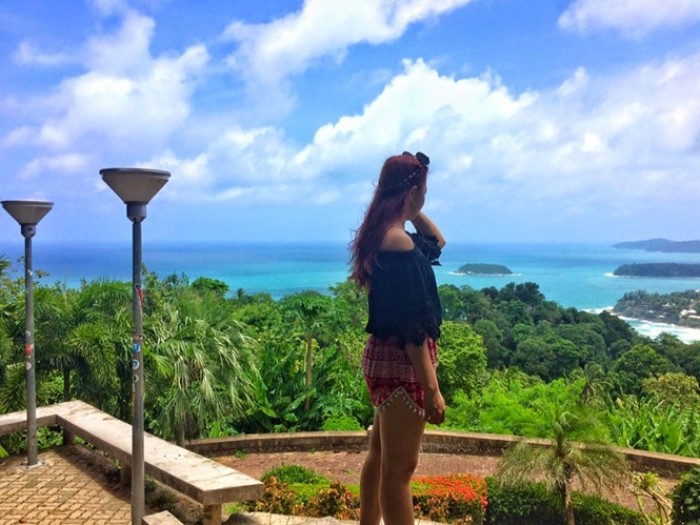 On the way to Promthep Cape, you will surely pass by the Karon Viewpoint and I highly recommend that you take a short break to check out the view. From here, you will see Kata Noi, Kata Yai and Karon beaches.
Also read: Northern Thailand 5-Day Itinerary: Chiang Mai, Chiang Rai & Pai
5. Window shopping at Jungceylon Mall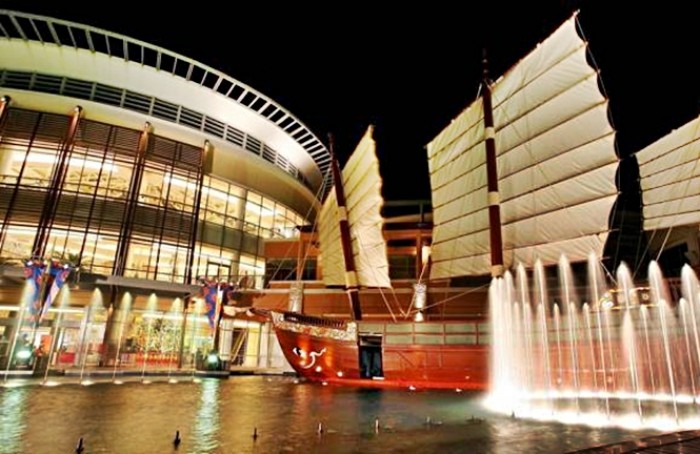 I repeat, WINDOW shopping. Haha. Besides that, Jungceylon Shopping complex is also a good place for people watching. You might also catch some hip hop dance performances at night.
6. Enjoy live music and random street performances on Bangla Road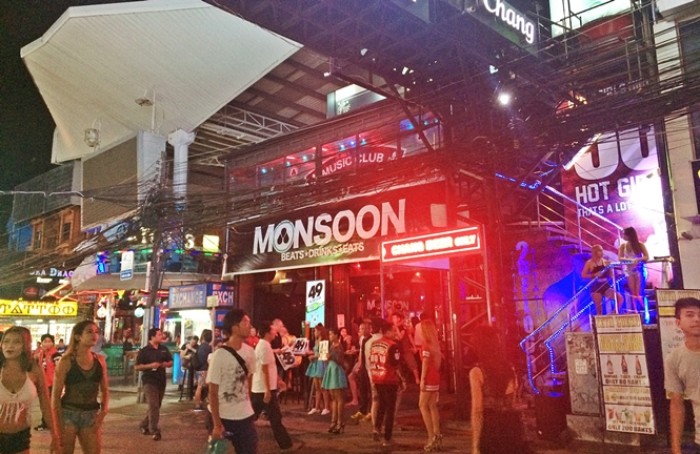 Soi Bangla or Walking Street is where the nightlife is centred. For the real cheapskates, you don't have to go to the bars, entertain yourselves with random street performances that you can watch for free or a small donation. But if you have some extra change, go buy yourself a Chang beer for ฿49 and enjoy listening to live bands. My favourite would be Monsoon and New York Live Music Bar.
7. Get lost in Phuket Town's insta-worthy Sino-Portuguese buildings
The main attractions in old Phuket Town are the Sino-Portuguese buildings (or the Chinese row houses), Thai temples, public and weekend night markets. This is definitely a must-go for professional and amateur photographers.
Cheap Food and Drinks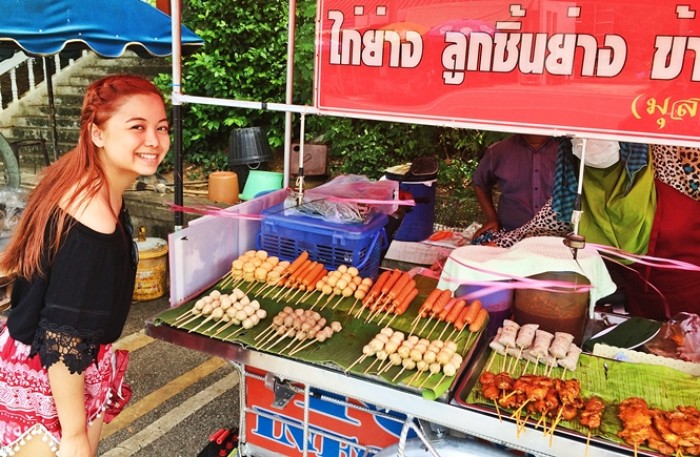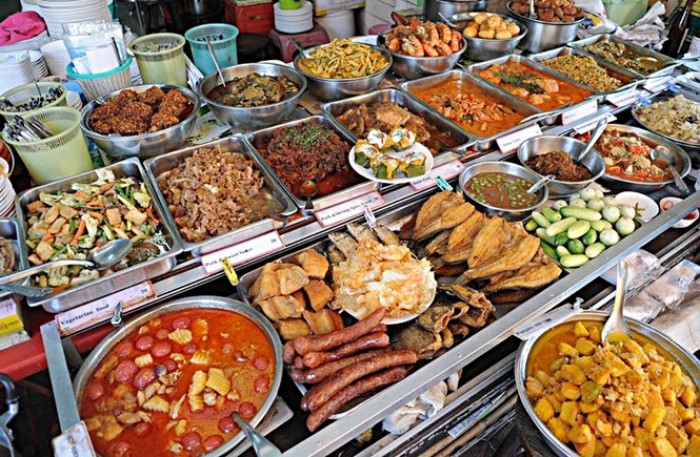 If you really want to save money on food and drinks – eat like the locals! Thai people like eating out. They mostly buy cooked food from local eateries where you can just point and choose what you want to order. They usually serve in big portions so get ready to be stuffed. One meal with rice + two dishes would cost you around ฿50. I loved the fact that we got to try many Thai dishes without worrying on how to order them in local restaurants where there's no English menu.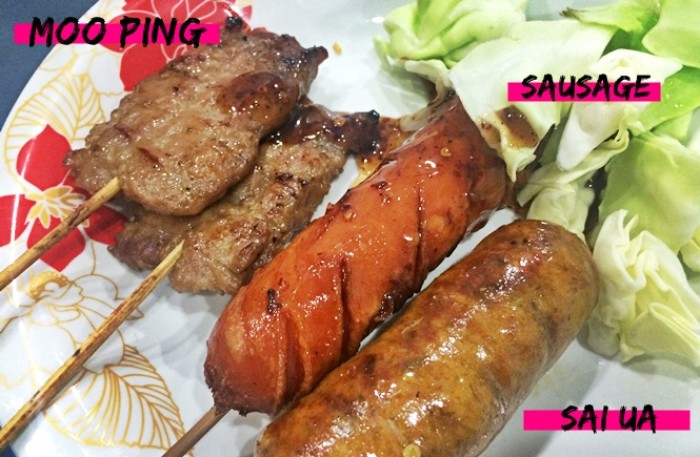 Moo Ping – or BBQ pork skewers which can be eaten with or without sticky rice. It's super cheap and only cost ฿10 per stick. There was a stall nearby our hotel with a nice lady and her son selling this, and I just kept coming back every night. The idea alone already makes my mouth water. It also comes with cabbage and a special sauce.
Sai Ua – a flavourful Thai herb sausage originally from Northern Thailand (Chiang Mai).
Khao Soi – my favourite Thai breakfast. It's basically curry and coconut flavoured noodle soup with chicken, topped with crispy wanton noodles. The chicken is so tender and melts right into your mouth. The best part is that it only cost ฿50 per bowl.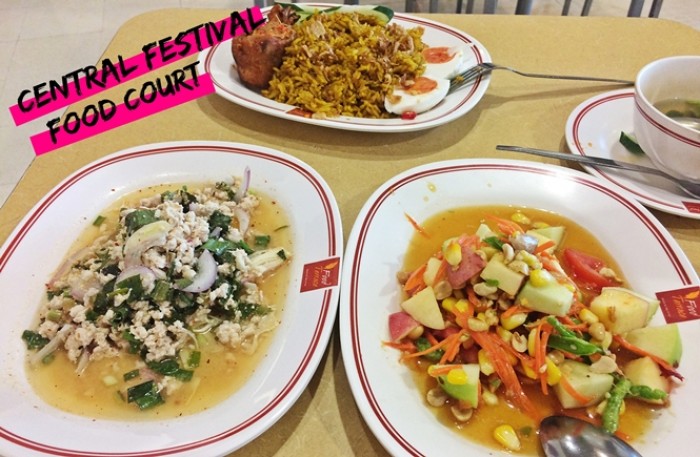 Central Festival Food Court – I know that going to malls is a terrible idea especially when you're on a tight budget. But if ever you find yourself in Central Festival Mall, go up where the Cinema is. Turn left and you'll find an almost hidden food court. One/two dish with rice would cost you ฿50-100.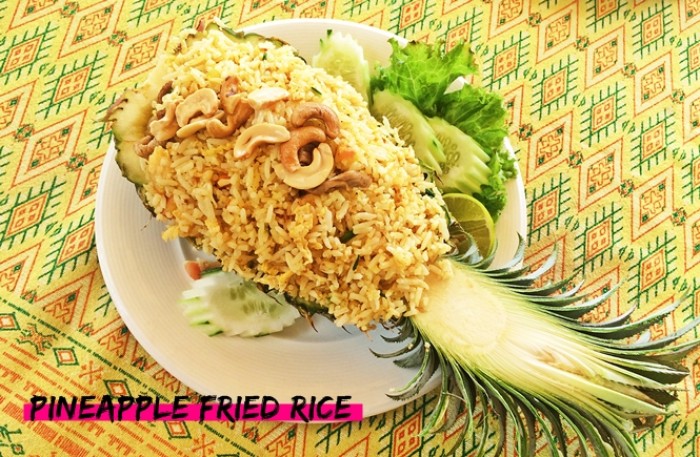 Pineapple Fried Rice (฿70-100) – not as cheap, but I decided to treat myself in a nice restaurant by the beach. The view was worth it anyway.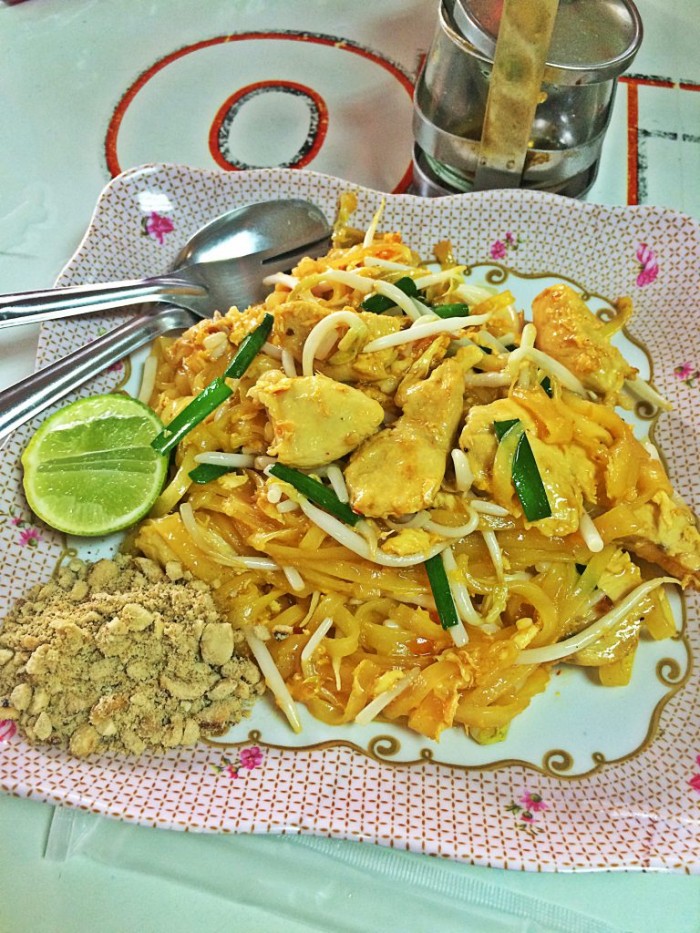 Pad Thai (฿100) – and of course, you just simply can't leave Thailand without trying Pad Thai! This price is again by the beach so it's a bit expensive. But I'm sure you'd be able to find cheaper ones on local food stalls.
For dessert, don't forget to try the famous Thai banana pancakes with condensed milk or Nutella sauce. Yuuuum! Or the rolled/fried ice cream. They can cost around ฿50-100.
Summary
Now… let's do the calculations. How much exactly can you spend in one day?
Motorbike: ฿200/24 hours (can be divided by 2)
Hotel: ฿250 (again, divided by 2)
Food (per person)

Breakfast: Khao Soi = ฿50
Lunch: Local Food Stall = ฿50
Snack: Smoothie = ฿30
Dinner: Moo Ping and Sticky Rice = ฿30

Activities: FREE

TOTAL:  ฿385 per day (approx. US$10!!!)
Just to be clear, your budget will always depend on how you decide to spend your money. Others don't mind spending a lot on activities, while others (like me) can be easily satisfied by simply being on a postcard-ready beach, sipping on fresh coconut.
Also read: Exploring Vietnam, Cambodia and Thailand for Just ₱15K All-In
Verdict is… you don't need thousands of $$$$ to see the Land of Smiles. A super tight budget trip to Phuket is definitely doable. So… JUST BOOK THE DAMN TICKETS!!!